Chinese astronauts have performed the country's first tandem spacewalk, working for seven hours on the outside of the new Tiangong station in orbit around Earth.
Tiangong's construction is a significant step in China's ambitious space programme. China has previously landed a rover on Mars and sent probes to the moon.
Last month, three astronauts blasted off to become the first crew of the station, where they will remain for three months in China's longest crewed mission to date. On Sunday morning, two of them left the station for about seven hours of work in the first spacewalk at Tiangong, the China Manned Space Agency said.
"The safe return of astronauts Liu Boming and Tang Hongbo to the Tianhe core module marks the complete success of the first spacewalk in our country's space station construction," the agency said.
Their tasks included elevating a panoramic camera outside the Tianhe core module and testing the station's robotic arm, which will be used to transfer future modules around the station, state media said. The astronauts installed foot stops on the robotic arm and, with its support, carried out other assembly work, the space agency added.
In a video clip of Liu leaving the cabin, he exclaimed: "Wow, it's too beautiful out here."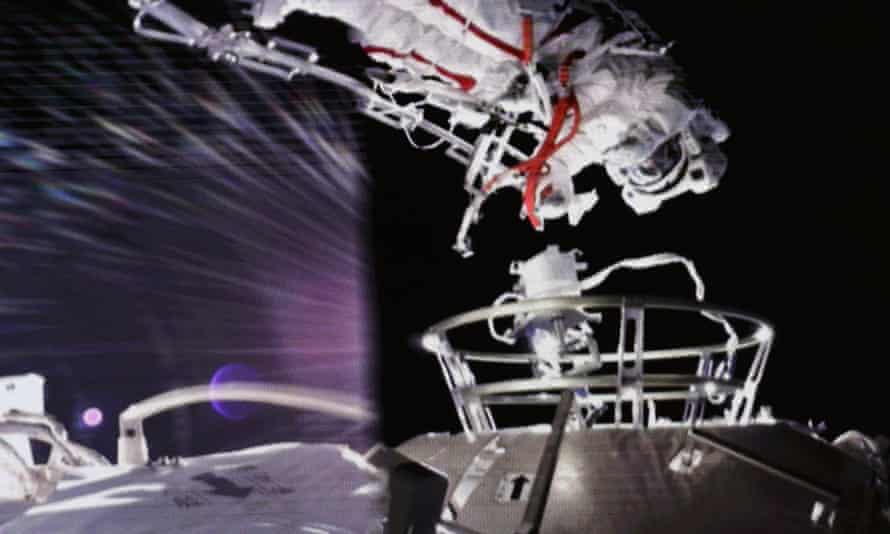 Liu and Tang were shown opening a hatch and exiting the module separately, wearing newly developed suits said to weigh 130kg (20st). They were supported from inside the station by the mission commander, Nie Haisheng, a decorated air force pilot who is on his third space mission.
This was the first of two spacewalks planned for the mission, both expected to last six or seven hours. It was the first time since 2008 that Chinese astronauts have gone outside their spacecraft. Back then, Zhai Zhigang made China the third country to complete a spacewalk after the Soviet Union and the US.
This is China's first crewed mission in nearly five years, and a matter of huge prestige as the country marks the 100th anniversary of the ruling Communist party this month with a massive propaganda campaign. To prepare, the crew underwent more than 6,000 hours of training.
The Chinese space agency is planning a total of 11 launches through to the end of next year, including three more crewed missions. They will deliver two lab modules to expand the station, along with supplies and astronauts.
On Sunday, state television showed footage of the astronauts' daily lives on Tiangong, including setting up an exercise bike and working out on a treadmill. One crew member was shown eating with chopsticks; another did a handstand and somersault after mealtime.
The mission has attracted a flurry of discussion online, with a hashtag about the spacewalk garnering 200m views on China's Twitter-like platform Weibo. One user wrote: "How much I'm moved by each step of achievement is beyond words."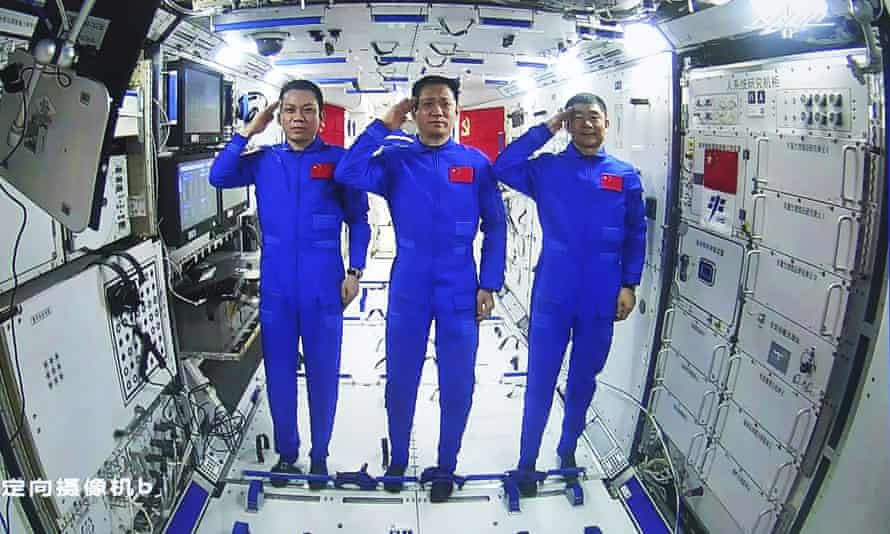 President Xi Jinping has said the construction of China's first space station is opening "new horizons" in humanity's attempts to explore the cosmos.
China's ambition to build an orbiting outpost of its own was fuelled in part by a US ban on Chinese astronauts on the International Space Station, a collaboration between the US, Russia, Canada, Europe and Japan.
The ISS is due for retirement after 2024, although Nasa has said it could remain functional beyond 2028.
Tiangong is expected to have a lifespan of at least 10 years, and China has said it would be open to international collaboration on the station.
Quelle: The Guardian
+++
Astronauts complete first Chinese space station spacewalk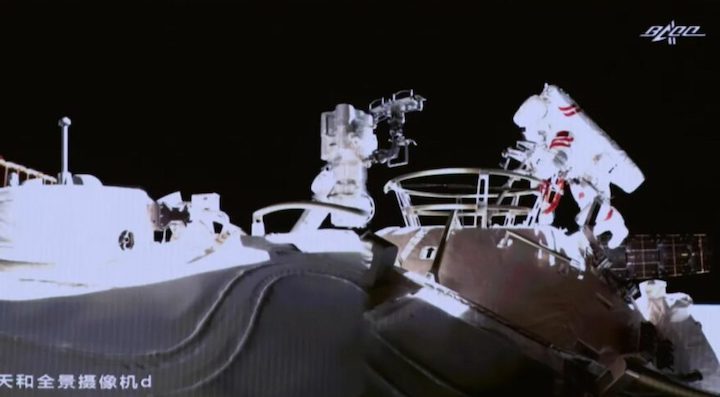 Hausjärvi, FINLAND — Two Shenzhou-12 astronauts conducted a spacewalk late Saturday to carry to install equipment required for the long-term operation of China's space station.
Liu Boming opened the hatch of the Tianhe module at 8:11 p.m. Eastern July 3 and was later joined outside by Tang Hongbo. Activities were completed at 2:57 a.m. July 4, according to the China Manned Space Agency (CMSA).
Wearing new-generation Feitian extravehicular activity suits the pair worked outside Tianhe while orbiting around 380 kilometers above the surface of the Earth.
Liu worked attached to a robotic arm while Tang worked along handrails on Tianhe.
The astronauts installed foot restraints and an extravehicular working platform on Tianhe's mechanical arm. They later raised a panoramic camera.
Shenzhou-12 mission commander Nie Haisheng remained inside Tianhe and operated a small robotic arm to assist his colleagues.
The spacewalk is China's second, following nearly 13 years after Zhai Zhigang's 22-minute EVA during the September 2008 Shenzhou-7 mission.
Footage from the Beijing Aerospace Flight Control Center (BACC) broadcast by CCTV showed multiple angles of Tianhe and the astronauts' point of view. Communications between Tianhe and the ground are facilitated by Tianlian relay satellites in geostationary orbit.
Nie assisted Liu and Tang in testing the Feitian suits July 1 in preparation for the spacewalk. They also checked the Tianhe docking hub which contains an EVA hatch.
A second spacewalk is planned to be conducted during the three-month-long Shenzhou-12 expedition to Tianhe.
Tianhe is the first of three modules which will form a T-shaped space station. The 16.6-meter-long, 4.2-meter-diameter module will provide regenerative life support and the main living quarters for astronauts as well as propulsion to maintain orbital altitude.
Shenzhou-12 docked with Tianhe on June 17, six hours 32 minutes after launch from Jiuquan.
Shenzhou-13 is being readied for an emergency rapid response launch but is otherwise expected to launch on schedule in October. The Tianzhou-3 cargo spacecraft will deliver supplies for the mission to Tianhe a month earlier.
Experiment modules named Wentian and Mengtian are expected to launch in 2022. Each will be manipulated into position by Tianhe's 10.2-meter-long robotic arm.
Xuntian, a co-orbiting optical, Hubble-class space telescope will launch around 2024. The Chinese space station could also be expanded from three to six modules if main phase construction proceeds as planned.