7.07.2021
ICEYE's synthetic aperture radar system can now track changes at bases or at sea on a daily basis, which the company is touting as game-changing.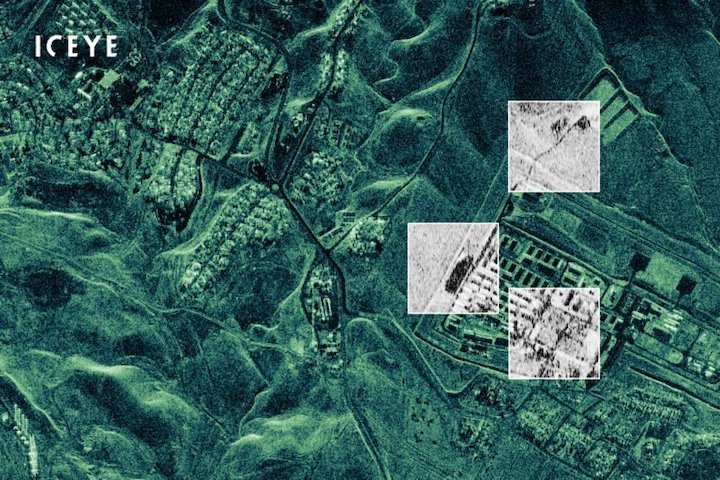 WASHINGTON: ICEYE's constellation of synthetic aperture radar (SAR) satellites has demonstrated the capability to track changes at ground sites or movement of ships at sea on a daily basis — a "world-first," according to the company.
"This is a game changer for customers that are looking to detect changes down to a sub-pixel level," Jerry Welsh, CEO of ICEYE US, the Finnish-founded firm's US arm, said in an interview today.
SAR satellites can "see" through heavy cloud cover and in the dark, making them a key asset for enabling the IC and the military to track targets on the ground 24/7 — a capability called "persistent monitoring" in the tech community. The ability to not just detect, but actually follow, moving targets or see hour-to-hour changes at adversary ground facilities is something of a Holy Grail for the US military and the Intelligence Community (IC).
ICEYE, which also was the first commercial firm to launch a SAR-sat in January 2018, now has taken a large leap toward that goal.
ICEYE today announced it now can perform "Daily Coherent Ground Track Repeat (GTR) imaging" that enables detection of "everything from large changes, such as monitoring if ships have moved, all the way to such detailed changes on-ground that a person on-site would not be able to recognize." That data, in turn, allows a user to monitor "patterns of life, site activity, ground subsidence, infrastructure integrity, construction, and more."
Enabling the sharing of unclassified, Secret, and Top Secret mission critical data across warfighting domains and security boundaries at the tactical edge.
"This is a completely new level of performance. It enables four times more frequent persistent monitoring with radar satellites than has ever been available before," said Rafal Modrzewski, ICEYE CEO and co-founder, in the release.
And ICEYE doesn't intend to sit on its laurels, but it working to increase the revisit rate — also known as the temporal resolution, i.e. how fast the satellites can pass back over the same ground track — of its constellation.
"We're in the process of continuing to move spacecraft, launch and move spacecraft to the orbits — it has to be a very precise orbit in order to provide a coherent ground track repeat. And as we move those spacecraft, we ultimately are covering the whole globe once every 24 hours," Welsh explained. "We'll continue to launch spacecraft and add to the constellation — both spacecraft that we're building in Finland, as well as the United States — to continue to shorten that time from 24 hours to 12 hours. And I would say this is just the beginning."
ICEYE was among some 88 companies and government agencies, including the Defense department, that launched satellites as part of the July 1 SpaceX Transporter-2 commercial satellite mission. ICEYE launched three satellites to plump out its current constellation, along with a demo sat to test out its next-generation design, the company said in a press release.
The demo sat, Welsh explained today, will have a more precise resolution than the current generation of 14 satellites ICEYE has launched — four for specific customers and demonstrations, and 10 for the company's own commercial service (which includes both imagery and analytics). The company is already delivering images with 25cm resolution. Further, imagery is available either in "very high" resolution for smaller areas, or wider area coverage at "high resolution," the press release notes.
While refraining from going into specifics, Welsh said the satellites can provide resolutions of greater or lesser precision based on how big or small a swath of the Earth is imaged using different operational modes (known as ScarSan, strip map or spotlight modes) — with physics dictating that the bigger the region covered the less precise the resolution. But while users (and folks like us in the media) often focus on the resolution of images, Welsh noted that with SAR resolution isn't actually the most important feature.
"A lot of people focus on the resolution. But this really goes beyond that. It's an opportunity to detect changes at a sub-pixel level that you might even miss if you were actually on the ground looking at it," he said. "So, I think resolution is one of those things like with cars, 'how much horsepower does it have,' but then you're ignoring so many other features of the car and what the capabilities are."
Exclusive Imagery
For military users, this means being able to monitor the perimeter around a foreign air base to see if there are tire tracks or other soil disturbances where there should not be, Welsh explained. Ships and submarines that have surfaces can be seen going in and out of ports, while new construction around adversary facilities can be seen. While he stressed that ICEYE hasn't yet validated that this can be done, the constellation has the potential to be able to locate IEDs newly emplaced on the side of a road.
ICEYE will start providing "Coherent Change Detection (CCD) every 24 hours" to its customer base next year, after "an initial early access period," the press release said.
"Coherence is a term given for the exact similarity between two radar satellite images. If a car has driven across a field, stockpiles have been adjusted, or forested areas have been cut down, these are seen as changes in the coherence between the chosen two images," an ICEYE spokesperson explained in an email.
ICEYE provided Breaking Defense with exclusive images of the Mosul Dam in Iraq that illustrate this "coherence." The pictures use green as the base image, superimposed with black squares showing where changes were detected
24 hours later.
Welsh elaborated that because ICEYE is still in the process of moving spacecraft to cover the whole world, it is limiting initial access to the 24-hour imagery to "specific customers in the world" based on desire and needs, as well as the business case involved.
"I'll say that the US government is at the top of the list," he added.
While Welsh wouldn't reveal customer names, he did note that ICEYE has reviewed the NRO's draft request for proposals (RFP) for buying commercial SAR data, and posed some questions. The firm's top-level foreign ownership, of course, is a complicating factor for selling to NRO.
That RFP, an NRO spokesperson said today, is due out "soon."
In addition, ICEYE already is in talks with potential US military customers, as it goes through the process of Formal Ownership, Control or Influence (FOCI) mitigation, Welsh said. (FOCI, by the way, doesn't apply to sales to NRO, which is perhaps another story altogether.)
"We've engaged just about all the various, let's say military agencies — so from the Army and Navy, and also from a Combatant Command perspective as well. Some of those are in more early stages than others," he said.
Quelle: Breaking Defense
1019 Views