21.04.2021
Dragon crew rehearses for launch day, first-look weather forecast looks good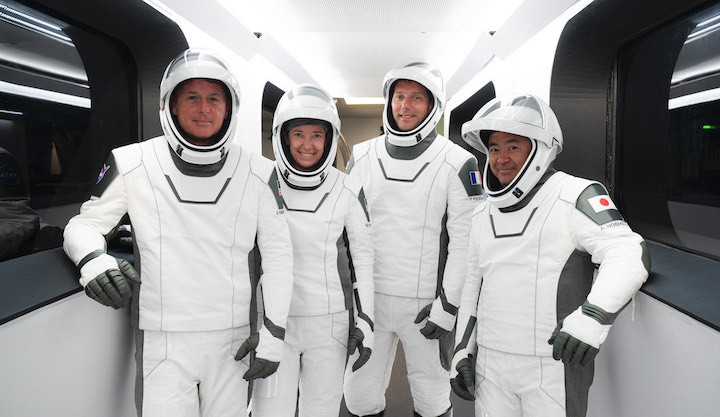 After completing a dress rehearsal for launch day over the weekend, the four astronauts gearing up for liftoff Thursday on a SpaceX Falcon 9 rocket are in good spirits and spending time with their families in Florida before leaving the planet for six months.
Forecasters with the U.S. Space Force's 45th Weather Squadron predict an 80% chance of acceptable weather for launch at 6:11 a.m. EDT (1011 GMT) Thursday from pad 39A at NASA's Kennedy Space Center. The four astronauts, led by veteran NASA commander Shane Kimbrough, will fly with a Crew Dragon capsule to the International Space Station.
Kimbrough and NASA crewmate Megan McArthur, Akihiko Hoshide of Japan, and Thomas Pesquet of France — all with spaceflight experience — suited up in their SpaceX pressure garments early Sunday and rode in Tesla Model X SUVs from crew quarters at Kennedy to pad 39A. The astronauts used the same timeline they will follow on launch day, and departed their suit-up room at the Neil Armstrong Operations and Checkout Building shortly before 3 a.m. EDT (0700 GMT).
They arrived at the launch pad less than a half-hour later to board the Crew Dragon Endeavour spacecraft on top of the 215-foot-tall (65-meter) Falcon 9 rocket. They then disembarked after simulating a scrubbed launch attempt, and returned to crew quarters for a debriefing before sunrise Sunday.
The "dry dress rehearsal" was a practice run for the astronauts and SpaceX support teams who will help the crew members suit up and strap in to the Dragon capsule.
Pesquet, a French-born European Space Agency astronaut, said Monday everything was on track for liftoff Thursday. The mission will be the second regular space station crew rotation flight by SpaceX under a multibillion-dollar contract with NASA, which also arranges rides to the complex for European, Japanese, and Canadian astronauts.
"We are putting the finishing touches on the training," Pesquet said Monday morning. "There are only … three days exactly, a little bit less now, to go before the launch. Everything is going well. The rocket is ready. The spacecraft is ready."
"We actually had a couple of days of margin that we didn't need in the end, so now the rocket is just going to sit on the launch pad today and tomorrow, pretty much, before the final prep on Wednesday, and then on Thursday we'll be ready to launch," said Pesquet, who spent 196 days in orbit on a previous trip to the space station. "The crew is happy. The crew is in great shape, in high spirits. The families are here at the Cape, and everything is fine. We're trying to enjoy our last few days on Earth before leaving the planet for six months."
The Dragon astronauts are scheduled to return to Earth for a splashdown off the coast of Florida in late October.
Hoshide will take over as commander of the space station's Expedition 65 crew next week, assuming the helm from NASA astronaut Shannon Walker. Walker and her crewmates — Mike Hopkins, Victor Glover, and Japanese astronaut Soichi Noguchi — are scheduled to come back to Earth on April 28 on their Crew Dragon Resilience spacecraft, wrapping up a mission that launched in November.
Later this year, Pesquet will get a turn at space station commander. Pesquet worked as a spacecraft engineer in European industry and for the French space agency, then became an airline pilot for Air France before his selection as an ESA astronaut in 2009. He first launched into space in 2016.
On his first spaceflight, Pesquet launched and landed on a Russian Soyuz capsule, which has a design rooted in the 1960s. He told reporters Monday that he expects a similar ride during launch on the Falcon 9 rocket, which burns the same kerosene and liquid oxygen propellants as Russia's venerable Soyuz launcher.
The Crew-2 mission is the first time SpaceX has used a reused booster and Crew Dragon spacecraft for an astronaut mission.
"I don't expect it to be bad at all," Pesquet said. "Everybody who flew on the Dragon and Falcon 9 loved it so far. The return to Earth is always a bit rough, but that's the same in every single space vehicle."
He said the automation of SpaceX's Crew Dragon spacecraft makes the vehicle safer. Under normal conditions, the capsule flies to and from the space station on autopilot.
"For us, what it means is we don't have that many actions to take in a nominal situation," said Pesquet, who was an instructor in cockpit protocols for Air France. "Of course, in an off-nominal situation, we have to take action. But what it means is you're available to manage the situation. Your situational awareness is just unbelievable.
"You have these huge big screens that are showing you, in every possible way, what's happening," Pesquet said. "The priority of the information is already pre-analyzed by the system. The color coding is great. The way the information is laid out is just fantastic. You know all the time what's going on.
"Soyuz is unbelievably reliable, but you had to make sense of all that information that was sparse and disseminated at every corner of your control panel, with digital gauges and analog gauges," Pesquet said. "That's why the training was so much longer. I think it's great. We will love it, and I think it makes the system more reliable overall."
While forecasters predict good conditions at the launch site in Florida early Thursday, officials may have to monitor weather downrange in the Atlantic Ocean.
There is a "moderate" risk of poor conditions in the Falcon 9 booster's downrange landing zone in the Atlantic — roughly due east of South Carolina — and a low probability of unfavorable upper level winds over the launch pad. SpaceX and NASA officials will continue evaluating downrange winds and sea states at locations across the Atlantic Ocean to assess whether the conditions are acceptable for splashdown of the Dragon capsule in the event of an in-flight abort.
"A wet and unstable pattern will continue over Central Florida as a frontal boundary remains stalled across the area," the weather team wrote in the forecast Monday morning. "Rain showers and isolated thunderstorms are likely as low pressure waves move along the boundary over the next two days.
"On Wednesday, high pressure begins to build in and push the unsettled weather south through the day. By Thursday morning, the high pressure will be centered near Arkansas, creating gusty northerly winds along the Space Coast due to the pressure gradient between the high and the departing boundary," the foresters wrote.
"The primary weather concern Thursday morning will be these gusty liftoff winds associated with this strong pressure gradient."
At launch time Thursday, forecasters expect north-northeast winds of 17 to 22 mph, a temperature of about 68 degrees Fahrenheit, and a few low-level clouds.
There is also an 80% chance of good weather for a backup launch opportunity at 5:49 a.m. EDT (0949 GMT) Friday.
Quelle: SN
+++
Crew-2 Astronauts Head to Space Station to Conduct Microgravity Science
NASA's SpaceX Crew-2 mission is set to launch four astronauts to the International Space Station aboard a SpaceX Crew Dragon on Earth Day, April 22. The four include NASA astronauts Shane Kimbrough and Megan McArthur and, a first for the Commercial Crew Program, two international partners, Japan Aerospace Exploration Agency (JAXA) astronaut Akihiko Hoshide and ESA (European Space Agency) astronaut Thomas Pesquet.
The Crew-2 astronauts will join the other members of Expedition 65, NASA astronaut Mark Vande Hei and cosmonauts Oleg Novitskiy and Pyotr Dubrov of Roscosmos, for a six-month mission conducting science experiments in low-Earth orbit. An important scientific focus on this expedition is continuing a series of Tissue Chips in Spacestudies. Tissue chips are small models of human organs containing multiple cell types that behave much the same as they do in the body.
These chips may make it possible to identify safe and effective therapeutics – drugs or vaccines – much more quickly than the standard process. In addition, many changes occurring in the human body during spaceflight resemble the onset and progression of aging and diseases on Earth but occur much more quickly in microgravity. Scientists use specialized tissue chips in space to model diseases that affect specific organs in the human body but that might take months or years to develop on Earth.
Tissue chips are one aspect of tissue engineering, which uses a combination of cells, engineering, and materials to restore, maintain, improve, or replace biological tissues. Tissues engineered on Earth require some sort of scaffold on which to grow and can only reach a thickness of at most 1 centimeter, or just over a quarter inch. But in microgravity, rather than growing in a flat layer, cells can grow into three dimensions that closely mimic tissues in the body.
"We know that cells communicate with each other and that this communication is critical for proper functioning," says Liz Warren, senior program director at the ISS U.S. National Laboratory. "We don't fully understand why, but in microgravity, cell-to-cell communication works differently than it does in a cell culture flask on Earth. Cells also aggregate or gather together differently in microgravity. These features allow cells to behave more like they do when inside the body. Thus, microgravity appears to provide a unique opportunity for tissue engineering."
A partnership between the ISS National Lab and the National Institutes of Health's National Center for Advancing Translational Sciences (NCATS) has sent tissue chips to the space station to analyze the effects of microgravity on human health and translate that to improvements on Earth. Investigations are using tissue chips to study aging of the immune system, lung immune response, musculoskeletal disease, kidney function, muscle loss or sarcopenia, and more.
All tissue chip investigations are assigned two flights, Warren explains, with a number of these experiments launching for the second time during Expedition 65. "The first flight is a validation of the system. The second flight is generally intended to test a therapeutic or therapeutics."
Another important element of Crew-2's mission is updating the station's solar power system by installing the ISS Roll-out Solar Array (iROSA) – compact panels that roll open like a huge yoga mat. The technology development dates back to 2009, benefiting from dozens of NASA Small Business Innovation Research awards and later ground demonstrations. In 2017, the basic design underwent testing on the space station to determine its strength and durability. The Expedition 65 crew is scheduled to begin preparations for supplementing the station's existing rigid panels this summer with the first pair of six new arrays.
One research investigation flying aboard Crew Dragon with Crew-2, CHIME, studies possible causes for suppressed immune response in microgravity. Microgravity may cause changes to the human immune system, a possible concern for long-term space travel. The CHIME investigation could help identify potential causes of immune system dysfunction and lead to ways to prevent or counteract it, helping space travelers as well as those with compromised immune systems on Earth.
Crew members remain incredibly busy between maintenance and upgrades to the station itself inside and out, daily activities to keep themselves healthy, and a full slate of scientific research – the station's primary purpose. Adding more crew members aboard the microgravity laboratory increases the time available for scientific activities. The November 2020 addition of the Crew-1 team, NASA astronauts Michael Hopkins, Victor Glover, and Shannon Walker and JAXA astronaut Soichi Noguchi, to the Expedition 64 crew of cosmonauts Sergey Ryzhikov and Sergey Kud-Sverchkov and NASA astronaut Kate Rubins more than doubled crew hours spent on scientific research and support activities.
Crew-2's Earth Day launch seems fitting, given that the space station contributes significantly to climate research. Expedition 65 astronauts join many others before them in recording our planet through the Crew Earth Observations (CEO) project. Overall, crew members have taken more than 1.5 million images of Earth, contributing to scientific research such as studies on artificial lighting at night, algal blooms, and the breakdown of Antarctic ice shelves.
When the members of Crew-2 return to Earth in the fall, they will have upped that image tally as well as the total number of hours spent on scientific activities in space. With astronauts already chosen for Crew-3 and Crew-4, the orbiting lab continues to rack up impressive results.
Quelle: NASA
+++
SpaceX Crew-2 Dress Rehearsal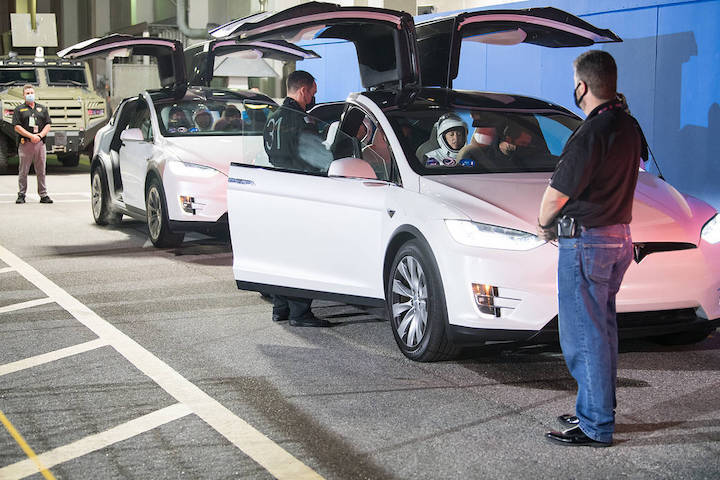 On Sunday, April 18, 2021, NASA astronauts Megan McArthur and Shane Kimbrough, ESA (European Space Agency) astronaut Thomas Pesquet, and JAXA (Japan Aerospace Exploration Agency) astronaut Akihiko Hoshide, wearing SpaceX spacesuits, are seen as they prepare to depart the Neil A. Armstrong Operations and Checkout Building for Launch Complex 39A during a dress rehearsal prior to the Crew-2 mission launch at NASA's Kennedy Space Center in Florida. Crew-2 mission is the second operational mission of the SpaceX Crew Dragon spacecraft and Falcon 9 rocket to the International Space Station as part of the agency's Commercial Crew Program.
McArthur, Kimbrough, Pesquet, and Hoshide are scheduled to launch at 6:11 a.m. EDT on Thursday, April 22, from Launch Complex 39A at the Kennedy Space Center.
Quelle: NASA
----
Update: 22.04.2021
.
Astronauts flying reused SpaceX rocket, capsule for 1st time
For the first time, NASA is putting its trust in a recycled SpaceX rocket and capsule for a crew
CAPE CANAVERAL, Fla. -- For the first time, NASA is putting its trust in a recycled SpaceX rocket and capsule for a crew.
Astronaut Megan McArthur takes special pleasure in the reused spacecraft set to soar Thursday morning. In "a fun twist," she'll sit in the same seat in the same capsule as her husband, Bob Behnken, did last spring for a test flight to the International Space Station.
329 Views