4.12.2020
Fifth missile warning satellite ready for launch, Lockheed Martin announces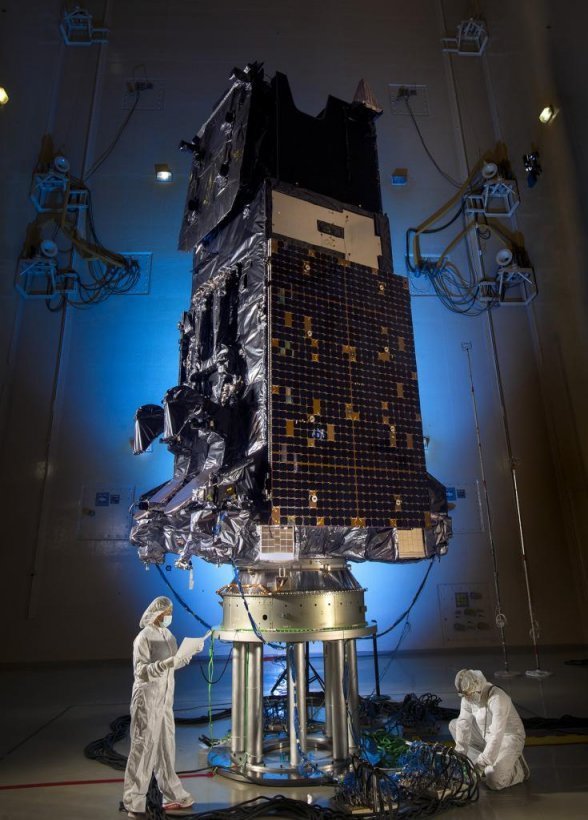 The fifth missile warning satellite of the U.S. Space Force has been constructed and is ready for launch, manufacturer Lockheed Martin announced on Wednesday.
The Space Based Infrared System Geosynchronous Earth Orbit, or SBIRS GEO-5, is scheduled to be launched in 2021 aboard a United Launch Alliance Atlas 5 rocket.
ULA is a Boeing and Lockheed Martin consortium.
The first satellite in the series was launched in 2011, but the newest versionfeatures the LM 2100 military combat bus. The bus, the space vehicle that carries the satellite's sensors and electronics, is designed to "provide greater resiliency and cyber-hardening," Lockheed said in a statement.
The new satellite also includes "enhanced spacecraft power, propulsion and electronics; common components and procedures to streamline manufacturing, and a flexible design that reduces the cost to incorporate future, modernized sensor suites," according to the company.
The next satellite in the series, GEO-6, and future Next Gen OPIR [Overhead Persistent Infrared missile warning] satellites, will also include the upgrade. GEO-6 is expected to launch by 2022, with the OPIR satellites expected to launch beginning in 2025.
The constellation of U.S. Space Force missile warning satellites are equipped with powerful scanning and staring infrared surveillance sensors.
The sensors collect data useable in discovering missile launches It also supports ballistic missile defense, expands technical intelligence gathering and improves battlefield situational awareness.
"SBIRS' role as an ever-present, on-orbit guardian against global ballistic missile threats has never been more critical," Tom McCormick, Lockheed Martin's vice in a statement on Wednesday. "In 2019 alone, SBIRS detected nearly 1,000 missile launches, which is about a two-fold increase in two years."
Quelle: UPI
----
Update: 27.03.2021
.
Billion-dollar military satellite arrives at Cape Canaveral for ULA launch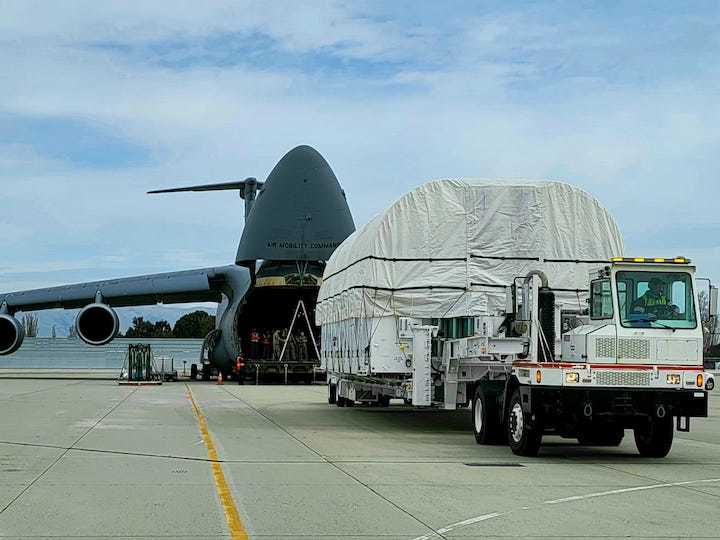 A billion-dollar military satellite touched down at Cape Canaveral Space Force Station last week, completing the first leg of its 22,300-mile journey to geosynchronous orbit.
The Space Force on Wednesday confirmed the fifth Space Based Infrared System satellite, or SBIRS GEO-5, arrived in Florida last Thursday via one of the largest aircraft in the world: a C-5M Super Galaxy. It was flown in from Lockheed Martin's production facility in Sunnyvale, California, which connects to Moffett Federal Airfield.
The missile warning and defense satellite now moves to the processing and testing phases, after which it will be fueled, the Space Force's Space and Missile Systems Center said Wednesday. SBIRS GEO-5 will then be encapsulated in a payload fairing and mated to a United Launch Alliance Atlas V rocket just before liftoff on May 17.
The Cape's Launch Complex 41 will host the mate process and eventual liftoff.
The multibillion-dollar SBIRS constellation already has four satellites in geosynchronous orbit, where they keep watch over the globe for missile launches. SBIRS is replacing the Defense Support Program, which has provided similar detection capabilities for nearly 50 years.
"In 2019 alone, SBIRS detected nearly one thousand missile launches, which is about a two-fold increase in two years," Tom McCormick, Lockheed Martin's vice president for Overhead Persistent Infrared Systems, said after SBIRS GEO-5 was completed in October.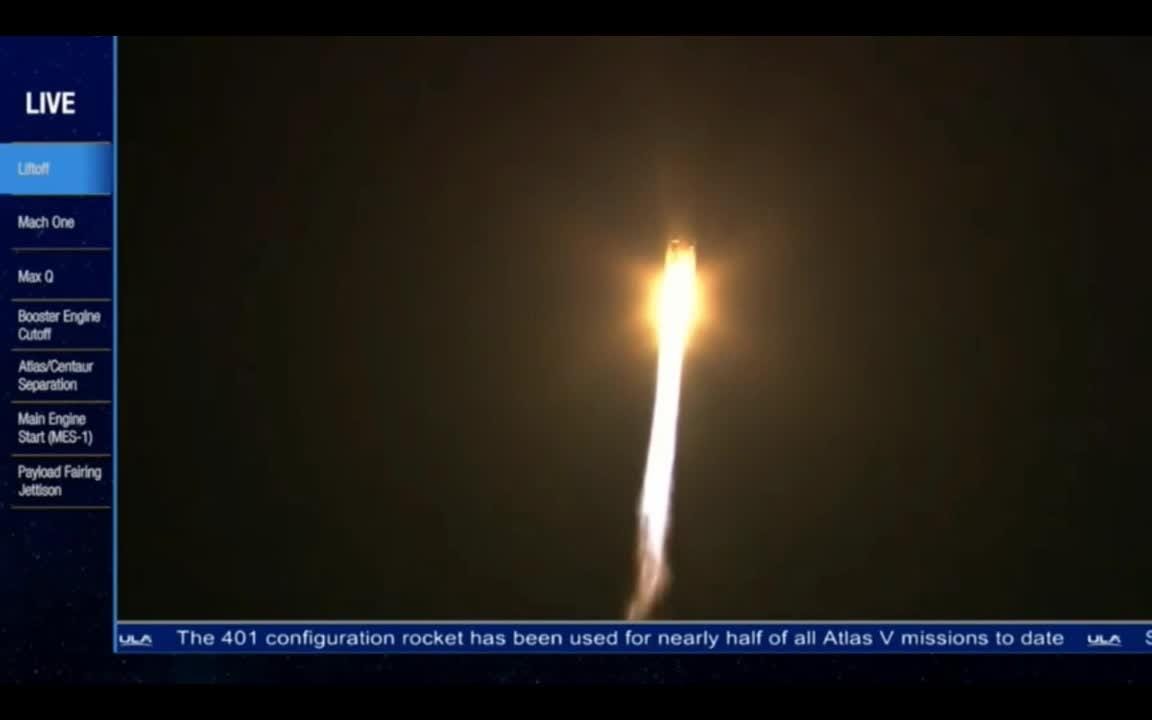 Launch Monday, May 17
Rocket: United Launch Alliance Atlas V

Configuration:

Mission: Space Force's fifth Space Based Infrared System Satellite

Launch Time: TBD

Launch Complex: 41 at Cape Canaveral Space Force Station
Quelle: Florida Today
----
Update: 2.05.2021
.
Atlas V Fully Stacked, Targets SBIRS GEO-5 Launch NET 17 May
No sooner has the dust settled from the first United Launch Alliance (ULA) mission of 2021—last week's flight of a Delta IV Heavy from Vandenberg Air Force Base, Calif., laden with the highly classified NROL-82 payload for the National Reconnaissance Office—than a workhorse Atlas V rocket stands waiting in the wings for its own mid-May ride to orbit. Earlier this week, ULA announced that the vehicle had completed initial structural "build-up" in the Vertical Integration Facility (VIF), near Space Launch Complex (SLC)-41 at Cape Canaveral Space Force Station, Fla. Currently targeted to launch no sooner than 17 May, the mission will deliver the fifth geostationary-orbiting element of the Space-Based Infrared System (SBIRS GEO-5) for the U.S. Space Force.
As previously reported by AmericaSpace, the flight hardware for the Atlas V arrived safely in Port Canaveral on 1 April. The 107-foot-long (32.6-meter) Common Core Booster (CCB) for the rocket, together with its 41-foot-long (12.6-meter) Centaur upper stage, departed ULA's manufacturing site in Decatur, Ala., on 23 March and traveled via the Mississippi River and the Gulf of Mexico, aboard the R/S RocketShip transport vessel. Shortly after its arrival on the Space Coast, the Centaur was transferred to ULA's facilities for flight preparations, whilst the Atlas V CCB headed via flatbed truck to the ordnance bay in the Atlas Spaceflight Operations Center (ASOC).
Here it was put through initial preparations and declared ready to commence stacking operations for launch. Vertical integration of the two-stage rocket with its two Aerojet Rocketdyne-provided AJ-60A solid-fueled boosters began on 21 April in the cavernous interior of the VIF, when the Atlas V was hoisted upright on the Mobile Launch Platform (MLP). This completed the Launch Vehicle On Stand (LVOS) milestone, which officially marked the start of the SBIRS GEO-5 launch campaign.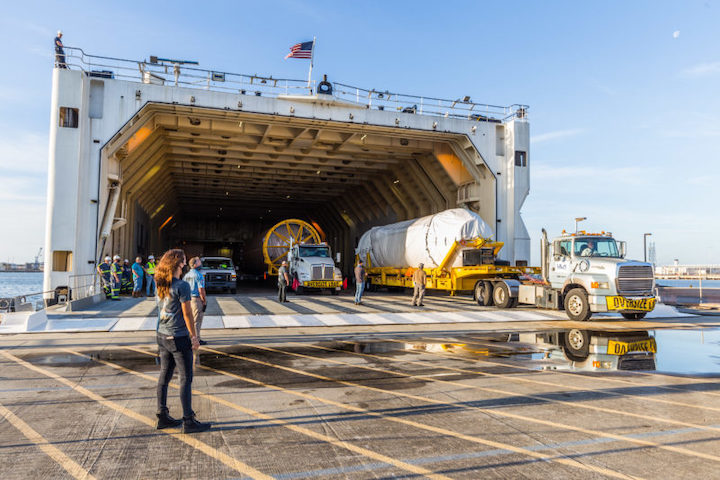 Last weekend, the two AJ-60A boosters—each standing 55.7 feet (17 meters) tall—were installed on opposite sides of the Atlas V CCB. With a combined propulsive yield of just under 760,000 pounds (340,000 kg), they will afford the stack more than half of its energy at liftoff. This will mark the 40th use of AJ-60-class boosters on Atlas V missions since July 2003. The most recent flight of an Atlas V with the boosters occurred during last summer's launch of the Perseverance mission to Mars. ULA intends to gradually retire its existing stock of AJ-60As over the coming months, in favor of Northrop Grumman's GEM-63 booster, which first flew during last November's NROL-101 mission.
Last Monday, the basic structural "build-up" of the Atlas V was completed with the Off-site Vertical Integration (OVI) milestone, with the attachment of the inter-stage element, the Centaur upper stage and the base of the Payload Fairing (PLF). In the coming days, the rocket will be powered up, its flight controls thoroughly checked out, its engine steering profiles performed and a Combined Systems Test undertaken. Next week, the PLF—housing the SBIRS GEO-5 spacecraft—will be lifted onto the booster to top-off the stack at a height of 194 feet (59 meters).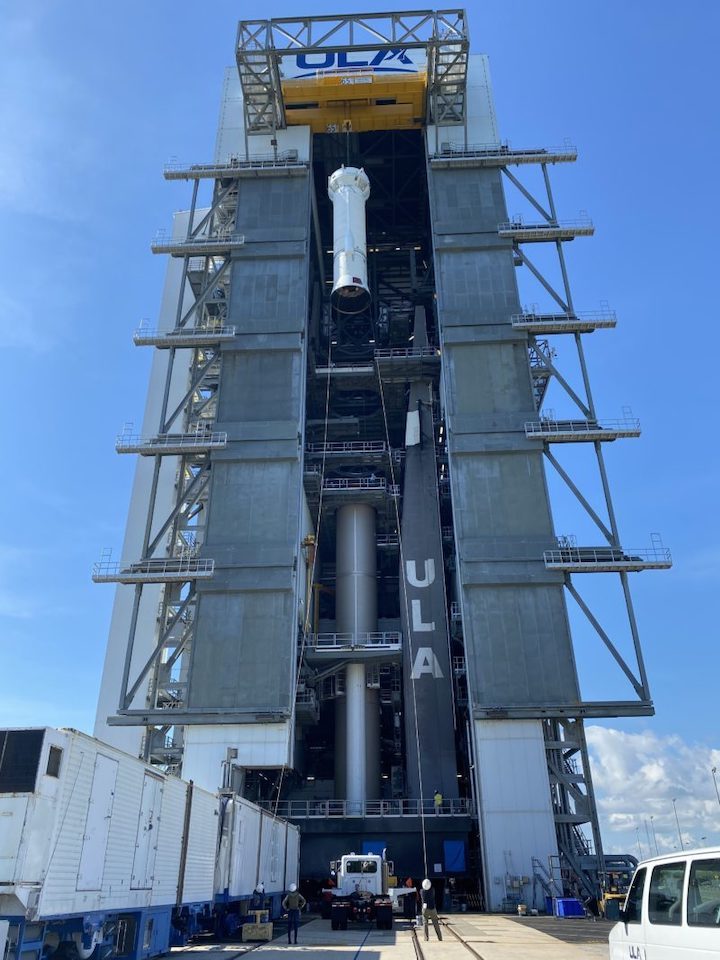 With two solids, a 13-foot-diameter (4-meter) fairing and a single-engine Centaur, the Atlas V for SBIRS GEO-5 is designated "421" and will mark the eighth use of this particular configuration of the rocket since October 2007. It most recently saw service for the October 2017 launch of NROL-52 for the National Reconnaissance Office. In addition to a pair of missions for the NRO, other past customers have included two Wideband Global Satcoms (WGS) for the U.S. Space Force, two commercial communications satellites and NASA's 2015-launched Magnetospheric Multiscale Mission (MMS). All told, the 421 configuration can lift up to 30,800 pounds (14,000 kg) to low-Earth orbit or up to 15,200 pounds (6,890 kg) to Geostationary Transfer Orbit (GTO).
Uniquely, May's launch will be the first time an Atlas V has flown in the 421 configuration to lift a SBIRS GEO satellite to orbit. The first three SBIRS GEO missions in May 2011, March 2013 and January 2017 rode atop "401" boosters, with no strap-on rockets, although January 2018's launch occurred on a "411" with a single side booster.
ULA CEO Tory Bruno noted at the time of the SBIRS GEO-4 launch that the additional impetus afforded by the single solid provided "enough energy to allow Centaur to be immediately deorbited" after its mission, rather than placing it into a designated disposal (or "junkyard") orbit for slower decay and eventual re-entry. It is believed that the additional performance afforded by the 421 will permit a more optimized orbit for the payload.
SBIRS GEO-5 completed an ahead-of-schedule construction and testing campaign last October, with the elimination of unnecessary programmatic oversight and reporting, a restructured test program and a streamlined production schedule having enabled Lockheed Martin Corp. to finish SBIRS GEO-5 in only five years. Described as a "global guardian" for ballistic missile detection and defense, it is the fifth geostationary element of an upgraded set of space-based infrared "eyes" and follows four previous missions also launched atop Atlas Vs between May 2011 and January 2018.
SBIRS forms part of a multi-billion-dollar Pentagon effort to replace the earlier Defense Support Program (DSP) network of early-warning satellites, whose own ancestry extends back to the 1970s. It is expected to enable the United States' space surveillance needs for the next two decades, with focuses including advanced early warning, missile defense and battlespace characterization. In its final form, it will comprise six GEO satellites at geostationary altitude, together with adjunct sensors aboard the HEO-1 and HEO-2 satellites, which were inserted into highly-elliptical orbits back in June 2006 and March 2008.
The successful launch of SBIRS GEO-1 in May 2011 marked the culmination of a long and tortured development process, which saw costs balloon by over 400 percent from an estimated $4 billion to over $17 billion. According to General Accounting Office (GAO) auditors, as reported by Defense Industry Daily in February 2013, the program suffered from "immature technologies, unclear requirements, unstable funding, underestimated software complexity [and] poor oversight".
As circumstances transpired, the Air Force's apparent lack of alternatives for an urgent national requirement to have an advanced infrared surveillance system in orbit to actively monitor ballistic missile launches and nuclear events seems to have prevented SBIRS' cancelation. Its capabilities include highly sophisticated scanning/staring sensors, with improved infrared sensitivity and the scope to provide wide-area ("scanning") surveillance and small-area ("staring") observations. Three further SBIRS GEO satellites were launched in March 2013, January 2017 and January 2018.
In the meantime, a $284.4 million contract for the purchase of long-lead items for GEO-5 and GEO-6 were awarded in March 2013, ahead of the definitive $1.86 billion deal between the Air Force and Lockheed Martin in June 2014 to fabricate both satellites. At the time of the award, it was noted that the contract formed part of "a thoughtful acquisition strategy aimed at further reducing cost and cycle time". In particular, more than a billion dollars' worth of saving were achieved through "block-buy" contracting practices and the elimination of unnecessary program oversight and reporting, a restructured test program and a streamlined production schedule.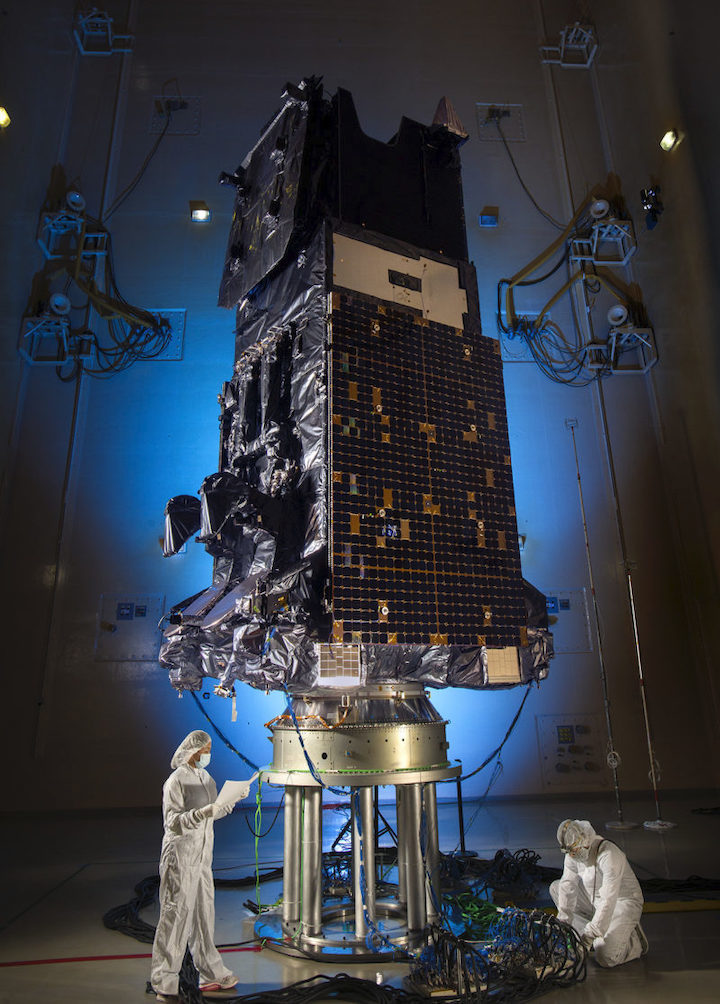 In September 2017, both the GEO-5 and GEO-6 satellites wrapped up their Critical Design Review (CDR) at Lockheed Martin's Sunnyvale, Calif., facility, with Col. Dennis Bythewood, director of SMC's Remote Sensor Systems Directorate, praising the "resiliency" of the program. Upon the completion of the CDR, both satellites moved directly into manufacturing and integration.
In February 2019, ULA was awarded a $441.6 million contract to launch three payloads—including SBIRS GEO-5 and GEO-6—with an expectation that the GEO-5 element would fly atop an Atlas V from Space Launch Complex (SLC)-41 at Cape Canaveral Air Force Station, Fla., as early as March 2021.
GEO-5 pressed smoothly through Thermal Vacuum (TVAC) testing last summer, which constituted a "major milestone" in readying the satellite for final assembly. "Lockheed Martin Space overcame COVID-19-related challenges," noted the Air Force, "to maintain assembly and test operations with minimal impacts." Following its completion last fall, SBIRS GEO-5 was delivered aboard a C-5M Super Galaxy transport aircraft from Moffett Airfield in California to the Space Coast in March.
The design of SBIRS GEO-5 marks the inaugural use of Lockheed Martin's heavily modernized LM2100 "Combat Bus", carrying twin solar arrays and a powerful communications and imaging payload. In what has been described as a "technical refresh update", their newer components and more modern electronics are expected to achieve a boost in capability and reliability.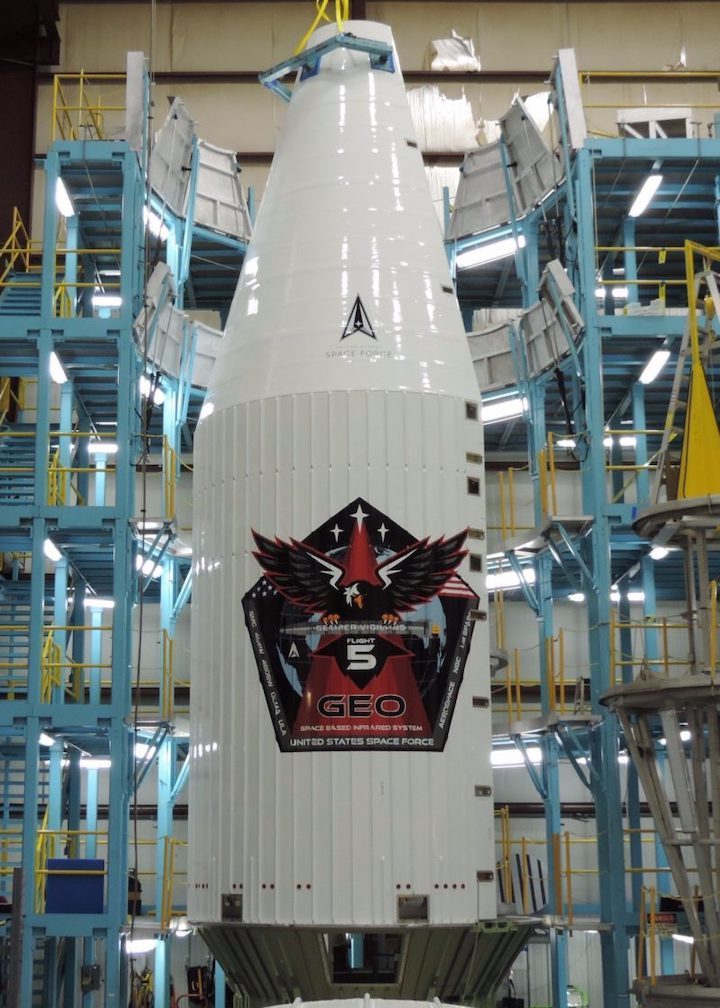 The new SBIRS benefits from 26 enhancements, ranging from improved cyber-hardening, greater spacecraft power, propulsion and electronics, common components to streamline manufacturing and a flexible design architecture. According to Lockheed Martin, the LM2100 Combat Bus architecture will also form the baseline for the upcoming Next-Generation Overhead Passive Infrared (Next-Gen OPIR) Block 0 satellites and the Global Positioning System (GPS) Block III Follow-On series, both of which are expected to enter service around the middle of this decade.
Led by the Infrared Space Systems Directorate at the Air Force's Space and Missile Systems Center (SMC) at Los Angeles Air Force Base in Los Angeles, Calif., the SBIRS GEO satellites and their ground systems are operated by the 460th Space Wing at Buckley Air Force Base in Aurora, Colo. "SBIRS' role as an ever-present, on-orbit guardian against global ballistic missile threats has never been more critical," said Tom McCormick, Lockheed Martin's vice president for OPIR Systems. "In 2019 alone, SBIRS detected nearly one thousand missile launches, which is about a two-fold increase in two years."
Quelle: AS
407 Views