23.10.2020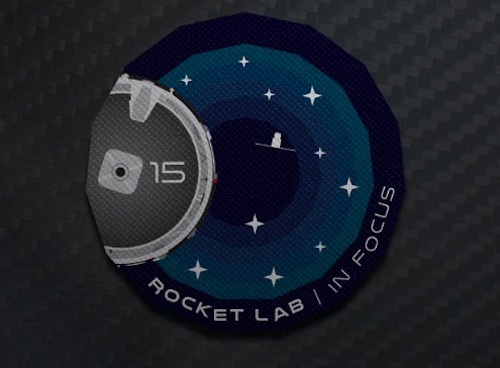 Rocket Lab canceled a launch attempt Wednesday in New Zealand to evaluate unexpected sensor data, postponing a mission that will deliver 10 small commercial Earth-imaging satellites to orbit.
The California-based rocket company was planning to launch the mission during a window Wednesday opening at 5:14 p.m. EDT (2114 GMT), or 10:14 a.m. local time Thursday at the Electron rocket's launch base in New Zealand.
The launch team began loading the rocket with kerosene and liquid oxygen propellants, then officials pushed back the launch time to the end of Wednesday's window. Rocket Lab finally announced that the mission would have to wait for another day to take off.
Peter Beck, Rocket Lab's founder and CEO, tweeted the the company scrubbed the launch attempt Wednesday "just to be safe."
When the mission does blast off, the nearly 60-foot-tall (18-meter) Electron rocket will arc toward the south from Rocket Lab's privately-owned spaceport on Mahia Peninsula on the east coast of New Zealand's North Island.
The Electron rocket's upper stage will deploy 10 small satellites into a 310-mile-high (500-kilometer) polar orbit. The mission will be the 15th launch of a Rocket Lab Electron booster since May 2017.
The largest spacecraft on the mission is CE-SAT-2B, an Earth observation satellite for Canon Electronics of Japan.
The 78-pound (35.5-kilogram) microsatellite is sitting on top of the rocket. CE-SAT-2B is Canon's third microsatellite to launch, following an experimental spacecraft that launched in 2017 on an Indian PSLV rocket and a follow-on satellite that launched in July on a previous Rocket Lab mission.
The CE-SAT 1B satellite that launched in July was destroyed when Rocket Lab's Electron rocket failed before reaching orbit.
According to Canon, CE-SAT-2B carries three types of cameras to be demonstrated in orbit.
"With the newly developed super high sensitivity camera, CE-SAT-2B is capable of observing the Earth during night time," Canon said in a press release. "The satellite is equipped with three types of cameras including Canon's mirrorless camera and compact digital camera.
"CE-SAT-2B will go through a two-year demonstration experiment for forthcoming production of cassegrain reflectors as series," Canon said.
Spaceflight, a Seattle-based launch broker, arranged for the launch of CE-SAT-2B with Rocket Lab.
Nine SuperDove Earth-imaging satellites — each about the size of a large shoebox — are also stowed inside Maxwell deployers on top of the Electron rocket. The SuperDove payloads, built and owned by Planet, will replace five similar satellites — collectively known as "Flock 4e"– that were also lost on Rocket Lab's failed mission in July.
Quelle: SN
+++
Rocket Lab scrubs launch of "In Focus" mission for Planet, Canon imaging satellites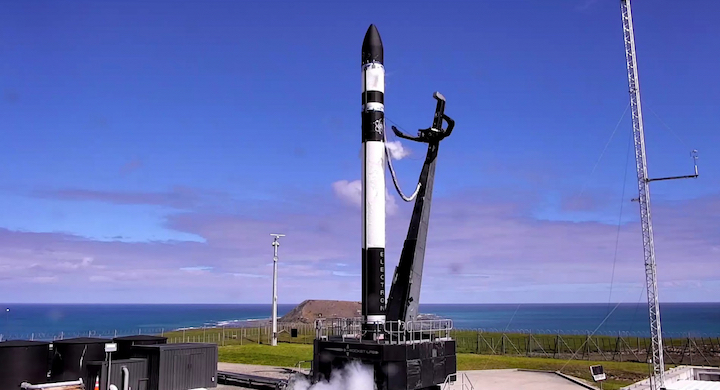 Rocket Lab was preparing to launch their fifth Electron mission of 2020 — a rideshare for Planet Labs and Spaceflight Industries named "In Focus," a reference to Electron's payload of 10 Earth-imaging satellites. The flight will target a 500 kilometer sun-synchronous orbit, ideal for Earth observation missions as the high inclination means the satellites can cover large portions of the Earth surface while the Sun maintains the same position in the sky each time the satellites pass over a specific location.
The 15th flight of an Electron rocket from Rocket Lab's private launch facility on the Māhia Peninsula in New Zealand was targeted for a launch window that opened on 21 October at 21:14 UTC (17:14 EDT), or 22 October at 10:14 local time in New Zealand — however, sensor readings caused Rocket Lab to stop the count to investigate.
A new launch date has not been set at this time.
Payload Overview
Ten payloads in total will be deployed from the Curie engine powered Kick Stage of Electron: Canon's CE-SAT-IIB and nine of Planet's Flock 4e' SuperDoves.
Built by Canon Electronics, CE-SAT-IIB is a second generation technical demonstration satellite developed to test the company's imaging equipment in space.
The 35.5 kilogram satellite comes equipped with several lenses, including a middle-size telescope — attached to a 200 millimeter "super high sensitivity camera" designed for night photography of Earth, according to Canon.
The spacecraft also contains an EOS M100 secondary telephoto lens, as well as a wide-angle PowerShot camera.
Many of the satellite's critical components, including the sun sensor, star tracker, inertial measurement unit (IMU), reaction wheel, and the on-board computer were all developed and manufactured in-house by Canon.
CE-SAT-IIB's launch was arranged through Virginia-based Spaceflight Inc., a satellite rideshare provider.
Joining CE-SAT-IIB on the mission are nine of Planet's SuperDove cubesats that will join the company's constellation that provides daily images of Earth's surface — the largest constellation of its kind.
The SuperDoves will deploy from Rocket Lab's Maxwell dispensers and will be used for numerous purposes, including observing Earth's climate, aiding farmers, tracking wildfires, mapping forests, tracking and identifying illegal fishing activity, and supporting disaster response.
Flock 4e' is a replacement for the Flock 4e satellites that were lost on a failed Electron mission earlier this year — a flight which also resulted in the end of an earlier-model Canon satellite.
Preparations and Launch
On 8 October, Rocket Lab conducted a successful wet dress rehearsal (WDR) of the Electron designated for the mission. During this process, the rocket was filled with its RP-1 kerosene and liquid oxygen and the launch team conducted a normal countdown right up until engine ignition.
Whatever day within the current window — which extends to 3 November — a launch takes place, the countdown will begin at T-6 hours at 11:14 EDT (15:14 UTC) when the road to the launch complex was closed.
Electron will be taken vertical around T-4 hours, ahead of pad clear and then the start of fueling operations at T-2 hours.
At the same time, the marine hazard zones around the launch complex and downrange under Electron's flight path will be closed; the airspace surrounding the launch site will be restricted beginning at T-30 minutes.
At T-18 minutes, the Launch Director will conduct a go/no go poll of all launch operators in order to continue the countdown. Passing 2 minutes before launch, the team will hand off control of the countdown to Electron's onboard computers.
At T-2 seconds, the nine Rutherford engines on Electron's first stage will ignite and reach full thrust, a process that occurs almost instantly due to their electric-driven turbopumps.
After passing all engine start health checks, the launch pad's hold-downs will release Electron for a short, vertical climb before the vehicle begins its pitch program.
After 2 minutes and 31 seconds of powered flight, the Rutherford engines on the first stage will shutdown.
Shortly after, pneumatic pushers will separate the first and second stages, followed by ignition of the second stage's vacuum-optimized Rutherford engine.
After the first stage separates, Rocket Lab will not perform recovery tests on this particular booster.
Back on the second stage, payload fairing separation is planned for 3 minutes and 9 seconds into flight.
At 6 minutes 23 seconds, Electron's second stage will perform its unique "hot swap," where the first round of batteries used to power the vacuum-optimized Rutherford engine's turbopump are instantly swapped over to a new set of batteries and the old ones jettisoned from the stage.
Electron will reach its initial parking orbit at T+8:54 when the second stage will shut off. About 10 seconds later, Electron's Kick Stage will separate.
At T+51:06, the Curie engine on the stage will ignite, followed by shutdown about two minutes later. One hour after launch, all payloads will be deployed from Electron, which Rocket Lab will confirm via social media and a press release.
Upcoming Missions
After the "In Focus" mission, the company will likely launch the long-awaited STP-27RM flight for the U.S. Air Force from their newly constructed Launch Complex-2 at the Mid-Atlantic Regional Spaceport (MARS) on Wallops Island, Virginia.
The following mission, flight 17, will mark the highly-anticipated first attempt to recover Electron's booster stage. This recovery operation will mirror the initial attempts to recover the Falcon 9, where the booster was purposely soft-landed in the ocean.
For the water landing, Electron's first stage will be equipped with a Reaction Control System as well as a parafoil which will slow the vehicle down for a gentle splash down in the Pacific.
A recovery team will be waiting near the splashdown location to retrieve the booster.
Once Rocket Lab is comfortable with how the thrusters and parafoil control the booster, the company will commit to the full recovery plan — which features a helicopter grabbing the booster out of the air as it descends toward the ocean. The helicopter will then fly the booster back to recovery forces.
Meanwhile, on 14 October, NASA selected several companies to develop technologies as part of their fifth "Tipping Point" solicitation. Among those companies is Eta Space, which will partner with Rocket Lab to use the Photon spacecraft to demonstrate "a suite of cryogenic fluid management tech, including active & passive thermal control, liquid acquisition, pressure control, & cryogenic transfer," according to Rocket Lab.
NASA's recent "Tipping Point" awards will help companies develop technologies required for the agency's Artemis program, intended to return humans to the Moon as early as 2024.
Additionally, Rocket Lab is still on track to launch back-to-back missions from LC-1A and -1B at the Māhia Peninsula launch site. These twin missions for the U.S. National Reconnaissance Office (NRO) will liftoff just a few weeks apart from each other on the neighboring launch pads in New Zealand.
The twin NRO flights are scheduled for Quarter 2 of 2021.
Quelle: NS
+++
Rocket Lab stands down Canon launch
UPDATE: After two delays, Rocket Lab has abandoned morning's launch. The company tweeted, "We're standing down from today's attempt. Some sensors are returning data that we want to look into further. We have back up opportunities until Nov 3. Stay tuned for updates on new launch date!"
Rocket Lab is counting down to its 15th mission, and its fifth this year.
One of the Kiwi-American company's Electron rockets is due to take off from Launch Complex 1 in Mahia, with the launch window opening today at 11.02am NZT.
A livestream will begin above, around 20 minutes before launch.
"In Focus" will carry commercial Earth-imaging satellites for US company Planet and Japan's Canon.
It will launch nine "SuperDove" cubesats for Planet, which will join the company's constellation of Earth-observation satellites already on orbit providing medium-resolution global coverage. Plus the CE-SAT-IIB, a technical demonstration microsatellite developed by Canon - which has a middle-size telescope equipped with an ultra-high sensitivity camera to take night images of the Earth.
It comes after Rocket Lab co-founder and CEO Peter Beck has been tweeting pics taken by the inhouse satellite launched last month to showcase his company's Photon platform.
Co-founder and CEO Peter Beck - who recently chipped in to a new NZ venture capital fund aimed at finding next Rocket Lab and other "deep tech" stars has been musing about his company's past and future as he waits for the launch.
Rocket Lab, whose shareholders include Lockheed Martin, a clutch of Silicon Valley VCs, ACC, Sir Stephen Tindall and Beck himself, now has a private equity valuation in the vicinity of $2 billion.
After one Twitter user mused: "It seems @RocketLab is the best baseline so far to measure success in the small-sat launch market. Do we know what their development costs were or what their profit margin is?",
Quelle: nzherald
----
Update: 28.10.2020
.
Start von Electron rocket's 15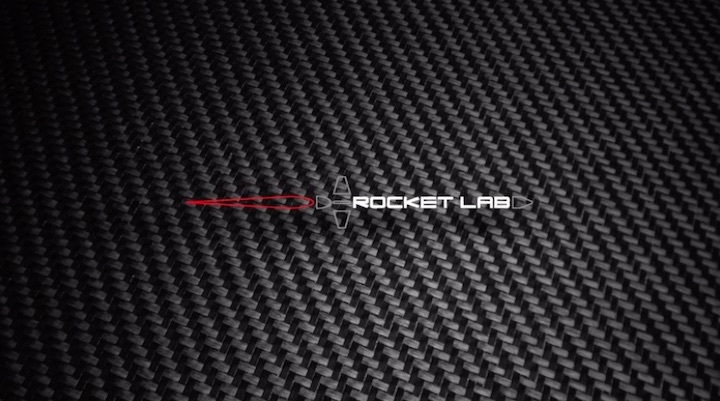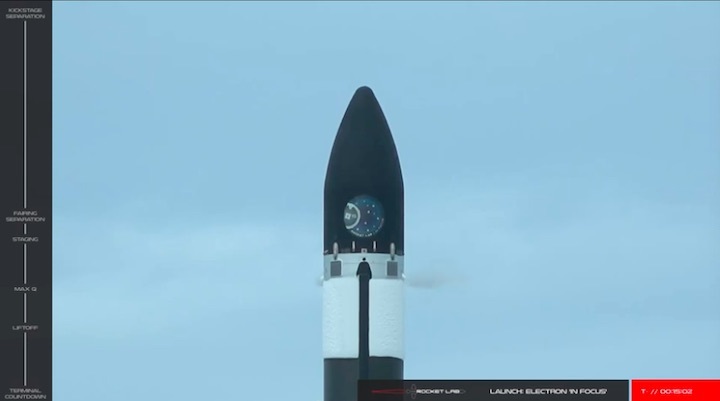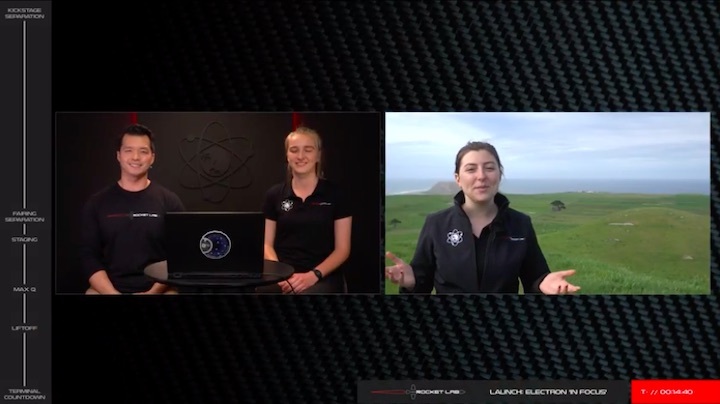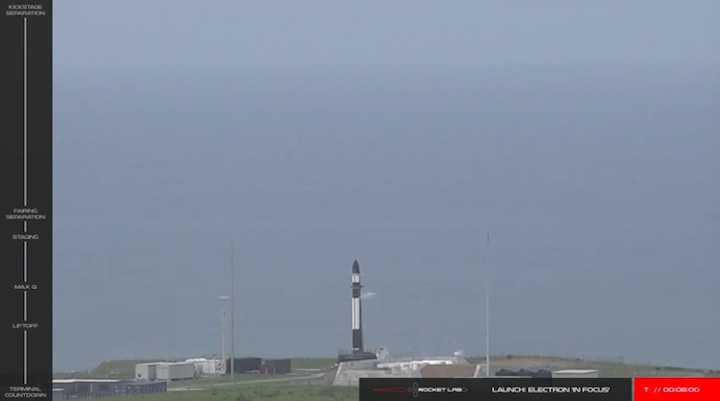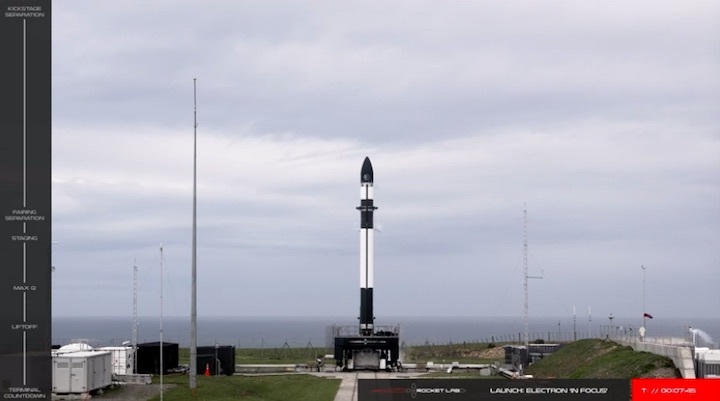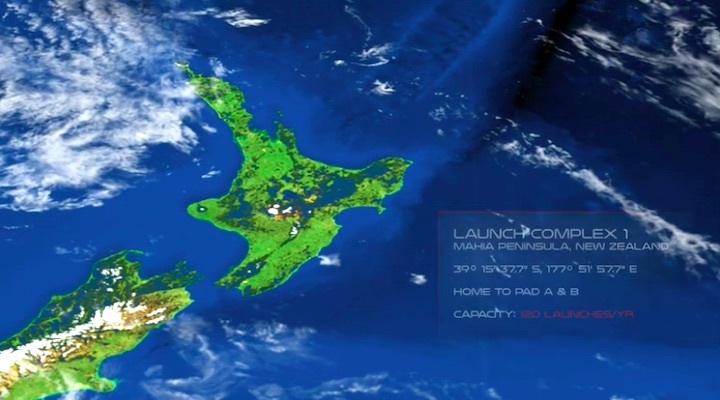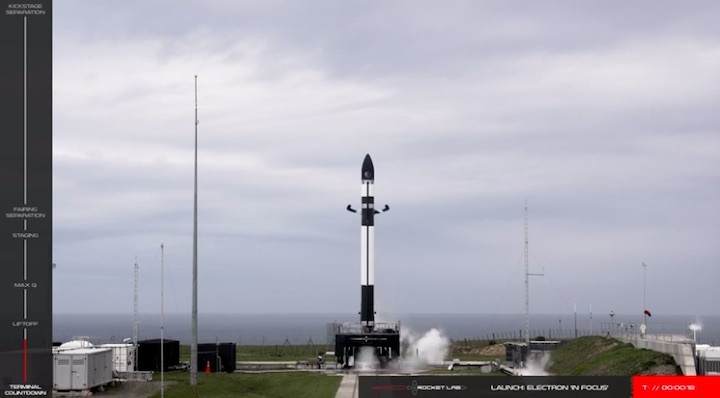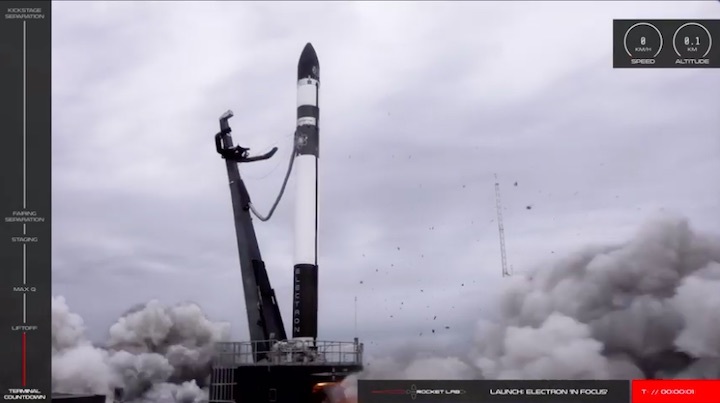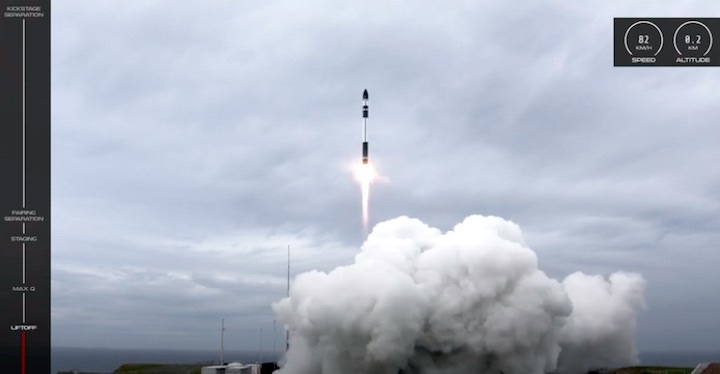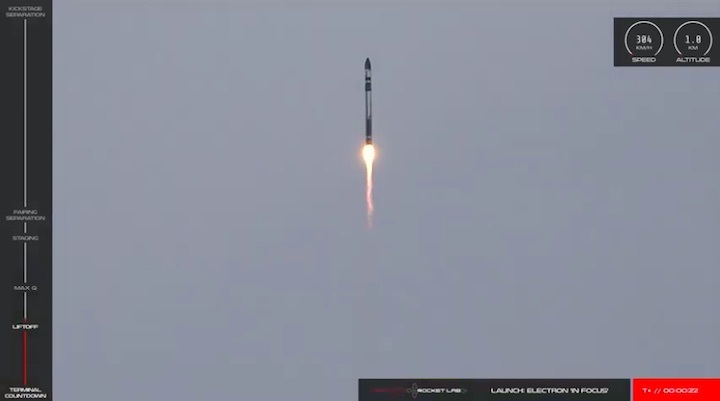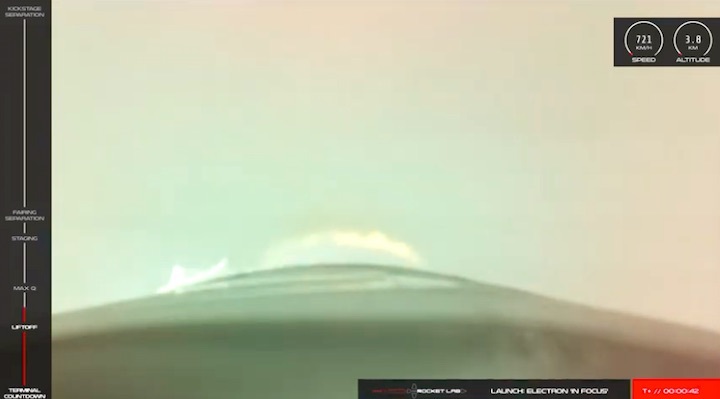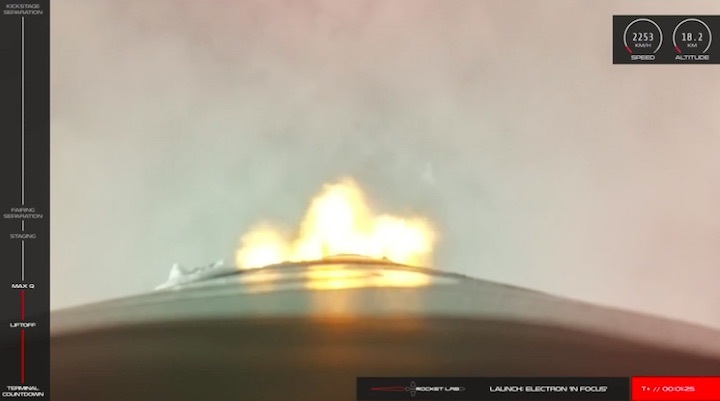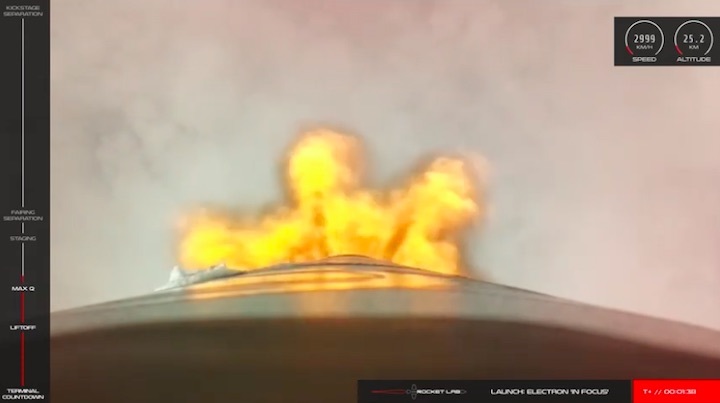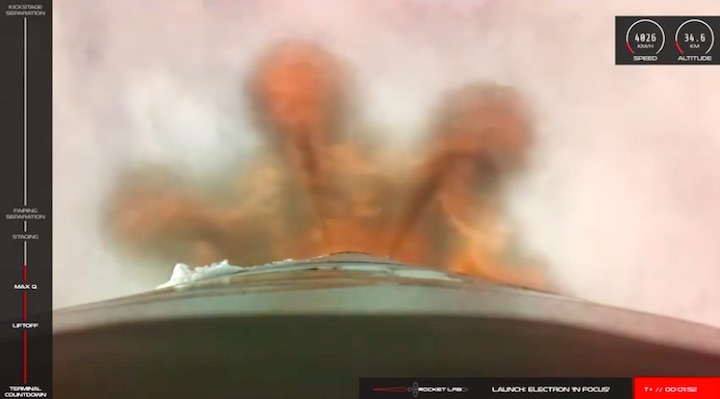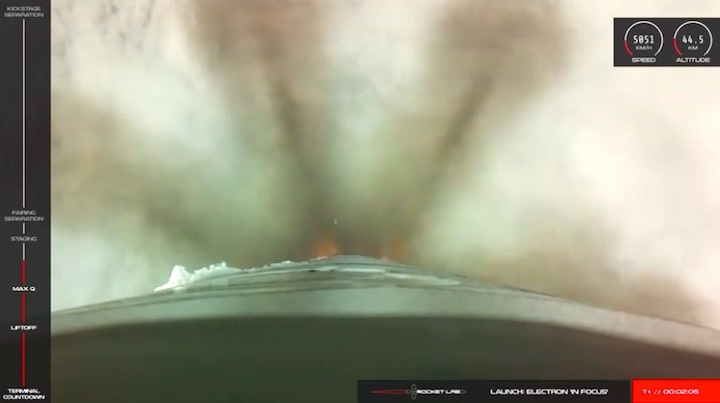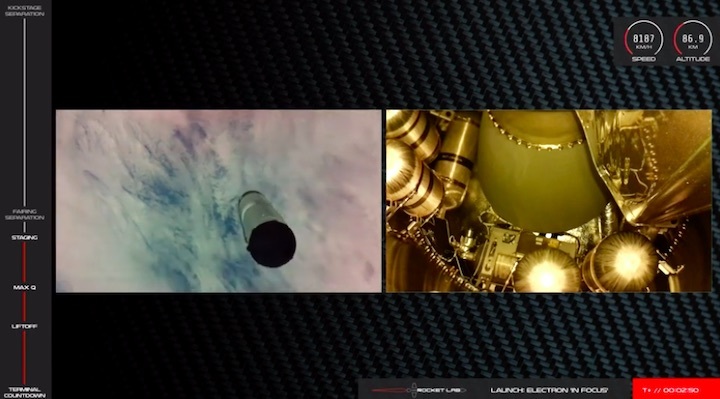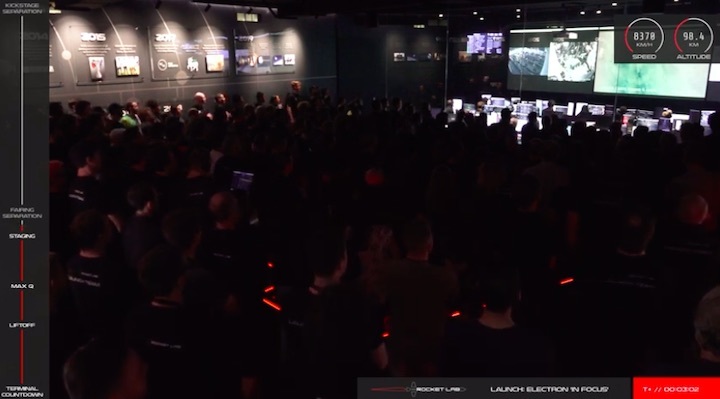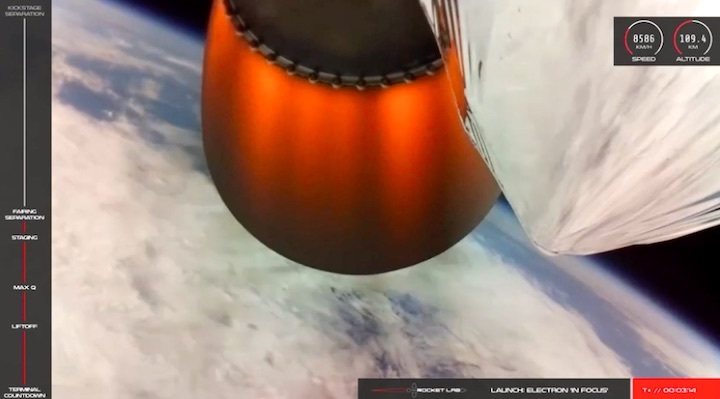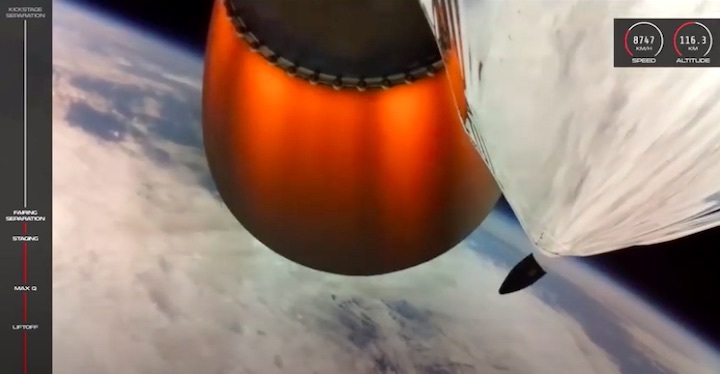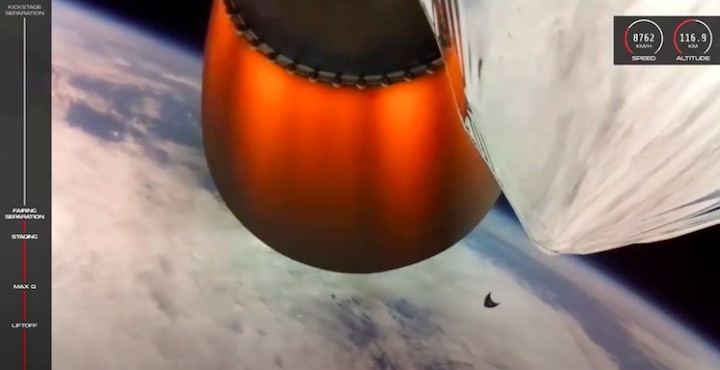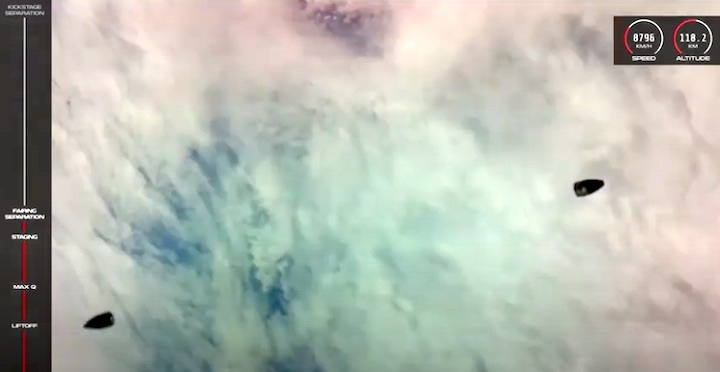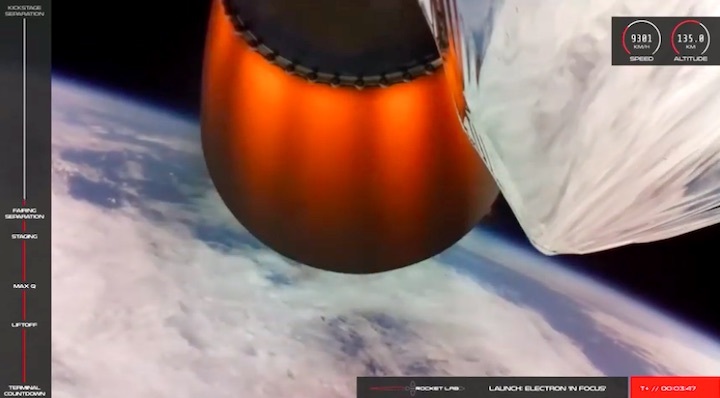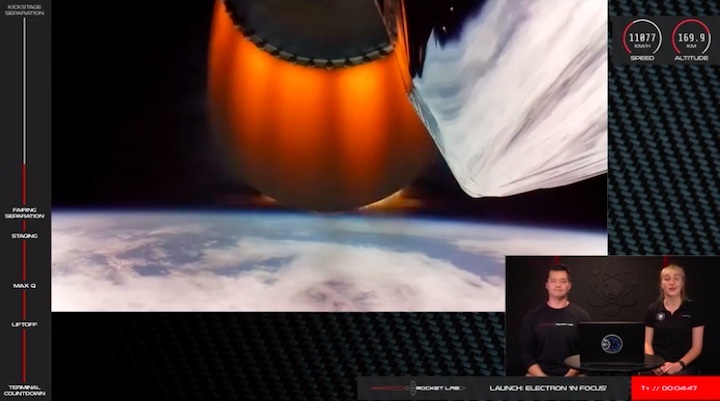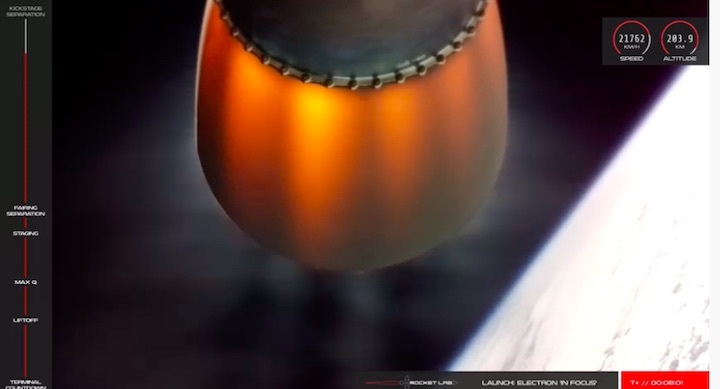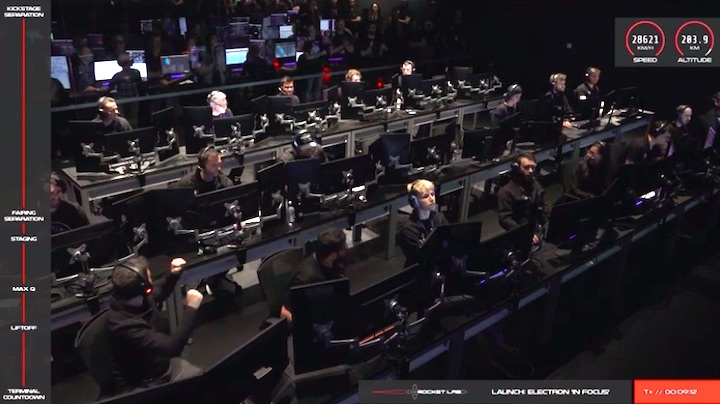 Quelle: RocketLab
142 Views