NASA has delayed the launch of the SpaceX Crew-1 mission until early- to mid-November, the agency announced Saturday. The mission eventually will bring three NASA astronauts and an astronaut from Japan's JAXA space agency to the International Space Station.
Originally scheduled for October 31st, the planned six-month mission was delayed to allow time to resolve issues with the first-stage engine gas generators on the Falcon 9 rocket, NASA said in a statement. When it does launch, American astronauts Michael Hopkins, Victor Glover, and Shannon Walker, plus Japanese astronaut Soichi Noguchi will be aboard SpaceX's first operational crewed mission to the ISS.
Crew-1 is among six planned missions SpaceX plans to send to the ISS under a contract with NASA, awarded in 2014 as part of the Commercial Crew Program that brought private sector companies into the US space program.
SpaceX's first Crew Dragon flight, the DM-2, or Demo-2, was a test mission that brought NASA astronauts Doug Hurley and Bob Behnken to the ISS in May for a two-month visit. The Crew Dragon docked with the ISS and returned safely to Earth on August 2nd, giving NASA the data it needed to certify regular trips to and from the ISS with astronauts aboard in the future.
Quelle: The Verge
----
Update: 15.10.2020
.
Engine problem delays launch of Crew Dragon till early November
The launch of the private manned spacecraft Crew Dragon has been postponed until early November at the earliest due to an engine problem, NASA announced on Oct. 10.
The spacecraft, operated by U.S. company Space Exploration Technologies (SpaceX) Corp., was initially scheduled to blast off from Earth bound for the International Space Station on Oct. 31. It will carry Japanese astronaut Soichi Noguchi, 55, and three other crew members.
NASA said the spacecraft's engines need to be examined due to a problem found in the same model of engines used in another spacecraft in its launch attempt.
"I take the (launch delay) as a necessary precaution to ensure the safety of the rocket," Noguchi said in a message posted on his Twitter account. "We, the crew members, will continue to work hard in our training."
Quelle: The Asahi Shimbun
----
Update: 20.10.2020
.
野口聡一宇宙飛行士ISS長期滞在に向けた船外活動訓練を実施
3回の船外活動(Extravehicular Activity: EVA)を行い国際宇宙ステーション(ISS)の組み立てに貢献した2005年のSTS-114ミッション、そして宇宙環境を利用した科学実験などを行った2009年の第22次/第23次ISS長期滞在に続き3度目の宇宙へ!
野口聡一宇宙飛行士の現在の訓練状況をお伝えします。
この9月に2回の船外活動訓練を行う野口宇宙飛行士。無重量環境訓練施設(Neutral Buoyancy Laboratory: NBL)での訓練を一緒に行うのは、それぞれクルードラゴン運用初号機でISSに向かうCrew-1メンバーのマイケル・ホプキンス宇宙飛行士とビクター・グローバー宇宙飛行士です。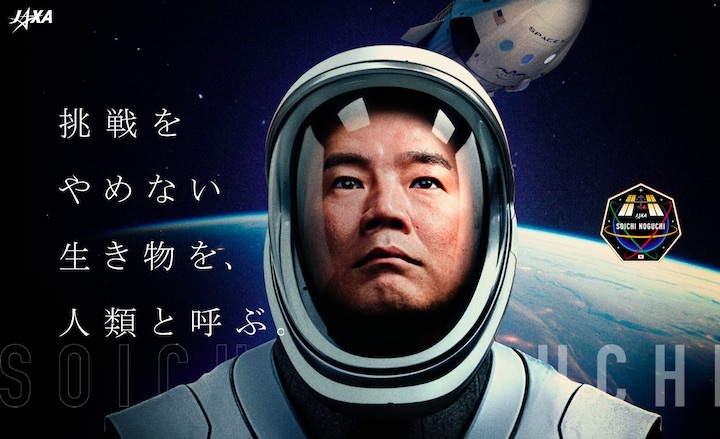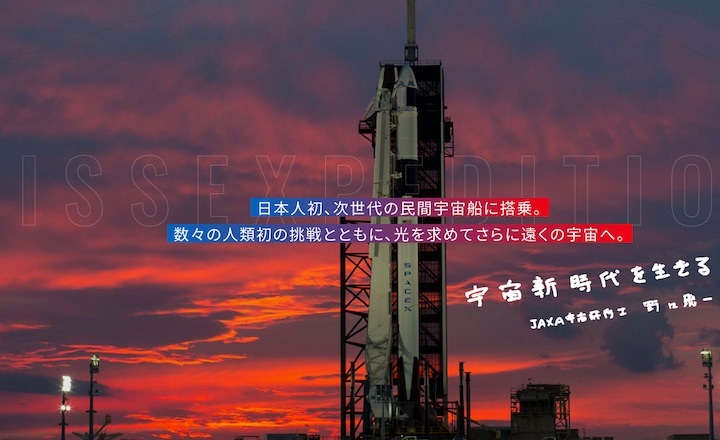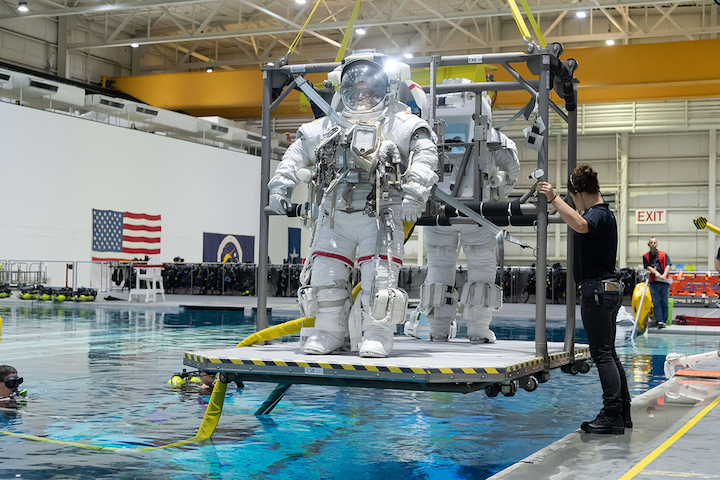 NASAの巨大なプール(縦60m、横30m、深さ12m)で行うこの訓練では、無重量を模擬した環境で宇宙飛行士が船外活動の手順を検証します。
船外活動関連の訓練としては他に、Partial-gravity Offload System (POGO)という人工的に無重力に近い状態を作り出す装置を使って行うものがあります。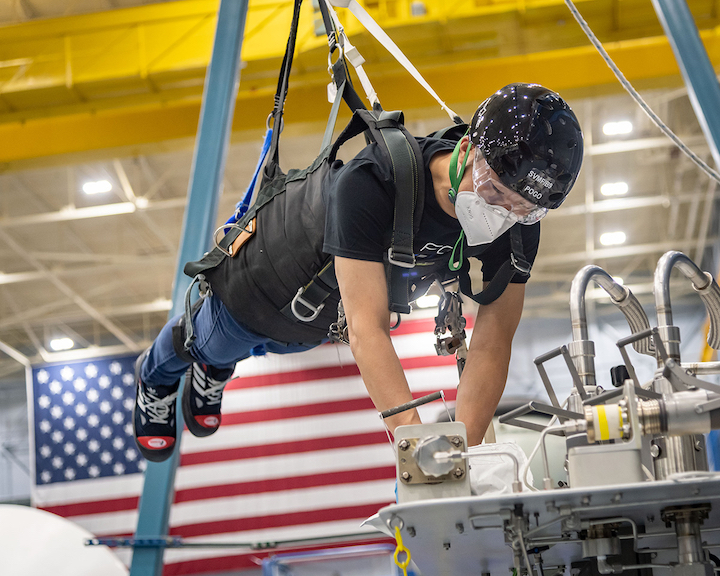 クレーンのようなもので釣り上げられている野口宇宙飛行士!
宙に吊り下げられた状態でボルトや配管の取り外し・取り付け作業を行います。水中の訓練では水の抵抗により宇宙空間で顕著な「慣性」を模擬できず、水の抵抗で「動く」のは大変ですが「止める」のは簡単です。しかし抵抗がほとんどない宇宙空間では逆に「動く」のは簡単で「止める」ことが難しくなります。この宇宙空間で顕著な「慣性」をある程度模擬できるPOGOを使用した操作は、体や道具が動いてしまう無重力空間での「作業のコツ」や「宇宙での間隔」を掴むための大事な訓練です。
また、ISSのエアロックと同様の機能を持つSSATA(Space Station Airlock Test Article)では、チャンバー内を減圧して宇宙での活動を模擬し、船外活動の準備に必要な実際のスーツの操作法などを訓練します。
新型コロナウイルス感染を予防しながら順調に進められている野口宇宙飛行士の訓練情報。
次回は、アメリカの民間宇宙企業スペースX社が開発した「クルードラゴン」搭乗に向けた訓練の模様をお届けします。お楽しみに!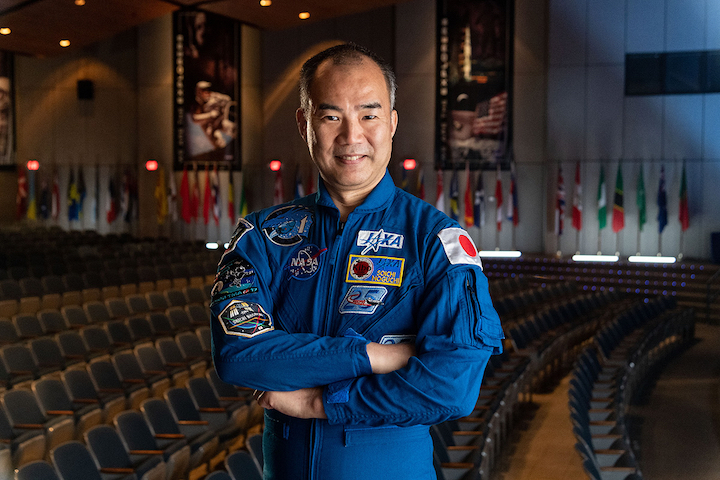 NASA, SpaceX Invite Media to Crew-1 Mission Update, Target New Launch Date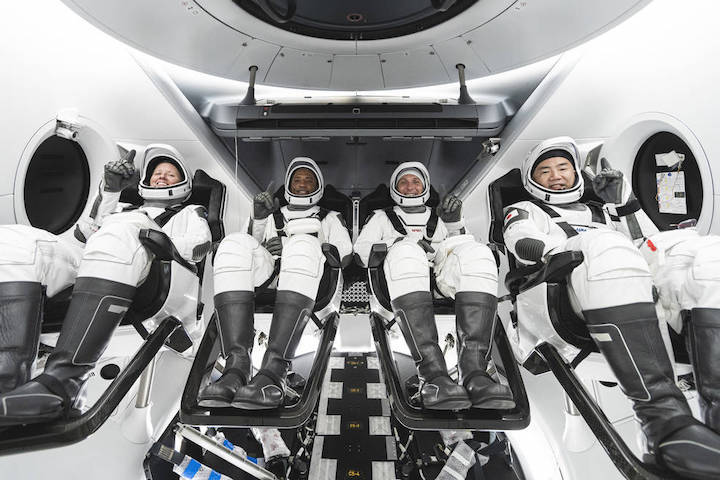 NASA and SpaceX now are targeting 7:49 p.m. EST Saturday, Nov. 14, for the launch of the first crew rotation mission to the International Space Station as part of the agency's Commercial Crew Program.
Managers of NASA's SpaceX Crew-1 mission will hold a media teleconference at 4 p.m. EDT Wednesday, Oct. 28, to discuss the upcoming launch, including results from recent testing of the Falcon 9 Merlin engines following unexpected data SpaceX noted during a recent non-NASA launch. Audio of the teleconference will stream live on the agency's website.
Briefing participants include:
Kathy Lueders, associate administrator, Human Exploration and Operations Mission Directorate, NASA Headquarters, Washington
Steve Stich, manager, Commercial Crew Program, NASA's Johnson Space Center, Houston
Hans Koenigsmann, vice president, Build and Flight Reliability, SpaceX, Hawthorne, California
Media may ask questions via phone only. For the dial-in number and passcode, please contact the newsroom at NASA's Kennedy Space Center in Florida no later than 2 p.m. Wednesday, Oct. 28, at ksc-newsroom@mail.nasa.gov.
NASA's SpaceX Crew-1 mission will launch the agency's astronauts Michael Hopkins, Victor Glover, and Shannon Walker, along with Japan Aerospace Exploration Agency (JAXA) mission specialist Soichi Noguchi, from Launch Complex 39A at Kennedy.
Crew-1 astronauts will join the Expedition 64 crew of Commander Sergey Ryzhikov, and Flight Engineers Sergey Kud-Sverchkov and NASA astronaut Kate Rubins. The arrival of Crew-1 will increase the regular crew size of the space station's expedition missions from six to seven astronauts, adding to the amount of crew time available for research.
The Crew-1 mission will launch a few days after the Nov. 10 scheduled launch of NASA's Sentinel-6 Michael Freilich mission on a SpaceX Falcon 9 from Vandenberg Air Force Base in California, following a thorough review of launch vehicle performance.
Quelle: NASA