10.10.2020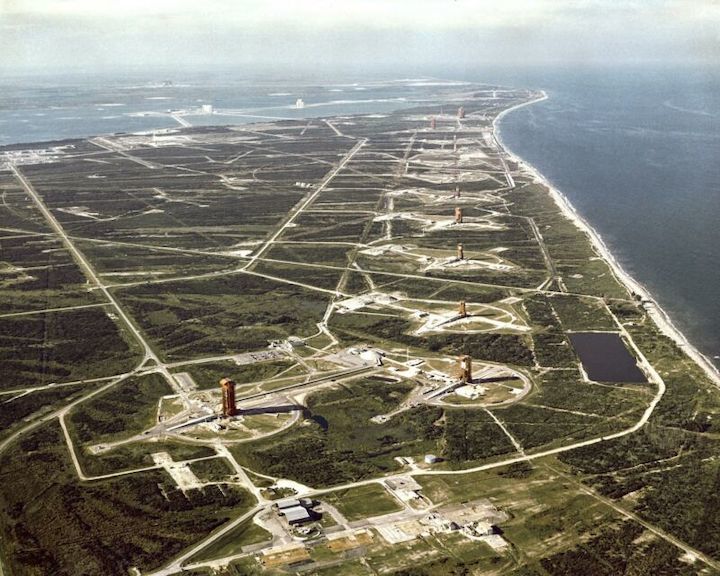 In 1964, an overall aerial view of "Missile Row," Cape Kennedy Air Force Station. The view is looking north, with NASA's Vehicle Assembly Building under construction in the upper left-hand corner.
Last month, the Space Force had a traffic jam to manage at the Eastern Range for launches it manages in Florida. Three rockets were vying for opportunities to liftoff amid poor weather and a slew of issues with ground support equipment.
The largest of the rockets, a Delta IV Heavy booster, carried the most valuable payload—a classified satellite for the National Reconnaissance Office said to cost well north of $1 billion. SpaceX also had two rockets ready to go, one carrying a GPS satellite for the Space Force and another with a purely commercial mission to launch the company's Starlink satellites.
The first two missions were located on the Air Force side of the fence, which is managed by the US Space Force's 45th Space Wing. The second SpaceX rocket, carrying 60 Starlink satellites, stood on the NASA side of the fence, at Launch Complex-39A at Kennedy Space Center.
Having three rockets on launch pads made for some difficult decisions. Who should have priority to launch? And how many chances should the military missions get before the commercial launch gets an opportunity? And is there a better way to manage launch ranges in the 21st century now that more and more commercial rockets are coming to US spaceports?
The US Space Force is considering all these questions as it takes control of Air Force assets related to space. One of the initiatives being led by John William "Jay" Raymond, the chief of Space Operations for the Space Force, is the "Range of the Future." And one of the ideas the Space Force is considering to increase access to space is pretty radical—merging its historic Cape Canaveral facility with NASA's Kennedy Space Center under a single spaceport authority.
Working cooperatively
During a meeting of the Commercial Space Transportation Advisory Committee last month, the director of operations and communications for the Space Force, Major General DeAnna Burt, said the US military planned to soon issue a letter that would establish an interagency process to look at some sort of national spaceport authority.
"How do we get to a similar airport structure where we have a military base airport and runway sitting side by side with the commercial runway and airport?" Burt said, addressing some of the challenges facing planners. "How do we get to that same thing in the spaceport? I think together that's what we're going to have to cooperatively work on."
A couple of forces seem to be at play here. First, the Space Force recognizes that it is spending a lot of money dealing with roads and other infrastructure at Cape Canaveral and its other major spaceport, Vandenberg Air Force Base in California. It has also been managing leases for several launch companies, including United Launch Alliance, SpaceX, Blue Origin, Firefly Aerospace, and Relativity Space, with more on the way. These are not seen as core functions of the military.
420 Views