14.08.2020
Next Cygnus Supply Mission Targets 29 Sept Launch to Space Station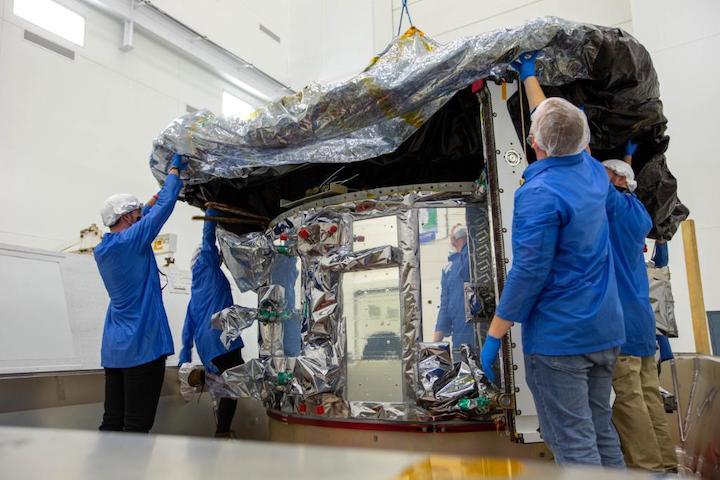 NASA and Northrop Grumman Corp. are targeting Tuesday, 29 September for the next uncrewed visitor to the International Space Station (ISS), as the NG-14 Cygnus cargo ship—as-yet-unnamed, but expected to be given the name of someone who has played a role in human space exploration—makes the uphill trek from Pad 0A at the Mid-Atlantic Regional Spaceport (MARS) on Wallops Island, Va., to the sprawling multi-national orbiting outpost, with a full load of experiments, payloads and supplies. And if the mission does indeed take flight on its alloted date, it will occur on the seventh anniversary of the very first Cygnus visit to the ISS.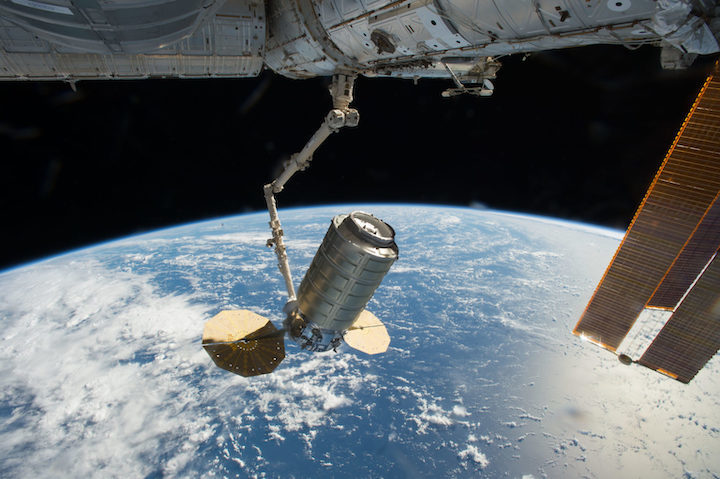 "Preparations are underway at @NASA_Wallops for the NG-14 #Cygnus spacecraft launch aboard our #Antares rocket," noted prime contractor Northrop Grumman in a Monday tweet. "Targeted for Sept 29."
Assuming an on-time launch atop Northrop Grumman's 133-foot-tall (40.5-meter) Antares 230+ booster, it can be expected that Cygnus will arrive in the vicinity of the space station approximately two days later. It will be robotically captured by the 57.7-foot-long (17.6-meter) Canadarm2 robotic arm and berthed at the Earth-facing (or "nadir") port of the Unity node. And if Crew-1—the first "operational" Crew Dragon mission—launches as planned in late September, NG-14 may be received by a long-duration crew of seven for the first time in ISS Program history. Cygnus will remain berthed at the station for around a month, before a scheduled departure and destructive re-entry in November.
It has been a long and tumultuous seven years since the first Cygnus, designated "ORB-D", a "demonstration" mission flown by Orbital Sciences Corp., launched on 18 September 2013 and following several delays en-routewas robotically berthed at the ISS eleven days later. The spacecraft was selected as one of two commercial providers for NASA under the first phase of the Commercial Resupply Services (CRS) contract, signed back in December 2008, whose provisions initially required eight Cygnus missions. Under the terms of the contract, Orbital would launch upwards of 44,000 pounds (20,000 kg) of payloads and supplies to successive ISS crews through 2016.
It was intended that Cygnus would fly atop Orbital's home-grown Antares booster from the MARS site, but due to technical issues with the development of the rocket and issues pertaining to cryogenic tankage, ORB-D suffered significant delay. Following ORB-D, a pair of dedicated missions (ORB-1 and ORB-2) took place successfully in January and July 2014, followed by the catastrophic loss of ORB-3 the following October.
Captured in an array of spectacular imagery by AmericaSpace's photography team, the Antares carrying the ORB-3 Cygnus was lost a few seconds after liftoff, in an accident later blamed upon a liquid oxygen turbopump failure. The next two cargo missions—designated "OA-4" and "OA-6", after Orbital Sciences' merger with Alliant TechSystems to become Orbital ATK, Inc.—rode atop United Launch Alliance (ULA) Atlas V boosters in December 2015 and March 2016, whose increased uplift capability and a transition from the "standard" Cygnus to the larger payload envelope of an "enhanced" variant allowed the initial CRS payload mass requirement of 44,000 pounds (20,000 kg) to be surpassed.
Unlike the standard Cygnus, the enhanced configuration, used on ten missions between December 2015 and February 2020, benefits from a larger Pressurized Cargo Module (PCM) and can deliver a 60-percent-greater haul of payloads and supplies compared to its predecessor. Combined with its attached Service Module (SM), the enhanced Cygnus stands 15.9 feet (4.86 meters) tall, about 3.9 feet (1.2 meters) higher than the standard version, although their respective diameters are the same at 10.1 feet (3.07 meters).
1048 Views