28.09.2020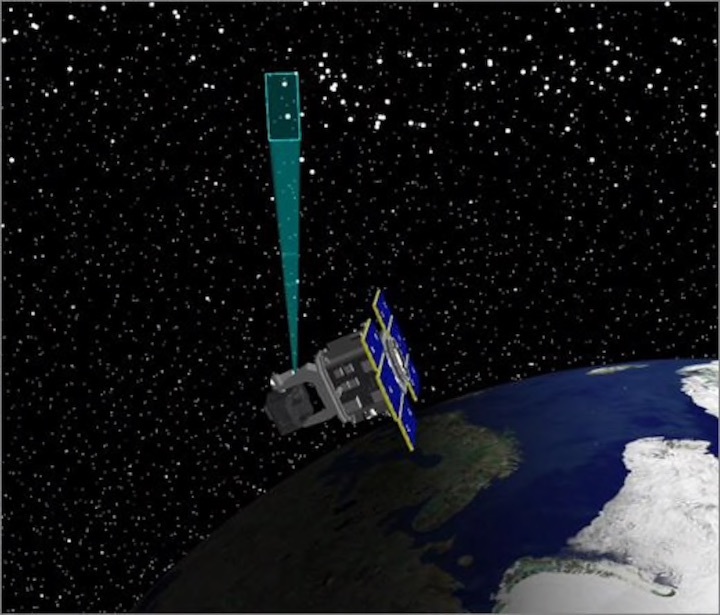 An artist's depiction of the Space Based Space Surveillance satellite tracking space debris. The 18th Space Control Squadron uses data collected from SBSS, and other sensors in the Space Surveillance Network, to track objects orbiting the earth, and provide Space Domain Awareness for space faring nations.
VANDENBERG AIR FORCE BASE, Calif. --
For the first time, the Combined Force Space Component Command's 18th Space Control Squadron began publically sharing data for debris-on-debris conjunction predictions via www.Space-Track.org, Sept. 24.
Previously, the 18 SPCS only released debris-on-active satellite conjunction prediction data publically due to limited conjunction screening and reporting capacity.
Through a project titled Reduction of Conjunction Assessment Processing (ReCAP), 18 SPCS personnel reduced the daily number of legacy low to no-risk early conjunction reporting to satellite owners and operators by more than 30 percent. Additionally, the 18 SPCS increased the total number of objects screened daily by more than 350 percent.
"The objectives of project ReCAP were to improve spaceflight safety by reducing the number of unnecessary conjunction reports, and screen more than 27,000 objects that could potentially collide and create more debris in space," said Lt. Col. Justin Sorice, 18 SPCS commander. "Through innovation and automation the space warfighters in the 18th Space Control Squadron improved frontline space defense and awareness for all satellite owners and operators."
The 18 SPCS mission is to defend freedom of action in space for the Joint Force, multinational partners, and humanity. The 18th SPCS monitors approximately 3,200 active satellites for close approaches with approximately 24,000 pieces of space debris, and issues an average of 15 high-interest warnings for active near-earth satellites, and ten high-interest warnings for active deep-space satellites, each day.
Additionally, 18 SPCS shares Space Domain Awareness information with more than 100 governmental, academic, and commercial partner organizations from 25 nations through formal Space Situational Awareness data sharing agreements, and www.Space-Track.org.
"Project ReCAP is just another example of how we are supporting spaceflight safety, and protecting the space domain for future generations," said Sorice. "This was a big data problem that was solved by young, motivated, and innovative space operators. I'm honored to work alongside a superior team of space professionals at the 18th Space Control Squadron; and project ReCAP is just another example of what our stellar space warriors are doing to protect our assets and interests in the space domain."
Quelle: USAF
268 Views