17.09.2020
OHB to build ESA's Hera asteroid mission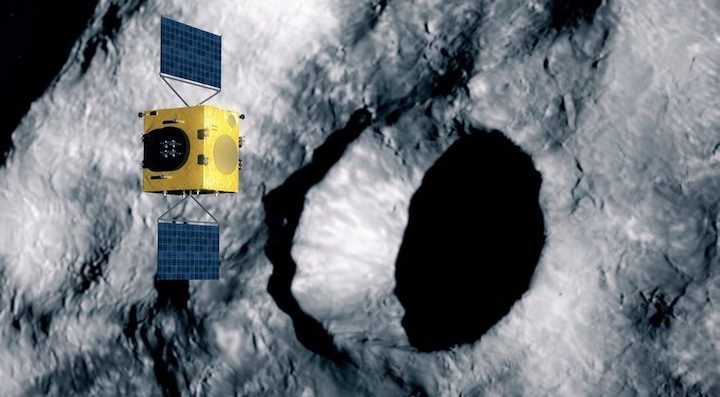 WASHINGTON — The European Space Agency on Sept. 15 finalized a contract worth 129.4 million euros ($153.3 million) with German satellite manufacturer OHB to build its Hera asteroid spacecraft with a pan-European consortium.
OHB will lead a team of companies from 17 ESA member states to complete Hera ahead of an October 2024 launch. Hera is scheduled to reach a binary asteroid pair called Didymos and Dimorphos in late 2026 for a minimum-six-month study of the asteroid system.
Hera is ESA's second attempt at sending a planetary defense mission to an asteroid. It draws heavily on an earlier program called the Asteroid Impact Mission that was canceled in 2016 after failing to secure funding.
Hera will follow NASA's Double Asteroid Redirection Test, or DART, which is scheduled to launch in July 2021 on a SpaceX Falcon 9 rocket. DART will crash into the smaller of the two asteroids, Dimorphos, in September 2022, to test a technique for deflecting an asteroid on a collision course with Earth.
While DART will carry a cubesat co-passenger that will be released prior to the collision to conduct an initial post-collision fly-by, Hera will provide a more thorough assessment of the impact and determine how much the asteroids' orbits changed.
Hera, according to ESA, aims to convert the results of DART from a "grand-scale experiment into a well-understood and repeatable asteroid deflection technique."
Some 15% of asteroids are in binary orbits, according to the agency. In the binary system DART and Hera will visit, Dimorphos measures 160 meters in diameter and is about the size of the Great Pyramid of Giza, while its larger companion measures 780 meters across and is the size of a mountain. Material ejected from DART's impact is expected to land on both asteroids.
OHB's contract covers Hera's design, integration and testing. The 1,050-kilogram spacecraft will carry two cubesats, one from GomSpace and one from Tyvak International, for which ESA is negotiating final contracts.
GomSpace plans to build the Juventas cubesat in Luxembourg, which will scan the interior of Dimorphos using a low-frequency radar.
The Italian-led Milano cubesat from Tyvak International will conduct dust and mineral prospecting studies.
Hera will act as a carrier for the two cubesats and as a relay station for communications with Earth for the spacecraft. ESA will control the Hera mission from the European Space Operations Centre in Darmstadt, Germany.
Quelle: SN
+++
ESA's Hera planetary defense mission signs prime contractor, on course for launch in 2024
The European Space Agency (ESA) has signed a design, manufacturing, and testing contract with OHB of Germany for their Hera planetary defense mission, marking a major advancement toward the agency's commitment to NASA for their joint Asteroid Impact and Deflection Assessment project.
NASA's portion is scheduled to launch in July 2021 and slam into the smaller of the target binary asteroid in October 2022. Hera will then follow, launching in 2024 on an Ariane 6 and arriving at the binary pair in 2027 to assess how well its predecessor did in changing the orbit of its target.
The contract signed today between ESA and OBH of Germany provides €129.4 million for a detailed design, build, and test of the Hera asteroid orbiter. The contract specifically includes the new and advanced Guidance, Navigation and Control system for the craft.
Excluded from the OBH contract are the other deals already in place for the two CubeSats that will accompany Hera to the target binary asteroid and the long-lead technology items for the mission — contracts that are already underway.
Unlike the first part of the joint Asteroid Impact and Deflection Assessment project from NASA, an impactor called DART, Hera will not impact either of the bodies of the target but rather perform long-term observations from a close orbit while demonstrating new technologies, particularly for autonomous deep space proximity operations.
The target for the joint mission is the Didymos pair, a binary asteroid whose primary is 780 m in diameter and whose moonlet (small moon) is 160 m in diameter.
The moonlet, called Dimorphos, is the target of NASA's DART kinetic impactor.
DART (Double Asteroid Redirection Test) is scheduled to launch no earlier than 22 July 2021 from Vandenberg Air Force Base, California, atop a SpaceX Falcon 9 rocket.
Powered by a NEXT ion thruster, the 500 kg (1,100 lb) spacecraft will spend 15 months cruising to its destination before slamming into Dimorphos at 6.25 km/s.
DART carries no scientific instruments, just a star tracker and camera for autonomous navigation; it is simply an impactor. It will, however, carry with it an Italian-provided CubeSat called LICIACube (Light Italian CubeSat for Imaging of Asteroids) that will deploy shortly before observing the ejecta cloud thrown up from the impact.
LICIACube will collect images of the impact and ejecta and transmit its captured photographs back to Earth; it was offered to DART by the Italian Space Agency after ESA's first spacecraft contribution to the mission was cancelled in 2016.
That project, the Asteroid Impact Mission, would have worked in tandem with DART, observing the other craft's impact while providing immediate and long-term assessments of changes to Dimorphos' orbit and characteristics while studying the ejecta material.
While Hera will not be able to do that first part, most of the Asteroid Impact Mission's objectives can be accomplished with LICIACube and Hera's long-term in situ observations that can begin upon its arrival in 2027.
The overall mission will test whether or not a kinetic impactor can successfully deflect potentially hazardous Earth-bound asteroids by slightly changing their orbital speed to either slow them down slightly or accelerate them slightly.
A minor velocity change imparted to a large asteroid could — over the course of months or years — alter its orbit safely away from intersecting with Earth.
And this is exactly what NASA and ESA seek to do on a smaller scale in the Didymos pair system. The DART spacecraft, while impacting Dimorphos at 6.25 km/s will only produce a net change in the moonlet's velocity of 0.4 millimeters per second.
While that is an incredibly small change in velocity, it will radically change the mutual orbit of the Didymos primary and its moon.
As such, the interagency mission represents the first time humanity will intentionally alter another celestial body's orbit.
By impacting the smaller of the two bodies, which orbits the larger, NASA and ESA can safely observe how a kinetic impactor alters orbital characteristics of an asteroid.
The Didymos pair's overall orbit of the Sun is also extremely favorable to this type of test as its orbit does not cross that of Earth's — meaning there's no chance the NASA-ESA experiment could accidentally cause this pair to pose a threat to our host planet.
When Hera then arrives in 2027, it will find a very different system than the DART spacecraft encountered while on approach for impact.
Hera will use a suite of scientific instruments as well as two ride along CubeSats (which will attempt to land on the surface of Dimorphos) to characterize exactly how much momentum was transferred between the two objects at DART's impact and exactly how much Dimorphos' orbit was altered.
This will "allow, for the first time, the validation or refinement of numerical models of the impact process at asteroid scale, rendering this deflection technique for planetary defence ready for operational use if ever needed to safeguard our home world," notes an ESA overview of the mission.
Hera will accomplish its scientific objectives by utilizing:
an Asteroid Framing Camera provided by Germany (that is actually a spare unit for NASA's Dawn spacecraft in the asteroid belt),
a compact laser radar, or lidar, for surface mapping operations,
a thermal infrared instrument to survey the asteroid in the mid-infrared spectral range and map temperature dispersions across Dimorphos' surface, and
a radio science experiment to measure the mass and mass distribution within the moon.
These instruments will be supplemented by those carried aboard the two CubeSats, which will use radar to investigate the interior of the moonlet as well as imaging and mass spectrometers to study its mineralogical and elemental composition.
Quelle: NS
+++
Industry starts work on Europe's Hera planetary defence mission
Today ESA awarded a €129.4 million contract covering the detailed design, manufacturing and testing of Hera, the Agency's first mission for planetary defence. This ambitious mission will be Europe's contribution to an international asteroid deflection effort, set to perform sustained exploration of a double asteroid system.
Hera – named after the Greek goddess of marriage – will be, along with NASA's Double Asteroid Redirect Test (DART) spacecraft, humankind's first probe to rendezvous with a binary asteroid system, a little understood class making up around 15% of all known asteroids.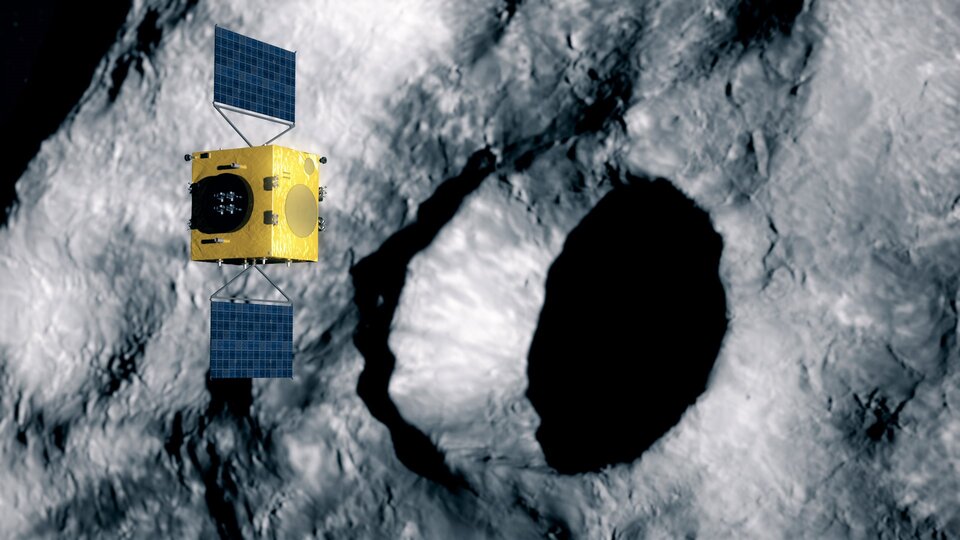 The contract was signed today by Franco Ongaro, ESA Director of Technology, Engineering and Quality, and Marco Fuchs, CEO of Germany space company OHB, prime contractor of the Hera consortium. The signing took place at ESA's ESOC centre in Germany, which will serve as mission control for the 2024-launched Hera.
Hera is the European contribution to an international planetary defence collaboration among European and US scientists called the Asteroid Impact & Deflection Assessment, AIDA. The DART spacecraft – due for launch in July 2021 – will first perform a kinetic impact on the smaller of the two bodies. Hera will follow-up with a detailed post-impact survey to turn this grand-scale experiment into a well-understood and repeatable asteroid deflection technique.
While doing so, the desk-sized Hera will also demonstrate multiple novel technologies, such as autonomous navigation around the asteroid – like modern driverless cars on Earth – while gathering crucial scientific data, to help scientists and future mission planners better understand asteroid compositions and structures.
Hera will also deploy Europe's first 'CubeSats' (miniature satellites built up from 10 cm boxes) into deep space for close-up asteroid surveying, including the very first radar probe of an asteroid's interior – using an updated version of the radar system carried on ESA's Rosetta comet mission.
Due to launch in October 2024, Hera will travel to a binary asteroid system – the Didymos pair of near-Earth asteroids. The 780 m-diameter mountain-sized main body is orbited by a 160 m moon, formally christened 'Dimorphos' in June 2020, about the same size as the Great Pyramid of Giza.
DART's kinetic impact into Dimorphos in September 2022 is expected to alter its orbit around Didymos as well as create a substantial crater. This moonlet asteroid will become unique, as the first celestial body to have its orbital and physical characteristics intentionally altered by human intervention. Hera will arrive at the Didymos system at the end of 2026, to perform at least six months of close-up study.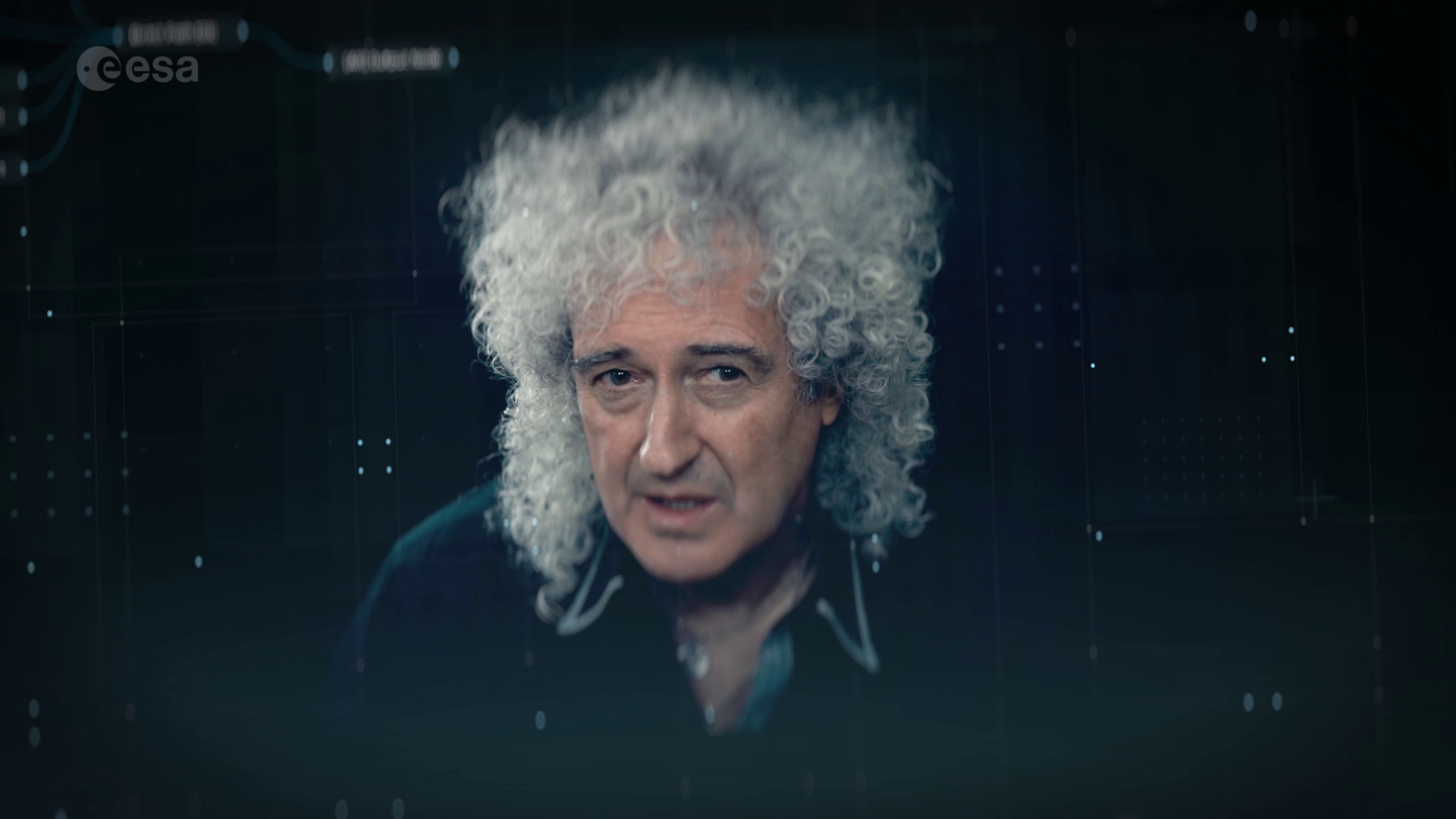 500 Views