21.07.2020
Company picks Oita as its first regional launch site; missions slated from 2022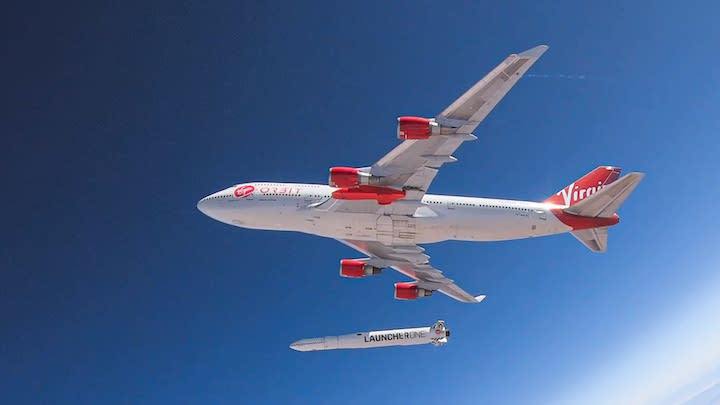 Virgin Orbit uses a modified Boeing 747, christened "Cosmic Girl," as a mobile launchpad that can fly to the best launch location over the ocean. (Photo courtesy of Virgin Orbit)
TOKYO -- Asia's first spaceport, located at Oita Airport on the Japanese island of Kyushu, is readying support for Virgin Orbit as the company looks to fire off its LauncherOne rocket in 2022.
Virgin Orbit -- a space venture of the Virgin Group -- will use a modified Boeing 747, christened "Cosmic Girl," as the launch platform for LauncherOne, which carries small commercial satellites into either a sun-synchronous or low-Earth orbit, depending on customer requirements.
In addition to its prime Oita location, the U.S.-based company has chosen four airports in the U.S. and Europe for launching satellites, including Mojave Air and Space Port in California and the U.K.'s Spaceport Cornwall at Cornwall Airport Newquay.
The Oita prefectural government welcomed Virgin Orbit's decision to use its airport in hopes of nurturing a local space industry, using the spaceport project as a catalyst.
The envisioned Oita Spaceport will also give Virgin Orbit an edge as it tries to attract Asian customers, owing to the airport's regional proximity. It will also boost Japan's aerospace industry.
"We are eager to host the first horizontal takeoff and landing spaceport in Japan," Oita Gov. Katsusada Hirose said in a statement. "We are also honored to be able to collaborate with brave technology companies solving global-level through their small satellites. We hope to foster a cluster of space industries in our prefecture, starting with our collaboration with Virgin Orbit."
183 Views