14.12.2018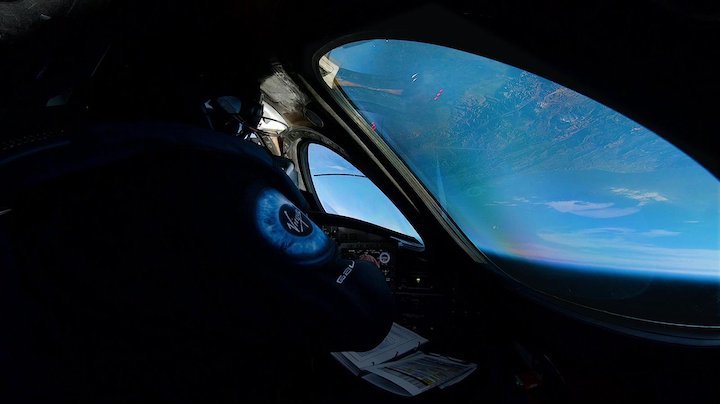 Virgin Galactic, 13.12.2018
Four NASA-Sponsored Experiments Set to Launch on Virgin Galactic Spacecraft
Virgin Galactic's SpaceShipTwo successfully flew to suborbital space Dec. 13 with four NASA-supported technology payloads onboard. The rocket motor burned for 60 seconds, taking the piloted spacecraft and payloads beyond the mission's 50-mile altitude target.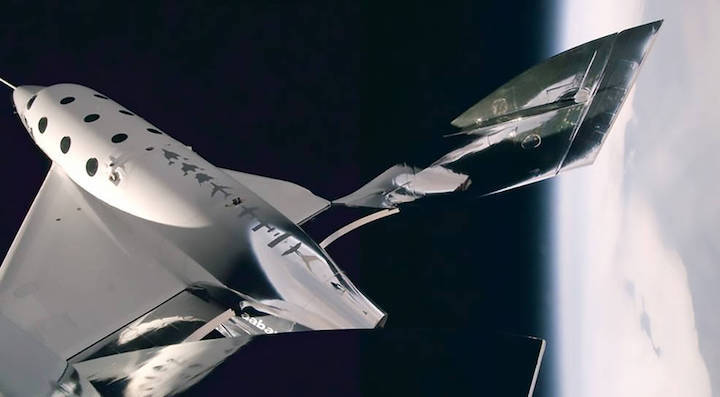 A winged spacecraft will soon take off with four NASA-supported technology experiments onboard. Virgin Galactic's SpaceShipTwo will separate from the WhiteKnightTwo twin-fuselage carrier aircraft and continue its rocket-powered test flight.

The flight, scheduled for no earlier than Dec. 13, is Virgin Galactic's first mission for NASA. The agency's Flight Opportunities program helped the four experiments hitch a ride on SpaceShipTwo. The program purchased flight services, the accommodation and ride, from Virgin Galactic for the payloads. During the flight, the payloads will collect valuable data needed to mature the technologies for use on future missions.
"The anticipated addition of SpaceShipTwo to a growing list of commercial vehicles supporting suborbital research is exciting," said Ryan Dibley, Flight Opportunities campaign manager at NASA's Armstrong Flight Research Center in Edwards, California. "Inexpensive access to suborbital space greatly benefits the technology research and broader spaceflight communities."
NASA's investment in the growing suborbital space industry and strong economy in low-Earth orbit allows the agency to focus on farther horizons. NASA will venture forward to the Moon – this time to stay, in a measured, sustainable fashion - in order to develop new opportunities and prepare for astronauts to explore Mars.
The planned technology demonstrations onboard SpaceShipTwo could prove useful for exploration missions. For Principal Investigator Josh Colwell at the University of Central Florida in Orlando, the Virgin Galactic flight will help further refine the Collisions Into Dust Experiment (COLLIDE). The experiment aims to map the behavior of dust particles on planetary surfaces. Suborbital flights let Colwell and his team gather data useful for designing exploration architectures at the Moon, Mars and beyond.
The presence of dust on asteroids and moons with low surface gravity introduces challenges for both human and robotic missions. Particles can damage hardware and contaminate habitats. Understanding dust dynamics could help NASA design better tools and systems for exploration missions.
On this microgravity flight, COLLIDE will simulate the dusty surface of an asteroid and a surface impact. The experiment will collect high-quality video of the dust dispersing.

"We want to see how dust in microgravity behaves when it's disturbed. How fast will it fly around? How careful do you have to be to avoid disturbing the surface too much? If you have a hard landing and disturb the surface a lot, how long will you have to wait for the dust to clear?" Colwell explained.

Here on Earth, this isn't as much of a concern. Colwell explained that in space, where the absence of gravity complicates every task at hand, such considerations are significant for mission planning.

"If you have a small dust disturbance and can work around it, great. If the dust particles have enough speed, they can contaminate and stick to equipment well above the surface, posing problems for safety as well as mission success," Colwell said.
COLLIDE data collected on its first to suborbital space, as well as data from a related experiment previously tested on NASA-sponsored parabolic aircraft flights, could help future human and robotic explorers throughout the solar system. The other technology payloads slated for the SpaceShipTwo flight are:
Microgravity Multi-Phase Flow Experiment for Suborbital Testing
NASA's Johnson Space Center in Houston
Life support systems are an integral part of a deep space habitation capability. They typically include processes where liquids and gases interact, therefore requiring special treatment in space. This two-phase system separates gas and liquid in microgravity. The technology could also be applied to in-situ resource utilization, power systems, propellant transfer and more.

Validating Telemetric Imaging Hardware for Crew-Assisted and Crew-Autonomous Biological Imaging in Suborbital Applications
University of Florida in Gainesville
In order to live in deep space, astronauts will have to grow their own food. This experiment studies how microgravity affects plant growth. The experiment uses a biological fluorescent imaging instrument designed to collect data on the biological response of a plant, or plant tissue.

Vibration Isolation Platform
Controlled Dynamics Inc. in Huntington Beach, California
Spacecraft and payloads are subject to intense launch environments. This mounting interface for orbital and suborbital vehicles is designed to lessen disturbances on payloads during launch, re-entry and landing.
All four payloads are currently scheduled for future flight demonstrations, enabling researchers to gather additional data and mature their technologies.
About Flight Opportunities
The Flight Opportunities program is funded by NASA's Space Technology Mission Directorate at the agency's Headquarters in Washington and managed at NASA's Armstrong Flight Research Center in Edwards, California. NASA's Ames Research Center in California's Silicon Valley manages the solicitation and selection of technologies to be tested and demonstrated on commercial flight vehicles.
Virgin Galactic and other U.S. commercial spaceflight providers are contracted to provide flight services to NASA for flight testing and technology demonstration. Researchers from academia and industry with concepts for exploration, commercial space applications or other space utilization technologies of potential interest to NASA can receive grants from the Flight Opportunities program to purchase suborbital flights from these and other U.S. commercial spaceflight providers
Credits: Controlled Dynamics Inc.
Credits: Josh Colwell/University of Central Florida
Quelle: NASA
+++
Virgin Galactic's Thursday test flight shoots for record heights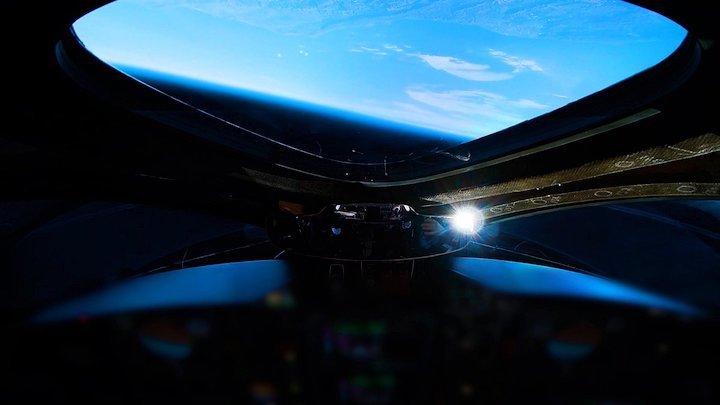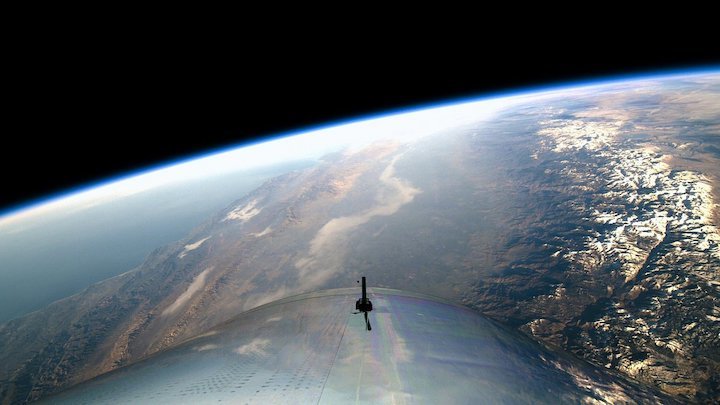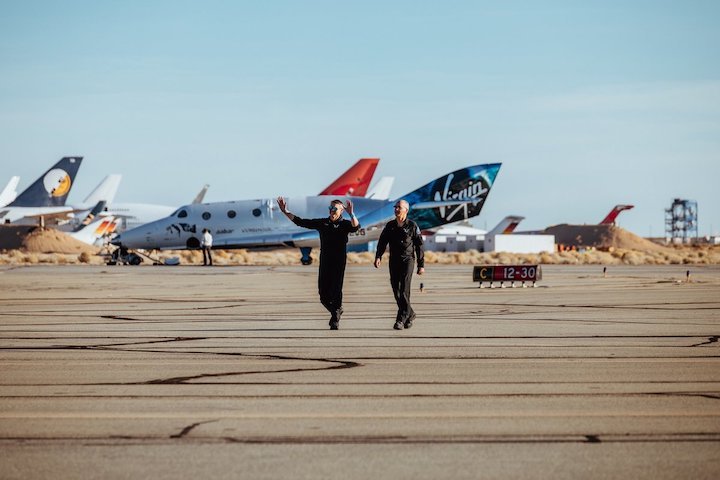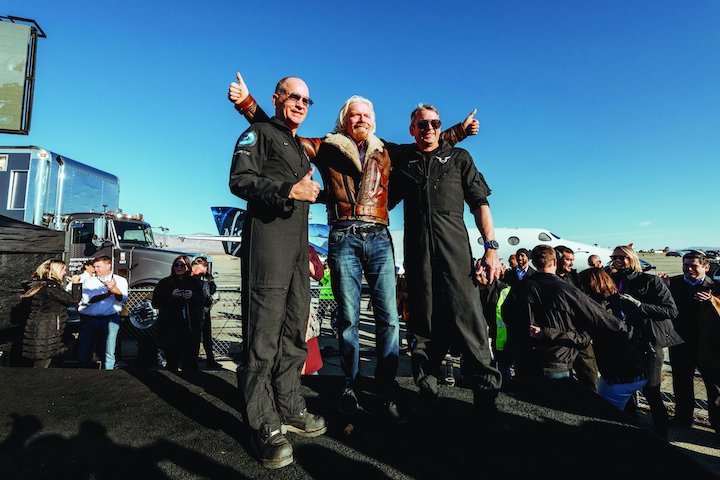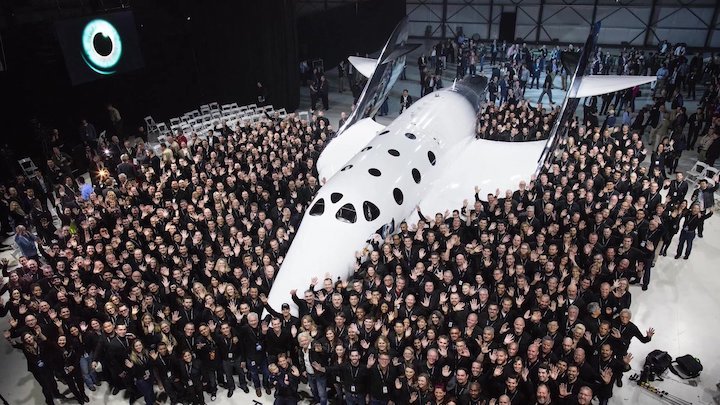 Quelle: Virgin Galactic
+++
Test pilots reach space on Virgin Galactic's SpaceShipTwo
Rocketing high over California's Mojave Desert, Virgin Galactic on Thursday said it put humans into space from U.S. soil for the first time since the end of NASA's space shuttle program in 2011.
A pair of test pilots flew the company's SpaceShipTwo above 50 miles. That's the altitude at which NASA, the Air Force and now the Federal Aviation Administration award astronaut wings, though it is short of the Karman Line, the internationally recognized border of space at 62 miles.
"SpaceShipTwo, welcome to space," the company said on Twitter.
The suborbital ride, which briefly made pilots Frederick "C.J." Sturckow and Mark "Forger" Stucky feel weightless, pushed the ship named VSS Unity to its highest speed and altitude yet on its fourth powered flight.
The successful test brought the company founded by Sir Richard Branson a step closer to starting a commercial spaceline operation flying wealthy passengers from Spaceport America in New Mexico.
"Today, we have shown that Virgin Galactic really can open space to change the world for good," said Branson, who watched the test from the flightline in Mojave. "We will now push on with the remaining portion of our flight test program, which will see the rocket motor burn for longer and VSS Unity fly still faster and higher towards giving thousands of private astronauts an experience which provides a new, planetary perspective to our relationship with the Earth and the cosmos."
The long-awaited milestone came more than four years after a fatal test flight over Mojave that killed co-pilot Michael Alsbury, injured pilot Peter Siebold and destroyed the VSS Enterprise.
The VSS Unity took off around 10 a.m. EST attached to the belly of the twin-fuselage WhiteKnightTwo carrier aircraft.
The spaceship was dropped at about 43,000 feet. After free-falling for several seconds, a hybrid rocket motor fired and remained lit for 60 seconds, propelling the ship to Mach 2.9, or nearly three times the speed of sound. That topped the previous top speed of Mach 2.4.
The test crew continued to climb after the engine cut out, coasting to a peak altitude of 271, 268 feet, or just over 51 miles.
Sturckow, a former NASA astronaut who flew four shuttle missions, and Stucky commanded the ship's twin booms to rotate upward, or feather, as the spaceship dropped back to Earth, before locking them back into position for a runway landing.
In addition to the two pilots, SpaceShipTwo has seats for six passengers. Virgin Galactic has taken deposits for more than 600 tickets costing $250,000, but struggled to show it is ready to fly paying customers.
On Thursday, the VSS Unity flew four microgravity experiments for NASA — including contributions from the University of Central Florida and University of Florida — that the company said helped to simulate the weight of future passengers. Branson has promised to be one of the first.
SpaceShipTwo is a successor to SpaceShipOne, funded by the late Paul Allen, which in 2004 won the $10 million Ansari XPRIZE to become the first privately developed spacecraft to reach space, doing so twice within a week.
Virgin Galactic is competing with Blue Origin, the space company backed by Amazon.com billionaire Jeff Bezos, to begin flying space tourists.
Blue Origin has said it expects to fly people next year on New Shepard, an unpiloted capsule flown from the company's private launch range in West Texas. The company has not confirmed a ticket price.
NASA next summer hopes to launch its own astronauts into orbit from U.S. soil for the first time since the shuttle's retirement. Boeing and SpaceX are preparing Starliner and Crew Dragon capsules, respectively, for test flights from Cape Canaveral to the International Space Station.
SpaceX is targeting Jan. 17 for a first test flight of the Crew Dragon without a crew on board, with a pair of test pilots potentially boarding as soon as June. The Starliner could fly an uncrewed test as soon as March and astronauts by August.
Quelle: Florida Today
+++
Branson looks ahead to beginning commercial SpaceShipTwo flights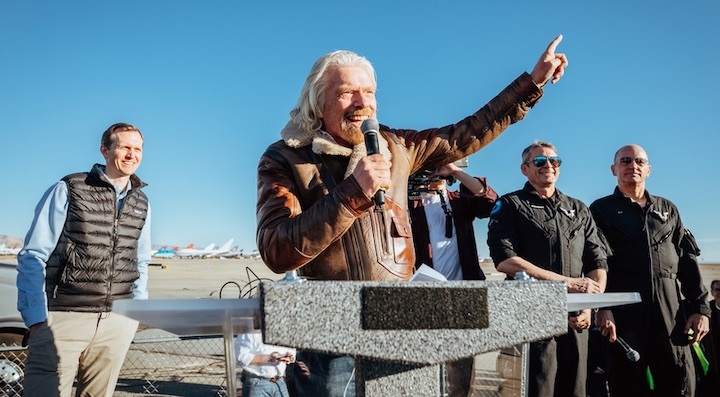 MOJAVE, Calif. — With a first flight to the edge of space under the company's belt, Virgin Galactic founder Richard Branson believes commercial flights of SpaceShipTwo could begin some time next year.
An exuberant Branson took the stage at the Mojave Air and Space Port here to congratulate the company and its employees for a successful test flight Dec. 13 of the SpaceShipTwo vehicle named VSS Unity, which reached a peak altitude of 82.7 kilometers. The flight was the first by the vehicle to cross the boundary of 50 miles, or approximately 80 kilometers, that U.S. government agencies use to award astronaut wings.
"How on Earth do I describe the feeling?" he said on stage, referring to his emotions from watching the successful test flight. "Joy? Definitely. Relief? Emphatically. Exhiliaration? Absolutely."
Offstage, a more subdued Branson, huddling with a group of reporters, said he shed "tears of relief" after the successful flight. "When you are in the test flight program of a space company, you can never be completely, 100 percent sure, because that's what a test flight program is," he said. "The spaceship was tested to its limits today and she performed just as we wished and we just couldn't be happier."
This flight does not mark the end of the test flight program for SpaceShipTwo. "We will now push on with the remaining portion of our flight test program, which will see the rocket motor burn for longer, and VSS Unity fly still faster and higher," he said onstage.
On the Dec. 13 test flight, SpaceShipTwo's hybrid rocket motor burned for 60 seconds, several seconds longer than the high end of estimates of the burn time company officials gave at a briefing the day before. George Whitesides, chief executive of Virgin Galactic, said after this flight that a full-duration burn would last approximately five seconds longer.
Branson was optimistic that the next test flight could take place in the near future after a review of data from this flight. "If nothing shows up that needs to be changed, then the next test flight could be quite soon," he told reporters, suggesting that could happen in roughly a month.
He also stated that, if all goes well, only a few more test flights would be needed before Virgin Galactic would be ready to shift operations to Spaceport America in New Mexico, where the company plans to perform commercial flights. "Ideally, we want to do three more flights before we go to New Mexico."
Whitesides said upcoming test flights would include flying company employees in the vehicle along with pilots in order to test operational procedures for future flights that will carry spaceflight participants. "Once we've gotten through that, we could start thinking about doing commercial flights," he said, not giving a specific number of test flights planned beyond "not a huge number."
Branson confirmed that he still planned to be on the first commercial flight of SpaceShipTwo from Spaceport America. "Sometime next year, once the testing is finished, then I'll do my flight," he said.
The company plans to grow the fleet of vehicles supporting commercial operations. Besides VSS Unity, two more SpaceShipTwo vehicles are currently under construction, with the first of them expected to be completed in about a year. Branson said the company would "soon" start building two more SpaceShipTwo vehicles as well as a second WhiteKnightTwo carrier aircraft.
Virgin Galactic has about 700 customers who have either paid the full price of a ticket or a deposit. "We stopped for the last four years taking new reservations," he said, but will start taking reservations again soon.
Those new customers might be paying more than the $250,000 price previously offered by the company. "What will happen in the short term is that the price will go up a bit," he said. "And then, in the next most likely three years, it will start coming down." He didn't specify the size of the increase or by how much the price would later decrease.
"Space is not cheap," he said. "I've personally invested about a billion dollars into this project." He said that the total investment was about $1.3 to 1.5 billion, a total Whitesides said later included not just Virgin Galactic but also spacecraft manufacturer The Spaceship Company and small launch vehicle firm Virgin Orbit.
Branson suggested that he may be looking for additional investors into the company. Virgin Group announced an agreement with the Public Investment Fund of Saudi Arabia in October 2017 that would have resulted in a $1 billion investment in Virgin's space companies. However, Branson said in October that he had terminated the deal in reaction to the murder of journalist Jamal Khashoggi by the Saudi government.
"We said no to the Saudi money because of the Khashoggi incident," he said. "By being successful today, I suspect we'll bring in other investors to help us take it on to the next stage."
Quelle: SN
+++
Video courtesy: The Sun
2399 Views