20.11.2018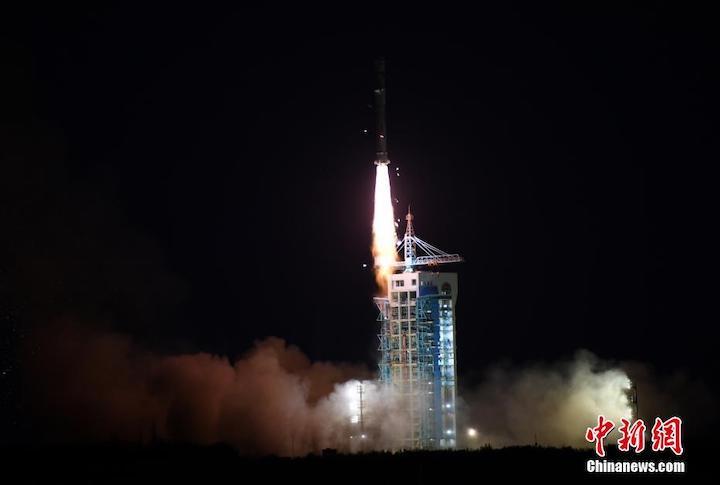 China launched a new space environment research satellite and four nanosatellites on a Long March-2D carrier rocket from the Jiuquan Satellite Launch Center in northwest China at 7:40 a.m. Tuesday.
The satellites have successfully entered their preset orbit, according to the center.
Shiyan-6 will be used for conducting space environment exploration experiments.
The term nanosatellite refers to a small artificial satellite weighing between 1 and 10 kg.
Among the four nanosatellites, Tianping-1A and Tianping-1B will be used for equipment calibration on ground control stations, while Jiading-1 is the first satellite of the Xiangyun satellite constellation in low earth orbit.
A software-defined satellite, developed by the Innovation Academy for Microsatellites, the Chinese Academy of Sciences, will be used for conducting experiments on open-source satellite software research and development on Android platforms.
Compared to traditional satellites, a software-defined satellite is more flexible and reconfigurable. It enables its operator to capture diverse markets with its ability to change things like frequency bands and coverage areas on demand.
It is the 292th mission of the Long March carrier rocket series.
Quelle: Xinhua
---
China's 34th launch of 2018 places five satellites in orbit
China sent Shiyan-6 and four small satellites into orbit late on Monday with the launch of Long March 2D from Jiuquan, marking the country's 34th orbital mission of the year.
Launch occurred at 23:40 UTC Monday (19:40 ET; 07:40 local Tuesday) at the Jiuquan Satellite Launch Centre in the Gobi Desert, sending the satellites into a 500 km Sun-synchronous orbit.
The main payload was the Shiyan-6 ('experiment-6') satellite, about which little is known, but the series has previously been linked to surveillance capabilities. Shiyan-7, launched in 2013, caused a stir after it carried out unusual orbital manoeuvres.
The Shiyan-6 payload was not disclosed before launch and was vaguely described by Xinhua as being for, "conducting space environment exploration experiments".
The Jiading-1 satellite. Space OK
Jiading-1 (OKW-01) was developed by Shanghai Ok Space Co Ltd, also known as Space OK, with the satellite described as China's first privately designed low Earth orbit (LEO) communications satellite.
Jiading-1 is based on the company's OKW-Sat-50 satellite platform with a total mass of 45 kg and is the first satellite for the planned Xiangyun constellation for Internet of Things connectivity.
Tianzhi-1 satellite for testing key technologies of software-defined satellites. CNS
Tianzhi-1 was developed jointly by a number of institutes under the Chinese Academy of Sciences (CAS) and the China Academy of Space Technology (CAST) as a test satellite to be used to verify the key technologies of software-defined satellites.
The satellite has a mass of 27 kg according to China News Service (Chinese), with payloads including a small cloud computing platform and a camera. Tianzhi-2 is expected to launch in the second half of 2019.
The launch also included Tianping-1A and B, both based on the Pina satellite platform which, as noted by NasaSpaceFlight.com, will be used as accuracy calibration of ground monitoring and control equipment.
China's 2018 launch activity
The main contractor for China's space programme stated at the start of 2018 that it intends to launch up to 35 times this year and appears on course to get close to this target.
Commercial launch companies Expace and Landspace have added to the orbital launch list, though the latter's launch failed, and OneSpace could also make an attempt at reaching orbit before the end of the year.
The main event for China will be the Chang'e-4 lunar far side lander and rover mission, set to launch in early December.
Other launches could include satellites for Saudi Arabia, the Gaofen-7 Earth observation satellite, and Hongyan-1 for a LEO communications constellation.
The Earth and Moon imaged by a Saudi camera on the Chinese Longjiang-2/DSLWP-B microsatellite. Harbin Institute of Technology
Quelle: gbtimes
2506 Views