2.11.2018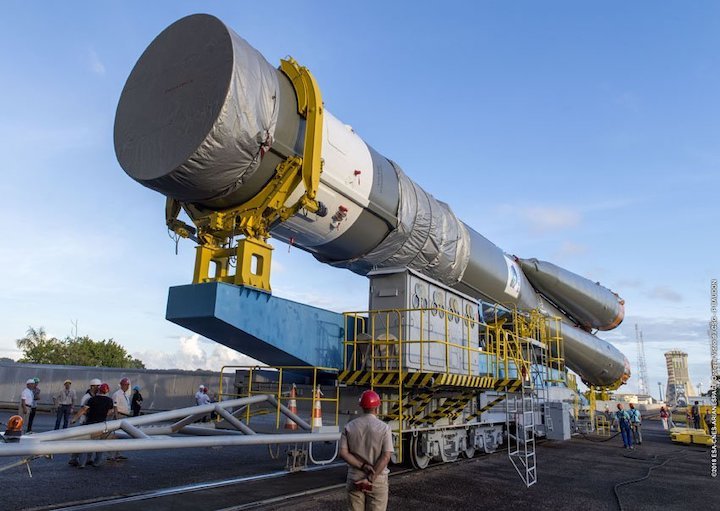 LAUNCH DATE

November 6, 2018
PAYLOAD(S)

Metop-C
LAUNCH VEHICLE

Soyuz
LAUNCH SITE

Spaceport, French Guiana (Guiana Space Center)
CUSTOMER(S)

EUMETSAT
PRIME CONTRACTOR(S)

Airbus Defence and Space
ORBIT

Sun-Synchronous orbit
STATUS

Upcoming
For its eighth launch of the year, and the second Soyuz liftoff from the Guiana Space Center (CSG) in French Guiana in 2018, Arianespace will orbit Metop-C for EUMETSAT, the European Organisation for the Exploitation of Meteorological Satellites.
Metop-C is the third and final satellite of its Polar System (EPS), the Metop program dedicated to operational meteorology.
By launching the complete Metop fleet, Arianespace once again supports EUMETSAT and Europe in the improvement of global climate monitoring and weather forecasting.
00:47:27 (NOV. 7)

UNIVERSAL TIME (UTC)
09:47:27 P.M. (NOV. 6)

KOUROU, FRENCH GUIANA
01:47:27 A.M. (NOV. 7)

PARIS, FRANCE
07:47:27 P.M. (NOV. 6)

WASHINGTON, D.C.
The Metop-C Satellite

Metop-C is the third and final satellite in the EUMETSAT Polar System (EPS). It is also the 13th EUMETSAT satellite to be launched by Arianespace, following the most recent mission with MSG-4 in July 2015.

The polar-orbiting Metop satellites are essential for numerical weather prediction from 12 hours to 10 days in advance. The still-operational Metop-A and –B satellites, launched from Baikonur in 2006 and 2012, by Starsem make the single biggest contribution to the reduction in errors in weather forecasts one day in advance. Metop-C is therefore expected to enhance this.

Metop-C will be injected into a sun-synchronous "mid-morning" polar orbit which enables global observation of weather, atmospheric composition, oceans and land surfaces. Metop-C will have a five-year nominal life in orbit and will carry a payload of nine state-of-the-art instruments.

The EUMETSAT Polar System is Europe's contribution to the Initial Joint Polar System shared with the National Oceanic and Atmospheric Administration (NOAA) of the United States. To provide enhanced coverage and a higher revisit frequency at mid latitudes, the Metop satellites fly in the "mid-morning" orbit, while NOAA's JPSS satellites fly in the complementary "afternoon" orbit.

Moreover, the Metop-C spacecraft is essential to ensure a smooth transition to the upcoming EUMETSAT Polar System – Second Generation. The first EPS-SG satellite is scheduled for launch in 2022. There currently are four additional EUMETSAT meteorological satellites in Arianespace's order book.

As of today, Arianespace has launched the entire EUMETSAT fleet.

Metop-C will be the 20th meteorological satellite – as well as the 66th Earth observation satellite – launched by Arianespace.

Quelle: arianespace

---

Update: 5.11.2018

.

Soyuz receives the "go" for Arianespace's November 6 liftoff with the Metop-C meteorological satellite

The Arianespace Soyuz mission that will orbit the third and final spacecraft in EUMETSAT's current generation polar-orbiting weather satellite program has been authorized for tomorrow's launch from the Spaceport in French Guiana.

Approval for liftoff was given at the conclusion of today's launch readiness review, which verified the "go" status of Soyuz, its Metop-C satellite passenger, the Spaceport's infrastructure and the network of downrange tracking stations.

The November 6 mission – designated VS19 in Arianespace's numbering system – will be performed from the Spaceport's purpose-built ELS launch facility for Soyuz. Liftoff is scheduled at precisely 9:47:27 p.m. local time in French Guiana, with Metop-C to be deployed into a polar sun-synchronous orbit during a flight sequence lasting approximately one hour.

Tomorrow's launch will be the 19th mission from French Guiana for Arianespace's medium-lift Soyuz, as well as the company's eighth flight in 2018 with its three-vehicle launcher family – which is completed by the heavy-lift Ariane 5 and lightweight Vega.

Essential for numerical weather prediction

Built by Airbus Defence and Space, Metop-C continues the European Meteorological Operational program of polar-orbiting spacecraft operated by EUMETSAT, the European Organisation for the Exploitation of Meteorological Satellites.

Metop satellites are essential for numerical weather prediction from 12 hours to 10 days in advance. The still-operational Metop-A and Metop-B satellites – launched on Soyuz vehicles from Baikonour in 2006 and 2012, respectively, by Starsem (Arianespace's European-Russian joint-venture) – make the single biggest contribution to reducing errors in weather forecasts one day in advance. Metop-C is expected to enhance this performance upon entering service.

Metop-C will be injected into a sun-synchronous "mid-morning" polar orbit which enables global observation of weather, atmospheric composition, oceans and land surfaces. Metop-C will have a five-year nominal life in orbit and will carry a payload of nine state-of-the-art instruments.

After its deployment by Soyuz, the satellite is to undergo approximately six-weeks of commissioning, during which the proper operation of the spacecraft and its instrumentation is verified.

Liftoff time for Flight VS19:

French Guiana
UTC
Washington, D.C.
Tokyo
Paris
9:47:27 p.m.
on Nov. 6
00:47:27
on Nov. 7
7:47:27 p.m.
on Nov. 6
9:47:27 a.m.
on Nov. 7
1:47:27 a.m.
on Nov. 7

Quelle: arianespace

---

Update: 6.11.2018

.

METOP-C READY FOR BIG DAY

5 November 2018

With liftoff set for 7 November, the latest MetOp weather satellite has been rolled out to the launch pad and positioned on the Soyuz rocket for its ride into space from French Guiana.

MetOp-C is the last in the current series of MetOp satellites, following on from MetOp-A and MetOp-B, which were launched in 2006 and 2012, respectively.

Launching the satellites sequentially ensures continuous observations of a host of atmospheric variables such as temperature, humidity, trace gases, ozone, and wind speed over the ocean.

These data are used mainly for numerical weather prediction – the basis for weather forecasting. Recent studies show that MetOp-A and MetOp-B have already reduced errors in one-day forecasts by as much as 27%.

MetOp and instruments

The satellites have all been developed by ESA under a cooperation agreement with EUMETSAT for the space segment of the EUMETSAT Polar System. This is also Europe's contribution to a multi-satellite system shared with the US NOAA agency.

While it was envisaged that each successive satellite would take over from its predecessor, their extraordinary quality means that MetOp-A and MetOp-B are still going strong.

Once MetOp-C has been launched and commissioned for service, EUMETSAT will have three satellites in the same orbit, equally spaced by 120°. This will benefit weather forecasting even more.

MetOp-C has been at Europe's Spaceport in Kourou for a few months being carefully prepared for liftoff and its life in space.

ESA's MetOp-C Project Manager, Stéfane Carlier, said, "MetOp is a large satellite carrying an array of instruments. Teams from ESA, EUMETSAT, Airbus Defence and Space and instruments suppliers have been working hard to get to this point.

"We had to say good-bye when the satellite was sealed in the Soyuz fairing and rolled out to the launch pad.

"While it is mainly in the hands of Arianespace for launch, ESA will still be playing a role in its big day, particularly through our teams here in Kourou for the countdown and teams at our operations centre in Germany who are responsible for the mission's first critical days in orbit.

"Ownership of MetOp-C will be transferred to EUMETSAT after liftoff."

MetOp-C will liftoff on 7 November at 00:47 GMT (01:47 CET), 6 November 21:47 local time.

Quelle: ESA

---

Update: 7.11.2018

.

LIVE-Launch-Video-Frams:

Quelle: arianespace
2977 Views