15.09.2018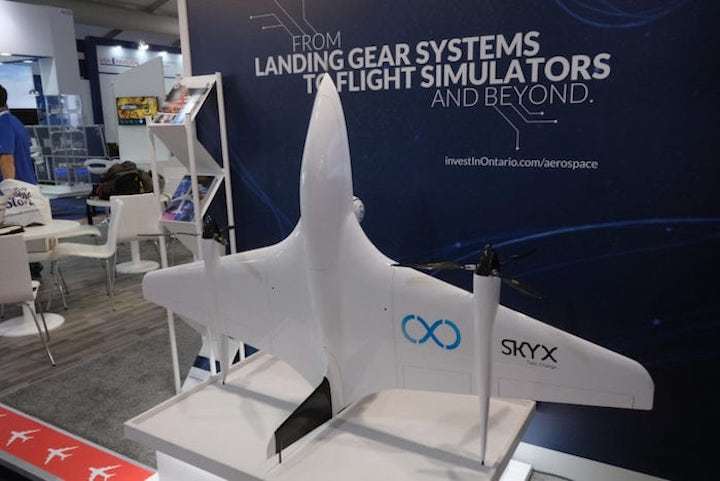 SkyX's SkyTwo drone on display at Farnborough Air Show. (SkyX)
-
An electrically powered vertical takeoff and landing (EVTOL) drone is on the verge of disrupting traditional methods of collecting surveillance data about critical infrastructure.
Ontario, Canada startup SkyX uses its EVTOL SkyOne UAS to inspect pipelines, power grids and other infrastructure. At the 2018 Farnborough Air Show, the company unveiled its SkyTwo drone to increase those capabilities.
SkyX Systems Corp. was founded in January 2016 by a former Israeli Air Force captain and drone pilot. In May 2017, SkyX received a $5 million investment from Chinese technology company Kuang-Chi.
Several months later, in November, the company's SkyOne drone completed a 62-mile aerial data analysis flight of a gas pipeline in Mexico. The aircraft identified more than 200 geo-referenced anomalies while being remotely controlled by a team of pilots and engineers at the company's SkyCenter mission control facility in Toronto.
SkyX is not in the business of selling drones, but rather the data that its drones, SkyOne and eventually SkyTwo, collect. The idea is that the EVTOL Sky drones can data in a less expensive way for companies that traditionally use airplanes or helicopters to aerially monitor the conditions of critical infrastructure.
"If you're an oil company, you don't need to train to fly an aircraft," SkyX CEO and founder Didi Horn said. "Tell me what you're looking to monitor, and we will fly and find the data."
According to Horn, SkyOne's maximum range is 62 miles, and the UAS works by flying autonomously between deployable SkyX xStations. The stations are designed to be placed along the route the SkyOne will fly, providing a landing destination and recharging capability. When a recharge is required or the aircraft has completed its mission, it will autonomously seek out and descend vertically into an xStation.
Using the stations and pre-programmed waypoints allows SkyOne to be operated from anywhere. The stations can be plugged into normal electric outlets, freestanding generators or solar panels. The UAS can be configured according to the mission it will be operating, with options including thermal and even LIDAR cameras and sensors.
"It's completely autonomous," said Jason Braverman, SkyX CTO. "All of the missions are pre-programmed into the aircraft, including geo-fencing, where the aircraft can't fly, obstacles along the route or even hazards. We do a lot of that computing beforehand, flight planning; once that's defined, its point and click. We also have weather data, data in the atmosphere around the station; we can use that to determine when it is safe for the drone to take off."
Braverman said one of the key enablers for the aircraft's navigation and computational analysis is Nvidia's Jetson TX2, which Nvidia describes as an artificial intelligence supercomputer on a module.
SkyTwo's public debut at Farnborough revealed that it is capable of handling heavier payloads and flying farther and faster than SkyOne. SkyTwo has only two motors instead of the SkyOne's four. Braverman said that combines with variable pitch propellers to provide SkyTwo directional control and lower energy usage.
The company is currently working with Transport Canada and the FAA on new rules for flying commercially operated drones beyond visual line of sight and recently earned a standing special flight operations certificate (SFOC) from Transport Canada. The new certificate allows the SkyX team to perform demonstrations in Class G airspace.
SkyX expects to start flying SkyTwo in 2019.
Quelle: Avionics
787 Views