11.06.2018
SpaceX targeting late June for next launch from Cape Canaveral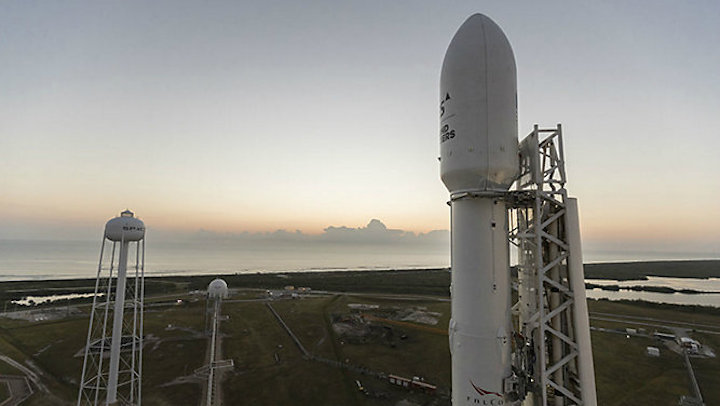 SpaceX is targeting no earlier than late this month for the next Falcon 9 launch from Cape Canaveral Air Force Station as crews wrap up a period of downtime scheduled for Eastern Range maintenance.
Teams are expected to launch a Dragon spacecraft packed with thousands of pounds of supplies and science experiments destined for the International Space Station during an instantaneous 5:41 a.m. window on June 29. Dragon should rendezvous with the station a few days after its departure from Launch Complex 40.
The 15th of 20 missions under NASA's Commercial Resupply Services contract, known as CRS-15, will feature a previous-generation Block 4 booster that SpaceX has typically been discarding after launch to clear room for its newer Block 5 variants. A booster landing for this mission is not expected.
[SpaceX plans major expansion at KSC with futuristic launch control center]
Block 5 boosters feature more reusability upgrades and will be flown up to 10 times with minimal refurbishments between flights, CEO Elon Musk says, while the previous generation was only capable of two launches before retirement. Minor visual differences, such as a black interstage and landing legs, also help distinguish Block 4 from Block 5.
CRS-15 will mark one of the final Block 4 missions for SpaceX.
After roughly a month on orbit with the ISS, the Dragon spacecraft will target a Pacific Ocean splashdown with science experiments and waste from the station.
Follow FloridaToday.com/Space for live coverage of the CRS-15 mission beginning at 4:30 a.m. June 29.
Quelle: Florida Today
+++
Rocket Launch: NET June 29, 2018 TBA | SpaceX Falcon 9 CRS-15
Cape Canaveral Air Force Station Launch Complex 40Rocket Launch: NET June 29, 2018 TBA | SpaceX Falcon 9 CRS-15
MISSION
For the 15th International Space Station (ISS) resupply mission, SpaceX will launch a Dragon spacecraft on a Falcon 9 rocket from Launch Complex 40. Dragon will deliver supplies, equipment and the following science investigations for the ISS:
Investigation on cellular biology in microgravity
ECOsystem Spaceborne Thermal Radiometer Experiment on Space Station (ECOSTRESS), an Earth science instrument studying plants and water availability
A physical sciences study on soil and sediment to enable U.S. National Laboratory research
LAUNCH VIEWING
Kennedy Space Center Visitor Complex offers the closest public viewing of launches, as well as launch commentary, bleacher seating and access to visitor complex exhibits and attractions.
Availability of upcoming viewing opportunities is dependent upon the scheduled launch time and is subject to NASA and U.S. Air Force approval.
If launch transportation and viewing opportunities become available through the visitor complex:
Tickets are sold as soon as possible after a confirmed date and time is announced.
Tickets may be purchased online under the VIP Launch Viewing tab on the ticket page if/when tickets are available.
As viewing locations are accessible from inside the visitor complex entrance only, you must purchase a daily admission ticket or an annual pass in order to use Launch Transportation/Viewing Tickets. Ticket holders are transported by Kennedy Space Center buses from the main visitor complex to the available viewing areas through NASA's gates.
Launch Transportation Tickets are date and mission specific, and are not valid for other launches.
Quelle: Kennedy Space Center
---
Update: 23.06.2018
.
SpaceX, NASA still targeting Friday for Falcon 9 rocket launch to ISS
SpaceX and NASA are still proceeding toward an early morning Friday launch from Cape Canaveral to deliver supplies, cargo and science experiments to the International Space Station.
Teams are targeting 5:42 a.m. for the liftoff from Launch Complex 40 with a Dragon spacecraft, which should arrive at the ISS around 5:30 a.m. on Monday, July 2.
The 15th of 20 missions under NASA's Commercial Resupply Services contract, CRS-15 will feature one of SpaceX's last Block 4 first stages: Booster 1045, or B1045. Friday's will flight will mark its second mission after initially launching NASA's TESS spacecraft from the Space Coast in April.
[SpaceX's Falcon Heavy in New York City? Delta IV at the Taj Mahal? See rockets in everyday places]
Because Block 4 first stages are flown a maximum of two times, SpaceX is expected to discard the booster into the Atlantic Ocean after liftoff, so no drone ship recovery will be attempted. The company is in the process of moving all launches to Block 5 versions of Falcon 9, which feature enhanced reusability and efficiencies, meaning SpaceX could fly each one 10 times with minimal refurbishment and up to 100 times with moderate upkeep.
The Air Force, meanwhile, will release a weather forecast for the mission on Tuesday.
Join FloridaToday.com/Space for countdown updates and chat at 4:30 a.m. Friday, including streaming of SpaceX's launch webcast starting about 15 minutes before liftoff.
Quelle: Florida Today
---
Update: 24.06.2018
.
SpaceX test-fires reused rocket in preparation for space station cargo mission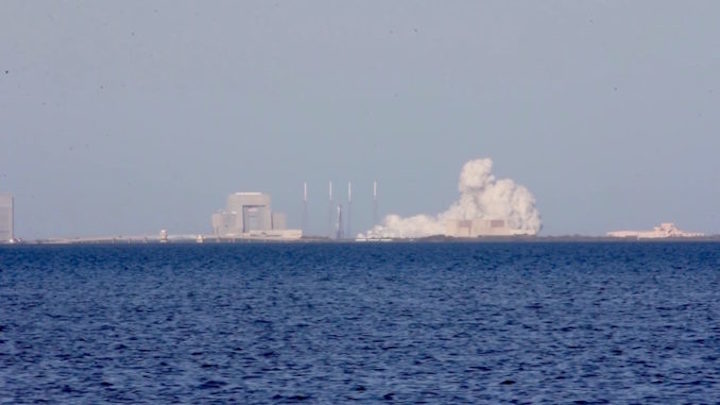 A rocket booster SpaceX used to launch a planet-hunting NASA observatory two months ago fired again Saturday at Cape Canaveral, clearing a major pre-flight checkout before blastoff June 29 with a space station supply ship.
After running the rocket through a mock launch countdown, SpaceX engineers oversaw the brief ignition of the Falcon 9's first stage Merlin engines at 5:30 p.m. EDT (2130 GMT) Saturday on Cape Canaveral's Complex 40 launch pad.
Hold-down restraints at pad 40 kept the rocket firmly on the ground as the first stage's nine Merlin 1D engines throttled up to more than a million pounds of thrust.
A few seconds after igniting, the engines appeared to switch off as planned. A plume of steam and rocket exhaust loomed over pad 40 as SpaceX ensured the Falcon 9 transitioned into a safe condition after the hotfire test, a customary milestone in all SpaceX launch campaigns.
SpaceX confirmed the successful hold-down firing in a tweet later Saturday evening, confirming plans to launch the rocket at 5:42 a.m. EDT (0942 GMT) on Friday, June 29.
The Falcon 9 launching next week will use the same first stage that carried NASA's Transiting Exoplanet Survey Satellite toward orbit on an April 18 launch from Cape Canaveral. The turnaround of some 10 weeks between missions is set to be the shortest span between launches of the same recycled Falcon 9 booster.
The first stage was the final one manufactured by SpaceX using the company's discontinued "Block 4" configuration. SpaceX debuted the upgraded "Block 5" version of the Falcon 9 rocket May 11.
The Falcon 9 Block 5 design is optimized for reusability of the first stage, and SpaceX founder and chief executive Elon Musk said the upgraded Block 5 boosters could be launched, landed and flown again in as little as 24 hours, eventually requiring little more than the cost of new propellants and processing costs.
The Block 4 configuration was not capable of such rapid re-flights, requiring disassembly of its landing legs, inspections, refurbishment and the installation of new heat shield material and grid fins used on descent. The work took time and cost millions of dollars, but SpaceX officials said the expense of refurbishing Block 4 boosters was less than the cost of manufacturing an all-new vehicle.
The first stage that launched NASA's TESS mission in April landed on SpaceX's drone ship in the Atlantic Ocean, then returned to Port Canaveral, where engineers removed it from the recovery vessel and transported it to a hangar to begin preparations for its next mission.
The June 29 launch will be SpaceX's 12th mission of the year, and the 15th flight under the company's multibillion-dollar cargo transportation contract with NASA.
The Dragon supply ship set to ride the Falcon 9 rocket into orbit next week is also reused from a previous flight in 2016. With the completion of the static fire test Saturday, teams at Cape Canaveral will lower the Falcon 9 rocket and return it to the hangar at pad 40, where they will mate the launcher with the Dragon cargo capsule.
The commercially-managed resupply mission will deliver more than 5,900 pounds (about 2,700 kilograms) of research hardware, crew supplies and spare parts to the International Space Station's six-person Expedition 56 crew.
The equipment launching to the space station next week includes a spare Canadian-built latching end effector for the research lab's robotic arm, plus an instrument developed by NASA's Jet Propulsion Laboratory to be mounted outside the station's Japanese Kibo lab module to measure the temperature of plants from space.
The temperature measurements will tell scientists about the health of the plants, how much water they are using, and the resiliency of crops to extreme conditions like heat waves and droughts.
"When a plant is so stressed that it turns brown, it's often too late for it to recover," said Simon Hook, ECOSTRESS principal investigator at JPL. "But measuring the temperature of the plant lets you see that a plant is stressed before it reaches that point."
The Dragon capsule is scheduled to arrive at the space station Monday, July 2, to begin an approximately month-long stay. The craft will detach, de-orbit and splash down in the Pacific Ocean at the end of its mission, bringing experiment specimens and other payloads back to Earth.
Quelle: SN
---
Update: 28.06.2018
.
NASA Television to Air Launch of Next Space Station Resupply Mission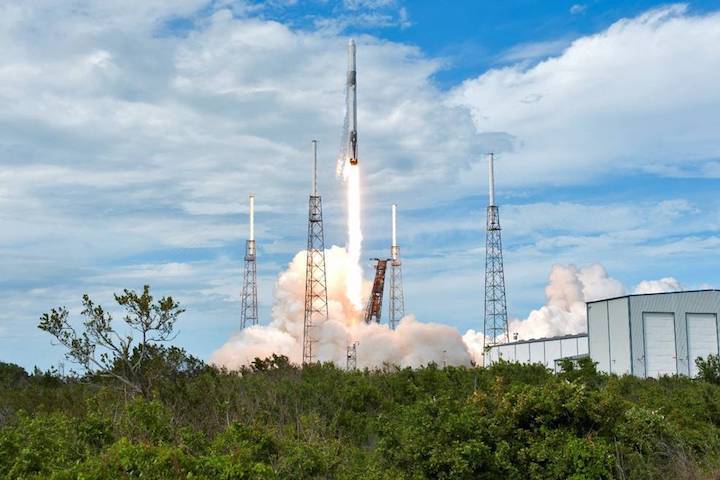 NASA commercial cargo provider SpaceX is targeting no earlier than 5:42 a.m. EDT Friday, June 29, for the launch of its 15th resupply mission to the International Space Station. Live coverage will begin on NASA Television and the agency's websiteThursday, June 28, with prelaunch events.
Packed with more than 5,900 pounds of research, crew supplies and hardware, the SpaceX Dragon spacecraft will launch on a Falcon 9 rocket from Space Launch Complex 40 at Cape Canaveral Air Force Station in Florida.
About 10 minutes after launch, Dragon will reach its preliminary orbit. It then will deploy its solar arrays and begin a carefully choreographed series of thruster firings to reach the space station.
It will reach the space station Monday, July 2. NASA astronaut Ricky Arnold, backed up by fellow NASA astronaut Drew Feustel, will supervise the operation of the Canadarm2 robotic arm for Dragon's capture while NASA astronaut Serena Auñón-Chancellor monitors the spacecraft's systems. After Dragon capture, ground commands will be sent from mission control in Houston for the station's arm to rotate and install it on the bottom of the station's Harmony module.
Full mission NASA TV coverage is as follows:
Thursday, June 28
11 a.m. – What's on Board science briefing from Kennedy

Christian Karrasch, project lead at the German Aerospace Center (DLR), and Philipp Schulien, project engineer at Airbus, will discuss the Crew Interactive Mobile companion (CIMON) study into crew efficiency and acceptance of artificial intelligence (AI) support for future use on long-duration missions.
Principal investigators Richard Grugel at NASA's Marshall Space Flight Center and Oliver Steinbock at Florida State University, will discuss Chemical Gardens studying the physics of nanotube growth.
Simon Hook, principal investigator at NASA's Jet Propulsion Laboratory, and Woody Turner, program scientist in the Earth Science Division at NASA Headquarters, will discuss the ECOsystem Spaceborne Thermal Radiometer Experiment on Space Station (ECOSTRESS) investigation. This study will answer several key science questions related to water stress in plants and how selected regions may respond to future changes in climate.
Paolo Luzzatto-Fegi, principal investigator at the University of California, Santa Barbara, and Richard Dickinson, director of the Division of Chemical, Bioengineering, Environmental, and Transport Systems at the National Science Foundation, will discuss Quantifying Cohesive Sediment Dynamics for Advanced Environmental Modeling (BCAT-CS), which focuses on the study of forces between particles that cluster together by studying sediments of quartz and clay particles.
Ken Podwalski, director of Space Exploration Operations and Infrastructure for the Canadian Space Agency, will discuss the spare Canadarm2 Latching End Effector (LEE) being launched.

12:45 p.m. – Prelaunch news conference from NASA's Kennedy Space Center in Florida with representatives from NASA's International Space Station Program, SpaceX and the U.S. Air Force's 45th Space Wing.
Friday, June 29
5:15 a.m. – Coverage begins for the 5:42 a.m. launch
8 a.m. – Postlaunch news conference at Kennedy with representatives from NASA's International Space Station Program and SpaceX.
Monday, July 2
5:30 a.m. – Dragon rendezvous, grapple and berthing at the space station. Capture is scheduled for approximately 7 a.m.
9 a.m. – Dragon installation to the Nadir port of the station's Harmony module
Spectacular View Expected for SpaceX's CRS-15 Cargo Run to ISS Friday Morning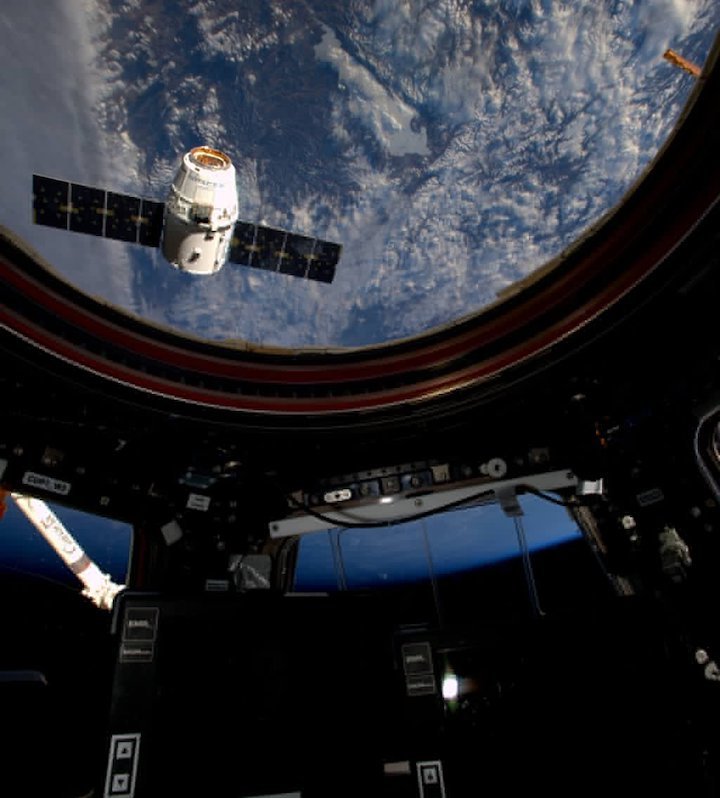 A major science instrument to monitor the temperatures and water requirements of plants and a new Latching End Effector (LEE) will be among 3,775 pounds (1,712 kg) of payloads and supplies heading uphill to the International Space Station (ISS) on Friday, 29 June. Liftoff of the CRS-15 Dragon—the 15th dedicated cargo mission under SpaceX's Commercial Resupply Services contract with NASA—is targeted for 5:42 a.m. EDT from Space Launch Complex (SLC)-40 at Cape Canaveral Air Force Station, Fla. The Dragon, which is a flight-proven spacecraft which previously carried out the CRS-9 mission, will spend two days in transit, before it is captured by Expedition 56 astronaut Ricky Arnold on Sunday, 1 July, using the 57.7-foot-long (17.6-meter) Canadarm2.
With sunrise occurring at 6:28am Eastern on Friday, and with a 90% favorable weather forecast, liftoff of the Falcon-9 rocket with Dragon will put on a visually stunning show in the early morning twilight. The flight-proven rocket, which previously launched NASA's TESS spacecraft earlier this year, will leave Space Launch Complex 40 in darkness, but ascend into sunlight. And If history is any indication, this will leave those unaware of the launch posting images to social media about aliens and secret missile launches, among other outrageous theories such intelligent people come up with. But either way, it will look spectacular, so anyone within a few hundred miles of Cape Canaveral should look East for it.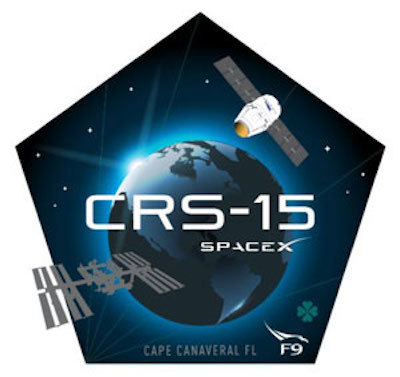 Key payloads aboard CRS-15 include NASA's ECOSystem Spaceborne Thermal Radiometer Experiment on Space Station (ECOSTRESS), designed to observe the temperatures and water requirements of plants. Weighing 1,200 pounds (550 kg), this payload was fabricated by the Jet Propulsion Laboratory (JPL) in Pasadena, Calif., at a cost of under $30 million. Selected in July 2014 as part of the "Earth Venture" program of small, targeted science investigations, this payload will monitor the mechanism of "transpiration", whereby water is lost from plants through tiny pores in their leaves, as well as evaporation from the surrounding soil. When examined together, this analysis is known as "evapotranspiration".
"If plants do not get enough water, they show signs of stress," explained ECOSTRESS Principal Investigator Simon Hook of JPL. "By measuring evapotranspiration, we get an early indicator of that stress and we can do something about it, before the plants collapse."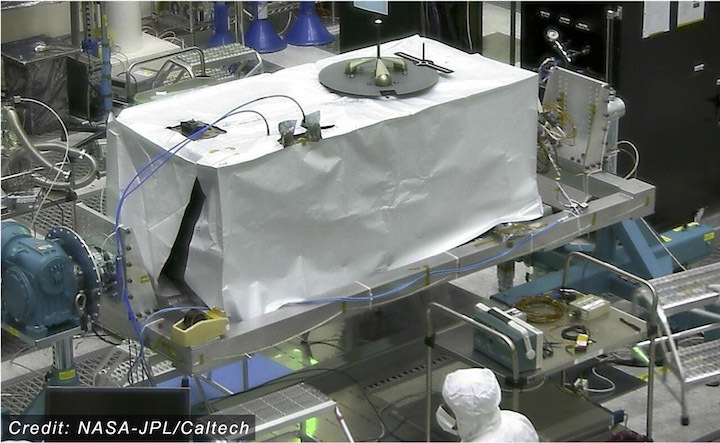 Equipped with a Prototype Hyperspectral Infrared Imager (HyspIRI) Thermal Infrared Radiometer (PHyTIR), ECOSTRESS will provide a station-based thermometer to measure plant temperatures and total heat radiance from Earth's surface, across the contiguous United States. In so doing, it will investigate the response of the terrestrial biosphere to changes in water availability and impacts on a global scale, seeking to understand if agricultural vulnerability can be reduced through advanced monitoring of water consumptive use and improved drought estimations. Its resolution is so fine that it will be able to measure the temperature of an individual farmer's field. "We see in our own gardens that one type of plants needs more water to grow than the next plant, but we have not been able to see this on a global scale," said ECOSTRESS science lead Josh Fisher of JPL. "This has huge implications for our understanding of global water and carbon cycling and which plants are going to live or die in a future world of greater droughts."
Although evapotranspiration is monitored by current Earth-circling satellites, the current data offers either high spatial resolution and low time frequency or, conversely, high time frequency against coarse resolution. ECOSTRESS offers a four-day repeating cycle of observations at a spatial resolution of 125 feet (38 meters) x 185 feet (57 meters), at an altitude sufficiently high to observe most farms and small differences within ecosystems. Moreover, the station's orbital inclination of 51.6 degrees to the equator provides greater observation time of forests and vegetation over temperate landmasses than is possible from most polar-orbiting Earth-science satellites.
Also aboard CRS-15 is a "Ground Spare" Latching End Effector (LEE) for Canadarm2. Unlike the Remote Manipulator System (RMS) mechanical arm of NASA's now-retired shuttle fleet—whose behavior mimicked the human arm in several respects—Canadarm2 has LEE "hands" at each end, which enable it to inchworm its way along the station's expansive truss structure from worksite to worksite, plugging its Power and Data Grapple Fixtures (PDGFs) into receptacles along the way. The LEE "ends" are distinguishable by the alphabetical designations "A" and "B" and each is a cylindrical unit, about 3.5 feet (1.1 meters) long. "The LEE that will be aboard the CRS-15 Dragon mission was initially built as a Qualification Model under a development contract that delivered initial elements of Canadarm2," the Canadian Space Agency's Audrey Barbier told AmericaSpace. "This LEE was then converted into a flight unit under three consecutive Mobile Servicing System (MSS) Logistics and Engineering Support contracts…from 2003 to July 2016." After delivery to the station, the new LEE will be robotically installed onto Site 8 of External Stowage Platform (ESP)-2, located on the port side of the Quest airlock.
Canadarm2 was launched to the ISS way back in April 2001 and, since then, its performance has been virtually top-notch, with the notable exception of age-induced wear-and-tear manifested through increased motor currents in its LEEs. Both ends were lubricated by spacewalking astronauts in February 2015 and January 2017, before LEE-A was replaced last October and LEE-B similarly changed-out in January of this year. The degraded LEE-A currently resides inside the station and will return to Earth later this summer aboard CRS-15 for refurbishment. "We are anticipating it will take about two years to investigate and refurbish the LEE," Ms. Barbier told AmericaSpace. It will then be relaunched to serve as an on-orbit spare for the remainder of the ISS lifetime.
Other payloads aboard Dragon's pressurized segment included the Micro-12 cellular biology experiment, provided by NASA's Ames Research Center (ARC) in Mountain View, Calif. It will investigate the effects of spaceflight upon the physiology of Shewanella oneidensis MR-1, an exoelectrogenic microorganism with the potential for future use in microbial fuel cells to create electricity from waste organic matter. The use of bioelectrochemical systems also has important implications for waste water processing and the synthesis of biofuels, food products and therapeutics on future long-duration space missions. Cambridge, Mass.-based biotechnology firm Angiex, Inc., has provided an experiment to test endothelial cells—which line the walls of blood vessels—as part of advanced targeted treatments for tumor cells and cardiovascular diseases.
Twenty female mice from two different strains will fly as part of the seventh Rodent Research (RR-7) payload, as part of ongoing studies by Northwestern University in Evanston, Ill., into the effect of microgravity on microorganisms in the gastrointestinal tract. These microorganisms are known to have a detrimental impact on mammalian (including human) physiology and behavior, with clear links to intestinal, immune-system, mental and metabolic health problems. And the University of Florida's Space Algae experiment seeks to explore the genetic basis for productivity of algae cultivated in the microgravity environment. Potential uses of space-cultivated algae include carbon dioxide recycling systems, food provision for astronauts, biodiesels and chemicals for the synthesis of plastics and resins. Additionally, many algal species synthesize oils which are important for human nutrition and can protect against cosmic radiation and retinal damage.
All told, the CRS-15 pressurized payloads total 3,775 pounds (1,712 kg). This figure includes an estimated 2,700 pounds (1,233 kg) of science equipment, 450 pounds (205 kg) of crew supplies, 392 pounds (178 kg) of vehicle hardware, 138 pounds (63 kg) of Extravehicular Activity (EVA) gear, 46 pounds (21 kg) of computer apparatus and 26 pounds (12 kg) for the Russian Orbital Segment (ROS).
Quelle: AS
+++
12.30 MESZ
.
New NASA Research, Hardware Heading to Space Station on 15th SpaceX Resupply Mission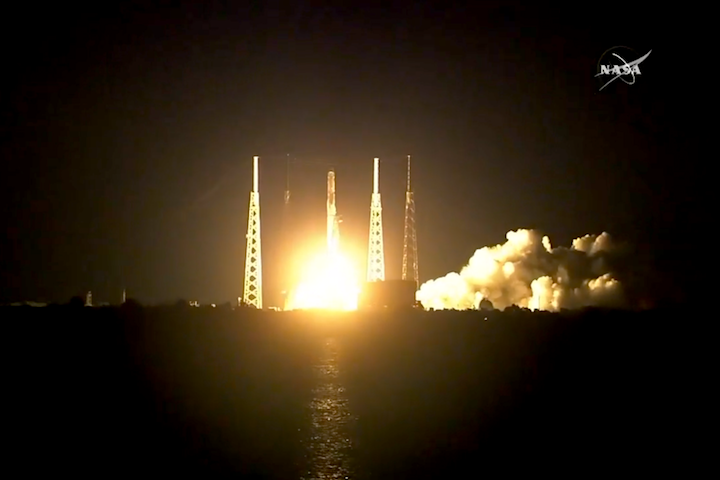 Experiments investigating cellular biology, Earth science and artificial intelligence are among the research heading to the International Space Station following Friday's launch of a NASA-contracted SpaceX Dragon spacecraft at 5:42 a.m. EDT.
Dragon lifted off on a Falcon 9 rocket from Space Launch Complex 40 at Cape Canaveral Air Force Station in Florida with more than 5,900 pounds of research, equipment, cargo and supplies that will support dozens of investigations aboard the space station.
NASA astronauts Ricky Arnold and Drew Feustel will use the space station's Canadarm2 robotic arm to capture Dragon when it arrives at the station. Live coverage of the rendezvous and capture will air on NASA Television and the agency's websitebeginning at 5:30 a.m. Monday, July 2. Installation coverage is set to begin at 9 a.m.
Research materials flying inside Dragon's pressurized cargo area include a cellular biology investigation (Micro-12) to understand how microgravity affects the growth, gene expression and ability of a model bacterium to transfer electrons through its cell membrane along the bacterial nanowires it produces. Such bacteria could be used in microbial fuel cells to make electricity from waste organic material.
An Earth science instrument called the ECOsystem Spaceborne Thermal Radiometer Experiment on Space Station (ECOSTRESS) will provide a new space-based measurement of how plants respond to changes in water availability. This data can help society better manage agricultural water use.
An observational pilot study with the Crew Interactive MObile companioN (CIMON) aims to provide first insights into the effects of crew support from an artificial intelligence (AI) in terms of efficiency and acceptance during long-term missions in space.
Among the hundreds of pounds of hardware flying to the space station is a spare Canadian-built Latching End Effector (LEE). Each end of the Canadarm2 robotic arm has an identical LEE, and they are used as the "hands" that grapple payloads and visiting cargo spaceships. They also enable Canadarm2 to "walk" to different locations on the orbiting outpost.
This is SpaceX's 15th cargo flight to the space station under NASA's Commercial Resupply Services contract. Dragon is scheduled to depart the station in August and return to Earth with more than 3,800 pounds of research, hardware and crew supplies.
For more than 17 years, humans have lived and worked continuously aboard the International Space Station, advancing scientific knowledge and demonstrating new technologies, making research breakthroughs not possible on Earth that will enable long-duration human and robotic exploration into deep space. A global endeavor, 230 people from 18 countries have visited the unique microgravity laboratory that has hosted more than 2,400 research investigations from researchers in 103 countries.
Quelle: NASA
3095 Views