12.02.2018
Falcon 9 static fires at Vandenberg ahead of Paz + Starlink launch
SpaceX is progressing well through what they hope to be their busiest year yet, conducting its customary static fire test ahead of the upcoming Paz and Starlink demosats launch. The static fire took place on Sunday. Launch is scheduled for February 17 from Vandenberg Air Force Base SLC-4E. SpaceX has also been upgrading many facilities at and around the launch site, including readying their new nearby landing zone for supporting future Return-To-Launch-Site (RTLS) landings at Vandenberg.

Static Fire and Launch:
SpaceX is continuing to work through their ambitious 2018 manifest, aiming for their fourth launch this year, which will take the 1350kg Paz satellite and two 400kg Starlink demo satellites into to a 514km Sun-Synchronous Orbit. The first stage – flight-proven core 1038 – is expected to be expended with a possible ocean landing, as the core has been observed without landing legs.
One of the largest and most important steps to be taken by SpaceX before launch is the static fire, a test that involves going through every step of a simulated launch countdown on the pad, including fueling the rocket and doing a short test fire of all 9 Merlin 1D engines on the first stage.
The firing of the engines can range from the usual 3.5 second burn – used on flights with new boosters – to 7 seconds – usually used on flights with reused boosters – and all the way up to 12 seconds – which was used on the full Falcon Heavy demo mission stack.
After the static fire occurs, SpaceX will conduct a quick review of the data from the test. SpaceX confirmed the milestone via Twitter later on Sunday. A more detailed data analysis will follow throughout the next few days to further confirm that the vehicle performed as expected in the test, and is cleared for launch.
Meanwhile, the launch team at Vandenberg will be rolling the stack back into the Horizontal Integration Facility (HIF) to have the payloads – in their fairing – attached to the vehicle, before the now completed stack is again rolled out to the pad – this time for launch.
SpaceX performs the on-pad static fire test – which is uncommon in the industry – to make sure all the vehicle, pad and mission control systems are operating correctly during a simulated launch countdown.
In addition to a static fire test, SpaceX occasionally performs a Wet Dress Rehearsal (WDR) on the vehicle. This test – like a static fire – is a complete launch countdown simulation, but does not include ignition of the engines. The rockets for the Falcon Heavy demo flight and the Zuma mission each performed multiple wet dress rehearsals on their launch pads.
Before new Falcon 9 stages go to the launch site, they first must undergo a much longer test fire at SpaceX's McGregor test facility. The length of the test fires can range from a minute to a full duration burn for the first stage, and from a few minutes to full duration for the second stage.
The core that will be used on this mission – core 1038 – was previously used to launch Formosat 5 to a sun-synchronous orbit from SLC-4E at Vandenberg Air Force Base. The core landed successfully on the drone ship Just Read The Instructionsafter what was at the time the hottest reentry of any Falcon 9 booster that was to be recovered.
As with all new Falcon 9 boosters, core 1038 completed a test fire at McGregor in late June 2017. After the test fire, the core was then shipped to Vandenberg for processing to prepare it and its second stage for an on-pad static fire, ahead of the launch of Formosat 5.
After processing and integration tasks were complete, the Falcon 9 stack, minus its payload – as is now usual after the Amos-6 on-pad conflagration – made its way out to the pad on August 18, and successfully performed a static fire the next day. The vehicle then rolled back into the HIF to have Formosat 5 – in its fairing – attached to the vehicle.
On August 23, the complete Falcon 9 stack rolled back out onto SLC-4E ahead of its launch the next day.
After a smooth countdown, the Falcon 9 lifted off with Formosat 5, aiming for a 720km Sun-Synchronous Orbit. The launch was a total success, with the payload deploying into the correct orbit and the first stage landing back on the droneship Just Read The Instructions.
After the successful landing, Just Read The Instructions returned to the Port of Los Angeles with core 1038 onboard. The core was unloaded and sent back to SpaceX HQ at in Hawthorne to be inspected and refurbished. The current refurbishment process of Block 3 boosters takes around 24 weeks – which SpaceX hopes to dramatically reduce with the new Falcon 9 Block 5.
The Paz satellite – named after the Spanish word for "peace" – will be launched into a 514km circular orbit. It was built by Airbus for the Spanish company hisdeSAT, and will be used for military and civilian purposes. Paz has an image sensor that can work at both day and night to produce up to 100 high-quality images per day. Also, Paz has an instrument that will monitor precipitation and bodies of water around the globe.
The Paz mission will also be carrying two smaller passengers, demonstration and test prototypes of SpaceX's Starlink internet satellites. Not much is known about the two demo satellites, as SpaceX has been keeping many details about its future internet satellite constellation secret.
SpaceX Vandenberg facility upgrades continue

SpaceX has been making upgrades to its Vandenberg launch and landing facilities throughout 2017 and 2018, and they are getting close to being able to support RTLS landings at Vandenberg.
Some of the recent changes to the Falcon 9 launch pad at SLC-4E include the addition of new, larger sound suppression system "rainbirds", similar to the ones installed on LC-39A at Kennedy Space Center.
Also, four new lighting fixtures – two sets mounted on new towers, and two sets mounted on an adjacent hillside – have been added around the launch pad to better illuminate the rocket and pad during night launches.
Also, the new Falcon 9 landing pad at Vandenberg is getting ready to support Falcon 9 first stage landings. Currently, booster hold-downs at the landing site are being prepared for installation and will hold the booster in place as recovery crews remove – or fold up, in the case of Falcon 9 Block 5 – its landing legs post-landing.
It is currently unknown which mission will make first use of the new landing pad at Vandenberg, but it is known that the Iridium launches can perform an RTLS landing, but they require a Block 4 booster's added performance in order to do so.
Quelle: NS
---
Update: 13.02.2018
.
SpaceX set to launch Spanish satellite from Vandenberg Air Force Base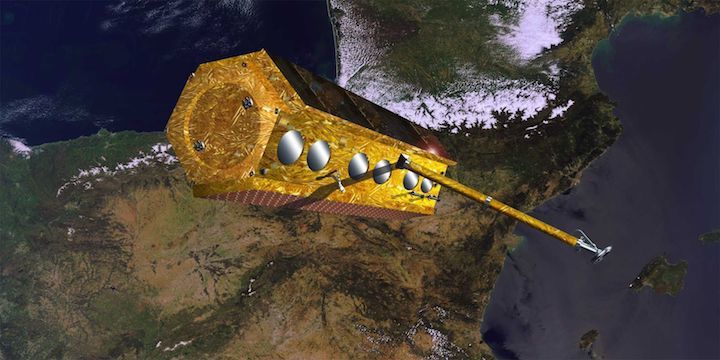 SpaceX is scheduled to conduct its first West Coast launch of the year Saturday, when the company aims to carry a Spanish satellite into orbit aboard a Falcon 9 rocket from Vandenberg Air Force Base.
The launch is scheduled for 6:17 a.m. Saturday from VAFB's Space Launch Complex-4.
Col. Greg Wood, vice commander of the 30th Space Wing, will be the space launch commander.
"The 30th Space Wing is ready to support the first West Coast SpaceX launch of 2018," Wood said, according to VAFB public affairs. "Each launch marks the culmination of hard work and dedication of Team V. We are excited to support this mission as we continue to provide safe, secure access to polar orbit."
The 3,000-pound PAZ satellite was developed by Airbus, a commercial aircraft manufacturer, and HISDESAT, a Spanish government satellite services operator that deals primarily in the areas of defense, security, intelligence and foreign affairs.
PAZ, which is Spanish for "peace," will carry a radar-imaging payload to collect views of Earth to "address civilian needs with multiple applications," according to the company's website. It is Spain's first radar satellite.
The satellite is designed for a mission of five and a half years and is set to orbit Earth 15 times per day.
SpaceX conducted a static-fire test — in which the booster's rocket engines are fired up — of the Falcon 9 on Sunday. The rocket will utilize a previously flown first-stage booster.
Quelle: LOMPOC
---
Update: 16.02.2018
.
SpaceX's next Falcon 9 launch includes stage one of its satellite internet plan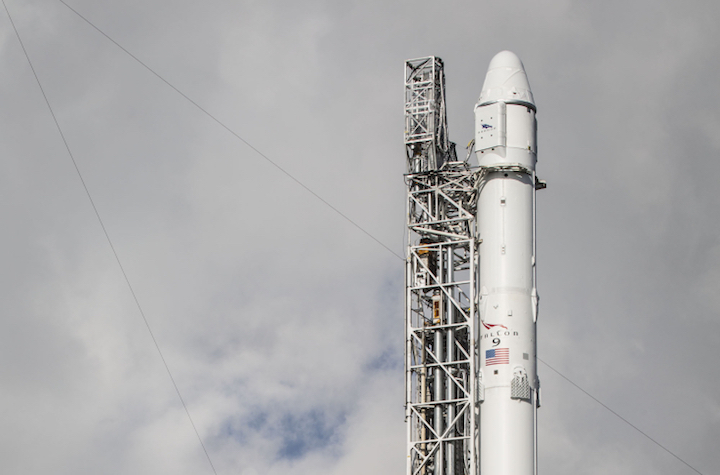 SpaceX is launching a Falcon 9 on February 17 (should the current target date stick) and the rocket is carrying a primary payload of a Spanish satellite for client Paz. The secondary cargo on the launch is more interesting, however, since it's two of SpaceX's own satellites – demonstration satellites the company is putting into orbit to test its plan to offer satellite-based broadband internet communications services.
The rocket will include Microsat-2A and Microsat-2B (via TheNextWeb), small satellites with a planned useful lifetime of just 20 months. Both will contain Ku-band broadband transmitter radios, allowing them to test their ability to offer Earth-based connectivity from low-Earth orbit.
SpaceX wants to test this before deploying a full constellation of its own broadband-providing satellites with a longer-term lifespan, since the private space company hopes to offer affordable, space-based broadband to clients on Earth as an additional revenue stream on top of its rocket launching business. The satellite internet side of its revenue picture could help it pay for ambitious projects like its proposed Mars missions, as SpaceX CEO Elon Musk explained previously when outlining the company's long-term plans.
Putting the Microsats into orbit is just one step towards making the broadband business a reality, but it's a good sign that SpaceX's grand vision is progressing. After a successful Falcon Heavy first flight earlier this month, and plans to fly Crew Dragon later this year, 2018 could be a banner year for Musk's space venture.
Quelle: TC
---
Update: 17.02.2018
.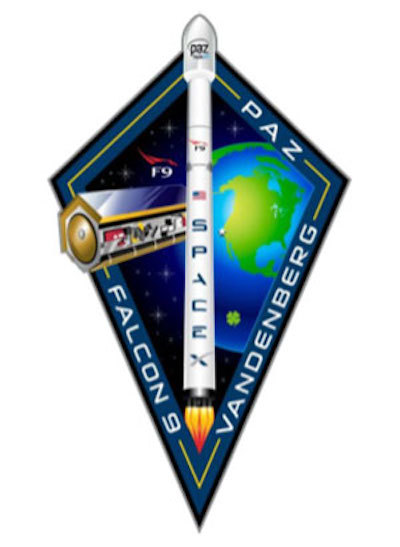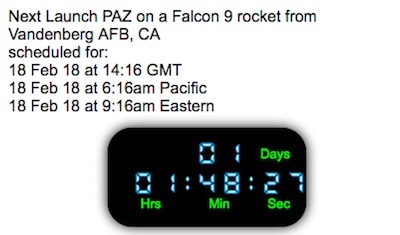 Quelle: AS
---
Update: 18.02.2018
.
UPDATE FEB 17:
– The Falcon 9 was rolled out to its launch pad this morning, but was then rolled back into its hangar a short while ago. SpaceX says they need additional time to perform final checkouts of the rocket's upgraded fairing, and due to "mission requirements" liftoff is now targeting Feb 21.
ORIGINAL STORY BELOW:
Four launches within the first 50 days of the year is an impressive accomplishment, and that's exactly what SpaceX is aiming to do in dawn's twilight Sunday morning, Feb. 18, targeting liftoff of their last Block-3 variant Falcon 9 rocket to launch a satellite for Spain at 6:16 a.m. PST (14:16 UTC) from SLC-4E at Vandenberg Air Force Base.
Sunrise will occur at 6:44 a.m., which means the Falcon 9 will launch in darkness, but should ascend into sunlight as it roars through the upper atmosphere on the power of its nine Merlin 1D+ engines to deploy the $180 million, 3,000-pound (1,400 kg) Paz radar-imaging satellite into low-Earth orbit. A rideshare payload of two SpaceX Starlink test satellites for the worldwide internet program are also onboard the rocket.
Continue reading Don't Freak Out Sunday California, It's Just SpaceX Launching the PAZ Satellite
Quelle: AS
----
Update: 21.02.2018
.
Watch SpaceX launch a Falcon 9 carrying its first internet demo satellites live here
UPDATE: Today's attempt has been scrubbed due to high upper atmosphere winds. The next attempt window is Thursday February 22 at the same time.
SpaceX is launching a Falcon 9 with client Hisdesat's PAZ satellite on board today, provided weather remains favorable and everything else goes according to plan. The satellite, an imaging and radar instrument with a planned lifespan of five and a half years, will serve Spanish government and commercial needs, and will also work as part of a constellation together with TerraSAR-X and TanDEM-X to be used jointly between Hisdesat and Airbus.
The launch will make use of a first stage booster for the Falcon 9 rocket first used last August during the FORMOSAT-5 mission, and today's launch will take place at 6:17 AM PST (9:17 AM EST) during an instantaneous launch window. A backup window is scheduled for Thursday, February 22 at the same time should the launch be scrubbed for Wednesday. It's taking off from Vandenberg Air Force Base in California.
This launch will also carry SpaceX's first demonstration satellites for its satellite broadband internet service, to be tested ahead of a full-scale constellation launch. It's also said to be the first launch of the second generation of SpaceX's fairing, which is designed to be be better able to survive launch for re-use on future missions.
Quelle: TC
---
Update: 22.02.2018
.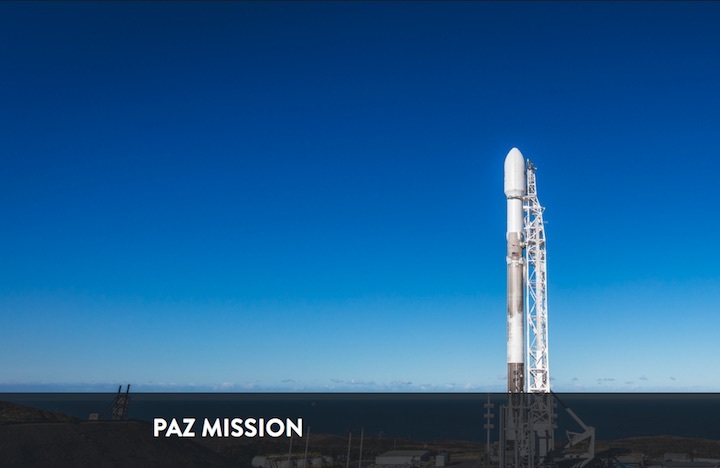 PAZ MISSION
SpaceX is now targeting a Falcon 9 launch of the PAZ satellite to low-Earth orbit on Thursday, February 22 from Space Launch Complex 4 East (SLC-4E) at Vandenberg Air Force Base, California. The February 21st attempt was scrubbed due to strong upper level winds. The instantaneous launch opportunity is at 6:17 a.m. PST, or 14:17 UTC. The satellite will be deployed approximately eleven minutes after launch.
Falcon 9's first stage for the PAZ mission previously supported the FORMOSAT-5 mission from SLC-4E in August 2017. SpaceX will not attempt to recover Falcon 9's first stage after launch.
Quelle: SpaceX
+++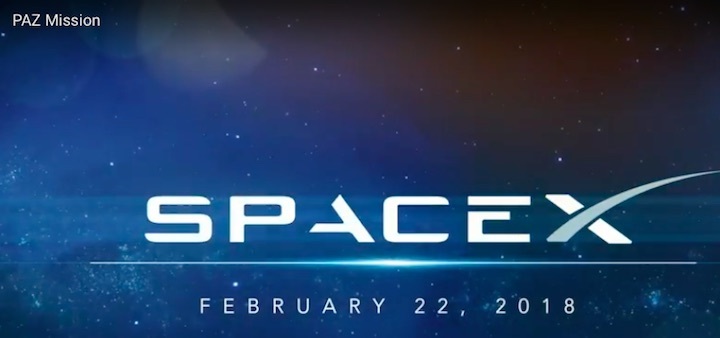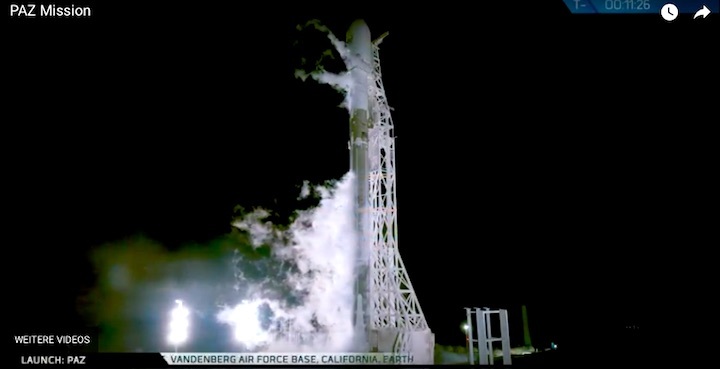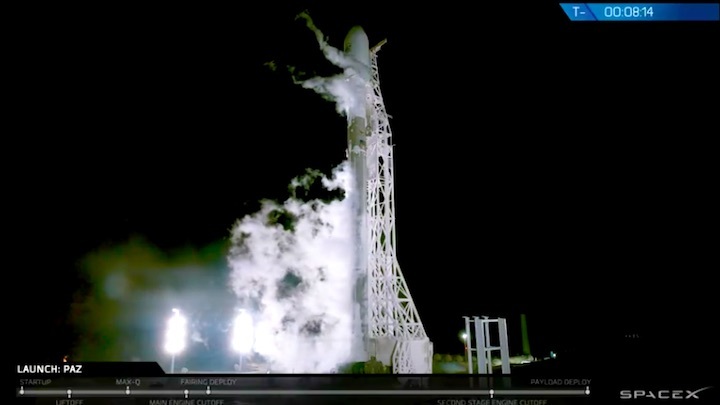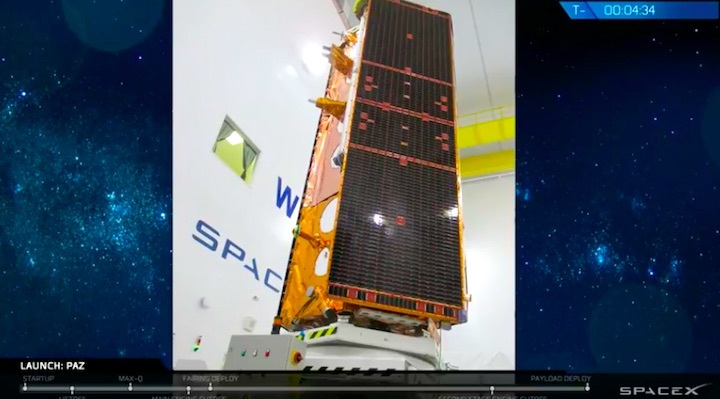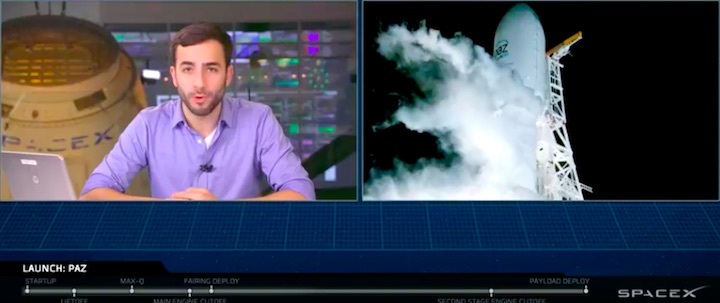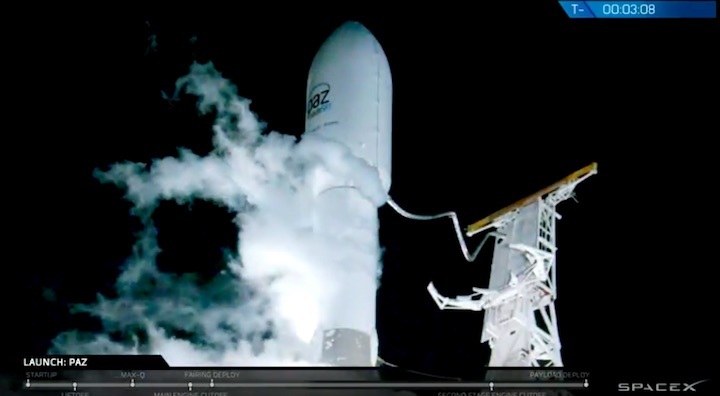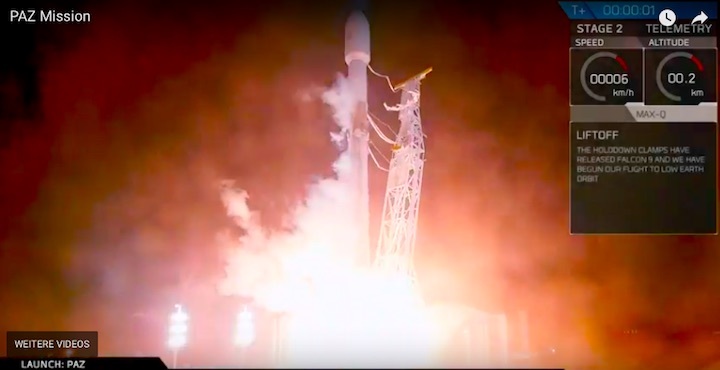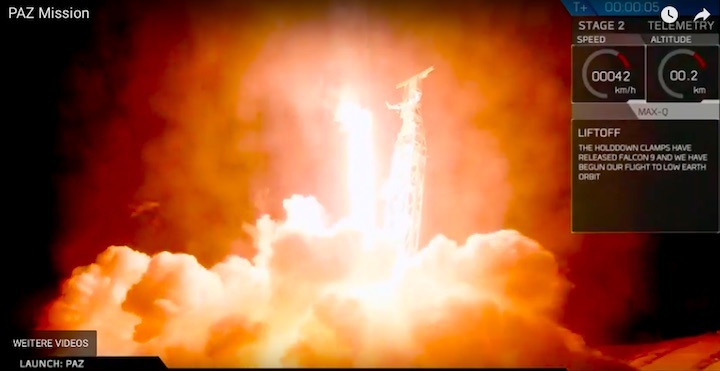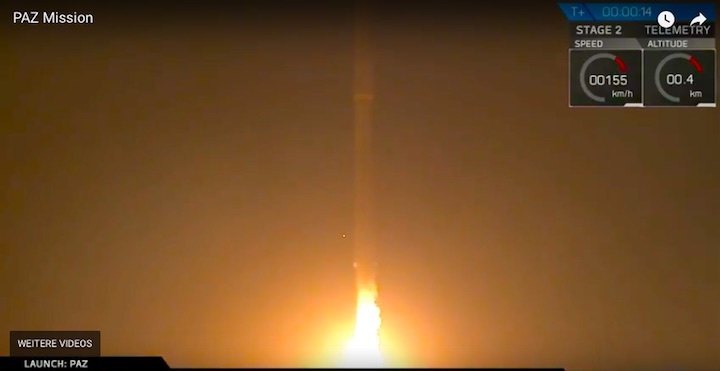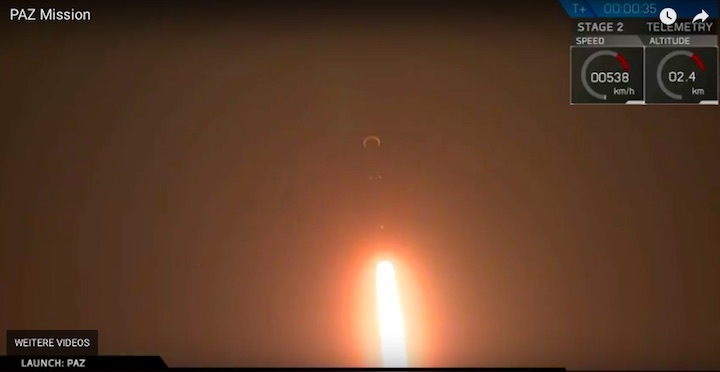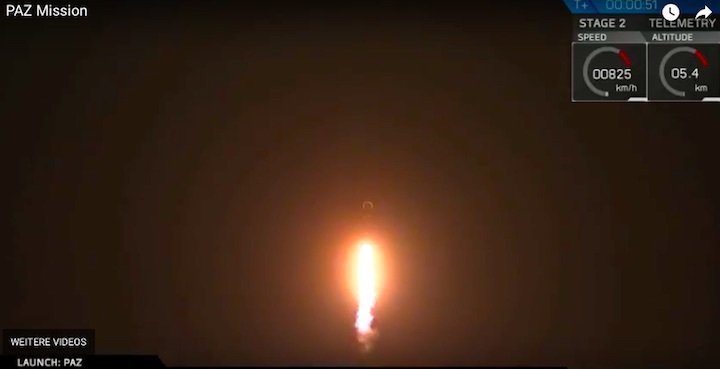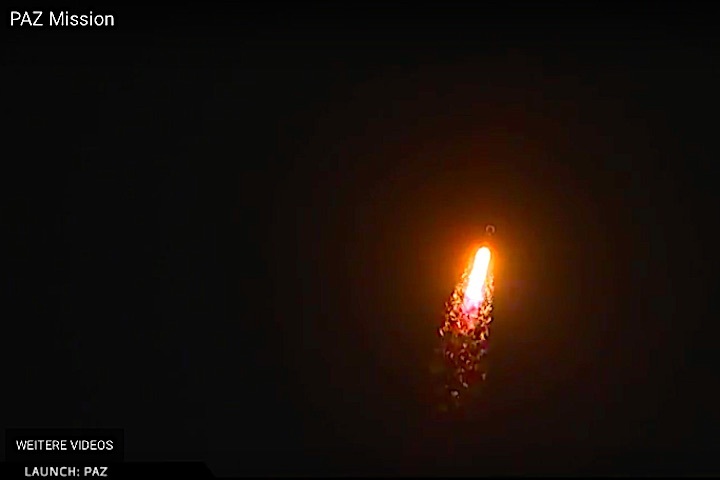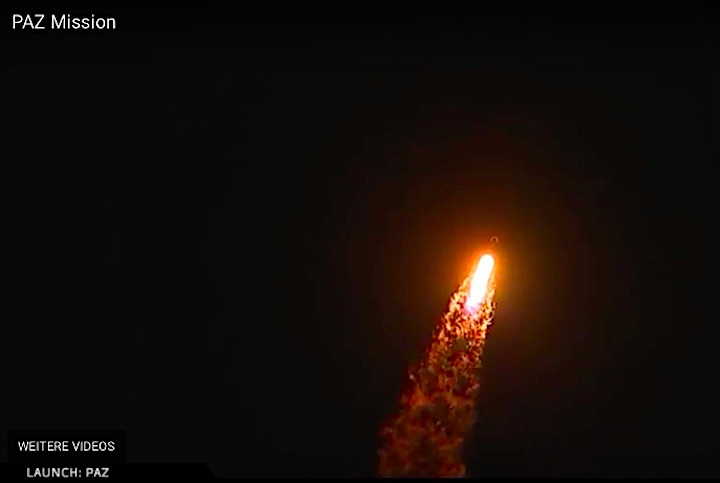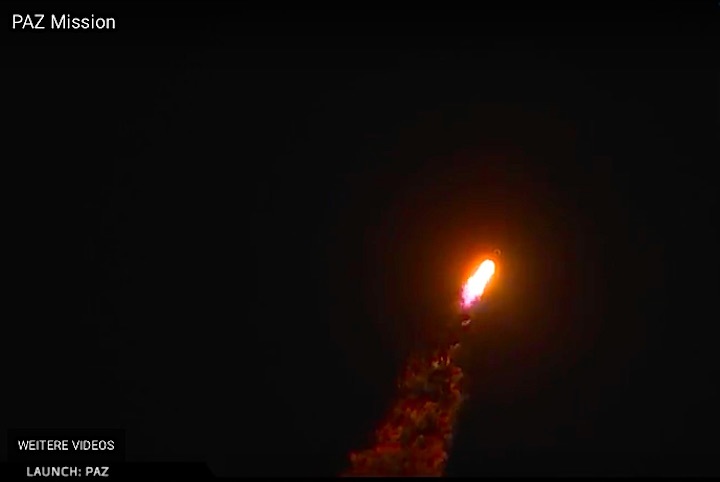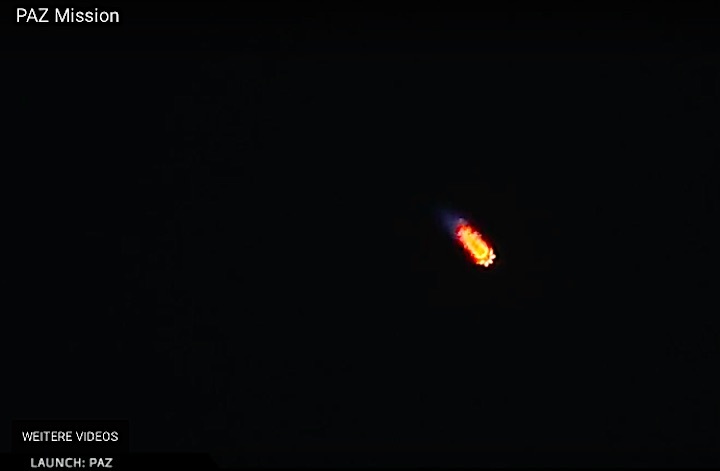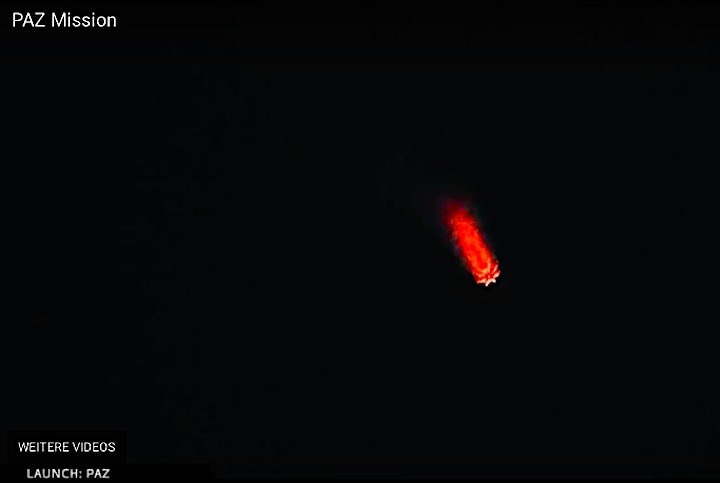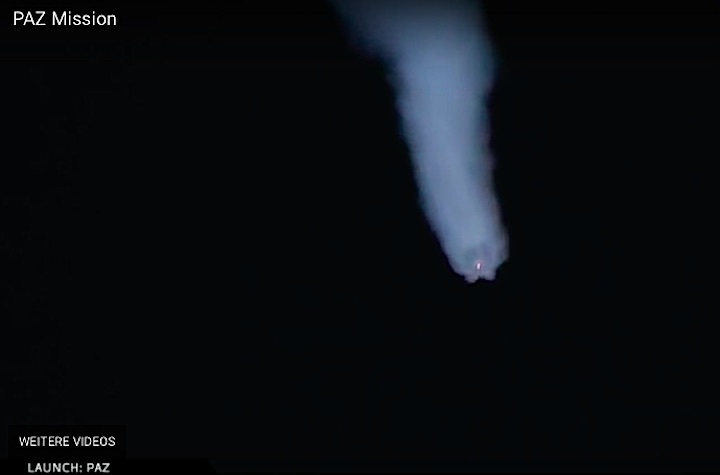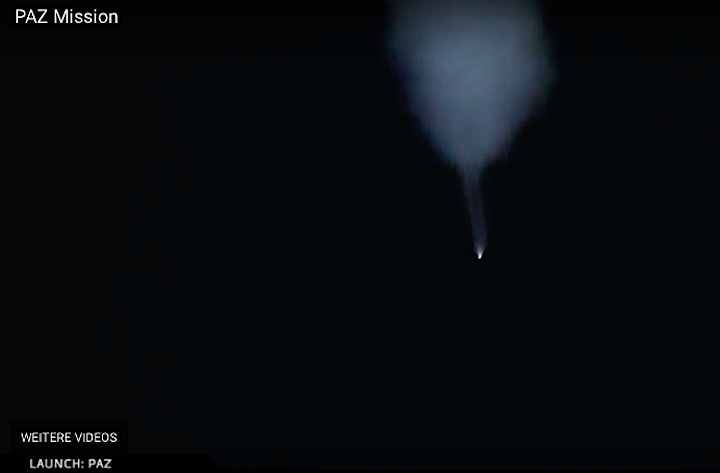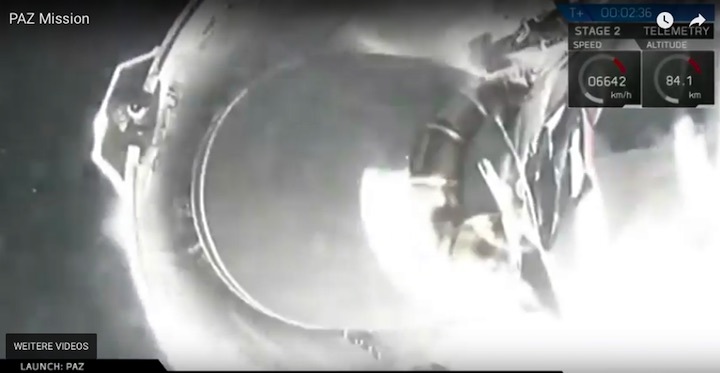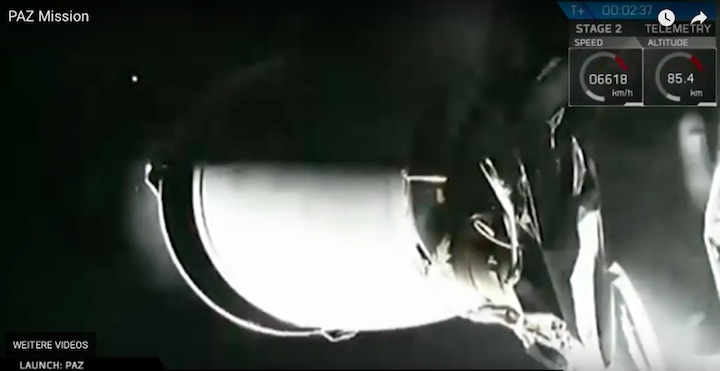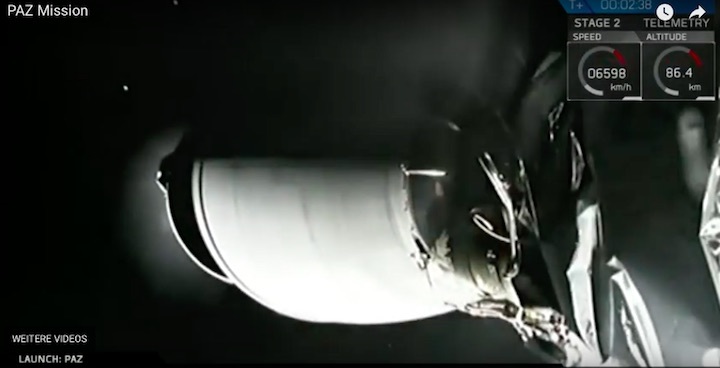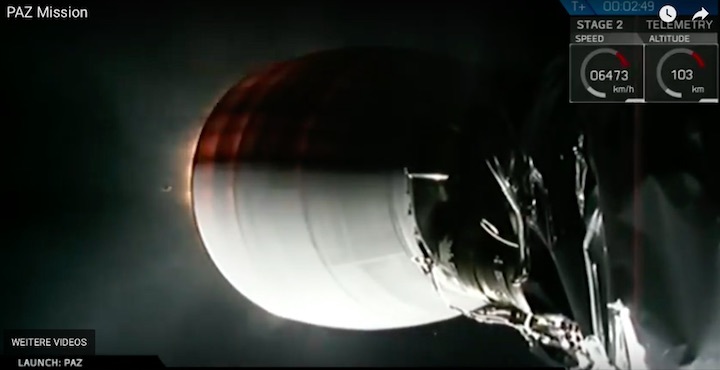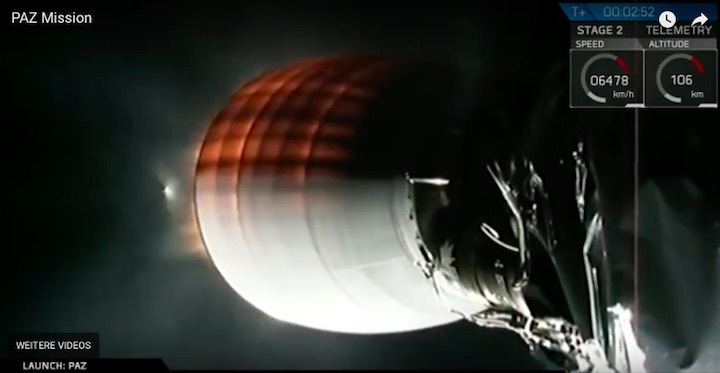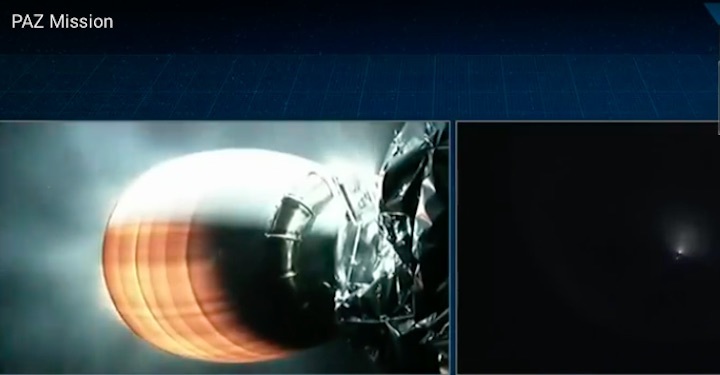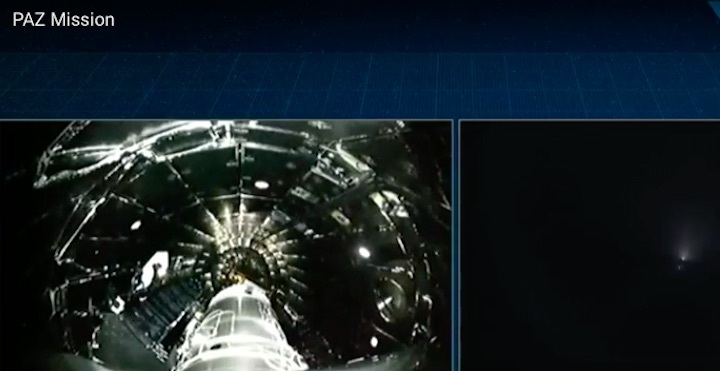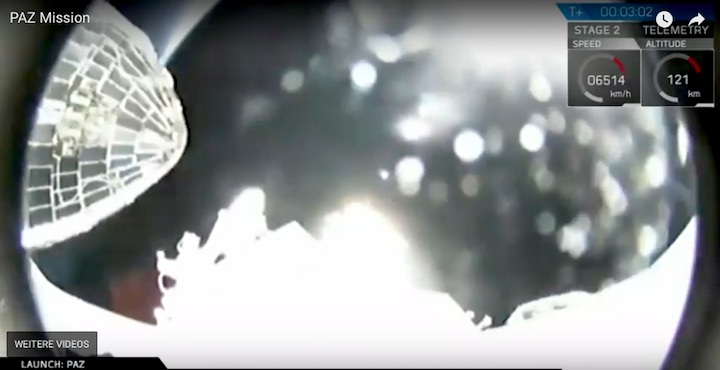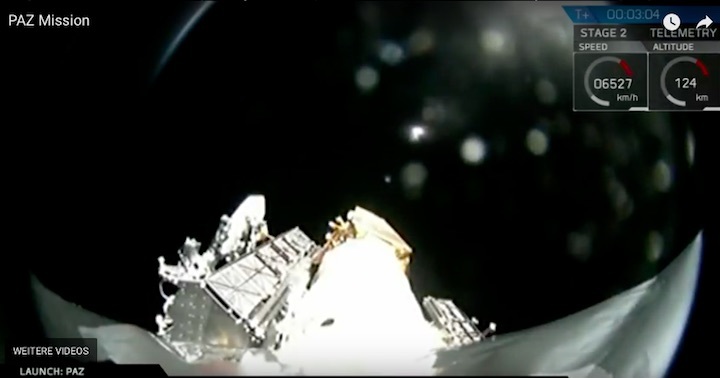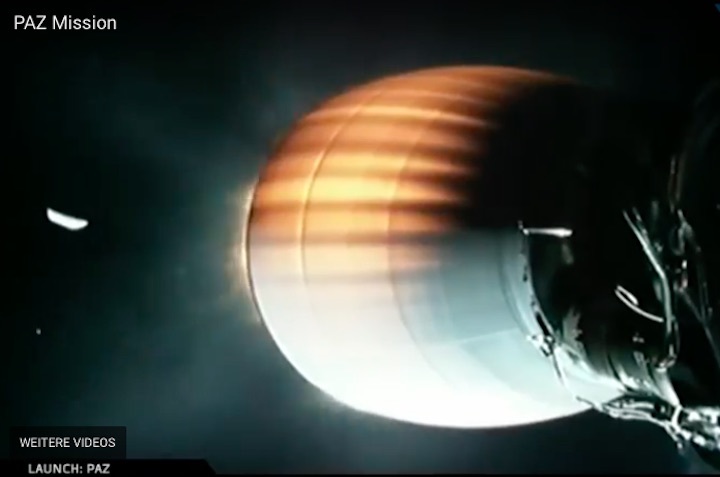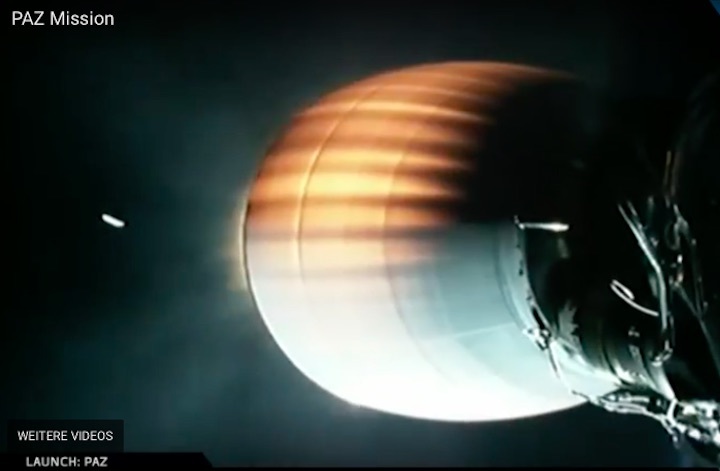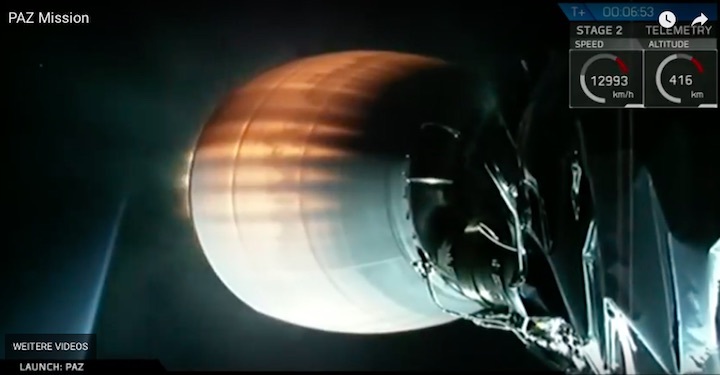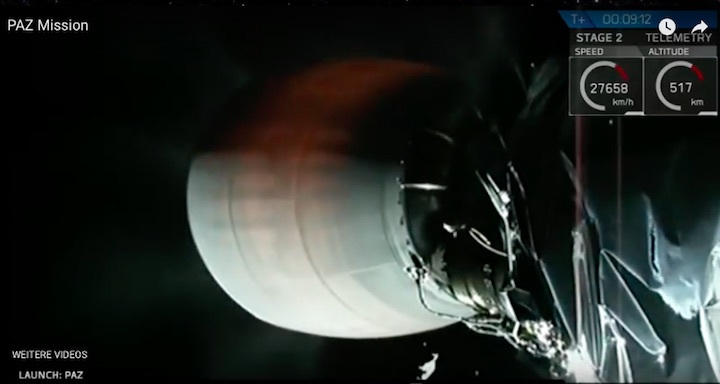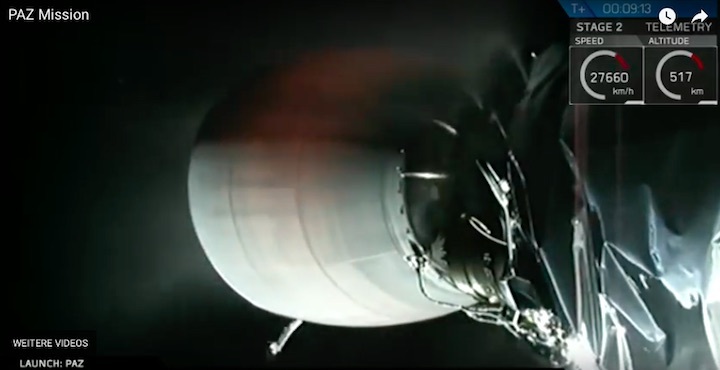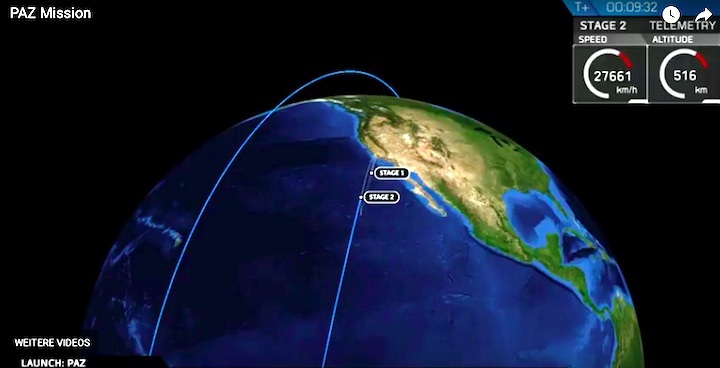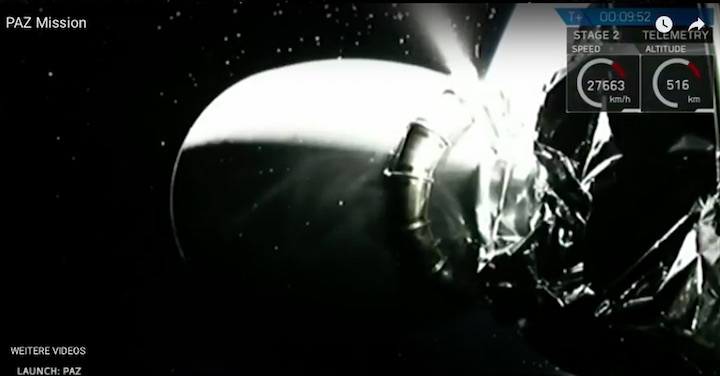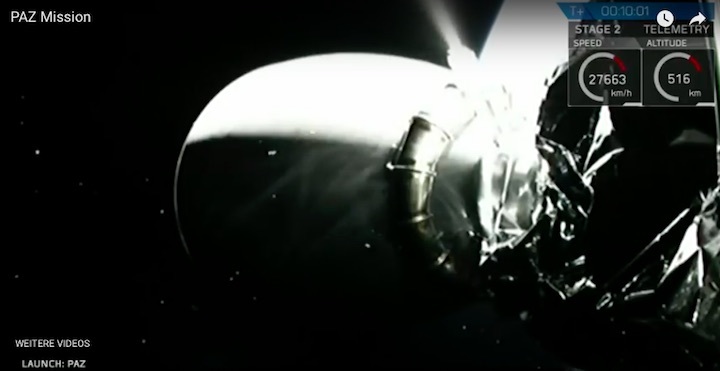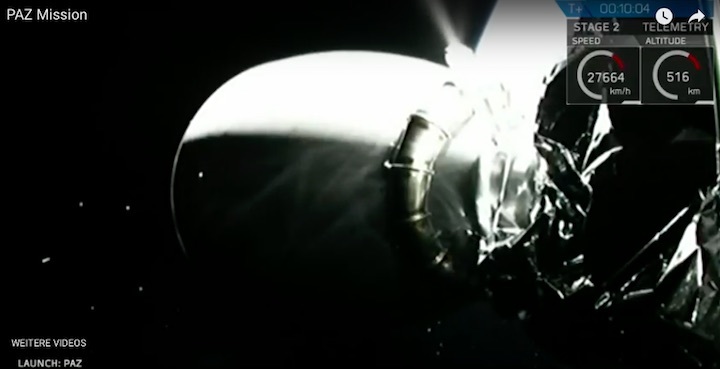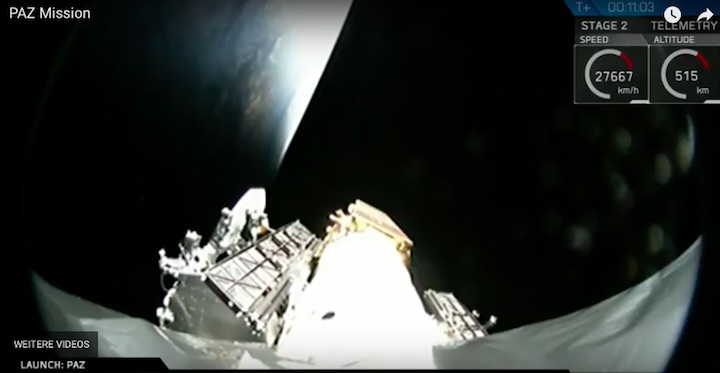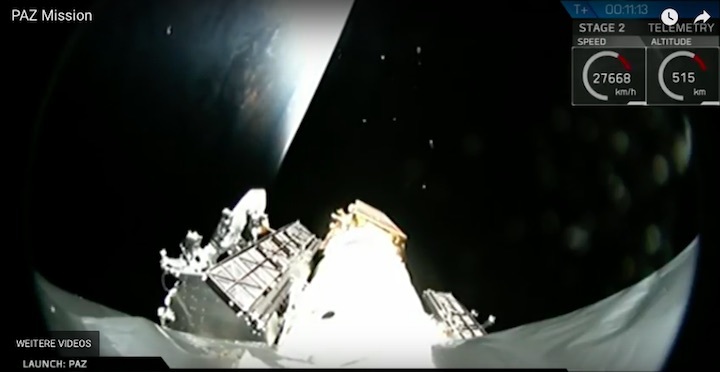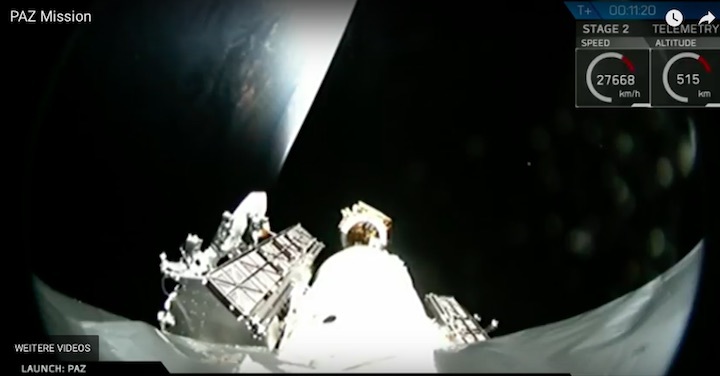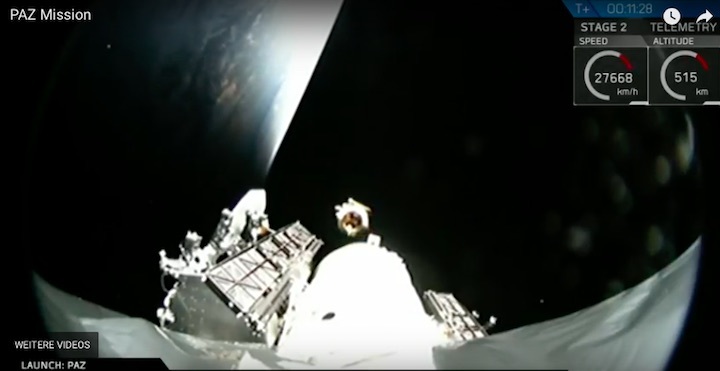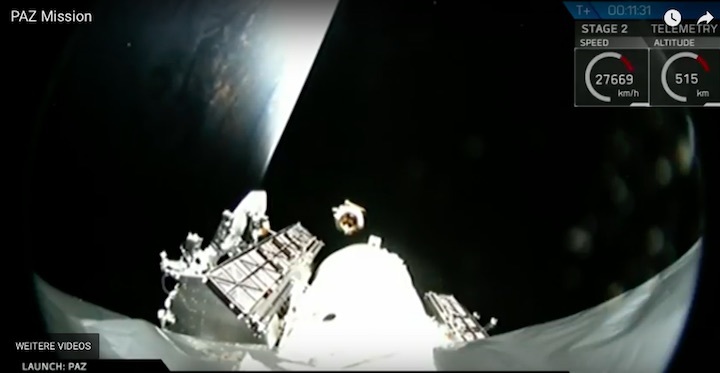 Quelle: SpaceX
2012 Views