1.08.2017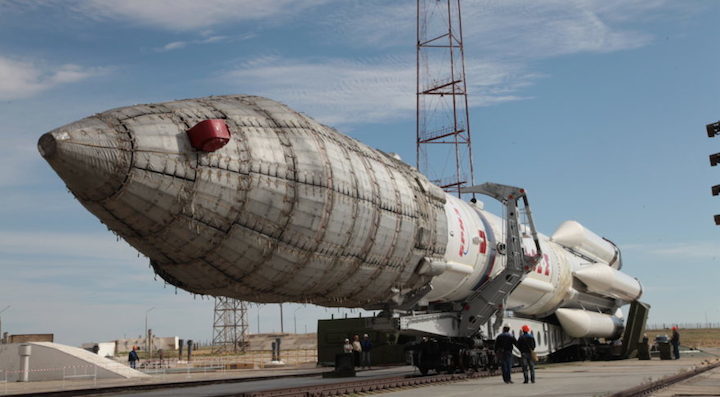 WASHINGTON — Hong Kong-based satellite fleet operator AsiaSat said July 31 that its next satellite will launch Sept. 28 on a Proton rocket from the Baikonur Cosmodrome in Kazakhstan.
The satellite, AsiaSat-9, has been in storage with manufacturer Space Systems Loral since passing its pre-ship review in April, AsiaSat said.
The launch, arranged by International Launch Services, the commercial arm of Proton manufacturer Khrunichev, will be the third commercial Proton launch this year. ILS spokesperson Karen Soriano told SpaceNews July 31 that Hispasat's Amazonas 5 is ahead of AsiaSat-9 in Proton's launch queue. She declined to say when the Amazonas-5 launch would occur.
AsiaSat-9 is a replacement satellite for AsiaSat-4, a C- and Ku-band telecommunications satellite from Boeing that launched in 2003. Compared to its predecessor, AsiaSat-9 carries a high-throughput Ka-band payload, a higher power C-band payload, and Ku-band beams that are "cross-strapped" to allow uplinks and downlinks between themselves.
Proton conducted its first launch in nearly a year on June 7, orbiting the EchoStar-21 satellite for Englewood, Colorado-based fleet operator EchoStar. An upper stage anomaly in 2016 that didn't cause a failure but did spark an intense mission review, and the later discovery of an unusual solder in several upper stage engines, sidelined the rocket for about 12 months.
"With our newest satellite AsiaSat 9, we are primed to serve existing customers and new users as we reach a new milestone, presenting more cost-efficient opportunities, enhanced quality and faster services for applications through mobility, broadband data networks, and DTH [direct-to-home] services," Andrew Jordan, AsiaSat president and CEO, said in a prepared statement July 31. "As we have broadened our scope and innovated to provide advanced satellite solutions, we are confident in the opportunities satellite services create for future broadcasting and communications throughout the Asia-Pacific region."
AsiaSat-9 includes new coverage for Myanmar, where AsiaSat-customer KBZ recently expanded capacity on AsiaSat-4 and -7 for broadband connectivity, as well as new coverage for Indonesia and Mongolia. The satellite's footprint will cover the Asia-Pacific region from 122 degrees east.
Quelle: SN
---
Update: 20.09.2017
.
ASIASAT 9
Launch Date:
September 29, 2017
Vehicle: Proton M/Breeze M
Twitter Tag: #AsiaSat9
The Satellite
Satellite Name: AsiaSat 9
Satellite Operator: AsiaSat
Satellite Manufacturer: SSL
Purpose: TBS
Platform: SSL 1300
Separated Mass: 6140 kg
Satellite Design Life: 15 years
Highlights
3rd ILS Proton Launch of 2017
96th ILS Proton Launch Overall
5th AsiaSat Satellite Launched on ILS Proton
31st SSL Satellite Launched on ILS Proton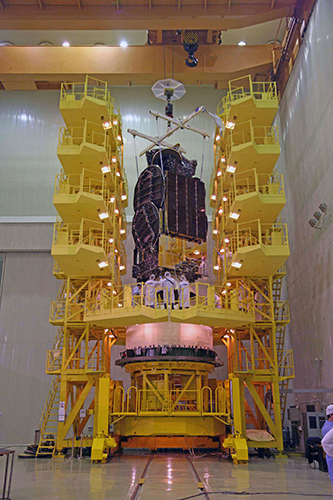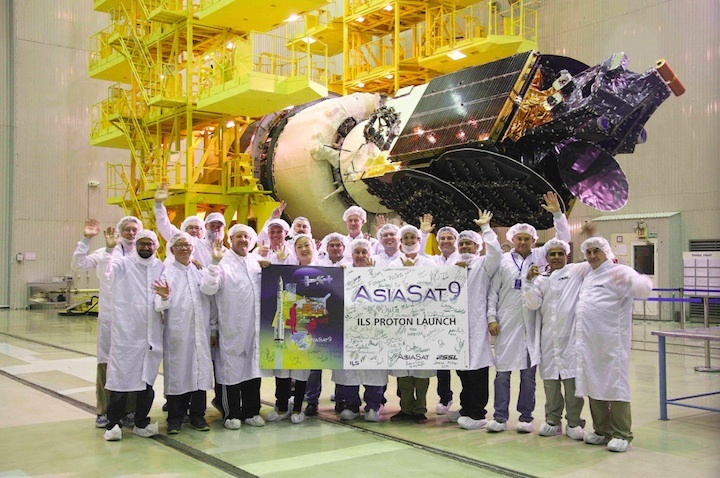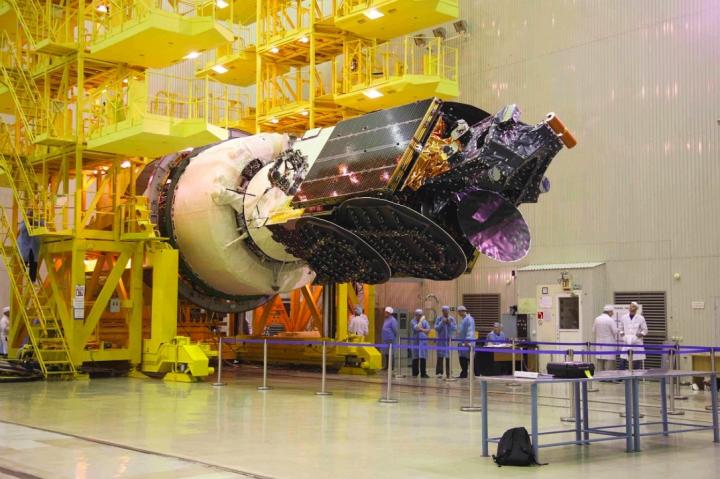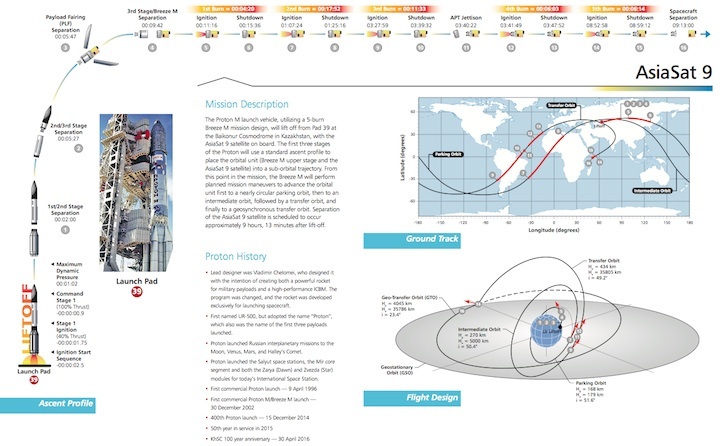 Quelle: ILS
---
Update: 29.09.2017
.
AsiaSat 9 communications satellite put into geo-transfer orbit
AsiaSat 9 communications satellite will provide TV and telecom services in the Asia-Pacific Region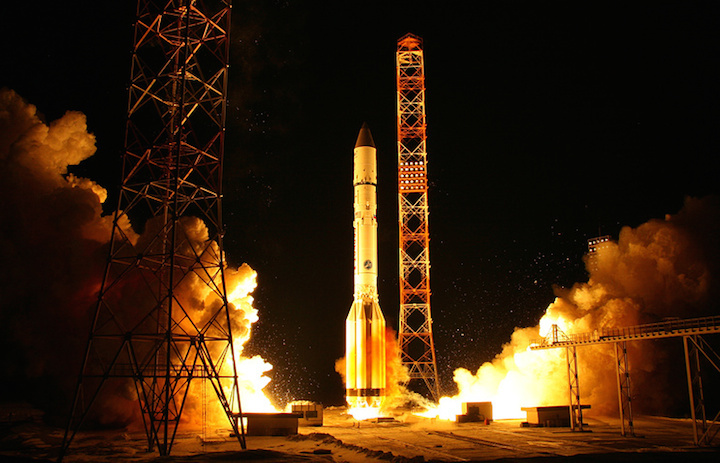 AsiaSat 9 communications satellite parted with Breeze-M upper stage and entered a geo-transfer orbit, a representative of Khrunichev State Research and Production Space Center, the rocket producer, told TASS on Friday.
"The spacecraft separated from the upper stage and entered the geo-transfer orbit at 07.05 am Moscow Time. It will be turned to over to the customer for control shortly," the representative said.
AsiaSat 9 satellite was launched on Thursday evening. It's mission is to provide TV and telecom services in the Asia-Pacific Region.
Quelle: TASS
+++
Russian booster rocket launches commercial satellite
A Russian Proton-M booster rocket carrying a U.S.-built commercial satellite has had a successful liftoff from Kazakhstan.
The Proton-M blasted off as scheduled on Thursday from the Baikonur launch facility that Russia leases in southern Kazakhstan, taking the AsiaSat 9 telecommunications satellite into space. The satellite is owned by Hong Kong-based AsiaSat.
The launch follows several other successful Proton launches this year after a yearlong break that resulted from a flawed launch in June 2016. A probe spotted manufacturing flaws in the Proton's engines, prompting the Russian space agency to ground the rocket so the engines could be reproduced.
Russia's space program relies on the Proton-M for most commercial satellite launches in the competitive global launch market.
Quelle: abcNews
1844 Views