.
24.06.2016
Leave vote sparks concerns over losing £1bn a year in funding and closing doors on researchers from EU countries
.
Senior scientists in Britain have reacted with dismay to the nation's collective decision to walk away from a European Union that hands them nearly £1bn a year for research, and sends to their laboratories some of the most brilliant minds in the world.
The leave vote prompted immediate concerns for the future of staff and students from non-UK member states already at work in Britain, and the impact the result could have on the ability of leading institutions to attract the best overseas talent to the country.
Paul Boyle, vice-chancellor of Leicester University, called the "shocking result" a "dark day for UK science" and called for every effort to be made to counter any impression that the UK had become less welcoming to international researchers. He called on the science community to start campaigning immediately to protect the science budget.
A May report from the UK data group, Digital Science, stressed that scientific research in Britain was propped up by EU funding to a "concerning level", and in evidence to a Lords committee, the pro-European science minister, Jo Johnson, made clear there was no guarantee that a post-Brexit government would be willing or able to make up any shortfall if the EU funds collapsed.
"As a community we're going to need a strong voice to ensure that a key part of the UK national economy – science and high tech – really has a long term future here," said Ewan Birney, co-director of the European Bioinformatics Institute in Cambridge.
When discussions get underway to thrash out the terms of the severance, he said Britain should try to negotiate access to the EU's massive Horizons 2020 research programme, though other demands may well take priority.
It may be some time before any impact of the vote on Britain's appeal to foreign scientists becomes fully apparent, but Birney and many scientists are not upbeat about the signal it sends.
"This is a big blow for the hiring of talented people across the EU," Birney said.
"The overall mood which Brexit sends - that foreign nationals are not welcome - will I think be a deterrent to the top people coming here. This is not just about that individual, but also his or her life – spouse, close family, boyfriends or girlfriends visiting or even staying for a bit.
Advertisement
"More than the practicalities though is the sense of not being wanted. I know many people who have made their life in the UK without changing nationality and feel bad this morning, and I really feel for them," he said.
"On the positive side, I believe we can work through this and fundamentally science works internationally – to be successful, whatever the configuration, we have to think internationally."
Paul Nurse, the Nobel prize winner and director of the Francis Crick Institute, said Britain's scientists would have to work hard to counter the isolationism of Brexit if UK science was to continue to prosper. "This is a poor outcome for British science and so is bad for Britain," he said. "Science thrives on the permeability of ideas and people, and flourishes in environments that pool intelligence, minimises barriers and are open to free exchange and collaboration."
Another Nobel laureate and president of the Royal Society, Venki Ramakrishnan, said EU money has been an essential supplement to UK research funds, and that government must now ensure that the budget for UK science does not fall.
The UK relies heavily on researchers from EU member states. A report from the Royal Society found that more than 31,000 people, making up 16% of Britain's university researchers are drawn from non-UK EU countries.
Anne Glover, the Dean for Europe at Aberdeen University, said she was "personally heart broken" at the result of the referendum and had "great concern for the future of British science, engineering and technology."
"Our success in research and resulting impact relies heavily on our ability to be a full part of European Union science arrangements and it is hard to see how they can be maintained upon a Brexit," she said.
Lord Rees, the astronomer royal, called the decision to leave "deeply depressing".
"Support for the EU was strong, especially among the young, the universities, the technical community, and a majority of our business and professional leaders," he said. "Despite all that, we are landed with a frightening scenario."
Quelle: theguardian
.
Update: 25.06.2016
.
Britain's quitting the EU, but will it be forced out of EU space programs?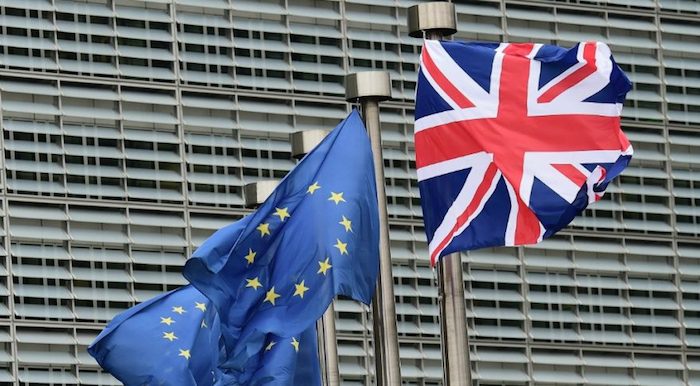 PARIS — The British vote June 23 to leave the European Union is likely to occur gradually over two years, but it raises multiple immediate questions about the consequences for Europe's space programs and Britain's role in them.
Not all of these questions can be answered definitively. British and European Union officials have said it will take time to fix a precise schedule for the separation. During this time it may be possible for Britain the European Commission to negotiate trade and security treaties that would blunt the impact of the withdrawal. Here are some of the issues confronting British and European space policy after the vote:
— More than three-quarters of Britain's space spending is sent to the 22-nation European Space Agency, which is not a European Union organization. ESA Director-General Johann-Dietrich Woerner has said that for ESA programs, Brexit should have little or no impact.
ESA already includes two full members – Norway and Switzerland – that are not in the EU, with Canada as an ESA associate member.
— The European Commission owns Europe's Galileo positioning, navigation and timing network, Galileo, and here things may get complicated.
A British company, Surrey Satellite Technology Ltd. (SSTL), is prime contractor for Galileo's payload electronics. Twenty-two Galileo satellites have been ordered from OHB SE of Bremen, Germany. Most of them have been built and all were contracted well before the Brexit issue.
The question concerns future Galileo satellites. The European Commission, through ESA, is managing a competition for a fresh set of Galileo spacecraft that, in principle, will look almost identical to those built by OHB and SSTL.
ESA has set a deadline of July 19 for industry to bid on the next Galileo satellite series. OHB Chief Executive Marco R. Fuchs has said his company is bidding the same OHB-SSTL team that won the previous order, although he concedes the consequences of Brexit have been a concern.
Norway is part of the Galileo program after having signed a security treaty with the European Union. Whether such a treaty would suffice to permit a non-EU member from having a role as central as SSTL's in Galileo is unclear.
For the moment, Britain remains in the EU, but the Galileo satellites to be contracted will be delivered and launched toward the end of the decade, presumably after Brexit occurs.
An ESA official said June 24 that the agency has received no Brexit-related instructions with respect to the coming Galileo tender and that the procurement is progressing as before.
Galileo's PRS access policy
— Britain has been an active participant in the Galileo system's Public Regulated Service, which is similar to the U.S. GPS network's M-code in providing protected, encrypted signals reserved for military and government customers.
Norway's security treaty was not sufficient to allow Norway access to PRS. Like the United States, whose Defense Department wants access to PRS to diversify signal sources and raise system resiliency, Norway is now awaiting an EU decision on whether it can offer PRS to its government and military.
— The European Union also owns the Copernicus environment-monitoring program, which like Galileo is funded through the European Commission's Multi-year Financial Framework.
The current seven-year financial commitment runs to 2020, with a mid-term review scheduled for late this year. With Britain now starting what apparently will be a two-year countdown on exit, what will Britain's role be in the final years of this program?
The industrial side
The British government and the British industrial space sector have set ambitious goals to increase Britain's share of worldwide space commerce to 10 percent by 2023, against 6.5 percent now.
Britain's space sector has been growing much faster than the overall British economy in recent years and in 2013 was estimated at 11.8 billion British pounds, or nearly $19 billion at 2013 exchange rates, with an direct employment base of more than 35,000.
Multiple companies in the United States, Canada, France, Germany, Italy and elsewhere have created British divisions, thereby gaining access to ESA and European Union space project funding.
To the extent that these investments were based on projections of future ESA budgets and Britain's share in them – 325 million euros ($369 million) in 2016 – these decisions remain as valid today as yesterday.
But with the European Union's role in space affairs growing, and with its two flagship infrastructure programs – Galileo and Copernicus – designed as forevermore-type commitments, the industrial calculus will be complicated.
Will the continued ESA membership and whatever UK-EU treaties are negotiated be enough to justify a non-UK company's current UK strategy? That is not clear.
Britain is best known as an economy driven by services, especially financial services. But Airbus UK is mainly a hardware builder and is the dominant corporate space presence in Britain.
If it now becomes more difficult for Airbus to justify funneling European Union work to the company's Stevenage or Portsmouth plants, how much of that work over time will be shifted to Germany or France or Spain?
Questions from a satellite fleet operator
Satellite fleet operators are also raising issues. Paris-based Eutelsat, for example, has made Britain the home of Eutelsat's Quantum flexible-payload satellite program, which is funded from ESA mainly by British money.
Eutelsat's Broadband for Africa project, with Facebook as a partner, is also headquartered in Britain, as is Eutelsat's Global Government division.
Matt Child, Eutelsat's vice president for government services, said in April that the company already had begun thinking about Brexit issues. Among the questions:
The ease of establishing companies and relocating employees?
Monetary policy and the exchange-rate mechanism?
Institutional relationships, i.e. ESA, ESA [the European Defense Agency, part of the EU]?
EU trade and technology transfer?
Attractiveness to international companies who currently see the UK as the gateway to Europe?
Child did not pretend to know the answers.
Quelle: SN
-
Brexit Could Make Space Boffins All Topsy Wopsy, Innit?
-
THE UNITED KINGDOM has opted out of the European Union. The Brexit is a pig's breakfast, a trough full of implications. And in one sloppy corner is the UK's future as a spacefaring nation.
Analysts, economists, and experts galore are still trying to sort out exactly what the Brexit1 means. But many predict things will be bad. Scientists are especially fearful: After all, closed borders aren't exactly the best way to encourage the free movement of ideas. Space transcends political boundaries, but access to it is still subject to decisions made here on Earth.
Europe is home to 22 national space agencies, all gathered under the collective European Space Agency. "There's one thing I don't think people understand well, and that is the ESA was actually set up long before the EU was," says James Hough, associate director of the Institute for Graviational Research at the University of Glasgow. Which means, happily, that the Brexit vote does nothing to change the UK's status as a member of the ESA.
However, the United Kingdom contributes nearly 10 percent of the ESA's annual funding—about 322 million euros. Since the Brexit votes came in, the pound (Britain never switched over to the euro) has plummeted, belly first, into oblivion. As of press time, it is at a 30-year low. Meanwhile, the euro is doing fine. This means collaborating with European science projects is suddenly more expensive. "The ESA budgets are done in euros, which means the UK's cost in pounds to participate in these programs will increase when you factor in exchange rates," says Christian Sallaberger, an adjunct professor of aerospace studies at the University of Toronto, and former employee of the ESA.
Same goes for the UK's ability to pay its subscription for Big Science projects like CERN, the European Southern Observatory, and the Extreme Light Infrastructure. These are places where physicists and astronomers do work on subatomic particles, look deep into space, and understand the nature of light. If that doesn't mean much to you, these gigantic, collaborative science facilities are increasingly the places that deliver big prizes, like the Nobel.
Those economic problems could hurt the UK's domestic launches as well. The UK Space Agency is primarily funded through tax dollars. If the Brexit pushes the UK into a recession—too early to call, but plenty of experts are doing so anyway—that pool of money will shrink. Then, it will be up to UK lawmakers to figure out how to divvy things up. And given that the Brexit's success was at least partly a referendum on decreased social services, those lawmakers might have a tough time arguing to maintain current science spending levels at the expense of other programs.
And that's just for public spaceflight. "Space is just like any other industrial sector," says Sallaberger. The continent's private spaceflight is dominated by big companies like Airbus and Thales Alenia. Border restrictions and reneged trade deals impact a company's bottom line. "Back when there were no borders, it was easy for that workforce to move back and forth between the UK and EU," he says. Any extra cost will factor into those companies' decisions to do business in the UK.
The border problem is going to affect scientists everywhere. "Research is very global in nature," says Hough. He says he worries about his European colleagues in the UK, and also his colleagues' opportunities abroad. "The area that this really affects the most is Horizon 2020," he says. This is a continent-wide effort providing more than €80 billion for science. UK scientists could see their grant proposals fizzle depending on how tight their mother country decides to close its borders. "You might start seeing British researchers pull their names from projects, because we would not want our colleagues in Europe to suffer because of this crazy decision in the UK," says Hough.
It's still too soon to say exactly what this crazy decision in the UK will do for space. First, the nation needs to get through the weekend and sleep off its hangover.
1 Just to be clear: Britain is not synonymous with the United Kingdom. The former is an island (formally known as Great Britain), and British people are the inhabitants of that island—the Welsh, Scottish, English. The United Kingdom is Great Britain plus Northern Ireland. The Irish are not British. Sorry. I'm fine using "Brexit" because, c'mon, that's genius branding. However I will not bow to the pressure of using "British" as a collective noun for all UK citizens.
Go Back to Top. Skip To: Start of Article.
Quelle: WIRED
2427 Views