Juno's principal goal is to understand the origin and evolution of Jupiter. Underneath its dense cloud cover, Jupiter safeguards secrets to the fundamental processes and conditions that governed our solar system during its formation. As our primary example of a giant planet, Jupiter can also provide critical knowledge for understanding the planetary systems being discovered around other stars.
With its suite of science instruments, Juno will investigate the existence of a solid planetary core, map Jupiter's intense magnetic field, measure the amount of water and ammonia in the deep atmosphere, and observe the planet's auroras.
Juno will let us take a giant step forward in our understanding of how giant planets form and the role these titans played in putting together the rest of the solar system.
Artist concept of a young star system similar to our own.
Credits: NASA/JPL-Caltech
T. Pyle (SSC) Theories about solar system formation all begin with the collapse of a giant cloud of gas and dust, or nebula, most of which formed the infant sun. Like the sun, Jupiter is mostly hydrogen and helium, so it must have formed early, capturing most of the material left after our star came to be. How this happened, however, is unclear. Did a massive planetary core form first and gravitationally capture all that gas, or did an unstable region collapse inside the nebula, triggering the planet's formation? Differences between these scenarios are profound.
Even more importantly, the composition and role of icy planetesimals, or small proto-planets, in planetary formation hangs in the balance – and with them, the origin of Earth and other terrestrial planets. Icy planetesimals likely were the carriers of materials like water and carbon compounds that are the fundamental building blocks of life.
Unlike Earth, Jupiter's giant mass allowed it to hold onto its original composition, providing us with a way of tracing our solar system's history. Juno will measure the amount of water and ammonia in Jupiter's atmosphere and determine if the planet actually has a solid core, directly resolving the origin of this giant planet and thereby the solar system. By mapping Jupiter's gravitational and magnetic fields, Juno will reveal the planet's interior structure and measure the mass of the core.
Atmosphere
How deep Jupiter's colorful zones, belts, and other features penetrate is one of the most outstanding fundamental questions about the giant planet. Juno will determine the global structure and motions of the planet's atmosphere below the cloud tops for the first time, mapping variations in the atmosphere's composition, temperature, clouds and patterns of movement down to unprecedented depths.
Magnetosphere
Deep in Jupiter's atmosphere, under great pressure, hydrogen gas is squeezed into a fluid known as metallic hydrogen. At these great depths, the hydrogen acts like an electrically conducting metal which is believed to be the source of the planet's intense magnetic field. This powerful magnetic environment creates the brightest auroras in our solar system, as charged particles precipitate down into the planet's atmosphere. Juno will directly sample the charged particles and magnetic fields near Jupiter's poles for the first time, while simultaneously observing the auroras in ultraviolet light produced by the extraordinary amounts of energy crashing into the polar regions. These investigations will greatly improve our understanding of this remarkable phenomenon, and also of similar magnetic objects, like young stars with their own planetary systems.
Learn more about the motivation behind Juno at the mission website.
Juno's Mythical Connection
In Greek and Roman mythology, Jupiter drew a veil of clouds around himself to hide his mischief. It was Jupiter's wife, the goddess Juno, who was able to peer through the clouds and reveal Jupiter's true nature. The Juno spacecraft will also look beneath the clouds to see what the planet is up to, not seeking signs of misbehavior, but helping us to understand the planet's structure and history.
Mission Timeline
Launch - August 5, 2011
Deep Space Maneuvers - August/September 2012
Earth flyby gravity assist - October 2013
Jupiter arrival - July 2016
Spacecraft will orbit Jupiter for 20 months (37 orbits)
End of mission (deorbit into Jupiter) - February 2018
The Juno mission is the second spacecraft designed under NASA's New Frontiers Program. The first is the Pluto New Horizons mission, which flew by the dwarf planet in July 2015 after a nine-and-a-half-year flight. The program provides opportunities to carry out several medium-class missions identified as top priority objectives in the Decadal Solar System Exploration Survey, conducted by the Space Studies Board of the National Research Council in Washington.
JPL manages the Juno mission for the principal investigator, Scott Bolton, of Southwest Research Institute in San Antonio. The Juno mission is part of the New Frontiers Program managed at NASA's Marshall Space Flight Center in Huntsville, Ala. Lockheed Martin Space Systems, Denver, built the spacecraft. Launch management for the mission is the responsibility of NASA's Launch Services Program at the Kennedy Space Center in Florida. JPL is a division of the California Institute of Technology in Pasadena.
Quelle: NASA
---
Why NASA sent 3 defenseless Legos to die on Jupiter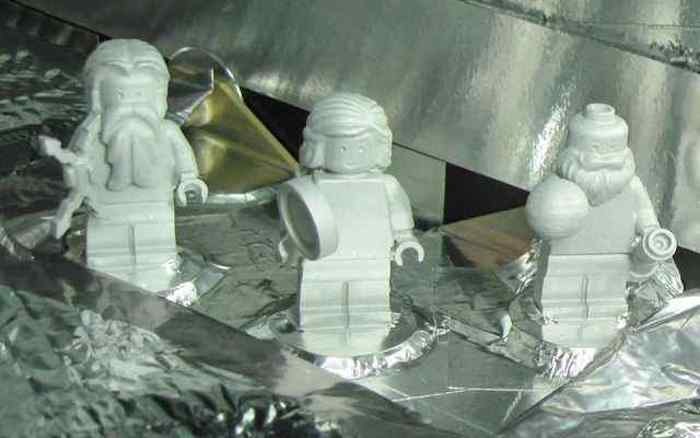 Special LEGOs of the Roman gods Jupiter and Juno, and one modeled after the likeness of Galileo Galilei.
In less than two years, NASA will send three unique Lego Minifigures to their fiery deaths in Jupiter's atmosphere.
It will make the only other set in the universe — a prized possession at NASA's Jet Propulsion Laboratory — much more valuable.
But fear not, the two Lego men and one Lego woman will be sacrificed in the name of science. The aluminum figurines of astronomer Galileo, Roman god Jupiter and goddess Juno are aboard a deep-space probe that's been heading to the gas giant for the last five years.
The spacecraft, named after Juno, will peer through Jupiter's cloudy atmosphere in an attempt to understand the origins of the largest planet in our solar system. When the probe completes its mission in 2018, it will fly into Jupiter and burn up.
Juno's Principal Investigator Scott Bolton came up with the idea to include the Minifigures aboard the spacecraft to inspire and connect children with the mission. He thought Lego would make the perfect partner because of the toy manufacturer's commitment to education.
"It was just me making a cold call," Bolton said.
NASA and Lego have collaborated before. They've sent Legos to the International Space Station and to Mars. But the trip to Jupiter will be the furthest a Lego man or woman has ever traveled in our universe.
Lego created two sets of figures specifically for the mission. One was a backup in case the first set broke. While the same size as store-bought Minifigures, these Legos are made out of aluminum to protect them from the harshness of space. "They had to be made of the same material the spacecraft is made of," Bolton said.
NASA secured the trio beneath the spacecraft's thermal protection.
In Roman mythology, Jupiter would use clouds to hide his mischief, but his wife, Juno, would peer through his screen from atop Mount Olympus. Lego Juno holds a magnifying glass, while Jupiter holds a lightning bolt. The third figurine represents Galileo Galilei, the Italian astronomer, who determined that the Earth revolves around the sun, and not the other way around. Galileo, in part, determined this after observing Jupiter's four moons orbiting the gas giant.
His Lego carries a telescope and a globe.
Bolton said he would love to see the three Minifigures become commercially available. He loans JPL's backup set to museums and takes them on school tours, he said. Lego also sent a three-foot Lego duplicate of the Juno spacecraft to Bolton and JPL.
On July 4, when Juno fires its engines to enter Jupiter's orbit, the three backup Legonauts will be in NASA JPL's mission control room to make sure everything goes right.
And maybe they'll breathe a little sigh of relief too.
Quelle: The San Gabriel Valley Tribune
-
Update: 14.06.2016
.
NASA Spacecraft Closing in on Jupiter, Media Briefing to Discuss July 4 Arrival
NASA will host a media briefing at 2 p.m. EDT on Thursday, June 16, to discuss the agency's Juno spacecraft and its July 4th arrival at Jupiter.
The briefing will be held in the James Webb Auditorium at NASA Headquarters, 300 E Street SW, Washington, and broadcast live on NASA Television and the agency's website.
The solar-powered spacecraft will perform a suspenseful Jupiter orbit insertion maneuver -- a 35-minute burn of its main engine -- which will slow Juno by about 1,200 mph (542 meters per second) so it can be captured into the gas giant's polar orbit. Juno will loop Jupiter 37 times during 20 months, skimming to within 3,100 miles (5,000 kilometers) above its swirling cloud tops.
Juno will provide answers to ongoing mysteries about Jupiter's core, composition and magnetic fields, and provide new clues about the origins of our solar system.
The briefing participants will be:
·      Diane Brown, Juno mission program executive, NASA Headquarters, Washington
·      Scott Bolton, Juno principal investigator, Southwest Research Institute, San Antonio
·      Rick Nybakken, Juno project manager, Jet Propulsion Laboratory (JPL), Pasadena, California
·      Heidi Becker, radiation monitoring investigation lead, JPL
·      Alberto Adriani, Juno co-investigator, Instituto di Astrofisica e Planetologia Spaziali, Rome
Media may ask questions during the event on site and by phone. Members of the public also can ask questions on social media using #AskNASA.
To participate in the briefing by phone, media must email their name, media affiliation and phone number to Laurie Cantillo at laura.l.cantillo@nasa.gov by 1 p.m. Thursday.
Quelle: NASA
-
Update: 16.06.2016
.
We've been to Jupiter before but haven't looked into its mysterious soul
The $1.1 billion Juno mission has just one chance to get into orbit at the gas giant.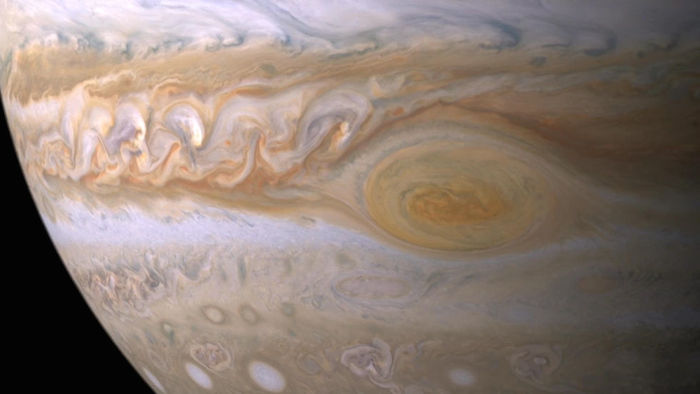 At first blush Jupiter may seem like a rather dull planet. A failed star. A ball of gas. A large, red storm. Sure, it's big, but what more is there? And we've been there before—lots of times, in fact. Beginning with Pioneer 11 and 12, NASA has flown seven probes by the gas world. One mission, Galileo, studied the Jovian system for nearly a decade from 1995 to 2003. So why is the space agency sending yet another probe, Juno, to once again visit the Solar System's giant?
We're still studying Jupiter because despite all of these missions, NASA has literally only scratched the surface. Its inner structure remains largely a mystery—and an intriguing one, too. The planet is essentially made of gas piled upon more gas. And like a big stack of pillows, as more gas is added on top, the bottom layers become more and more compressed as gravity pulls down on the gas. This creates extremely dense conditions inside the planet. Jupiter, after all, is only a little bit larger than Saturn—but it has three times the mass. Scientists have almost no idea how hydrogen will behave at the extreme pressures deep beneath Jupiter's outer layers toward its core. Indeed, does Jupiter even have a core? We simply don't know.
The Juno spacecraft, launched in 2011 and arriving at Jupiter on July 4 this year, will be able to scrutinize the planet's gravity field and peer beneath its upper cloud layer. This should help offer some clarity about Jupiter's interior. During a presentation in May at the Lunar and Planetary Institute in Houston, mission scientist Fran Bagenal discussed just how strange that interior might be.
Metallic hydrogen
The exterior of Jupiter is gaseous and cold, with a temperature of about -150 degrees Celsius. The temperature and density increase rapidly as one goes into the planet, and when the temperature reaches about 1,700 degrees Celsius, hydrogen is forced into a liquid because of the accompanying pressure at that depth. Just a little bit further down—still only about 20 percent of the distance from the surface to the center—the temperature becomes high enough that the bonds of the hydrogen molecules begin to break down. And from there, down to the center of the planet where temperatures reach about 20,000 degrees Celsius, things get really weird.
It's not clear what the combination of pressure and temperature (four or five times hotter than the surface of the Sun) will do to hydrogen. To get a sense of the pressure on atoms at the center of Jupiter, Bagenal conjured an image of an elephant standing on one foot. Now imagine 1,000 elephants standing on top of that one elephant. And even that doesn't approximate the pressure in the interior of Jupiter, which is 100 million times the atmospheric pressure on Earth. That one elephant would need to be standing in a stiletto heel.
"We don't really know how hydrogen behaves at those pressures," she said. "We are sort of making it up. We are working at a realm where we don't have experimental evidence. So we have to rely on theorists to tell us what happens."
Scientists have taken hydrogen to a couple million times the pressure of the planet's surface in Earth-based experiments, and at these high pressures the bonds of molecular hydrogen break to create a conductive fluid of protons and electrons known as metallic hydrogen. This fluid might be something like the liquid mercury in thermometers. But what happens at the much higher pressures inside Jupiter?
.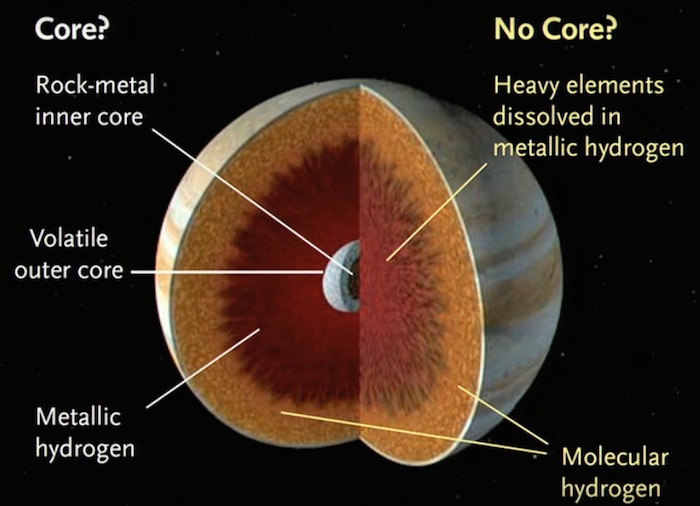 Does Jupiter have a core, or not?
-
Bagenal said this truly represents the cutting edge of science. When Juno launched five years ago, theorists generally believed Jupiter had a core of heavier elements such as oxygen and carbon beneath a layer of metallic hydrogen. However, physicists working with quantum mechanical models of hydrogen say they now expect the heavier elements to be all mixed up in the metallic hydrogen soup. Bagenal hopes the answers to this mystery lie in studying the gravitational field of Jupiter.
The spacecraft
Named after the Roman goddess who was both sister and wife to Jupiter, the $1.1 billion Juno mission launched aboard an Atlas V rocket with five solid rocket boosters attached. The spacecraft now approaching Jupiter weighs about 3,600kg and is 3.5 meters long and 3.5 meters wide. It features huge solar panels, measuring a total of 60 square meters, because the solar output is about 25 times weaker at Jupiter than Earth.
In addition to the gravity science experiment mentioned by Bagenal, the mission carries eight other instruments, including a magnetometer and spectrograph. Aside from understanding the planet's mysterious interior, scientists also hope to gather data that will allow them to piece together the formation and evolution of Jupiter as the largest planet in the Solar System and understand the precise mechanism that generates its large magnetic field. Understanding Jupiter's development should lead to a better overall picture of the Solar System's formation.
Scientists are not sure how long the spacecraft will survive in the harsh radiation environment generated by Jupiter. Most of Juno's electronics are housed inside a vault with a thick titanium casing, because the spacecraft will pass repeatedly through the planet's lethal radiation belts as it travels over the poles. Mission scientists hope to get 33 orbits out of the spacecraft, but Bagenal said they're not sure its sensitive equipment will last that long. At the end of its mission Juno will maneuver into an orbit that will slowly degrade and eventually allow the spacecraft to be swallowed by Jupiter's gaseous maw. It will collect no more data in this death spiral, but at least Juno will be kept away from any Jovian moons that might harbor life–such as Europa. At least for the time being, we will continue to attempt no landing there.
For NASA the most critical date in the mission is coming soon: on July 4, Juno will commence its orbital insertion maneuver. Right now, Juno is approaching Jupiter at about 6 km/s relative to the planet. At approximately 10:30pm Pacific time on July 4, the spacecraft will begin a 35-minute burn to slow down and—hopefully—slide into orbit around Jupiter. If all goes well, the spacecraft will begin peering into the clouds of the planet shortly thereafter.
Quelle: ars technica
-
Update: 25.06.2016
.
NASA'S JUNO SPACECRAFT CLOSING IN ON JUPITER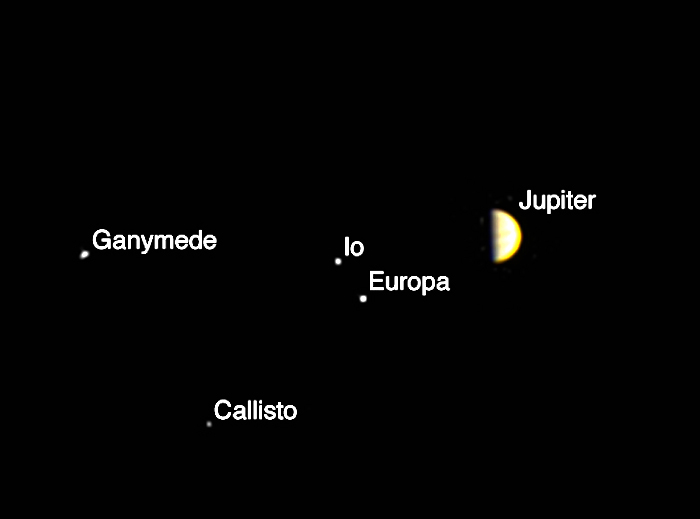 oday (6/24), at exactly 9:57 and 48 seconds a.m. PDT, NASA's Juno spacecraft was 5.5 million miles (8.9 million kilometers) from its July 4th appointment with Jupiter. Over the past two weeks, several milestones occurred that were key to a successful 35-minute burn of its rocket motor, which will place the robotic explorer into a polar orbit around the gas giant.
"We have over five years of spaceflight experience and only 10 days to Jupiter orbit insertion," said Rick Nybakken, Juno project manager from NASA's Jet Propulsion Laboratory in Pasadena, California. "It is a great feeling to put all the interplanetary space in the rearview mirror and have the biggest planet in the solar system in our windshield."  
On June 11, Juno began transmitting to and receiving data from Earth around the clock. This constant contact will keep the mission team informed on any developments with their spacecraft within tens of minutes of it occurring. On June 20, the protective cover that shields Juno's main engine from micrometeorites and interstellar dust was opened, and the software program that will command the spacecraft through the all-important rocket burn was uplinked. 
One of the important near-term events remaining on Juno's pre-burn itinerary is the pressurization of its propulsion system on June 28. The following day, all instrumentation not geared toward the successful insertion of Juno into orbit around Jupiter on July 4 will be turned off. 
"If it doesn't help us get into orbit, it is shut down," said Scott Bolton, Juno's principal investigator from the Southwest Research Institute in San Antonio. "That is how critical this rocket burn is. And while we will not be getting images as we make our final approach to the planet, we have some interesting pictures of what Jupiter and its moons look like from five-plus million miles away."
The mission optical camera, JunoCam, imaged Jupiter on June 21, 2016, at a distance of 6.8 million miles (10.9 million kilometers) from the gas giant.  In the image, just to the right of center is Jupiter, with its distinctive swirling bands of orange, brown and white. To the left of Jupiter (from right to left) are the planet's four largest moons -- Europa, Io, Callisto and Ganymede. Juno is approaching over Jupiter's north pole, affording the spacecraft a unique perspective on the Jovian system. Previous missions that imaged Jupiter on approach saw the system from much lower latitudes, closer to the planet's equator.
JunoCam is an outreach instrument -- its inclusion in this mission of exploration was to allow the public to come along for the ride with Juno. JunoCam's optics were designed to acquire high-resolution views of Jupiter's poles while the spacecraft is flying much closer to the planet.  Juno will be getting closer to the cloud tops of the planet than any mission before it, and the image resolution of the massive gas giant will be the best ever taken by a spacecraft.  
All of Juno's instruments, including JunoCam, are scheduled to be turned back on approximately two days after achieving orbit.  JunoCam images are expected to be returned from the spacecraft for processing and release to the public starting in late August or early September. 
"This image is the start of something great," said Bolton. "In the future we will see Jupiter's polar auroras from a new perspective. We will see details in rolling bands of orange and white clouds like never before, and even the Great Red Spot. 
The Juno spacecraft launched on Aug. 5, 2011, from Cape Canaveral, Florida.
JPL manages the Juno mission for the principal investigator, Scott Bolton, of Southwest Research Institute in San Antonio. Juno is part of NASA's New Frontiers Program, which is managed at NASA's Marshall Space Flight Center in Huntsville, Alabama, for NASA's Science Mission Directorate. Lockheed Martin Space Systems, Denver, built the spacecraft. The California Institute of Technology in Pasadena, California, manages JPL for NASA.
Quelle: NASA