.
8.02.2016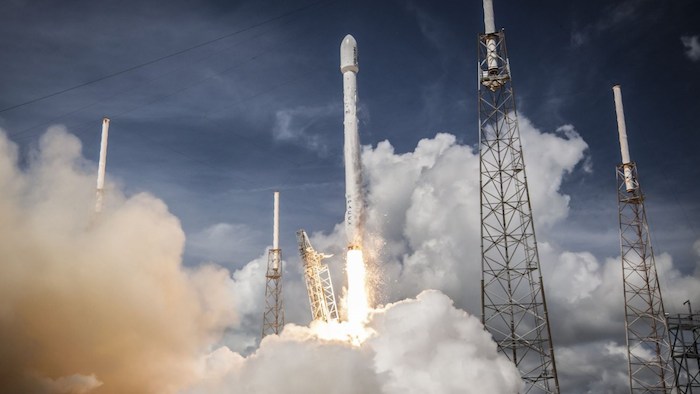 SES said that it is targeting a February 24, 2016 launch date (with a backup date of the 25th) for its new satellite, SES-9.
This date was mutually set by SES and the launch operator for SES-9, SpaceX, the Hawthorne, California based company that designs, manufactures and launches the Falcon 9 rocket and other spacecraft. SpaceX is currently completing an extended series of testing and pre-flight validation in advance of the SES-9 launch, which will take place at Cape Canaveral Air Force Station, Florida.
In order to minimise the impact of moving the launch from late last year, SpaceX is supporting a mission modification. The changed mission will reduce the time needed for SES-9 to reach its orbital slot, keeping the Operational Service Date (OSD) in the third quarter of 2016, as previously foreseen.
SES-9 will be positioned at 108.2 degrees East and provide both replacement and incremental capacity for a prime video neighbourhood over Asia which already serves over 22 million households with high quality broadcast solutions. The spacecraft will be co-located with SES-7 and increases SES's global video capabilities to serve markets in Asia, including South Asia, Indonesia and the Philippines.
The spacecraft is also designed to deliver data connectivity to homes and enterprises across Asia, and provides dedicated beams to support growing mobility communications needs across the Indian Ocean.
SES-9 is part of a fleet investment programme that supports SES`s strategy to further globalise its services and grow its offer in the dynamic emerging markets. Along with six other spacecraft under construction, this programme will increase SES´s satellite capacity for emerging markets by 21% by end of 2018.
SES-9 was built by Boeing Satellite Systems and is designed to operate for 15 years in geosynchronous orbit with a 12.7-kilowatt payload and 57 high-power Ku-band transponders (equivalent to 81 × 36 MHz transponders).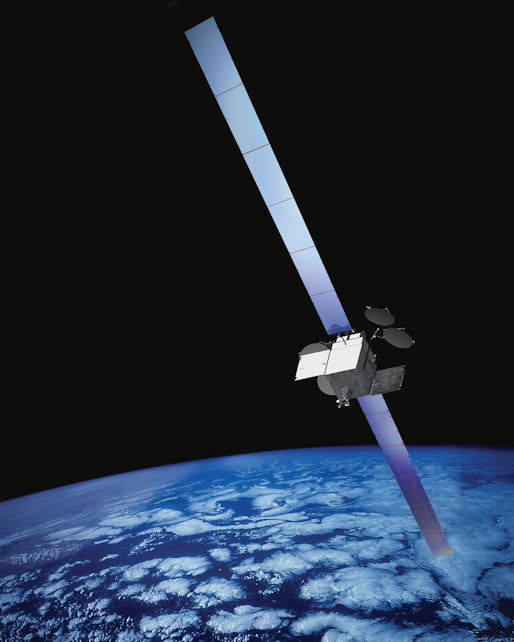 SES-9 will use a chemical bi-propellant apogee motor to quickly achieve a 24h synchronous orbit and then electric propulsion to circularise the final orbit and to remove eccentricity at 36,000 kilometers over the equator. Subsequent on-orbit manoeuvres will be executed with electric propulsion.
Quelle: Broadband TV News
-
Update: 23.02.2016
.
SpaceX Falcon 9 conducts Static Fire ahead of SES-9 launch
SpaceX's Falcon 9 rocket has conducted her Static Fire test on Monday, a dress rehearsal milestone ahead of Wednesday's launch of the SES-9 satellite. The test took place at SLC-40, at the same time as work begins at LC-39A to remove the Shuttle-era Rotating Service Structure (RSS) from the site of future SpaceX launches.

SES-9:
The Static Fire test validates the health of the launch vehicle, allowing for SpaceX management to approve the final flow to launch day.
Numerous requirements have to be successfully proven via such a test, such as the engine ignition and shut down commands, which have to operate as designed, and that the Merlin 1D engines perform properly during start-up.
It also serves as a full dress rehearsal for the launch team and provides another test of SpaceX's recent upgrade to a supercooled propellant pad systems that resulted in a number of challenges ahead of its debut use during the OG-2 launch.
The Falcon 9 was erected vertical at the pad around 1pm Eastern, ahead of the Static Fire test around 5:50pm Eastern.
Once the required engine and vehicle data has been collected detanking operations will follow, before the rocket is lowered onto the Transporter Erector (TE) and rolled back to the hanger.
The Static Fire's data review will be fed into the Launch Readiness Review (LRR) – a key meeting that will ultimately confirm the launch date.
The first attempt is currently scheduled for Wednesday, within a window that ranges from 18:46 to 20:23 Eastern. A second opportunity is available on Thursday, within the same launch window.
The mission is tasked with lofting the SES-9 spacecraft en route to its orbital slot of 108.2° E. This satellite has been patiently waiting its turn for a ride into space after it was initially set to ride as the Return To Flight mission last year.
The satellite will provide incremental – as well as replacement capacity – to the well-established slot over Asia, where it will be co-located with the existing satellites.
Built by Boeing, the spacecraft is based on the BSS-702HP bus and has a launch mass of 5,330 kg.
With 81 (36 MHz equivalent) Ku-band transponders, the satellite will expand SES's capability to provide DTH broadcasting and other communications services in Northeast Asia, South Asia & Indonesia, as well as maritime communications for vessels in the Indian Ocean.
It is set for a service life of 15 years.
Despite this mission being a demanding Geostationary Transfer Orbit (GTO) launch, SpaceX still hopes to return the first stage back to the recently deployed Autonomous Spaceport Drone Ship (ASDS) landing barge, named "Of Course I Still Love You".
Nailing a landing on the ASDS in the Atlantic is technically more of a challenge than returning to Landing Zone 1 (LZ-1) at Cape Canaveral.
The successful landing of the OG-2 first stage at LZ-1 was the first successful recovery of a flown Falcon 9 stage, which was followed up with a successful two second static fire test at SLC-40.
The stage is currently housed at the new HIF at 39A, albeit now with its aft end somewhat dismantled for inspections along with – according to sources – some "potential" harvesting for future vehicles – which would play into the goal of initial reusability of flown hardware.
The stage itself will not fly again, per comments previously made by SpaceX CEO Elon Musk. The first "reflight" of a recovered stage may come late this year, based on upcoming recoveries.
Numerous brand new Falcon 9's are currently in various stages of production on the Hawthorne factory floor, as recently shown in a SpaceX photo.
The company did not reveal which stages relate to which specific future missions – although the upcoming CRS-8 first stage was still at the McGregor test site, several days after a test incident resulted in damage to the hardware.
It is likely all the stages in the photo are destined to be part of Falcon 9's busy 2016 Q2/Q3 schedule, while the debut of the Falcon Heavy – and its three cores – is, at least, half a year away.
Falcon Heavy will be the first rocket to launch from SpaceX's 39A pad at the Kennedy Space Center, a pad that has been converted from its Shuttle era to being able to launch both the Falcon Heavy and Falcon 9.
One of the final phases of its conversion is about to begin, with a huge crane now on site at the pad, ready to remove the Rotating Service Structure (RSS).
The RSS was used to install payloads into the Shuttle's payload bay, whilst providing protection to the orbiter during her pad stay.
2016-02-22-033122Once the RSS is removed, the remaining Fixed Service Structure (FSS) will undergo some structural reinforcements, according to SpaceX.
The FSS – just as it did during the Shuttle and Apollo era – will be the final leg for astronauts ready to ingress the spacecraft ahead of launch. This time, the astronauts will be boarding the Dragon 2 spacecraft, sometime in 2017.
The mission, called "SpX-DM2″ – will be the second flight of the Dragon 2 spacecraft to the International Space Station, following on from the December 2016 "SpX-DM1″ flight, which is set to be an uncrewed demonstration mission.
Quelle: NS
-
Update: 22.10 MEZ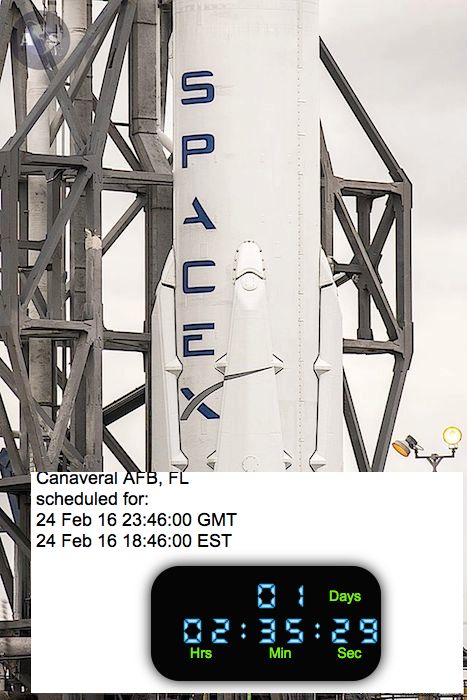 .
Update: 24.02.2016 /11.50 MEZ
.
Date
Thu, Feb 25 2016 12:46 AM CET — Thu, Feb 25 2016 3:00 AM CET
About
.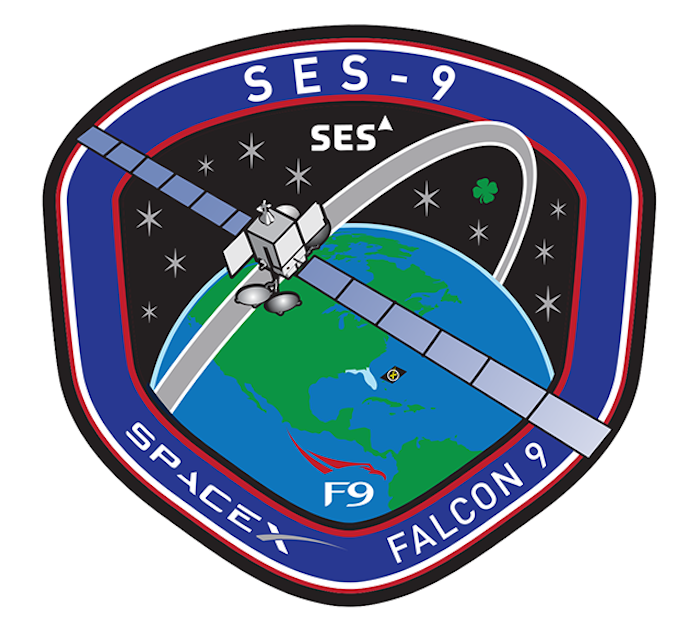 SpaceX's Falcon 9 rocket will deliver SES-9, a commercial communications satellite for SES, to a Geostationary Transfer Orbit (GTO). SES is a world-leading satellite operator that provides satellite-enabled communications services to broadcasters, Internet service providers, mobile and fixed network operators, and business and governmental organizations worldwide using its fleet of more than 50 geostationary satellites. SpaceX is targeting an evening launch of SES-9 from Space Launch Complex 40 at Cape Canaveral Air Force Station, Fla. The approximately 90-minute launch window opens on February 24 at 6:46:14 pm ET. A backup launch window opens at 6:46:17 pm ET on February 25. The satellite will be deployed approximately 31 minutes after liftoff.
.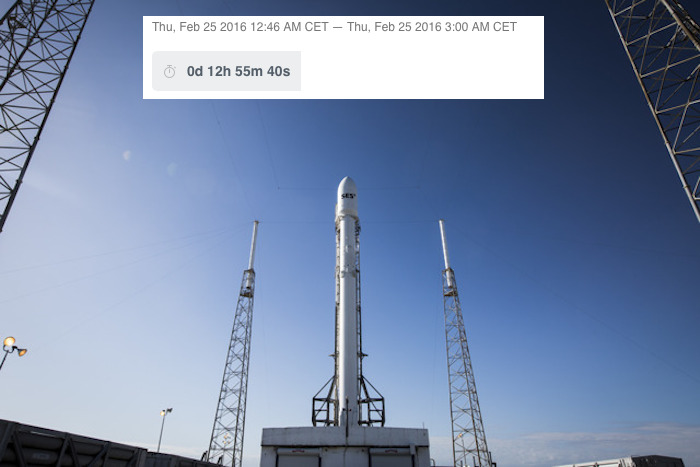 .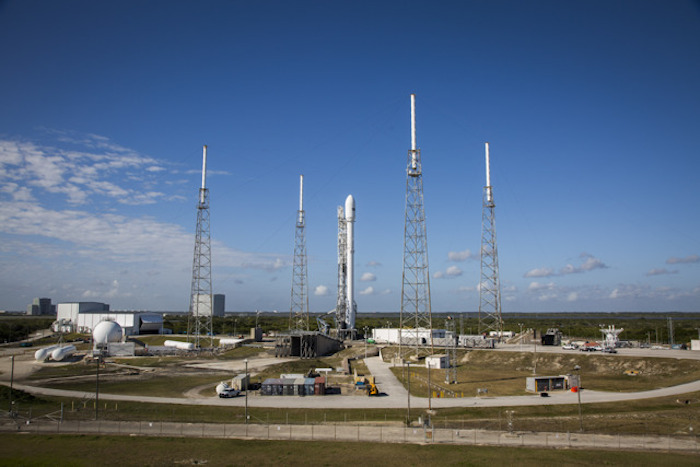 Quelle: SpaceX
-
Update: 25.02.2016
.
Start wegen Wetter um 24 Stunden verschoben: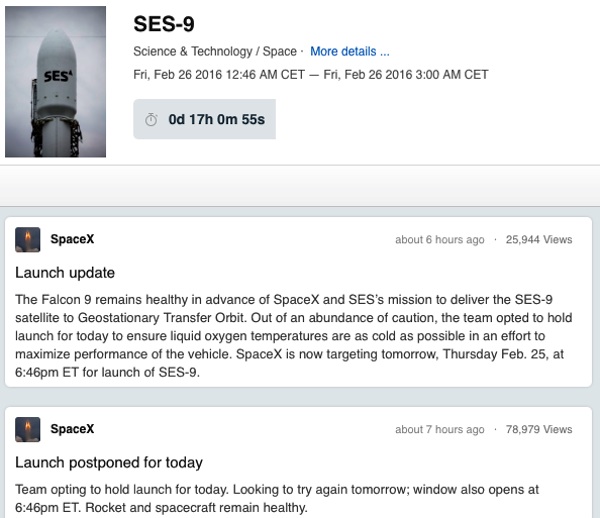 Quelle: SpaceX
.
Update: 22.00 MEZ
.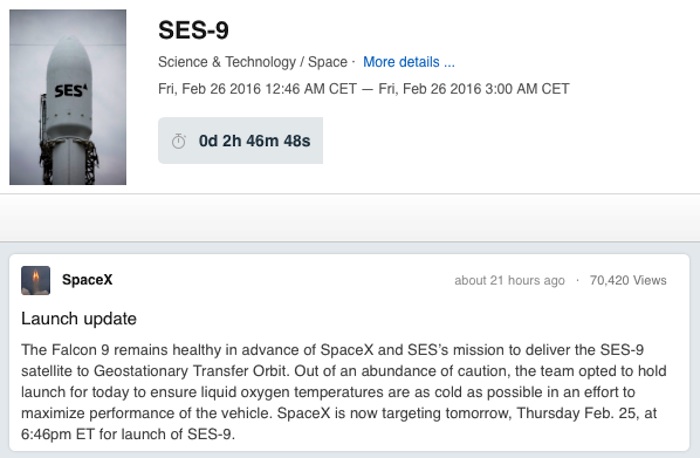 ...
Update: 26.02.2016:
.
Weather for today's launch attempt at 80% favorable, though upper level winds and ground level winds remain watch items.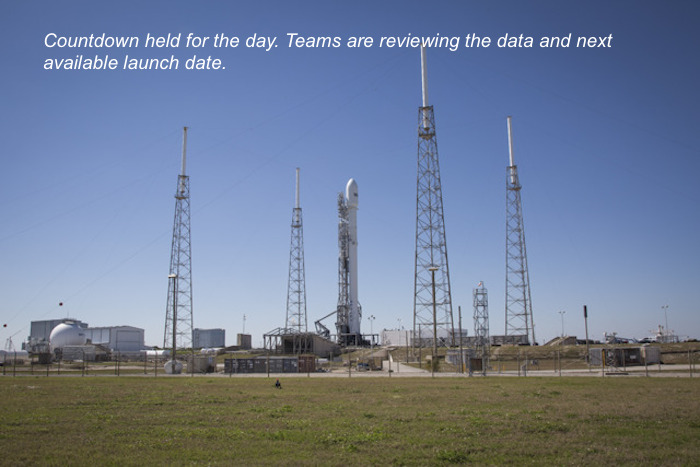 Quelle: SpaceX
...
SpaceX scrubbed its second attempt at launching a satellite on Thursday.
Just under two minutes away from the private space company's scheduled launch time, the countdown froze. A new launch day has not yet been set.
The mission, which SpaceX is carrying out on behalf of SES, could provide internet access to remote areas of the Asia-Pacific, including India, where about 1 billion people have no internet access.
The first launch attempt from the Cape Canaveral Air Force Station in Florida on Wednesday was aborted "out of an abundance of caution" because the SpaceX team was still working to "ensure liquid oxygen temperatures are as cold as possible," the company said. The colder the liquid oxygen, the more powerful the thrust.
The reason for aborting the second launch attempt on Thursday was not immediately clear.
But liquid oxygen -- which is a key rocket fuel ingredient -- was a key reason SpaceX could not reattempt the launch Thursday night.
Related: SpaceX rocket explodes after landing
Nearly all of the fuel had been loaded from the holding tank and into SpaceX's Falcon 9 rocket when the launch was halted, so the rocket will need to be emptied.
Oxygen has to be kept at -297˚F in order to remain liquid, and Musk wants to use even colder oxygen because it offers a more powerful launch.
SpaceX didn't indicate what the target temperature is for this mission, but Musk said he wanted the liquid oxygen at -340˚F for a rocket that took off on a December mission.
Quelle: CNN
-
Update: 19.30 MEZ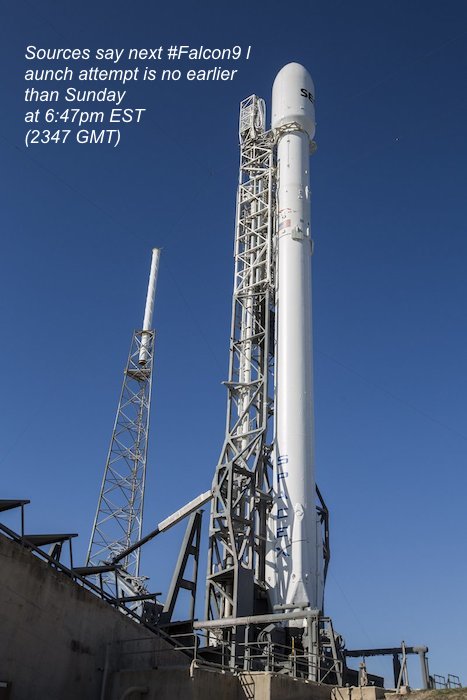 ...
Update: 28.02.2016 / 19.20 MEZ
.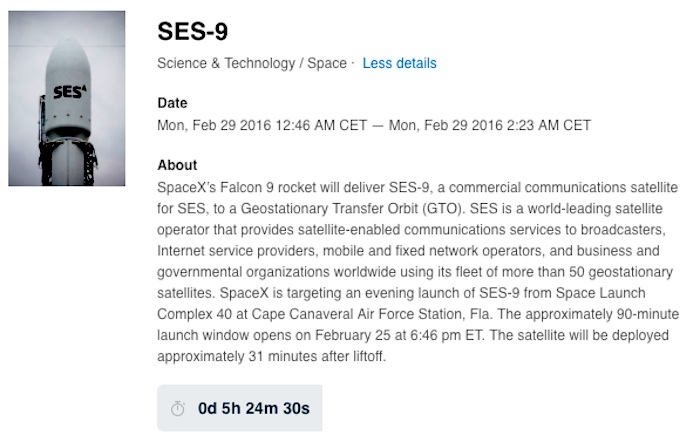 ...22.20 MEZ
.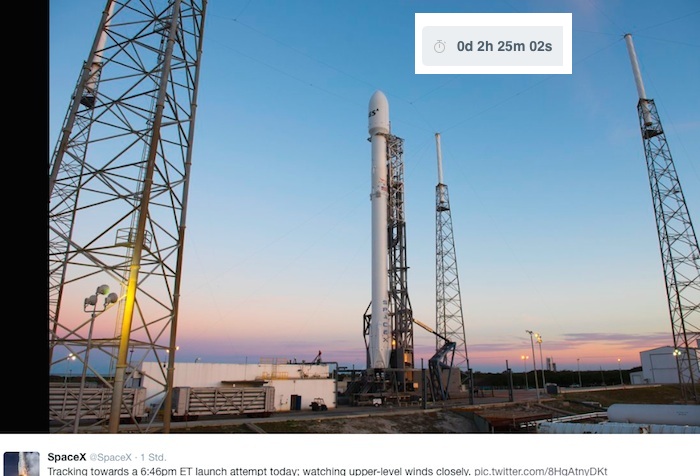 ...
Update: 29.02.2016
.
Third try for SpaceX launch aborts
CAPE CANAVERAL - The third try for a SpaceX launch aborted again just before takeoff Sunday.
The launch for a communications satellite was set for 6:47 p.m today at Cape Canaveral.
The launch held on the pad briefly at one point becuase a boat got in the way, but that problem cleared just before the launch restarted. The abort signal was then given just as the countdown reached zero.
A tweet from the Air Force's 45th Space Wing indicated that the next launch date would likely not be until Tuesday or later.
SpaceX tweeted Sunday afternoon that the launch was on, although the company was monitoring high-level winds.
Launches for the same rocket and satellite were scrubbed on Wednesday and Thursday. Thursday's countdown was aborted at 6:45 p.m., two minutes before liftoff, according to SpaceX's online webcast. The launch is also supposed to feature another attempt at landing the reusable Falcon 9 rocket on a barge.
During a countdown halt, sometimes there is no more time to reload propellant again, which is what SpaceX personnel said on a webcast about Thursday's launch.
The commercial space company said Wednesday's scrub was "out of an abundance of caution," but that the Falcon 9 rocket "remains healthy."
The launch will be SpaceX's first this year from Florida's Space Coast.
The rocket is to carry a satellite for Luxembourg-based SES into orbit that will help telecommunications and broadcasts in Asia.
The company will also attempt to land the rocket after it delivers its payload on an ocean barge for the first time, a move some say will help the company as it progresses toward a mission to Mars.
Industry experts said the landing would cut costs for the company, resulting in a smaller financial threshold for launching payloads into space.
SES has more than 50 satellites already in orbit and the launch of SES-9 will expand its capacity, company officials said.
Experts had said the variables of a barge landing, including precise location and speed of descent, made it much tougher than doing so on land, which the company has already done.
Quelle: Orlando Sentinel
-
Update: 1.03.2016
.

...
Update: 2.03.2016
-
Launch update
Unfortunately upper-level winds continue to exceed acceptable limits and are expected to get worse as we approach tonight's launch window, so we are forgoing today's launch attempt. Winds are forecast to exceed acceptable limits through Thursday. Our team will continue working with the Air Force's Launch Weather Officer to evaluate the best available opportunity for flight in the coming days.
Quelle: SpaceX
-
Update: 3.03.2016
.
'Sledgehammer' winds have led SpaceX to reschedule its launch for Friday
Due to high altitude winds, Elon Musk has announced that SpaceX will postpone its second launch of the year for this Friday.
"Pushing launch to Friday due to extreme high altitude wind shear. Hits like a sledgehammer when going up supersonic," Musk Tweeted.
This is the fourth time in one week — since last Wednesday — that SpaceX has postponed its mission to launch the Boeing-made SES-9 satellite into space.
SpaceX's spokesperson Phillip Larson added in an email statement:
"Winds are forecast to exceed acceptable limits through Thursday. Our team will continue working with the Air Force's Launch Weather Officer to evaluate the best available opportunity for flight in the coming days."
Cancellations aren't necessarily a sign that anything is wrong. And as of Sunday, the Falcon 9 rocket prepped for the mission was reportedly in good health.
SpaceX is simply being extra careful to make sure everything goes smoothly once the rocket lifts off the ground.
The reason this launch has garnered such attention is because of an attempted rocket landing that will swiftly follow take-off.
SpaceX has been trying for over a year now to land the first stage of its Falcon 9 rockets onto an ocean platform. The attempt scheduled to take place after Friday's launch will be SpaceX's fourth try for success.
Despite the fact that SpaceX has stated that it has low expectations of success, these rocket landings are a novelty of 21st century spaceflight and worth getting excited about.
Quelle: BI
.
Update: 4.03.2016
.
SpaceX to try again Friday for Falcon 9 launch
SpaceX plans to try again Friday to launch its Falcon 9 rocket from Cape Canaveral after scrubbing three launches recently because of weather and a pesky boat that wandered into an off-limits zone.
The launch window Friday is set to open at 6:35 p.m. and close at 8:06 p.m.
The last launch attempt Sunday was in the final countdown stages twice when it was aborted. Earlier this week, a launch update said that upper-level winds continued to exceed acceptable limits and were expected to stay that way through tonight.
A nighttime launch should be visible from South Florida. The webcast will also be available live at www.spacex.com/webcast.

Quelle: SpaceX
...
Update: 5.03.2016 / 8.25 MEZ
.
Erfolgreicher Start von Falcon-9 mit SES-9 Satelliten
.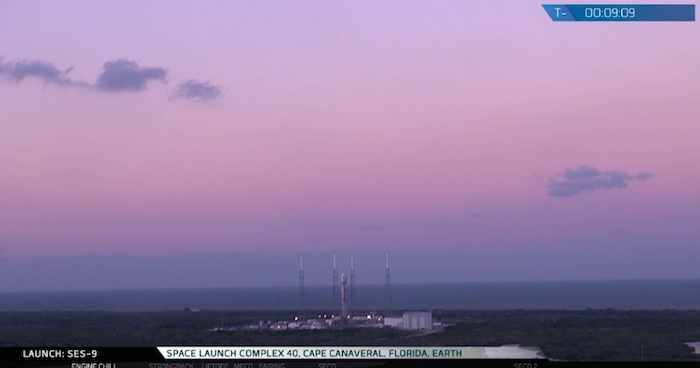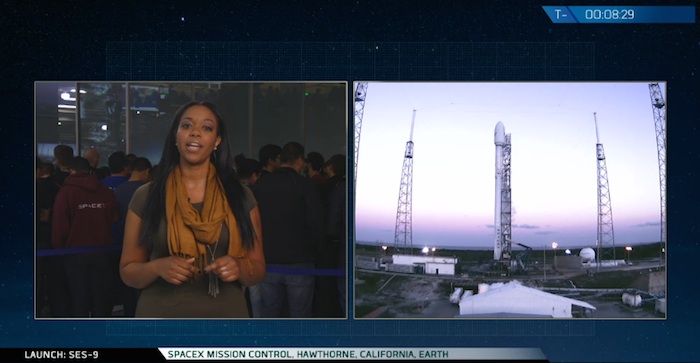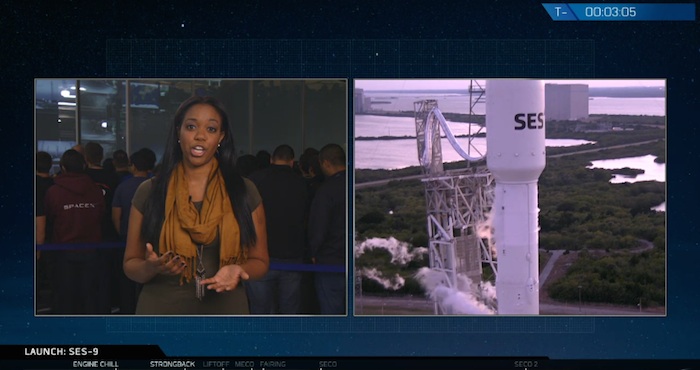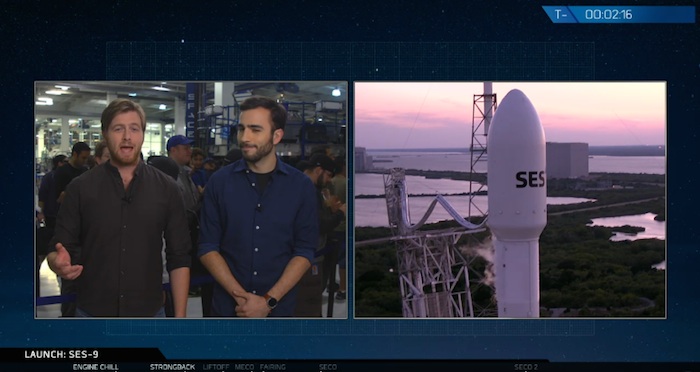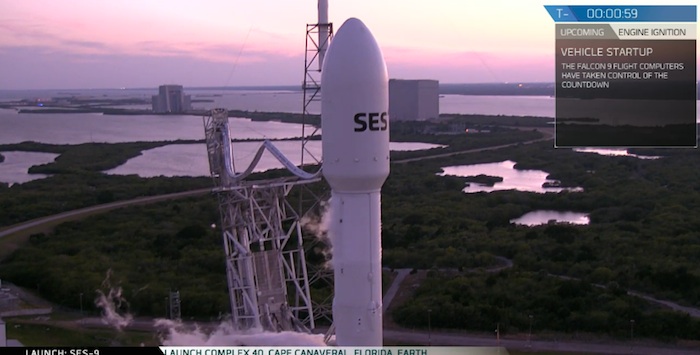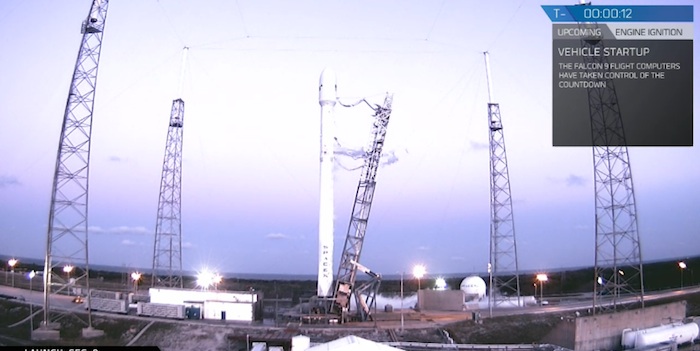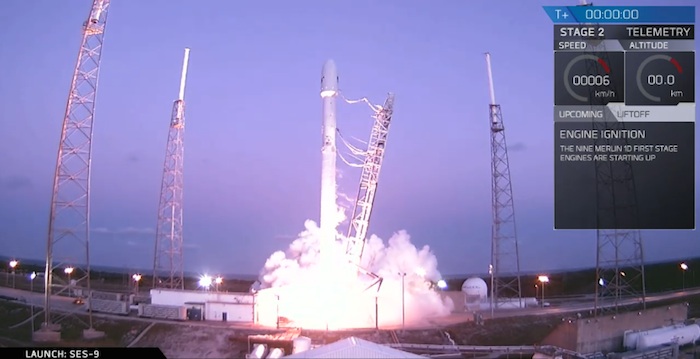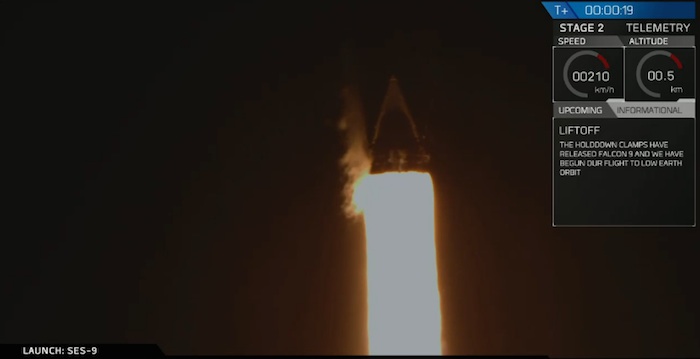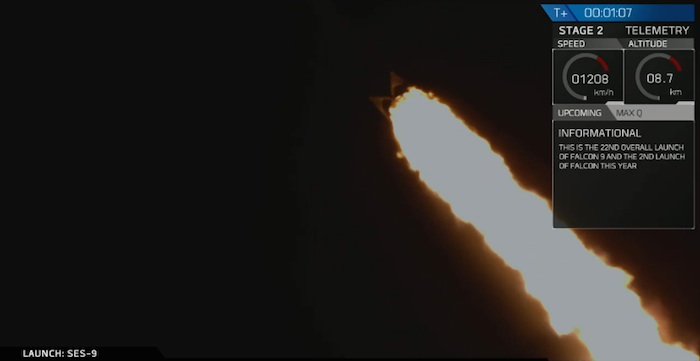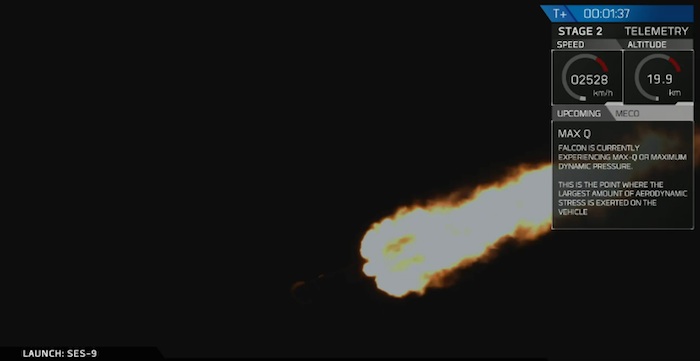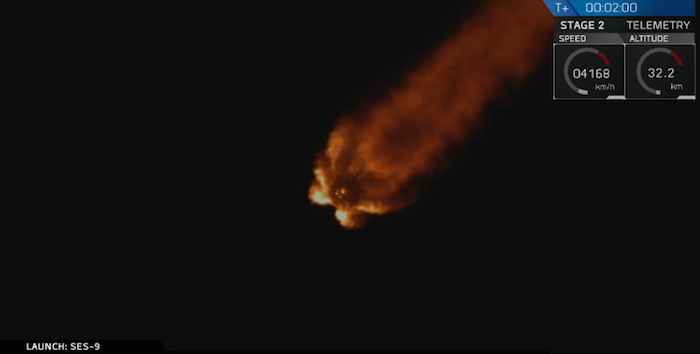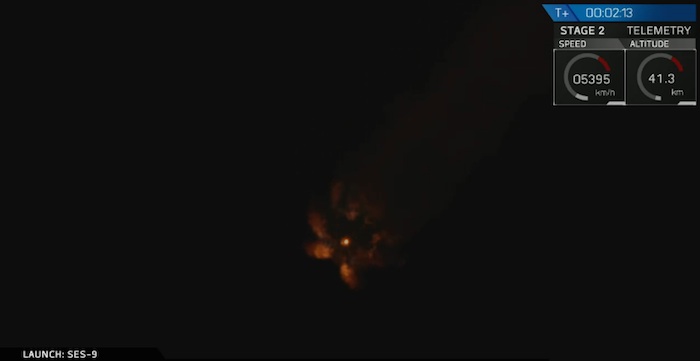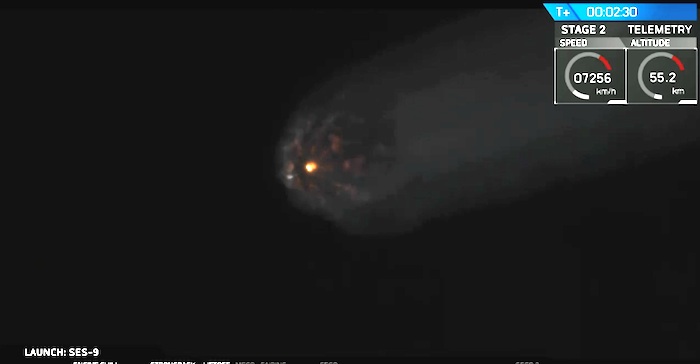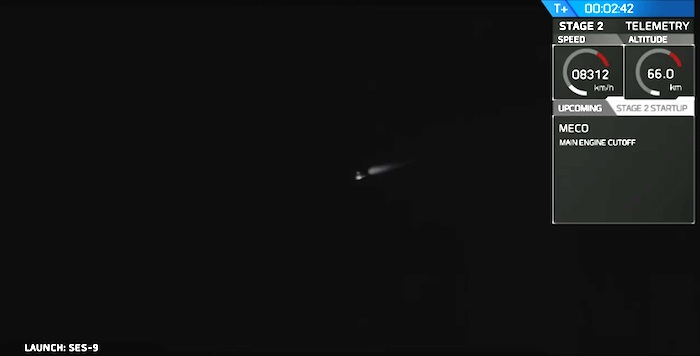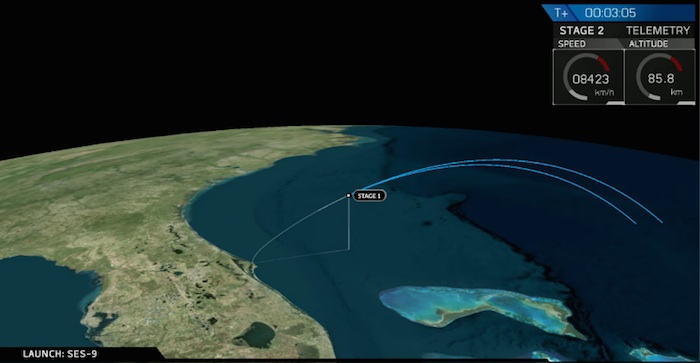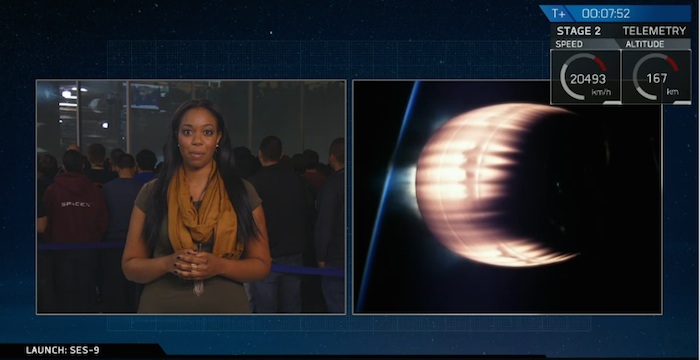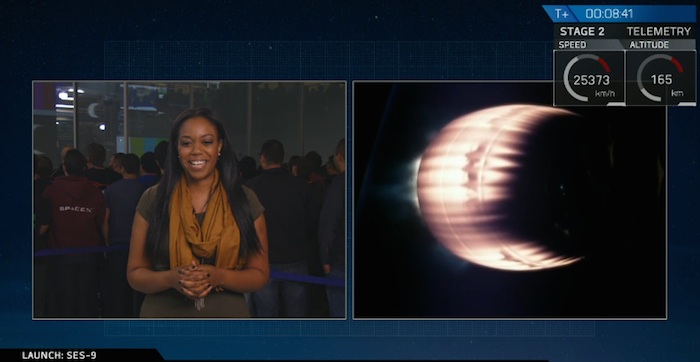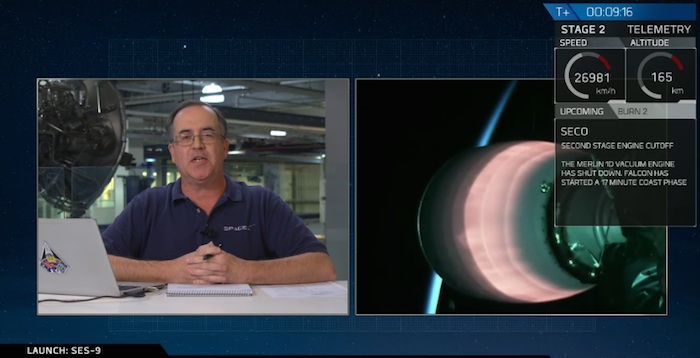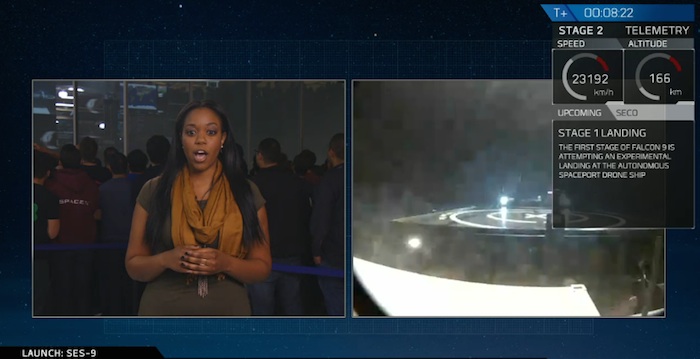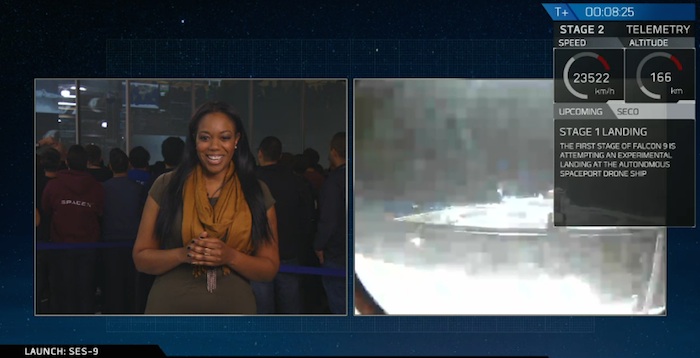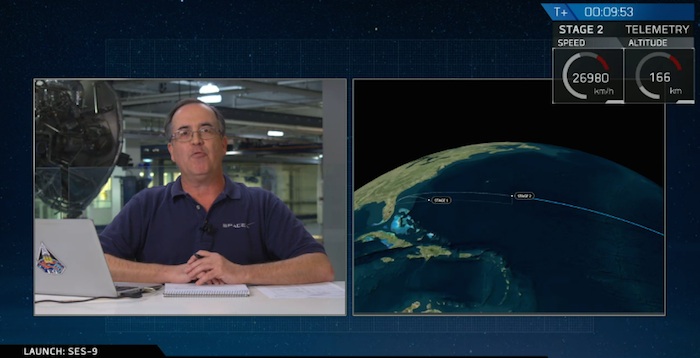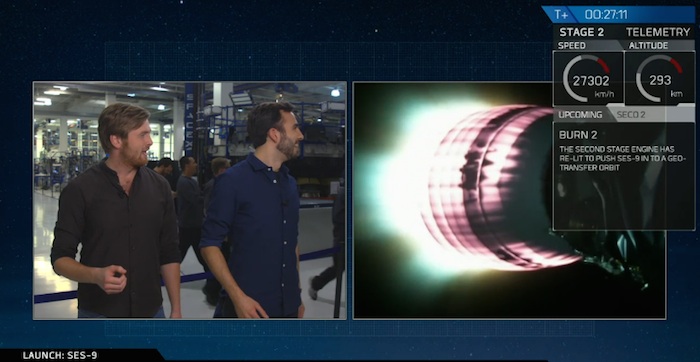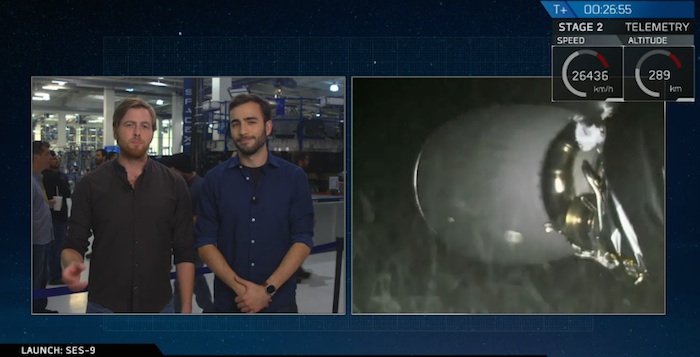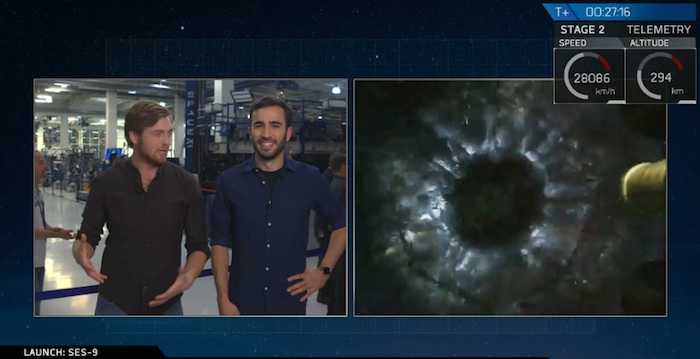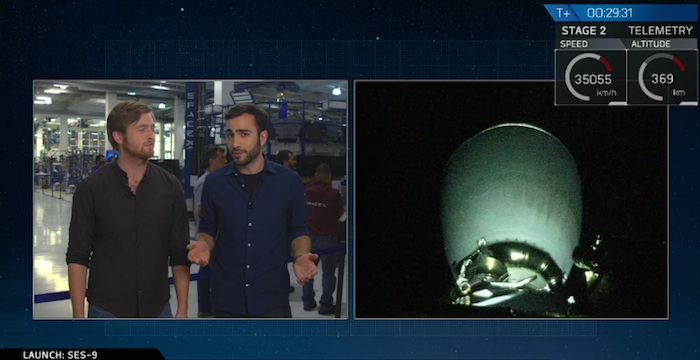 Quelle: SpaceX
-
Update: 15.00 MEZ
-
TV broadcasting satellite finally launched on Falcon 9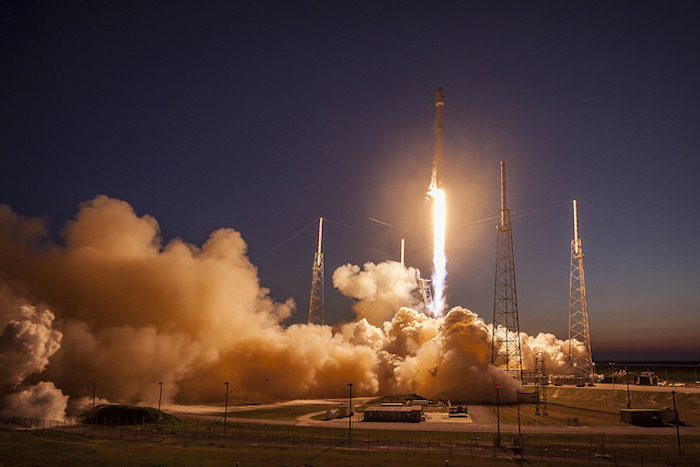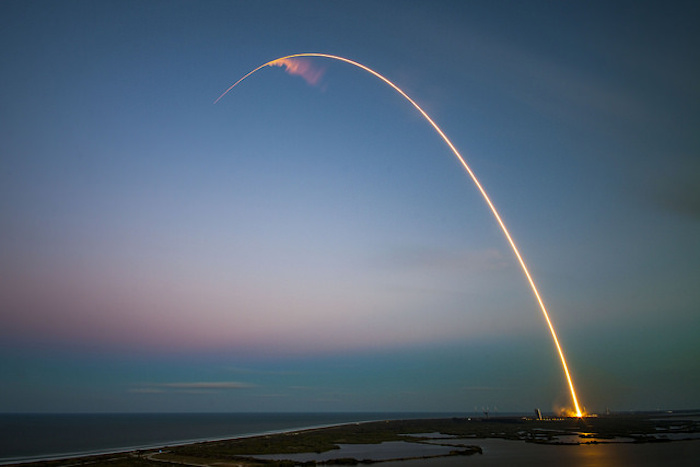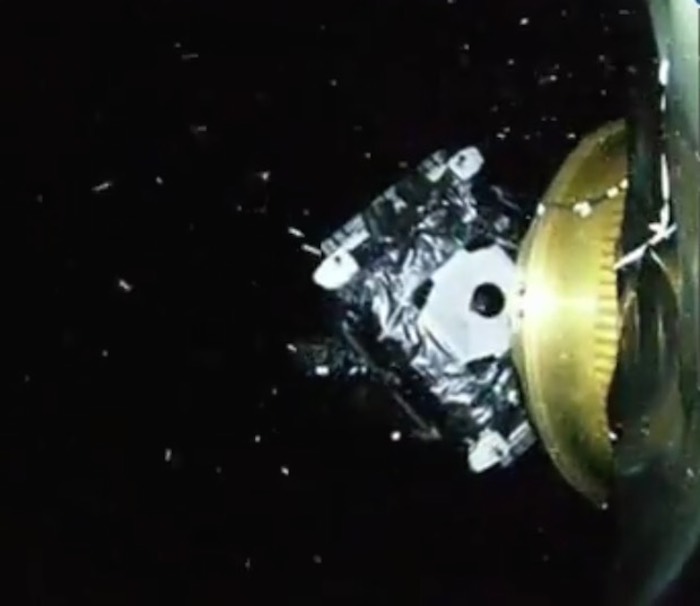 Quelle: SpaceX
2751 Views