.
4.01.2016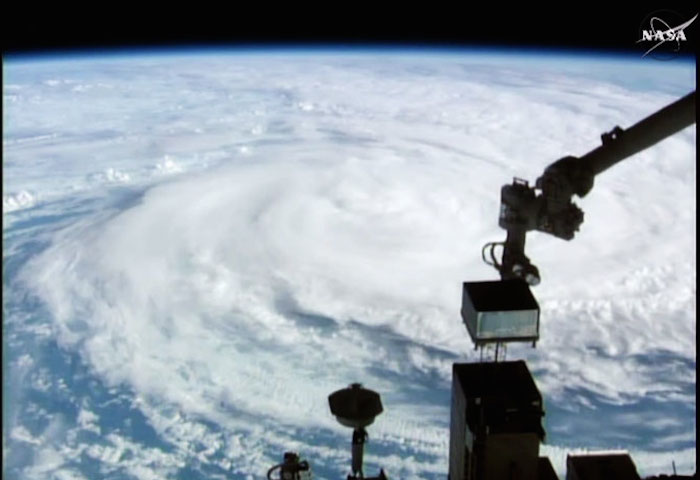 Tropical Cyclone Ula, a category 3 storm at the time this image was captured, is seen from the International Space Station. Credit: NASA TV
-
The Expedition 46 crew begins its first full week of the New Year planning for a spacewalk scheduled for Jan. 15. The orbiting residents are also busy with numerous science experiments benefitting life on Earth and future astronauts.
A pair of spacewalkers will replace a failed voltage regulator to return power to one of eight power channels next Friday. Two crew members will exit the Quest airlock and work outside for 6.5 hours for the replacement work. They will also rig cables for the future installation of docking adapters that will enable commercial crew vehicles to dock at the International Space Station. Final spacewalking roles will be confirmed following spacesuit hardware checkouts taking place today.
NASA astronauts Tim Kopra and Commander Scott Kelly collected and stowed blood and urine samples this morning for the Fluid Shifts study. That experiment observes the headward fluid shift caused by microgravity that increases brain pressure and pushes back on the eye. British astronaut Tim Peake also explored particles suspended in fluids, or colloids, which could benefit the design of advanced materials on Earth.
Quelle: NASA
-
Update: 6.01.2016
.
Tim Peake to go on six-hour spacewalk to repair International Space Station
British astronaut 'thrilled' to be given task of replacing broken solar-power unit outside craft travelling at 17,500mph
.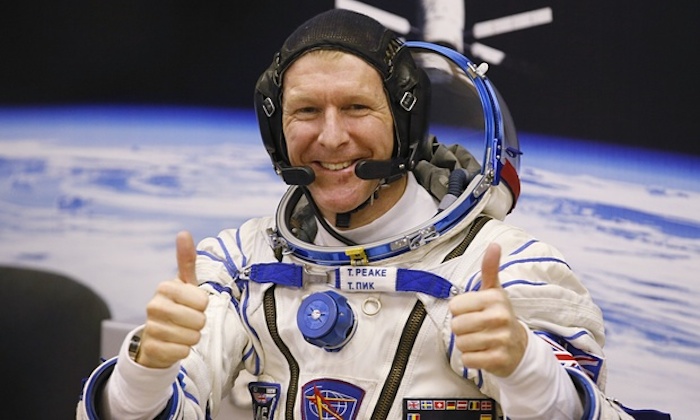 Tim Peake said there was 'lots of work to do' before he and his Nasa colleague were ready to step outside the ISS next week. Photograph: Dmitry Lovetsky/AP
Ian Sample Science editor
-
Tim Peake is to mark his first month on the International Space Station by climbing into a spacesuit and taking a walk outside.
Britain's first European Space Agency astronaut has been called on to perform a six-hour "extra-vehicular activity" (EVA) to replace a broken solar-power unit and lay cables for future docking ports.
The spacewalk – with the Nasa astronaut Tim Kopra – is planned for 15 January with the station commander, Scott Kelly, helping them in and out of their spacesuits. The EVA will be Kopra's second since arriving at the station.
The decision is a dream come true for Peake, who expressed his hopes of being chosen for a spacewalk long before blasting off to the orbiting station from Baikonur in Kazakhstan on 15 December.
On hearing the news, Peake tweeted: "I am thrilled to be assigned a spacewalk in 10 days. Lots of work to do before Tim and I can open the hatch."
The astronauts' primary task will be to replace a failed solar shunt unit, which transfers electrical power generated by the station's massive solar panels.
As space activities go, the unit is fairly simple to replace, because it is a box that can be removed by undoing one bolt. But the work must be performed in a clumsy suit while hanging on to a structure 250 miles above the Earth that is hurtling along at 17,500mph.
The astronauts will work closely together on the spacewalk and are expected to spend the coming days preparing the tools, equipment and procedures needed to perform the task. There are eight power units that feed electricity from solar panels into the station, but since November, only seven have been working.
In an interview with the Guardian before he left Earth, Peake described how much he had enjoyed virtual-reality training for space walks and even practising the emergency manoeuvre of using a one-shot jetpack to fly back to the station after falling off.
Advertisement
He said that climbing out of the station would be "a truly incredible moment", and that veterans of spacewalks had confessed the experience could be daunting. Nasa builds in a minute or two into spacewalkers' schedules for them to acclimatise to the overwhelming experience.
Jeff Hoffman, a former Nasa astronaut and professor at MIT, wished Peake good luck for his first venture outside the space station. Hoffman performed his first space walk 30 years ago when a satellite deployed by the space shuttle failed to switch on properly.
"When I went outside, I remember thinking to myself 'boy, this really feels like when I was training underwater', and then I turned over and there was the Earth and the sky and I thought "Oh. You're not in the water tank any more'."
"Going into space is a great thing, but to go outside is to really have your dream come true," he added. "The windows give you a very nice view, but that's nothing to going out in your helmet and being surrounded by the whole universe and looking at your hand and realising that between it and your face is a vacuum."
Peake and Kopra will breathe pure oxygen for two hours before they leave the space station to rid their bodies of nitrogen. The pressure in their spacesuits is lower than in the station, and without taking precautions, the pressure drop could give them "the bends" in the same way that nitrogen gas can disable and even kill divers who surface too quickly after spending time at depth.
"If the spacewalk is successful, this will restore the International Space Station to 100% of its operational capability," Peake said.
Quelle: theguardian
-
Update: 13.01.2016
.
Tim Peake to make first spacewalk to repair power unit for solar panels
Walk to last more than six hours and is being conducted during an eclipse of International Space Station to avoid the danger of the sun activating panels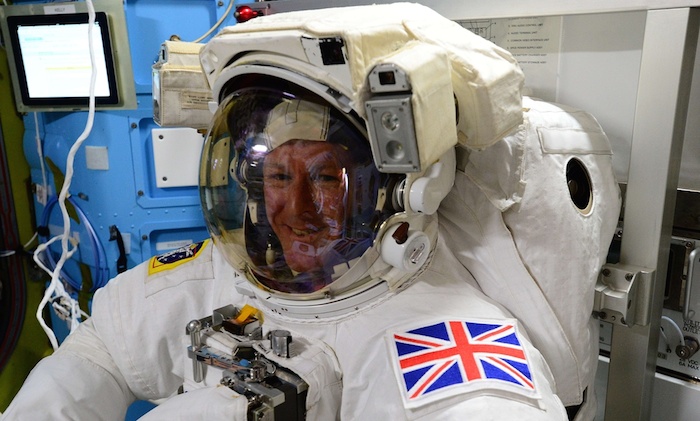 Peake and Nasa astronaut Tim Kopra will have to replace a 'solar shunt', reroute cables, ready the station for commercial crew vehicles, and reinstall a vent from a narrow crevice along the station's hull. Photograph: Tim Peake/AFP/Getty
-
British astronaut Tim Peake's first spacewalk will take him to the far end of the International Space Station on Friday, as he and another astronaut repair a power unit before the sun makes it too dangerous to work on the solar panels.
The spacewalk, scheduled for 12.55pm GMT (7.55am EST) and expected to last more than six hours, is the first for a British astronaut with the European Space Agency.
At a briefing on Tuesday afternoon, Nasa officials described the difficulties Peake and Nasa astronaut Tim Kopra – who will together perform the "extra-vehicular activity" (EVA) – will face when they leave the space station to replace a failed solar shunt unit, a device that regulates electricity from one pair of the station's 16 huge solar panels.
Kopra and Peake must replace an electrical box that failed in November, and their task seems simple enough: remove a single bolt and replace the box and bolt. But they will have to traverse the space station wearing unwieldy and fragile space suits – "sort of your own independent spaceship to protect you from the environment", in the words of Paul Dum, Nasa's lead spacewalk officer.
"Imagine having thick winter gloves on and trying to do anything that takes fine dexterity," Dum said, adding that the two would have to do some tasks one-handed. They will also have to carry tools, cables and the spare solar shunt – itself a "bulky, massive thing", he said – as they clamber around the outside of the station.
Station commander Scott Kelly, who himself stepped out into space in late December, will assist on this mission by helping Peake and Kopra in and out of their suits.
Dum also detailed how carefully the astronauts will have to move. Peake and Kopra will have to manage footstraps and tethers, toolboxes and hull plating, all while dangling umbilically from the station 250 miles above the Earth – a vehicle that is itself moving more than 15,000 mph.
Advertisement
Spacewalks have become fairly routine, with seven in 2015 and nearly 200 since 1998. But they can go terrifyingly wrong, as when Italian astronaut Luca Parmitano nearly drowned in his helmet in 2013, or when American Rick Mastracchio discovered a tear in his glove in 2007.
The astronauts will also have to work with some haste, said Kenny Todd, Nasa's mission operations lead for the space station. The spacewalk is timed to coincide with the space station being in eclipse, he said, so that the sun's light will not strike its 16 solar panels and start generating energy.
That energy could damage systems, and touching an active shunt "increases that risk of arcing and sparking", Dum said. He said the crew had a number of contingency plans should something go wrong – and demonstrated a toothbrush-like tool for clearing debris from the shunt, if necessary.
Replacing the shunt will not be the end of Peake and Kopra's chores. They will also have to reroute cables, ready the station for commercial crew vehicles, and reinstall a vent from a narrow crevice along the station's hull.
Astronauts have had trouble with solar shunts before, including a unit that failed in 2012, was repaired, and then failed again. There are no other spares on board the vessel, the officials said, but the crew would not be endangered with only seven active units.
"If one of those plants needs to be shut down it doesn't turn off that light," flight director Royce Renfrew said. "But it would be much better if we could get back to our normal configuration."
Todd agreed, hinting at how precarious life in space is even with contingency plans in place. "From a station perspective we could live in this state for quite a while," he said, but "if we were to lose an addition we'd probably find ourselves a little more strapped".
Although Peake is the first Briton to walk into space in an ESA uniform, he is not the first British astronaut to leave the space station or shuttle. In 1995 former Nasa astronaut Michael Foale – a dual US-UK citizen – became the first UK-born person to walk into the void. And between 2002 and 2010, Sussex-born Piers Sellers spent more than 41 hours in space over six walks, though only after becoming a naturalized US citizen to fly for Nasa.
The first British astronaut was Helen Sharman, who flew on a privately funded mission to the Russian space Mir in 1991, only a few months before the Soviet Union collapsed.
Quelle: theguardian
---
On Friday, Jan. 15, Expedition 46 flight engineers Tim Kopra of NASA and Tim Peake of ESA will venture outside the space station's Quest airlock to replace a failed voltage regulator that compromised one of the station's eight power channels last November. The spacewalk is scheduled to begin at 7:55 a.m. EST and will be the third in Kopra's career and the first for Peake, and the 192nd for maintenance of the space station. It will be the 35th spacewalk using the U.S. Quest airlock. Additional tasks include deploying cables for the future installation of an International Docking Adapter that will accommodate U.S. commercial crew vehicles, and retrieving a broken light from a truss camera.
Quelle: NASA
-
Update: 15.01.2016 / 12.30 MEZ
.
Tim Peake prepares for historic space walk: Everything you need to know about British astronaut's pioneering mission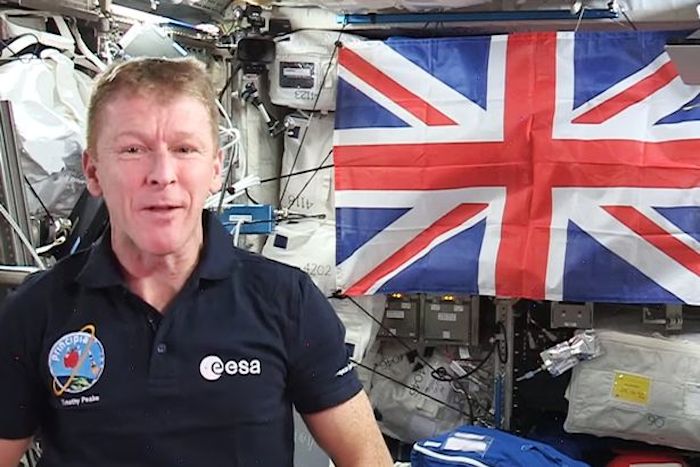 It's one small step for an Englishman and one giant leap for Great Britain.
Tim Peake is preparing to perform his first spacewalk today, making him one of just a handful of British-born people to venture into the void.
Today, the astro-Brit and his colleague Tim Kopra will take part in a mission called the 35th NASA Extra-Vehicular Activity (EVA).
Major Tim will step outside the International Space Station (ISS) at about 12.55 GMT and spend six hours floating in a most peculiar way.
...
Es geht los... / 12.39 MEZ LIVE Frams NASA-TV
.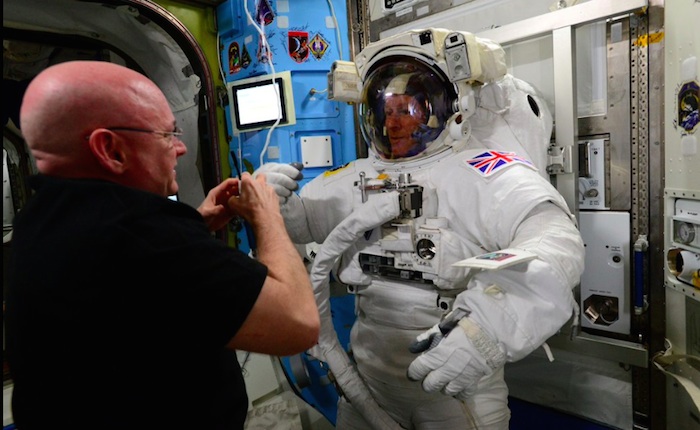 ...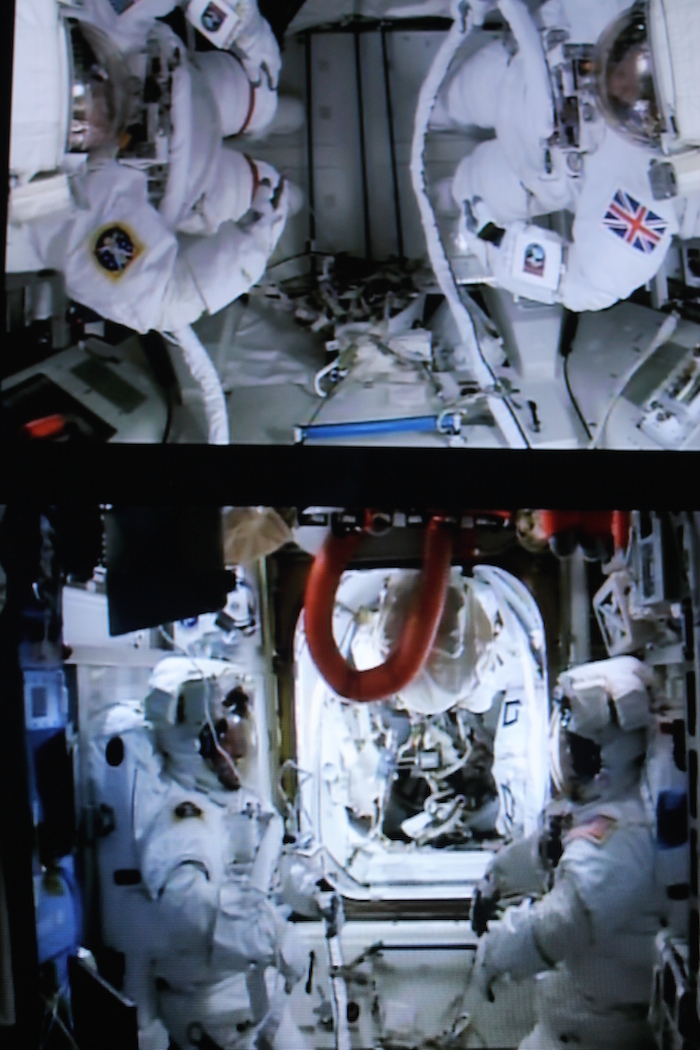 ...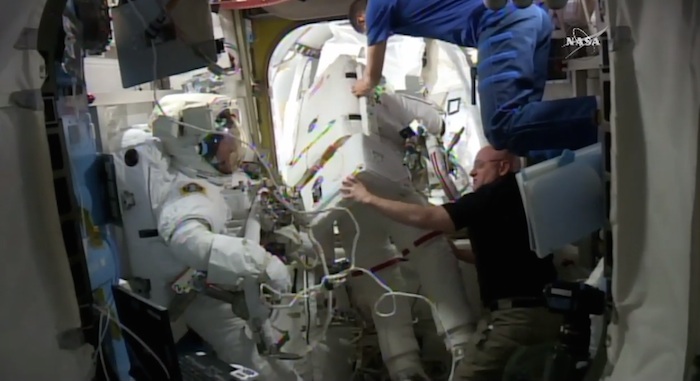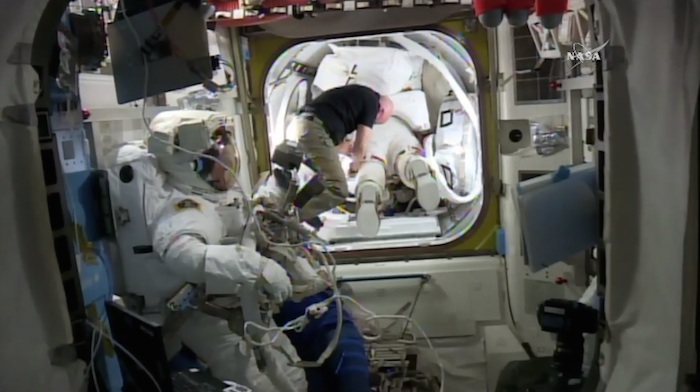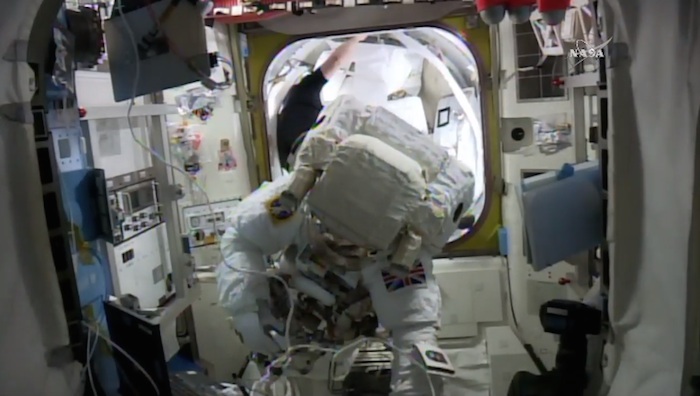 ... 12.50 MEZ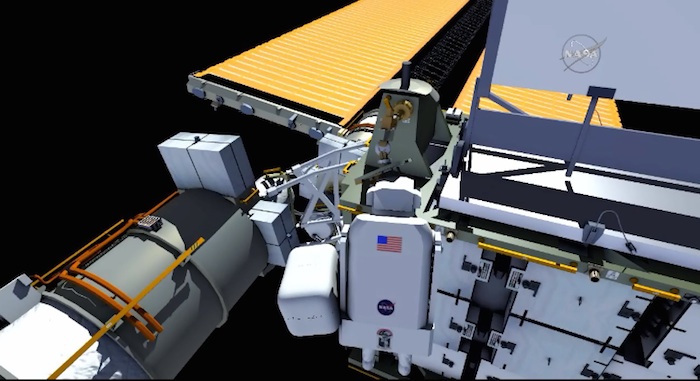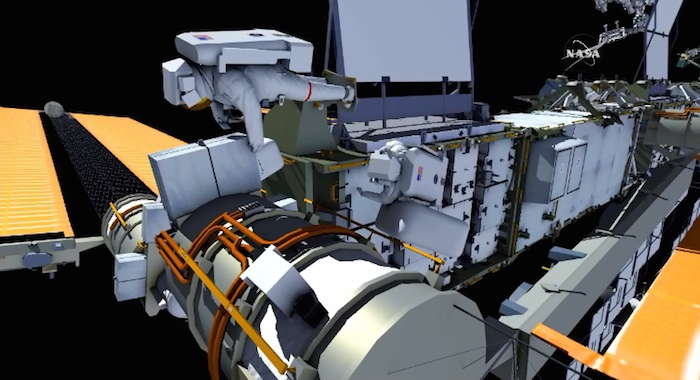 ... 13.15 MEZ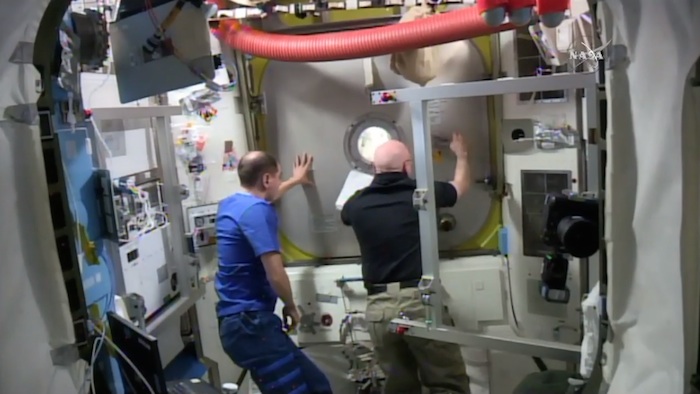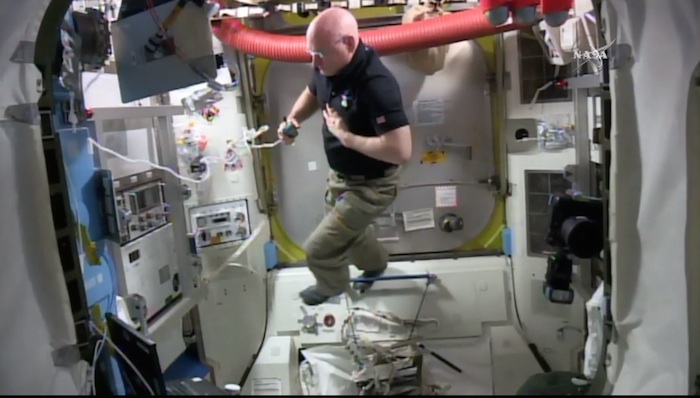 ... 14.00 MEZ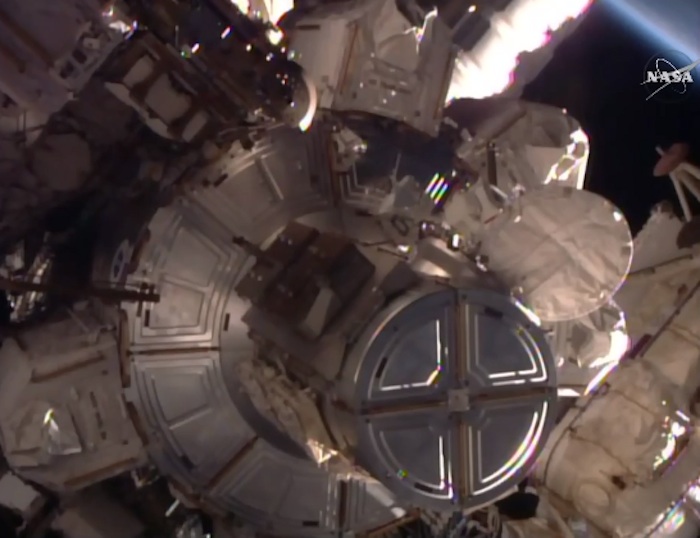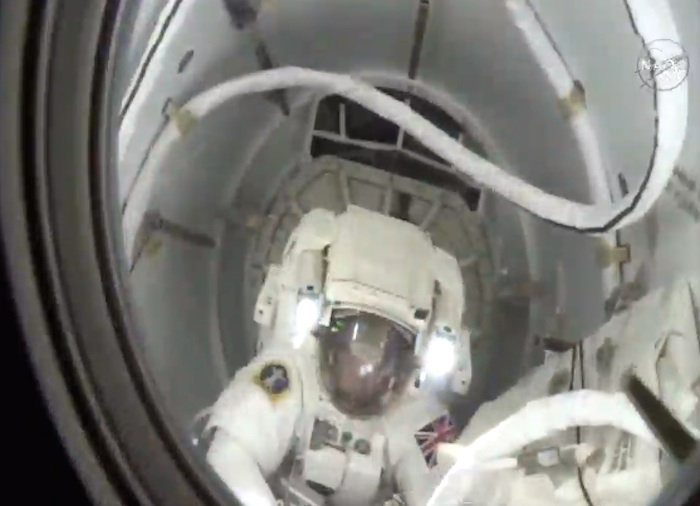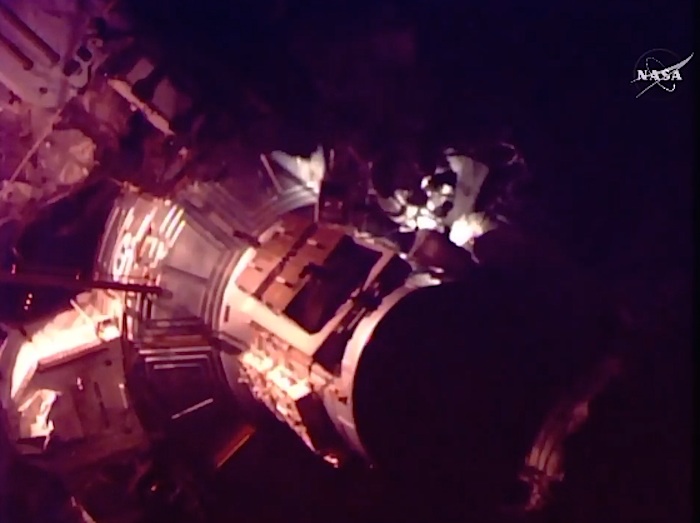 ... 14.45 MEZ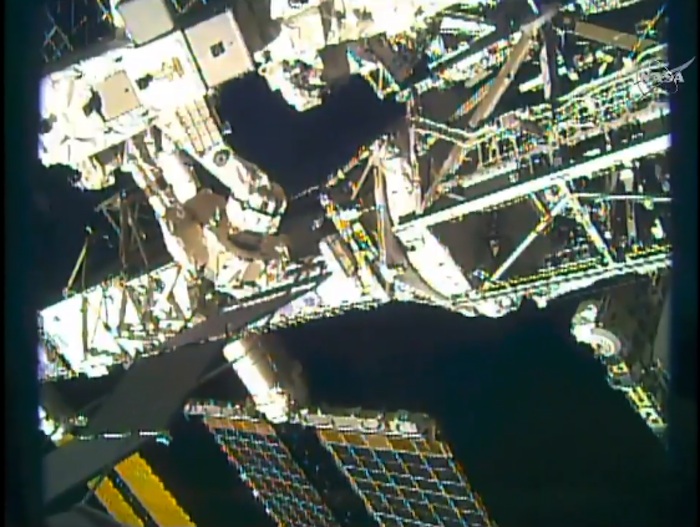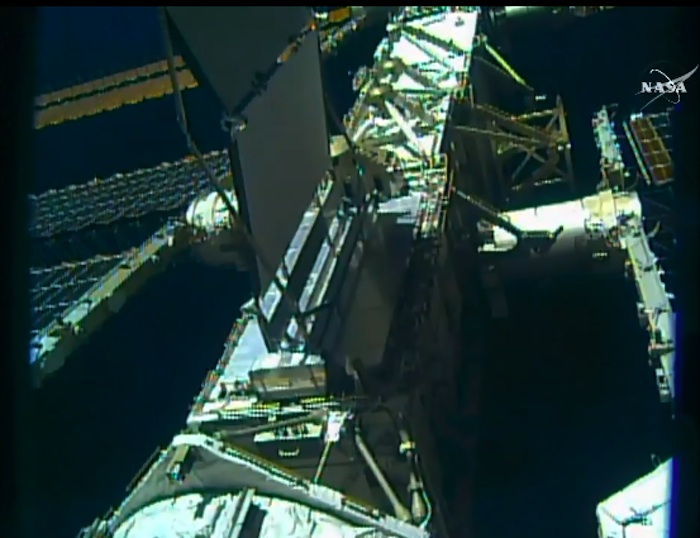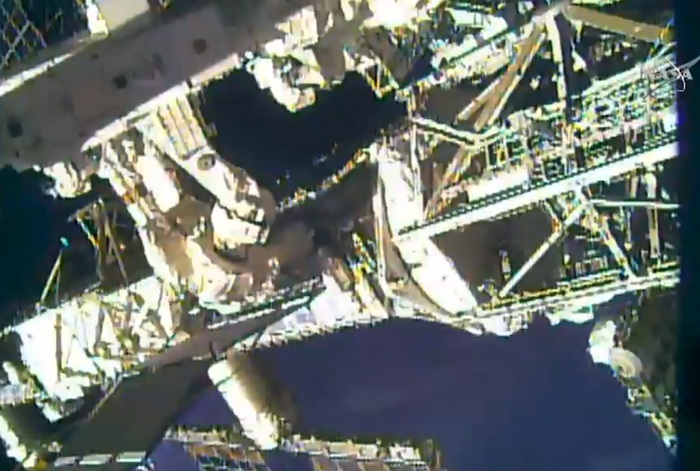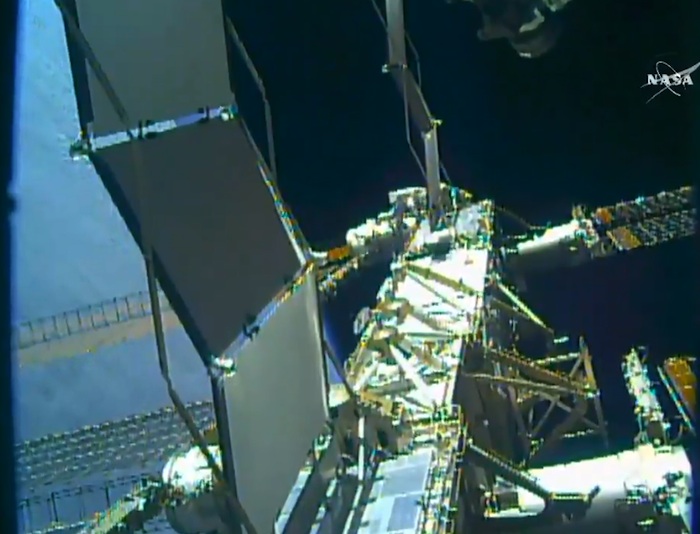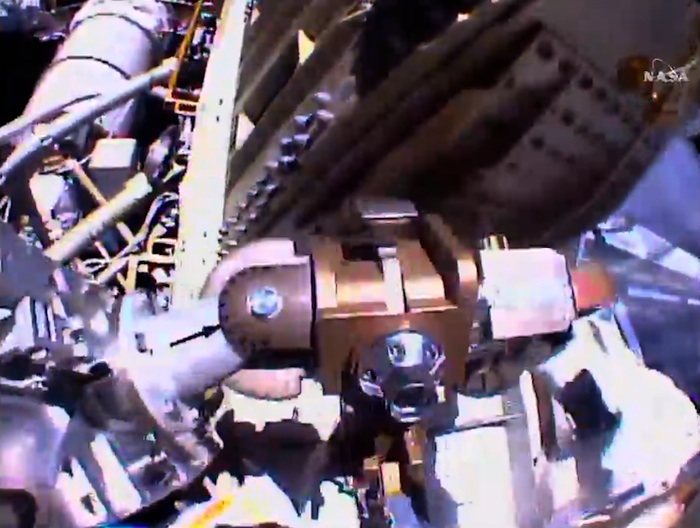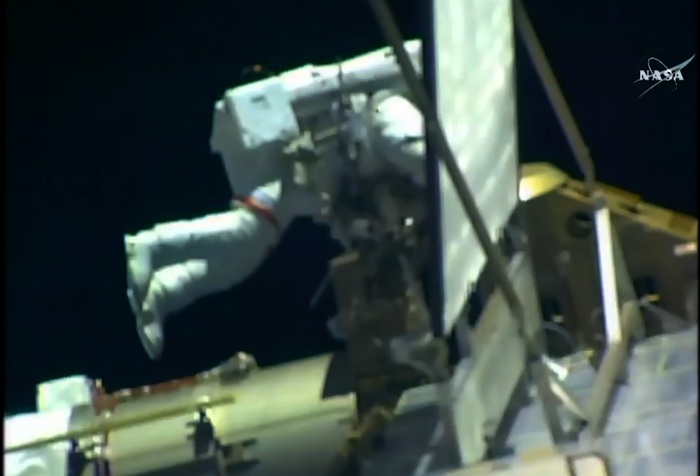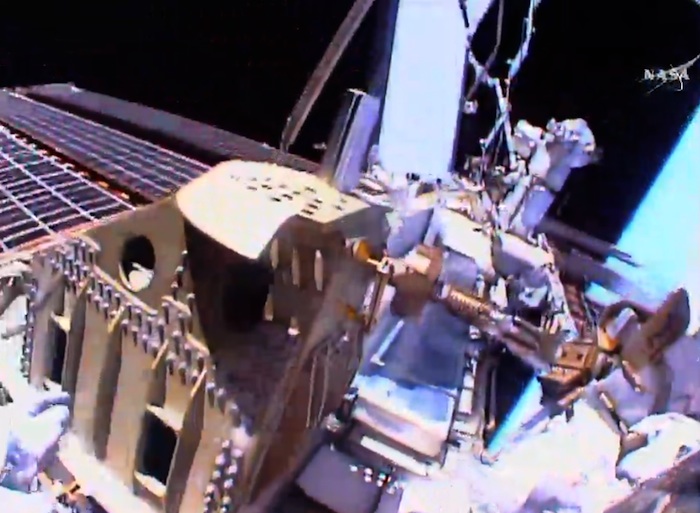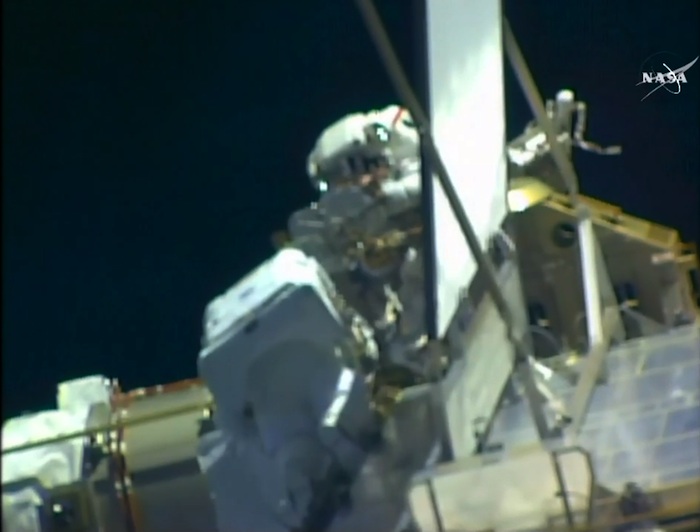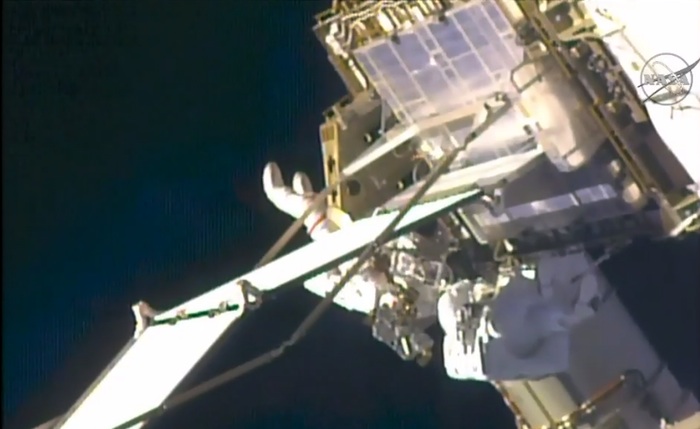 ...15.30 MEZ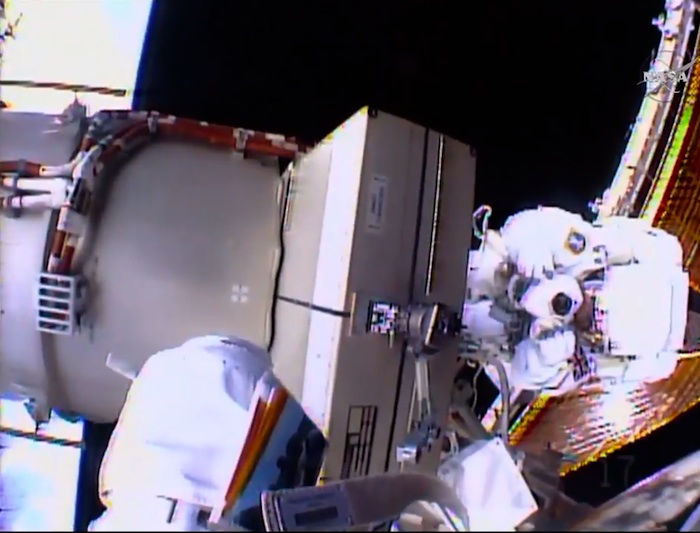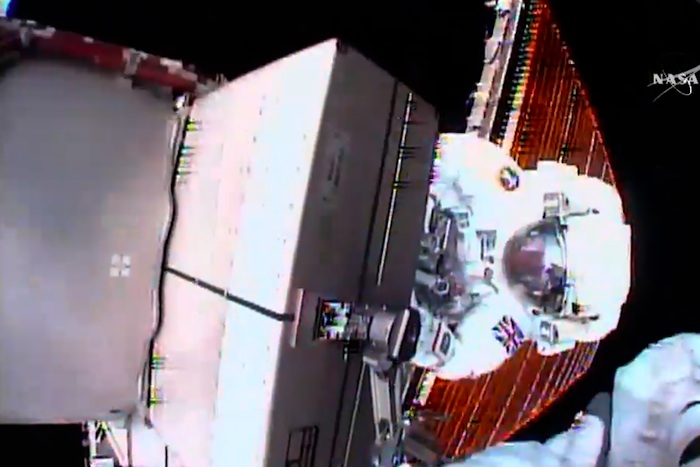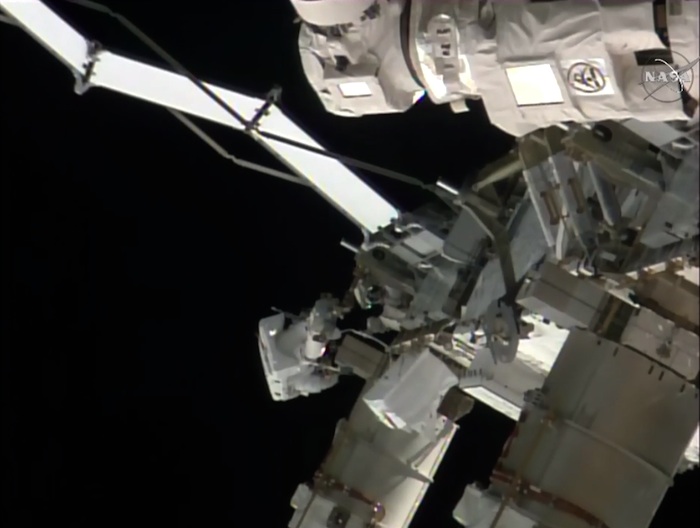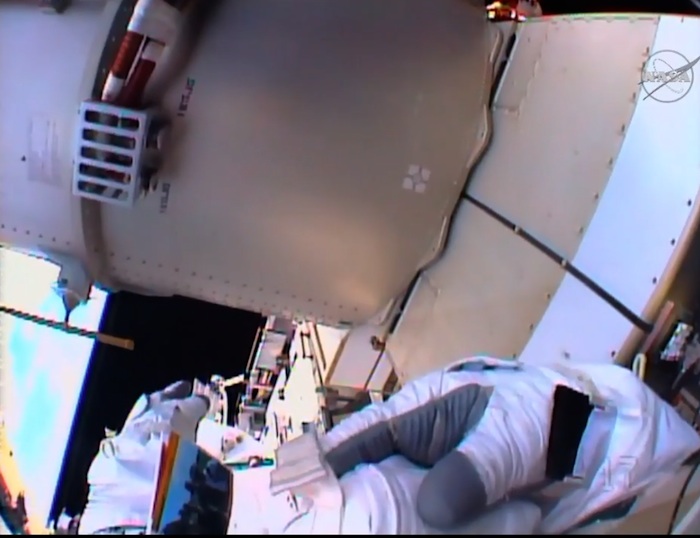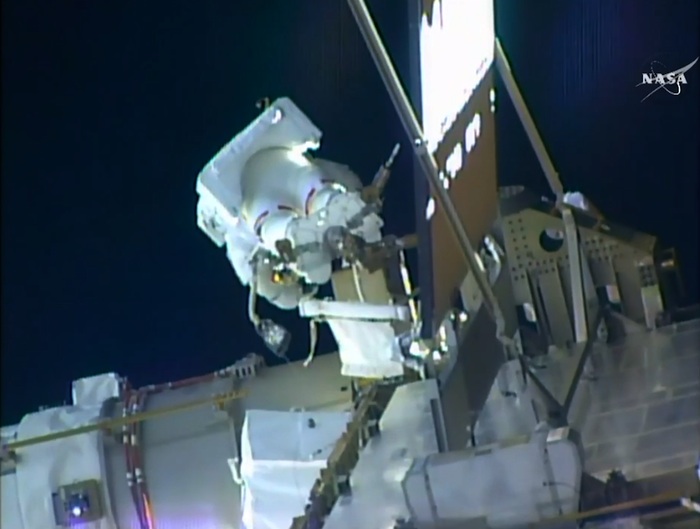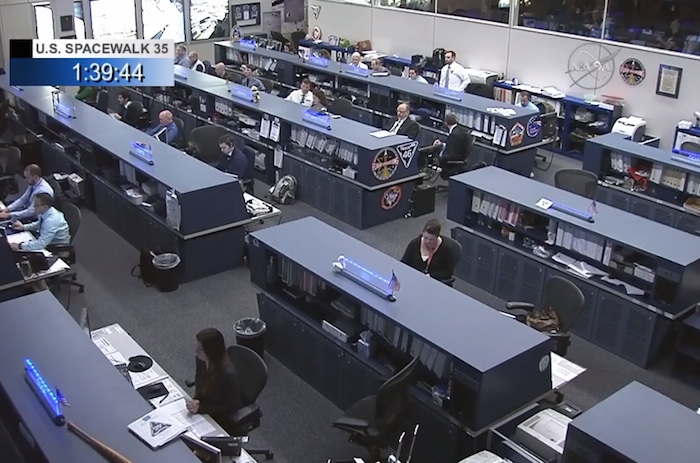 ...16.20 MEZ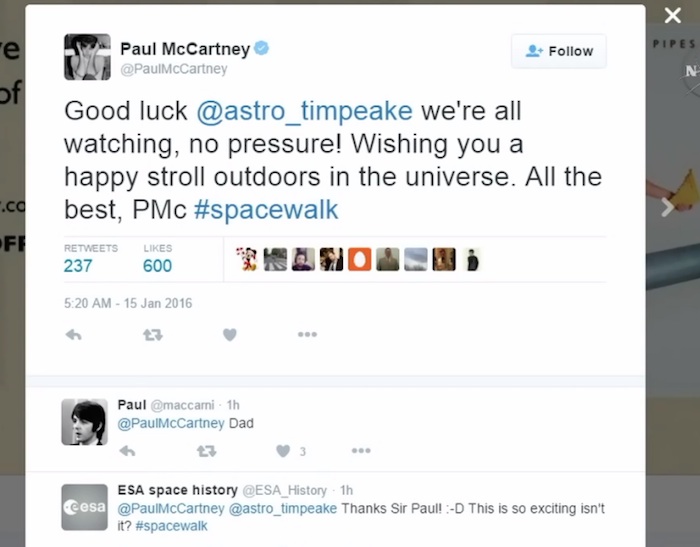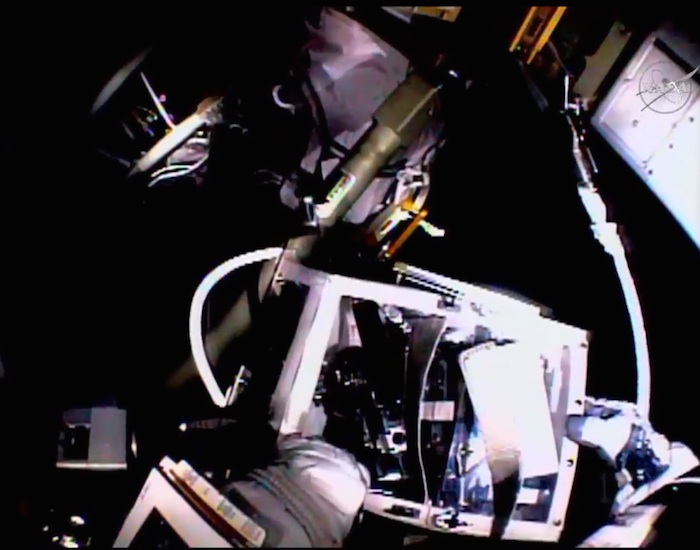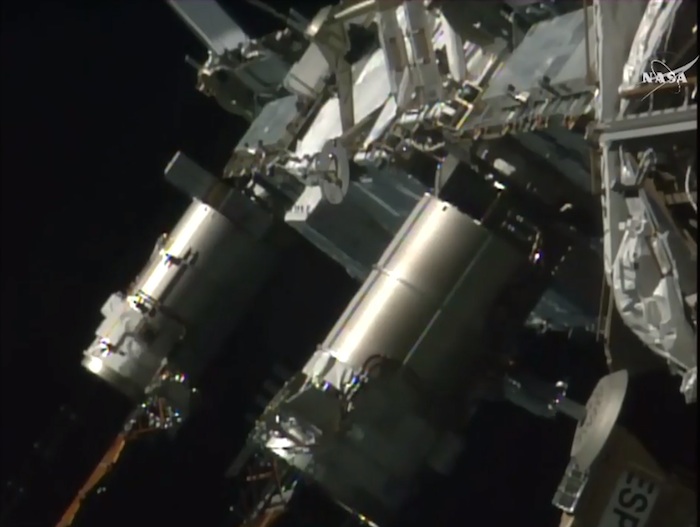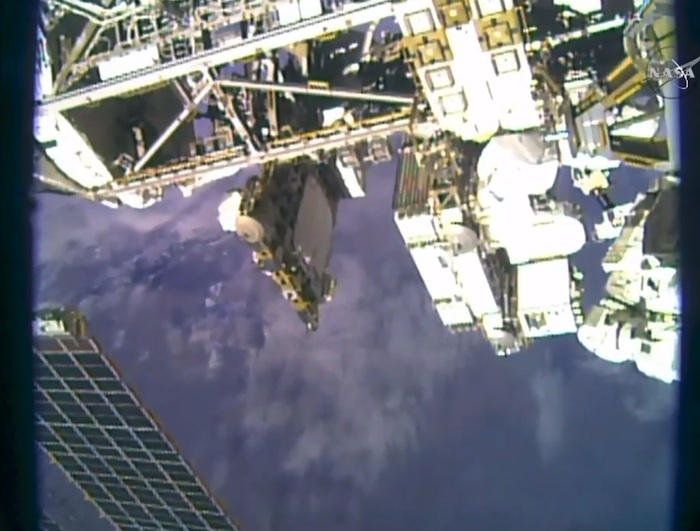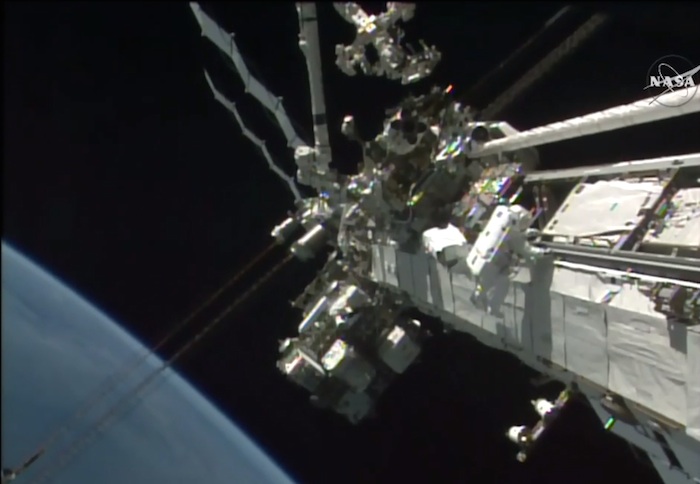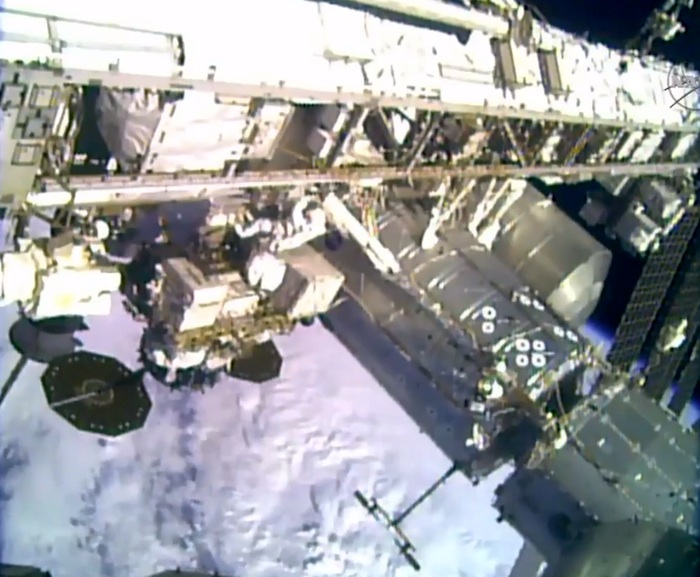 ...16.45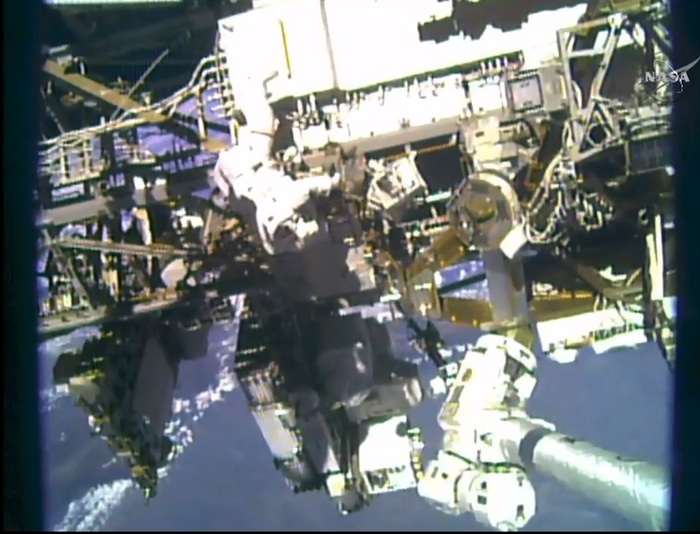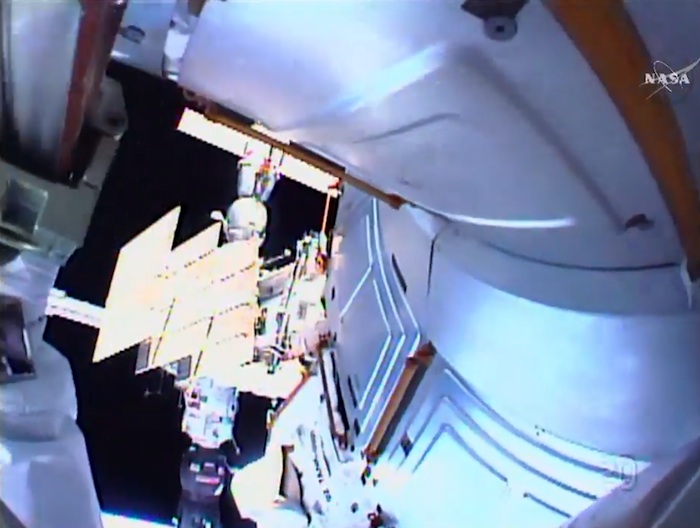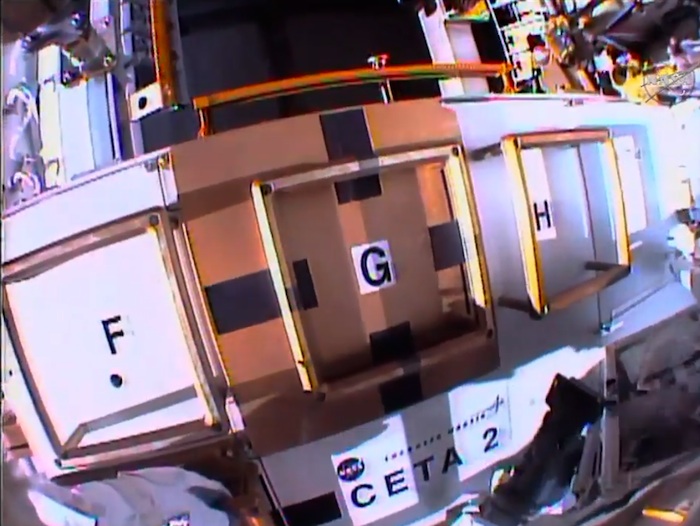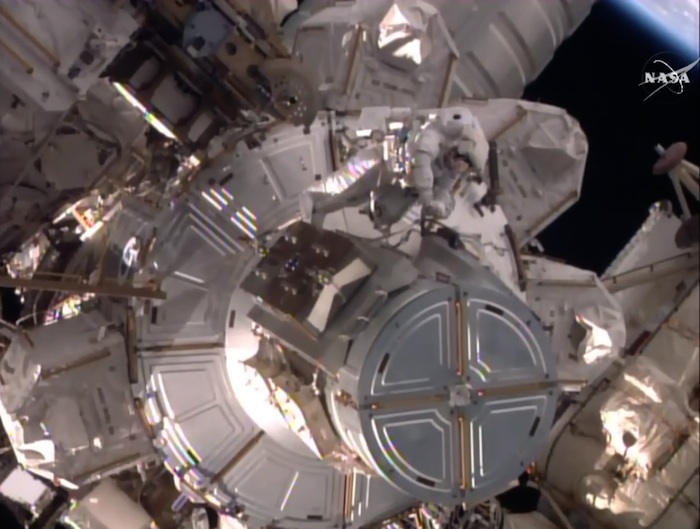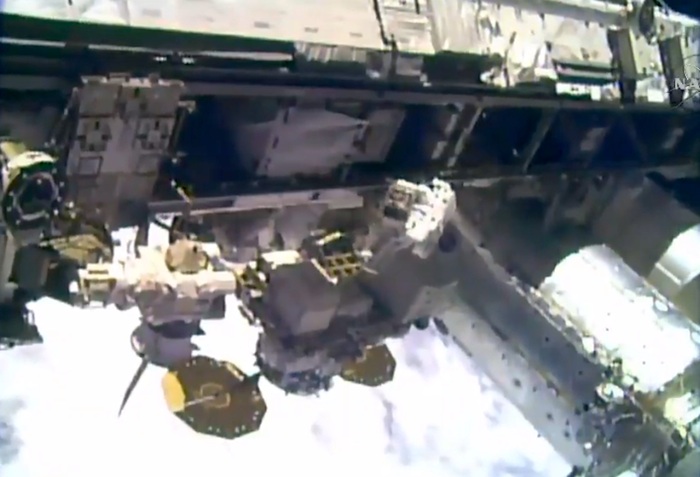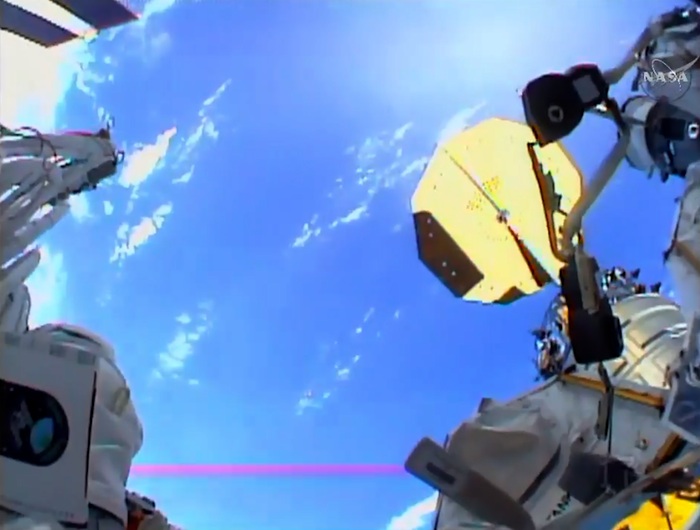 ...17.00 MEZ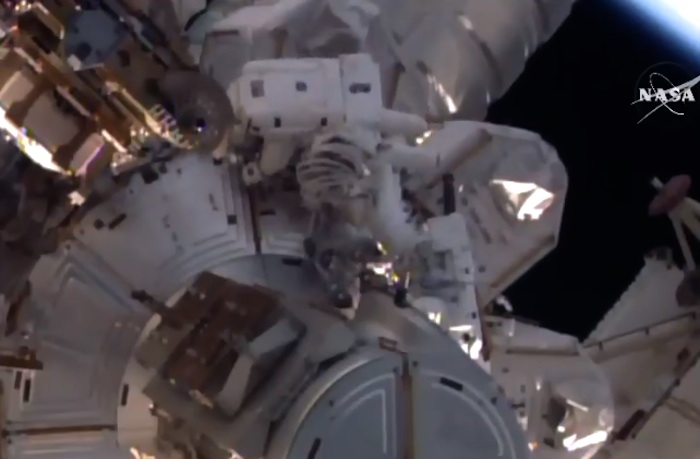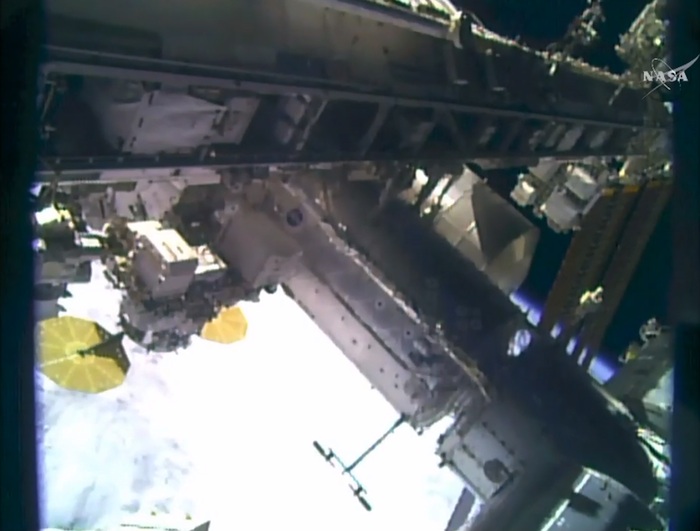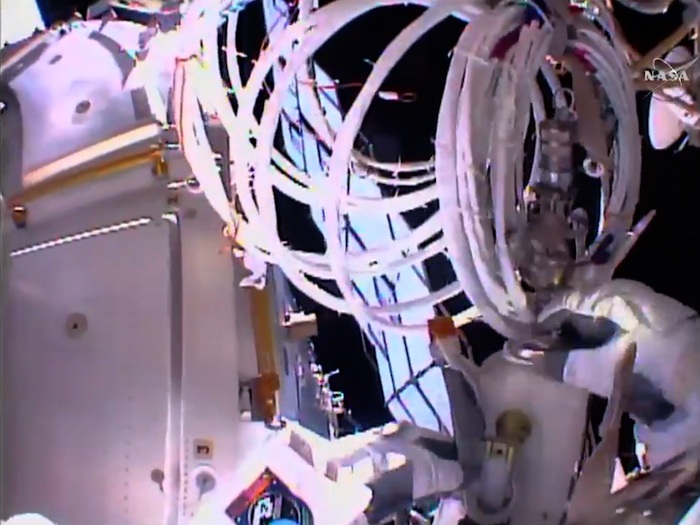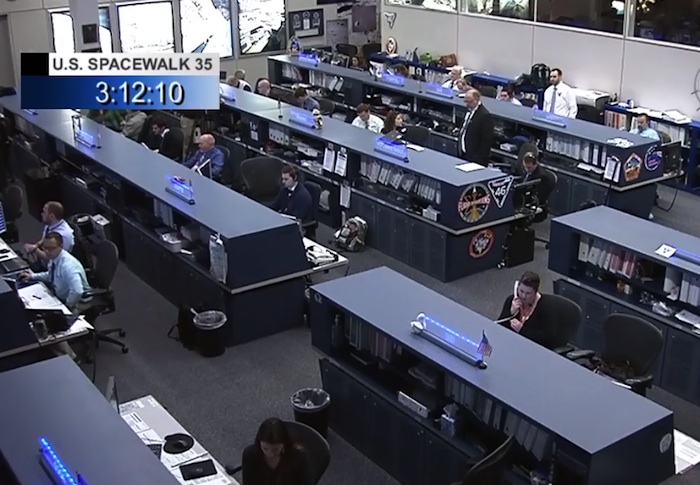 ...17.30 MEZ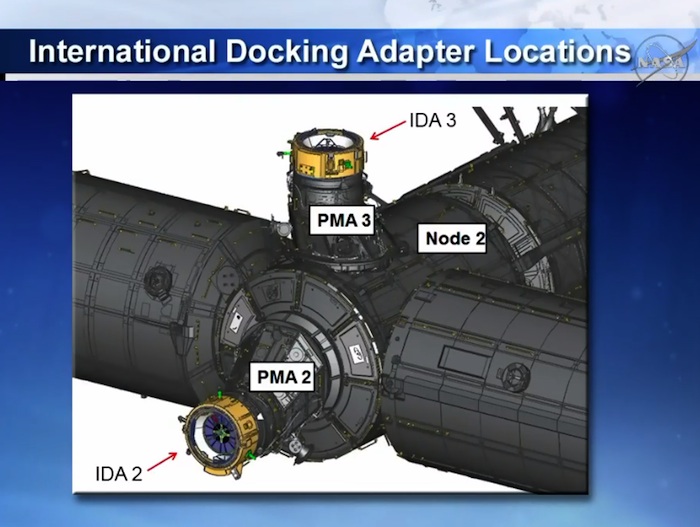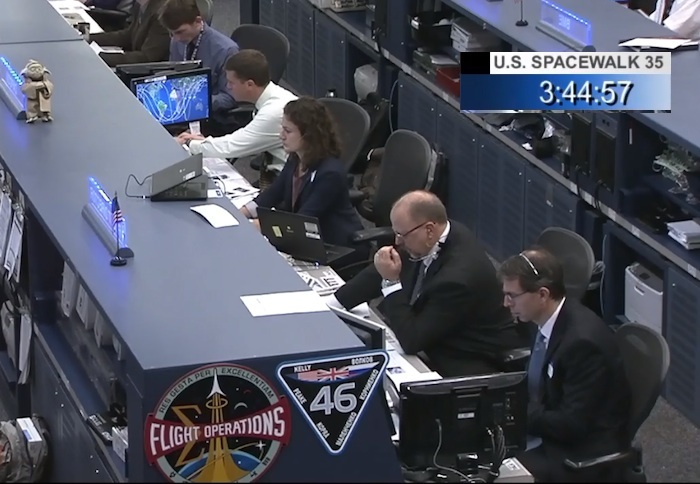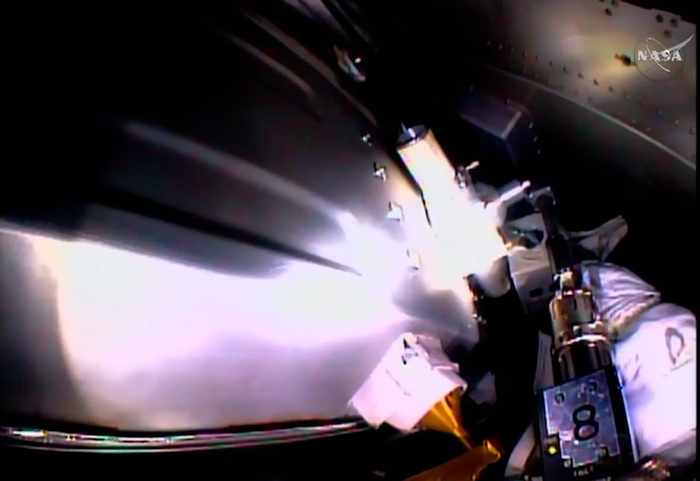 ...18.15 MEZ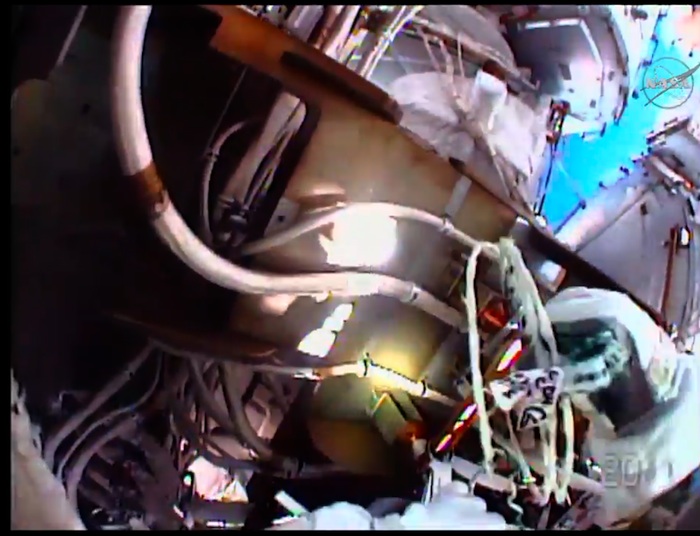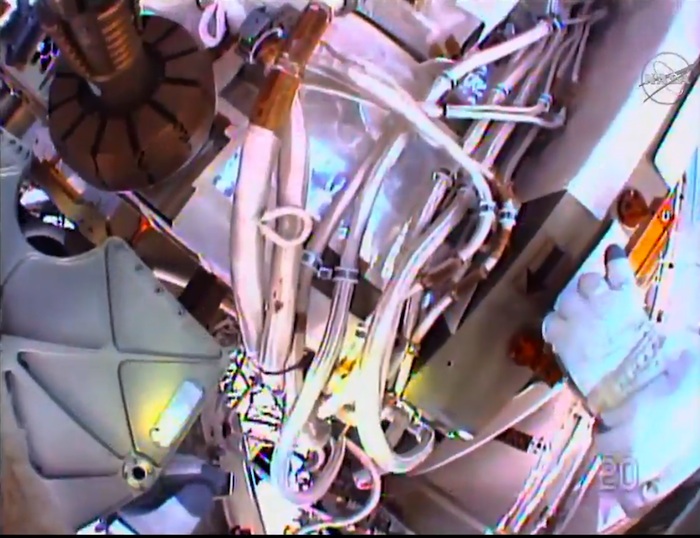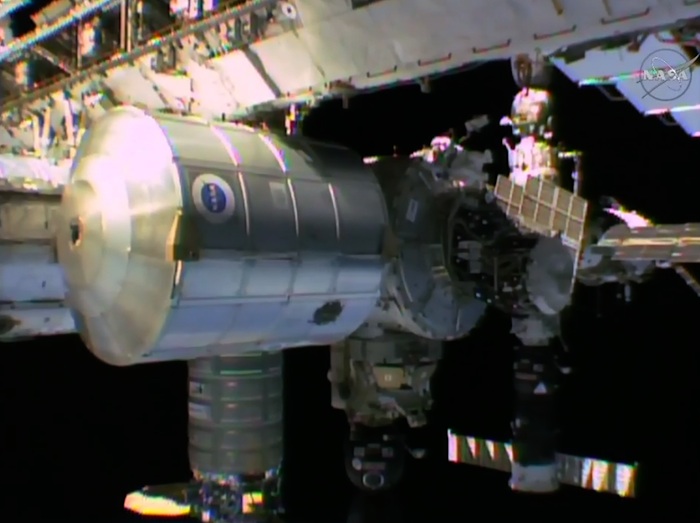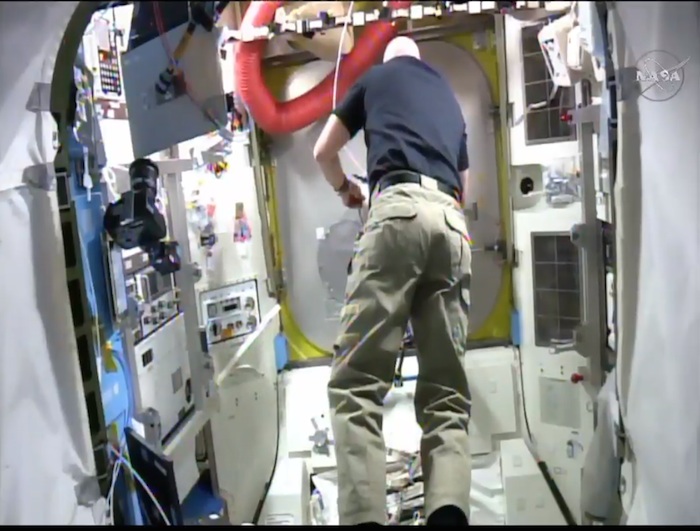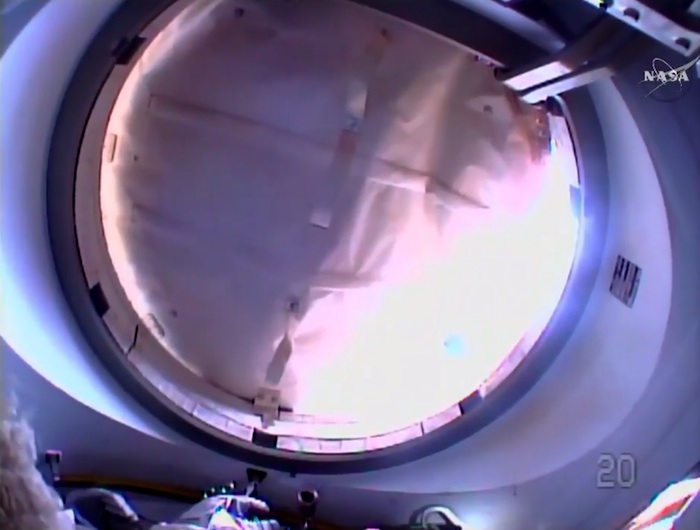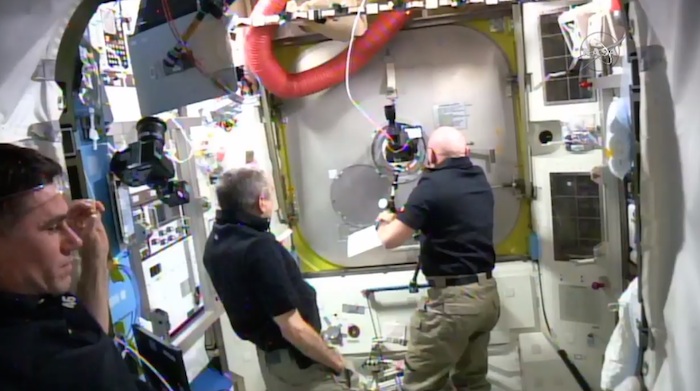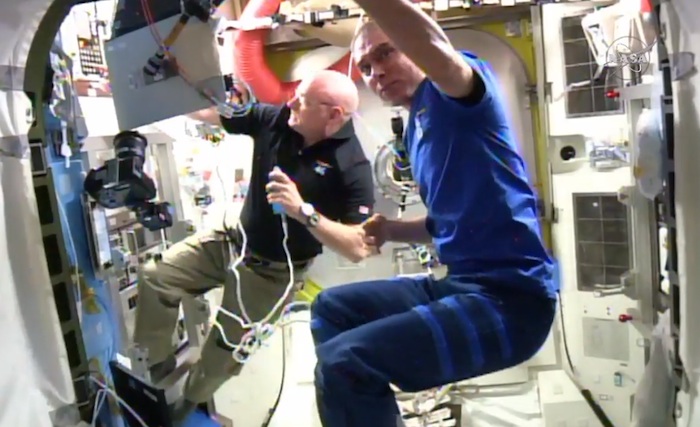 Quelle: NASA
-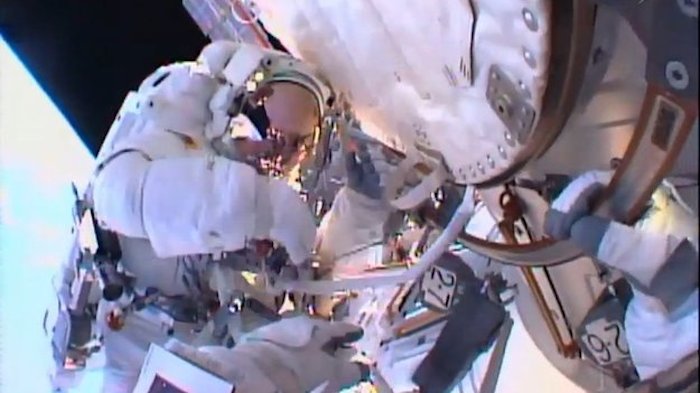 Quelle: ESA
2698 Views