.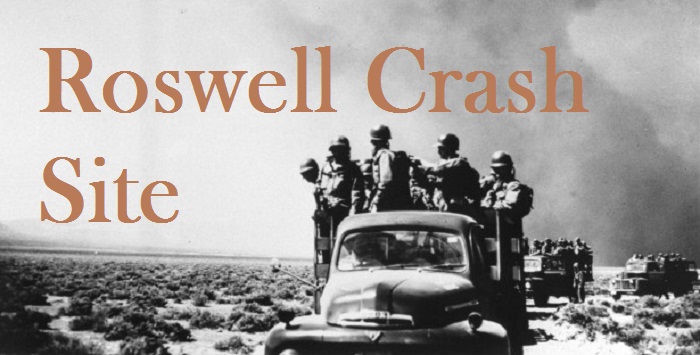 The Roswell time line
.
There are many time lines associated with the Roswell story and I find most of them biased by speculation about the idea that a massive cover-up went into effect the instant the news was announced by Walter Haut. However, if one looks at the media accounts, there is a more reasonable version of events. Usually, when a news story breaks, many of the initial statements or quotes are inaccurate. There is always speculation by reporters, who interpret what they hear, without checking the facts, in order to get the news out first. As a result, you get a mishmash of contradictory information. Only when the principals have been interviewed does everything become more clear. The Roswell story is probably no different.
Perhaps the best source of information of news accounts that July is David Rudiak's web site (www.roswellproof.com). It is well laid out and contains many of the accounts that are not readily available. Despite strongly disagreeing with his interpretation of events, I still suggest the reader go to his web site to read the raw news accounts for themselves while ignoring his personal bias. I also would like to point the reader to the 1947 accounts at the Project 1947 web site (http://www.project1947.com/fig/1947a.htm). There are some stories not listed at Rudiak's web site that complement and provide additional information. Finally, there is also the pay site newspaperarchive.com, which contains additional news paper accounts that are informative. Based on this information and some of the earliest interviews from the principal witnesses, the following is what I believe to be a reasonable time line of the events.
.
The discovery
There are two versions of the discovery date. The first seems to have come from the initial press release made by Roswell Army Air Field (RAAF). The second is based on what Mack Brazel told the news papers and other individuals, who repeated the information:
The RAAF press release stated that, THE DISC LANDED ON A RANCH NEAR ROSWELL SOMETIME LAST WEEK.1 However, the news wires provided by Frank Joyce quotes Sheriff Wilcox, who talked to Mack Brazel:
SHERIFF GEORGE WILCOX (CORRECT) OF ROSWELL WAYS THAT THE DISC WAS FOUND ABOUT THREE WEEKS AGO BY A RANCHER BY THE NAME OF W. W. BRIZELL ON THE FOSTER RANCH NEAR CORONA, ABOUT 75 MILES NORTHWEST OF ROSWELL NEAR THE CENTER OF NEW MEXICO.2
Mack Brazel would give a firm date of June 14th in his interview with Jason Kellahin. In all of the accounts that quote Brazel, or have people quoting what Brazel told them, the three week/mid-June time frame is mentioned. It seems likely that Brazel found the debris on that date and the initial press release was a misinterpretation of when the debris was picked up instead of when it was found. Based on this information, this time line accepts the discovery date of June 14th.
Saturday, June 14th – According to one news account, Mack Brazel discovered the debris field at 7PM.
He found the object around 7 o'clock the night of June 14 about seven miles south of his ranch home. 3
This time of discovering the debris gives good reason for why Brazel would wait to pick up the debris - he did not have enough daylight left to do so.
At the time Brazel was in a hurry to get his round made and he did not pay much attention to it. 4
His neighbor, Loretta Proctor, mentioned that he did show them a small piece of debris, which may have been the item described in the media accounts.
He picked up a piece of the stuff and took it to the ranch house seven miles away. 5
Friday July 4th– Mack Brazel and his family (daughter and wife) went out to the field and cleaned up some of the debris (not all of it), placing it all in bundles.
...on July 4 he, his wife, Vernon and a daughter Betty, age 14, went back to the spot and gathered up quite a bit of the debris. 6
He bundled together the large pile of tinfoil and broken wooden beams about one-fourth of an inch thick and half-inch wide and the torn mass of synthetic rubber that had been the balloon and rolled it under some brush.7
Saturday July 5th – Brazel, while in Corona, learned about the flying saucer stories that had appeared in the newspapers.
On a trip to town Saturday night to Corona, N.M., Brazell heard the first reference to the "silver flying disks," 8
This information probably led him to believe that he may have actually recovered one of these "flying discs".
The trip to town and back
There is, as always, some contention on what date Mack Brazel came into town. In the book, The Roswell Incident, Jesse Marcel Sr. gave two descriptions. In one instant, he states it was Monday but then gave a time line that would indicate Sunday was the correct date. The 1947 sources also gave some conflicting information.
HE DID NOT REPORT FINDING THE DISC UNTIL DAY BEFORE YESTERDAY.9
However, the predominant date that was given was that he arrived on Monday:
The furor started Monday when W. W. Brazel, a rancher living on the old Foster place, 25 miles southeast of Corona, New Mexico, came in the office and reported finding an object which fitted the descriptions of the flying discs. 10
...on Monday headed for Roswell to report his find to the sheriff.11
Monday he came to town to sell some wool. 12
The media stated that Brazel never brought any debris with him into town and had left it back on the ranch:
BRIZELL DID NOT BRING THE OBJECT TO THE SHERIFF'S OFFICE, BUT MERELY DROVE THE 75 MILES FORM THE RANCH TO ROSWELL TO REPORT HIS FINDING.13
Brazel went to the sheriff's office and reported his find. He told Wilcox that the object was not very big and that he thought it might be a weather device made of tin foil:
SHERIFF WILCOX SAYS THAT BRIZELL SAID HE DIDN'T KNOW WHAT IT WAS, BUT THAT AT FIRST IT APPEARED TO BE A WEATHER METER.... SHERIFF WILCOX QUOTES BRIZELL AS SAYING THAT "IT MORE OR LESS SEEMED LIKE TINFOIL." WILCOX SAYS THAT BRIZELL SAID THAT THE DIXC WAS BROKEN SOME, APPARENTLY FROM THE FALL. THE SHERIFF SAYS THAT BRIZELL DESCRIBED THE OBJECT ABOUT AS LARGE AS A SAFE IN THE SHERIFF'S OFFICE. HE ADDED THAT THE SAFE WAS ABOUT THREE AND ONE-HALF BY FOUR FEE.14
Having no idea how to deal with this, Sheriff Wilcox called the RAAF. This is how Jesse Marcel became involved. He and another individual in civilian clothes (assumed to be Sheridan Cavitt), went into town to see Brazel. After talking to Brazel, all three of them went out to the ranch:
Maj. Jesse A. Marcel and a man in plain clothes accompanied him home... 15
We left Roswell early in the afternoon and got there at dusk 16
We got there very late in the afternoon 17
We left Roswell perhaps around 3:30 or 4:00 in the afternoon...18
Retrieval of the debris
What happened when they got to the ranch is, not surprisingly, also in dispute. According to the testimony that Marcel would give in the 1970s, they arrived too late to go out to the debris field and spent the night at the ranch. However, he also stated that he was eating lunch when the call came in from Sheriff Wilcox indicating it was a regular work day. In another interview he stated he got the call on Monday. Clearly, Marcel's memory is jumbled. However, he is quoted in the 1947 media accounts, and describes a likely sequence of events where they arrived in the evening and managed to have time to go to the debris field to look around.
...we spent a couple of hours Monday afternoon looking for any more parts of the weather device. We found a few more patches of tinfoil and rubber. 19
Brazel confirmed they picked up more debris and then they went back to the ranch house.
... they picked up the rest of the pieces of the "disk" and went to his home to try and reconstruct it. According to Brazel they simply could not reconstruct it at all. They tried to make a kite out of it, but could not do that and could not find any way to put it back together so that it would fit. 20
This is probably where the confusion occurs. If Marcel spent some time at the ranch after sunset, he may have recalled this as spending the night there. What is known is that Marcel left for home late on Monday because of what his family stated in the 1970s.
Jesse's return to base
Having left the Foster ranch well after sunset, Marcel arrived home late. Exactly what happened at the Marcel home is based on the stories told by the family in the 1970s. In "The Roswell incident" and "For the sake of my country", the time is described as "toward evening" 21, "early evening", 22 and "late getting home"23. In his 1991 affidavit, Jesse Jr. would state, "I was awakened by my father in the middle of the night". 24 The Roswell books would start describing this as 2AM. 25 Exactly when he arrived home is not clear but it seems to have been after dark and late.
Excited by his find, Jesse Marcel Sr. brought the debris into the kitchen for his family to see.
So when I got home, I brought some of the stuff and put it in the kitchen....I put a lot of stuff on the floor in the kitchen... 26
The debris he found was described by Jesse Jr. as:
....foil-like stuff, very thin, metallic-like but not metal, and very tough. There was also some structural-like material too--beams and so on. Also a quantity of black plastic material, which looked organic in nature.. 27
After examining the debris, it was picked up and returned to the car. However, it seems that not all the scraps were recovered. Mrs. Marcel reportedly swept the remaining bits and pieces out the back door!
Jesse Marcel Jr: I doubt if all the smaller fragments were picked up from the kitchen, and, indeed, my mother remarked that some of it was probably swept out the back door. 28
Viaud Marcel: All I remember was getting it out of my kitchen....It was a big mess. The kitchen was full of it...I probably did [sweep some debris out the back door] 29
It is assumed at this point the debris was returned to his vehicle and Marcel spent the rest of the night at home. What we learned from these early interviews was that the amount of debris that Marcel had in his vehicle was not much more than what could fit on the floor of a room. Additionally, despite the claims in later years of exotic materials, Mrs. Marcel and Jesse Jr. thought little of it at the time. Some of it was simply swept it out the back door as if it were junk and Jesse Jr. did not bother to retain any of these remaining scraps. Jesse Sr. did not even think much of it since he apparently did not make sure every scrap was picked up and left it unguarded in his car.
The morning meeting and trip to Fort Worth
The usual work day for the Roswell command staff seems to have involved a morning meeting where the daily and upcoming activities of the group was discussed/planned. It is not clear when the morning meeting that day occurred. It has been stated that it was "moved up" because of the debris being recovered. The story told in 1947 indicated that Marcel got to talk to Blanchard first thing in the morning.
Marcel brought back the discovery to Roswell Army Air field early Tuesday morning, and at 8 a.m. reported to his commanding officer, Col. William H. Blanchard, 509th Bomb Group chief. Blanchard, in turn, reported to General Ramey, who ordered the find flown to Fort Worth immediately. 30
At this point, it is important to point out that there appeared to be two different collections of debris that made it to RAAF. The first set, was the debris that Brazel and his family had picked up. This had already been rolled up into a bundle. There was also a second batch that Brazel, Marcel, and Cavitt recovered on Monday afternoon/evening, which was put into Marcel's car. This was the debris that Marcel probably brought into his house and would show Colonel Blanchard.
While many suggest that Blanchard and his staff should have figured out that this was simply balloon and radar reflector materials, they really misunderstand the circumstances under which these were being presented. There is no evidence that Marcel and Blanchard ever saw these radar reflectors in action and, in July of 1947, nobody really knew what a "flying disc" was. All they appeared to know is from the news paper reports. The day that Marcel appeared in Blanchard's office with his debris from a "flyingdisc", the following article appeared in the Roswell Morning Dispatch describing the types of "discs" people were recovering:
Two flying disks were reported found in Texas and at least one is being investigated by military officials as the total number of Texans claiming to have seen the mysterious objects passed the 50 mark yesterday... The Houston Chronicle said a great deal of mystery surrounded the one found near there by Norman Hargrave, a jeweler, Sunday. He first reported that he had found the aluminum disk floating near the beach while he and his wife were walking. He described it minutely, even giving an inscription he said it carried…The second flying disks (sic) was reported found by Bob Scott, a farmer living two and a half miles east of Hillsboro. He said the disk fell on his place Friday, and that it resembled a saucer. He said it was so bright he could not look at it very long…Then he notified O.F. Kissick and Joe Gerick, Hillsboro, who went to the field and investigated. Most of it had melted, they said. Gerick said one piece looked like tin foil, but when he picked it up, it appeared to be celluloid.31
Note the description of the disc being made of "aluminum" and that it "looked like tin foil". A radar reflector matches this description. According to the news account, the decision was made to contact General Ramey and he directed the debris be sent to Fort Worth for examination.
The debris was loaded on a B-29 that morning but there are two descriptions about what debris was loaded. According to Robert Porter, who was on the plane:
I was involved in loading the B-29 with the material, which was wrapped in packages with wrapping paper. One of the pieces was triangle shaped, about 2 1/2 feet across the bottom. The rest were in small packages about the size of a shoebox. The brown paper was held with tape....The material was extremely lightweight...All of the packages could have fit into the trunk of a car. 32
Robert Shirkey would describe seeing boxes of debris being taken to the plane which included metallic parts and I-beams. This is different than what Porter recalled. The conflicting information can be explained if there were two different quantities of debris being loaded. Shirkey may have seen the bundles that Brazel had created on July 4th, while Porter had seen the debris that Marcel had recovered, which had been packaged prior to being loaded on the plane. According to the press accounts, this happened reasonably early in the morning.
The weather device was flown to Fort Worth Army Air field by B-29 from Roswell Army Airfield at 10 a. m., Tuesday at the command of Brig. Gen. Roger Ramey, 8th Air Force commanding officer here.33
The time of 10 a.m. appears to be confirmed by Robert Porter, who stated, "After we landed at Fort Worth, Col. Jennings told us to take care of maintenance of the plane and that after a guard was posted, we could eat lunch."34 If the plane left at 10 AM MST, it would have arrived around 1PM CST, which is consistent with a late lunch. Another confirmation for a mid-morning take-off to Fort Worth was the rumor circulated on UP wire at 3:42 PM MST:
REPORTS FROM THE ROSWELL BASE SAID THAT MAJOR MARCEL WAS AT EIGHTH ARMY HEADQUARTERS IN FORT WORTH, TEXAS, BUT THAT "HE MIGHT BE ON HIS WAY BACK TO ROSWELL BY PLANE NOW." 35
If the source thought the plane may be on its way back at this point, the source must have known the plane left RAAF earlier in the morning.
What happened next is difficult to determine since there is little record of what happened between 1PM and the press conference. Supposedly, the press conference occurred between 4 and 6PM so there are three hours of unaccounted time. The best explanation is that the General was busy with other duties for the day. Marcel would have to wait with his debris until the General would have time to see him. Marcel seemed to confirm this in one interview:
…but when I got to Carswell [Fort Worth AAF], General Ramey wasn't there.... 36
One possibility is that General Ramey was planning a press conference with the local media. It is known that Jay Bond Johnson was sent with his camera to the base to photograph the debris that was coming in from Roswell. It seems likely that General Ramey wanted to be the one who announced the recovery of a flying disc to the media and he was waiting for the media to arrive.
Meanwhile, something peculiar happened at the B-29. According to Robert Porter, "When we came back from lunch, they told us they had transferred the material to a B-25."37 Marcel seemed to confirm this by stating, "It [the material] was transferred to a transport"38
Thomas Dubose gave varying accounts but this one appeared to confirm that something was transferred to another plane:
I put the debris in a heavy mail pouch, sealed it and locked it. I then sealed it to the wrist of Al Clark and escorted him out to a B-25 out on a runway and sent him to General McMullen in Washington"39
This was probably the debris gathered by Brazel and his family. Meanwhile, the debris wrapped in brown paper was taken by Marcel to the General's office. According to Marcel, the material brought to the office was not all of the debris and most of it was still back in the plane:
What we had was only a very small portion of the debris there was a whole lot more. There was half a B-29-ful outside. 40
The press conference was supposed to be Ramey's big moment but a junior officer at Roswell was about to upstage him.
The press release
While Marcel was in, or on his way, to Fort Worth, a press release was being issued by the base Public Affairs Officer, Lt. Walter Haut. Who authorized it was unclear. The 1947 media referred to "officials" and Lt. Haut. Haut would later claim that it was Colonel Blanchard who gave permission.
The UP wires provided by Frank Joyce indicated the story was released at 2:41 PM MST. The Daily Illini story, which cites the AP wire story as it evolved, stated the first time the story appeared was 2:26 PM MST. So, Haut must have issued the press release at some point after lunch.
The early wire stories are interesting as they tend to confirm what Mack Brazel would later state:
SHERIFF GEORGE WILCOX (CORRECT) OF ROSWELL WAYS THAT THE DISC WAS FOUND ABOUT THREE WEEKS AGO BY A RANCHER BY THE NAME OF W. W. BRIZELL ON THE FOSTER RANCH NEAR CORONA, ABOUT 75 MILES NORTHWEST OF ROSWELL NEAR THE CENTER OF NEW MEXICO...SHERIFF WILCOX QUOTES BRIZELL AS SAYING THAT "IT MORE OR LESS SEEMED LIKE TINFOIL." WILCOX SAYS THAT BRIZELL SAID THAT THE DIXC WAS BROKEN SOME, APPARENTLY FROM THE FALL. THE SHERIFF SAYS THAT BRIZELL DESCRIBED THE OBJECT ABOUT AS LARGE AS A SAFE IN THE SHERIFF'S OFFICE. HE ADDED THAT THE SAFE WAS ABOUT THREE AND ONE-HALF BY FOUR FEE.41
These remarks first appeared at 3:16PM MST, less than one hour after the story had reached the AP news wires. It seems likely these comments were based on what Brazel had actually told Wilcox the day before and not due to any script provided by the military.
The press release caused quite the stir in the upper chain of command because there are statements in the press that Lt. Haut had received some reprimands from Washington DC about announcing the news prematurely. There is also the possibility that the press release had upstaged Ramey and his staff was the source of these "rebukes".
Lt. Haught reportedly told reporters that he had been "shut up by two blistering phone calls from Washington"42
and
AAF headquarters in Washington reportedly delivered a" "blistering" rebuke to officers at the Roswell, N. M., base for suggesting that it was a "flying disk." 43
The idea that Haut issued the press release on his own was mentioned by Jesse Marcel Sr. during his interviews in the 1970s:
We had an eager beaver PIO (Public Information Officer) who took it upon himself to call the AP on this thing…I heard that the brass fried him later on for putting out that press release, but then I can't say so for sure… It was the public information officer, Haut I believe his name was, who called the AP and later wrote the press release. I heard he wasn't authorized to do this, and I believe he was severely reprimanded for it. I think all the way from Washington.44
Nobody will ever know if Blanchard authorized the press release or Haut issued it on his own initiative. However, there seems to be evidence that the announcement was not part of some grand plan to announce the recovery of a flying disk so they could rapidly debunk it.
The press conference
While the news wires were buzzing with the news, Ramey was just beginning his press conference. He seems to have been caught off guard that the media had learned about the debris being in Fort Worth.
Ramey said he hadn't actually seen it himself as yet. He went to take a look, and called back that it was about 25 feet in diameter. He said he was shipping it on to Wright Field, Ohio, but would have one of the meteorological officers look at it first. . .45
Ramey said he couldn't let anybody look at the thing or photograph it because Washington had clamped a "security lid" on all but thesketchiest details. "The object," he said, "is in my office right now and as far as I can see there is nothing to get excited about. It looks to me like the remnant of a weather balloon and a radar reflector." 46
Eventually, Jay Bond Johnson arrived with his camera from the Fort Worth Star Telegram. According to the MUFON journal of September 1990 ("3 hours that shook the press"), he arrived some time after 4PM. There, he found the debris displayed on top of brown wrapping paper. Several photographs were taken as Marcel, Dubose, and Ramey all posed with the debris.
The only reporter that has ever been identified as being present was Jay Bond Johnson. However, Marcel claimed there were many and they all saw the part of the actual debris:
…they had a lot of news reporters and a slew of microphones that wanted to talk to me, but I couldn't say anything. I couldn't say anything until I talked to the general. I had to go under his orders. And he said [Marcel Chuckles], "Well, just don't say anything." So I said, "General, Colonel Blanchard told me to get this stuff to Wright Patterson." And he said, "You leave it right here. We'll take care of it from here." And that was the end of it – that was the end of my part of it. I still don't know what I picked up. 47
Just after we got to Carswell, Fort Worth, we were told to bring some of this stuff up to the general's office - that he wanted to take a look at it. We did this and spread it out on the floor on some brown paper. What we had was only a very small portion of the debris there was a whole lot more. There was half a B-29-ful outside. General Ramey allowed some members of the press in to take a picture of this stuff. They took one picture of me on the floor holding up some of the less-interesting metallic debris. The press was allowed to photograph this, but were not allowed far enough into the room to touch it. The stuff in that one photo was pieces of the actual stuff we had found. It was not a staged photo.48
"The newsman saw very little of the material, very small portion of it. And none of the important things, like these members that had these hieroglyphics or markings on them" 49
What you see there is nothing but a piece of brown paper that I put over so that the news media couldn't get a picture of what I had.50
According to the crashed spaceship proponents, the debris had been switched before the press conference even started. The source of this story is Walter Haut, who told researchers that Marcel told him this:
Marcel said that he had brought it to Ramey's office, where the general examined it and then decided that he wanted to see exactly where the object crashed. Marcel and Ramey left for the map room and while they were gone, someone carried the wreckage out, replacing it with the weather balloon long before any reporters were allowed into the office. 51
However, this is not what Marcel told Linda Corley. He implied he was part of the cover-up process:
Linda: .....when they let the press take this picture [Marcel photo] they still told you to cover the stuff up?
Jesse: Right. Well, he didn't have to tell me that. I knew that. 52
In a controversial interview with Jamie Shandera, Thomas Dubose told him that there was no switch.
Q. There are two researchers who are presently saying that the debris in General Ramey's office had been switched and that you men had a weather balloon there.
A. Oh Bull! That material was never switched!
Q. So, what you're saying is that the material in General Ramey's office was the actual debris brought in from Roswell?
A. That's right.
Q. So, not you or anyone else ever switched that material for the cover story?
A. We never switched anything. We were under orders from Washington to look at that material. We wouldn't have switched anything. We were West Pointers -- we never would have done that.53
When Shandera asked about the material in the photographs, Dubose responded, "That's the material that Marcel brought into Ft. Worth from Roswell"54
It is interesting that Dubose was never asked in his interviews by the Roswell investigators if the debris had been switched. OnlyBilly Cox got him to say that there had been a substitution. However, when one examines his affidavit, we find Dubose stating, "The material shown in the photograph taken in Maj. Gen. Ramey's office was a weather balloon. The Weather Balloon explanation for the material was a cover story to divert the attention of the press" 55. There is no mention of a switch in that document.
The general consensus is that the press conference occurred between 5 and 6PM. This was about the time that the AP wire was indicating the object was a weather balloon. At 6:17 PM, the FBI office in Dallas sent a telegram to their office in Cincinnati
MAJOR CURTAN, HEADQUARTERS EIGHTH AIR FORCE, TELEPHONICALLY ADVISED THIS OFFICE THAT AN OBJECT PURPORTING TO BE A FLYING DISC WAS RECOVERED NEAR ROSWELL, NEW MEXICO THIS DATE. THE DISC IS HEXAGONAL IN SHAPE AND WAS SUSPENDED FROM A BALLON BY CABLE, WHICH BALLON WAS APPROXIMATELY TWENTY FEET IN DIAMETER. MAJOR CURTAN FURTHER ADVISED THAT THE OBJECT FOUND RESEMBLES A HIGH ALTITUDE WEATHER BALLOON WITH A RADAR REFLECTOR, BUT THAT TELEPHONIC CONVERSATION BETWEEN THEIR OFFICE AND WRIGHT FIELD HAD NOT (UNINTELLIGIBLE) BORNE OUT THIS BELIEF. DISC AND BALLOON BEING TRANSPORTED TO WRIGHT FIELD BY SPECIAL PLANE FOR EXAMINATION. INFORMATION PROVIDED THIS OFFICE BECAUSE OF NATIONAL INTEREST IN CASE AND FACT THAT NATIONAL BROADCASTING COMPANY, ASSOCIATED PRESS, AND OTHERS ATTEMPTING TO BREAK STORY OF LOCATION OF DISC TODAY. MAJOR CURTAN ADVISED WOULD REQUEST WRIGHT FIELD TO ADVISE CINCINNATI OFFICE RESULTS OF EXAMINATION. NO FURTHER INVESTIGATION BEING CONDUCTED. 56
It is interesting that the size of the balloon was estimated at twenty feet. Ramey was quoted by some that he estimated the size to be about twenty-five feet in diameter. It appears that the estimates of size had to do with the quantity of debris that had been brought into the office. If laid out flat, along with the balloon material, the size begins to approach twenty feet in size.
At the close of the press conference, Irving Newton would confirm Ramey's "suspicion" that it was a RAWIN target and balloon:
I was the only weather forecaster on duty … I received a call from some one in General Ramey's office by a Lt Col or Col who told me that some one had found a flying saucer in New Mexico and they had it in the General's office … the General suspicioned that it might be meteorological equipment or something of that nature and wanted it examined by qualified meteorological personnel… as soon as I saw it, I giggled and asked if that was the flying saucer. I was told it was... I was convinced at the time that this was a balloon with a RAWIN target and remain convinced… While I was examining the debris, Major Marcel was picking up pieces of the target sticks and trying to convince me that some notations on the sticks were alien writings. There were figures on the sticks lavender or pink in color, appeared to be weather faded markings with no rhyme or reason. He did not convince me these were alien writings. 57
The press accounts stated the time duration between announcement and identification was just three hours, which implies that Newton had arrived around 6PM.
It was a good three hours after the first official announcement before an Army weather officer burst the bubble. The object, he declared, was nothing more than an Army weather balloon and its kite. 58
Later, Warrant Officer Irving Newton, Stetsonville, Wis., weather officer at Fort Worth, examined the object and said definitely that it was nothing but a badly smashed target used to determine the direction and velocity of high altitude winds.59
After the press conference was completed, it seems the debris that was in Ramey's office was disposed of:
A public relations officer here said the balloon was in his officer said the balloon was in his office "and it'll probably stay right there".60
However, the rest of the debris may have been sent to Wright field on the B-25 as described by Dubose, Porter, and Marcel. This would explain the confusion about materials not leaving Fort Worth and materials being delivered to Wright field.
Mack Brazel's curtain call
Meanwhile, back in Roswell, Mack Brazel finally was able to tell his version of events to the media. Marcel implied that he left Brazel back at the ranch by himself on Monday evening. According to Roswell legend, the military took custody of him at some point and coached him to tell a specific story about finding rubber and tin foil. That is not what was stated by the 1947 news media:
Brazel was brought here late yesterday be W. E. Whitmore, of radio station KGFL, had his picture taken and gave an interview to the Record and Jason Kellahin, sent here from the Albuquerque bureau of the Associated Press to cover the story. 61
So how did W. E. Whitmore find Mack Brazel? Did the military give Brazel to Whitmore? Walter Haut, who claimed to know everything that occurred on base, indicated that Whitmore had brought Brazel into town:
...Walt Whitmore had practically kidnapped him (Brazel). Walt was an old, old time newspaperman. You never could quite tell whether everything he was saying was all the truth...I think the rumor was that Walt was moving him from place to place. This was a big...it's a much more interesting story when you move a man from place to place...To my knowledge. I did not know he had been on base. 62
Kellahin seemed to confirm the idea that Whitmore was responsible for Brazel when he stated, "Whitmore did his best to maneuver Brazel away from the rest of the press" 63.
We know that the Kellahin interview happened late in the day. Kellahin had stated it was "Late that afternoon or early evening" 64 and a 1947 story stated that "..he told the Associated Press in Roswell early this morning."65 The same statement would appear in other papers (Twin Falls Idaho -Times-news , Oakland Tribune) This was probably in reference to when the news hit the wire, which indicates the story may have not been sent out until after midnight. Coupled with the phrase "Late yesterday" in the RDR story indicates that it probably was more like 7 or 8 PM local time (or possibly later) when this transpired.
Based on this information, it seems reasonable that Whitmore, when he got wind of the story (either through press release or learning about the story from Sheriff Wilcox), left for the Foster Ranch and got Brazel back into town in time for the interview. The distance was about 100 miles with half of it on a major road. One can assume, under good conditions, it would take about six hours to make the round trip. Based on all this running back and forth to Roswell, is it any surprise that Brazel regretted even mentioning he found the debris when he was interviewed?
The rest of the story that Brazel told is well known and does not require repeating here. However, one has to wonder about the description Brazel gave and how it does not reflect the quantity of debris that was displayed in Ramey's office. If he had been coached, he would have given the description to fit what was shown in the office and not of some larger quantity of materials.
Conspiracies, lies, and subterfuge...oh my!
If one sees this as a case of a story that became clearer as the details became known instead of a case that became obscured by a conspiracy as time elapsed, the minor inconsistent reports are understandable. Roswell proponents choose another version where they see a massive cover-up machine that went into action right away and left not a shred of evidence in their wake. One might as well be talking about the shooter on the grassy knoll or controlled explosives in the world trade center towers. There is nothing that will ever convince the Roswell proponents that what was found was some sort of balloon and radar reflector mix because they will always rationalize that any paper trail was manufactured or obscured by the conspiracy behind all of this. However, speaking for the skeptics, I would be convinced that it was an alien spaceship crash if some solid and verifiable documentation would surface stating this. So far, that evidence is missing and I doubt that any "dream team" will ever produce such evidence.
Quelle: SUNlite 4/2012
3238 Views