The rocket was returned to the VAB for repairs in early July and hauled back to the pad in mid-August for what NASA hoped would be its maiden flight. But a launch try on August 29 was called off because of more hydrogen issues and again on September 3 when the 8-inch quick-disconnect fitting leaked.
In the wake of the second launch scrub, NASA managers opted to take the fitting apart at the launch pad, replace an internal seal, re-assemble the hardware and carry out a fueling test to verify the seal's integrity. Hydrogen leaks typically show up only when the plumbing is exposed to cryogenic temperature — minus 423 degrees Fahrenheit in this case,
The repair work was completed last week and the test began normally enough Wednesday, with oxygen and hydrogen flowing into separate core stage tanks at low rates. In an effort to ease the thermal shock when transitioning to "fast fill" mode, the loading sequence was slowed down and flow rates reduced to ease stresses on the hardware.
But when the flow rate and pressures increased, sensors detected an immediate buildup of gaseous hydrogen in a containment housing around the just-repaired quick-disconnect fitting, indicating a leak. Sensors detected concentrations of up to 7%, well above the 4% safety limit.
Engineers then opted to warm up the fittings before restarting the hydrogen flow in hopes of coaxing the internal seal to "re-seat" itself. When flow resumed, a leak was still present, but it was well below the 4% threshold and engineers were able to press ahead, eventually topping off the hydrogen tank with a full load of 730,000 gallons.
A close examination of sensor data showed that in a reversal of the initially observed behavior, the leak rate went down as pressure increased. That's how the fitting is designed to operate, suggesting efforts to re-seat the seal were at least partially successful.
With the core stage hydrogen and oxygen tanks full, engineers pressed ahead with loading the SLS rocket's upper stage and in the meantime carried out the pressurization and engine cooling tests.
Another hydrogen leak was reported near a 4-inch quick-disconnect fitting used for the cooling test. While engineers already had agreed to press ahead with the observed concentration, it would have halted an actual launch countdown. No word yet on what impact, if any, that issue might have on launch planning.
Quelle: CBS News
----
Update: 25.09.2022
.
NASA delays next Artemis I launch attempt due to Tropical Storm Ian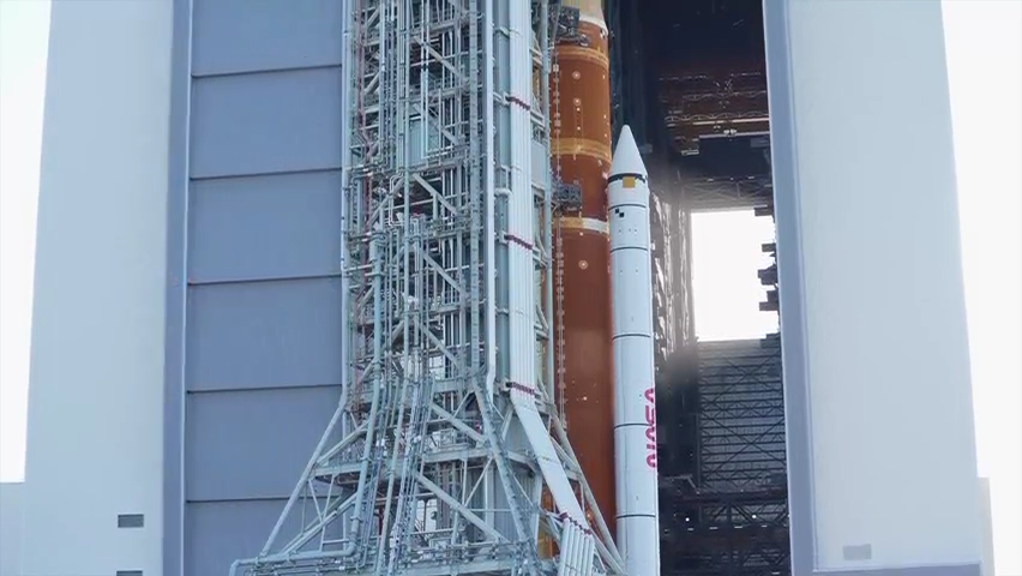 Update: NASA has decided to call off the Tuesday, Sept. 27, Artemis I launch attempt due to impacts from Tropical Storm Ian, which is expected to strengthen to hurricane status early Monday. A backup attempt on Sunday, Oct. 2, is likely to be unfavorable as well but depends on several factors.
NASA plans on pushing forward with an attempt at launching its Artemis I moon mission next week, though forecasted weather conditions are unlikely to be favorable as a tropical system slowly takes aim at Florida.
After two previous launch attempts were scrubbed by technical issues, teams at Kennedy Space Center conducted a successful fueling test at pad 39B this week. With the issues – mainly related to liquid hydrogen – worked out, officials are pushing forward with a liftoff during the next 70-minute window that opens at 11:37 a.m. EDT Tuesday, Sept. 27.
NASA officials Friday said they were confident the rocket was ready to launch. But a storm developing in the Caribbean, likely to become Hurricane Hermine over the weekend or early Monday, is introducing more uncertainties beyond hardware. A Friday forecast issued by the Space Force shows 80% "no-go" conditions during Tuesday's Artemis I launch window.
"Since (the test), we've been keeping a close eye on what's called Tropical Depression No. 9," Mike Bolger, NASA's manager of ground systems, said during a Friday teleconference. "Our Plan A is to stay the course and get a launch off on Sept. 27, but we realize we also need to really pay attention and think about Plan B."
Bolger said he and other mission managers would need to make a decision based on the storm's latest track Saturday morning or afternoon at the latest. If NASA needs to dodge the storm, the 322-foot Space Launch System rocket will need to roll back to the Vehicle Assembly Building.
"NASA will make a decision on whether to remain at the launch pad or rollback using incremental protocols to take interim steps necessary to protect people and hardware with a final decision anticipated no later than Saturday afternoon," NASA said in a release late Friday.
One of the main factors involved in making a final decision is forecasted winds: if the National Hurricane Center, Space Force forecasters, and other officials see the potential for peak gusts of 74 knots (about 85 mph), teams will have to roll back to the VAB. That process will take about three days.
"We would need a couple days to pivot from the tanking text and exit the launch configuration for rollback to the VAB," Bolger added.
A backup window is available at 2:52 p.m. EDT Sunday, Oct. 2, but the forecast for that opportunity will not be available until next week. Beyond that, the next opportunity to fly won't come until Oct. 17 and closes again after Oct. 31.
SLS's flight termination system, designed to destroy the rocket in the event of an emergency, is certified by the Space Force. As the agency responsible for public safety, it must sign off on the system's batteries every 25 days. SLS's current certification expired earlier this month and re-certification work can only be done inside the VAB.
The Space Force, which oversees launch safety, gave NASA a waiver to go forward with launch attempts Tuesday and Oct. 2.
Artemis I is NASA's first mission under its new return-to-the-moon program. If SLS successfully launches its uncrewed Orion capsule to the moon and back, that will pave the way for astronauts to do the same for Artemis II no earlier than 2024. Artemis III will follow and put two people on the lunar surface sometime before 2030.
"We've got a robust design, but we want to protect the vehicle," SLS Chief Engineer John Blevins said. "We're just going to look at what the forecast is ... and certainly we'll have to make a decision over the next 24 hours."
Quelle: Florida Today