21.05.2020
It's the second mission of its kind this week and this time they made the trip in clear skies right over the most populated area on the west coast.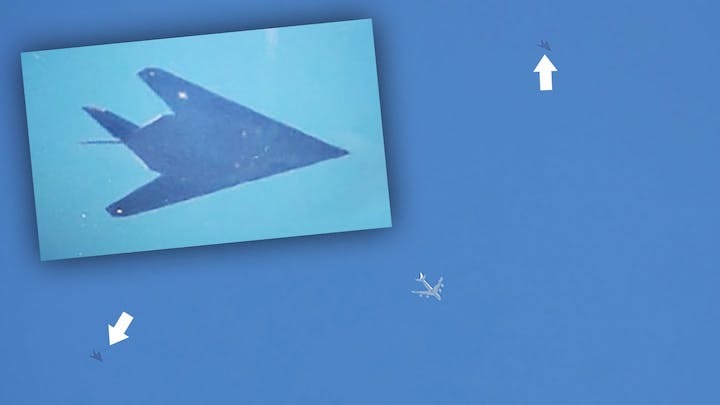 In a follow up to our reporting regarding Monday's flight of a pair of F-117s Nighthawk stealth jets, which were officially retired over a decade ago, off the Southern California coast, another similar mission has occurred today and this time we have photos showing the F-117s in tow behind their test tanker.
A ton of military aircraft activity has been underway around San Clemente Island, which the U.S. Navy controls. This includes private aggressor firms ATAC and Tactical Air Support Inc. flying their adversary jets, converted business jets and airliners that work as testbed aircraft for new sensors and communications, Omega Air private refueling tankers, as well as a number of Navy fighters and airborne early warning and control aircraft. The whole affair is occurring in conjunction with the Nimitz Carrier Strike Group's (CSG) Composite Unit Training Exercise (COMPUTEX), which is the most complex integrated training a carrier strike group undergoes before a deployment.
Added to this mix on Monday were a pair of F-117 Nighthawks that flew down to the warning areas off the SoCal coast with the help of Edwards AFB's KC-135 test tanker flying under the callsign GHOST27. The F-117s flew under their new staple "KNIGHT" callsign.
The F-117s stayed in the area a short while after being cleared in by a Navy E-2 Hawkeye. You can read the whole report of their radio communications in our past piece, but after a short while they headed back towards the Mojave Desert in tow behind GHOST27 before breaking off and heading to their home at the remote Tonopah Test Range Airport.
Now, two days later, they are at it again, but this time we have clear skies which resulted in some photos from our aviation photographer friends Ricky Scholand Christopher McGreevy.
RICKY SCHOL
2351 Views