17.01.2020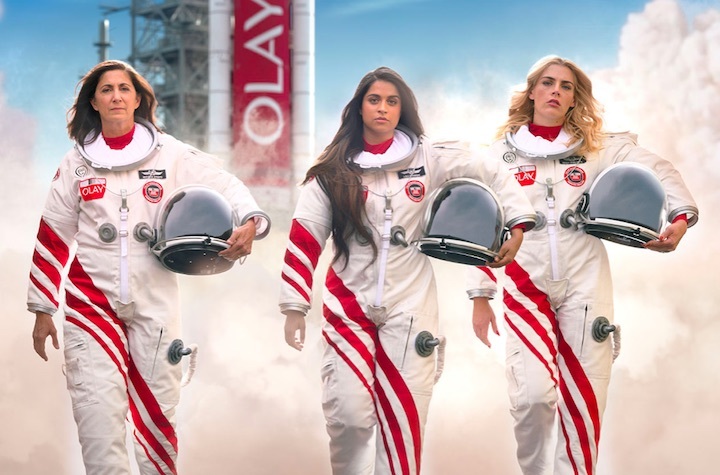 Former NASA astronaut Nicole Stott will appear in Olay's Super Bowl LIV ad alongside actress Busy Phillips, YouTube personality Lilly Singh, actress Taraji P. Henson and Katie Couric. (Olay)
A former NASA astronaut is starring in a Super Bowl ad to help "make space for women."

Nicole Stott, who logged more than 100 days on three flights to the International Space Station, is set to appear in Olay's 30-second Big Game spot to promote the skin care company's partnership with the nonprofit organization Girls Who Code.

"On a mission to #MakeSpaceForWomen," wrote Stott on Facebook. "Thanks to Olay for encouraging and supporting young women in STEM [science, technology, engineering and mathematics]."

The campaign aims to increase the number of women in science and technology fields, including computer science, to close the gender gap that exists today. For every post on Twitter that includes the hashtag #MakeSpaceForWomen through the day after Super Bowl Sunday (Feb. 2), Olay will donate $1 (up to $500,000) to Girls Who Code.

"Join our crew and tweet your support!" wrote Stott.

A teaser for the ad released by Olay on Wednesday promoted the campaign and the Super Bowl LIV (54) commercial.


"Today, Olay launches its very first space mission," says veteran journalist Katie Couric in the 19-second online video, which features Stott, actress Busy Phillips and YouTube personality Lilly Singh as astronauts wearing Olay-styled spacesuits.

Olay said the ad was inspired by the first all-woman spacewalk last October and the teaser's release was timed with the second such extravehicular activity (EVA) outside the space station on Wednesday. The teaser does not show the orbiting laboratory, but does feature an animation of a rocket lifting off that resembles NASA's Space Launch System (SLS), but with "OLAY" emblazoned on its side.

"Why are these women in space? Find out when Olay's mission is launched on 2.2.2020," says actress Taraji P. Henson as the video ends.

Henson portrayed NASA mathematician Katherine Johnson in the 2016 movie "Hidden Figures." In the Olay ad, Henson plays a mission controller, while Couric delivers the news of the mission.

"Olay has found a way to champion and empower women during a very historically male-dominated advertising space — the Super Bowl. We still have a long way to go in achieving gender equality across a range of industries, so I'm excited to share the importance of getting more girls into STEM with the biggest audience of the year," said Couric.

Stott said that she was excited to be featured in the Olay commercial, appearing alongside "other fearless trailblazing women."

"As a woman in STEM, I know what it's like to be one of only a handful of women in a room — or on a space station," Stott said in a statement released by Olay. "It's important for everyone to know that the spaceship doesn't care if you're a boy or girl."

"That's why I'm thrilled Olay has launched their mission in space to encourage more young women to be fearless in pursuit of a career in STEM. I hope you're inspired to use the hashtag #MakeSpaceForWomen to support Girls Who Code!"

In addition to raising donations for the cause, Olay fans who use the hashtag #MakeSpaceForWomen and the hashtag #Sweepstakes, as well as follow @OlaySkin on Twitter, will have the chance to win a trip for two to Super Bowl LIV in Miami. Entries can also be made on the Club Olay website. The deadline to enter the contest is Monday, Jan. 20.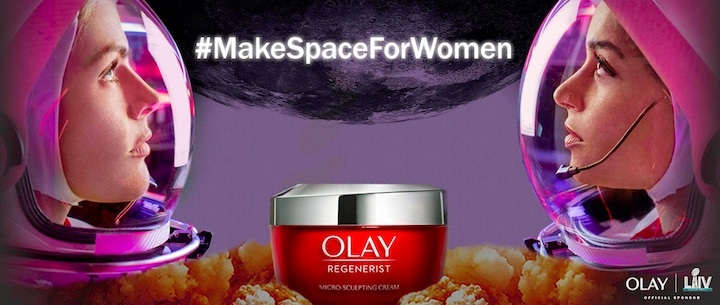 The Olay #MakeSpaceForWomen campaign will raise awareness and money for Girls Who Code. (Olay)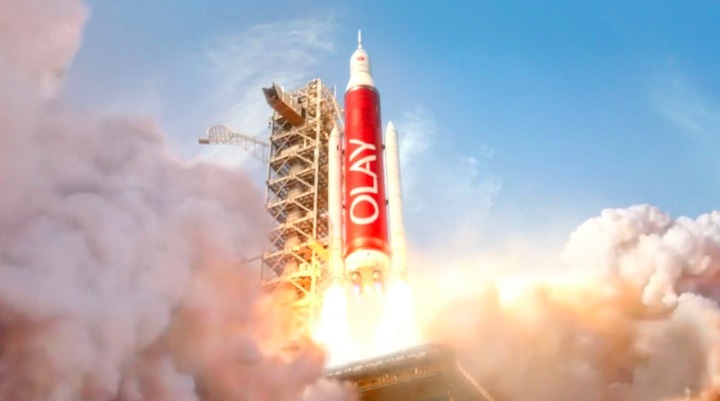 Olay's mission to #MakeSpaceForWomen launches on Super Bowl Sunday, Feb. 2, 2020. (Olay)
Quelle: CS
2452 Views