5.03.2019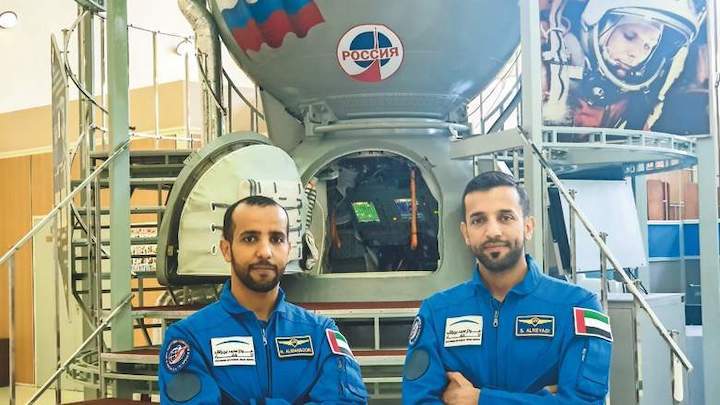 He and Sultan Al Neyadi have become role models for youngsters not only in the UAE but also the Arab world.
One of the UAE's first two astronauts, Hazza Al Mansoori, used to think travelling to space would be nearly impossible for him. It wasn't until one of his college teachers praised his class presentation about space travel that he started believing that an astronaut career could be a reality for him.
Now, he wants the youth to remember this: "You can be an astronaut if you want to, and don't let anything stop you."
Al Mansoori has set a perfect example of how a little encouragement from teachers and other adults can go a long way in a student's life.
He and Sultan Al Neyadi have become role models for youngsters not only in the UAE but also the Arab world, as one of them will jet off to the International Space Station on September 25.
They interacted with children and teens at the Emirates Airline Festival of Literature recently, and gave them some sound advice about chasing their space dreams.
"I think all children here dream about space, looking up at the stars, and thinking about how to get there. For me, growing up in a desert and looking at the stars and the Milky Way marked the beginning of my dream of going to space," he said.
"At that age, I thought going to space was something impossible. I thought I couldn't do it, but the feeling of wanting to go was always there. As I grew up, I gained faith. In fourth grade, we had a photo of an Arab astronaut who went to space, Prince Sultan bin Salman. He gave me a spark that there is hope in the future.
"In my third year at the Khalifa Bin Zayed Air College, I used to do presentations about space and a teacher whispered to one of my teachers that, maybe, I would become an astronaut one day - and that stayed in my soul. Thank God, when His Highness tweeted about the programme, it opened a huge opportunity for me," Al Mansoori said.
Al Neyadi also thought "it was too late" for him to be an astronaut. His passion for space travel started when he was a young boy and grew further as time progressed.
Now, his daughter also wants to be an astronaut after seeing the success her father has found.
"The passion was there from the beginning. I remember buying small telescopes and pointing to the brightest stars. I visited the Science Event by the Mohammed Bin Rashid Space Centre (MBRSC) back in 2017 and I took my daughter with me. Hopefully, she'll be an astronaut in the future," Al Neyadi said.
To build a deeper interest in space among the youth in the UAE, the astronauts will be taking experiment proposals from schoolchildren and university students. The winning experiment will be carried out at the International Space Station (ISS) by the astronaut.
Salem Al Marri, assistant director-general of technical and scientific affairs at the MBRSC, said: "We're going to let different schools and universities propose different experiments, and the astronaut will be conducting that winning experiment at the ISS."
When asked how children can prepare for an astronaut career, both astronauts said staying fit is a crucial part of the job.
Al Neyadi said practising jiu-jitsu has been a major advantage in his astronaut training, as it helps him in the centrifuge, a machine where you have to
tolerate up to eight or nine times of your weight hitting against your chest.
Al Mansoori, on the other hand, reminded kids to "drink milk" as it helps in improving bone density.
Quelle: Khaleey Time
3349 Views