3.10.2023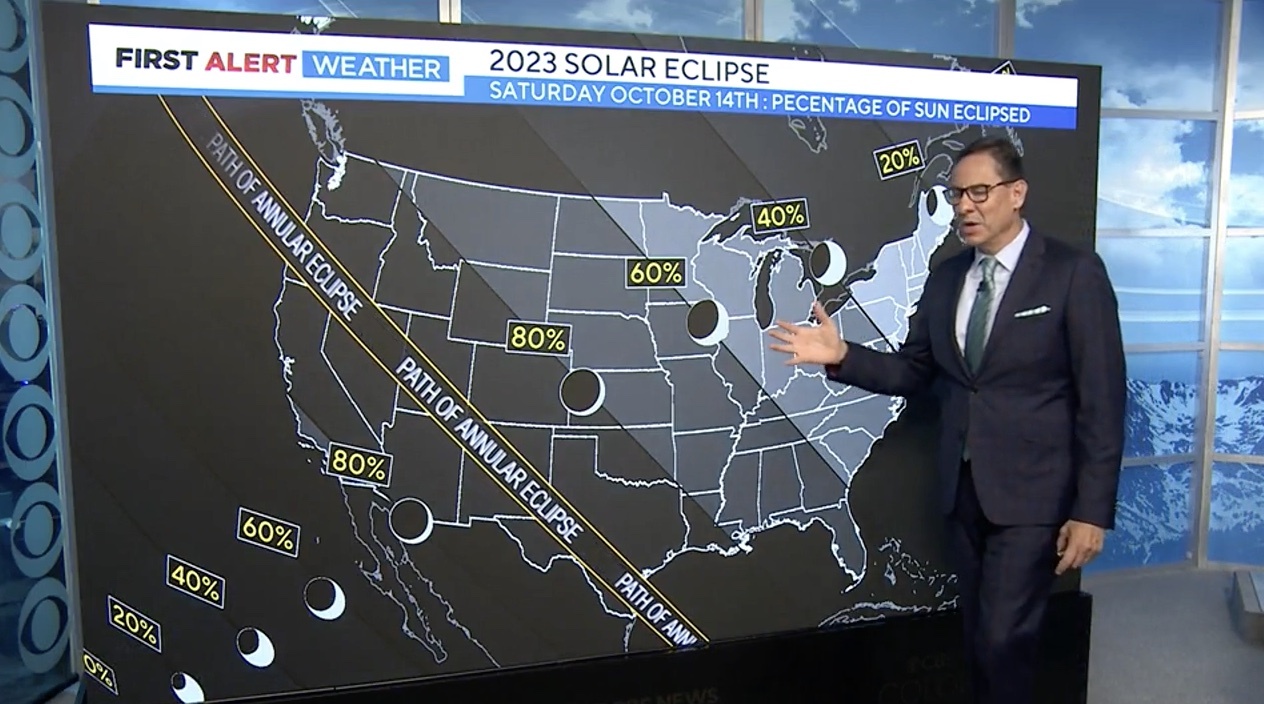 A dazzling solar eclipse, also known as a "ring of fire," is set to cross the Americas this month.
Millions of skywatchers will be able to catch the spectacular sight on Saturday, Oct. 14. This is the last annular solar eclipse that will be visible from the U.S. until June 21, 2039, according to NASA. Alaska is the only U.S. state in the path of the 2039 eclipse.
What is an annular solar eclipse?
Annular solar eclipses happen when the moon passes between the sun and Earth while the moon is at the farthest point from Earth, according to NASA. The moon will partially cover the sun as it passes, creating a "ring of fire" effect. The eclipse has several phases: partial eclipse, annularity, return to partial eclipse and fourth contact.
During the initial partial eclipse, the moon begins to pass in front of the sun. It slowly blocks more light from the sun, making the sun appear smaller. The phase is also known as first contact.
The moon passes completely in front of the sun about an hour and 20 minutes after the partial eclipse phase begins, leaving a "ring" of the sun visible behind the moon. This phase is quick, lasting between 1 and 5 minutes in most places. The sky grows dimmer during this phase and some animals might act as if it's dusk. The air may feel cooler.
The moon then returns to a partial eclipse as it continues passing the sun. This phase is also called third contact. Once the moon is no longer overlapping with the sun, the eclipse is over. This is known as fourth contact.
Where will the eclipse be visible? NASA shares maps
The eclipse will cross North, Central and South America, according to NASA maps. Most people in the Americas will be able to see at least a partial eclipse, but some people on a path from Oregon down to Texas will see the full eclipse as the moon passes in front of the sun.
NASA developed a map using lunar topography data from the agency's Lunar Reconnaissance Orbiter. The map also details the path of the total solar eclipse set for April 8 next year.
The annual solar eclipse in the U.S. will begin in Oregon at 9:13 p.m. It will end in Texas at 12:03 p.m. CDT. It will continue over Mexico and Central America, passing over Guatemala, Belize, Honduras, Nicaragua and Panama. The eclipse also crosses over into South America in Columbia and northern Brazil before ending at sunset in the Atlantic Ocean.
When will the "ring of fire" eclipse be visible?
The eclipse will be most visible if there are clear skies. There will still be noticeable "eerie daytime darkness associated with eclipses" if it's cloudy, NASA said.
NASA provided start and end times for several cities along the path of the eclipse.
| Location | Partial Eclipse Begins | Annularity Begins | Maximum | Annularity Ends | Partial Eclipse Ends |
| --- | --- | --- | --- | --- | --- |
| Eugene, Oregon | 8:06 a.m. PDT | 9:16 a.m. PDT | 9:18 a.m. PDT | 9:20 a.m. PDT | 10:39 a.m. PDT |
| Alturas, California | 8:05 a.m. PDT | 9:19 a.m. PDT | 9:20 a.m. PDT | 9:21 a.m. PDT | 10:43 a.m. PDT |
| Battle Mountain, Nevada | 8:06 a.m. PDT | 9:21 a.m. PDT | 9:23 a.m. PDT | 9:25 a.m. PDT | 10:48 a.m. PDT |
| Richfield, Utah | 9:09 a.m. MDT | 10:26 a.m. MDT | 10:28 a.m. MDT | 10:31 a.m. MDT | 11:56 a.m. MDT |
| Albuquerque, New Mexico | 9:13 a.m. MDT | 10:34 a.m. MDT | 10:35 a.m. MDT | 10:39 a.m. MDT | 12:09 p.m. MDT |
| San Antonio, Texas | 10:23 a.m. CDT | 11:52 a.m. CDT | 11:54 a.m. CDT | 11:56 a.m. CDT | 1:33 p.m. CDT |
Those interested in watching the eclipse virtually can also visit NASA's YouTube page. The space agency will stream telescope views from around the country beginning at 10:30 a.m. CT on Oct. 14.
What to wear to protect your eyes during the eclipse
Even though the moon will be passing in front of the sun, it's still not safe to look directly into the sun. Even a sliver of the sun peeking out from behind the moon is enough to potentially permanently scorch your retinas, according to ophthalmologists.
NASA advises wearing specialized eye protection. Looking at the sun through binoculars, a camera lens or a telescope without using a special-purpose solar filter can instantly cause severe eye injury. Eclipse glasses and sunglasses are not the same, NASA warned.
Look for glasses certified to meet the ISO 12312-2 international safety standard.
Safe solar viewers are thousands of times darker than sunglasses. NASA advises inspecting your eclipse glasses or handheld viewers before use to make sure they're not torn, scratched or otherwise damaged.
People with eclipse glasses or handheld viewers should not use them in conjunction with cameras, binoculars, or telescopes; those devices require different types of solar filters.
People without eclipse glasses or a handheld solar viewer can use a pinhole projector.
Quelle: CBS News
102 Views