22.09.2023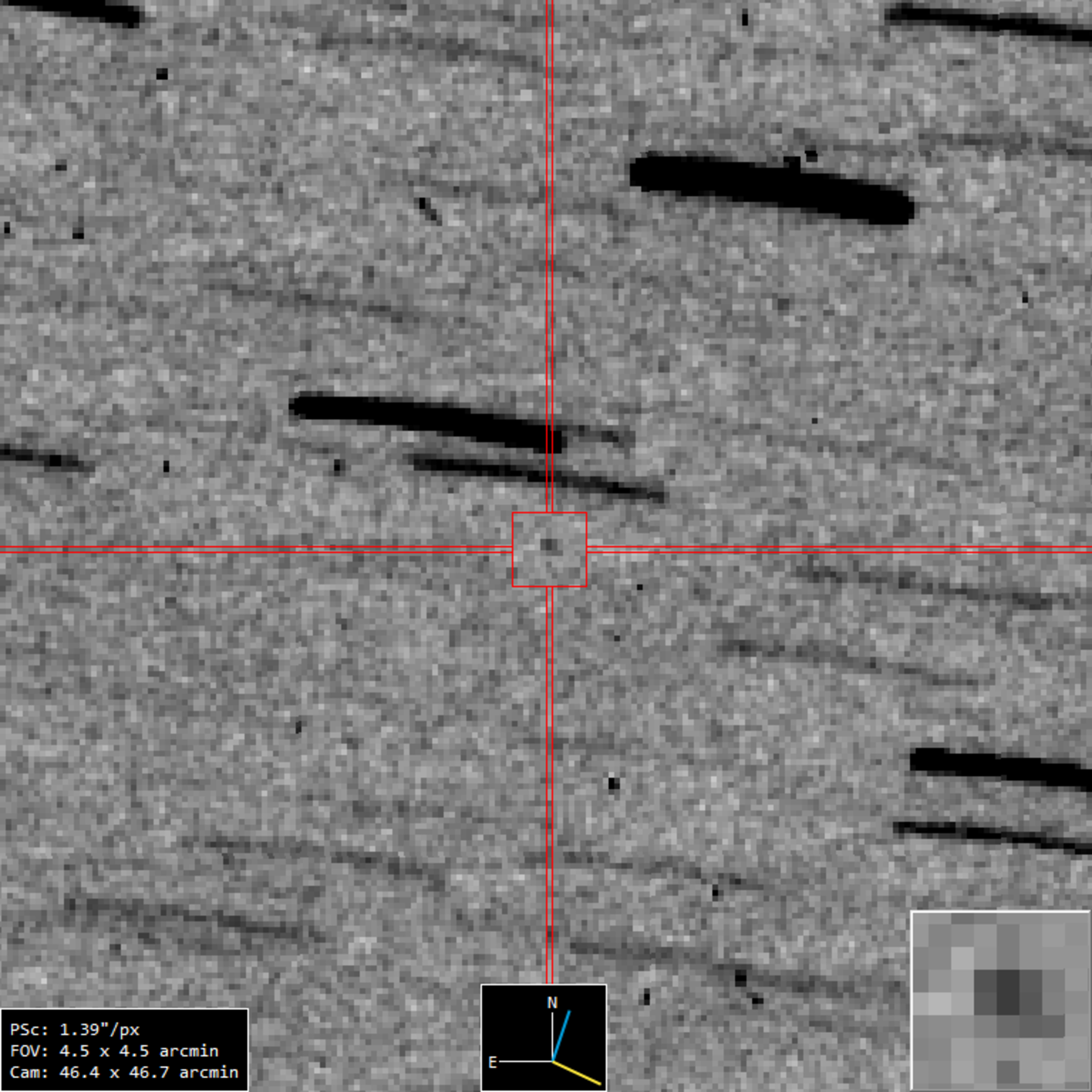 Is it a spacecraft? An asteroid? Well, both. This small central speck is the first image of a spacecraft on its way home, carrying with it a sample from an asteroid hundreds-of-millions, if-not-billions-of-years old. The spacecraft is NASA's OSIRIS-REx, the asteroid is Bennu.
On Sunday 24 September, the mission will drop its rocky sample off to fall through Earth's atmosphere and land safely back home, before it continues on to study the once rather scary asteroid Apophis.
Spotted on 16 September by ESA's Optical Ground Station (OGS) telescope in Tenerife, OSIRIS-REx was 4.66 million km from Earth. This image is a combination of 90 individual images, each 36-second exposures. They have been combined in a way that takes into account the motion of the spacecraft, which is not travelling in a straight line, causing the seemingly stretched background stars to curve and warp.
ESA's 1-metres OGS telescope was originally built to observe space debris in orbit and test laser communication technologies, but since broadened its horizons to also conduct surveys and follow-up observations of near-Earth asteroids and make night-time astronomy observations and has even discovered dozens of minor planets.
For this observation, ESA's Near-Earth Object Coordination Centre (NEOCC) took over the reins, directing it at the returning asteroid explorer. The NEOCC, part of the Agency's Planetary Defence Office, is a little like Europe's asteroid sorting hat; the centre and its experts are scanning the skies for risky space rocks, computing their orbits and calculating their risk of impact.
From our small but mighty Space Safety telescope, we say 'Hello, OSIRIS-REx, good luck NASA and welcome safely to Earth, asteroid Bennu!'.
(Read all about ESA's Hera mission that launches next year to examine the first test of asteroid deflection, the first mission to rendezvous with a binary asteroid system.)
Quelle: ESA
----
Update: 23.09.2023
.
USPS drops new OSIRIS-REx stamp ahead of asteroid sample return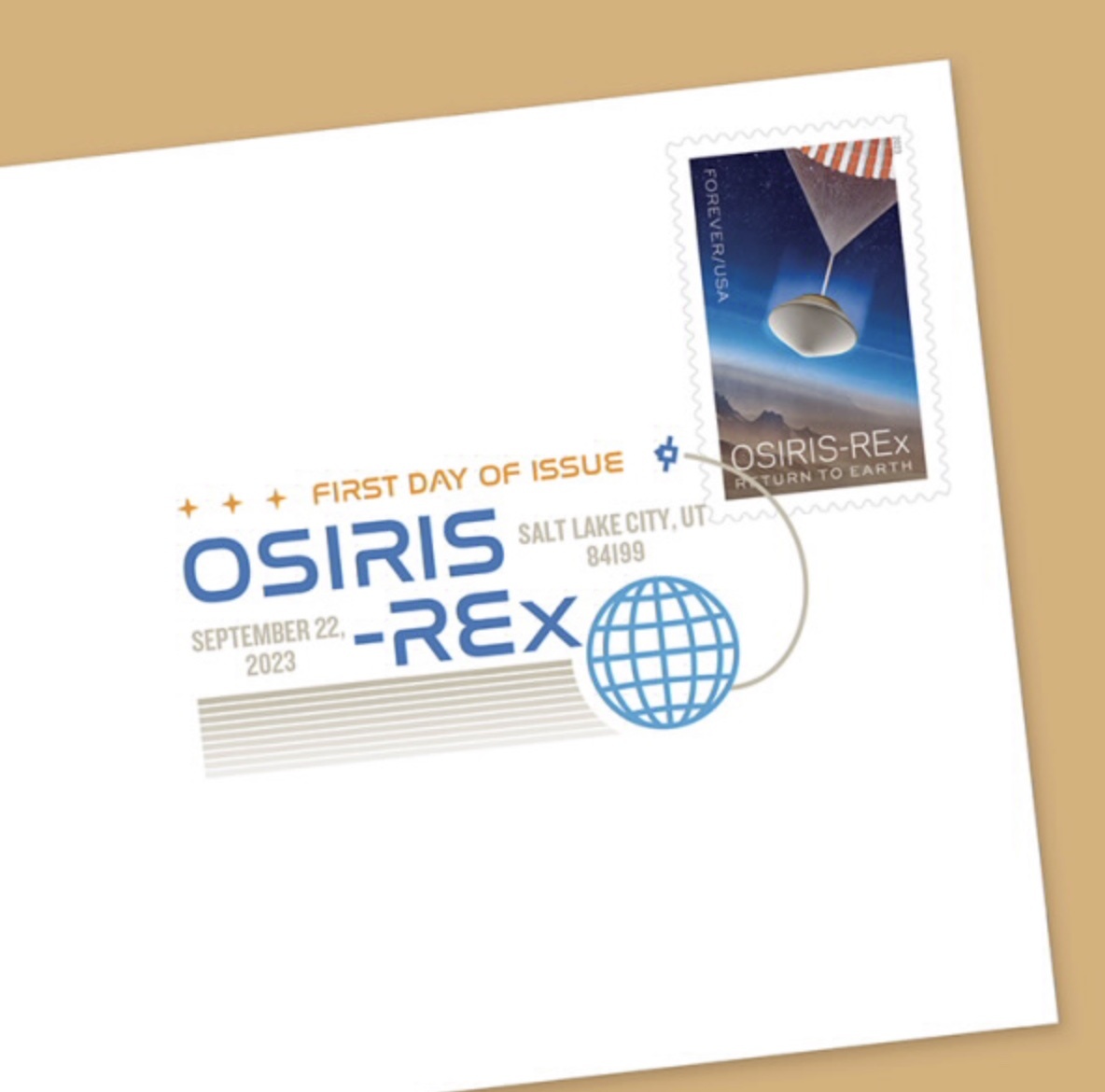 September 22, 2023
— NASA's first asteroid sample mission has landed at post offices across the United States two days before the spacecraft's return capsule is set to land back on Earth.
The U.S. Postal Service on Friday (Sept. 22) released a new stamp celebrating NASA's OSIRIS-REx spacecraft and the samples of the asteroid Bennu that it is set to deliver to the Utah desert on Sunday. The Clark Planetarium in Salt Lake City is set to host a first-day-of-issue ceremony for the Forever stamp on Friday.
"With this stamp, you can be part of this exciting moment in science!" the USPS described on its website.
The stamp's artwork shows the OSIRIS-REx capsule, which contains the asteroid samples, descending under a parachute to the Utah Test and Training Range, a U.S. Department of Defense facility. The same scene should play out in real life on Sunday, should everything go to plan.
The stamp comes in sheets of 20 with a depiction of the surface of Bennu at the bottom of the pane and an outer space scene of deep blue dappled with celestial bodies above. A view of the asteroid as imaged by the OSIRIS-REx spacecraft is in the upper right corner.
On the left side of the pane, four images illustrate key milestones in the OSIRIS-REx (or Origins-Spectral Interpretation-Resource Identification-Security-Regolith Explorer) mission. On the reverse side of the sheet is text describing each image.
USPS art director Antonio Alcalá designed the stamp and pane, which features illustrations by Alan Dingman based on imagery supplied by NASA.
Launched on Sept. 8, 2016, the OSIRIS-REx robotic probe arrived at Bennu in December 2018, and, after mapping the asteroid for almost two years, collected a sample from the surface on Oct. 20, 2020. The mission's team estimates that up to 250 grams (9 ounces) of rocks and dust were collected. The spacecraft left Bennu's vicinity to return to Earth on May 10, 2021.
Early Sunday morning, the OSIRIS-REx spacecraft will jettison its sample return capsule, which will then touch down in Utah. The main spacecraft, meanwhile, will put itself on the trajectory to encounter the asteroid Apophis under its extended mission, OSIRIS-APEX.
OSIRIS-REx is set to deliver the largest-ever sample of a celestial body located beyond the moon. It is the United States first asteroid sample mission and the third worldwide (Japan was the first to collect asteroid samples and return them to Earth with its Hayabusa and Hayabusa 2 missions in 2010 and 2020, respectively).
USPS business solutions vice president Robert Raines and Lori Glaze, NASA's director for planetary science, are scheduled to speak at the first-day-of-issue ceremony, as is Michael Puzio, who named asteroid Bennu in 2013 when he was eight years old.
Those who could not attend the Salt Lake City ceremony can mail in requests for first-day-of-issue postmarks. Collectors and the public have the next 120 days to buy and affix the OSIRIS-REx stamp to an envelope of their desire, self-address or address it to others and then mail it inside a larger envelope to:
FDOI OSIRIS-REx Stamp
USPS Stamp Fulfillment Services
8300 NE Underground Drive, Suite 300
Kansas City, MO 64144-9900
After applying the first-day-of-issue postmark, the USPS will return the envelope through the mail. There is no charge for the postmark up to a quantity of 50, after which it is 5 cents per additional postmark. All requests must be postmarked by Jan. 22, 2024.
A digital color postmark is also available by following similar instructions as above, but limited to the choice of #6 or #10 size envelopes constructed of paper rated as "laser safe" (the USPS recommends envelopes of 80-pound Accent Opaque, acid-free, 9/16-inch side seams with no glue on the flap).
Sufficient space must be left on the envelope to accommodate the digital color postmark. Do not use self-adhesive labels. Two test envelopes must be included. There is a minimum of 10 envelopes at 50 cents per digital color postmark required at the time of servicing with payment in the form of check, money order or credit card.
Collectors and the public can also send stamped envelopes and postcards without addresses for postmark, so long as they supply a larger self-addressed envelope with adequate postage. After applying the postmark, the post office will return the covers (with or without addresses) in the addressed larger envelope.
Alternatively, postmarked "covers" and other related collectibles can be purchased through the USPS website.
In addition to 20-stamp sheets for $13.20 each, the USPS has first-day-of-issue covers featuring either ink or digital color postmarks for $1.21 or $2.06 each, respectively. A commemorative panel is available for $11.95 and a portfolio with more information about the OSIRIS-REx mission is $23.95.
A framed set of the stamps is available for $39.95. Press sheets with or without die cuts are for sale for $118.80. A memento from Friday's first-day-of-issue ceremony lists for $30.95.
Quelle: CS
----
Update: 24.09.2023
.
NASA says samples from asteroid Bennu will land on Earth Sunday after fiery descent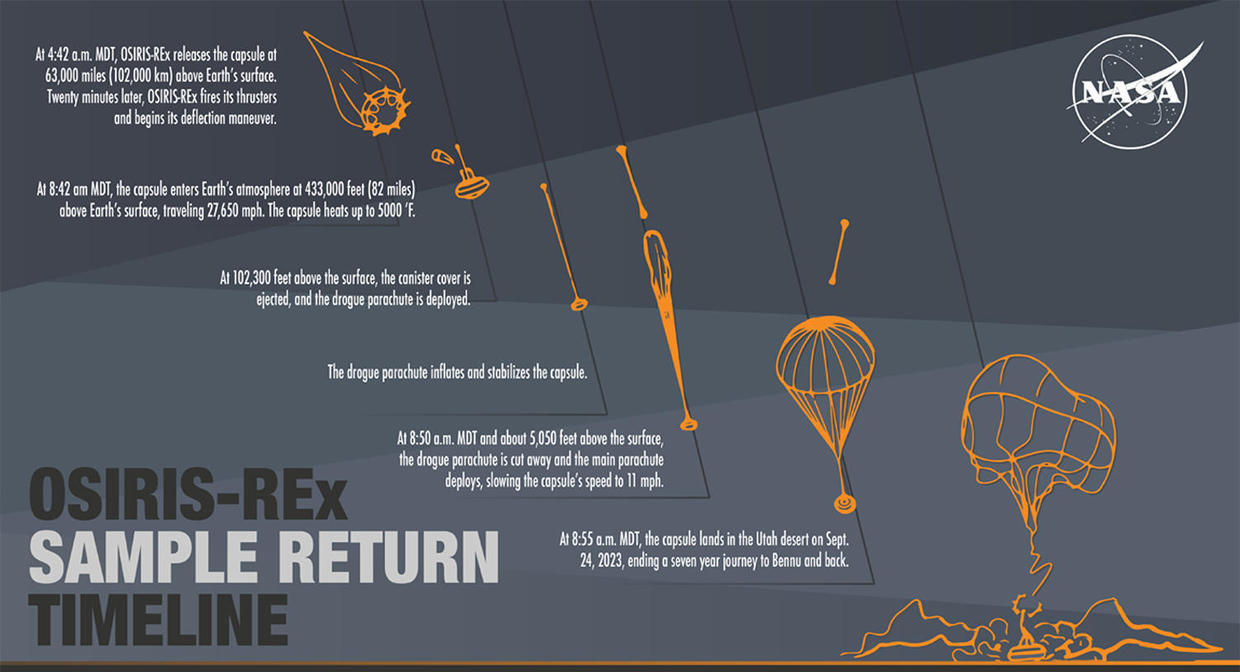 A small saucer-shape capsule carrying a half-pound of rocks and dust collectedfrom an asteroid called Bennu — leftovers from the formation of the solar system 4.5 billion years ago — is expected to slam into Earth's atmosphere at a blistering 27,650 mph on Sunday.
Extreme atmospheric friction will rapidly slow the craft while subjecting its protective heat shield to temperatures higher than 5,000 degrees, as the capsule decelerates along a trajectory toward a 37-mile-long landing zone at the Army's Dugway Proving Ground and Utah Test and Training Range.
Two minutes after entry, at an altitude of 20 miles, a small drogue parachute will deploy to stabilize and slow the craft before a 24-foot-wide main parachute unfurls 5,000 feet above the Utah desert.
From there, it's expected to descend to a gentle 11-mph touchdown at 10:55 a.m. ET, bringing a seven-year, four-billion-mile journey to an end.
After the sample capsule returns
Recovery crews will be standing by to document the condition of the sample capsule, looking for any signs of a breach that could cause contamination of the pristine samples inside, before moving it to a temporary air-filtered "clean room." It then will be prepared for a flight to the Johnson Space Center in Houston where NASA has set up a high-tech sample analysis laboratory.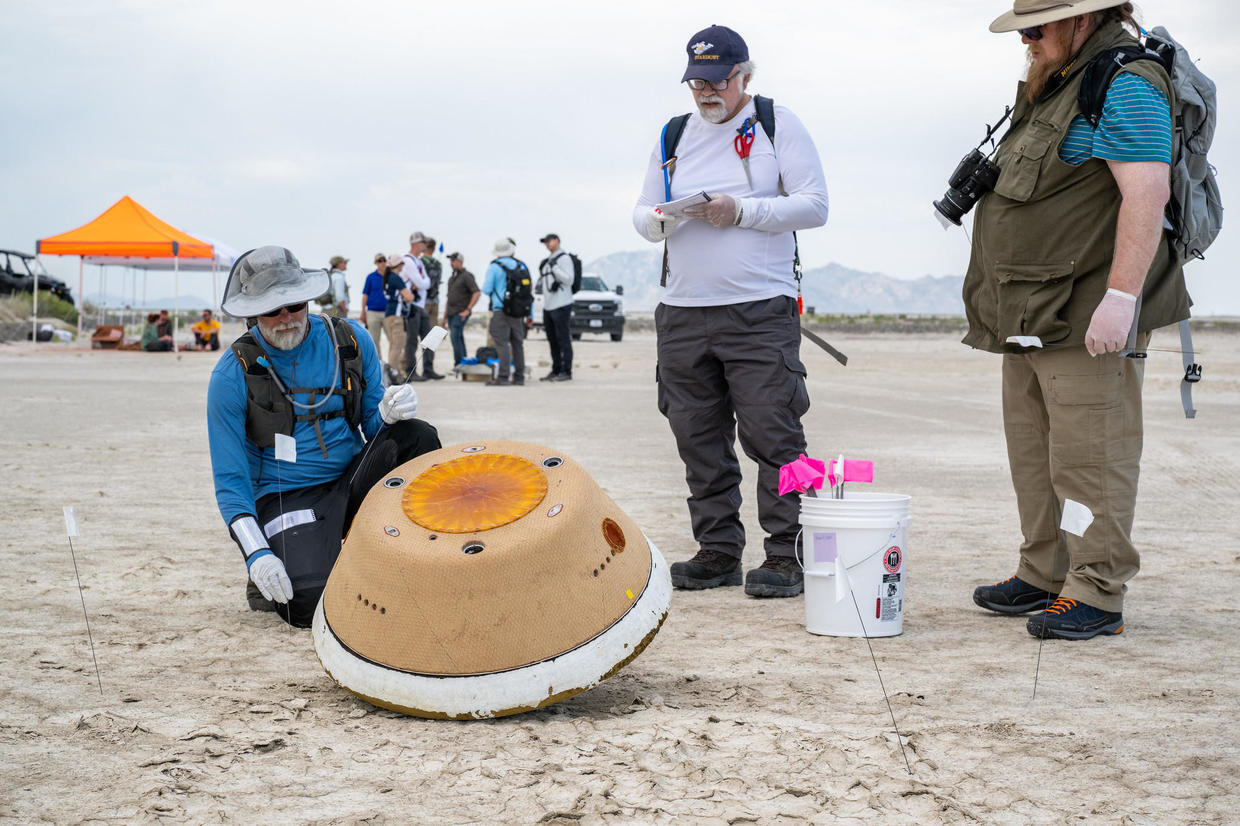 OSIRIS-REx teams practice sample capsule recovery procedures in the Utah desert.NASA/KEEGAN BARBER
"The asteroids that we have in our solar system today, they're left over from this earliest stage of solar system history," said University of Arizona Principal Investigator Dante Lauretta. "We're literally looking at geologic materials that formed before the Earth even existed.
"I call these the grandfather rocks, the ones that really represent our origins and where we came from. And I know they've just been waiting for four-and-a-half billion years to get into that sample return capsule, get down to the Utah desert safely (and) get to the amazing facility that our colleagues at Johnson Space Center put together."
Lauretta said the samples represent "a gift to the world."
"We have laboratories on four continents, 16 timezones, hundreds of researchers, over 60 laboratories that have been getting ready to get this material, and we are ready to begin the final science campaign of the OSIRIS REx prime mission."
What is OSIRIS-REx?
Two Japanese Hayabusa spacecraft returned small samples from asteroids in 2010 and 2020, but OSIRIS-REx — a convoluted acronym that stands for Origins, Spectral Interpretation, Resource Identification and Security Regolith Explorer — is the first American mission to collect an asteroid sample.
Equipped with three cameras, two spectrometers, a laser altimeter and an X-ray imaging system developed by college students, the OSIRIS-REx spacecraft and sample return capsule were launched atop a United Launch Alliance Atlas 5 rocket from Cape Canaveral on Sept. 8, 2016.
To reach Bennu, which orbits in a plane tilted six degrees from Earth's, OSIRIS-REx looped around the sun and then made a velocity-boosting gravity-assist flyby of Earth on Sept. 22, 2017. The spacecraft finally slipped into orbit around Bennu in late 2018.
Scientists were stunned at what they found. Instead of a more typical body, with fine-grained soils and rocks atop a solid interior, Bennu turned out to be a loosely compacted rubble pile that behaved more like a fluid than a solid.
"It's a stunning celestial object," Lauretta said. "To give you a sense of scale, it's a little over 1,600 feet in size. That's about the size of the Empire State Building. I like to think of Bennu as a small mountain floating in outer space.
"And its shape is particularly intriguing. it literally is a droplet made out of rock, gravel and boulders that are barely held together by their own microgravity."
After extensive mapping to identify a safe sample-collection point, OSIRIS-REx slowly descended toward the surface on Oct. 20, 2020, its pie pan-shaped "Touch-And-Go Sample Acquisition Mechanism," or TAGSAM, poised at the end of an 11-foot-long robot arm.
On contact, the probe fired a jet of nitrogen gas around the interior of the 12-inch-wide TAGSAM, stirring up the soil and small rocks underneath and blowing some of the material into collection filters before the spacecraft reversed course and backed away.
"It behaved very much like a fluid, there was no resistance to the downward motion of the spacecraft," Lauretta said in an interview. "We sank in about 50 centimeters (20 inches) and if we hadn't fired the back-away thrusters, I think we would have just gone right into the asteroid and disappeared."
After backing away from Bennu, the TAGSAM mechanism and its precious samples were stowed inside the OSIRIS-REx return capsule for the long flight back to Earth and Sunday's dramatic re-entry.
"Going back to the dawn of the solar system"
The flight plan calls for the return capsule to be released from the mothership at 6:42 a.m. ET. Twenty minutes later, the OSIRIS-REx spacecraft is expected to fire its thrusters, putting it on course for a close encounter with the asteroid Apophis in 2029.
Roughly 1,200 feet across, Apophis will come within 20,000 miles of Earth in 2029. The OSIRIS-REx spacecraft, by then renamed the OSIRIS-Apophis Explorer, will enter orbit around Apophis shortly after the asteroid's Earth flyby, kicking off extended observations.
But the Bennu samples coming back to Earth Sunday are the center of attention, and Lauretta can barely contain his enthusiasm.
"We're going back to the dawn of the solar system, we're looking for clues as to why Earth is a habitable world, this rare jewel in outer space that has oceans, it has a protective atmosphere," he said. "We think all of those materials were brought by these carbon-rich asteroids very early in our planetary system formation."
"And of course, the biggest question, the one that drives my scientific investigations, is the origin of life. What is life? How did it originate? And why was the Earth the place that it occurred? ... We believe that we're bringing back that kind of material, maybe representatives of the seeds of life that these asteroids delivered at the beginning of our planet."
Quelle: CBS News
+++
Update: 19:30 MESZ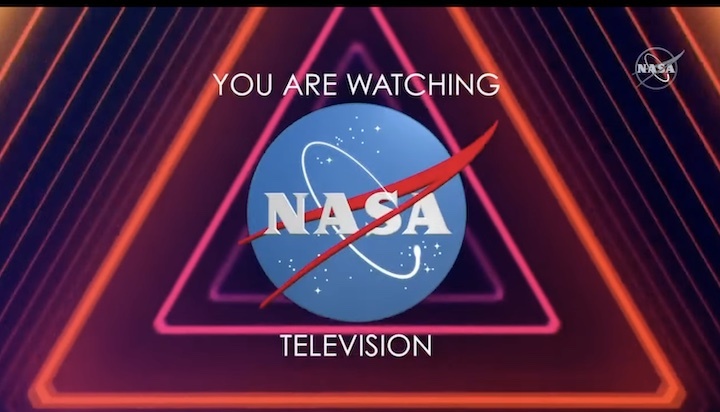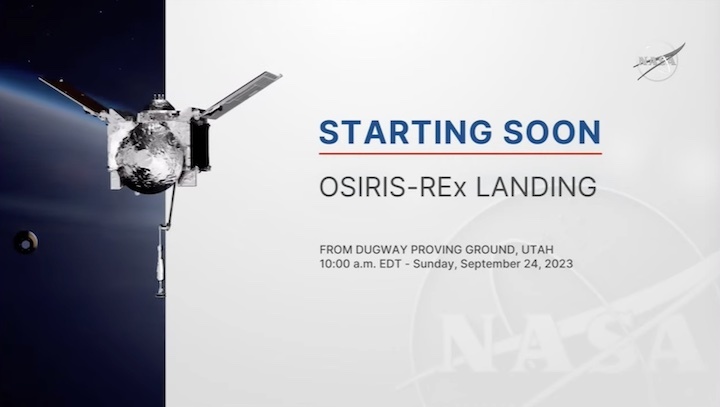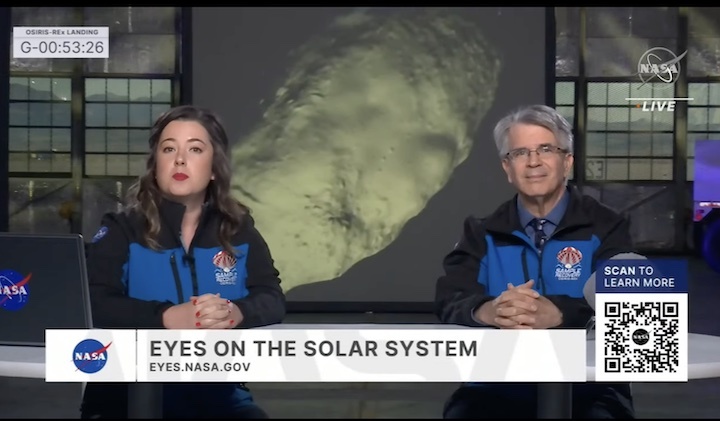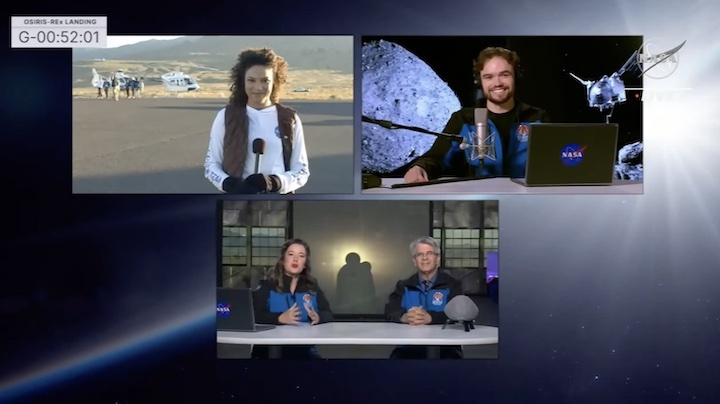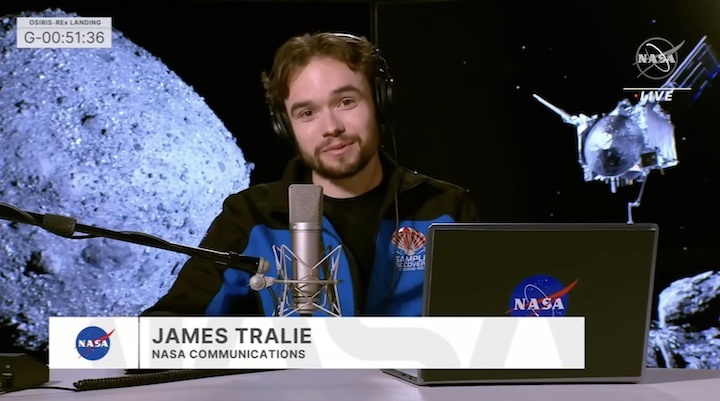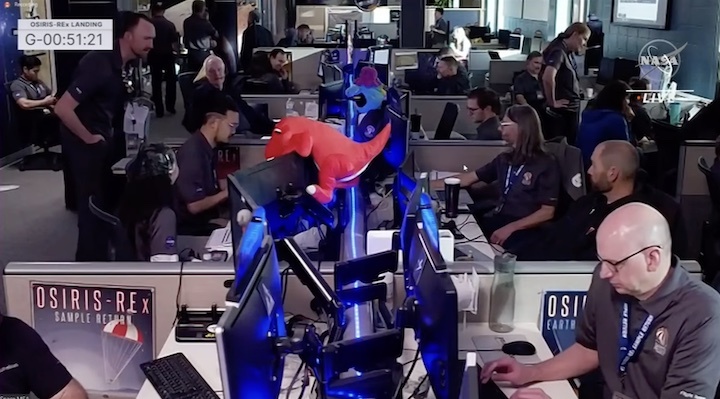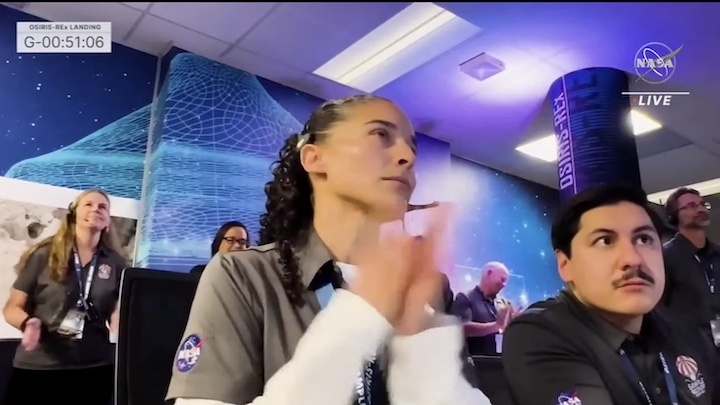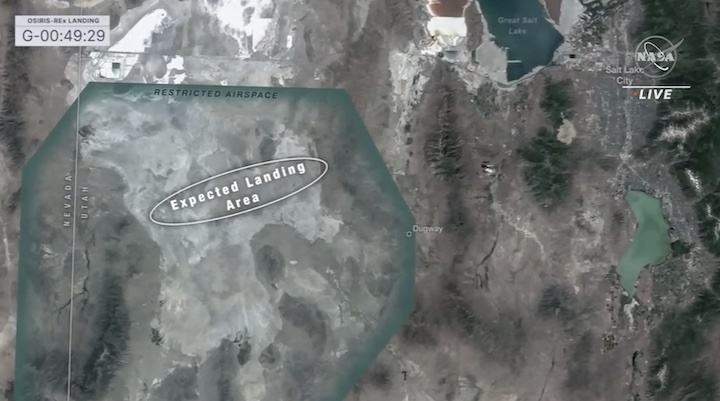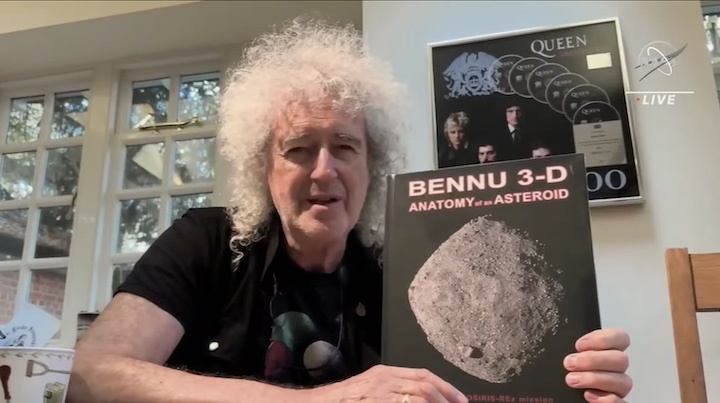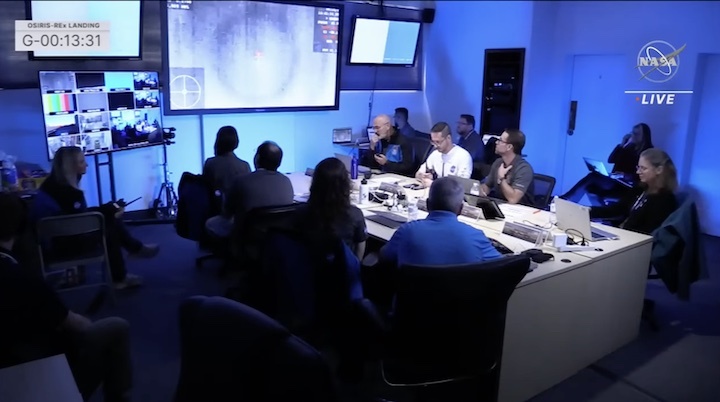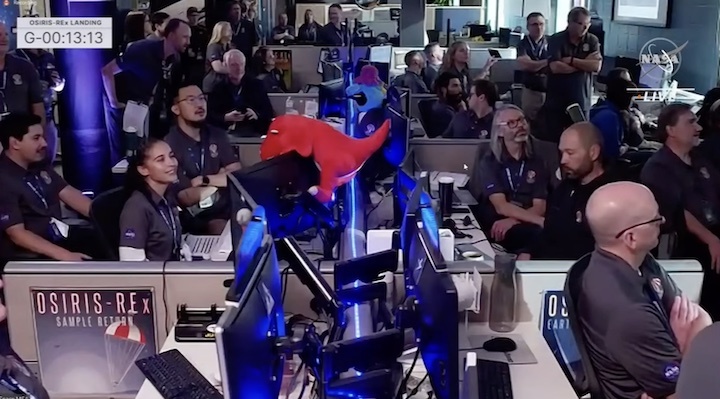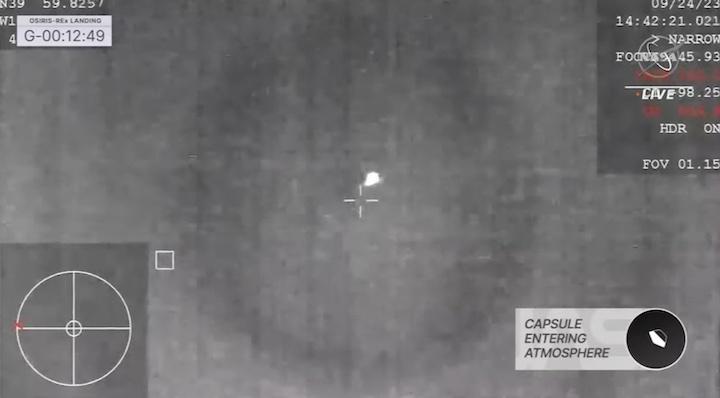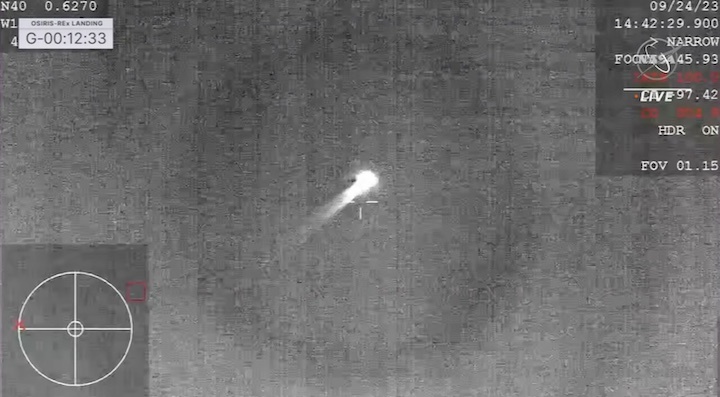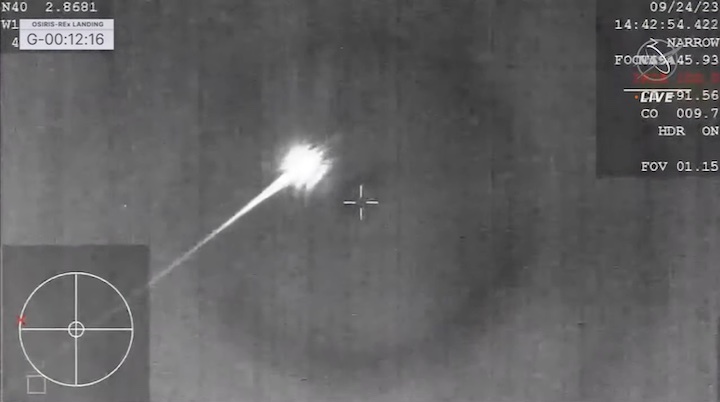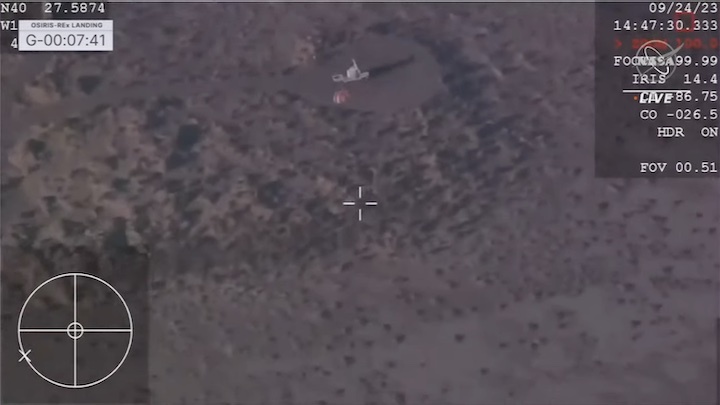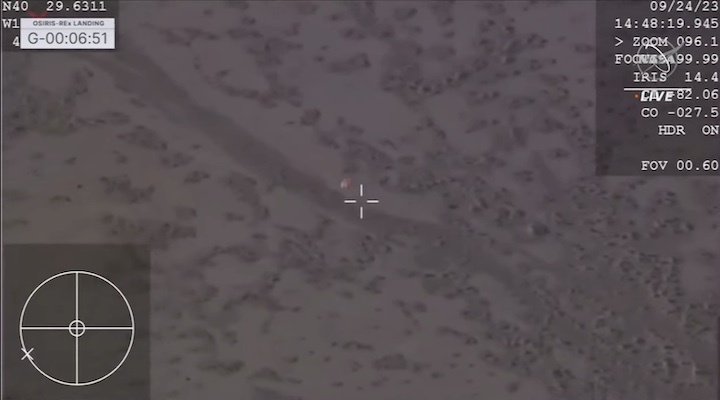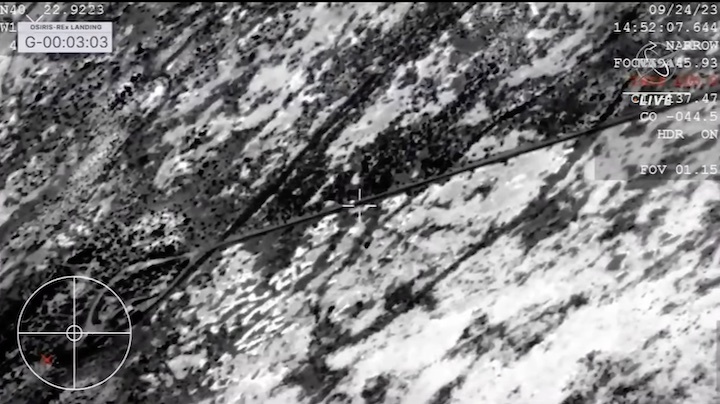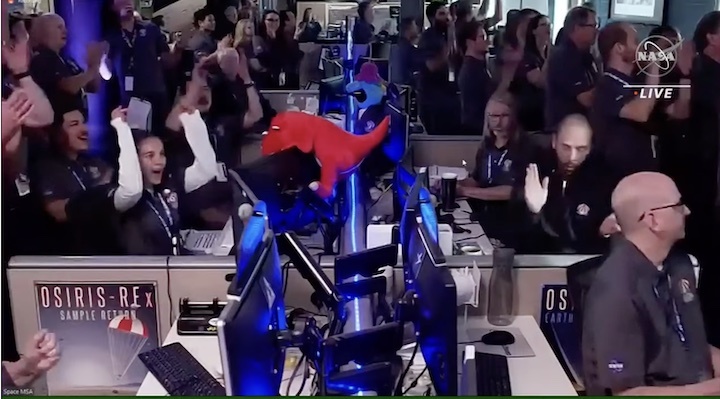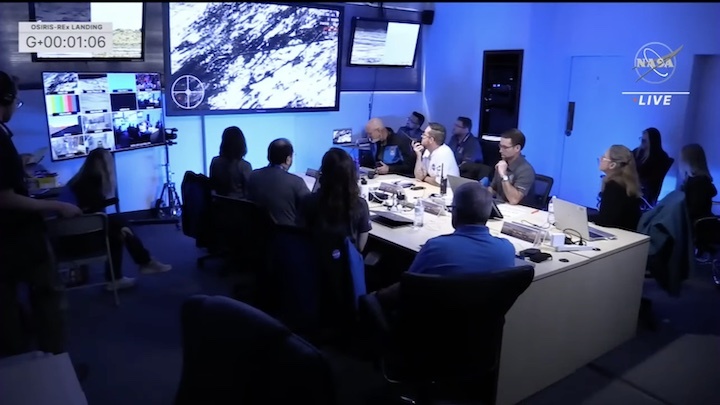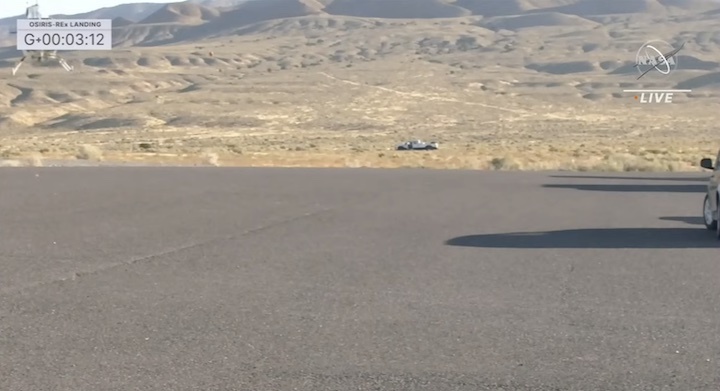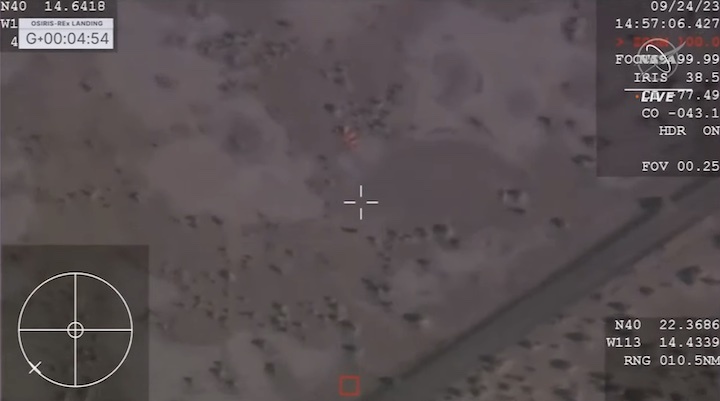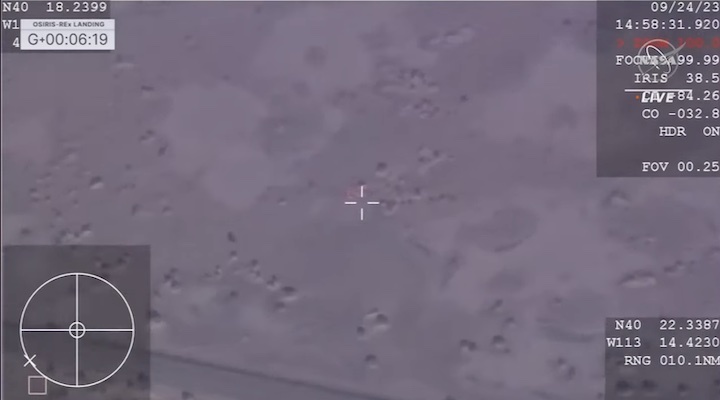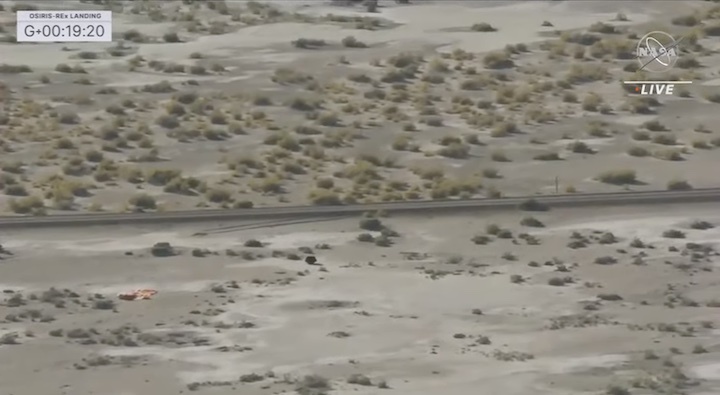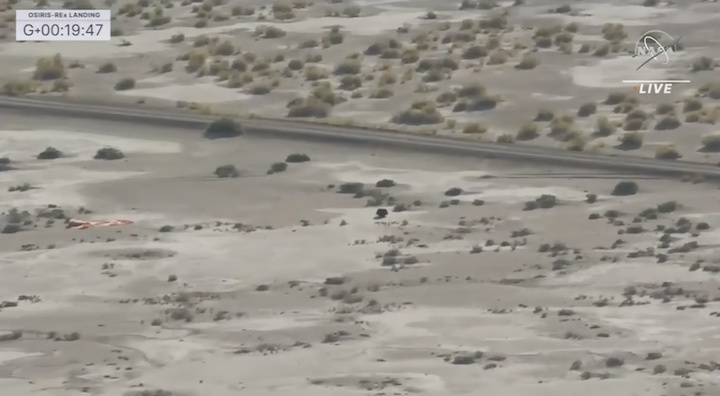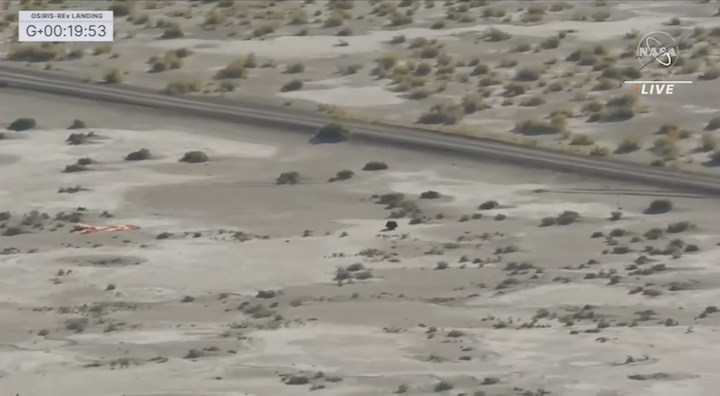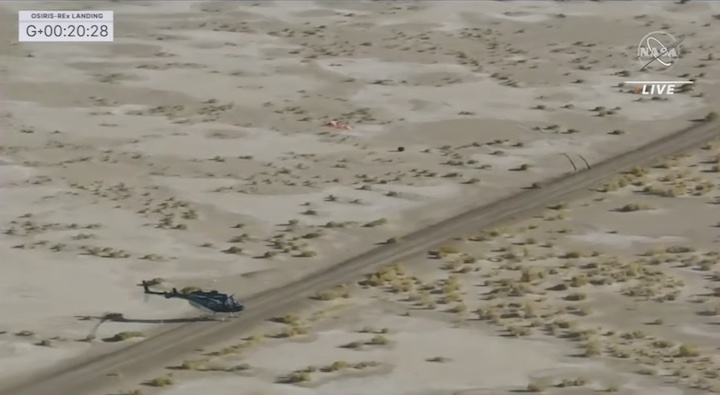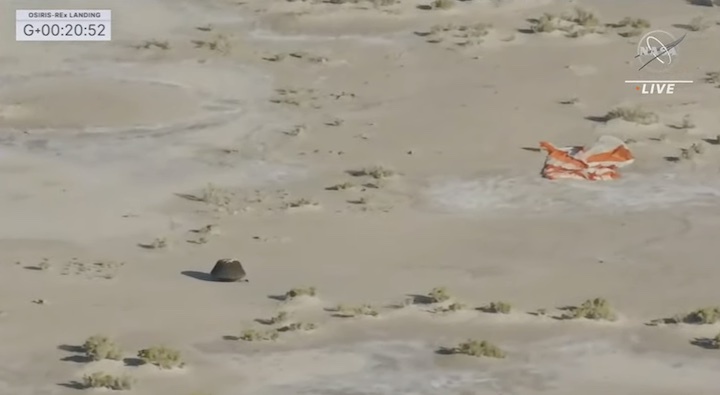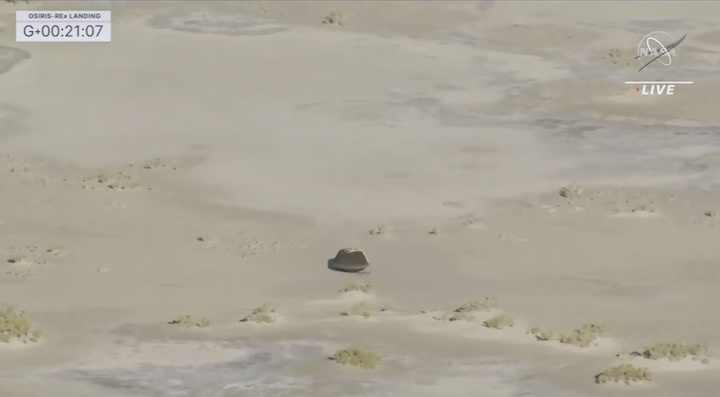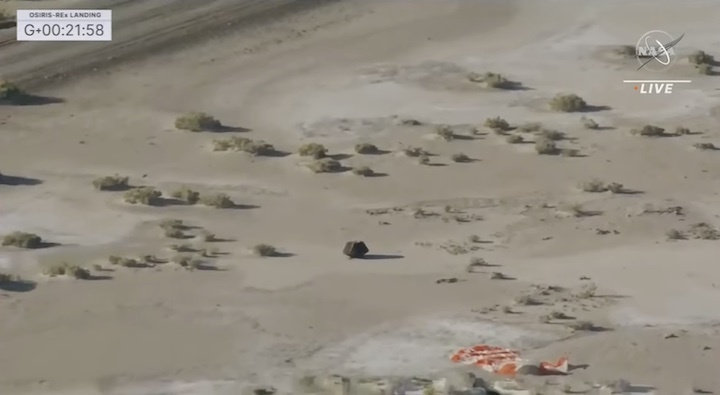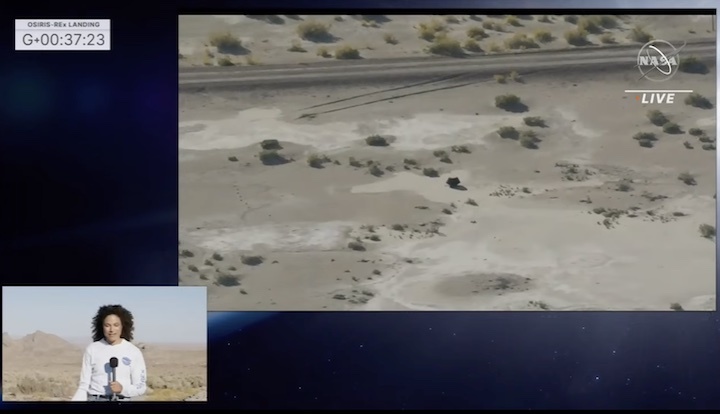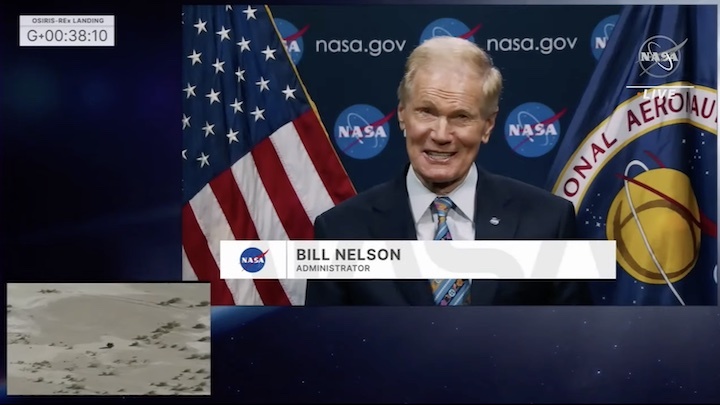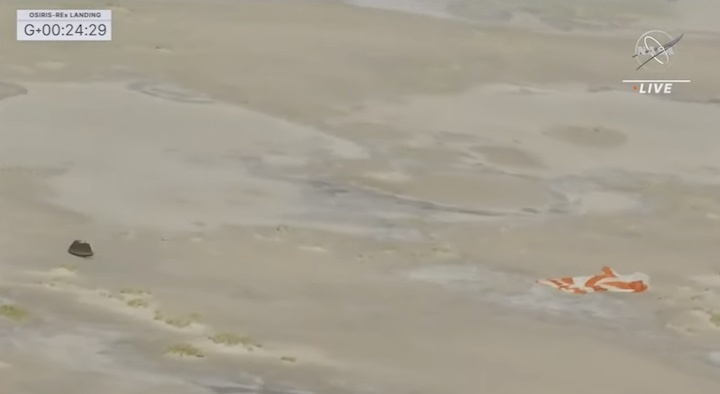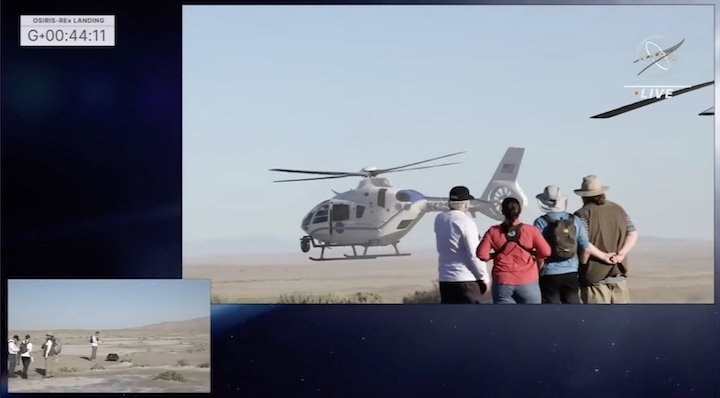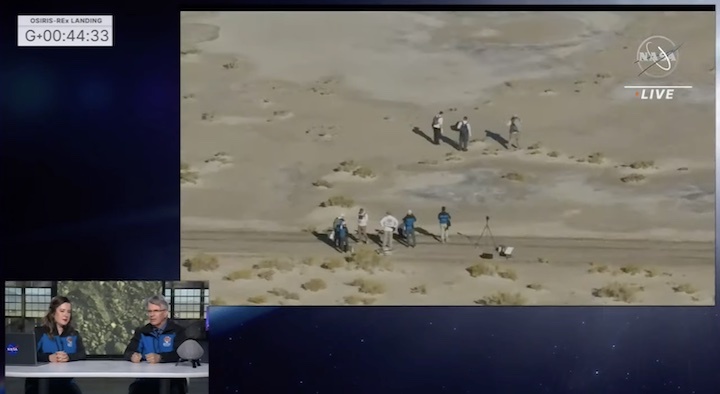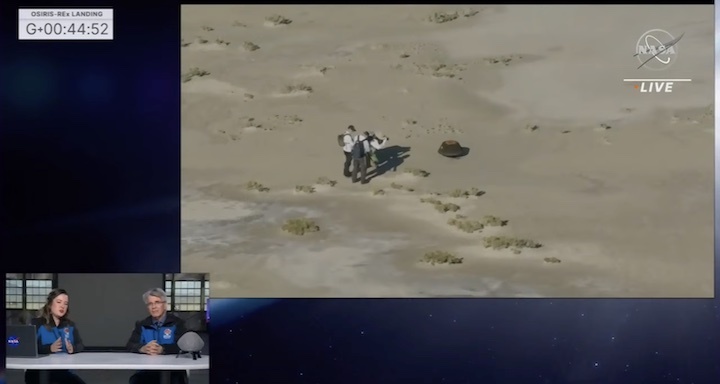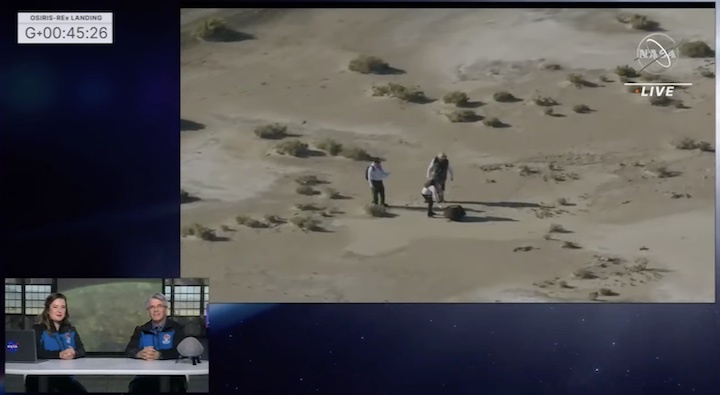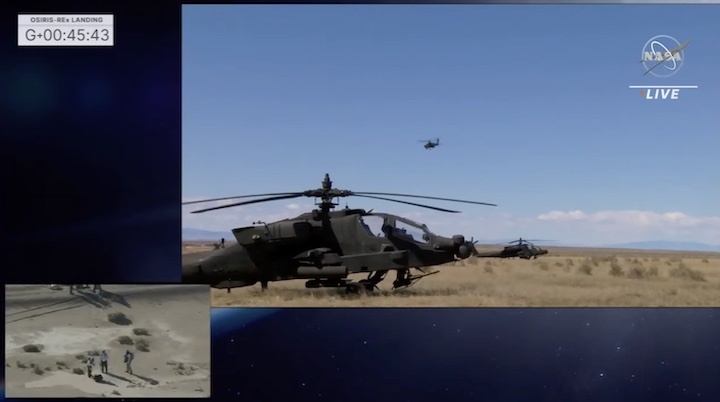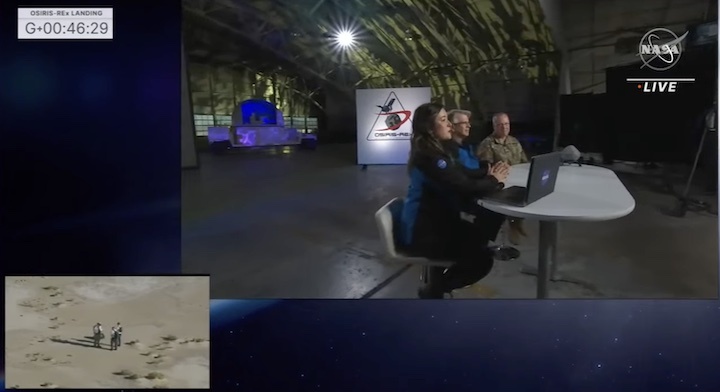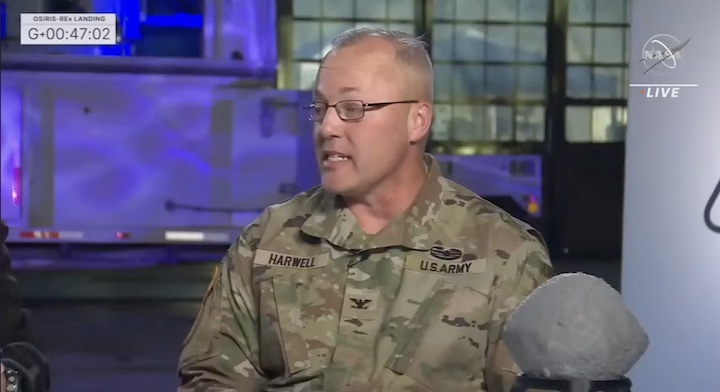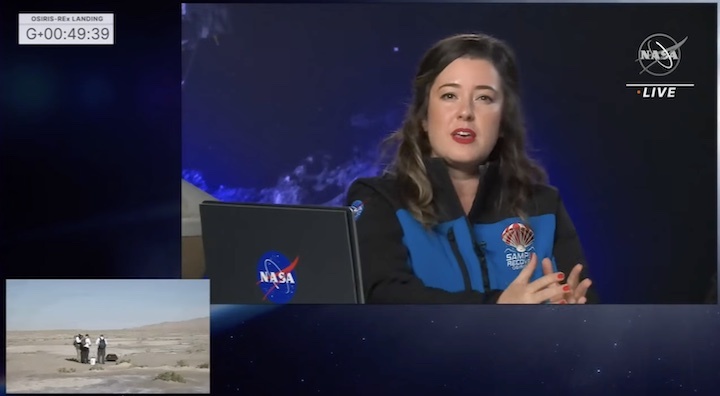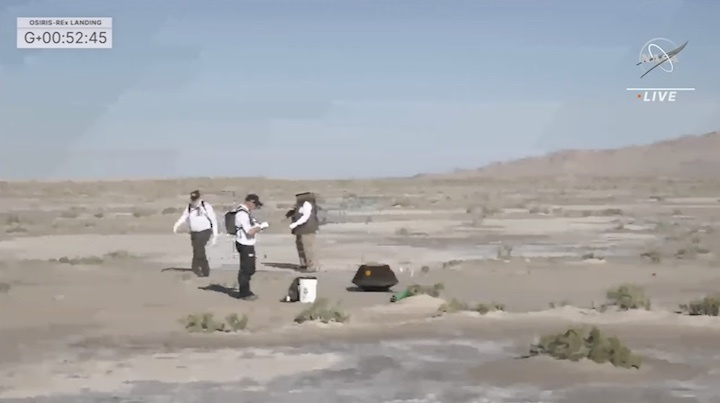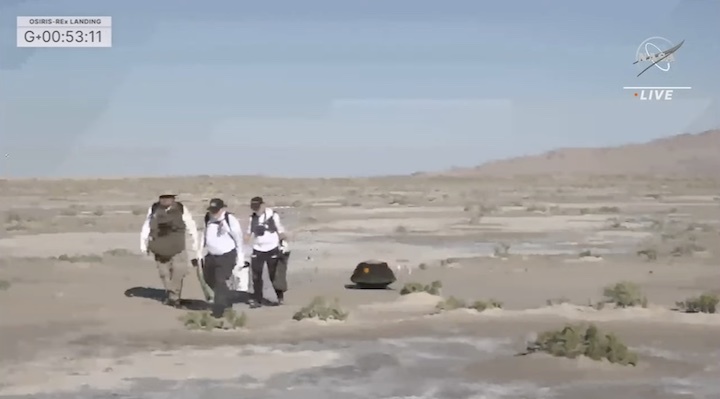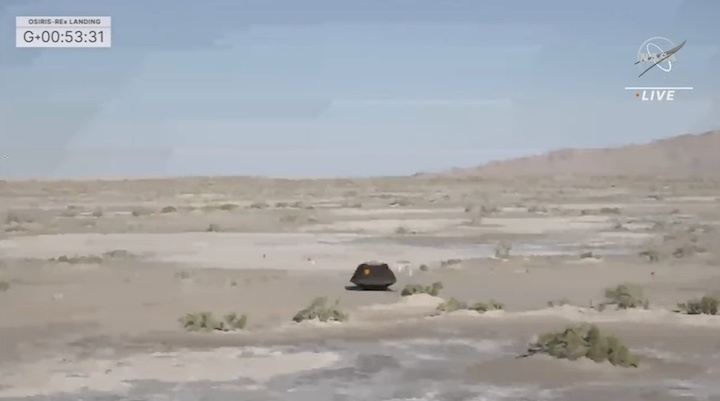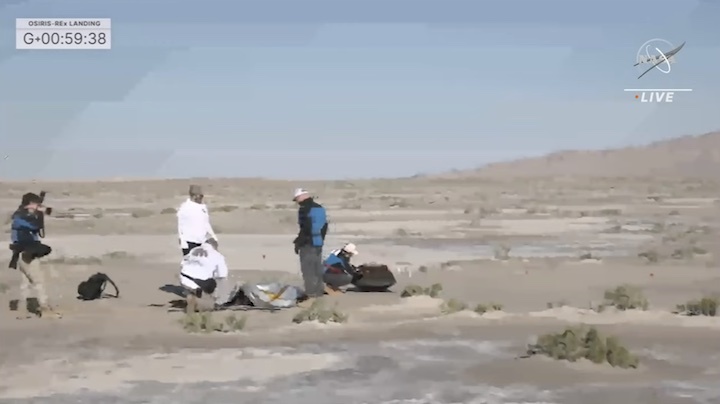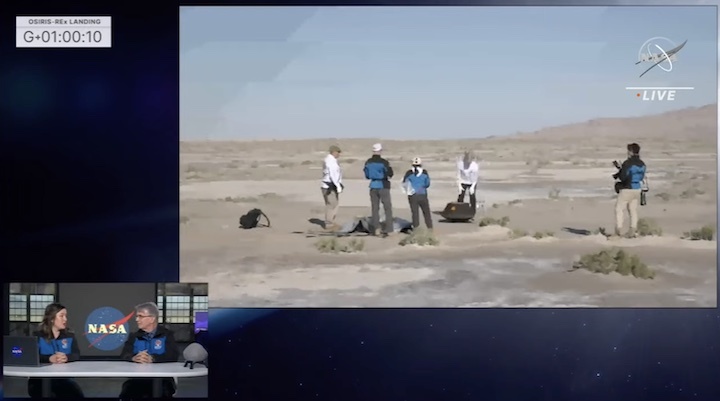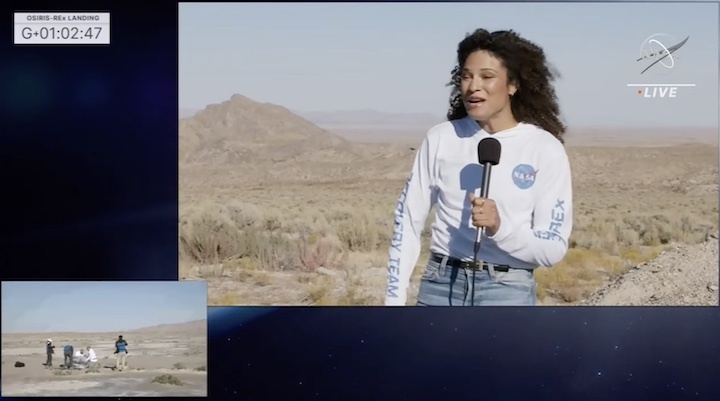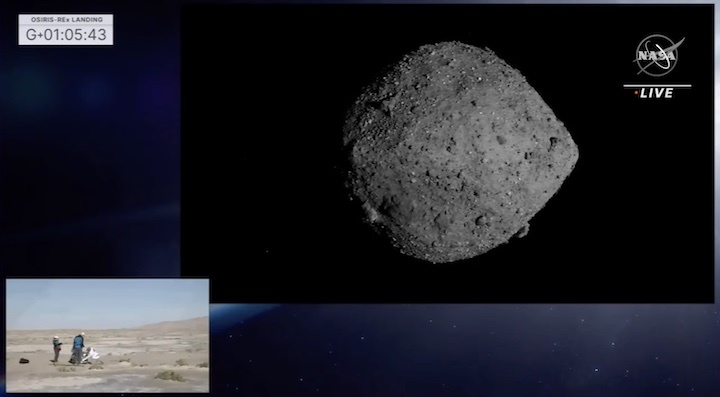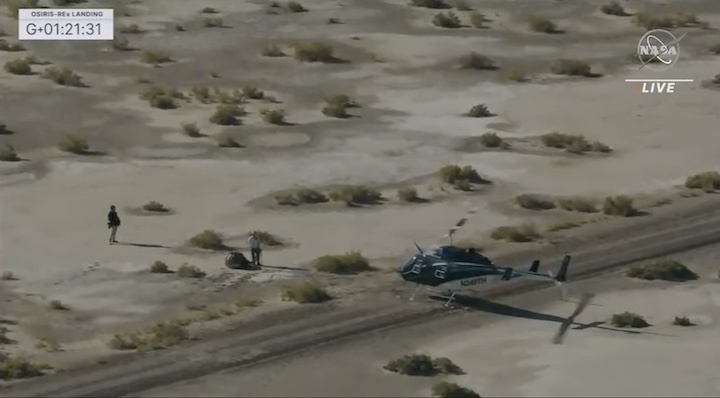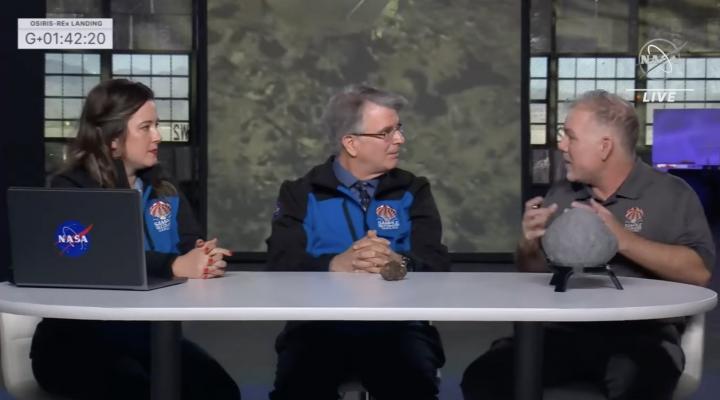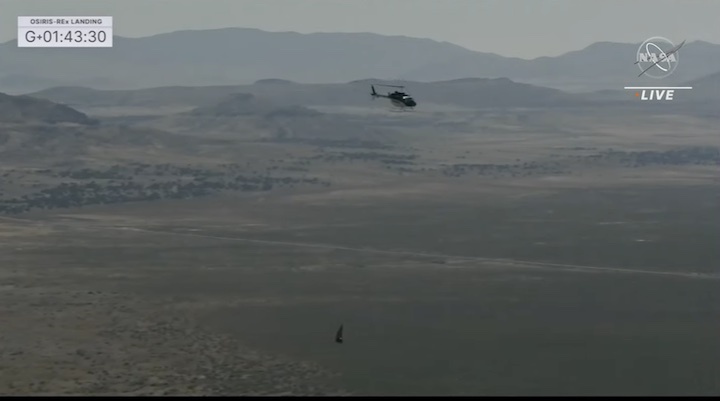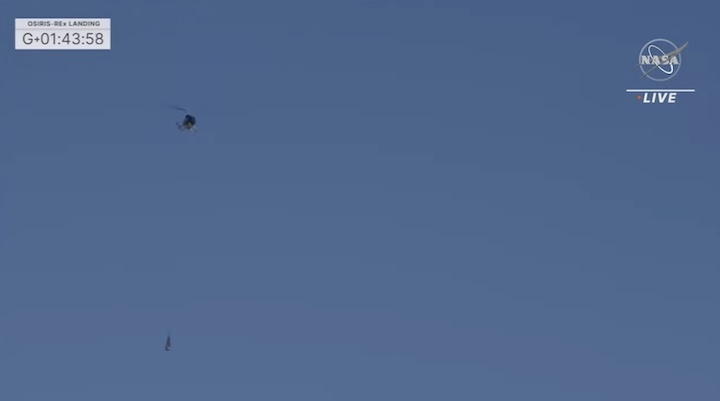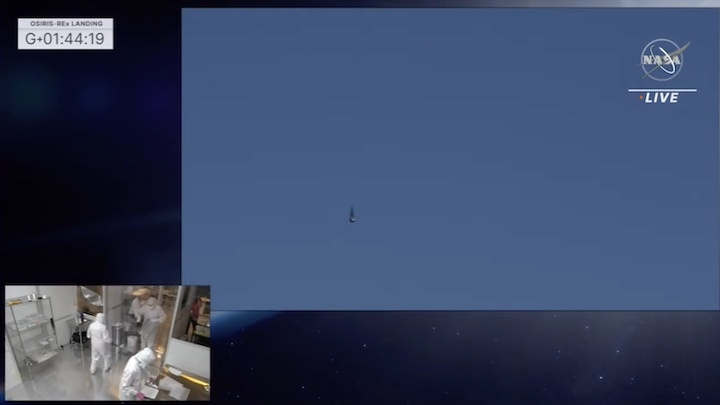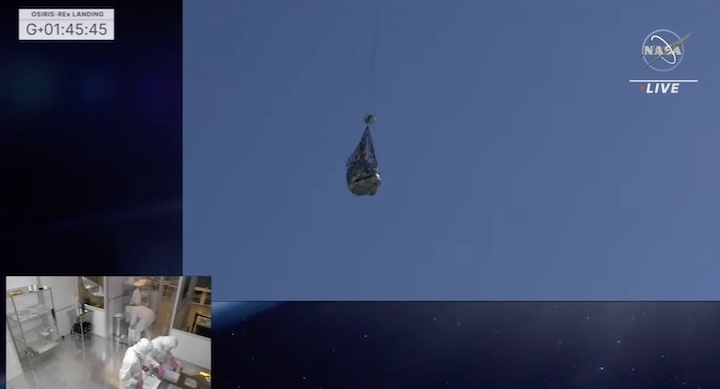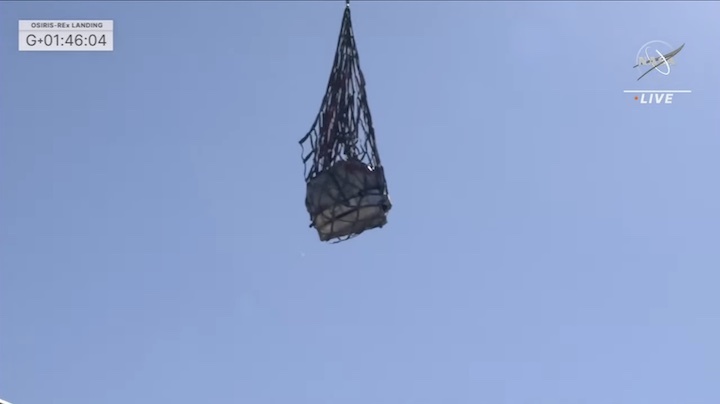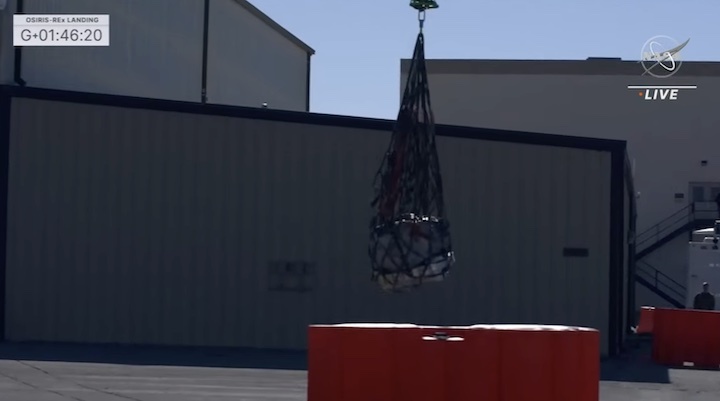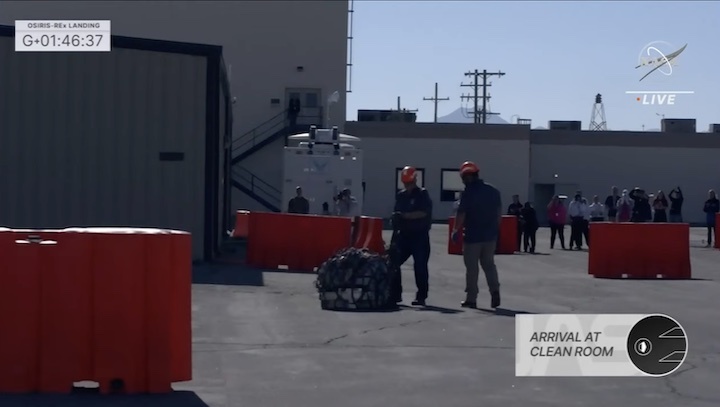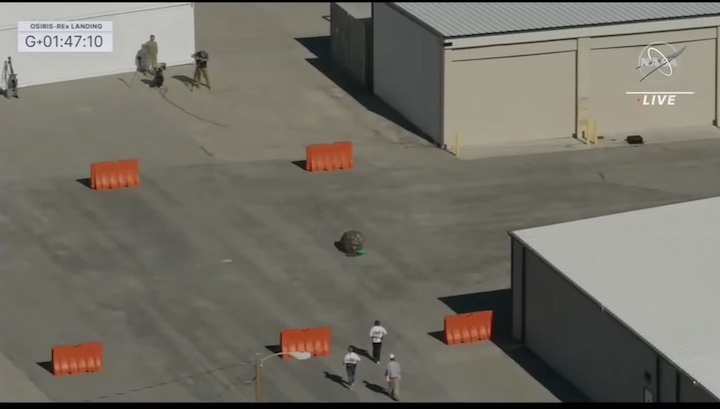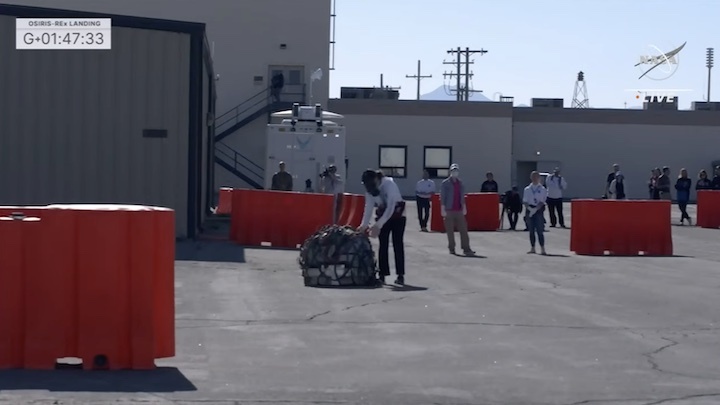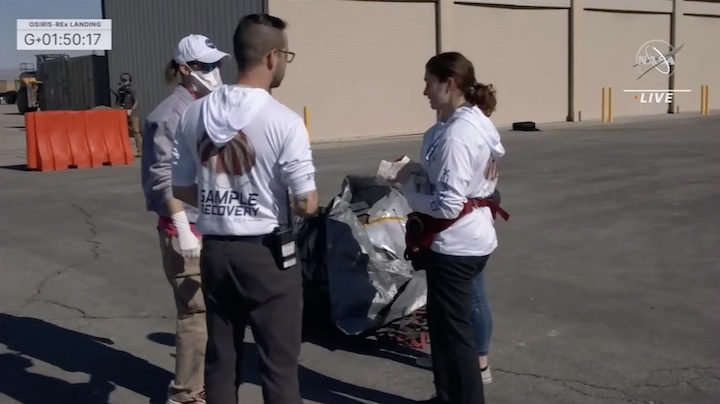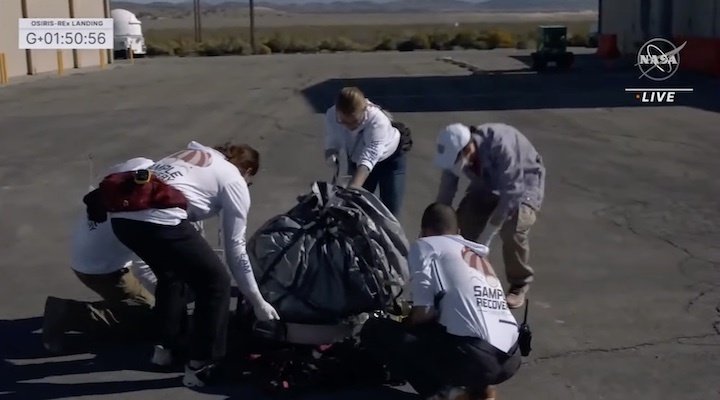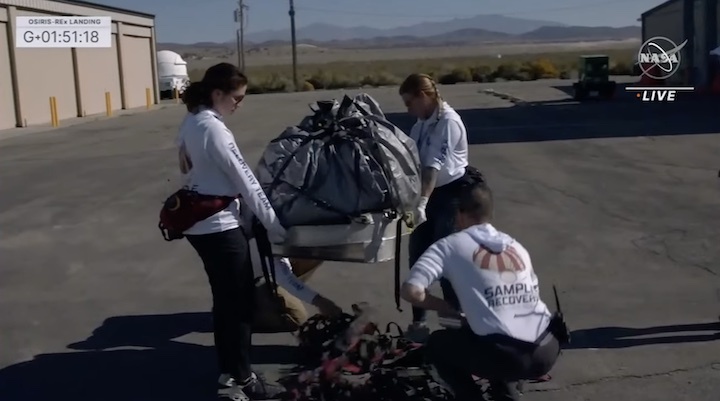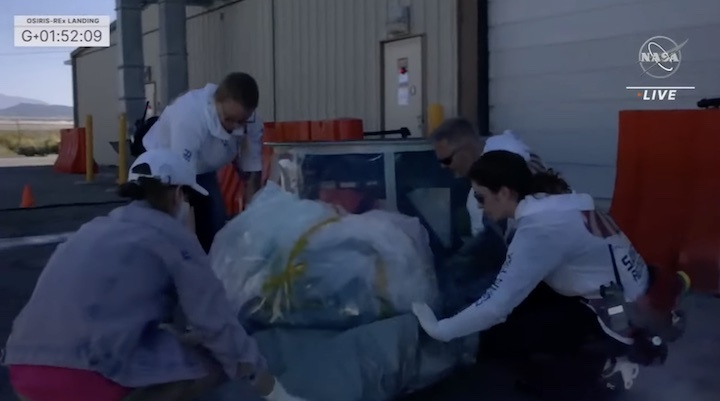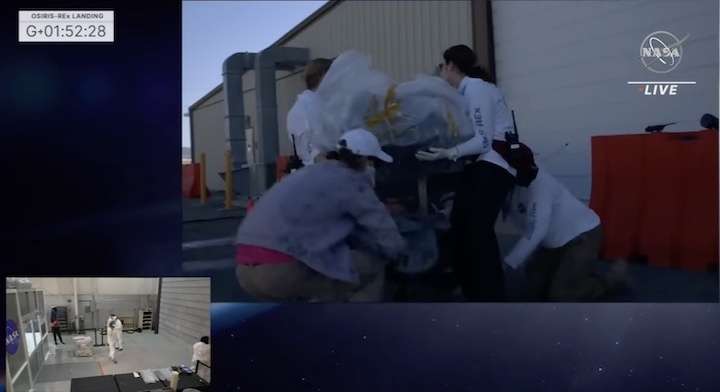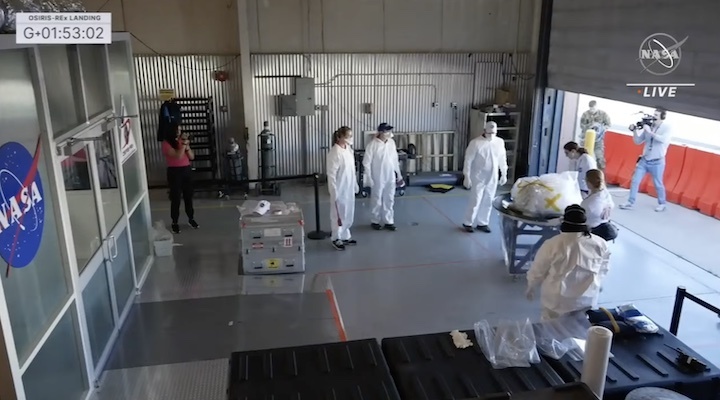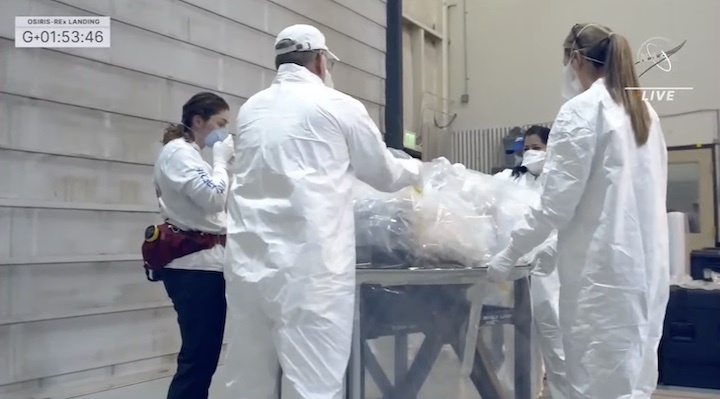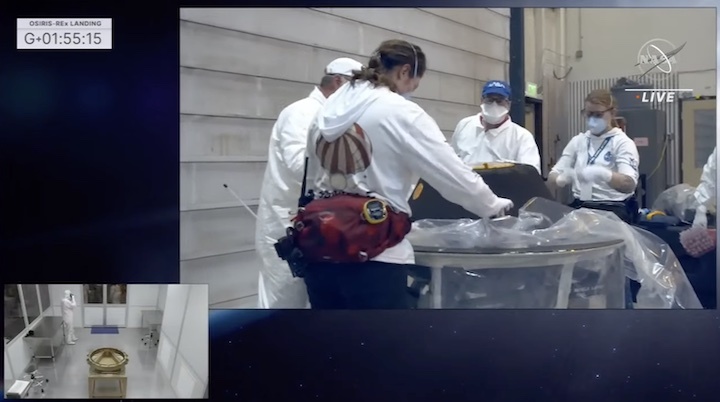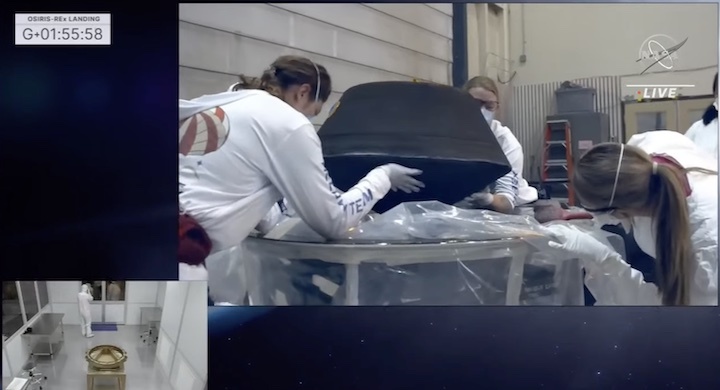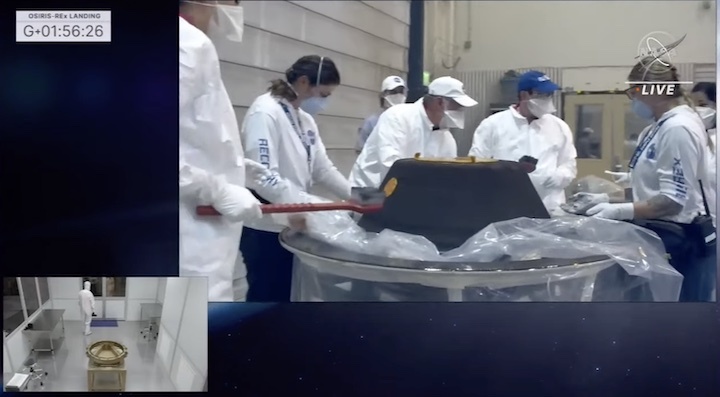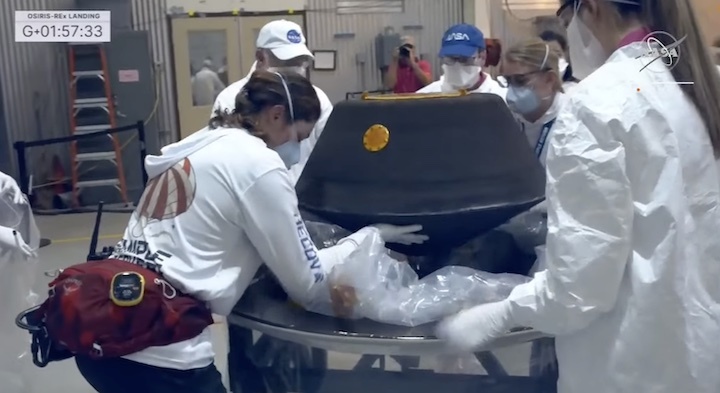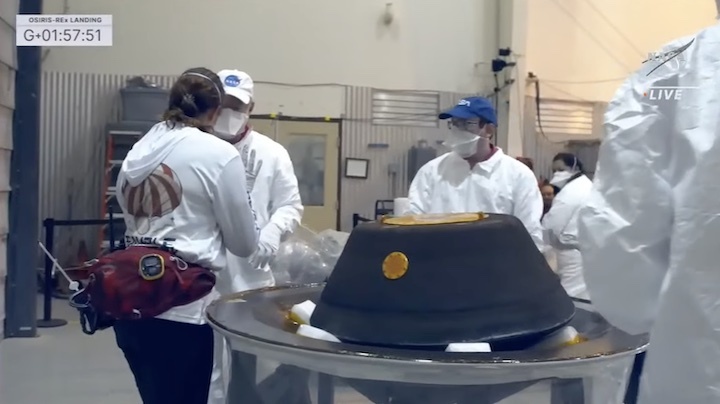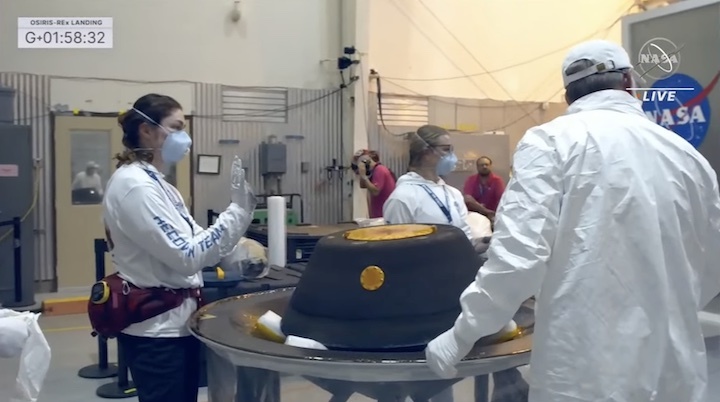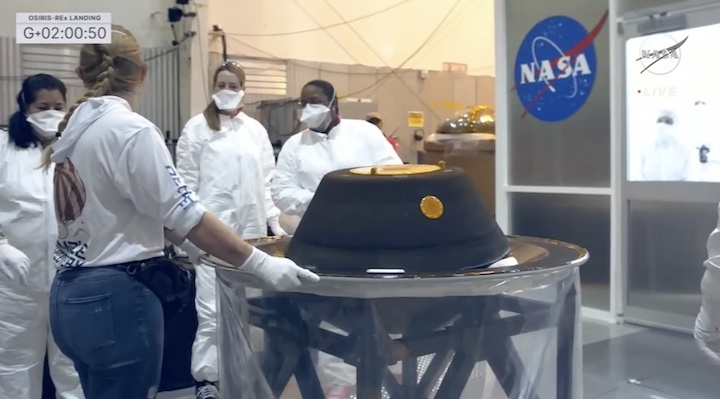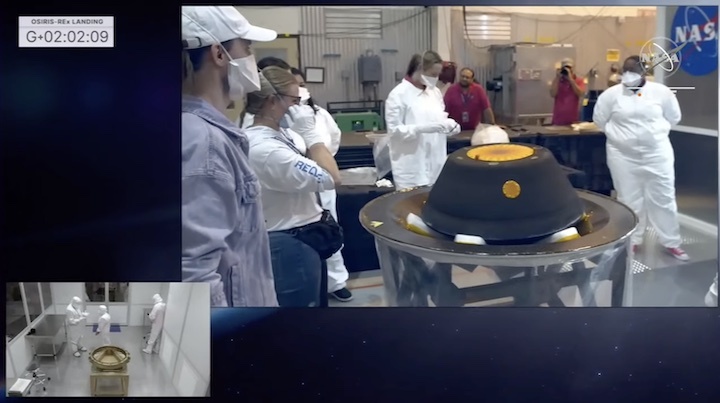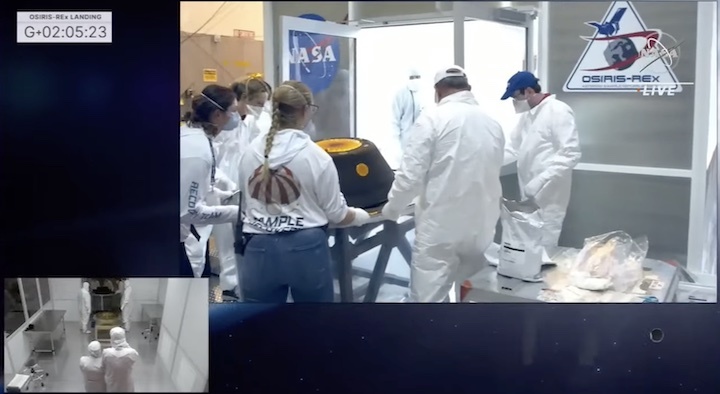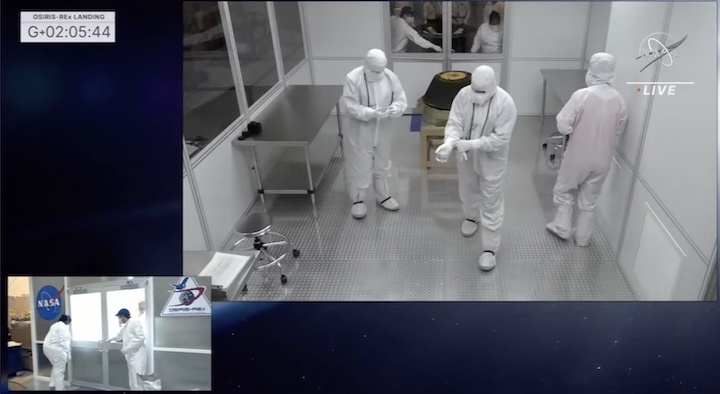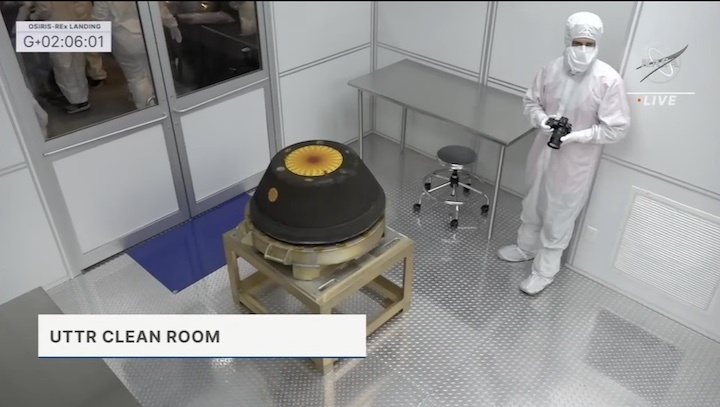 Quelle: NASA
134 Views