26.09.2021
WILLIAM SHATNER Beam Me Up, Jeffy ... GOING INTO SPACE WITH BLUE ORIGIN!!!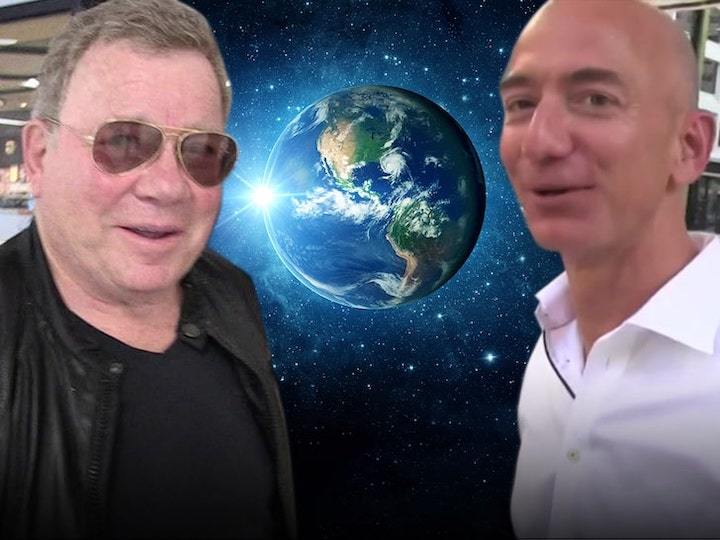 Decades after he last played the role, William Shatner's going to become a real-life Captain Kirk ... because he's going to space ... on Jeff Bezos' rocket ship ... TMZ has learned.
Though he won't be boldly going where no man's gone before -- because Bezos and his Blue Origin crew already did it -- sources with direct knowledge tell TMZ ... the 90-year-old actor is slated to be part of the second crew to take the space flight in the New Shepard capsule. That would make him the oldest person ever to be launched into space.
We're told Shatner will be on board in October for the 15-minute civilian flight -- similar to the last launch. What we don't know -- BUT WHAT WOULD BE AWESOME -- is if he wears his Capt. Kirk getup.
Our sources say the mission will be filmed for a documentary. We're told Shatner's people were talking to Discovery about the special, but that didn't materialize ... but our sources say Shatner and Co. have taken the project elsewhere and are in negotiations.
It's unclear who will be joining William on the flight, but they'll join elite company as some of the first few amateur astronauts in space. You'll recall, when Bezos went up, up and away in July ... he was joined by just his brother, Mark Bezos, test pilot Wally Funk and recent HS grad Oliver Daemen.
That crew reached an altitude of 66.5 miles, floated around for a few minutes in zero-gravity while playing with ping pong balls ... then made their way back down for safe landing.
It's also unclear what Shatner's paying for his spot onboard New Shepard ... our sources believe he's being comped, which would be a smart move for Bezos. You may recall with Blue Origin's first flight ... the final civilian seat went for more than $20 million at auction, and was given to Daemen (whose father is super rich).
Quelle: TMZ
----
Update: 28.09.2021
.
Blue Origin announces next customers to fly on New Shepard's upcoming human flight on October 12
Today, Blue Origin announced New Shepard's 18th mission, NS-18, will lift off on Tuesday, October 12, carrying four astronauts to space and back, including Dr. Chris Boshuizen, a former NASA engineer and co-founder of Planet Labs, and Glen de Vries, Vice-Chair, Life Sciences & Healthcare, Dassault Systèmes and co-founder, Medidata. The two other astronauts will be announced in the coming days.
Live launch coverage begins on BlueOrigin.com at T-60 minutes. Liftoff is currently targeted for 8:30 am CDT / 13:30 UTC from Launch Site One in West Texas.
This flight follows Blue Origin's successful first human flight on July 20 which included Jeff Bezos, his brother Mark Bezos, aviation pioneer Wally Funk, and Blue Origin's first customer, Oliver Daemen. Here is a recap of their historic mission to space.
Also on board NS-18 will be thousands of postcards from Blue Origin's foundation, Club for the Future.
Meet Dr. Chris Boshuizen
Chris's career has been dedicated to pushing the boundaries of space and igniting youth excitement in pursuing careers in STEM. He co-founded Planet Labs (Planet) in 2010 and served as the CTO for five years. Under his technical leadership Planet became the first company to commercially utilize nanosatellites, and now—having launched over 450 satellites—provides daily, global mapping of our changing planet from space.
From 2008 to 2012, Chris served as a Space Mission Architect at NASA's Ames Research Center where he co-invented the NASA Phonesat, a free-flying orbital satellite built out of an ordinary smartphone. While at NASA, Chris also established Singularity University, a school for studying the consequences of accelerating technological development. While pursuing his BSc and then PhD in Physics from the University of Sydney, he organized several international space conferences for the youth of the world. He also served as the first Executive Director of the Space Generation Advisory Council.
"This is a fulfillment of my greatest childhood dream," said Dr. Chris Boshuizen. "More importantly, though, I see this flight as an opportunity to inspire students to pursue careers in STEM and catalyze the next generation of space explorers. After all, our future of life in space is in their very capable hands."
Meet Glen de Vries
Glen de Vries co-founded Medidata Solutions in 1999, the world's most used clinical research platform. The company's software has powered over 25,000 clinical trials with more than seven million patients in every therapeutic area, from vaccines to cancers and rare diseases. He is the Vice Chair of Life Sciences and Healthcare at Dassault Systèmes, which acquired Medidata in 2019. Glen serves as a Trustee of Carnegie Mellon University, is the author of "The Patient Equation," and is an instrument rated private pilot.
"I've spent my entire career working to extend people's lives. However, with limited materials and energy on Earth, extending our reach into space can help humanity continue to thrive," said Glen de Vries. "Furthermore, astronauts can experience the 'overview effect,' gaining a new perspective on how fragile and precious our planet, those resources, and our civilization are. Playing a part in advancing the space industry and one day making those resources and that understanding available to everyone, is an incredible opportunity. I've been passionate about aviation and space for as long as I can remember, so this flight is truly a dream come true."
Quelle: Blue Origin
----
Update: 6.10.2021
.
'Star Trek' star William Shatner will fly on Blue Origin's next launch to space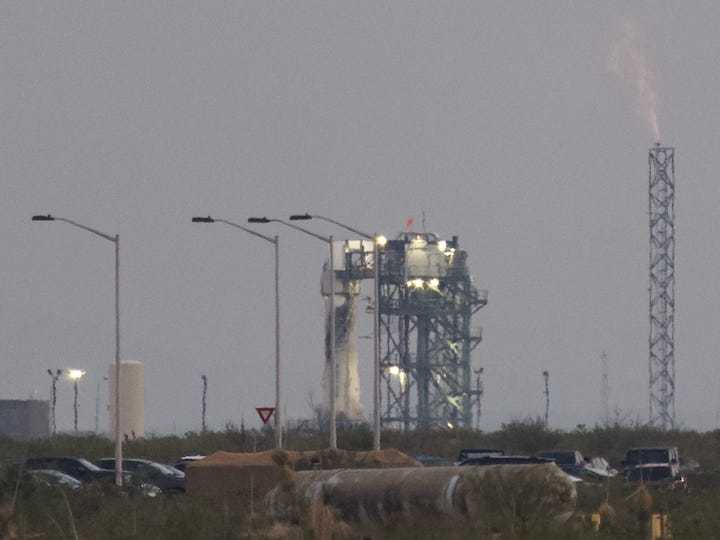 Perhaps Captain James T. Kirk's adventures in "Star Trek" weren't so far from reality after all.
William Shatner, the three-TV-season and seven-film star "Star Trek: The Original Series" universe, will fly on Blue Origin's next crewed mission, the launch provider confirmed Monday. The New Shepard rocket's launch is set for a to-be-determined window on Tuesday, Oct. 12.
If everything goes according to plan, Shatner and a crew of three others will fly from Blue's privately owned and operated launch site near Van Horn, Texas.
"I've heard about space for a long time now. I'm taking the opportunity to see it for myself. What a miracle," Shatner, 90, said in a release from Blue. The flight will make him the oldest person to travel to space.
He will join three others on New Shepard's 18th mission: Chris Boshuizen, a former NASA engineer and co-founder of Planet Labs; Audrey Powers, Blue Origin's vice president of mission and flight operations; and Glen de Vries, co-founder of medical research platform Medidata.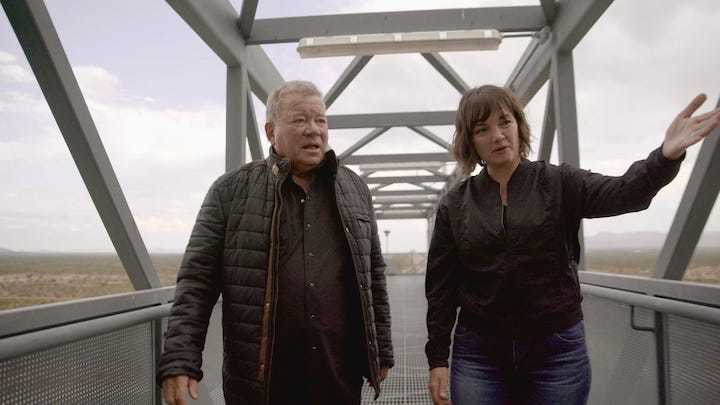 "I've had a great deal to do with all these preparations for human flight," Powers said in a promotional video released by Blue Origin Monday. "I've wanted to fly everything that moves and I want to go to space."
Their NS-18 flight follows the company's first crewed mission in July, which took founder Jeff Bezos, his brother Mark, aviator Wally Funk, and student Oliver Daemen on a similar 11-minute profile. It also comes on the heels of Inspiration4, a SpaceX mission that took four private tourists led by billionaire Jared Isaacman to Earth orbit for three days.
Neither Blue nor SpaceX have discussed per-seat or even per-mission pricing for private flights, but each are easily in the millions. Because Blue's flight profile doesn't reach orbital velocity and is more of an "up-and-down" trajectory, New Shepard seats have only officially been discussed as costing "hundreds of thousands of dollars." Crew Dragon, on the other hand, is capable of more long-duration missions that feature multiple orbits of Earth, so its per-seat prices could be as high as $50 million.
Blue's primary mission involves moving Earth-harming industries – and the millions of workers needed for them – off-planet and into space. The financial and technical experiences gained from space tourism, meanwhile, are expected to help pave the way for that "road to space."
Quelle: Florida Today
----
Update: 12.10.2021
.
Five facts about William Shatner's Blue Origin star trek - or space flight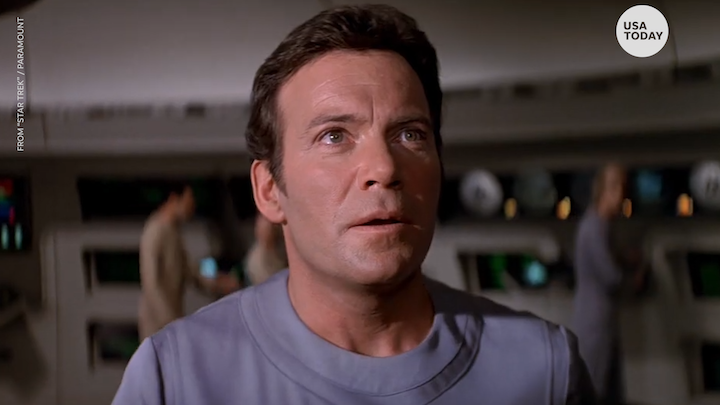 William Shatner, the man best known for his portrayal of Captain James T. Kirk in the original "Star Trek" series and the first six films in the "Star Trek" movie franchise, is set to take flight on a New Shepard rocket at 9:30 a.m. Wednesday from Blue Origin's West Texas launch site. The launch had been scheduled for Tuesday but forecasted high winds prompted a 24-hour delay.
Here are five facts to know before Shatner's flight.
1. At 90 years old, Shatner will be the oldest human to fly in space. The current record holder is Wally Funk, 82, who flew with Jeff Bezos on a Blue Origin flight in July. She's an accomplished pilot with more than 18,600 flight hours under her belt. In the 1960s, she was denied entry to the NASA astronaut program because of her gender. She broke the 1998 record set by John Glenn when he flew aboard Space Shuttle Discovery at the age of 77.
2. This is only the second Blue Origin mission with people on board. The first mission was the previously mentioned July flight with Wally Funk. The flight also carried Blue Origin and Amazon founder Jeff Bezos, his brother Mark Bezos and Oliver Daemen, an 18-year-old student from the Netherlands.
3. In "Star Trek: The Motion Picture," Captain Kirk and his crew investigate a menacing cloud that devours everything in its path. At the heart of that cloud is "V'Ger" or what would eventually be revealed as Voyager 7. While Voyager 1 and 2 were launched between the end of the original series run and the first of 13 movies, a real Voyager 7 was never actually built. Voyager 1, one of the oldest human-made probes, has finally left the solar system and is traveling through the final frontier of Interstellar space. Ironically, the Voyager probes' missions – like that of "Star Trek's" U.S.S. Enterprise – were only intended to last five years.
4. Captain Kirk's Enterprise, according to the "Star Trek" database, had a crew of 430 with 14 science labs, an observation deck, a massive lower deck that included main engineering and a shuttle bay. The ship was built in San Francisco. The New Shepard capsule Shatner will fly in was built in Kent, Washington, has room for six and, according to Blue Origin, the largest windows to fly in space.
5. Unlike the U.S.S. Enterprise's historic flight in September 1966, which included Lt. Nyota Uhura, a Black female communications officer played by Nichelle Nichols, there will be no people of color onboard Shatner's flight nor were there any people of color on the July mission. The other members of Wednesda Blue Origin flight will include Audrey Powers, Blue Origin's vice president of missions and flight operations; Chris Boshuizen, co-founder of an Earth observation company; and Glen de Vries, vice chair for a French software company.
Quelle: Florida Today
+++
William Shatner's Blue Origin space trip delayed by weather
At age 90, Shatner would be the oldest person sent to space, but he'll have to wait another day to get there.
William Shatner's much-anticipated trip to the edge of space will have to wait a day because high winds in west Texas prompted spaceflight company Blue Origin to postpone the voyage.
Originally scheduled for Tuesday, the launch from the spaceport in Van Horn, Texas, will now take place at 8:30 a.m. Wednesday, Blue Origin said in a statement Sunday.
"As part of today's Flight Readiness Review, the mission operations team confirmed the vehicle has met all mission requirements and astronauts began their training today," Blue Origin said. "Weather is the only gating factor for the launch window."
The National Weather Service predicted strong winds for the mountains north of Van Horn through Tuesday, and a hazardous weather outlook was in effect for the region Sunday as gusts were expected to reach nearly 75 mph.
Shatner, 90, would be the oldest person to travel to space when Blue Origin's New Shepard 4 vehicle, which includes a rocket engine and a capsule, reaches the boundary of space.
The suborbital limit of the mission, dubbed NS-18, means the "Star Trek" legend will boldly go where no nonagenarian has gone before for only a few minutes.
He is expected to be joined by three other passengers: Audrey Powers, Blue Origin's vice president of mission and flight operations; Glen de Vries, a co-founder of medical research platform Medidata; and Chris Boshuizen, a tech entrepreneur. The latter two paid for their tickets, expected to cost more than $250,000 each.
Shatner said on NBC's "TODAY" show last week that he had been invited. Amazon's executive chairman, Jeff Bezos, the founder of Blue Origin, tweeted that Shatner is described by the word "Legend."
Shatner expressed nonchalance about his expected spaceflight milestone. Asked how he would prepare for the voyage, he said, "I had some apple pie last night."
He did have some seemingly well-thought-out words to describe the trip, telling "TODAY": "I'm going to see the vastness of space and the extraordinary miracle of our Earth and how fragile it is compared to the forces at work in the universe — that's really what I'm looking for."
In July Bezos himself took the company's official inaugural trip to space alongside his brother and two other people. It was the first unpiloted suborbital flight with an all-civilian crew.
Quelle: NBC News
+++
Update: 21.15 MESZ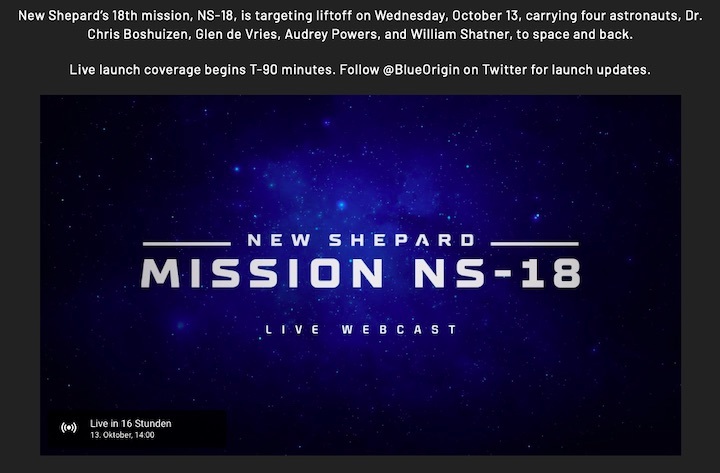 Quelle: Blue Origin
----
Update: 13.10.2021 / 14.00 MESZ
.
Blue Origin - NS-18 New Shepard Space Flight Mission with William Shatner On-Board | Live Launch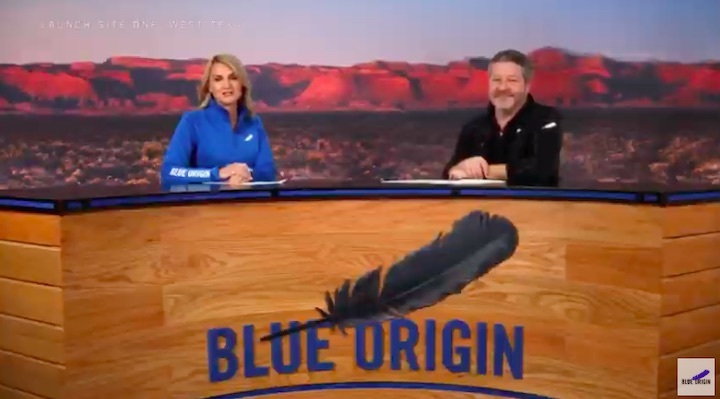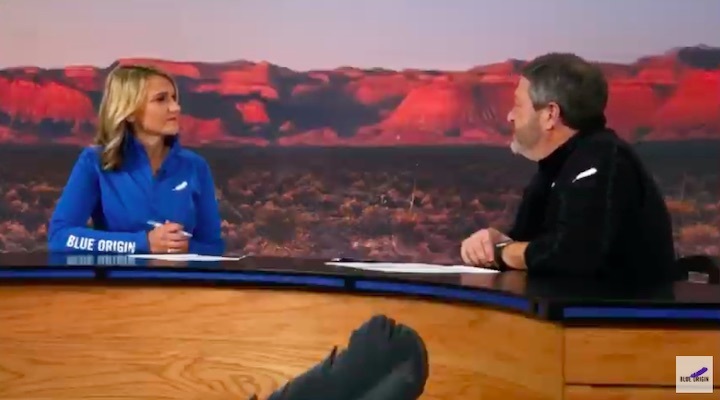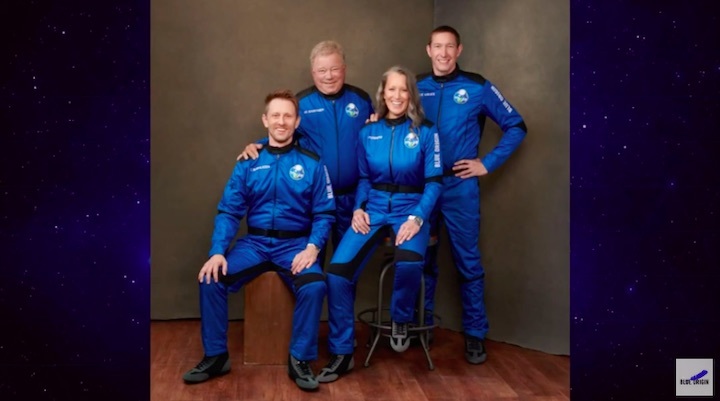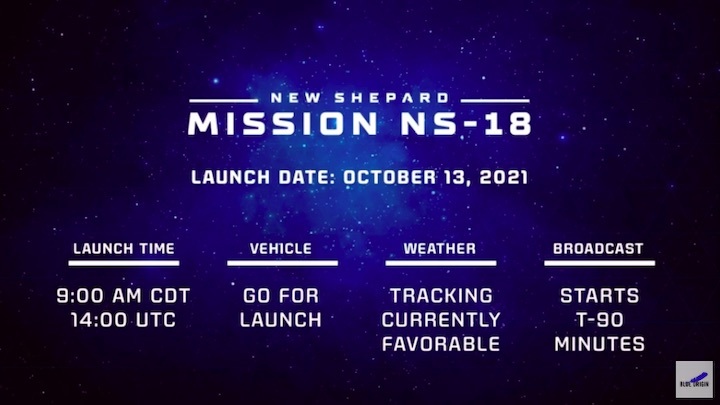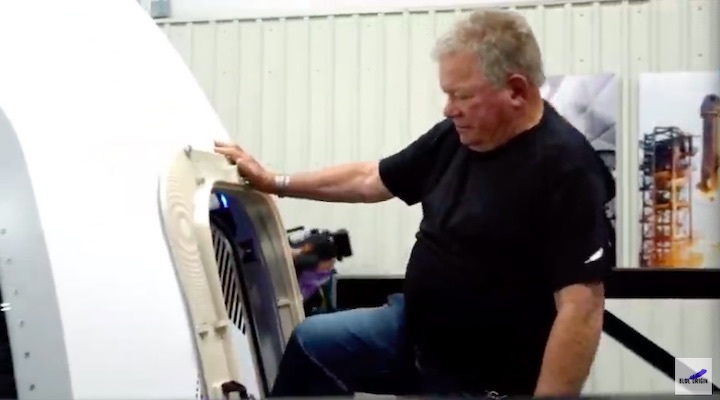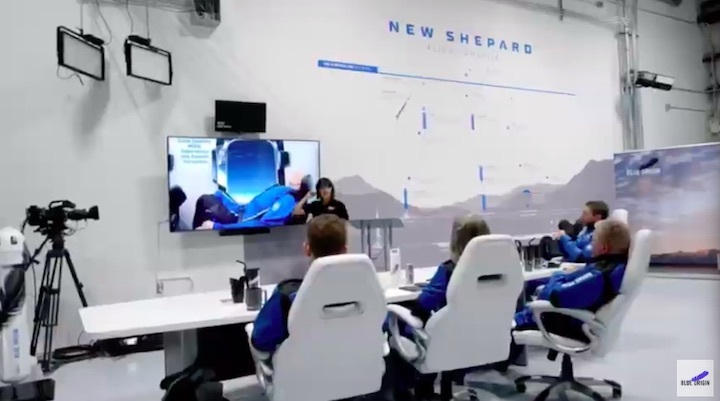 +++
Update: 15.00 MESZ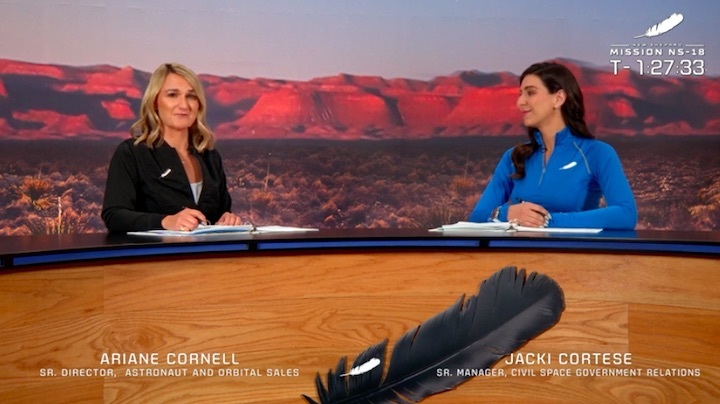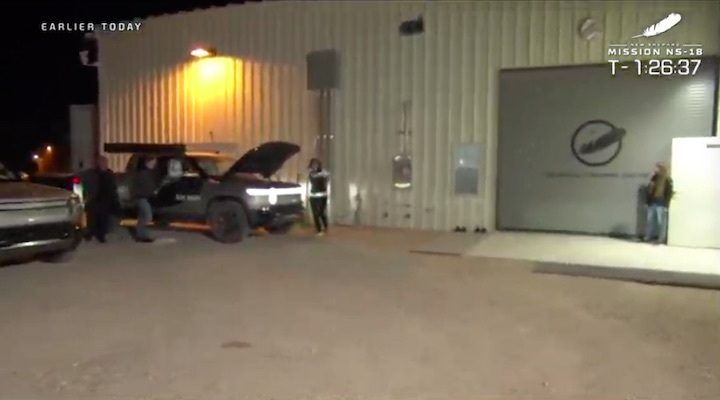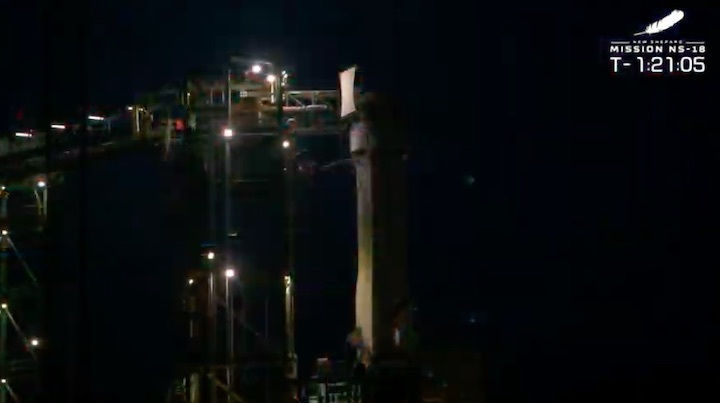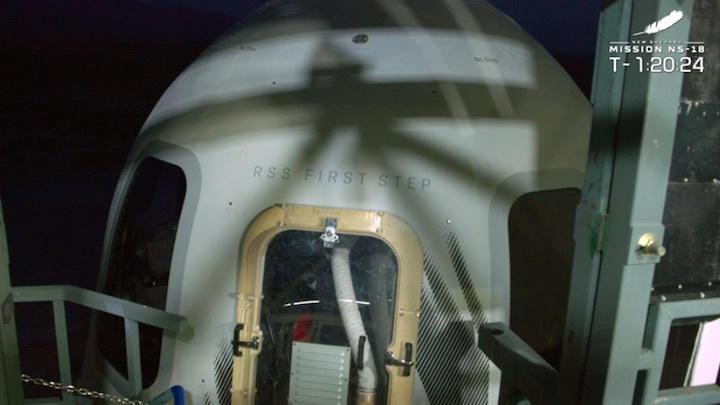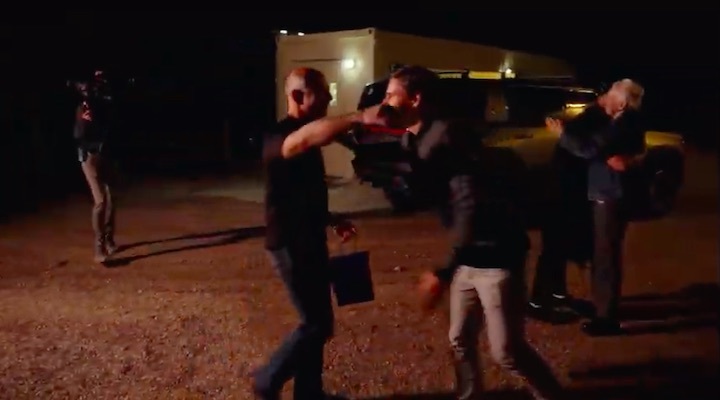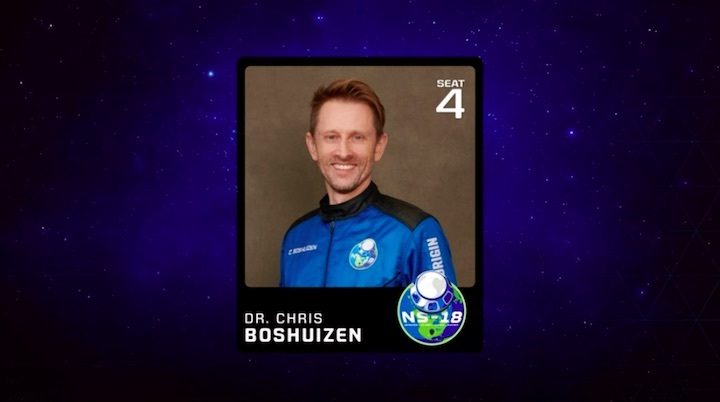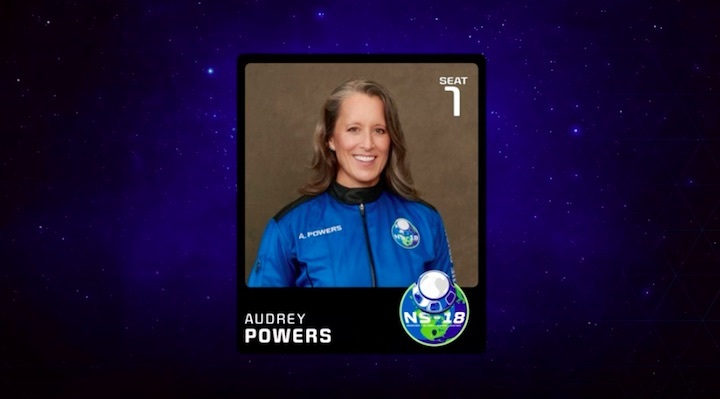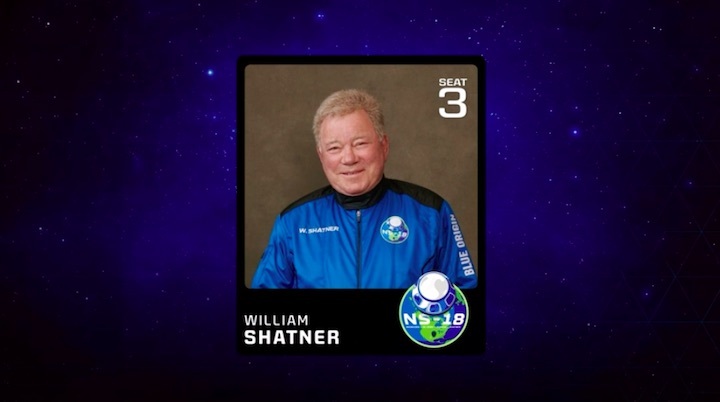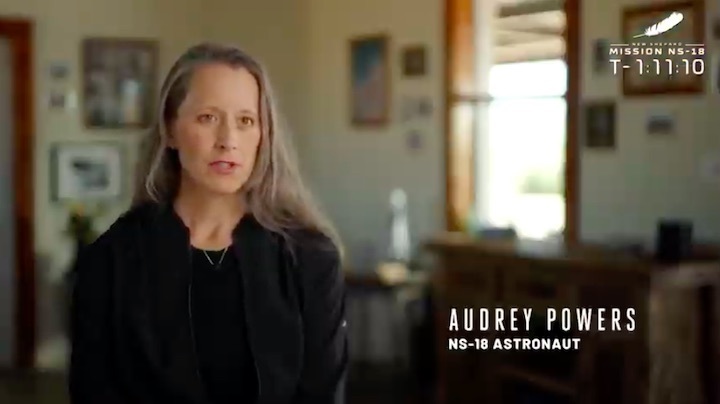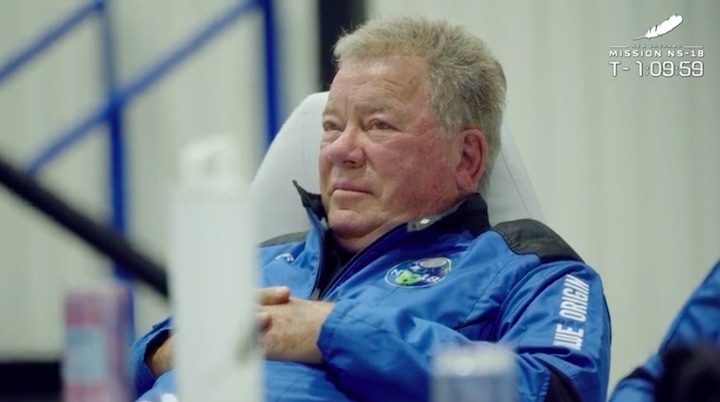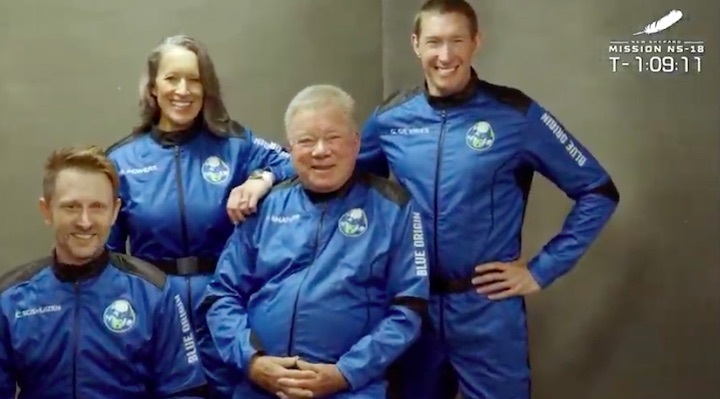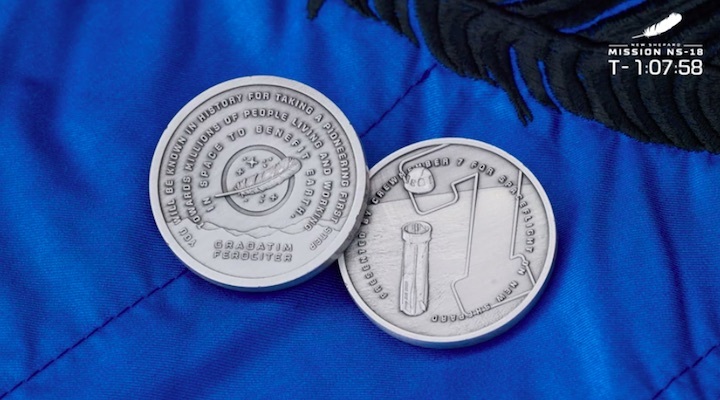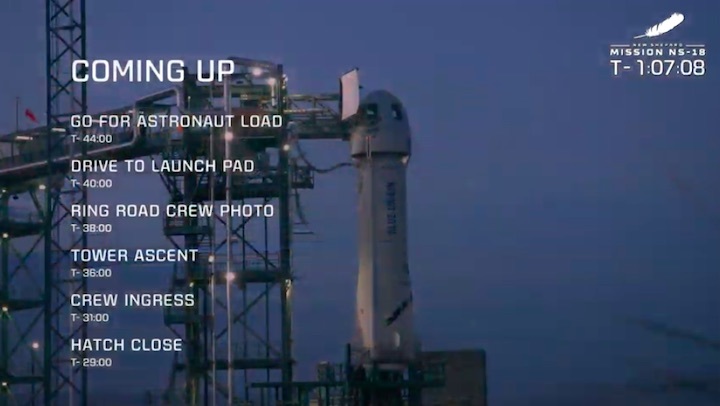 +++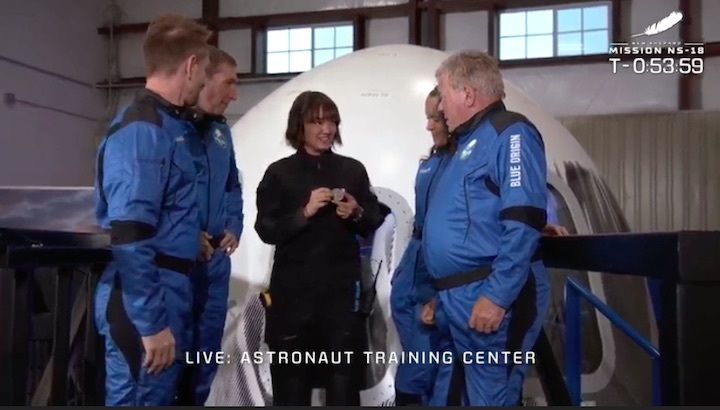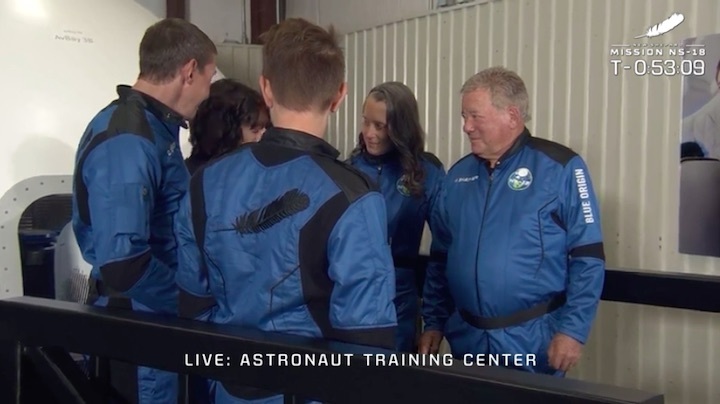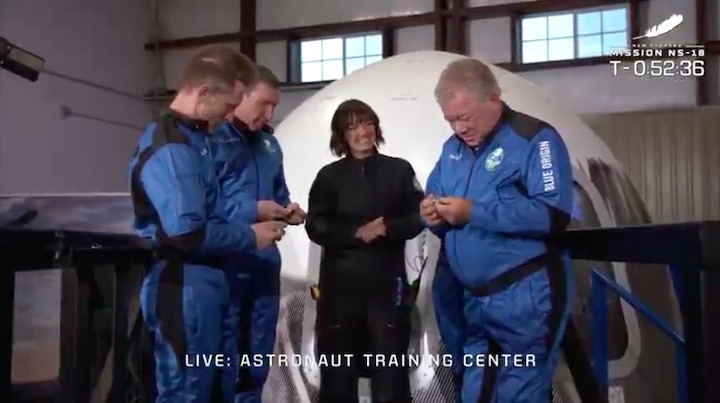 +++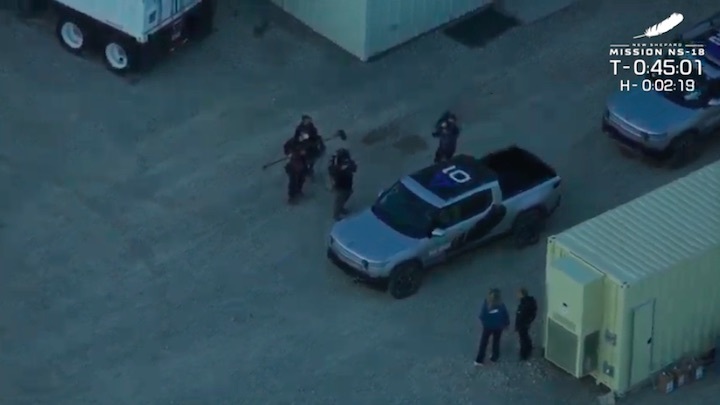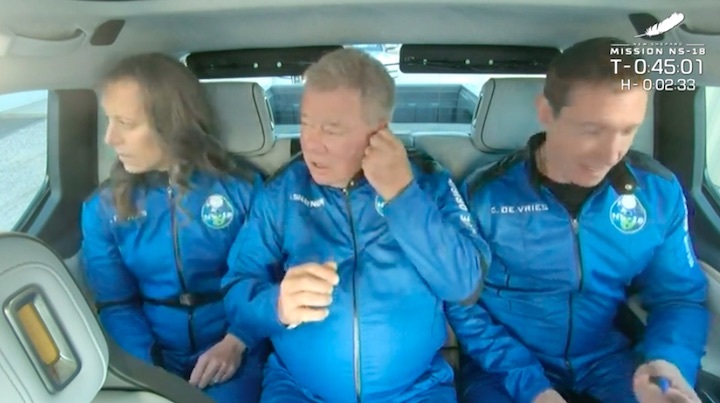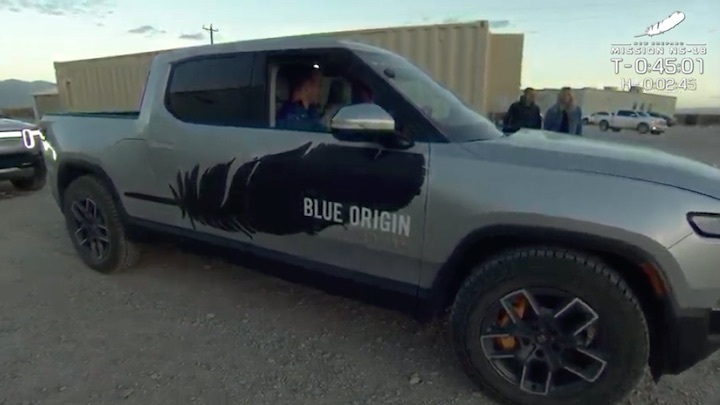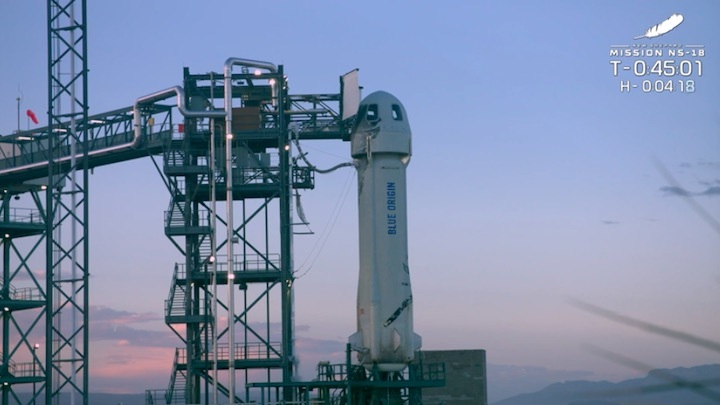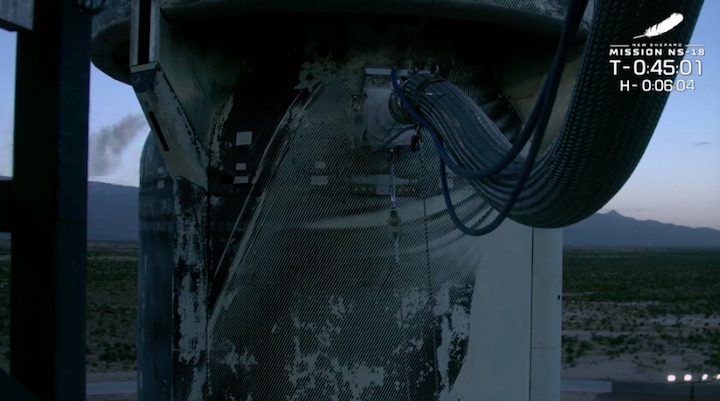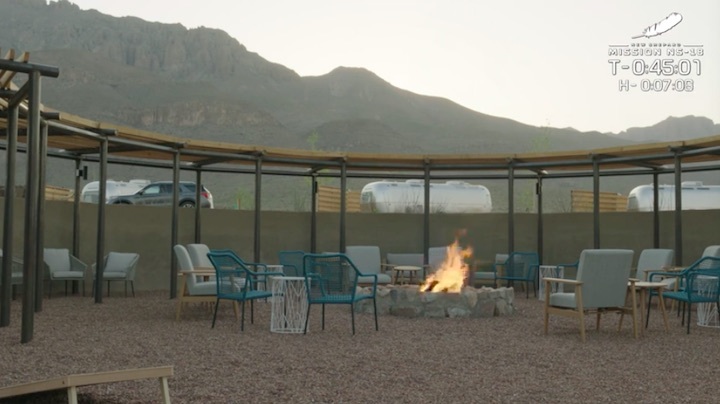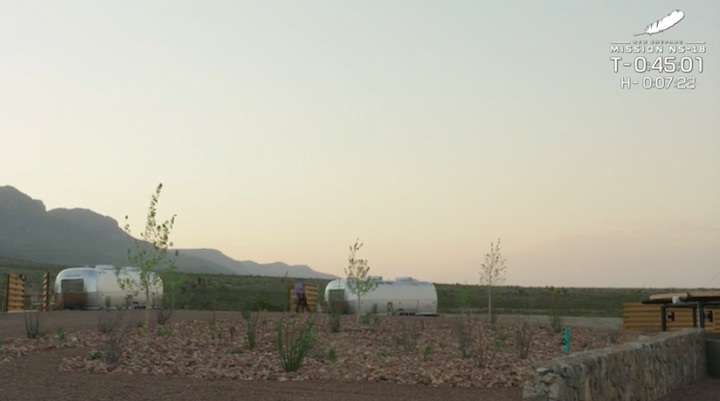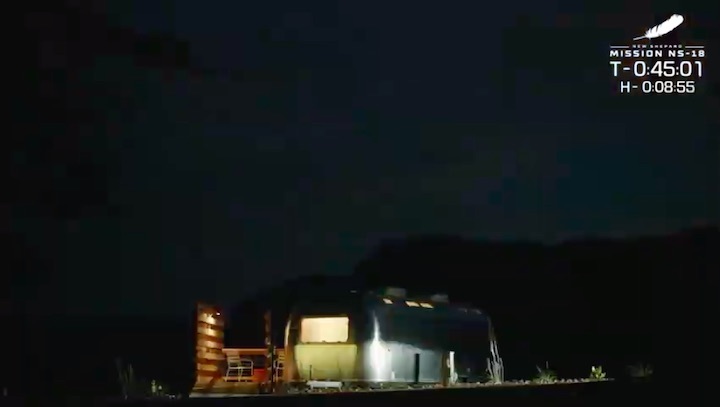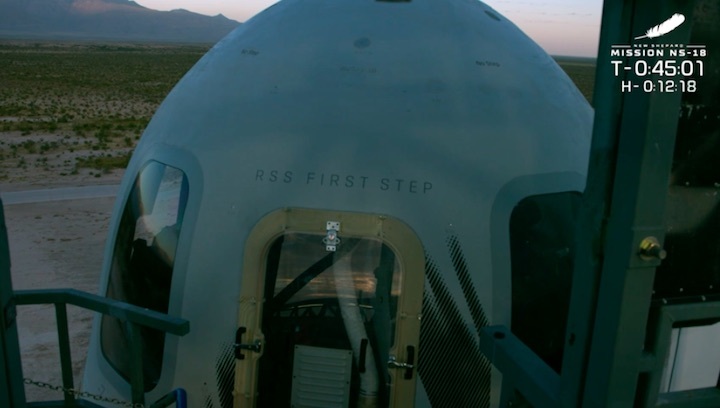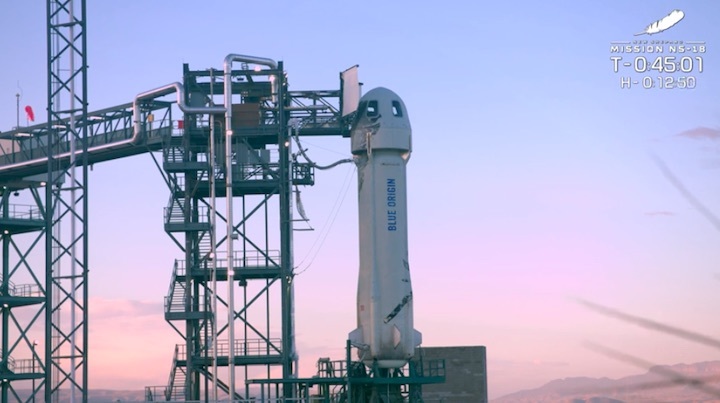 +++
New Shepard's 18th mission, NS-18, is targeting liftoff on Wednesday, October 13, carrying four astronauts, Dr. Chris Boshuizen, Glen de Vries, Audrey Powers, and William Shatner, to space and back.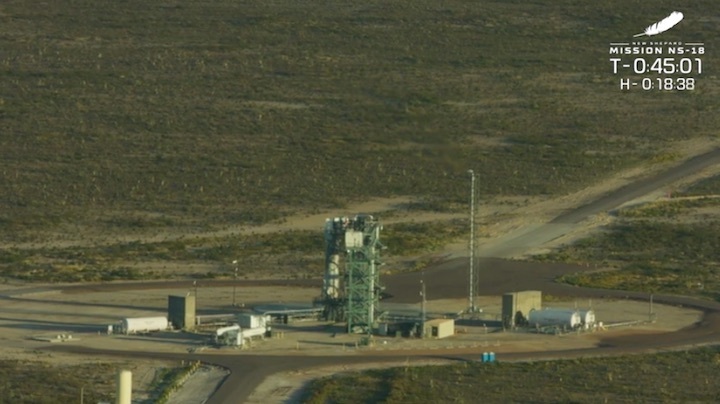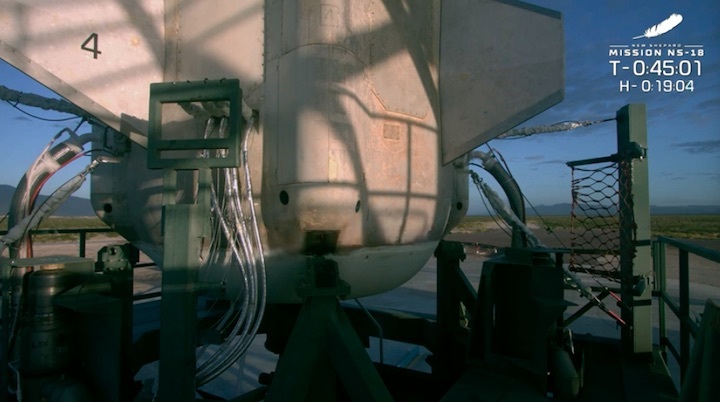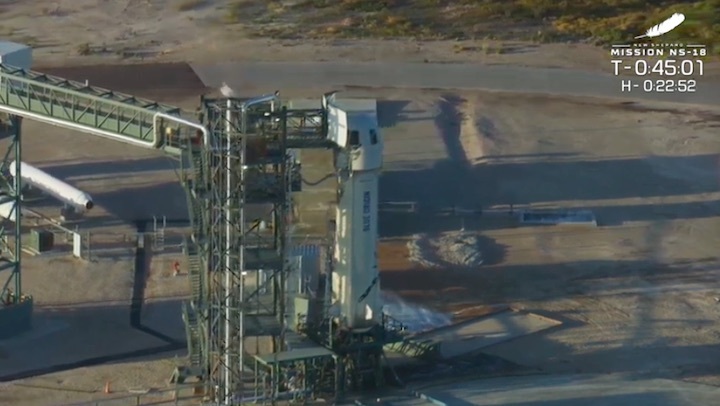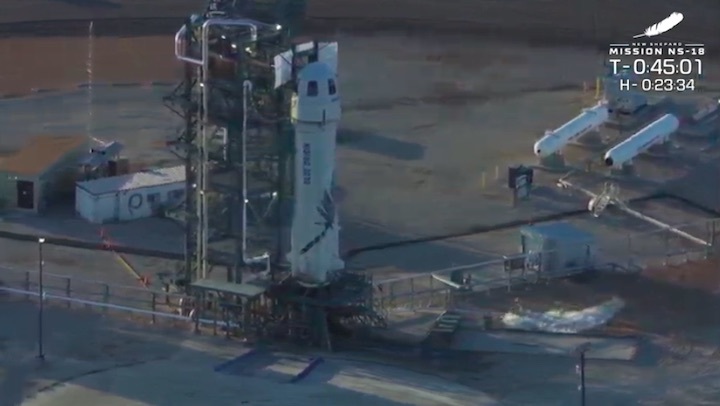 +++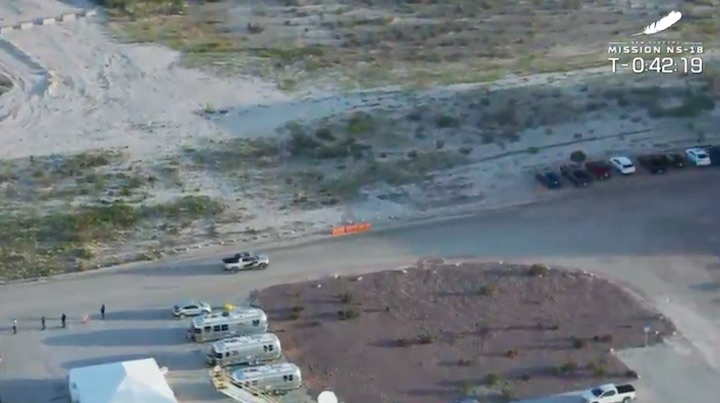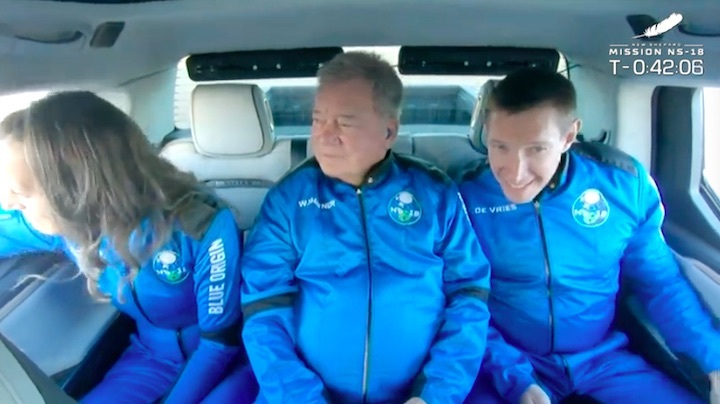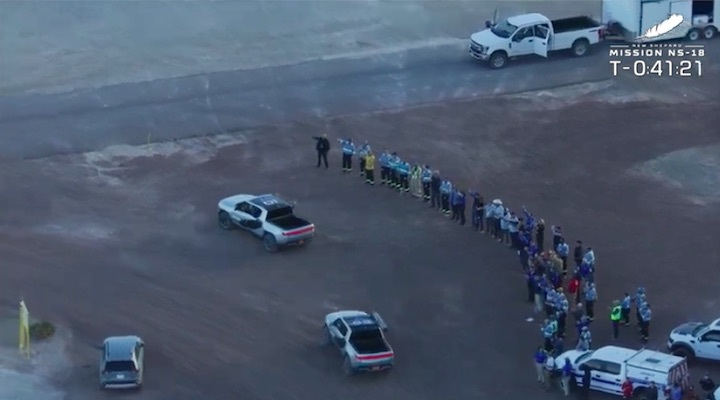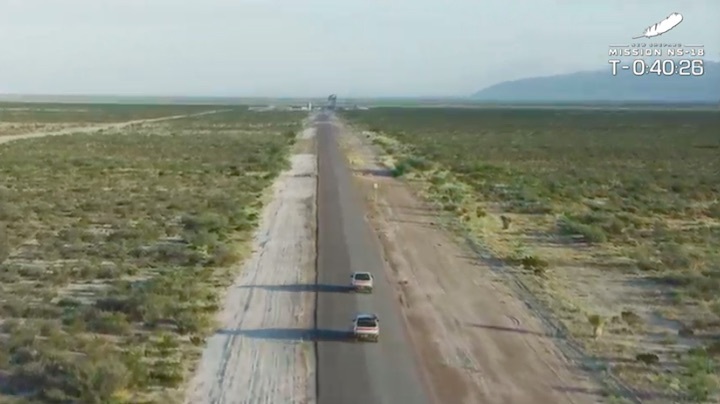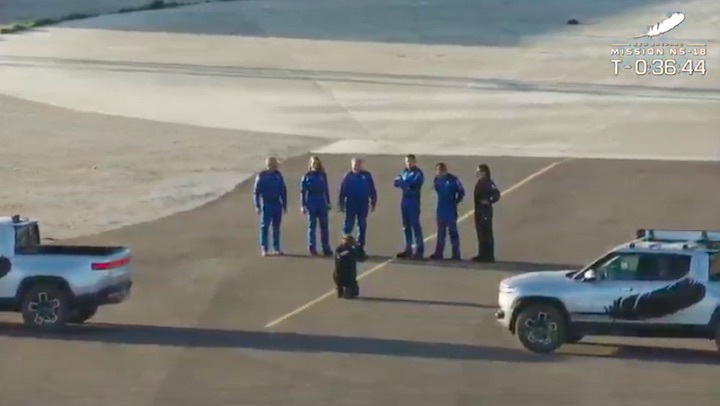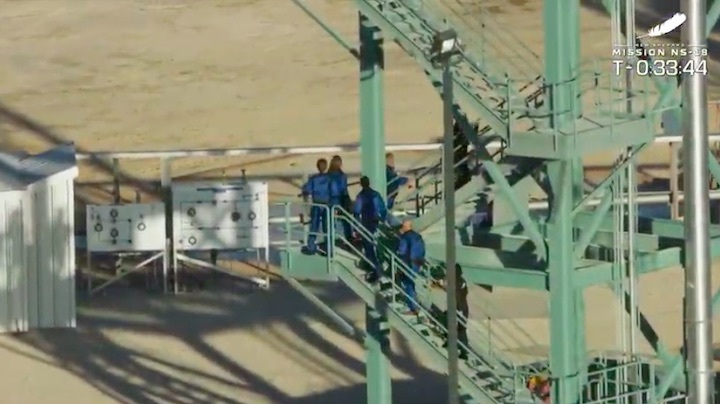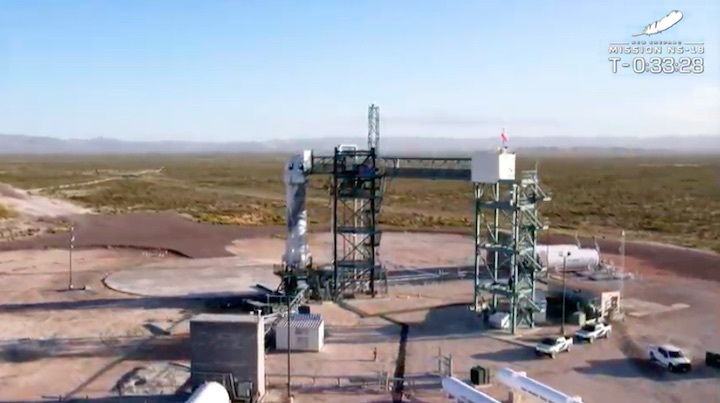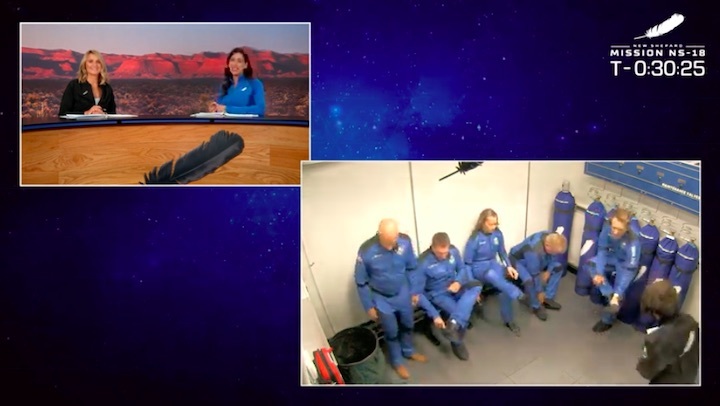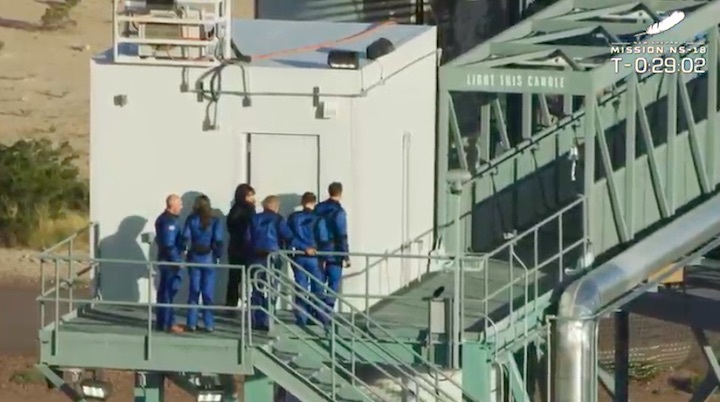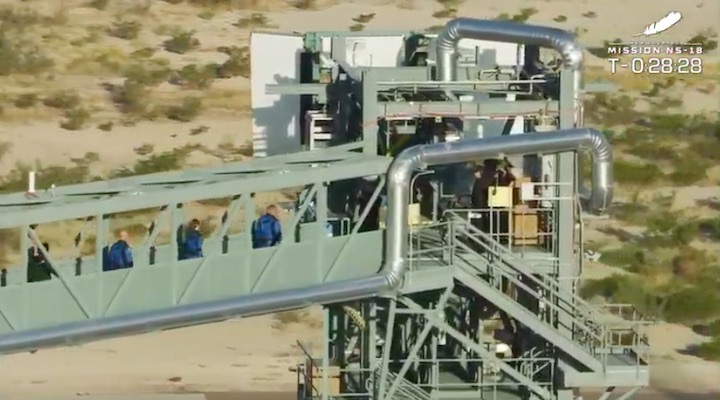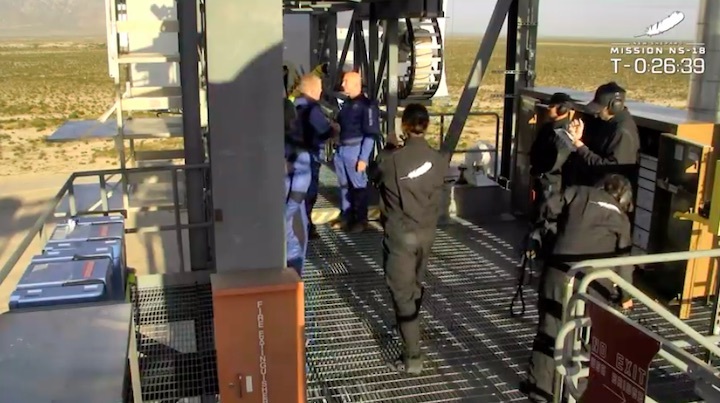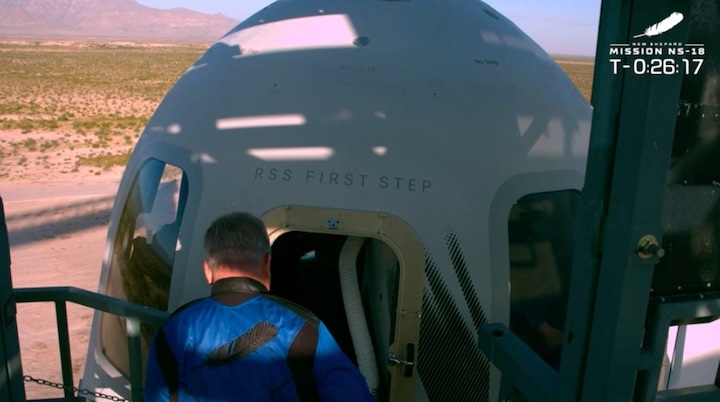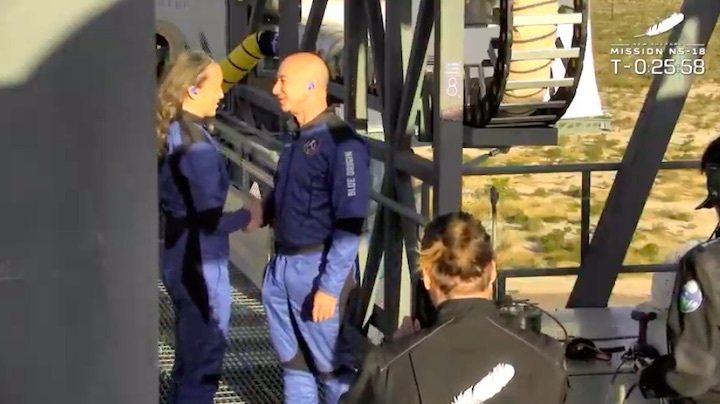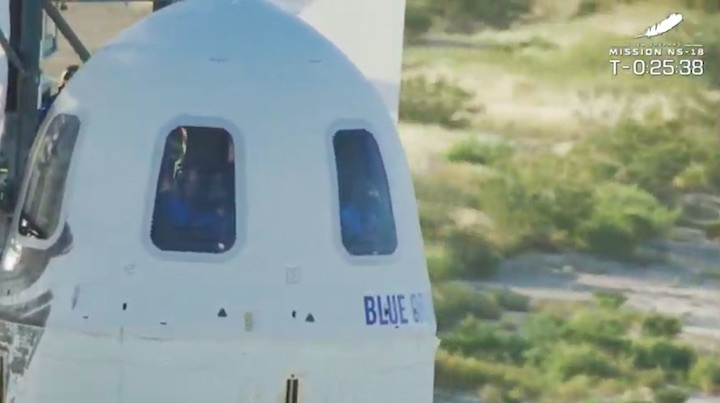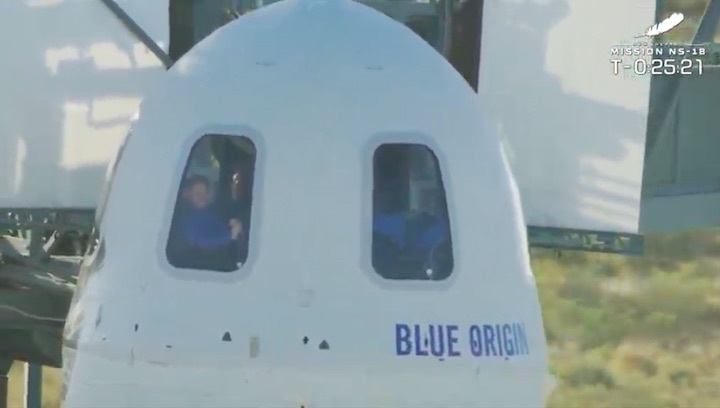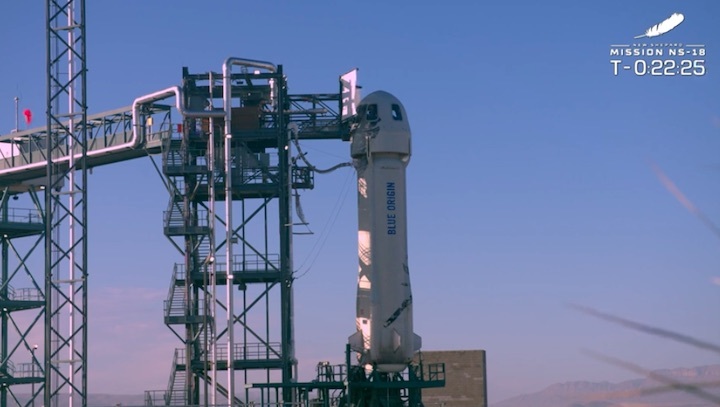 +++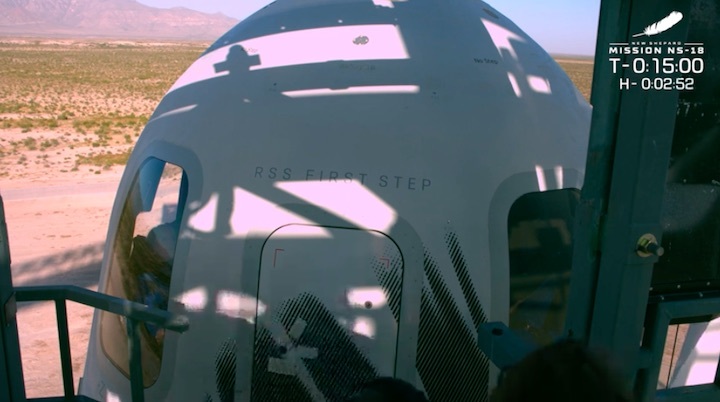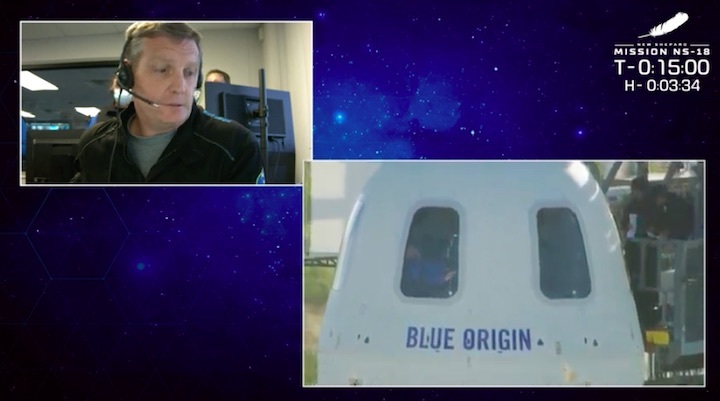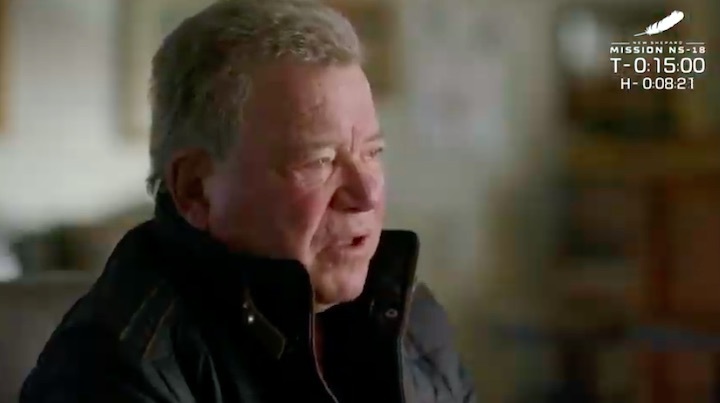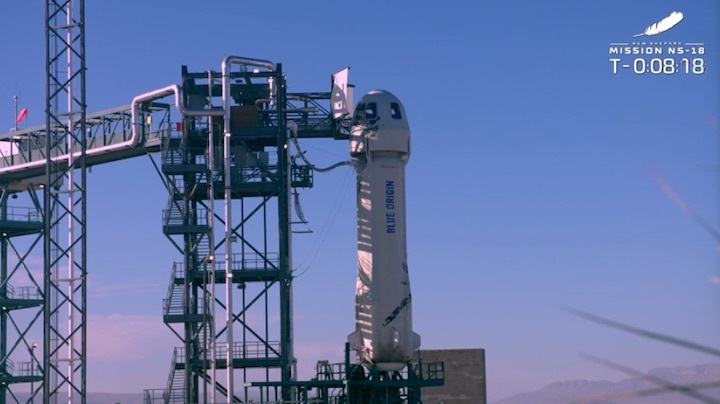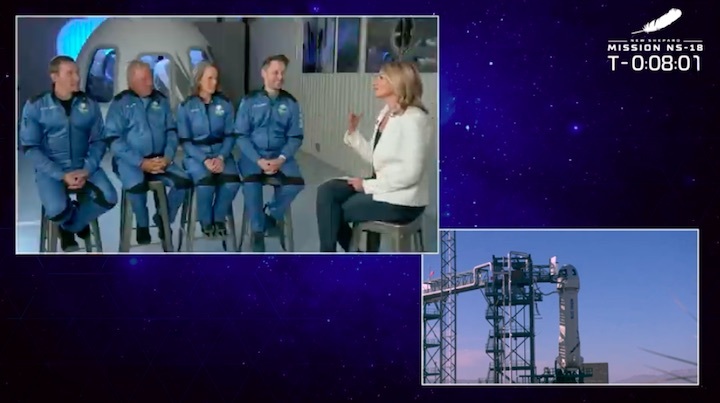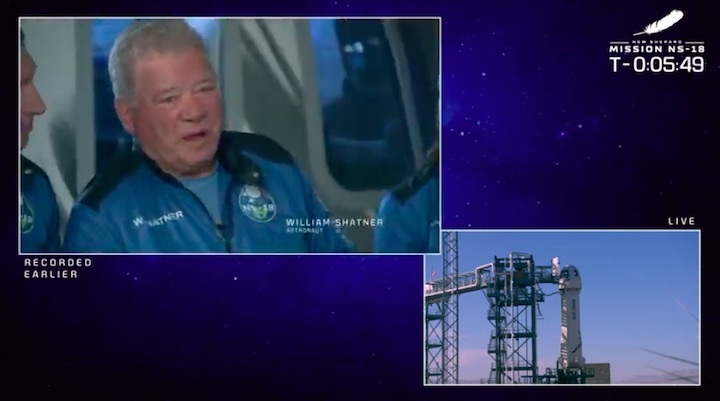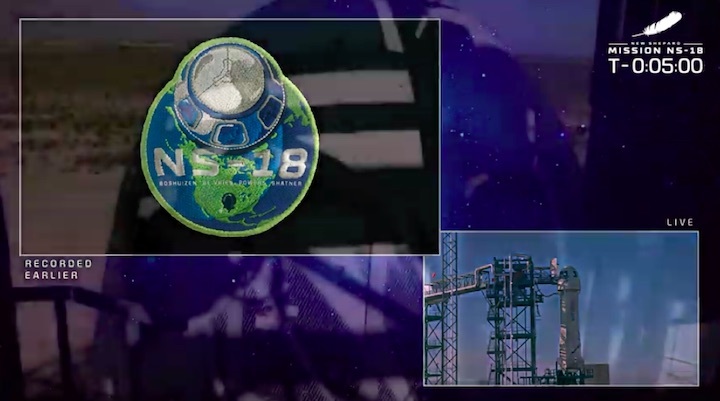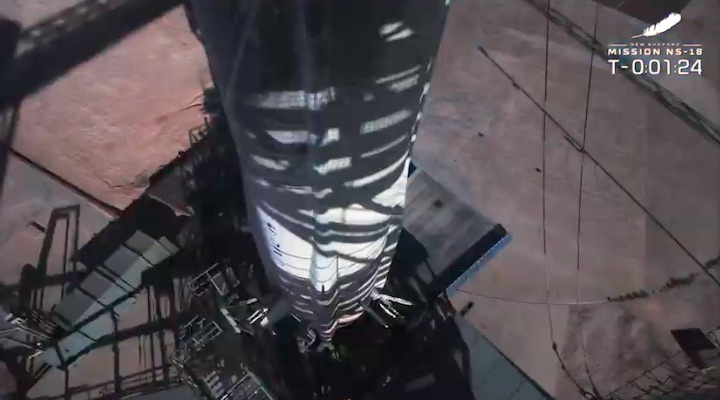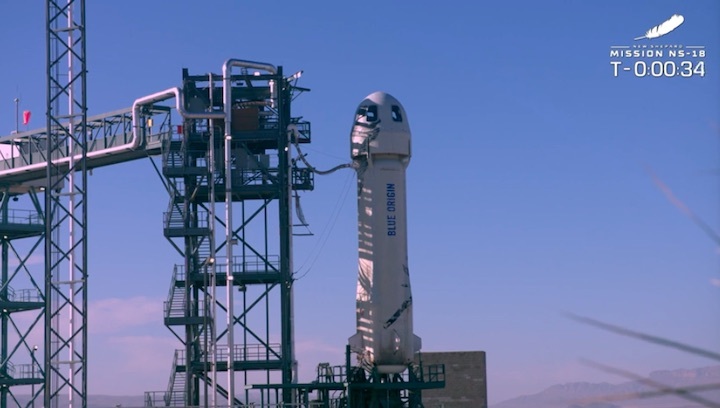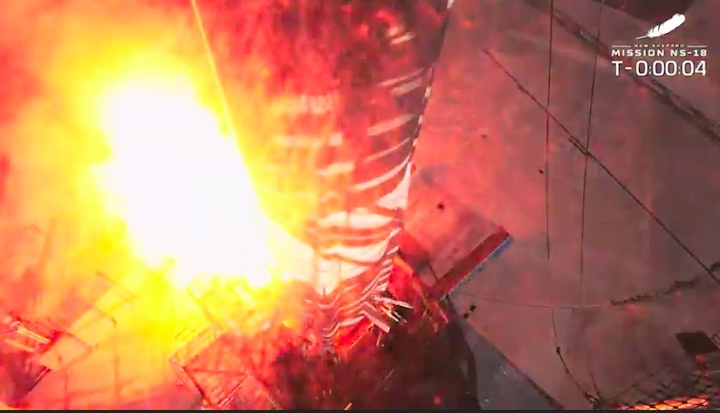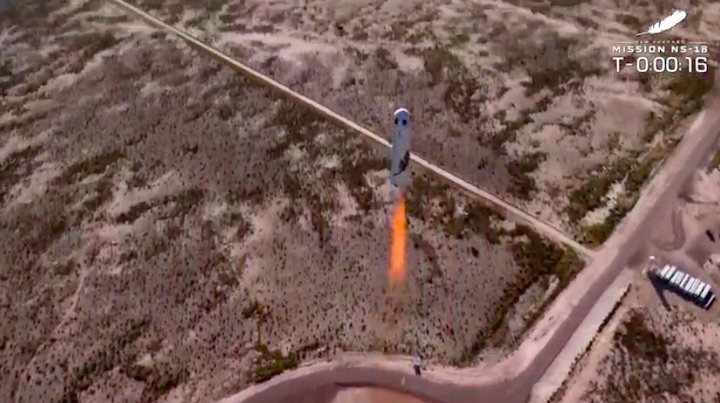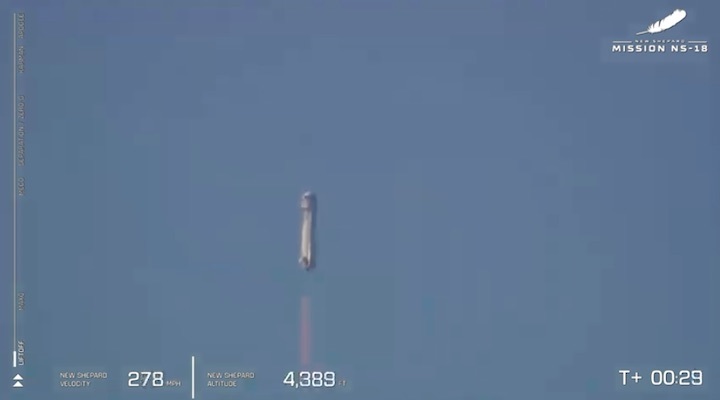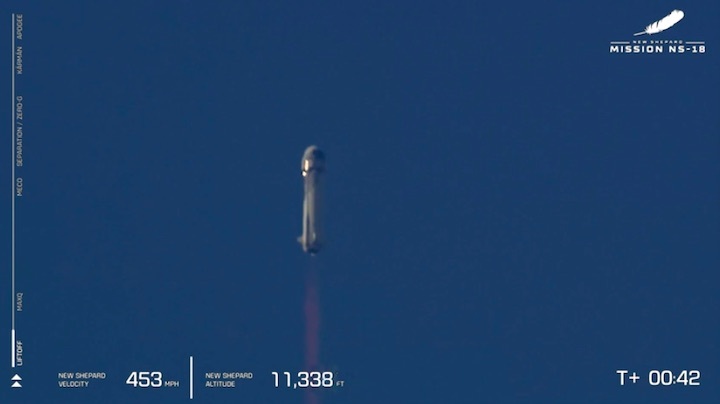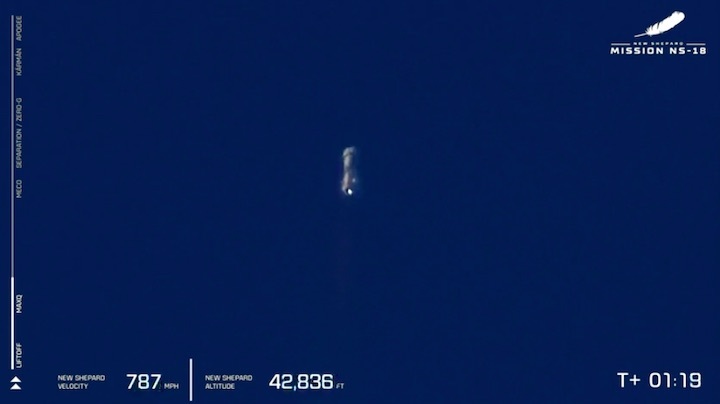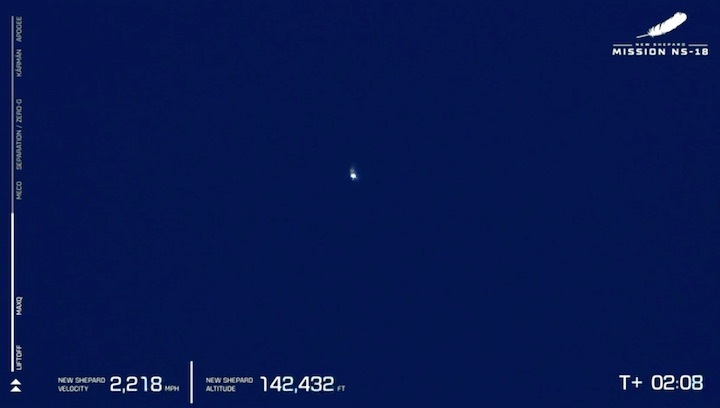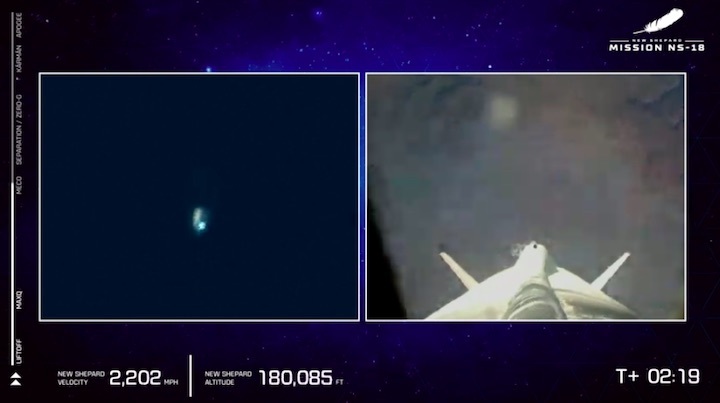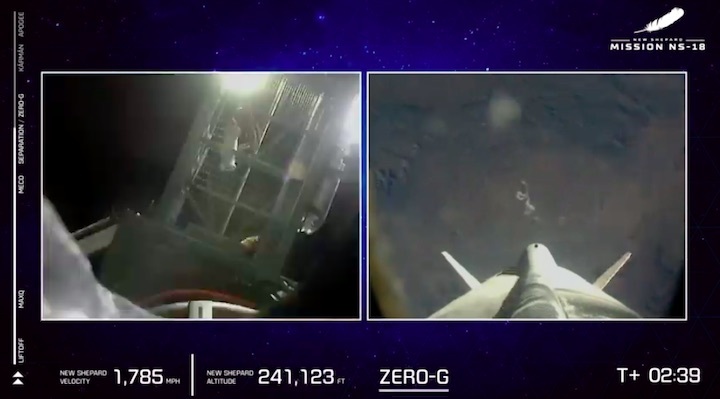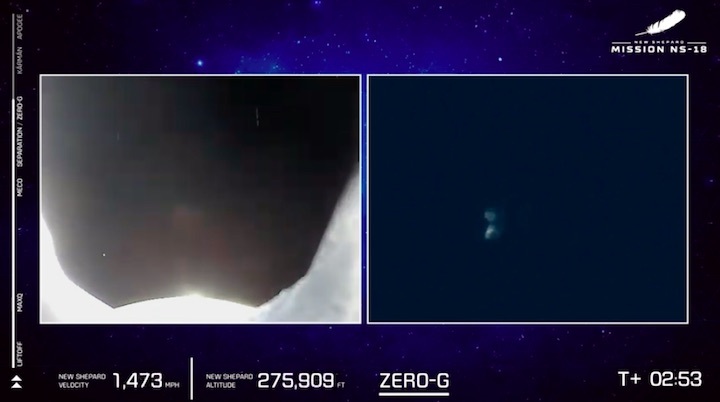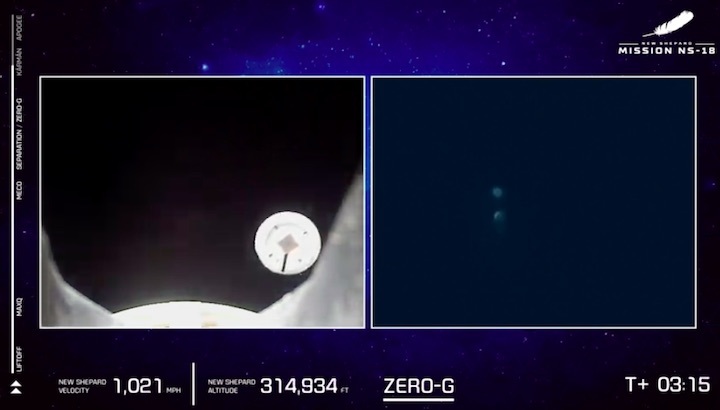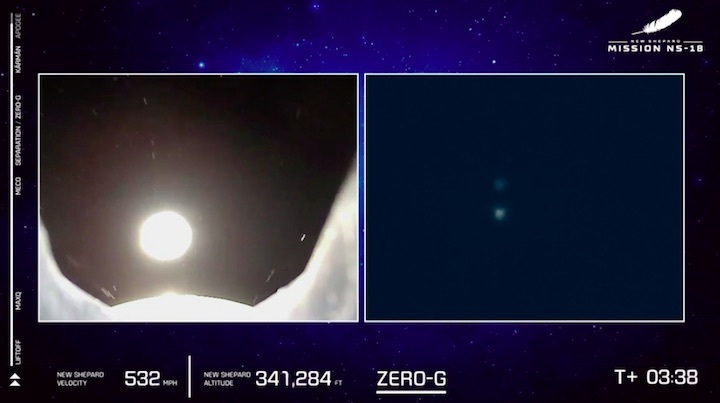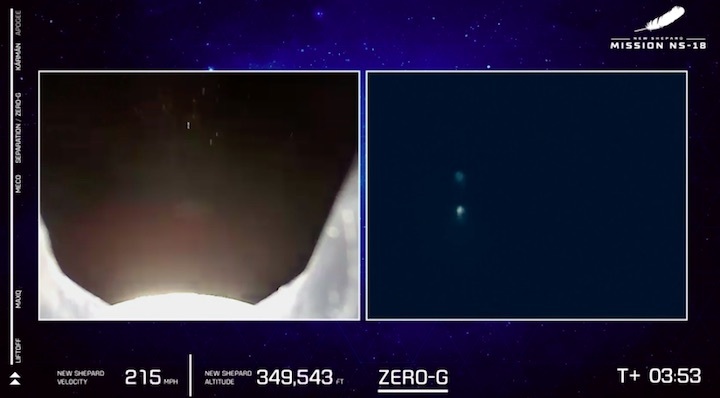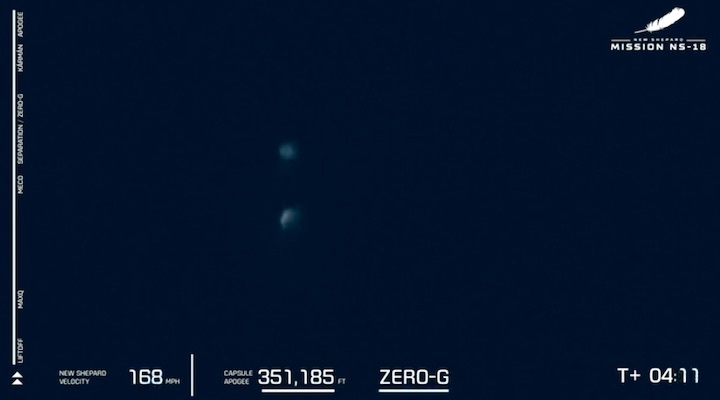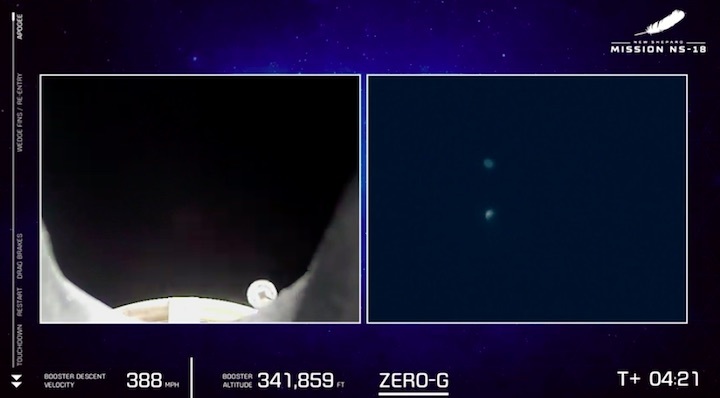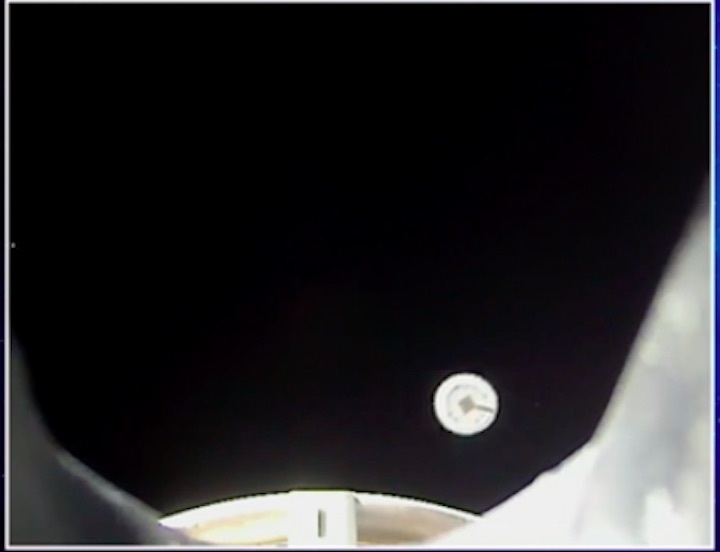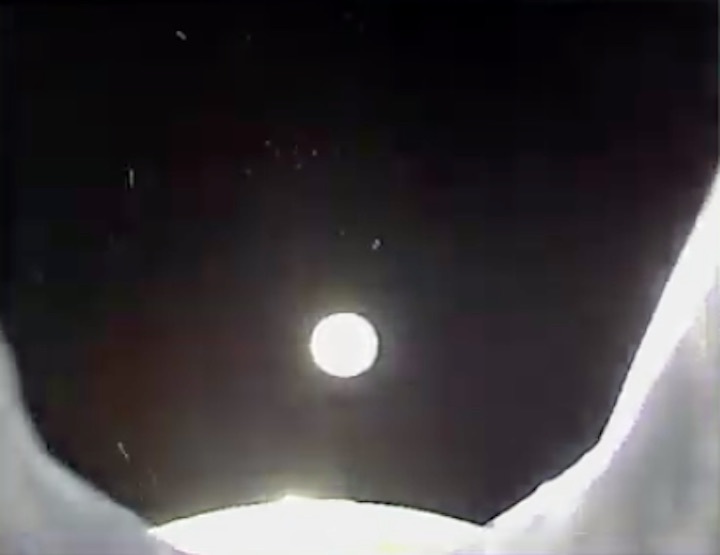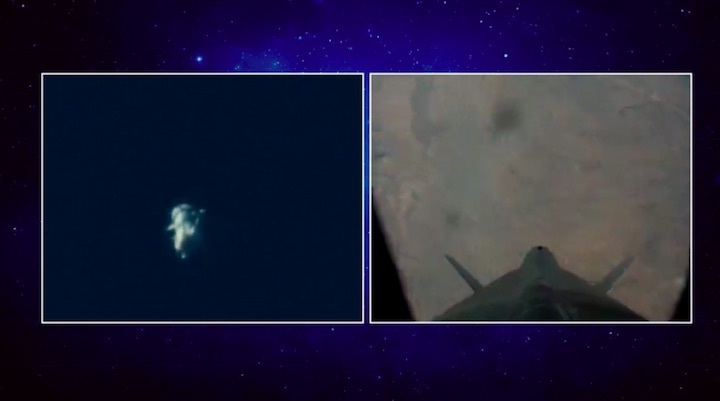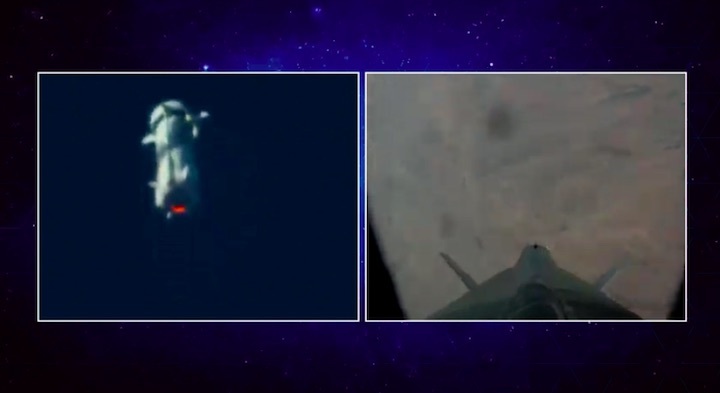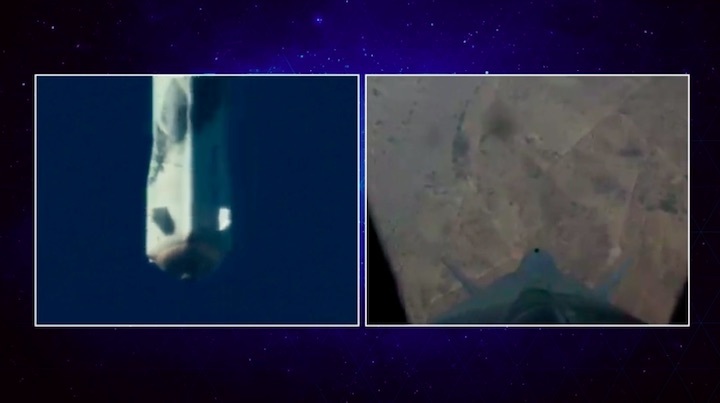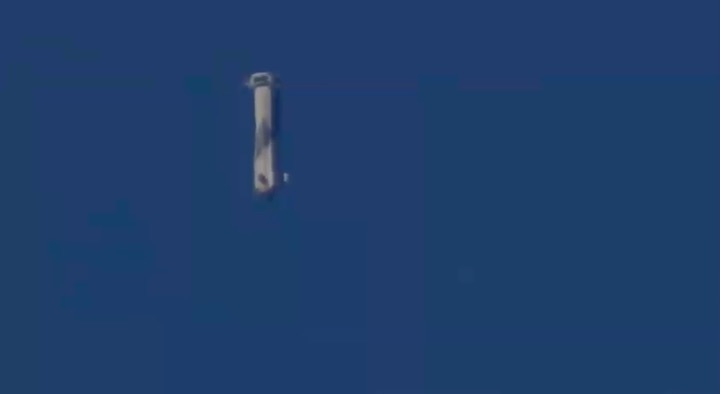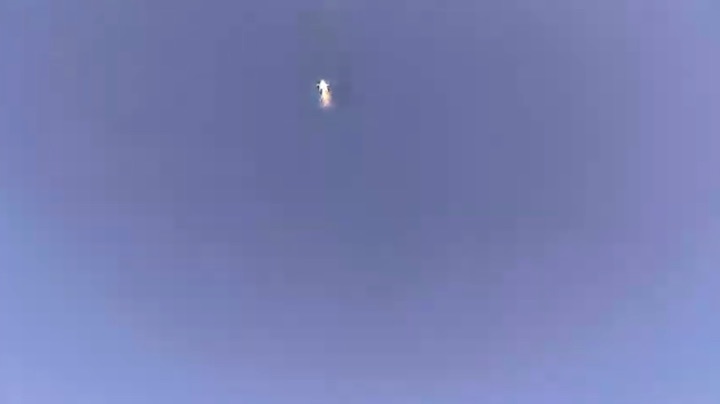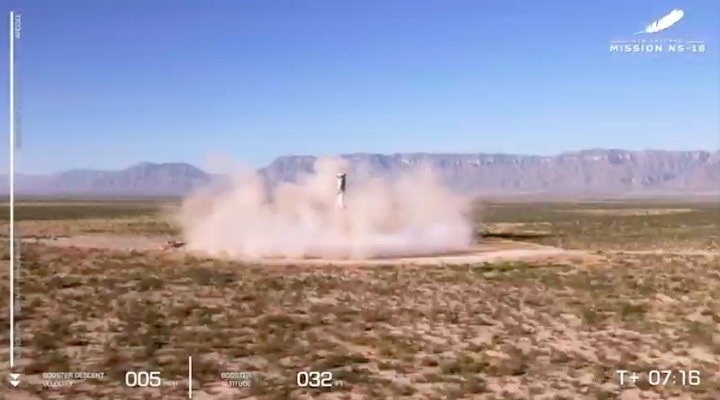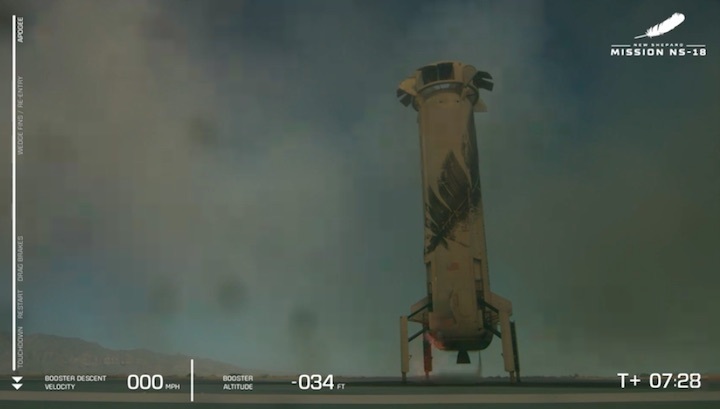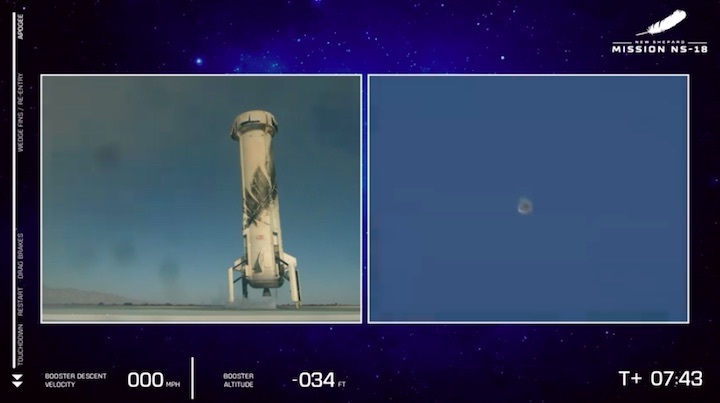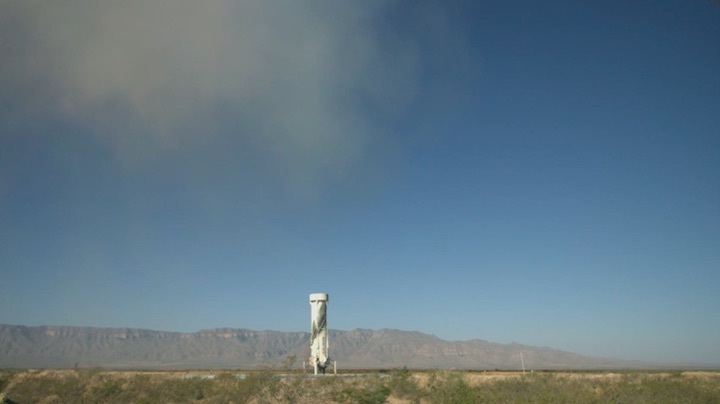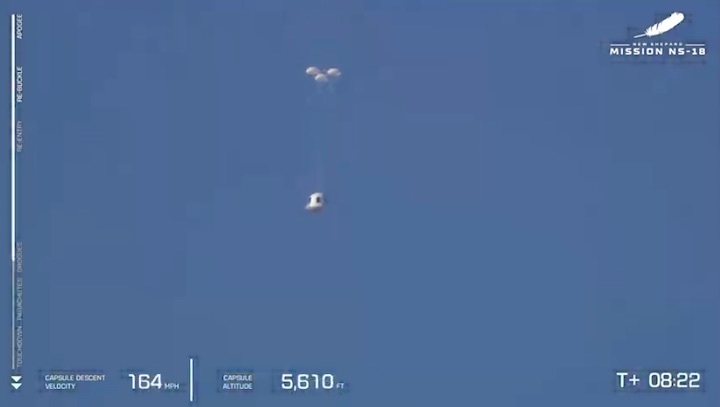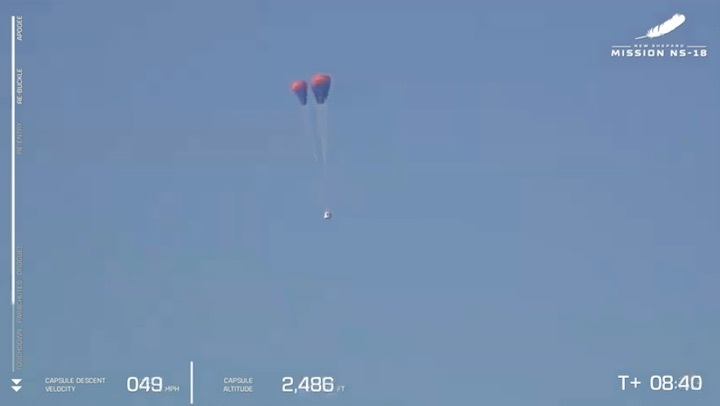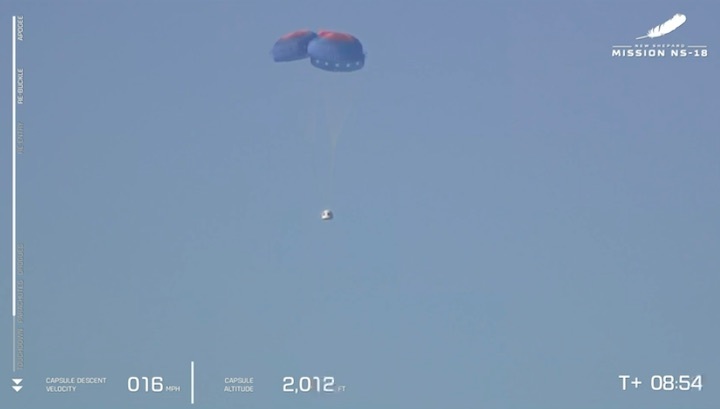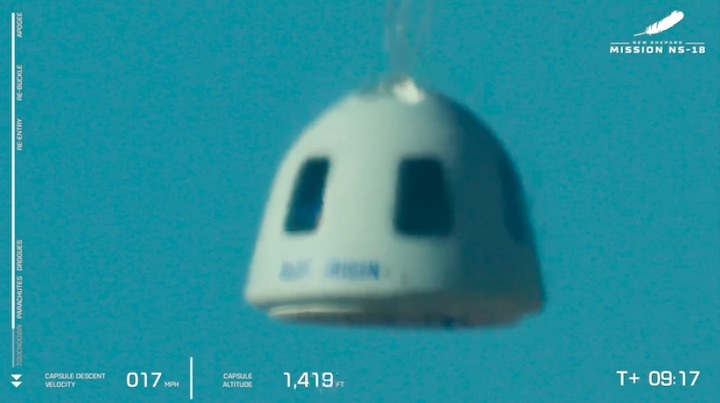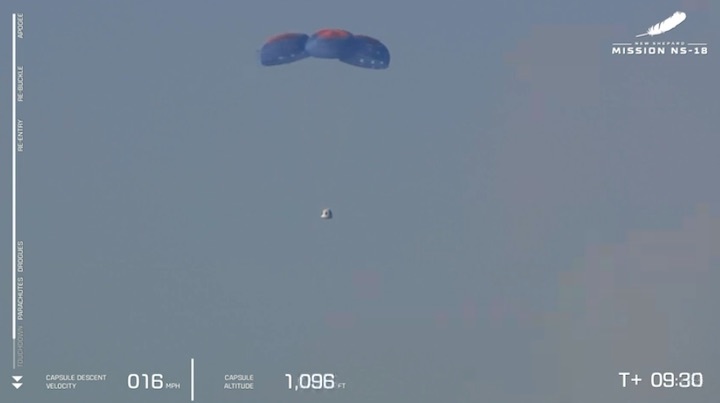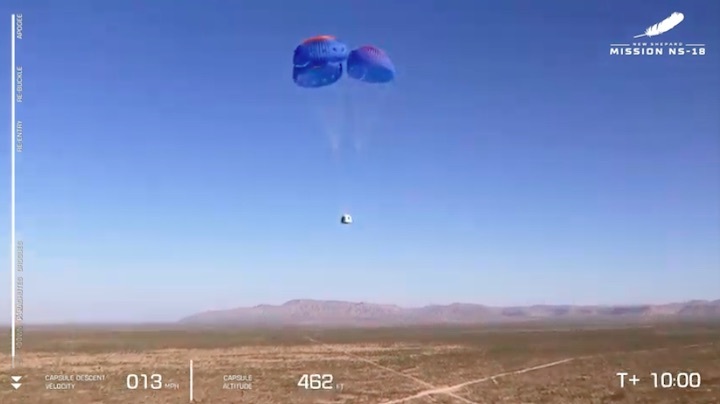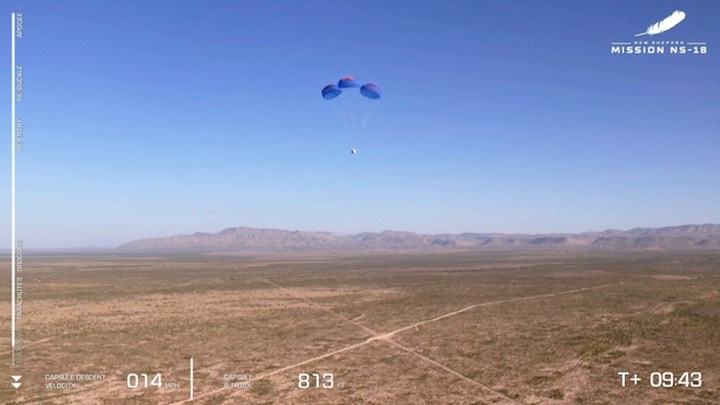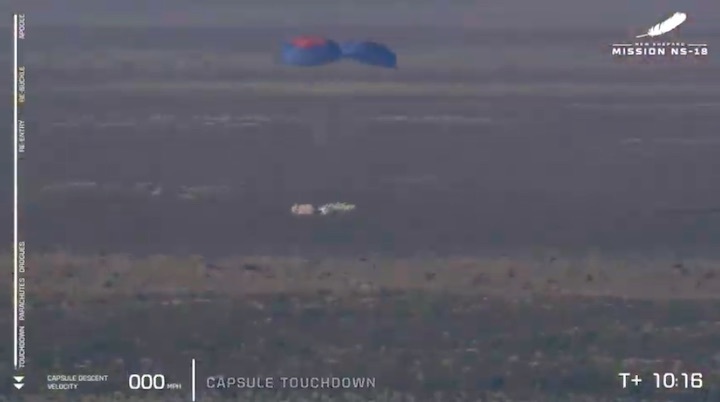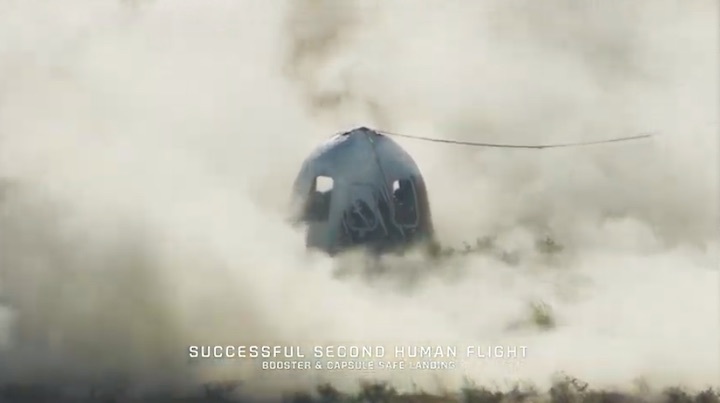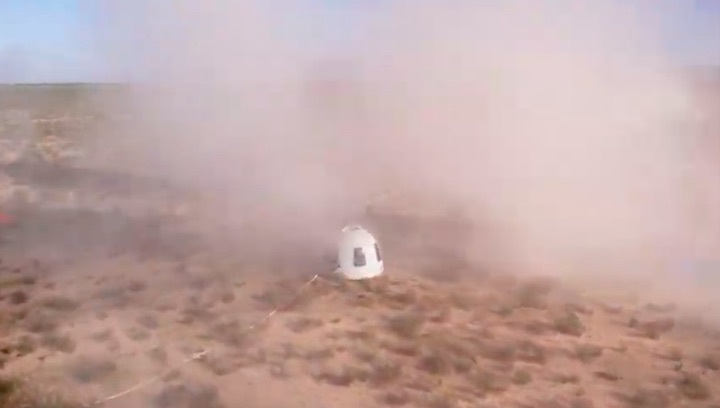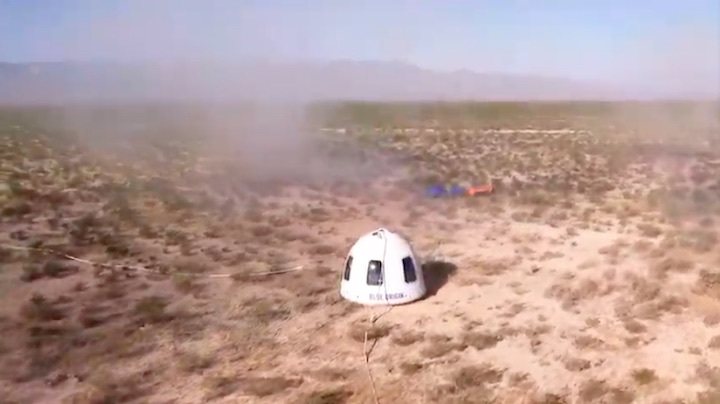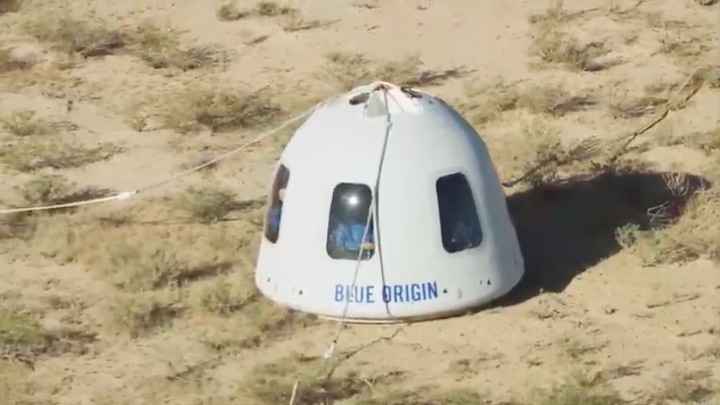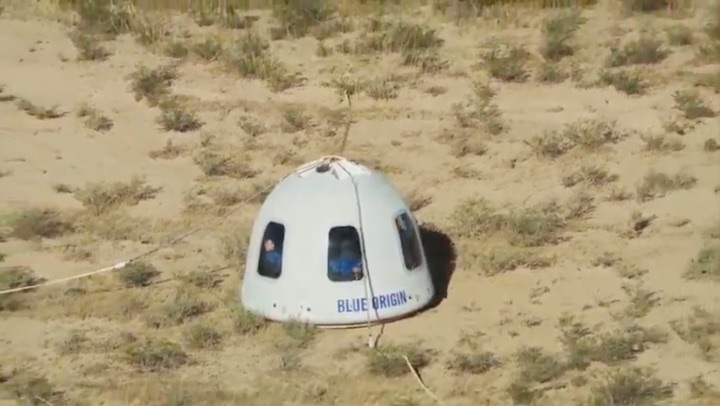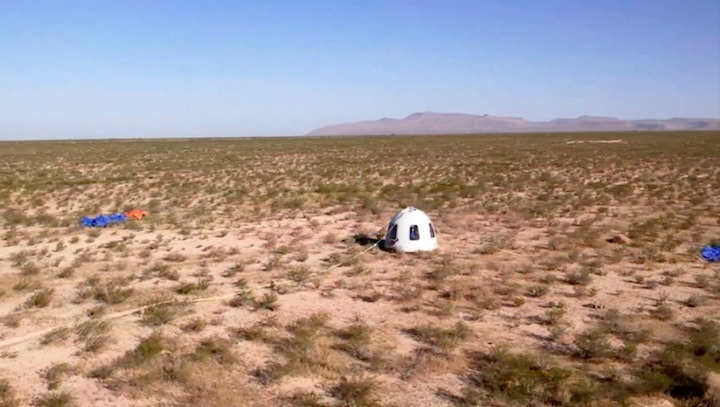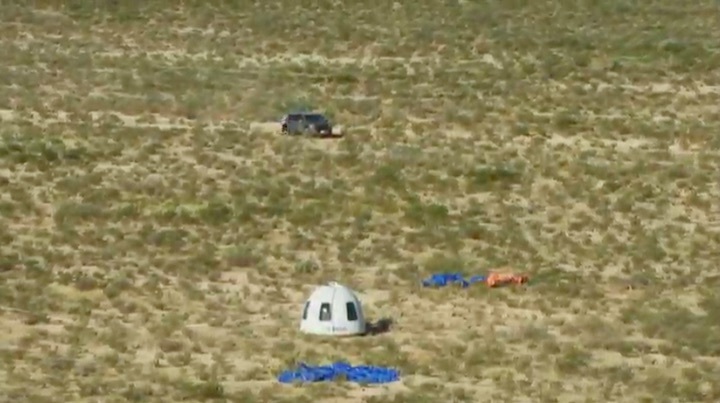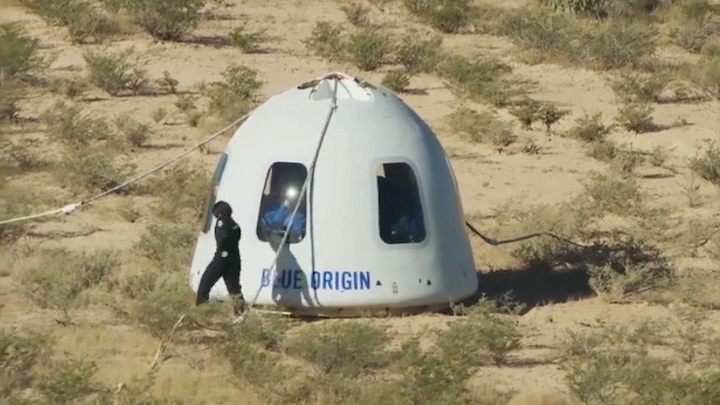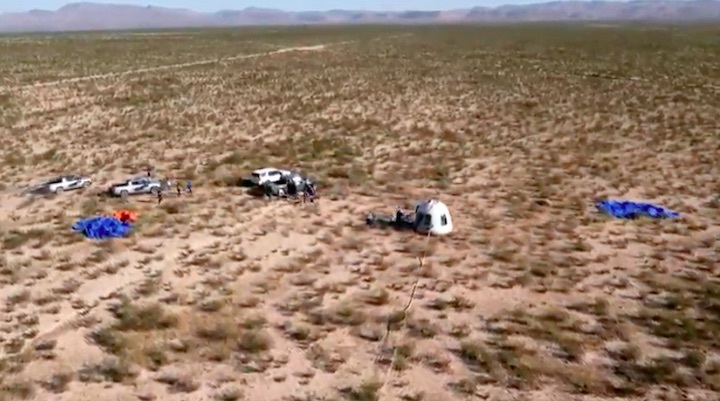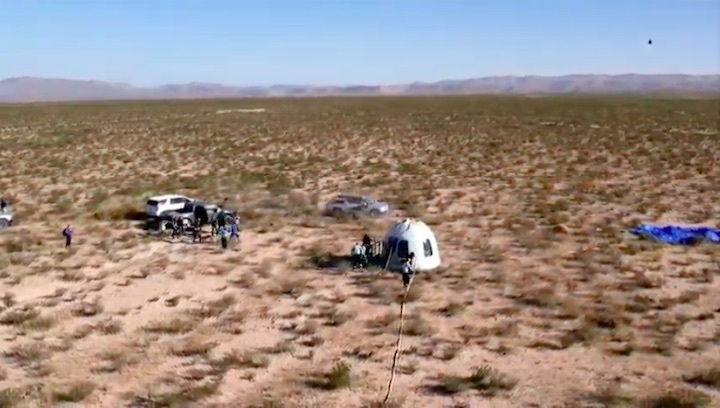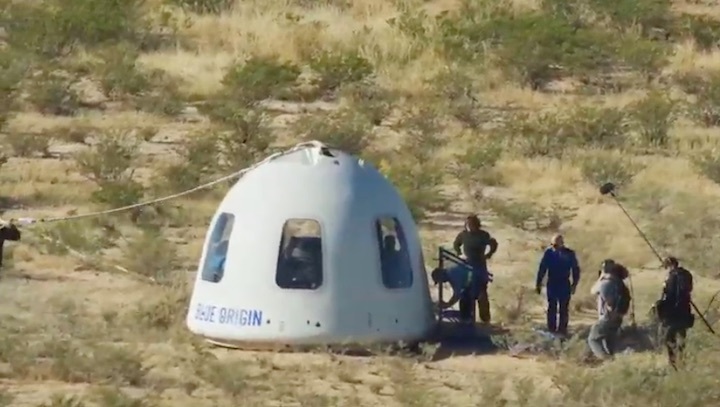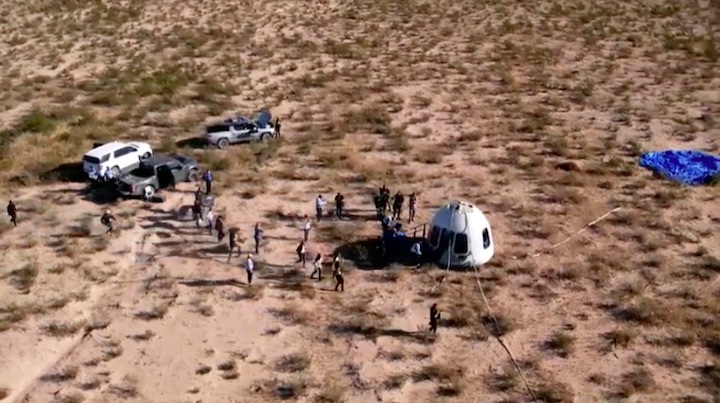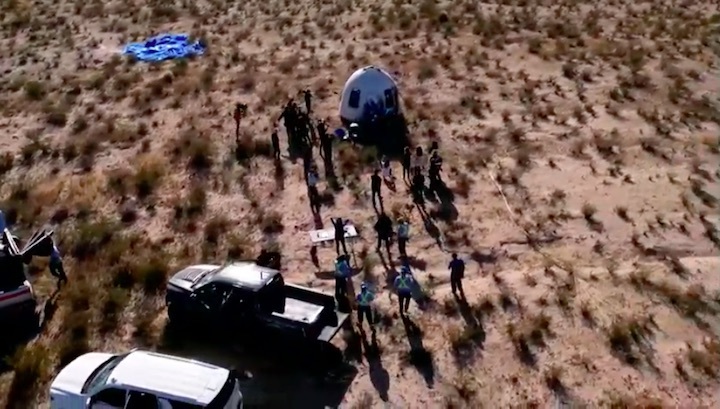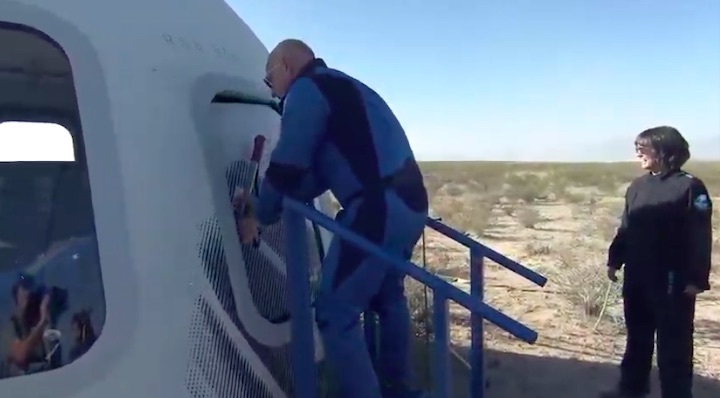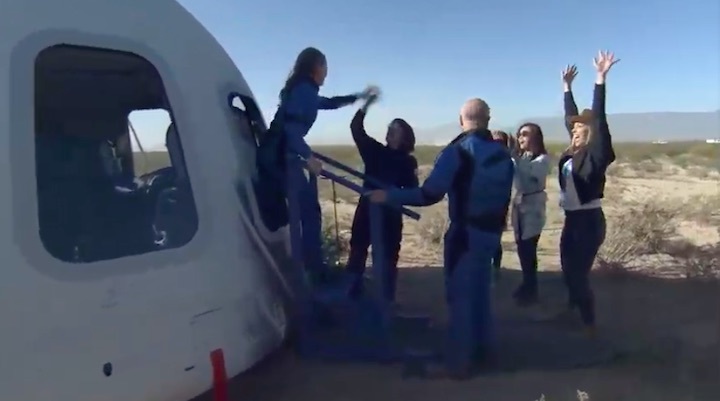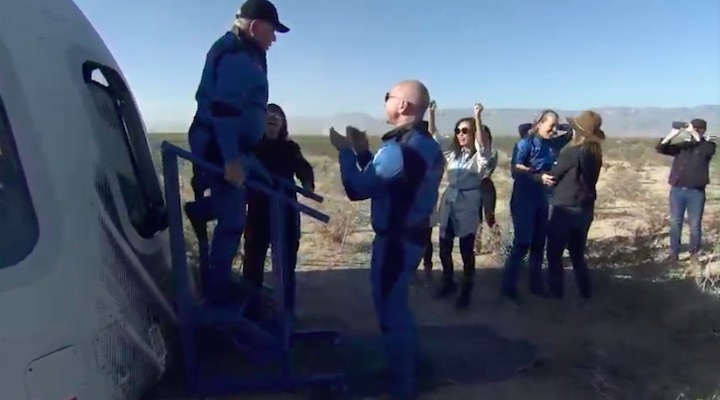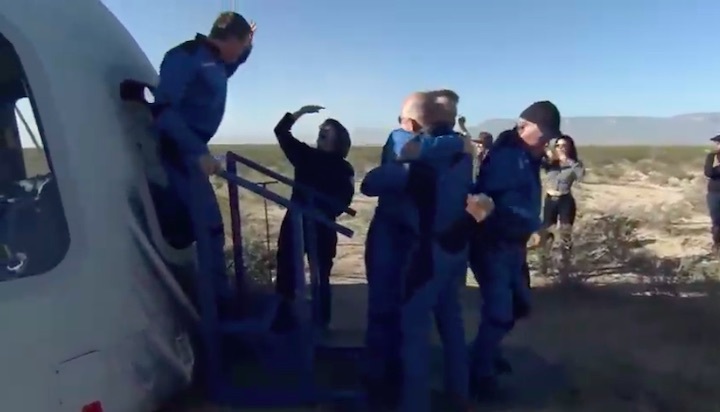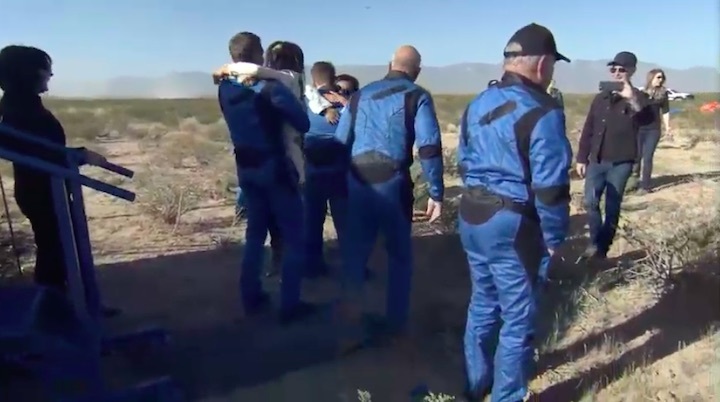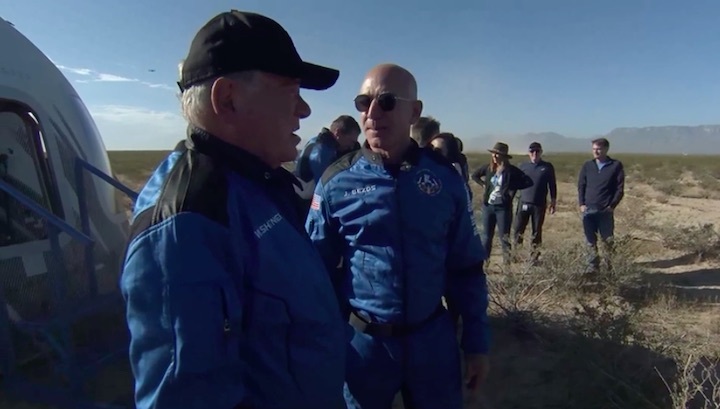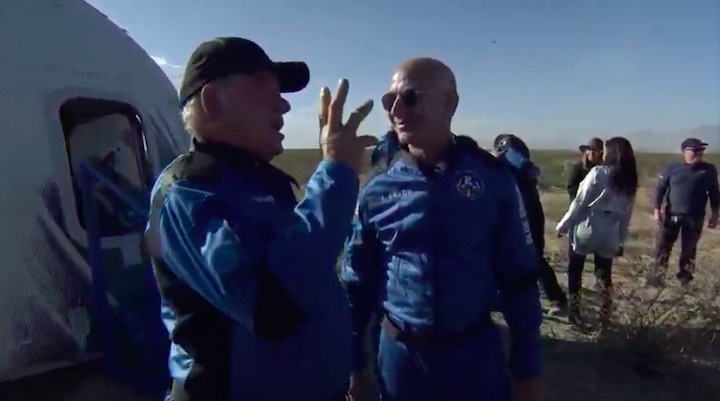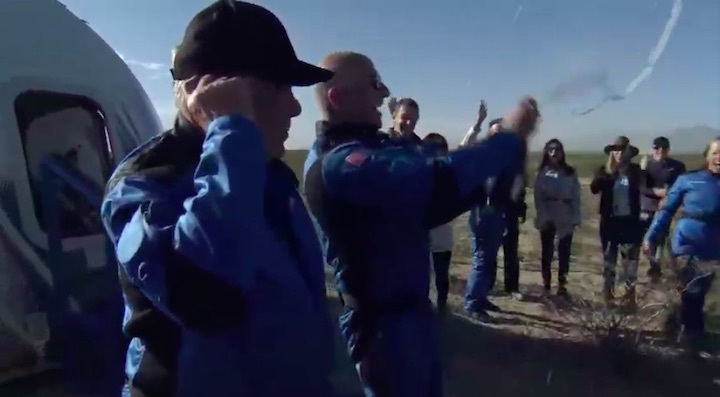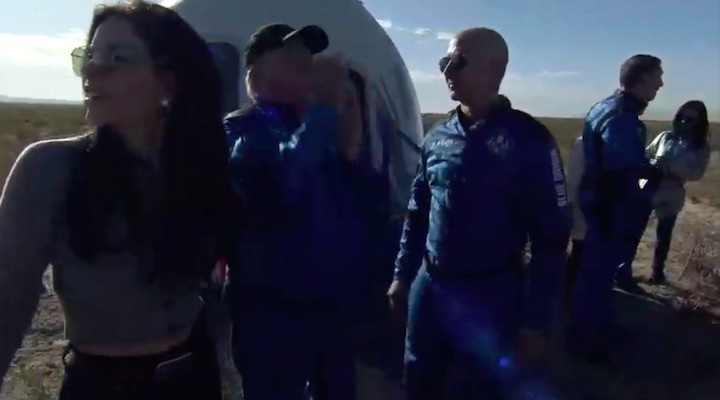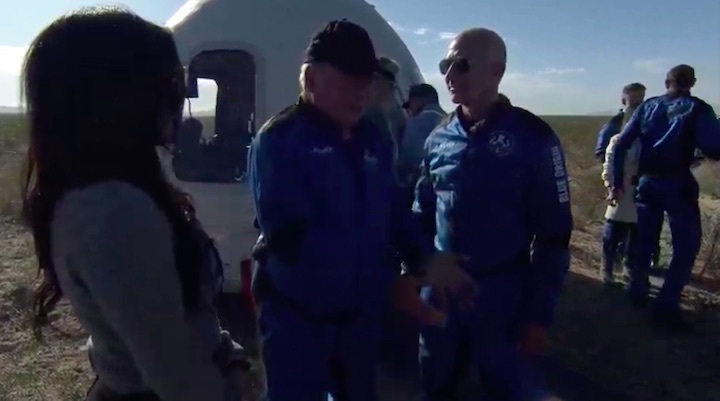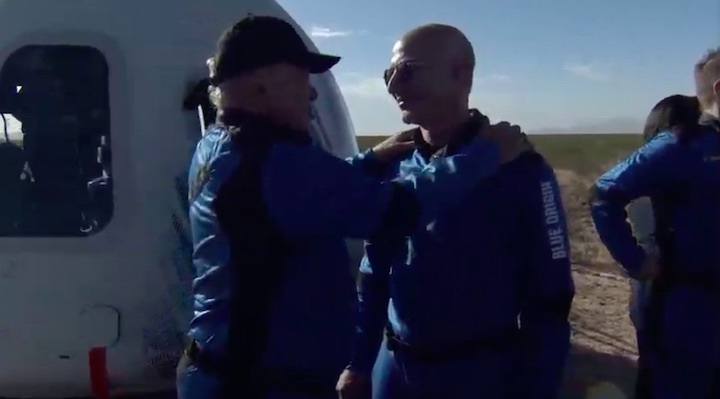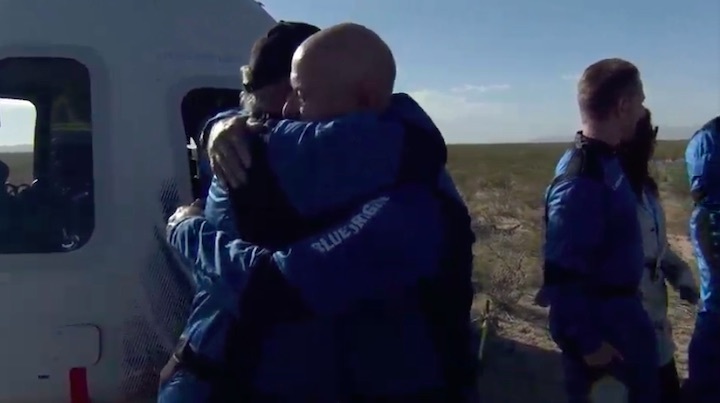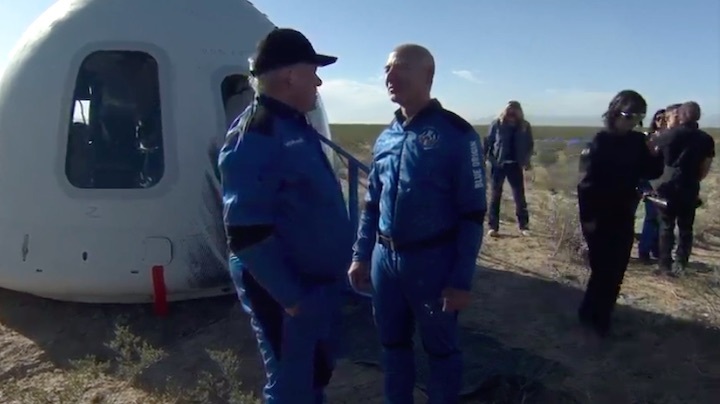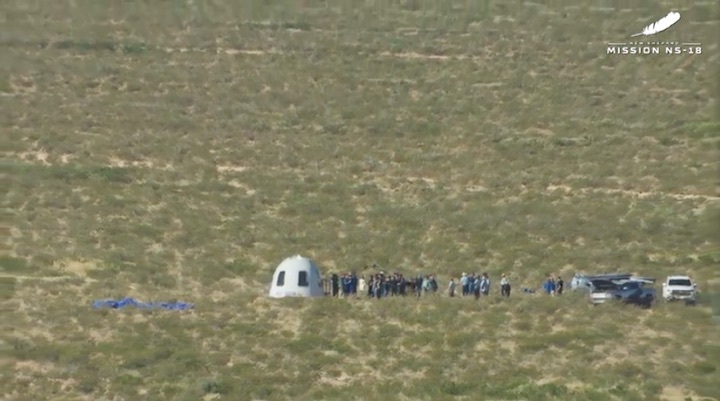 Quelle: Blue Origin
434 Views