1.04.2021
SpaceX launches Starship SN11 prototype in foggy Texas, but crash makes crater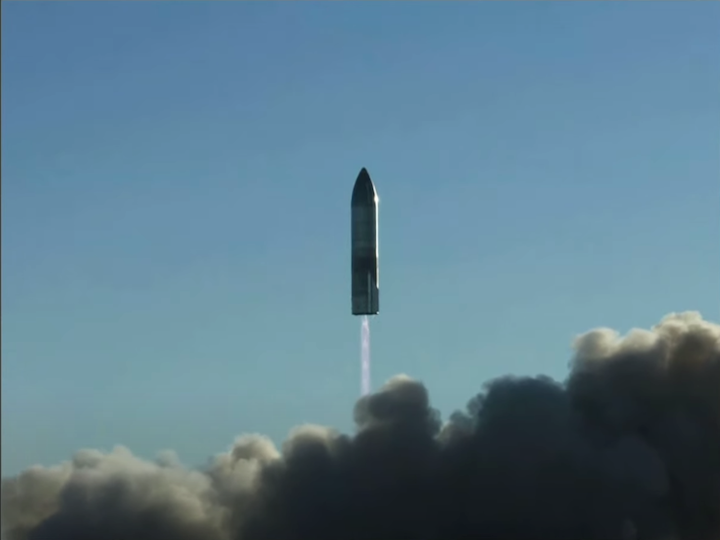 SpaceX launched the latest prototype of its next-generation Starship into foggy Texas skies early Tuesday, but technical issues noted during ascent continued through the flight and resulted in a crash landing.
After the 8 a.m. Central time liftoff of Starship Serial Number 11 from the company's facilities in Cameron County, one Raptor engine appeared to suffer issues during the planned ascent to 10 kilometers, or about 33,000 feet. The foggy weather obscured views in SpaceX's webcast, but Elon Musk confirmed SN11's technical issues and subsequent crash landing.
"Looks like engine 2 had issues on ascent and didn't reach operating chamber pressure during landing burn, but, in theory, it wasn't needed," Musk said via Twitter. "Something significant happened shortly after landing burn start."
"At least the crater is in the right place!" he said.
Had the test been successful, Starship would have reached an apogee of 10 kilometers, then performed a "belly flop" maneuver to use its body as an airbrake to slow descent before flipping around and landing vertically. Musk's comments indicate that something happened during the flip-to-landing process.
Several more Starship prototypes are under construction at SpaceX's facility located on the southern tip of Texas. The fly-test-fix philosophy means Musk expects to lose prototypes on the road to a mission-ready Starship, which he sees as the vehicle that will help colonize the moon and Mars.
Starship is the name commonly used for the vehicle that will take humans and cargo to space, but it will sit atop a separate booster: Super Heavy. It hasn't flown yet, but prototype versions are under construction. Combined, the entire vehicle will reach nearly 400 feet in height.
The date for SpaceX's next Starship flight is still up in the air, though it could happen as soon as the first half of April.
"SN15 rolls to launch pad in a few days," Musk said. "It has hundreds of design improvements across structures, avionics/software & engine. Hopefully, one of those improvements covers this problem. If not, then retrofit will add a few more days."
Quelle: Florida Today
+++
SpaceX launches test rocket, breaks apart before landing
SpaceX has chalked up another failed landing for Starship, its prototype Mars rocket
CAPE CANAVERAL, Fla. -- SpaceX chalked up another failed landing Tuesday for its futuristic, bullet-shaped Starship, as the prototype Mars rocket broke apart right before touchdown.
A camera on the rocket froze not quite six minutes into the test flight, and dense fog in South Texas obscured views of the ruptured rocket. Other video showed debris raining down and explosions could be heard.
"At least the crater is in the right place!" SpaceX chief executive Elon Musktweeted.
Musk said "something significant" happened shortly after the engine firings for landing: "Should know what it was once we can examine the bits later today." In addition, one of the three engines had trouble during the ascent, he noted.
This was the fourth full-scale stainless steel model to launch since December to an altitude of more than 6 miles (10 kilometers). The previous three exploded at touchdown or shortly afterward. The prototype is 164 feet (50 meters) tall.
"Another exciting test, as we say," SpaceX launch commentator John Insprucker said as he concluded the webcast.
A newer version of the rocket has undergone hundreds of design changes, according to Musk.
"Hopefully, one of those improvements covers this problem," he said.
SpaceX plans to use Starship to send astronauts and cargo to the moon and, ultimately, Mars. Musk said earlier this month that SpaceX will be landing Starships on Mars "well before 2030." But he noted that "the really hard threshold is making Mars Base Alpha self-sustaining."
Musk has named the launch and landing area at the southeastern tip of Texas, near the Mexico border, Starbase. A few hour after Tuesday's failure, he urged people to move to the area, saying on Twitter that he's looking to hire several thousand people over the next year or two — engineers, technicians, builders, workers of all sorts. He said he's also donating millions to the local school district and nearby city of Brownsville.
Quelle: abcNews
----
Update: 5.04.2021
.
SpaceX crashes another Starship prototype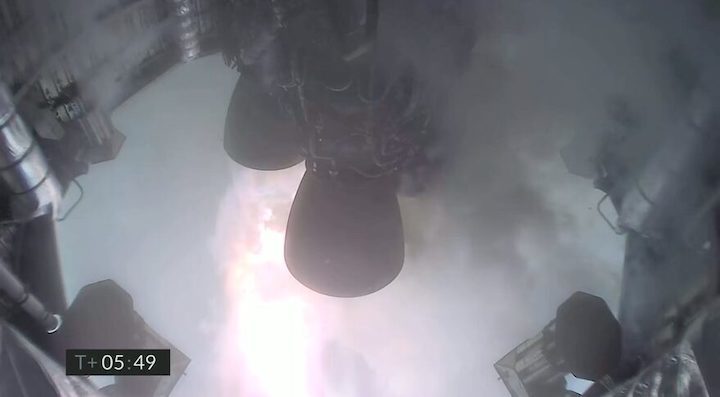 Updated 9 p.m. Eastern with FAA statement.
WASHINGTON — SpaceX launched its fourth Starship prototype in less than four months March 30, only to have the vehicle apparently crash once again.
The Starship SN11 vehicle lifted off at approximately 9 a.m. Eastern from the company's Boca Chica, Texas, test site, despite heavy fog that made it all but impossible to see the vehicle ascend. The SpaceX webcast of the flight relied on video from onboard cameras.
The flight appeared to go as planned initially, with the vehicle going up to 10 kilometers altitude, then descending back to the landing pad. The onboard video, though, stopped 5 minutes and 49 seconds after liftoff, just as the vehicle reignited its Raptor engines for landing.
"It looks like we've had another exciting test," SpaceX's John Insprucker said on the webcast, several minutes after the loss of video. "We're going to have to find out from the team what happened."
He did not confirm that the vehicle had been lost, but independent video of the landing showed debris falling around the test site at the time of landing. SpaceX Chief Executive Elon Musk later acknowledged the vehicle was destroyed, tweeting that "At least the crater is in the right place!"
"Looks like engine 2 had issues on ascent & didn't reach operating chamber pressure during landing burn, but, in theory, it wasn't needed," he added. "Something significant happened shortly after landing burn start. Should know what it was once we can examine the bits later today."
The flight was the fourth of a Starship prototype to an altitude of 10 kilometers or more since early December. All four of those vehicles were lost either on landing or shortly thereafter. On the previous test, of Starship SN10 March 3, the vehicle appeared to land intact, only to explode less than 10 minutes later.
This flight was delayed a day after an FAA safety inspector was not able to get to Boca Chica before the window closed for the test. A revision to the FAA's license for that series of Starship tests, dated March 12, requires an FAA inspector to be at Boca Chica for the tests.
The FAA added that provision after SpaceX violated conditions of its launch license on the SN8 test flight in December, which took place even after the FAA denied SpaceX's request for a waiver for maximum allowed risk to the uninvolved public. While that flight caused no damage outside of SpaceX's test facility, the FAA required SpaceX to conduct an investigation into the incident and delayed approval of the next test flight, SN9, in early February.
On March 25, Reps. Peter DeFazio (D-Ore.) and Rick Larsen (D-Wash.), the chairman of the House Transportation Committee and its aviation subcommittee, respectively, wrote to FAA Administrator Steve Dickson about that incident. "Given the high-risk nature of the industry, we are disappointed that the FAA declined to conduct an independent review of the event and, to the best of our knowledge, has not pursued any form of enforcement action," they wrote.
The FAA, in a statement late March 30, said it would oversee SpaceX's mishap investigation, as it has done in previous Starship mishaps. "The FAA will approve the final mishap investigation report and any corrective actions SpaceX must take before return to flight is authorized," the agency said.
The FAA added it was looking into reports that debris from Starship SN11 was found several kilometers from the test site, well outside the exclusion zone for the launch. People attempting to watch the launch from the southern tip of South Padre Island reported finding lightweight debris, but it was not clear that, assuming it was from SN11, it came from the crash itself or fell off in earlier phases of flight. The FAA noted that there were no reports of damage or injuries from that debris.
Quelle: SN
----
Update: 7.04.2021
.
Musk says methane leak doomed latest Starship test flight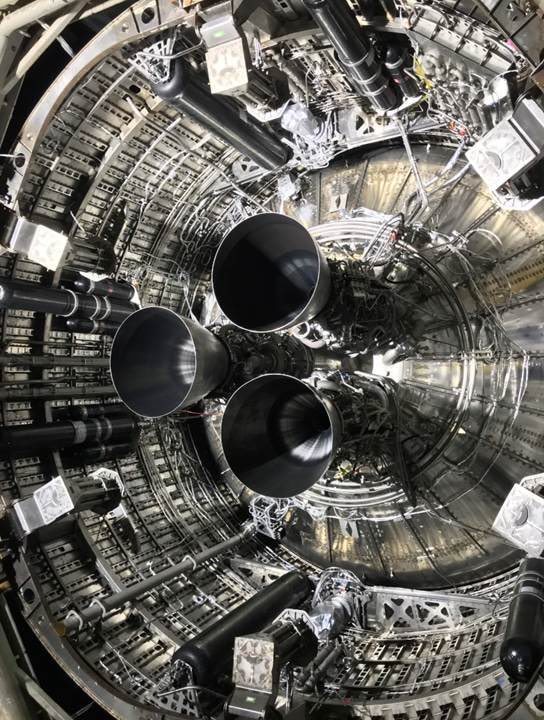 SpaceX founder Elon Musk said Monday that a "relatively small" methane leak caused the explosion of the company's latest Starship test rocket last week on an experimental flight over South Texas.
The 164-foot-tall (50-meter) Starship test vehicle, known as Serial No. 11, took off from SpaceX's development facility near Brownsville on March 30 for an atmospheric test flight to an altitude of about 33,000 feet, or 10,000 meters.
Three Raptor engines, each consuming super-chilled methane and liquid oxygen propellants, powered the stainless steel rocket off its launch mount with more than a million pounds of thrust.
After climbing straight up above a dense layer of fog, the Starship shut down each of the Raptor engines in sequence, as planned, before pitching over horizontally to begin a controlled descent back to the ground. Aerodynamic flaps helped stabilize the giant vehicle as it fell back to Earth before the Raptor engines were supposed to reignite and flip the rocket back vertical for touchdown on a landing pad next to the Starship's launch site.
Dense fog prevented clear views of what happened, but an on-board camera view on SpaceX's live webcast froze as the Raptor engines fired up for landing. Other camera views showed debris showering the test site, which Musk calls Starbase, after a thundering boom crackled across the facility.
Light debris fragments from the Starship apparently traveled as far as 5 miles (8 kilometers) from the launch site and landed in a public viewing area, although the material may have been shed from the rocket as it climbed toward the apex of its trajectory, and not during the explosion just before landing.
Musk tweeted Monday that the ascent phase of the Starship SN11 test flight went according to plan. The transition to horizontal and control during its free fall back to Earth were also good, he said.
But a small methane leak led to a fire on one of the vehicle's Raptor engines and "fried" part of an avionics system. That caused a "hard start" in the engine's methane turbopump at the beginning of the landing burn, Musk said.
"This is getting fixed six says to Sunday," Musk tweeted.
The explosion March 30 was the fourth Starship vehicle in a row SpaceX has lost since starting high-altitude test flights in December.
A hard landing on an otherwise-successful Dec. 9 Starship test flight was caused by low pressure from header tanks feeding the vehicle's Raptor engines for the critical burn just before touchdown, and one of the Raptor engines failed to reignite for the landing burn on a test flight Feb. 2.
The SN10 rocket achieved the first soft landing of a full-size Starship vehicle at the end of a March 3 test flight, but the rocket exploded minutes later.
SpaceX is developing the Starship vehicle as the company's next-generation rocket and crew and cargo transporter to eventually replace the Falcon 9 launcher and Dragon capsule. The Starship vehicle now being tested in Texas will form the upper stage of the giant new rocket, which will stand nearly 400 feet (about 120 meters) tall with the Starship stacked on top of a huge booster stage.
The full-size rocket configured for orbital missions will have 28 Raptor engines on its first stage, and six Raptor engines on the Starship upper stage. SpaceX says it will be capable of delivering more than 220,000 pounds, or 100 metric tons, of payload mass to low Earth orbit.
Once in orbit, the Starship will be able to receive a fresh supply of methane and liquid oxygen propellants to continue on and carry its heavy cargo — and eventually people — to more distant destinations, such as the moon and Mars, according to SpaceX
The booster stage, known as the Super Heavy, and the Starship vehicle will be fully reusable to limit launch costs.
But first SpaceX needs to master the Starship landing maneuver, which is much different than the way SpaceX lands its operational Falcon rocket boosters. SpaceX also plans to begin test flights of the first Super Heavy booster prototypes.
SpaceX's next Starship rocket, designated SN15, is preparing to roll out from its assembly hangar at the test site near Boca Chica Beach in South Texas. Once it's on the launch pad, SpaceX engineers will run through a series of checkouts, and likely attempt a fueling test and a hold-down test-firing before proceeding to a test flight.
The Starship production complex is located a couple of miles inland from the launch and landing pads.
SpaceX skipped building SN12, SN13, and SN14 in favor of an updated Starship configuration that will debut with SN15.
"It has hundreds of design improvements across structures, avionics/software & engine," Musk tweeted tweeted last week. "Hopefully, one of those improvements covers this problem (with SN11). If not, then retrofit will add a few more days."
SpaceX aims to launch the first fully-stacked Super Heavy and Starship in on an orbital launch attempt from South Texas in July. "That's our goal," Musk tweeted.
An orbital launch attempt by July is an aggressive goal, like many schedules outlined by SpaceX's hard-charging founder and chief executive.
The next major technology update to the Starship vehicle will come with SN20 later this year, according to Musk.
"Those ships will be orbit-capable with heat shield & stage separation system," Musk tweeted. "Ascent success probability is high. However, SN20+ vehicles will probably need many flight attempts to survive Mach 25 entry heating & land intact."
SpaceX has stacked the first Super Heavy booster testbed, known as BN1, at the South Texas launch site. But Musk said that vehicle is a pathfinder to try out manufacturing and production techniques, and will not fly. Teams are building the second Super Heavy prototype — BN2 — for atmospheric test flights before proceeding with construction of BN3 for a potential orbital launch attempt.
Quelle:SN
----
Update: 10.04.2021
.
SpaceX rolls next Starship to the launch pad nine days after midair explosion
Update: Right on schedule, SpaceX has transported Starship serial number 15 (SN15) from its Boca Chica rocket factory to a launch and test site just down the road.
SN15's pad arrival comes just nine days after Starship SN11 – the last in a batch of four first-generation prototypes – exploded in midair some 30 seconds before a planned landing. While minor, SN11's midair failure was undoubtedly a step backward relative to Starship SN10, which (briefly) became the first full-size prototype to land in one piece less than a month prior. Both SN8, SN9, and SN10 made it further into their identical flight tests, leaving SN11 somewhat high and dry and putting extra pressure on Starship SN15.
After Starship SN8's unexpectedly successful December 2020 test flight, in which the rocket made it just a dozen or so seconds away from soft landing after more than six minutes in flight, SpaceX made the decision to scrap Starship SN12 and kill SN13 and SN14 before assembly could begin. Effectively a gamble that SN8-SN11 would produce enough of a foundation for future testing to start off on, it's hard to say if that gamble paid off.
All four Starship flights managed the extraordinary feat of more than four minutes of powered flight and spent two minutes free-falling like no rocket ever before them, but they also made it clear that both Raptor and autogenous pressurization (using gasified propellant to pressurize Starship's tanks) are not quite mature enough for reliable launches and landings. Featuring "hundreds of improvements," many of which were hopefully designed to tackle some of those shortcomings, it'll be up to Starship SN15 to attempt to carry that torch forward – and, with any luck, further than any prototype before it.
After SpaceX unexpectedly used a Monday road closure to deliver its first custom-built rocket fuel tank, plans for the next Starship test campaign and launch have begun to solidify.
Most importantly, the initial schedule for Starship serial number 15's (SN15) test campaign appears to be clear. As of Wednesday, April 7th, road closures filed by SpaceX suggest that the first of a new group of upgraded Starships will be transported from build site to launch pad as early as 11am-1:30pm CDT (UTC-5) on Thursday, April 8th. Once SN15 is installed on 'Suborbital Pad A,' SpaceX means to waste no time and has scheduled a 7am-12pm road closure on Friday.
As usual, the weekend will once again be free of any testing or activity requiring road closures, but SpaceX has already cordoned off noon to 8pm on Monday and Tuesday (April 12/13) to continue putting its newest Starship prototype to the test.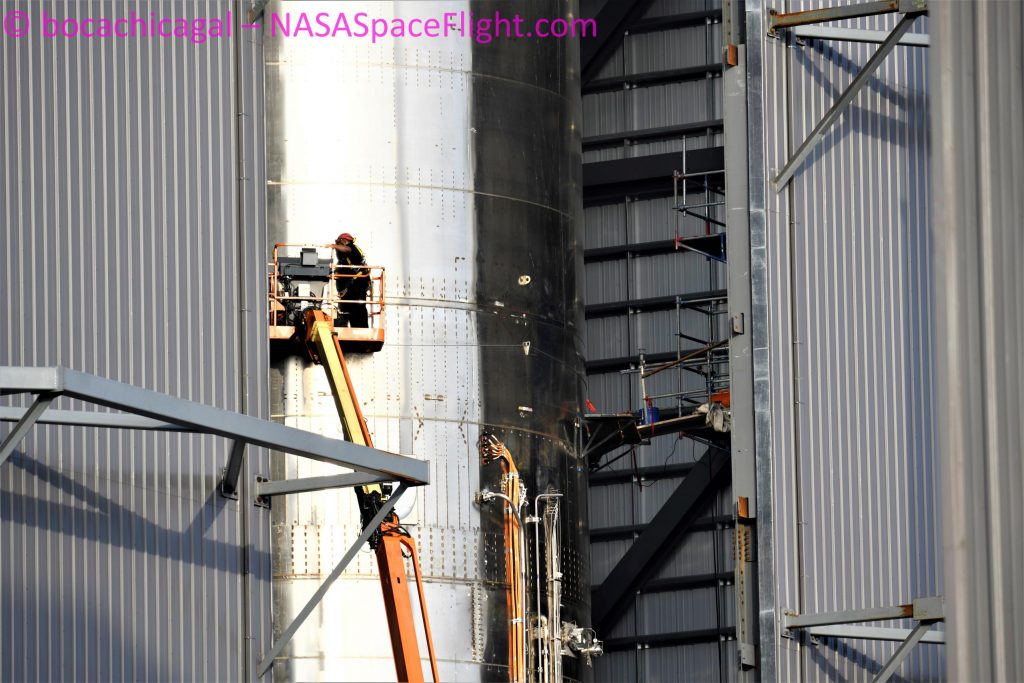 While road closure notices no longer offer any real detail, a few basic details can still be inferred. The April 7th closure, for example, warns that SpaceX only plans to intermittently close the highway but not Boca Chica Beach – implying that the window poses no threat to residents or beachgoers. Historically, that means that something will be transported – likely Starship SN15, in this case.
On Friday, SpaceX has scheduled a full five-hour closure of both the highway and beach, implying that some kind of testing is likely on the books. The same goes for Monday and Tuesday, but with longer eight-hour closures.
More likely than not, assuming Starship SN15's pad transport and launch mount installation goes smoothly, SpaceX will use the shorter Friday window to complete a basic ambient pressure test – filling the rocket with ambient-temperature nitrogen gas to test its complex plumbing and propellant tanks for leaks. Continuing the IFF (if and only if) string, SpaceX will then spend the weekend preparing Starship SN15 for a cryogenic proof test and thrust structure stress test – simulating the thrust of three Raptors after loading the rocket with extremely cold liquid nitrogen (LN2).
SpaceX will then most likely spend another one or two days inspecting Starship SN15 and removing the hydraulic ram used to simulated thrust from the launch mount the ship is installed on. Once SN15 and its mount are cleared, SpaceX can move into static fire testing. Given that – according to CEO Elon Musk – SN15 will debut Raptor engines with an unknown degree of upgrades, it's reasonable to assume that SpaceX will take things relatively slowly and possibly perform more than one static fire test even if the first attempt is a total success.
If not and SpaceX continues to push hard like it did with SN10 and SN11, it's not out of the question that Starship SN15 will be ready for its first launch attempt around Friday, April 16th or Monday, April 19th. Stay tuned for updates as SpaceX hopefully rolls the rocket to its Boca Chica, Texas launch site later today.
Quelle: TESLARATI
----
Update: 14.04.2021
.
SpaceX installs Starlink dish on upgraded Starship prototype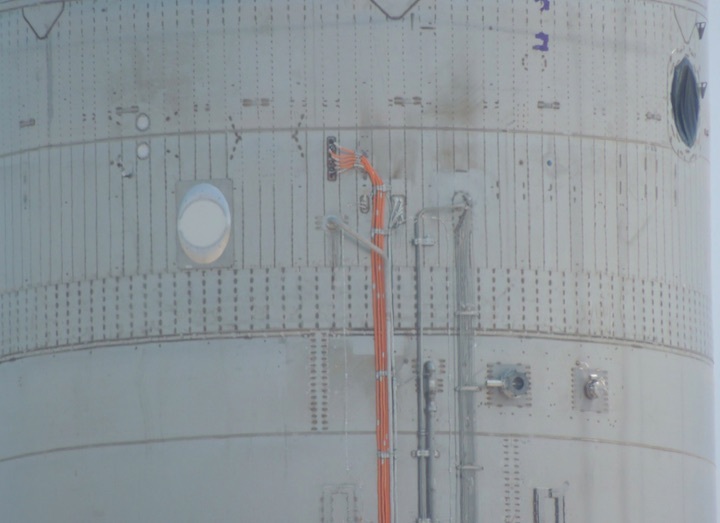 In the latest in a long line of twists, SpaceX has requested permission from the FCC to operate a Starlink internet antenna installed on Starship serial number 15 (SN15).
The first in a planned batch of four or more upgraded Starship prototypes, SN15 was rolled a mile down the road from SpaceX's South Texas factory to its suborbital launch pad late last week. Around the same time that its aft tank section was being prepped for nose installation on April 3rd, some of the first 360-degree views of the rocket revealed an unusual porthole-esque addition just above the Starship's forward tank dome. As far back as Starhopper in 2019, Starships have used that space between tank and nosecone as an installation point for avionics, Tesla batteries, and a number of radio and GPS antennas, among other things.
The new hardware generally fell under the radar but most that took note assumed it was some kind of antenna upgrade. As it turns out, that speculation was almost certainly correct – but not in the way most expected.
When SN15's new antenna first appeared, the author speculated that it bore a striking resemblance to a SpaceX Starlink dish. However, another forum user argued that it was more likely an upgraded S-band antenna akin to those used on SpaceX's Falcon rockets. The author later notedthat the S-band antenna pass-through located on the interstage of Falcon boosters was almost the same size as the new antenna and shroud visible on Starship SN15, seemingly closing the case.
Nine days later, SpaceX asked the FCC for permission to operate a Starlink dish (user terminal) in Boca Chica "at altitudes not to exceed 12.5 km" during operations "on the ground or during test flights." In other words, the antenna installed on Starship SN15 is almost certainly a Starlink dish. Surrounded by an aerodynamic shroud, the antenna is firmly fixed on the rocket and would rely entirely upon cutting-edge phased array beamforming to electronically 'steer' itself to both transmit and receive from one or more of almost a thousand operational Starlink satellites currently in orbit.
In SpaceX's FCC Special Temporary Authority (STA) request, the company curiously asked for the 60-day test period to begin on April 20th. Even if the FCC moves extremely quickly and grants the STA within a few days to a week of SpaceX's April 9th request, it's unlikely that the company would delay Starship SN15 test or launch plans by almost ten days to wait for permission to use the rocket's new Starlink antenna. In other words, while SN15 is the first Starship to have a Starlink antenna installed, there's a decent chance it won't be the first to actually put that capability to the test – both on the ground or during a launch.
While unlikely, the fact that SpaceX's Starship SN15 Starlink antenna installation is almost the same size as Falcon 9's reliable but far more basic S-band setup also begs the question of whether success on Starship test flights could eventually lead to the addition of Starlink dishes on future Falcon boosters. Regardless, Starship SN15 is on track to kick off a busy week of qualification testing in South Texas. If the rocket suffers any significant delays, as has admittedly been the norm for Starship prototypes, there's a good chance SN15 could begin testing its Starlink dish around the middle of next week.
Quelle: TESLARATI
384 Views