12.06.2020
NASA confirms JWST will miss March 2021 launch date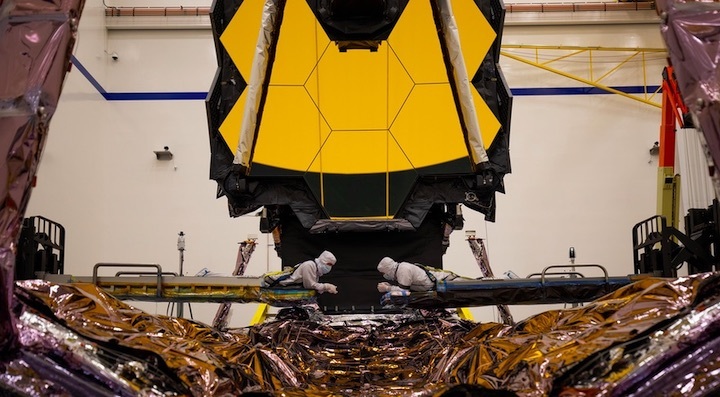 WASHINGTON — The head of NASA's science directorate confirmed June 10 that the James Webb Space Telescope will miss its March 2021 launch date, a slip that was all but inevitable as the coronavirus pandemic slowed work on the spacecraft.
In a presentation to an online meeting of the Space Studies Board of the National Academies, Thomas Zurbuchen, NASA associate administrator for science, said that work on JWST had been going well in months before the pandemic but that the slowdown in work since March made it impossible to keep the mission on its previous schedule.
"We will not launch in March," he said, which had been the target launch date for the mission. "That is not in the cards right now. It's not because they did anything wrong."
When NASA started closing its field centers in March because of the pandemic, personnel that had been overseeing integration and testing of the space telescope at a Northrop Grumman facility in Southern California returned home. Despite initial comments by NASA officials that work would be suspended entirely on the telescope, activities did continue there, including a test announced by NASA June 9 of its Deployable Tower Assembly that separates the mirror from the spacecraft bus.
That work, though, has been at a slower pace than before the pandemic. At a session of an American Astronomical Society meeting June 2, Jonathan Gardner, deputy senior project scientist for JWST at NASA's Goddard Space Flight Center, said that Northrop at the time had five eight-hour shifts a week devoted to JWST work. Before the pandemic, the company had 12 shifts a week of 10 hours each.
Work had recently started to ramp back up on JWST, with some NASA personnel returning to the Northrop facility and the company preparing to resume a second daily shift. Nonetheless, Gardner said last week the project expected to miss that March 2021 launch date. "We're expecting a delay," he said.
NASA hasn't set a new launch date yet for JWST. "What we need to do is learn the new efficiency" of working in current conditions, Zurbuchen said. "We need to calibrate that through a schedule review and go forward." A schedule assessment, he said, was planned for July.
He remained hopeful that JWST will still launch some time in 2021 on an Ariane 5 from French Guiana. "I'm very optimistic of this thing getting off the launch pad in '21."
That confidence, he said, was based in part on the progress that the mission had been making just before the pandemic. There had been concerns about diminishing schedule reserves, including a Government Accountability Office report in January that warned a launch next March "may not be feasible" given the amount of work remaining and the rate at which the project was using up schedule reserves.
Zurbuchen said that the last quarterly review of JWST, held just before pandemic started shutting down NASA centers, showed that the project had completed all of its planned work in the previous quarter without using any schedule reserve. "Zero reserve days basically means that those teams stayed on their toes and pushed the telescope forward at the maximum speed possible," he said.
JWST, though, had suffered years of launch delays and billions of dollars in cost overruns, most recently in 2018 when NASA announced the mission's launch date, which had been October 2018 for several years before slipping the year before to early 2019, had been pushed back to March 2021 while its cost grew 10% to $8.8 billion.
Problems with JWST, along with issues early in the development of the next large astrophysics mission, recently renamed from the Wide-Field Infrared Survey Telescope (WFIRST) to the Nancy Grace Roman Space Telescope, have raised questions about NASA's ability to manage large, or flagship, science missions. Zurbuchen said at the Space Studies Board meeting that flagship missions remain essential.
"NASA needs to do flagships. We need to learn how to do flagships," he said, arguing such missions are often the only way to address pressing scientific questions. "The challenge with flagships has been, and we're spending a lot of effort in learning about it, is to manage them in a way so that they don't eat the neighborhood."
Quelle: SN
----
Update: 18.06.2020
.
NASA says JWST won't be ready for launch in March 2021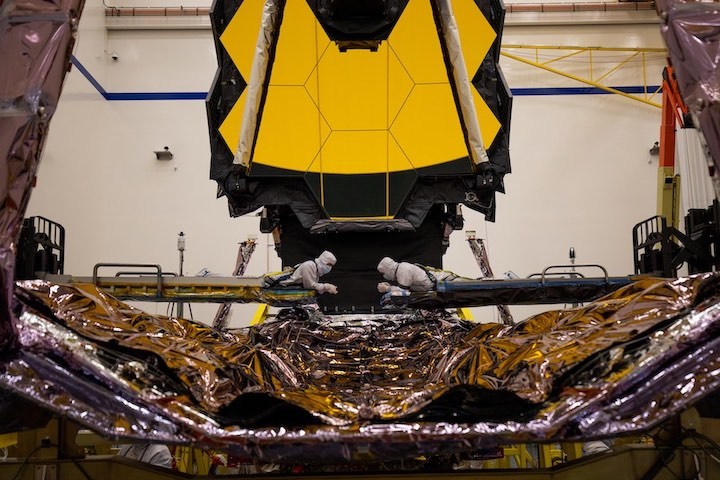 The launch of the James Webb Space Telescope will not happen in March 2021 — the mission's previously-scheduled launch date — after the coronavirus pandemic forced a more than 50 percent reduction in staff levels at the observatory's assembly and test facility.
The James Webb Space Telescope is the largest space science observatory ever built. The spacecraft and telescope are fully assembled inside a Northrop Grumman facility in Redondo Beach, California, but several test milestones remain before JWST is ready for shipment to its launch base in Kourou, French Guiana.
Testing of the James Webb Space Telescope has continued at a slower pace since the COVID-19 pandemic started impacting work schedules in March.
"Not everybody was available. There were positive cases here and there …We will not launch in March, absolutely will not launch in March," said Thomas Zurbuchen, associate administrator of NASA's science mission directorate. "That is not in the cards right now. It's not because they did anything wrong. It's just not going to be in the cards. It's not a fault, or some mismanagement of some type."
Zurbuchen added he is "very optimistic" that the observatory can still launch in 2021.
"There still is a lot of mountain to climb," he said.
NASA engineers and oversight managers based at the Goddard Space Flight Center in Maryland, where the JWST project is managed, left the Northrop Grumman facility in California in March. That effectively stopped work on JWST's optical telescope and instrument systems, which is NASA's responsibility.
Northrop Grumman, the prime contractor for the JWST spacecraft and sunshield, was able to continue some work on the mission. But the progress was slower than planned.
"Northrop Grumman went from two shifts, six days a week, to one shift, five days a week, so operating at about 40 percent efficiency. So a big impact to James Webb Space Telescope," said Steve Jurczyk, NASA's associate administrator, in a June 9 presentation during a joint meeting of the National Academies' Aeronautics and Space Engineering Board and the Space Studies Board.
In May, Northrop Grumman was able to test the extension of the observatory's Deployable Tower Assembly, which will create a gap between JWST's telescope and instrument compartment and the spacecraft bus. The extension of the tower assembly will allow the telescope and instruments, which are folded up during launch to fit inside the fairing of JWST's Ariane 5 rocket, to be unfolded once in space and cooled to super-cold temperatures.
"Following augmented personal safety procedures due to COVID-19, the James Webb Space Telescope's team in California continued integration and testing work with significantly reduced on-site personnel and shifts," NASA said in a statement June 9. "The NASA/Northrop Grumman team recently resumed near-full operations."
With NASA workers now back on-site at Northrop Grumman's test facility in Southern California, Zurbuchen said that teams need to "learn the new efficiency" as technicians get used to working with physical distancing and other restrictions to reduce the risk of coronavirus transmission.
"We're not through (with the coronavirus) at this point," Zurbuchen said. "We will still have impacts."
JWST had been scheduled for launch on an Ariane 5 rocket from French Guiana on March 30, 2021. The Ariane 5 launch is part of the European Space Agency's contribution to the program.
Zurbuchen said NASA will convene a schedule review in July to assess the impacts to the JWST test schedule before setting a new launch date.
The mission is running years behind schedule, and it's projected to cost billions of dollars more than NASA originally envisioned. JWST's total cost to NASA was most recently projected to be $9.66 billion, and that figure does not include contributions from ESA and the Canadian Space Agency.
Teams working in Northrop Grumman's spacecraft factory in Southern California connected the spacecraft and science modules of JWST last August, forming the complete observatory for the first time. With JWST fully assembled, engineers at Northrop Grumman — NASA's prime contractor for the observatory — planned to put the craft through a series of deployment, electrical, vibration, and acoustic tests to ensure it will work as designed after launch.
The Webb telescope is the largest space-based observatory ever developed, with a primary mirror stretching 21.3 feet (6.5 meters) wide, comprised of 18 hexagonal segments made of beryllium and coated in gold. The mirror and JWST's thermal sunshield will fold up origami-style to fit inside the nose shroud of its Ariane 5 launcher.
Scientists say the James Webb Space Telescope's four infrared science instruments — which come from U.S., European and Canadian institutions — will see the very first stars and galaxies in the universe, observing light emitted some 13.5 billion years ago. With imaging power 100 times that of the Hubble Space Telescope, JWST will also peer into star-forming nebulas and collect data on the physical and chemical properties of planets around other stars.
Quelle: SN
----
Update: 27.06.2020
.
NASA expects to cover JWST launch slip with budget reserves
WASHINGTON — NASA hopes to keep the costs of additional delays in the James Webb Space Telescope within the program's existing reserves and thus avoid asking Congress for additional funding.
At a June 24 meeting of NASA's Astrophysics Advisory Committee, Eric Smith, program scientist for JWST at NASA Headquarters, said that while a new target launch date for the giant space telescope hasn't been determined yet, the agency expected that the costs associated with that slip will be covered by existing budgetary reserves.
"The program has fiscal reserves, in addition to the schedule reserves, and right now we do not anticipate needing additional funding because we have money to pay for extra time in the schedule," he said.
JWST exhausted its schedule reserve because of the slowdown in work caused by the coronavirus pandemic. The program still had nearly two months of schedule reserve when the pandemic caused work to briefly halt in March, then continue at a slower pace. Thomas Zurbuchen, NASA associate administrator for science, said June 10 that because of that slowdown, the mission will not make its March 2021 launch date.
Smith said NASA expects to set a new launch date in July after completing reviews, including examining how changes in work procedures required by social distancing protocols affect the remaining activities. "What has changed is the efficiency in which those tasks can be completed," he said. That may include, he said, adding more schedule reserve beyond the two months that the program had in March.
He did not estimate how much the launch date will slip, but it is likely to be at least a few months. Before the pandemic slowed work on JWST, NASA was planning to put the telescope through a final series of acoustics and vibration tests in May and June. Smith said those tests are now scheduled for August.
Smith declined to say how much budget reserve the mission has remaining. "We can go a few months, several months past the March [2021] date and still have reserves to cover that," he said.
JWST has a cost cap of $8.8 billion set by Congress after the mission's previous schedule slip in 2018. Schedule overruns alone don't require congressional approval, Smith said, but cost increases that exceed the cap would require reauthorization.
SOFIA cancels Southern Hemisphere campaign
Another NASA astrophysics mission affected by the pandemic, the Stratospheric Observatory for Infrared Astronomy (SOFIA), has canceled a planned deployment of the airborne observatory to New Zealand because of the pandemic.
In a June 23 presentation at the committee meeting, Naseem Rangwala, SOFIA project scientist, said the project worked for weeks on a way to carry out that observing campaign within the restrictions imposed by the pandemic, but ultimately concluded it was not feasible.
"The logistical, personnel and travel-related challenges remained, and we made a very difficult decision to cancel the 2020 New Zealand deployment," she said. The project has for several years carried out such deployments, typically in the Northern Hemisphere summer, to conduct observations of celestial objects visible only from Southern Hemisphere skies.
She said the project worked with the New Zealand government and the U.S. Embassy in New Zealand on ways to carry out the campaign given the country's restrictions on international travel, including a 14-day quarantine on any arrivals. Those restrictions have eradicated COVID-19 in the country, but ultimately were too much to overcome for SOFIA.
SOFIA, a Boeing 747 equipped with a 2.5-meter infrared telescope, has been grounded since March because of safety restrictions imposed in response to the pandemic. Earlier this month, project officials expressed optimism about resuming flights as soon as late June.
Those plans, which will require the approval of NASA, are still being developed, Rangwala said, using some of the planning that went into the canceled New Zealand campaign. "The project developed detailed plans and protocols for how to safely operate SOFIA within COVID-19 constraints," she said.
She said the project now hopes to resume flights in mid-July from California. "We are making very good progress on getting the observatory returned to science flights," she said.
SOFIA's shutdown during the pandemic comes as the mission faces the threat of cancellation in the agency's fiscal year 2021 budget proposal, as well as efforts to improve the efficiency and scientific output of the observatory. That has included canceling an instrument that was under development for SOFIA called the High Resolution Mid-infrared Spectrometer, or HIRMES.
"The HIRMES project was over-budget and over-schedule," said Paul Hertz, director of NASA's astrophysics division, at the meeting. "They had unsolved technology problems and could not produce a believable plan to complete within a predictable amount of money, so we terminated the project for its overruns."
Work on HIRMES-related technology will continue, he said, but will be funded by a technology development program and not the SOFIA project.
Quelle: SN
----
Update: 17.07.2020
.
NASA to Provide Update on James Webb Space Telescope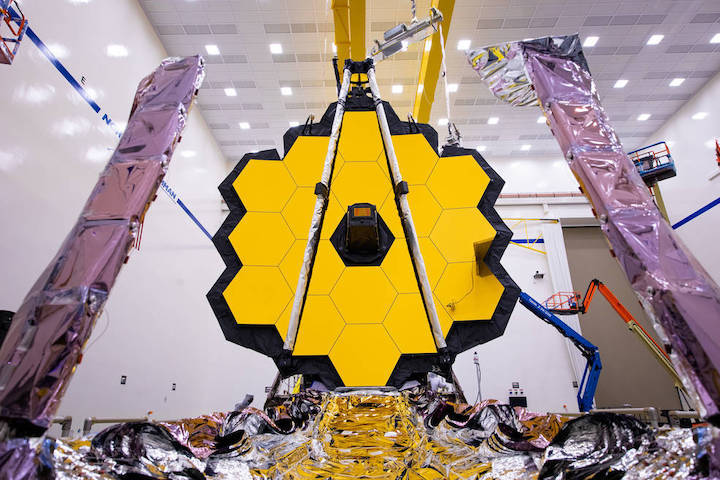 NASA will host a media teleconference at 4:30 p.m. EDT Thursday, July 16, to provide an update on the status of the agency's James Webb Space Telescope, the world's next premier infrared space observatory and the largest, most complex space telescope for astronomy ever built.

The media teleconference audio will stream live at:
Participants in the teleconference include:
Stephen Jurczyk, NASA associate administrator
Thomas Zurbuchen, NASA Science Mission Directorate associate administrator
Gregory Robinson, NASA Webb program director
Eric Smith, NASA Webb program scientist
To participate, media must email their name and affiliation to Felicia Chou at felicia.chou@nasa.gov by noon EDT Thursday, July 16.

Credits: NASA's Goddard Space Flight Center.
Once deployed, Webb will help solve mysteries in our solar system and look beyond to distant worlds around other stars, as well as probe the mysterious structures and origins of our universe. Webb is an international program led by NASA with its partners ESA (European Space Agency) and the Canadian Space Agency.
Quelle: NASA
801 Views