8.10.2019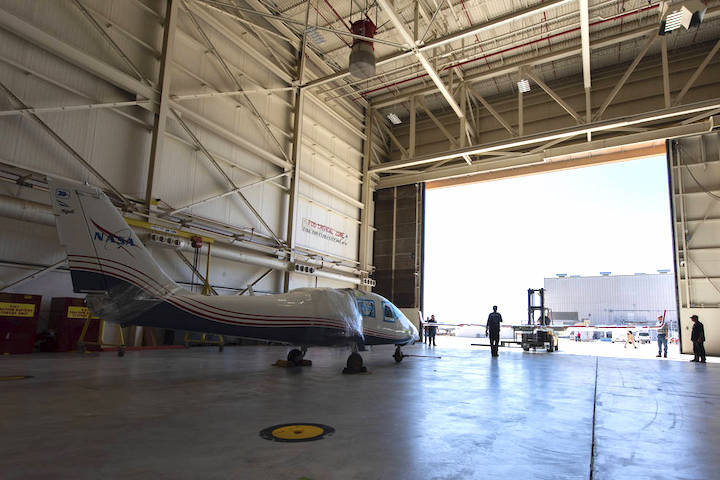 The first all-electric configuration of NASA's X-57 Maxwell now is at the agency's Armstrong Flight Research Center in Edwards, California.
The X-57, NASA's first all-electric experimental aircraft, or X-plane – and the first crewed X-plane in two decades – was delivered by Empirical Systems Aerospace (ESAero) of San Luis Obispo, California on Wednesday, Oct. 2, in the first of three configurations as an all-electric aircraft, known as Modification II, or Mod II.

The X-57's Mod II vehicle features the replacement of traditional combustion engines on a baseline Tecnam P2006T aircraft, with electric cruise motors. The delivery is a major milestone for the project, allowing NASA engineers to begin putting the aircraft through ground tests, to be followed by taxi tests and eventually, flight tests.
"The X-57 Mod II aircraft delivery to NASA is a significant event, marking the beginning of a new phase in this exciting electric X-plane project," said X-57 Project Manager Tom Rigney. "With the aircraft in our possession, the X-57 team will soon conduct extensive ground testing of the integrated electric propulsion system to ensure the aircraft is airworthy. We plan to rapidly share valuable lessons learned along the way as we progress toward flight testing, helping to inform the growing electric aircraft market."
While X-57's Mod II vehicle begins systems validation testing on the ground, efforts in preparation for the project's following phases, Mods III and IV, are already well underway, with the recent successful completion of loads testingon a new, high-aspect ratio wing at NASA Armstrong's Flight Loads Laboratory. Following completion of tests, the wing, which will be featured on Mods III and IV configurations, will undergo fit checks on a fuselage at ESAero, ensuring timely transition from the project's Mod II phase to Mod III.
"ESAero is thrilled to be delivering the MOD II X-57 Maxwell to NASA AFRC," said ESAero President and CEO Andrew Gibson. "In this revolutionary time, the experience and lessons learned, from early requirements to current standards development, has the X-57 paving the way. This milestone, along with receiving the successfully load-tested MOD III wing back, will enable NASA, ESAero and the small business team to accelerate and lead electric air vehicle distributed propulsion development on the MOD III and MOD IV configurations with integration at our facilities in San Luis Obispo."
A goal of the X-57 project is to help develop certification standards for emerging electric aircraft markets, including urban air mobility vehicles, which also rely on complex distributed electric propulsion systems. NASA will share the aircraft's electric-propulsion-focused design and airworthiness process with regulators and industry, which will advance certification approaches for aircraft utilizing distributed electric propulsion.
The X-57 team is using a "design driver" as a technical challenge, to drive lessons learned and best practices. This design driver includes a 500% increase in high-speed cruise efficiency, zero in-flight carbon emissions, and flight that is much quieter for communities on the ground.
The X-57 project operates under the Integrated Aviation Systems Program's Flight Demonstrations and Capabilities project, within NASA's Aeronautics Research Mission Directorate.
+++
X-57 Battery System Survives Flight-Condition, Thermal Runaway Testing
NASA engineers have reached a major milestone with the successful testing of the battery system that will power NASA's first all-electric X-plane when it takes flight in 2018.
The testing validated that the battery system has the necessary capacity to safely power NASA's first manned X-plane in two decades, the X-57 Maxwell, for an entire flight profile. The test also confirmed the battery design's ability to isolate potential overheating issues to single battery cells, preventing unsafe conditions from spreading to the rest of the battery system.
The X-57 is being developed to demonstrate a significant increase in efficiency at high speed cruise compared to aircraft propelled by traditional systems, resulting in lower operating costs, as well as lower carbon emissions.
The successful completion of the battery tests represents a significant step forward in the X-57 project, says X-57 Project Manager Tom Rigney.
"This was an extremely critical milestone for the overall project," said Rigney. "Without a safe battery system, we wouldn't be able to execute our objectives. This test truly ensures a safe environment for the pilot and the test program."
Engineers from NASA's Armstrong Flight Research Center in California and Glenn Research Center in Ohio joined the X-57 project's commercial partners for the testing, including prime contractor Empirical Systems Aerospace, or ESAero, and Electric Power Systems, or EPS, both of California.
The first test performed was a battery functional test, which examined the battery's capacity, demonstrating the ability of the battery to power the aircraft for the duration of a flight without overheating to unsafe levels. X-57 will be powered using lithium-ion batteries that will warm up as they discharge during flight. Too much warming could result in overheating, potentially exposing both the aircraft and the pilot to dangerous conditions during flight. Engineers, therefore, had to demonstrate that the battery system would stay within acceptable, safe limits while powering a flight.
The battery functional test was conducted by using a power supply that was able to produce specific amounts of current, each representing different conditions during various stages of a flight, including taxiing, climb, cruise-climb, go around and landing. Varying amounts of current were exposed to the battery on a specific timeline, using a computer-controlled system, says NASA Glenn's Dionne Hernandez-Lugo, battery development lead for X-57.
"We exposed the battery to the conditions of an X-57 flight, based on current expected flight profiles, to make sure the capacity and thermal conditions stayed within safe limits," explained Hernandez-Lugo. "We were able to see how the battery behaves throughout the flight, as well as the overall capacity. The battery passed."
The second test, known as a thermal runaway and propagation test, was critical in validating the redesign of the battery system, which took place following the results of similar testing in December 2016. One concern was the potential of lithium-ion battery cells to experience a "thermal runaway." This happens when a battery cell experiences a rapid increase in temperature that could lead to a fire, spreading to other battery cells and causing a larger battery system failure.
NASA Glenn and NASA's Johnson Space Center in Houston teamed with EPS and ESAero, to develop a design that could essentially isolate such an incident to the affected battery cell and prevent the anomaly from spreading to other cells.
"What we did on this redesign was revise our containment strategy. Rather than looking at pack level containment, we focused on containment at the individual cell level. We also revised our ventilation strategy to enable a much more rapid release of heat than the previous design," EPS Chief Executive Officer Millecam said.
The containment of a thermal runaway was a critical factor in the validation of the new battery design, explained Rigney.
"In the event of a complete thermal runaway, a battery cell catches fire and could spread to other battery cells, causing the hazard of a full battery fire," said Rigney. "This testing investigated the new design's ability to mitigate that hazard, and to ensure that any heat dissipation, in the event of a single cell runaway, would not spread to other cells."
In order to test this, engineers used a trigger cell, which was intentionally set to malfunction and experience a thermal runaway by exposing it to an excessively high current. The temperatures of neighboring cells were then monitored to see if they increased to a point that would have indicated that the thermal runaway had spread.
"The results of the test were that the runaway did not spread, and did not cause a cascading failure," Hernandez-Lugo stated. "This really gave us the peace of mind that, even if an event does occur, we have a design in place that's going to allow us to continue to operate, and land the plane safely without having any fire. This helped us understand that this battery is safe enough to use in flight."
Now that the redesign of the battery system has been completed, the batteries themselves can be fabricated, along with the necessary flight hardware, prior to being integrated into the aircraft.
X-57 is expected to start flying in March 2018 in Modification II, or "Mod II," with two fully electric inboard motors instead of the traditional combustion engines. After Mod II flights are complete in May 2018, the team will convert X-57 into its Mod III configuration, which features the replacement of the standard wing with a high-aspect ratio wing, and the relocation of the electric motors to the wingtips. The final configuration of X-57, Mod IV, will feature the addition of 12 smaller electric high-lift motors, to be used during takeoff and landing, in addition to the wingtip cruise motors.
Quelle: NASA
874 Views