10.09.2019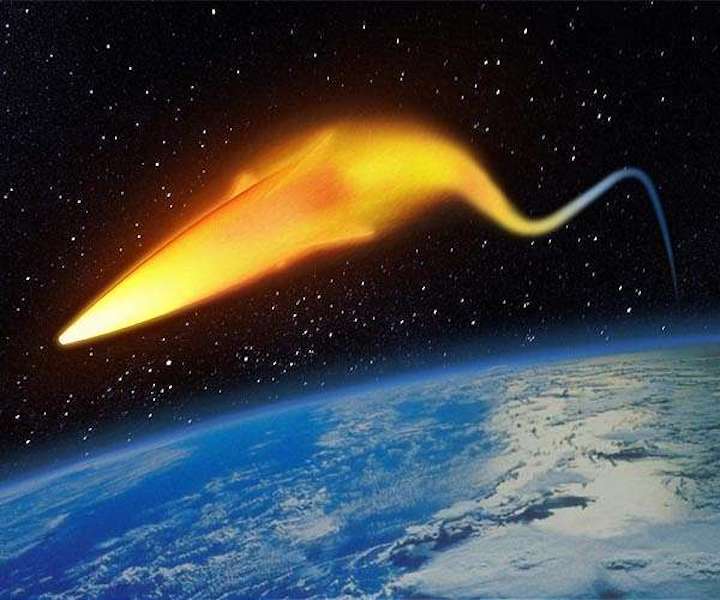 On August 29, the U.S. Army awarded Lockheed Martin (NYSE: LMT) a contract at an estimated value of $347 million as part of a multi-year hypersonic weapons development in support of the Army's focus in long-range precision strike missiles.
As the prime contractor for the Long-Range Hypersonic Weapon (LRHW) systems integration project, the Lockheed Martin-team will develop and integrate a land-based hypersonic strike prototype in partnership with the Army Hypersonic Project Office, part of the Army Rapid Capabilities and Critical Technologies Office. The team includes: Dynetics Technical Solutions (DTS), Integration Innovation Inc. (i3), Verity Integrated Systems, Martinez and Turek, and Penta Research.
"Lockheed Martin is driving rapid technical development for these national priority programs," said Eric Scherff, vice president for Hypersonic Strike Programs for Lockheed Martin Space.
"There are natural synergies with our industry teammates. We believe our relationships offer the Army unmatched expertise and puts us in the best position to deliver this critical capability to the nation. Lockheed Martin is proud to partner with the Army in integrating the common hypersonic glide body and the land-based hypersonic strike weapon system prototype. We are committed to combining the best of what our companies have to offer to deliver on this national priority program."
The Army also awarded a contract to DTS at an estimated value of $352 million to produce the first commercially manufactured set of Common-Hypersonic Glide Body (C-HGB) systems. DTS selected Lockheed Martin to support integration and prototyping of this new C-HGB. The C-HGB will be available across military services to provide commonality to air, land and sea platform needs and requirements.
"Dynetics Technical Solutions is pleased to partner with Lockheed Martin on this national defense priority. The Common-Hypersonic Glide Body and Long-Range Hypersonic Weapon programs will modernize our national capabilities and will counter the threat from our foreign adversaries. We are looking forward to the progress our teams will make as we deliver this combat capability to the warfighter," said Steve Cook, DTS president.
The Army LRHW prototype will leverage the C-HGB and introduce a new class of ultrafast and maneuverable long-range missles with the ability to launch from ground mobile platforms. The LRHW system prototype will provide residual combat capability to soldiers by 2023.
Hypersonic strike weapons, capable of flying speeds in excess of Mach 5, are a key aspect of the long-range precision fire modernization effort for the Army and the national security strategy to compete with and outpace potential threats.
LRHW program work will be performed at Lockheed Martin's Alabama, Colorado, California and Texas facilities.
Lockheed Martin is an established industry leader in the development of hypersonic strike technology and our experience will serve as the cornerstone for hypersonic defense systems. Lockheed Martin's hypersonic strike awards exceed over $2.5 billion across the corporation. We are proud to partner with the Army, Air Force, and Navy on the technology development and demonstration for multiple capabilities that span all hypersonic flight disciplines.
Quelle: SD
+++
Putin reveals he offered to sell Trump Russia's hypersonic missiles
Earlier, in August, the US officially withdrew from the INF treaty and conducted a ground-based medium-range missile test just a few weeks after. Russian president Putin then ordered the Defence Ministry to formulate an appropriate response to the testing.
Vladimir Putin revealed during the Eastern Economic Forum in Vladivostok that he offered to sell Russia's newest weapons to Donald Trump, including a hypersonic missile system, when they met in June this year in Japan.
"I told Donald, 'if you want, we'll sell them to you and that's how everything will be balanced right away. However, they said that they will soon produce [weapons] themselves. Probably, they will, but why waste money when we have already spent it and we can get something from it and not as a detriment to our security, but for the sake of balance", Putin said during the plenary session of the forum, which was attended by Japanese Prime Minister Shinzo Abe and Indian Prime Minister Narendra Modi.
Putin said that the offer was made in the wake of attempts to include Russia's latest weapons in common treaties, bearing in mind that no other countries have produced this kind of weaponry so far. He added that Russia was ready to discuss "how and what" can be counted, referring to the number of existing missile carriers and the number of warheads.
"This is a special question, but in any case, Russia is ready for this dialogue, for this discussion. But so far we have not received a clear answer from Americans", the Russian president explained.
Putin also stressed that the US did not react to Russia's proposal to curb the arms race and that Washington is now considering placing weapons in space. Russia's president recalled that the US has still not ratified the Comprehensive Nuclear-Test-Ban Treaty, which the country signed in 1996.
"These are all very serious challenges that mankind may face. Imagine that over the head of each of us, and, therefore, each of them, some kind of weapon, maybe nuclear, will hang constantly in geostationary orbit.
"This really can globally change the security situation in the world. But for now, our American partners are silent on all our proposals in the field of disarmament and avoiding an arms race, and there is nothing new here", Putin concluded.
Last month, Russia's president said that he was "disappointed" by the US' medium-range missile testing on 18 August, which would not have been allowed under the Intermediate-Range Nuclear Forces Treaty (INF), from which Washington withdrew two weeks earlier.
Both countries remain parties to the 2010 New START Treaty, which is currently the only nuclear weapons agreement limiting the US and Russia's strategic arsenals, but it is due to expire in 2021, and it is not clear yet whether it will be extended.
Quelle: SD
1912 Views