21.04.2019
U.S. military Electron launch first test for York satellite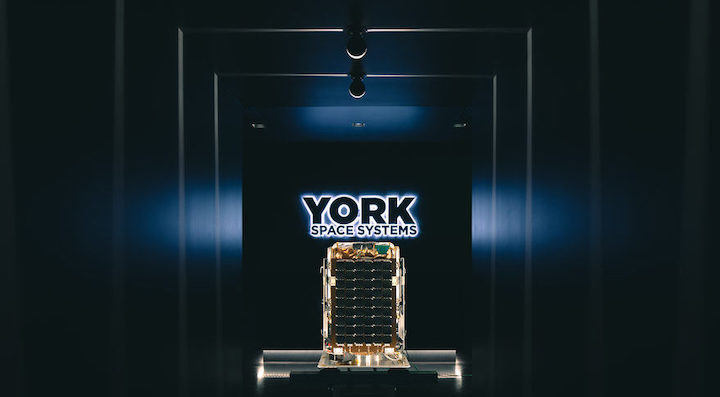 The U.S. Army plans to conduct the first on-orbit demonstration of York Space Systems' S-class small satellite through the Harbinger mission. The satellite is slated for launch in late April or early May on the Rocket Lab Electron launch vehicle. Credit: York Space Systems
COLORADO SPRINGS and FREMONT, Calif. – Rocket Lab is preparing to launch in May three U.S. military satellites including the Army Harbinger mission as part of the Defense Department's Rapid Agile Launch Initiative. Harbinger is designed to test whether an inexpensive commercial satellite equipped with a synthetic aperture radar can quickly deliver Earth imagery to soldiers.
Through Harbinger, the Army plans to evaluate the benefit of rapid deployment of a low-cost, state-of-the art satellite with enhanced data collection and downlink capabilities, according to Harbinger fact sheet published by the Army Space and Missile Defense Command and Army Forces Strategic Command's Technical Center.
The Harbinger mission will be the first on-orbit demonstration for York Space Systems, said Charles Beames, York executive chairman. The Denver startup advertises three-axis stabilized S-class satellites for payloads of 85 kilograms or less for $1.2 million.
"We have a lot of customers in various stages of contracting," Beames told SpaceNews at the 35thSpace Symposium. "When its on-orbit, it's a dramatic reduction in perceived risk for our customers."
Rocket Lab plans to launch Harbinger on its fifth operational mission alongside the joint U.S.-Swedish Space Plug-and-Play Architecture Research Cubesat (SPARC) and the Air Force Academy's Falcon Orbital Debris Experiment. SPARC is a six-unit cubesat designed to test miniature avionics, software defined radios and space situational awareness. For the Falcon Orbital Debris Experiment, the Air Force plans to release two stainless steel ball bearings from a ten-centimeter-square cubesat to help calibrate ground-based radar and optical sensors.
The 14-day launch window for the next Electron flight opens May 4, Morgan Bailey, Rocket Lab communications manager, said by email.
York is attracting interest from government and commercial customers, Beames said. He declined to name customers due to nondisclosure agreements but said startups are looking to York to supply buses, integrate instruments, conduct final testing and ship spacecraft to launch sites. "Instead of building satellites themselves, they come to York to buy two satellites to demonstrate their idea to investors," he added.
Government agencies, meanwhile, are working with York and other small satellite manufacturers to explore how small satellites fit into future architectures.
"We still need exquisite satellites for certain things," said Beames, a retired U.S Air Force colonel and former Office of the Secretary of Defense principal director for space and intelligence systems. "But we don't need billion-dollar satellites for every single mission."
Beames joined York in 2017 because he sees companies like York "as the solution to what plagues our national security space problem. The fundamental problem is we are paying way too much money for the capabilities the country needs," Beames said.
York spacecraft are designed to fly on any launch vehicle. "It's a very robust design that can handle the roughest solid rocket motor, next-generation liquid rockets, air-launch or rideshare," Beames said. "For our customers, launch is their decision. They decide how much they want to spend and how quickly they want to launch."
Rapid Agile Launch Initiative is an Air Force program managed by the Defense Innovation Unit.
Quelle: SN
----
Update: 4.05.2019
.
Rocket Lab to Launch 3 Satellites for US Air Force Early Sunday. How to Watch
The launch window opens at 2 a.m. EDT (0600 GMT).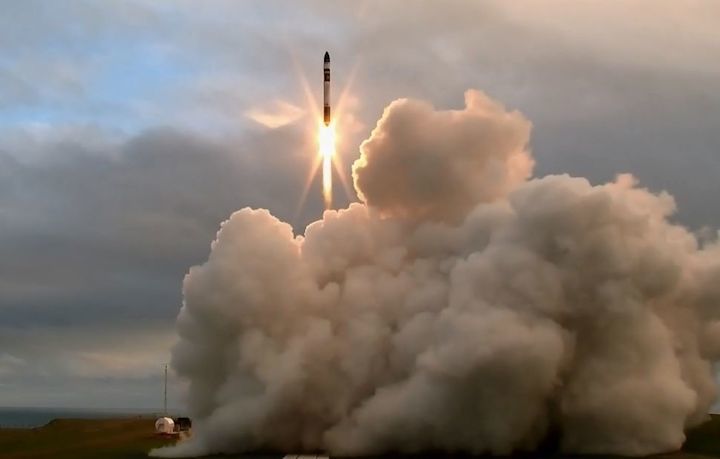 Update, 1:38 a.m. EDT on May 4: Rocket Lab has called off Saturday's launch attempt to perform additional payload checks. The launch is now targeted for Sunday (May 5) at 2 a.m. EDT (0600 GMT).
Spaceflight startup Rocket Lab will launch three small satellites for the United States Air Force early Saturday morning (May 4), and you can watch the action live.
An Electron rocket is scheduled to lift off from Rocket Lab's New Zealand launch site Saturday at 2 a.m. EDT (0600 GMT; 6 p.m. local New Zealand time), kicking off the STP-27RD mission. Watch it live here at Space.com courtesy of Rocket Lab, or directly via the company.
STP-27RD will loft three research-and-development payloads for the Air Force's Space Test Program (which explains the mission's name).
The Space Plug and Play Architecture Research Cubesat-1 (SPARC-1) will advance the development of miniature avionics, among other gear. The Falcon Orbital Debris Experiment (Falcon ODE), also a cubesat, will help researchers evaluate how effectively space junk can be tracked from the ground. And the larger Harbinger craft aims to demonstrate that a commercially built satellite can meet certain U.S. Department of Defense requirements, Rocket Lab representatives have said.
Together, the three satellites weigh more than 397 lbs. (180 kilograms), the heaviest load for the 57-foot-tall (17 meters) Electron to date.
Tomorrow morning's launch will be the sixth overall for Electron, and its second flight of 2019. The two-stage rocket last flew in late March, when it lofted the experimental R3D2 satellite for the U.S. Defense Advanced Research Projects Agency (DARPA).
Rocket Lab aims to dramatically increase access to space using Electron, which can loft about 500 lbs. (225 kg) on each $5 million liftoff. There will be no rocket landing tomorrow: Electron is an expendable vehicle.
Quelle: SC
+++
Rocket Lab delay launch of STP-27RD test satellite trio for the DoD
Rocket Lab has stood down today's launch attempt to conduct additional payload checks. The company is preparing their Electron rocket for its second launch of 2019. In its sixth overall mission, Electron will place the SPARC-1, Falcon ODE, and Harbinger satellites into orbit, as part of the Space Test Program (STP). Launch is now scheduled for No Earlier Than May 5 at 6:00 UTC, from Rocket Lab Launch Complex 1 (LC-1) in New Zealand.

Like all Electron missions, the rocket itself has received a special name. This rocket is named That's a Funny Looking Cactus, for the deserts of New Mexico – where the STP is based.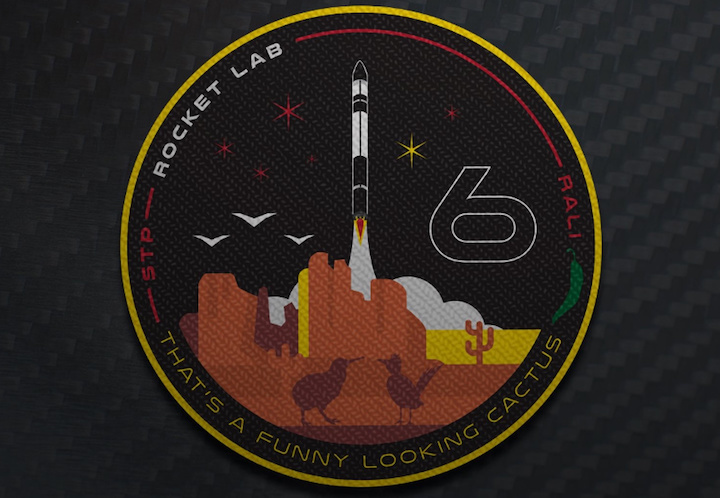 The STP is part of the United States Department of Defense (DoD), and ensures that potential launch and satellite platform providers will be able to meet the needs of government customers.
The payloads for this mission are SPARC-1, Falcon ODE, and Harbinger – three tech demonstration satellites. Together, STP-27RD is the heaviest payload launched on Electron to date – over 180kg. To insert the satellites into a precise orbit, this mission will include Rocket Lab's Curie engine-powered kick stage. The specific orbit has not been made public, although it is known to be a Low Earth Orbit (LEO).
SPARC-1 is a joint Swedish-American project, sponsored by the Air Force Research Laboratory Space Vehicles Directorate (AFRL/RV). It will test miniaturized avionics, software radio systems, and carries a visible light camera to study space situational awareness concepts. It is a 6U cubesat, and will be able to switch communication frequencies when needed.

Falcon ODE is sponsored by the United States Air Force Academy, and will assist in testing ground-based tracking of space objects. It is a 1U cubesat – only 10cm across on every side, the definition of a "U" for cubesats – and will release two steel ball bearings to test and calibrate ground tracking devices.
Harbinger is a small commercial satellite built by York Space Systems, and will demonstrate that York's S-CLASS satellite platform – and small satellites in general – can meet the needs of a government customer.
At around 150kg, it is the heaviest payload ever launched on Electron – and makes up most of the 180kg total mission mass. It will carry an X-band Synthetic Aperture Radar (SAR), which can provide Earth observation data at any time – regardless of cloud cover.
The Electron launch countdown begins at T-6 hours, when the road to the launch site is closed off. At T-4 hours, the vehicle is raised vertical by the strongback, and filled with RP-1 fuel. Launch pad personnel leave the area at T-2 hours 30 minutes, and liquid oxygen (LOX) loading begins at T-2 hours.
At T-18 minutes, the launch director in mission control conducts a go/no-go poll of all the flight controllers, to ensure that the Electron, launch pad, and payloads are ready for launch.
At T-2 minutes, Electron's computers take over and initiate the launch sequence.
The nine 3D-printed Rutherford engines on Electron's first stage ignite at T-2 seconds – and after a quick check of vehicle systems – Electron lifts off at T-0.
Main Engine Cutoff (MECO) occurs at T+2 minutes 34 seconds, when the 9 Rutherford engines shut down. Three seconds later, the first and second stages separate, and the second stage's Rutherford Vacuum engine ignites. The payload fairing is separated at T+3 minutes 8 seconds – as the vehicle has left the atmosphere.
Electron reaches orbit at T+8 minutes 51 seconds, and Second Engine Cutoff (SECO) occurs four seconds later. The Curie-powered kick stage – with the three payloads on top – separates at T+8 minutes 59 seconds.
The Curie engine ignites for a nearly 3-minute burn at T+49 minutes 12 seconds, and cuts off at T+51 minutes 55 seconds.
The payloads separate at T+54 minutes 14 seconds. The kick stage will then deorbit itself, to minimize the amount of debris left in orbit.
2019 will be a busy year for Rocket Lab. They currently expect to launch around 16 missions – not counting STP-27RD – throughout the rest of this year.
Additionally, in September they will have their maiden launch from LC-2, a new Electron launch pad being built at Wallops Flight Facility in Virginia. This new pad will be dedicated to flying lower-inclination LEO missions, which LC-1 cannot. LC-2, however, is expected to have a much lower flight rate than LC-1.
Rocket Lab is also expecting to have the debut launch of their Photon satellite bus, derived from the Electron's kick stage, in the fourth quarter of 2019 from LC-1.
The next launch for Rocket Lab is expected to be a dedicated Planet Labs flight, launching 6 of their Dove imagery satellites to LEO No Earlier Than (NET) May 2019.
Quelle: NS
----
Update: 5.05.2019
.
Launch-LIVE-Frams: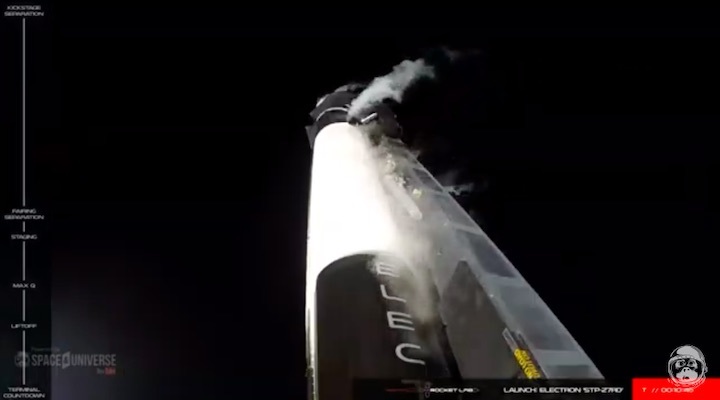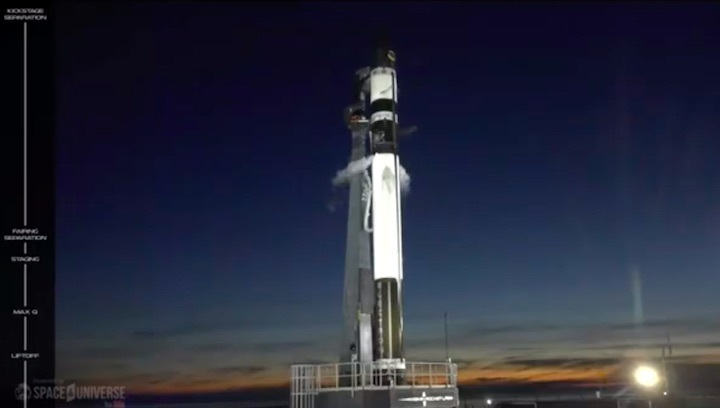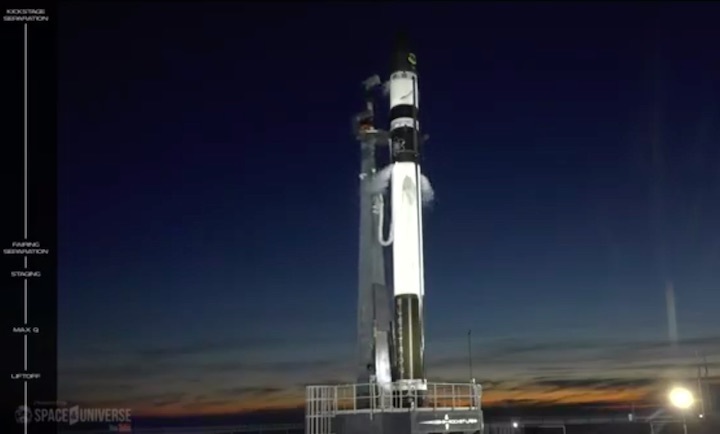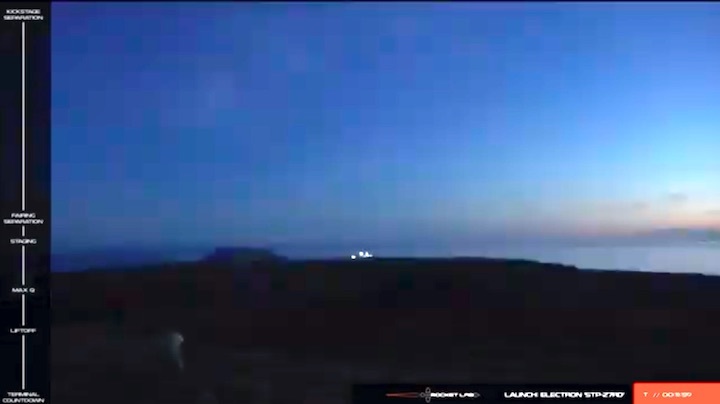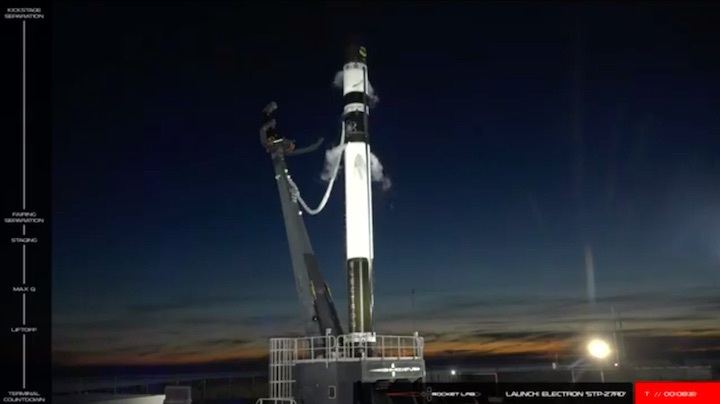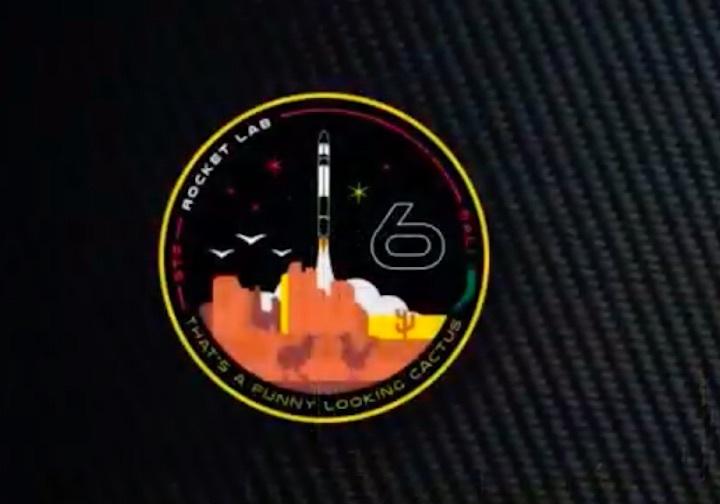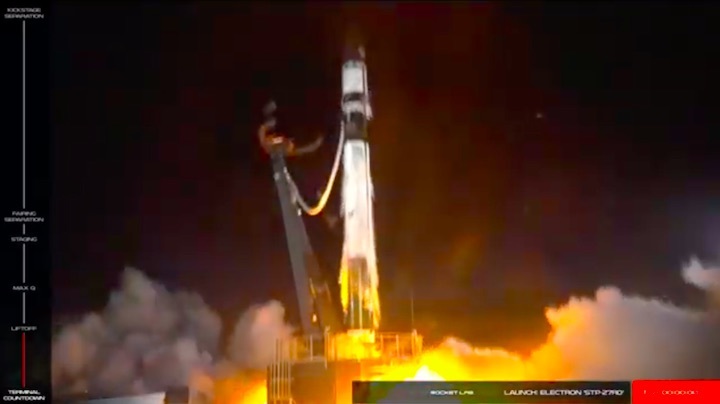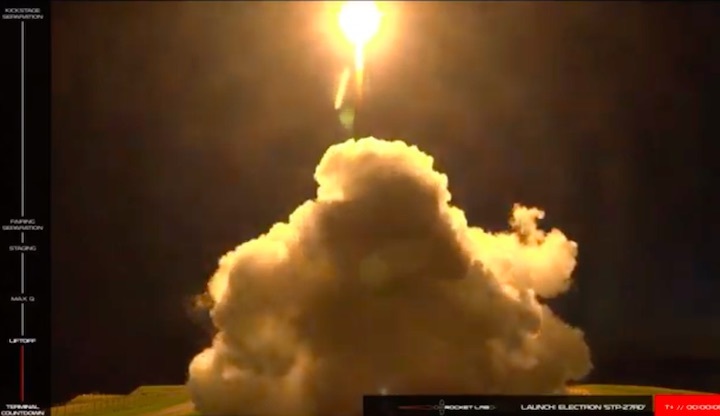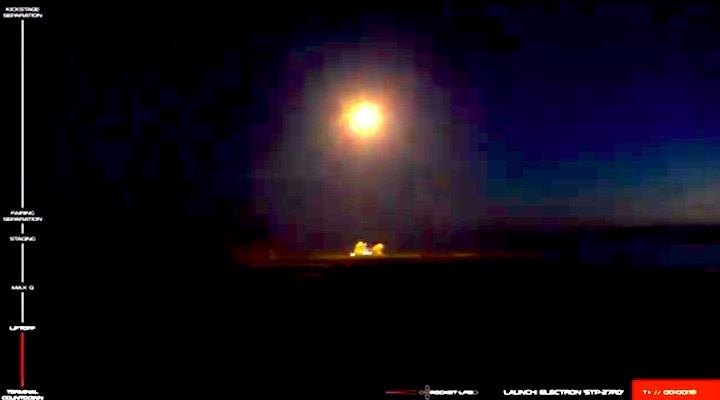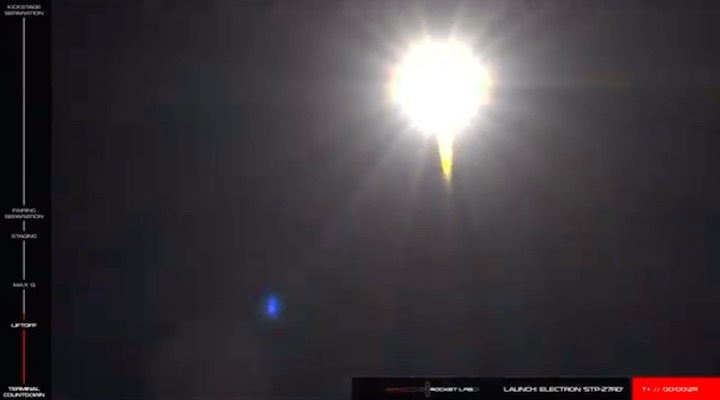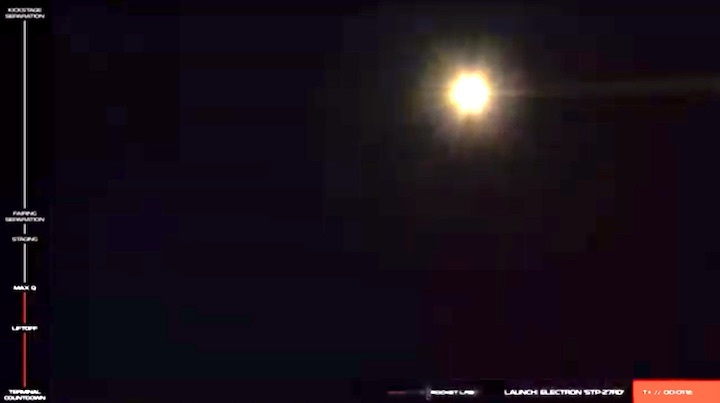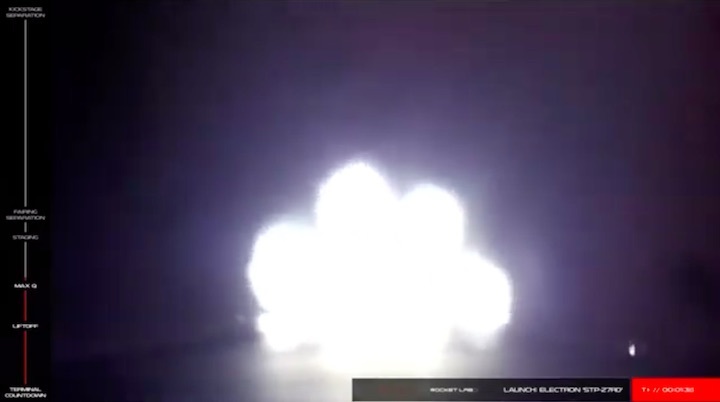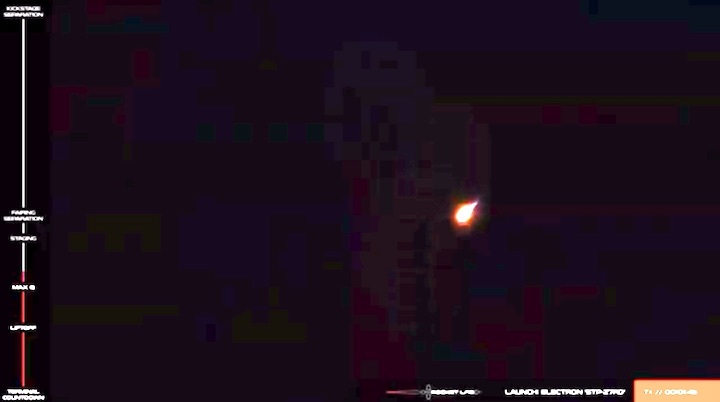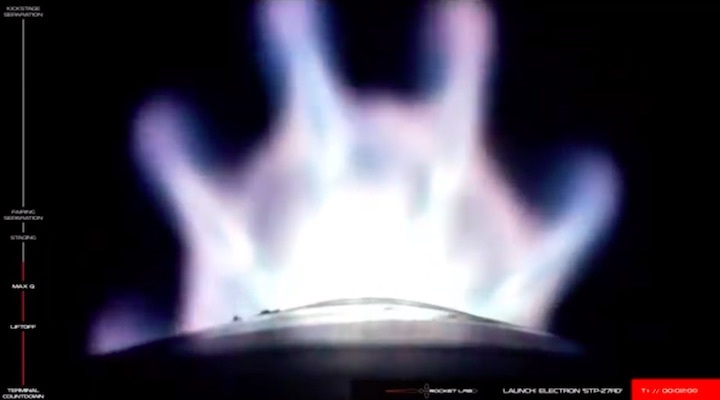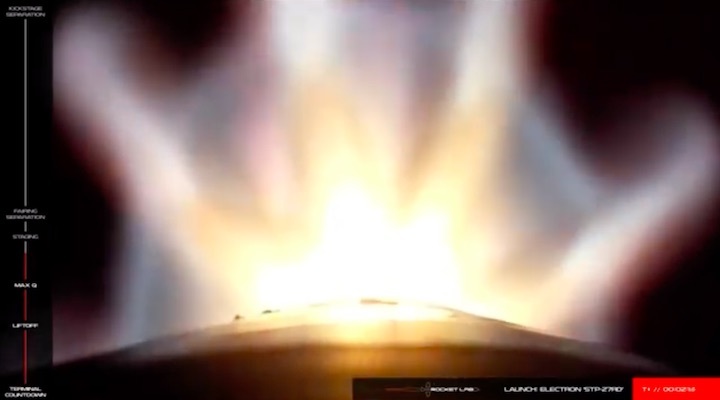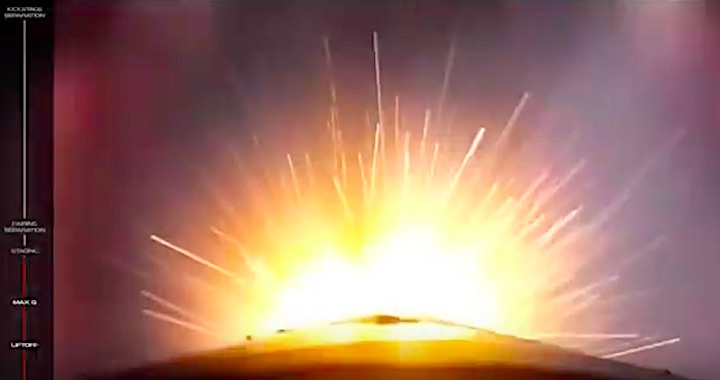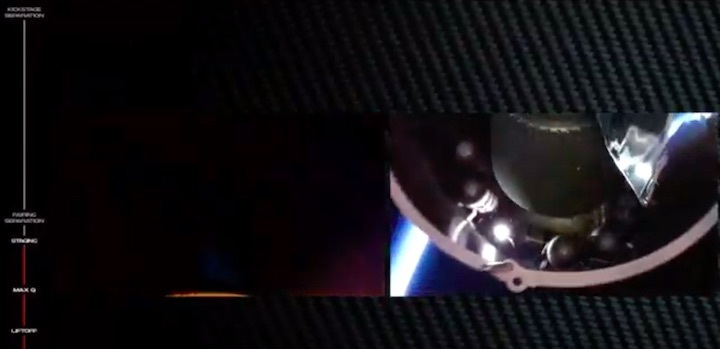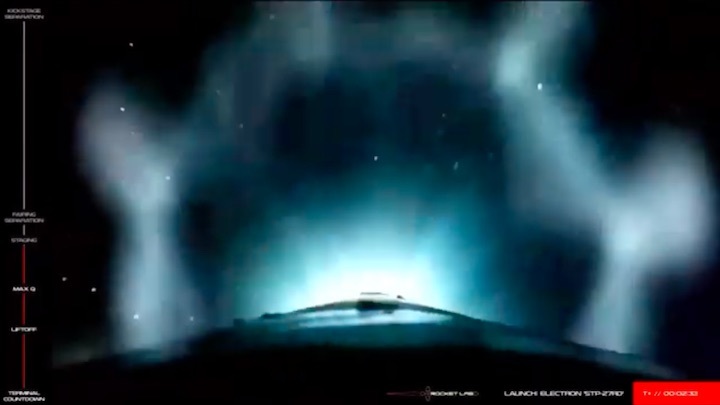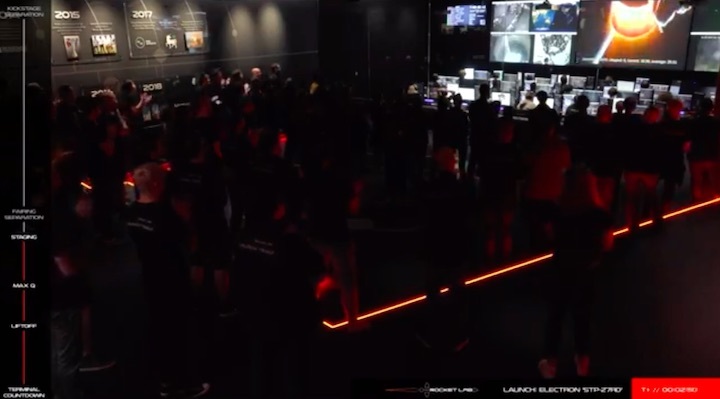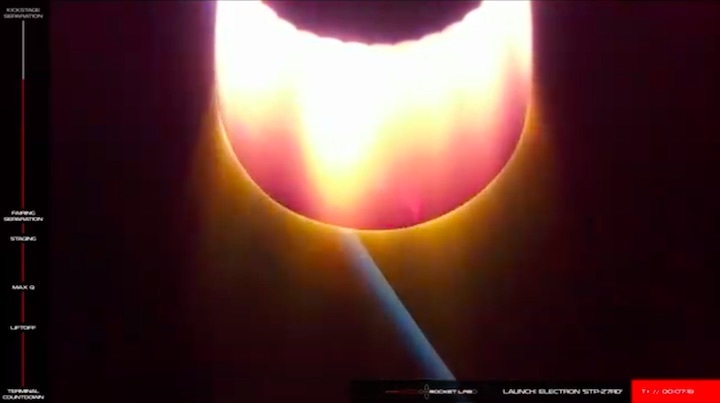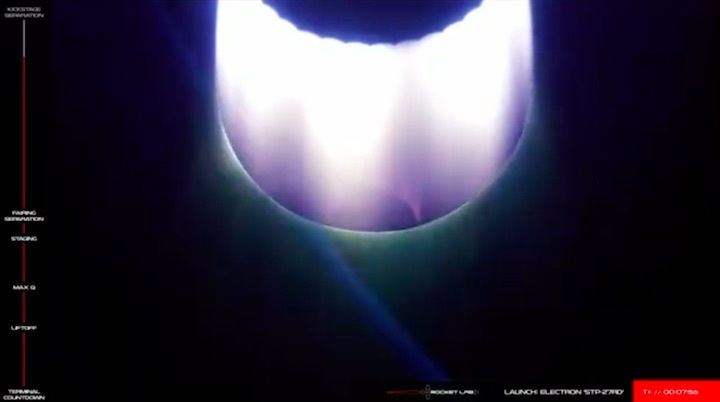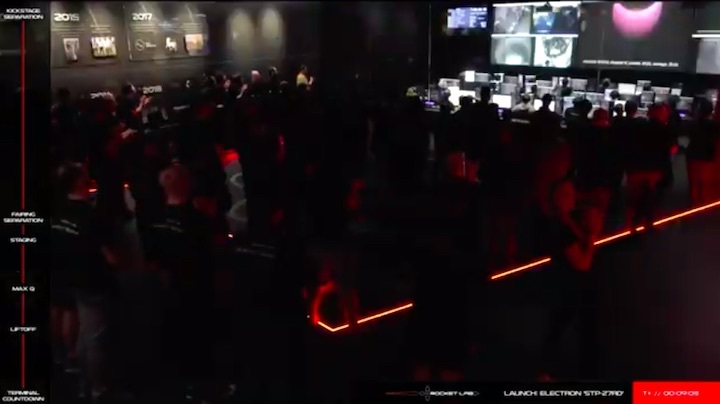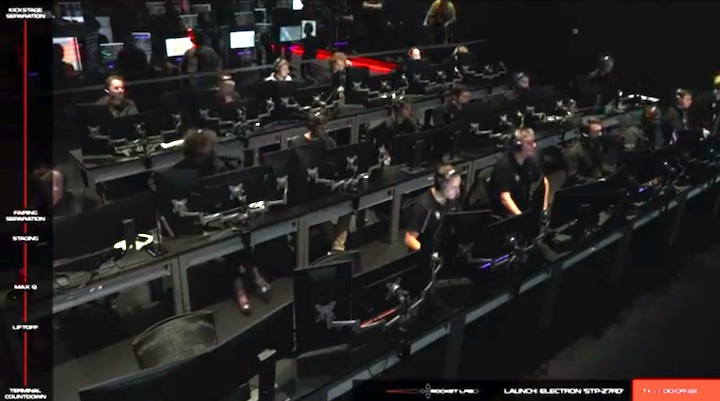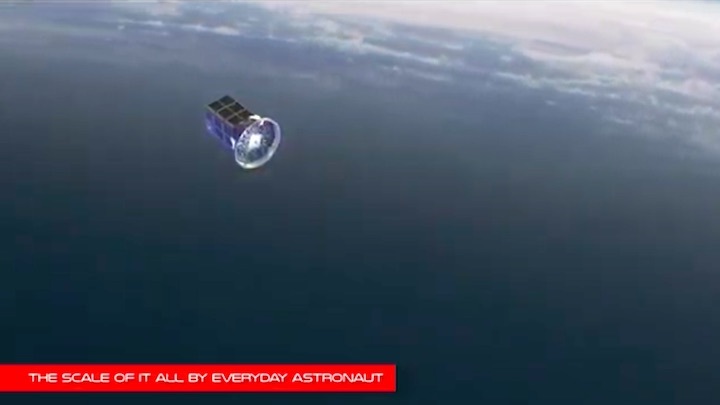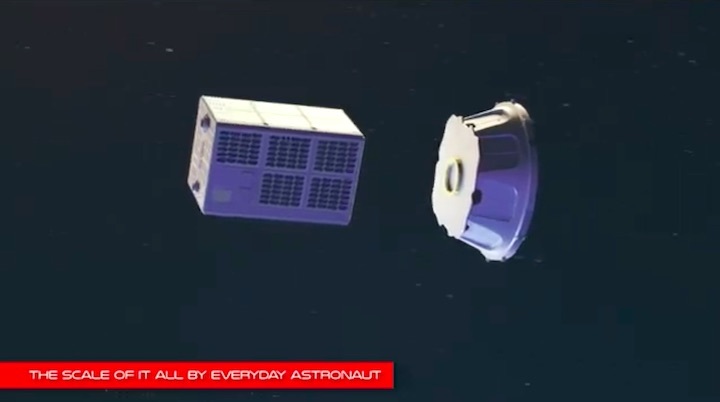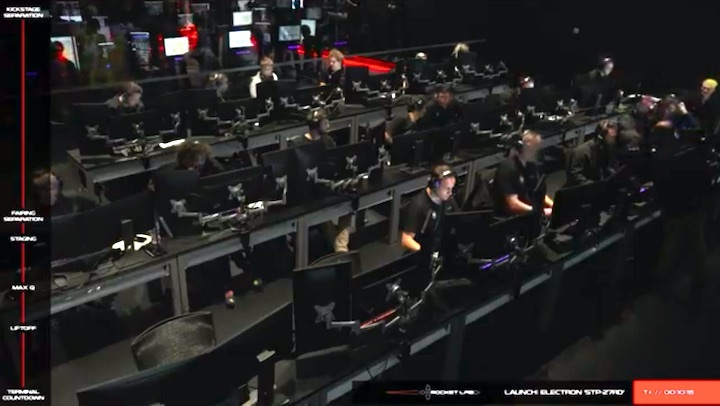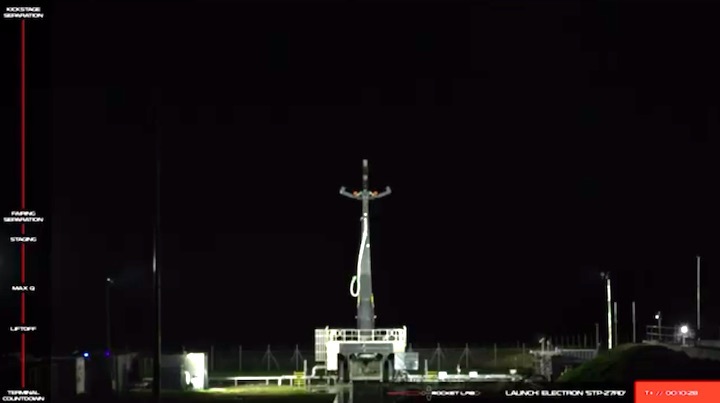 Quelle: Rocket Lab
2987 Views