1.05.2019
New renderings of SpaceX's next-generation Starship rocket, shared by CEO Elon Musk on Twitter early today, show the shiny spaceship sitting on bare ground on the moon and Mars.
The artwork is similar to less shiny renderings that came out a couple of years ago when Musk laid out the architecture for the Starship launch system (which was then known as the BFR) at the International Astronautical Congress in Australia.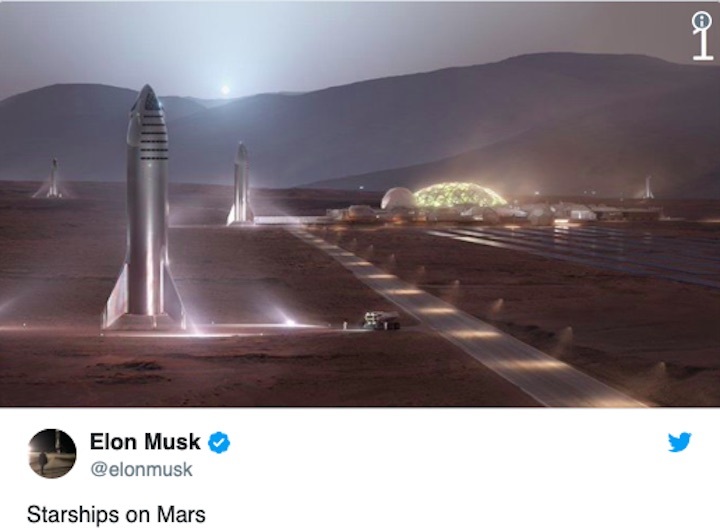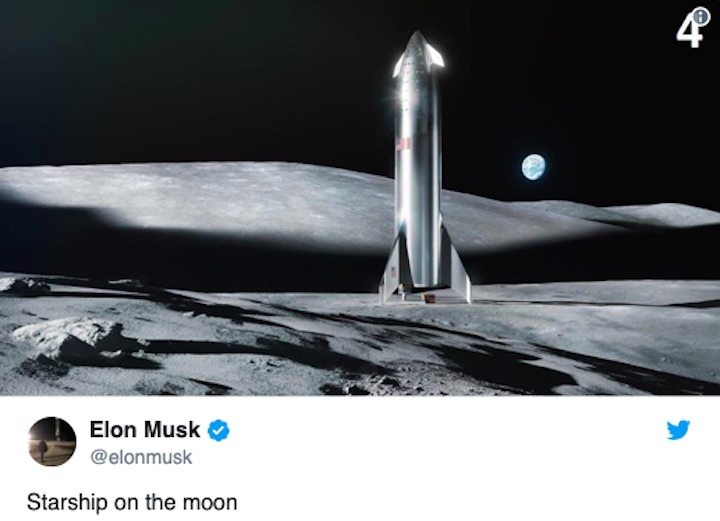 Since then, SpaceX has begun launch-pad tests of a Starship prototype nicknamed the Starship Hopper, or StarHopper, at the company's Boca Chica facility in South Texas. There's been a series of tethered test firings of the methane-fueled Raptor engine that's destined to be used on Starship, reportedly including a 40-second firing that took place over the weekend.
Last December, Musk promised to provide a "full technical presentation" about the Starship program once the StarHopper starts flying. His release of updated renderings could be a signal that he's gearing up for that presentation. The fact that today's freshened-up renderings have numbers in the upper right corner suggests the slideshow is in the works.
The revised rendering of Starship on the moon confirms that Musk and SpaceX are still thinking hard about using the spaceship as an integrated lunar lander. That could mesh well with NASA's plan to get a heavy-duty integrated lander ready in time for a crewed mission to the moon in 2024.
SpaceX is targeting the early to mid-2020s for a Starship round-the-moon flight, as well as the start of Mars odysseys. But as Musk has said in the context of his other CEO job, at the Tesla electric-car company, "sometimes I'm not on time."
Sharp-eyed fans picked up on the fact that the revised Starship moonscape shows the spaceship standing by itself, with no landing pad or other structures in the background.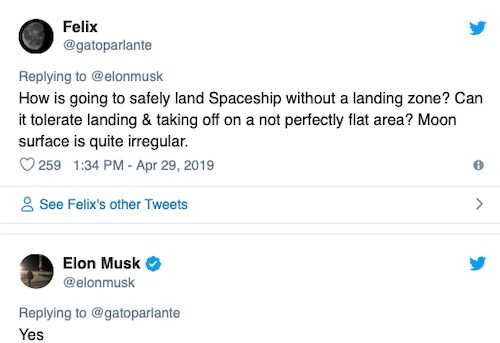 Others noted that Starship has a phallic look. But couldn't that be said about most spaceships, including Blue Origin's New Shepard suborbital craft? To paraphrase a quote attributed to Sigmund Freud, sometimes a rocket is just a rocket.
For what it's worth, Blue Origin has its own plans for a lunar lander, nicknamed Blue Moon, and we may hear more about that project on May 9. For folks who are fans of commercial space ventures as well as "Game of Thrones," Starship vs. Blue Moon could be the new Starks vs. Lannisters.
Quelle: GeekWire
2192 Views