28.01.2019
SpaceX workers cap Starship with tank dome as Raptor arrivals and hop tests near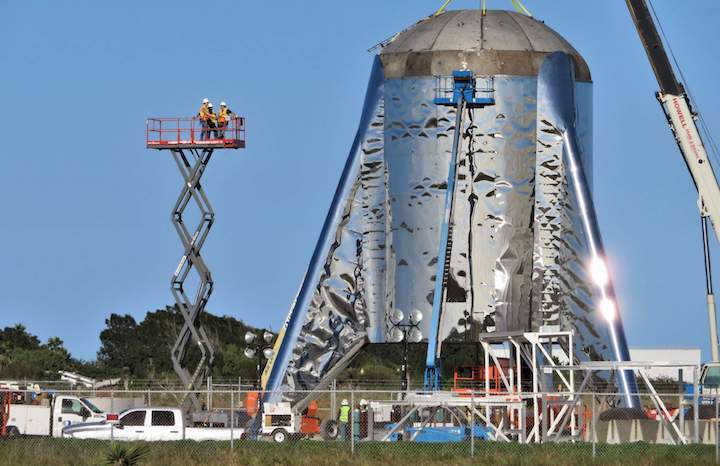 SpaceX employees and local contractors continue to outfit the aft section of the first full-scale BFR prototype with a variety of important components, recently culminating in the installation of the Starship hopper's top propellant tank dome,
Critical to the arrival and installation of its Raptor engines and the craft's first hop tests, this work continues despite the premature demise of Starhopper's apparently fragile nose cone (fairing), toppled on January 22nd when fairly mild winds of around 50 mph (80 km/h) encountered the shoddy rigging meant to keep the huge but lightweight hardware on its concrete stand.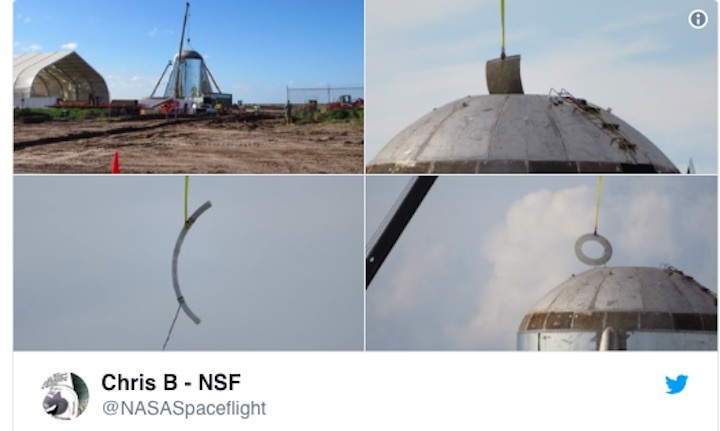 As photos and the media fervor that ensued generally illustrate, the nose section certainly was not effectively held to its concrete stand, causing the insufficient rigging to break and the large sheet metal structure to unceremoniously collapse and fold in half under its own weight. While 50 mph (90 km/h) gusts are not insignificant, they are also fairly common, especially when located on the unprotected edge of the South Texas Coast in the middle of the winter.
Put in a slightly more direct fashion, building a complex structure outside without ensuring that it will be able to withstand the region's average inclement weather would be an embarrassing oversight for even the most basic construction project, no less SpaceX's first Starship prototype. It's also possible that local construction contractors are being leaned on to complete an aerospace-ish project they would likely have little practical experience with, in which case run-of-the-mill workplace miscommunication or a failure to double-check work (rigging) could have easily led to the fairing's demise.
Regardless, what is done is done and whatever lessons were learned the hard way will hopefully prevent a repeat and encourage better workmanship throughout the project.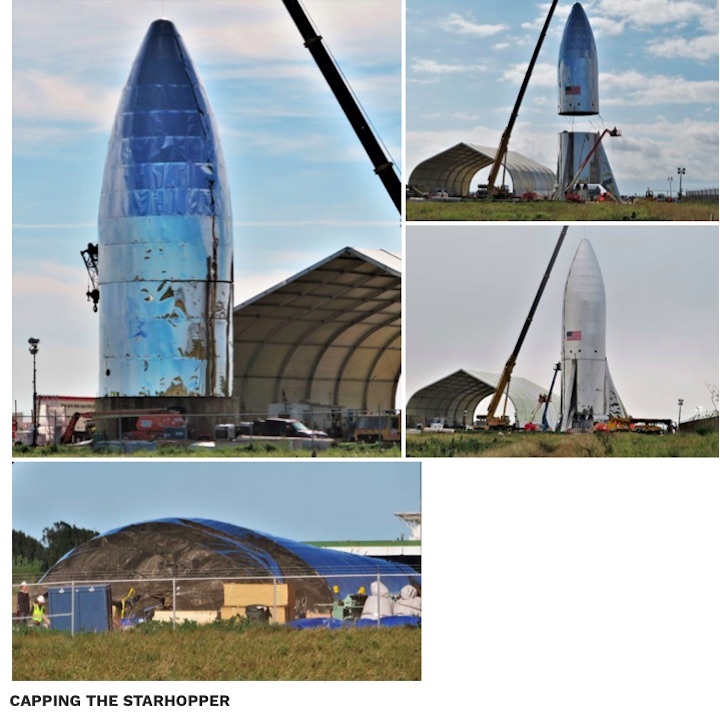 With the crumpled fairing section now beginning repairs under SpaceX's lone on-site tent, SpaceX workers and contractors got back to the (available) tasks at hand and took another step towards Starhopper's completion, installing the craft's topmost propellant tank dome and effectively 'capping' the most important segment of the prototype.
Recently described by SpaceX CEO Elon Musk as a "fairing", the upper section of Starhopper can presumably be compared with Falcon fairings, while the aft half – to feature two common-dome propellant tanks and an engine section with three Raptors – is likely roughly equivalent with Falcon 9 or Falcon Heavy boosters. For Falcon, fairings are dramatically less valuable than boosters (or upper stages) and far easier to produce. Aside from a collection of holes cut around its base, the nose section does appear to be more of an aerodynamic cap than anything with an active function, lending some credence to Musk's claim that it "will take a few weeks to repair."
After capping Starhopper's tank and engine section, additional tank segments continued to be craned inside the aft section through the top dome's large header gap, presumably allowing workers to finish up work while the craft is quite literally built around them, an undeniable method of saving time.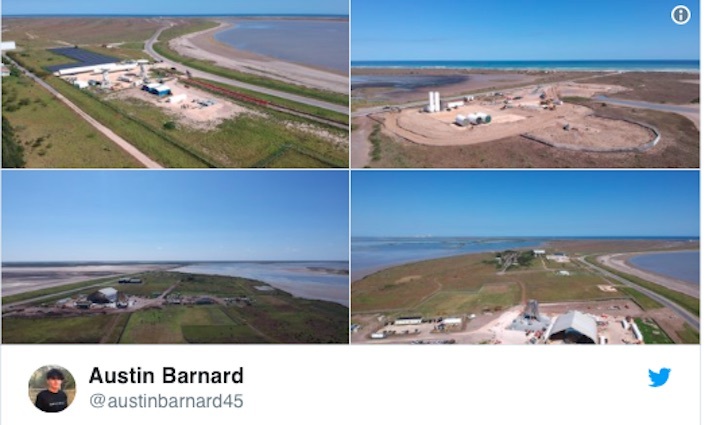 Up next, the most obvious milestone for Starhopper will be the static firing of its Raptor engines at SpaceX's McGregor, Texas test facilities, followed soon after by the delivery of the first flight-worthy engines to Boca Chica for installation on the Starship prototype. Given Musk's January 5th estimate that SpaceX was 4 to 8 weeks away from the first hop test and the Jan. 23rd addition of "a few weeks" to repair the craft's nose section, it's probably safe to expect Starhopper's first hop tests to begin no earlier than (NET) mid-March. This should also give construction workers a welcome influx of time to complete the Falcon 9-class hopper's first rough launch pad.
Quelle: TESLARATI
----
Update: 2.02.2019
.
In new Starship details, Musk reveals a more practical approach
Goal is "to reach the Moon as fast as possible."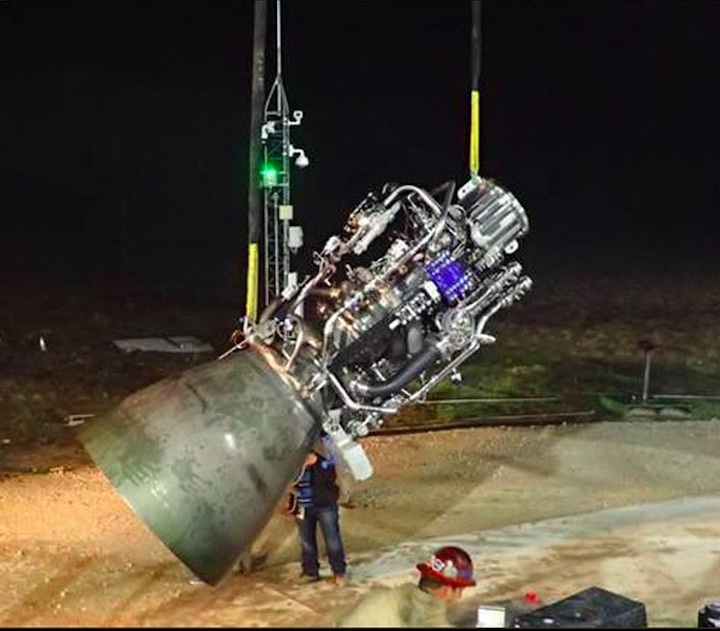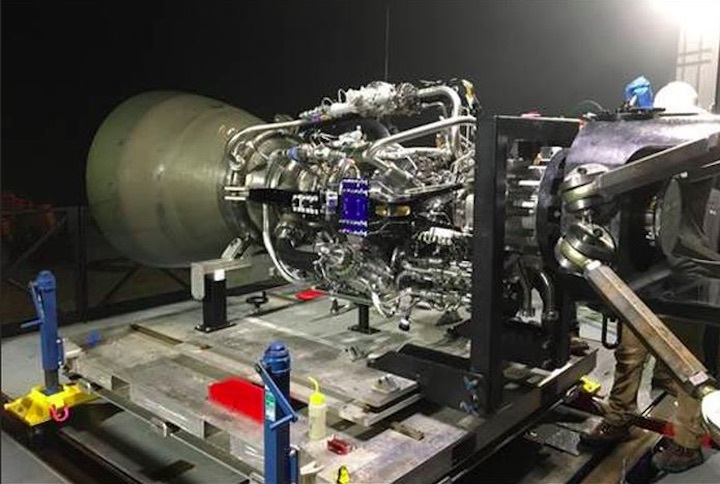 On Thursday night, SpaceX founder Elon Musk shared photos of Raptor rocket engines that recently left the company's factory in Hawthorne, Calif., headed out to be tested at its facility near McGregor, Texas. "Preparing to fire the Starship Raptor engine," he said by way of a caption on Twitter.
The photos were interesting, but Musk had additional comments about the engine that revealed much about how the company is proceeding with overall design of the vehicle it will power. SpaceX's approach seems focused on keeping costs down and moving as quickly as possible towards a launch of the Starship spacecraft and Super Heavy rocket in the early 2020s.
For example, Musk said, "Initially making one 200 metric ton thrust engine common across ship & booster to reach the Moon as fast as possible. Next versions will split to vacuum-optimized (380+ sec Isp) & sea-level thrust optimized (~250 ton)."
This comment is notable for a couple of reasons. First of all, the company appears to have decided to streamline the Raptor engine to a single design that will power both the rocket at liftoff, and the spaceship in the upper atmosphere and outer space. It will take less time to develop, test, and qualify a single engine. It will also cost less money.
Additionally, Musk notes that the goal is "to reach the Moon as fast as possible." The company still appears to be focused on lunar orbital flights, such as the #dearMoon project for Japanese businessman Yusaku Maezawa, as the first missions for Starship.
There is an added benefit to this approach: for the next two decades, NASA appears likely to be highly interested in developing infrastructure near and on the Moon. By flying Starship on early test flights to the same destination, SpaceX has a far greater chance to win government contracts for the delivery of cargo, and potentially astronauts, to the Moon. Heretofore, neither NASA nor the US military has shown much if any interest in SpaceX's ambitious rocket and spacecraft.
Cost concerns
In his series of tweets Thursday night, Musk shared other details that indicate he is intent on getting Starship flying as soon as possible. For example, initial versions of the Super Heavy rocket will likely fly with fewer than 31 engines, and the launch system's reaction control thrusters will have a simpler design.
These moves indicate that SpaceX and Musk are reacting to external pressures, particularly of a financial nature. Aside from the Japanese investor, it has not revealed any customers for Super Heavy and Starship, so the company is pressing ahead with a build-it-and-they-will-come approach to users. To accomplish this, however, it must cut costs elsewhere, as evidenced by the 10 percent reduction in workforce in January.
Musk reinforced this on a Jan. 30 Tesla investors' call, when he was asked whether recent layoffs at the automaker and SpaceX indicate a weakening economy. As part of his answer, Musk noted the need for tightening the belt at SpaceX as it embarks upon the high-cost development of the Starship and satellite-internet Starlink projects.
"We have to be super hardcore about it," he said regarding keeping headcounts down. "SpaceX has two absolutely insane projects that would normally bankrupt a company, Starship and Starlink, and so SpaceX has to be incredibly spartan with expenditures until these programs reach fruition."
To keep the pain to a minimum, SpaceX will push those programs to fruition as rapidly as possible. If that means the company's "Mars rocket" won't quite be in its final form, or even going to Mars, trips to the Moon can eventually fund missions to the red planet. Idealism is great and all, but engineers work best in the real world.
Quelle: arsTechnica
----
Update: 11.02.2019
.
SpaceX's Starship engine breaks Russian rocketry record held for two decades
SpaceX CEO Elon Musk says the company's Raptor engine, meant to power Starship and Super Heavy, has surpassed a rocketry record held by Russian scientists and engineers for more than two decades.
Known as combustion chamber pressure, Raptor has reportedly surpassed a modern Russian engine known as the RD-180, reaching forces equivalent to one Tesla Model 3 balanced on every square inch of Raptor's combustion chamber, the hardware directly adjacent to a rocket engine's bell-shaped nozzle.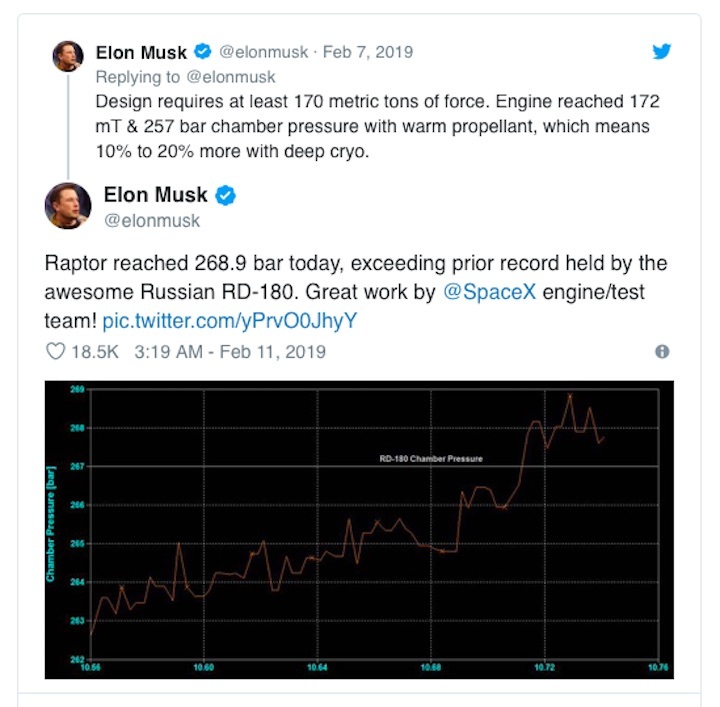 First and foremost, it's far too early to actually crown Raptor as the new official record-holder for combustion chamber pressure. RD-180 has been reliably flying on ULA's Atlas V rocket with chamber pressures as high ~257.5 bar (3735 psi) since the year 2000, while Raptor has been performing subscale integrated testing for roughly two years and full-scale integrated testing for less than seven days. As such, the fact that full-scale Raptor has achieved ~269 bar (3900 psi) is an almost unbelievably impressive achievement but probably shouldn't be used to jump to any conclusions just yet.
Thanks to the 10-20% performance boost supercool liquid methane and oxygen will bring Raptor, currently stuck using propellant just barely cold enough to remain liquid, the engine performing tests could already be made to reach its design specification of 300+ bar (4350+ psi), although Musk cautioned that he wasn't sure Raptor would be able to survive that power in its current iteration. Nevertheless, 250 bar is apparently more than enough to operate Starship and its Super Heavy booster during most regimes of flight, although maximum thrust (and thus max chamber pressures) is probably desirable for the first minute or so after launch when gravity losses are most significant.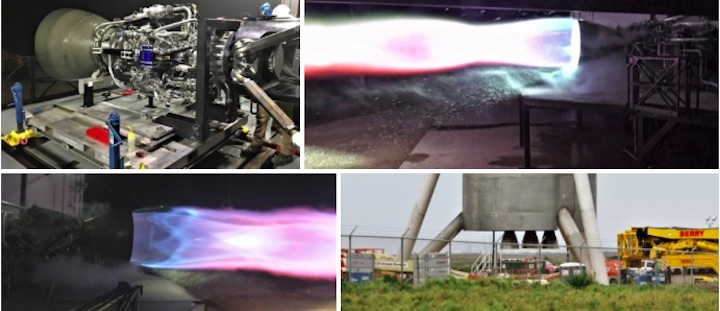 Ultimately, the sheer speed of SpaceX's full-scale Raptor test program is easily the most impressive and encouraging aspect of the brand new engine design. While SpaceX does tend towards testing to destruction over putting on kid-gloves around flight or development hardware, it's safe to say that even SpaceX would avoid frivolously destroying the first full-scale Raptor after just a few dozen seconds of integrated hot-fire testing, indicating that no major red flags have cropped up since the company's propulsion team began testing on February 3rd. In fact, Musk estimated that six separate static-fires have been performed with Raptor in the seven days since its first ignition.
As of 2017, Raptor's McGregor, Texas test cell was fundamentally capped at test durations under 100 seconds, making comparisons difficult. Still, the best possible recent point of comparison to Raptor's test program can be found in NASA's series of tests of Space Shuttle engines in preparation for the Space Launch System (SLS) rocket, an expendable launch vehicle being built by Boeing, Aerojet-Rocketdyne, NGIS (formerly Orbital-ATK), and others with NASA funds. Known as RS-25 under the SLS Program, the Space Shuttle engines being test-fired by NASA have already performed multiple full-duration missions to orbit and back on the four Space Shuttle orbiters built. After half a decade in storage, they are being re-tested (effectively acceptance testing) to ensure that they are ready to be expended on SLS launches.
In the first round of 2015 tests, NASA's Stennis Space Center test stage supported six RS-25 static-fires total, ranging from two weeks to almost five months between tests. RS-25 testing has remained on a similar schedule in 2016-2018, averaging 4-6 tests annually with no fewer than two weeks between static-fires. Given that the vast majority of those ex-Space Shuttle Main Engine tests tend to last hundreds of seconds, it's not a perfect comparison, but it offers at least a general idea of just how incredible it is to see a groundbreaking engine like Raptor test-fired almost daily just days after it was installed on a test stand for the first time.
Quelle: TESLARATI
708 Views