19.11.2018
SpaceX Delays Monday Morning Rocket Launch at Vandenberg Air Force Base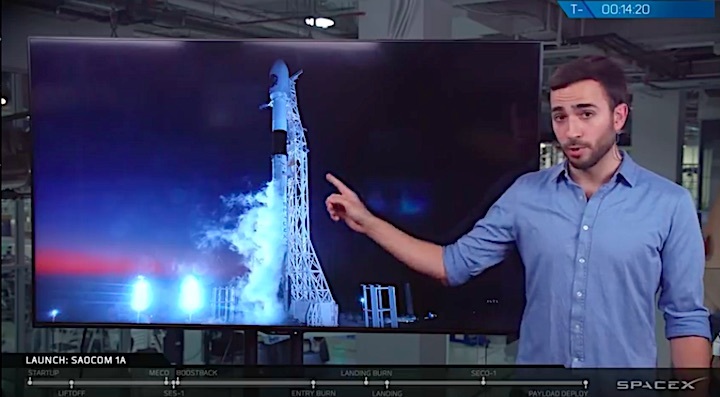 A planned Monday morning Falcon 9 rocket launch from Vandenberg Air Force Basehas been delayed to give the launch team time to complete more inspections. The SpaceX rocket is set to carry dozens of satellites into space.
Liftoff, which had been planned for between 10:31 and 11 a.m. Monday, will be delayed less than a week, according to sources connected to the mission.
"Standing down from Monday's launch attempt of Spaceflight SSO-A: SmallSat Express to conduct additional pre-flight inspections," SpaceX reported Saturday on its Twitter page. "Once complete, we will confirm a new launch date."
The delay comes after SpaceX launched another Falcon 9 rocket Thursday in Florida, placing a communications satellite in orbit for Qatar's military.
Hours after that launch, SpaceX successfully conducted a static fire test at Vandenberg, a step to clear the way for a launch to proceed.
But on Saturday, several sources revealed the launch had been delayed — possibly for five to six days.
On board the Falcon rocket will be the Washington-based Spaceflight Industries'SSO-A SmallSat Express, made up of 64 spacecraft from 34 organizations.
The flight will include 15 microsats and 49 cubesats from both commercial organizations and government agencies.
A set of cremated human remains, from San Francisco-based Elysium Space, make up the payload for one satellite bringing space burials back to Vandenberg. The spacecraft will carry representative samples of cremains for approximately 100 people.
Other satellites will test technology for government agencies or institutions.
For instance, the rocket will carry the Air Force's STPSat-5, one of several Defense Department missions launching on the commercial flight.
STPSat-5 is a science and technology mission designed to host five small military payloads to demonstrate the capabilities of low-cost spacecraft to meet the needs of low-Earth orbit (LEO) missions, according to the Space & Missile Systems Center at Los Angeles Air Force Base.
Several sites around the Lompoc Valley offer views of VAFB rocket launches.
On the day of launch, Jalama Beach County Park south of Vandenberg will be evacuated for several hours due to safety reasons.
As a daylight departure, the Falcon 9 rocket's flight isn't expected to create the kind of celestial show seen during the twilight liftoff and flyback in early October.
Quelle: Noozhawk
---
Update: 26.11.2018
.
Targeting November 28 for launch of Spaceflight SSO-A: SmallSat Express from Vandenberg Air Force Base in California
Quelle: SpaceX
----
Update: 28.11.2018
.
SpaceX Falcon 9 booster could be first to launch from all 3 company pads
A week after its original launch target, SpaceX launch engineers and technicians appear to have completed an additional suite of preflight checks that triggered an unusually long delay from November 19 to November 28.
As a sort of happy accident, the mission – a Spaceflight Industries rideshare carrying ~64 satellites – will not only be the first time SpaceX has launched a given Falcon 9 booster three times, but it will also become the first time SpaceX has launched the same Falcon 9 booster from all three of the company's orbital launch facilities.
Likely a matter of caution over expediency, that extra time was used to make sure that the mission's twice-flown Falcon 9 B1046 booster is as ready as possible for its third launch, a subtle but absolutely critical milestone for Falcon 9 reusability. More importantly, from an operational standpoint, this is something that the company has simply never attempted, meaning that while it's similar in concept to the numerous booster reuses SpaceX engineers and technicians have already pulled off, every aspect of B1046's refurbishment and preparation for another launch is new territory for all.
In this sense, even the most minor observations and procedural developments are likely being documented with extreme care, paving the way for the systematic refurbishment of Block 5 boosters with 2+ launches on their manifest. Similar to how car mechanics know to look at and for dramatically different things depending on the age of the car and the time since its last maintenance, reusable rockets are likely to require an even more exotic and unintuitive approach to multi-flight maintenance and repair diagnostics. As such, it should come as little surprise that SpaceX chose to delay SSO-A a few days to ensure that the rocket is ready to safely place its payload in orbit.
Aside from the extreme importance of its third launch, Falcon 9 B1046 will be subject to another rather unique situation. Barely a mile or two northeast of SpaceX's SLC-4 launch complex, a ULA Delta IV Heavy rocket is assembled and nearly ready to place the National Reconnaissance Office's classified NROL-71 satellite into a high-energy Earth orbit. If the extraordinarily expensive launch vehicle (~$350-400M) it sits atop of is any sign, NROL-71 is a massive satellite that cost the NRO anywhere from $500M to $2B to design, procure, and prepare for launch.
In other words, the sheer capital at risk has likely resulted in a bit of manifest and range jockeying between Falcon 9/SpaceX and Delta Heavy/ULA/NRO. Under normal circumstances, Falcon 9 B1046 could without a doubt perform a Return-To-Launch-Site (RTLS) recovery, sending the booster all the back to SLC-4 for a landing at LZ-4.
Instead, likely prevented from landing at LZ-4 due to the slight chance that Falcon 9 could impact at or around ULA's launch pad in an off-nominal situation, SpaceX has decided to station drone ship Just Read The Instructions less than 30 miles (50 km) off the coast of Vandenberg Air Force Base. In this odd and unused landing mode, Falcon 9 will perform a sort of RTLS Lite, returning back in the direction of the launch site but not going far enough to actually reach it.
In doing so, B1046 will – fingers crossed – become the first Falcon 9 booster to land on both SpaceX drone ships and launch from all three of the company's orbital facilities, LC-40 (Cape Canaveral Air Force Station), LC-39A (Kennedy Space Center), and SLC-4 (Vandenberg Air Force Base).
Quelle: TESLARATI
----
Update: 29.11.2018
.
SpaceX postpones California launch to wait for better weather
Updated Nov. 28 with SpaceX confirmation of new Dec. 2 launch date.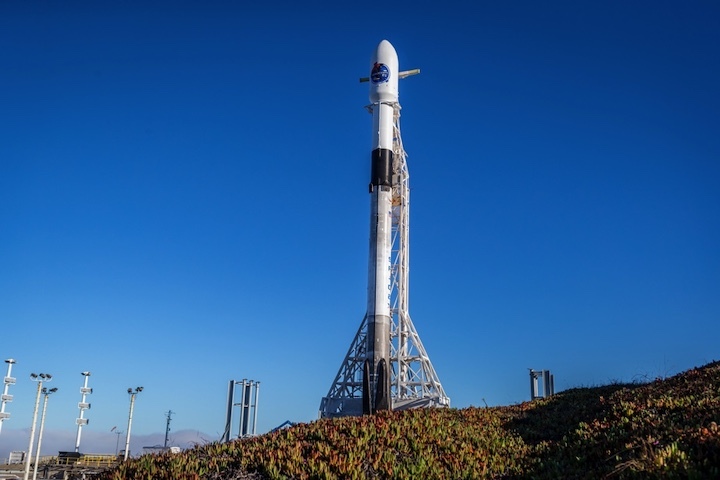 SpaceX has postponed Wednesday's scheduled launch from California's Central Coast with 64 smallsats, electing to keep the Falcon 9 rocket on the ground until at least Sunday to wait for improved weather conditions.
The rideshare launch is set to loft 49 nanosatellites, or CubeSats, and 15 microsatellites from Space Launch Complex 4-East at Vandenberg on a mission brokered by Spaceflight, a Seattle-based company specializing in multi-payload launch bookings on a variety of rockets worldwide.
"Wednesday's launch attempt of Spaceflight SSO-A from Vandenberg Air Force Base is currently no-go due to extreme high-altitude winds that violate Range requirements," SpaceX tweeted late Tuesday. "Vehicle and payloads are healthy. We will announce a new launch date once confirmed with the Range."
The Air Force's Western Range oversees tracking, communications and safety infrastructure for launches from Vandenberg, a military base around 140 miles (225 kilometers) northwest of Los Angeles.
SpaceX tweeted again late Wednesday to confirm a new launch date of Sunday, Dec. 2. The launch is timed for 10:31:47 a.m. PST (1:31:47 p.m. EST; 1831 GMT) each day, with a daily window extending nearly a half-hour.
The launch was previously scheduled for Nov. 19, but payload teams said SpaceX ordered a delay to conduct additional verifications on the Falcon 9 rocket. SpaceX did not release information about the reason for the extra inspections.
The 64 payloads on the SSO-A mission, ranging in size from a Rubik's cube to a refrigerator, are owned by a variety of U.S. and international operators, including the U.S. government, research institutions, and commercial companies.
Spaceflight is launching two payload mounting platforms atop the Falcon 9 rocket, which will separate and become "free flyers" after arriving in a 357-mile-high (575-kilometer) sun-synchronous orbit that circles Earth over the poles.
The satellites riding on the flight include 15 microsatellites and 49 CubeSats. Seven CubeSats were not ready in time for a November launch, and technicians replaced them with ballast that will stay aboard Spaceflight's dual deployment modules, ensuring mass and balance calculations for the launch remain unaffected, according to Jeff Roberts, Spaceflight's mission manager for the SSO-A mission.
Four of the larger microsats will deploy from adapter plates attached directly to the Falcon 9 second stage. The other satellites will separate from the free flyers in a programmed sequence lasting around five hours.
The microsatellites and CubeSats come from 17 countries: the United States, Australia, Italy, the Netherlands, Finland, South Korea, Spain, Switzerland, the United Kingdom, Germany, Jordan, Kazakhstan, Thailand, Poland, Canada, Brazil, and India.
Rockets typically launch with one or two primary satellites, and sometimes carry additional secondary payloads to fill unused capacity, but the SSO-A launch follows a different model.
There are no primary payloads on the SSO-A mission. Spaceflight purchased the full capacity of the Falcon 9 launch in 2015, and satellite owners booked their launch contracts with Spaceflight, not with SpaceX.
Spaceflight has brokered rideshare launches on rockets before, including India's PSLV and Russia's Soyuz, but those missions flew on launches carrying bigger satellites in the primary payload slot.
The rideshare arrangement allows satellite owners to divide the cost of a rocket launch, instead of paying for the entire mission.
The upcoming launch is also noteworthy because it will be SpaceX's first flight to reuse the same Falcon 9 first stage booster a third time.
The booster assigned to Spaceflight's SSO-A rideshare mission flew two times from Florida: On May 11 from NASA's Kennedy Space Center with the Bangladeshi Bangabandhu 1 communications satellite, and again Aug. 7 from Cape Canaveral Air Force Station with the Indonesian Merah Putih telecom payload.
On both occasions, the first stage landed on SpaceX's drone ship in the Atlantic Ocean and returned to port for inspections, some limited refurbishment and reuse.
SpaceX has re-launched a previously-flown first stage booster 17 times, most recently on a Nov. 15 launch from the Kennedy Space Center in Florida with Qatar's Es'hail 2 communications satellite. But all of the first stages to date have only flown twice.
That changes with SpaceX's next mission as the company aims to eventually reuse Falcon 9 boosters up to 10 times without refurbishment, and up to 100 times with periodic overhauls. The latest iteration of the Falcon 9 design, commonly known as the "Block 5" version, includes upgrades over earlier designs to make reusing the rockets easier.
SpaceX plans to recover the first stage again aboard its West Coast drone ship in the Pacific Ocean after Spaceflight's multi-satellite launch.
Quelle: SN
----
Update: 2.12.2018
.
SPACEFLIGHT SSO-A: SMALLSAT EXPRESS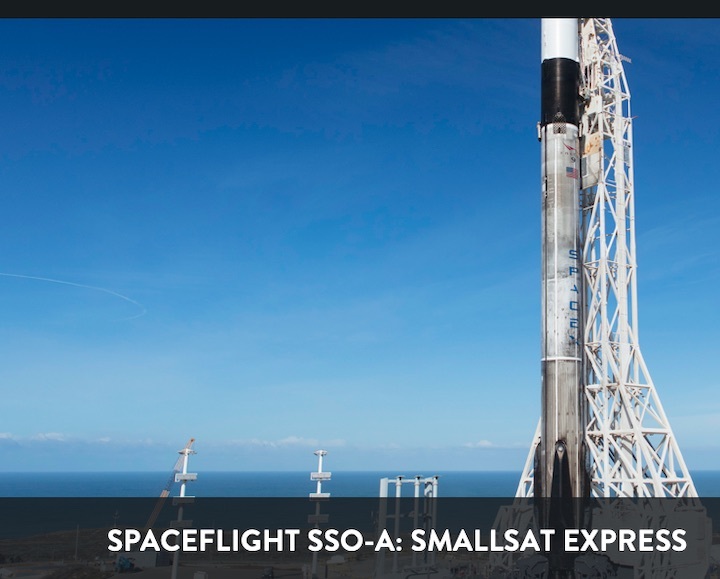 SpaceX is now targeting Monday, December 3rd for launch of the Spaceflight SSO-A: SmallSat Express mission to low Earth orbit from Space Launch Complex 4E (SLC-4E) at Vandenberg Air Force Base in California. The launch window opens at 10:32 a.m. PST, or 18:32 UTC, and closes at 11:00 a.m. PST, or 19:00 UTC. A series of six deployments will occur approximately 13-43 minutes after liftoff, after which Spaceflight will begin to command its own deployment sequences. Spaceflight's deployments are expected to occur over a period of six hours.
Falcon 9's first stage for the Spaceflight SSO-A: SmallSat Express mission previously supported the Bangabandhu Satellite-1 mission in May 2018 and the Merah Putih mission in August 2018. Following stage separation, SpaceX will attempt to land Falcon 9's first stage on the "Just Read the Instructions" droneship, which will be stationed in the Pacific Ocean.
Quelle. SpaceX
----
Update: 3.12.2018 / 10.15 MEZ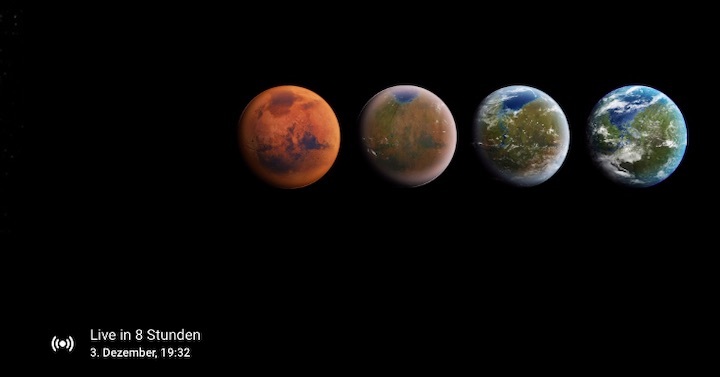 Quelle: SpaceX
+++
Update: 19.25 MEZ
Launch Live Frams: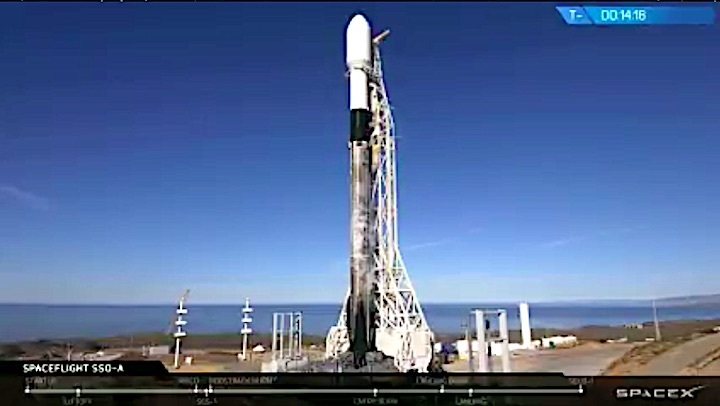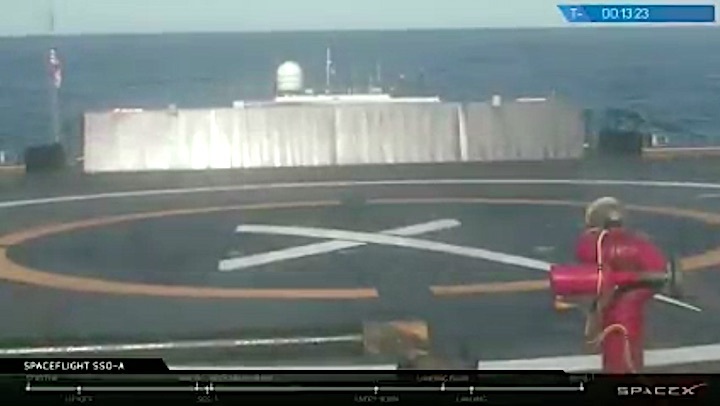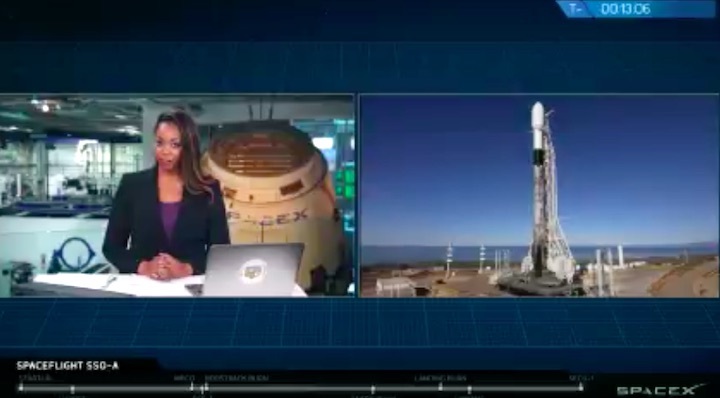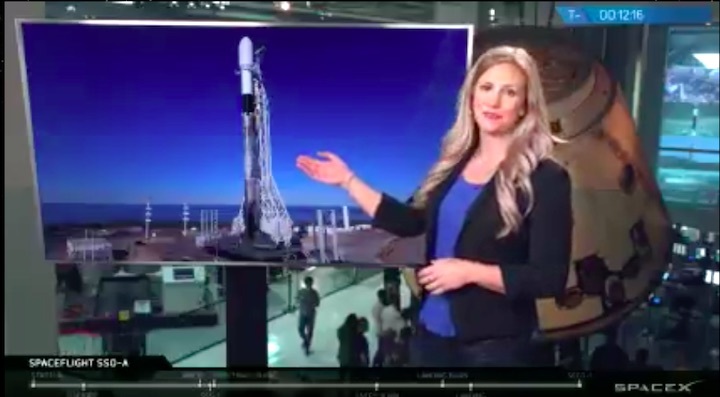 +++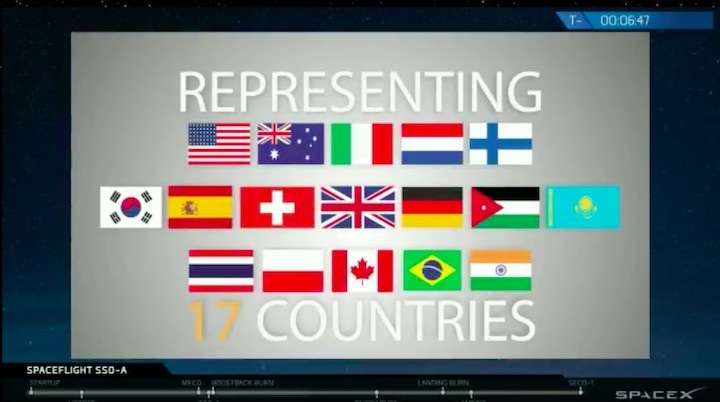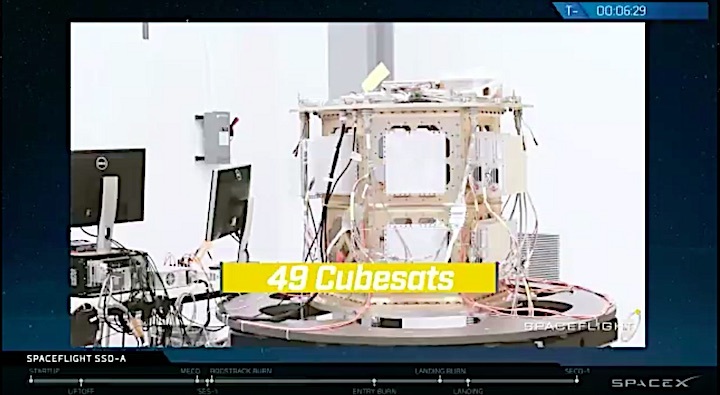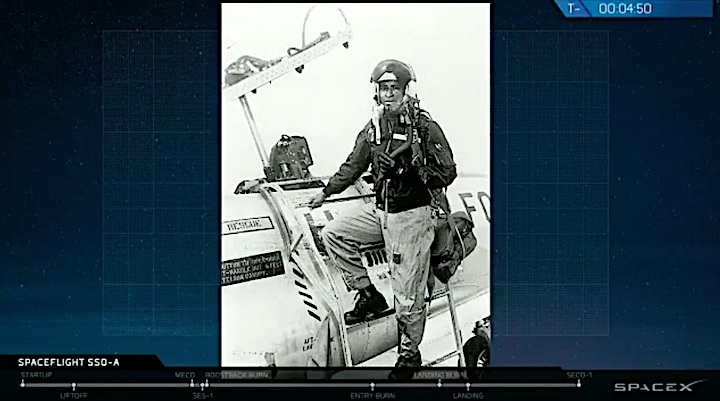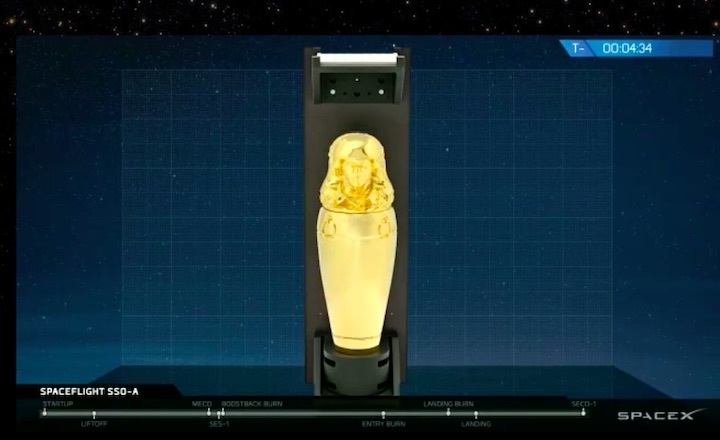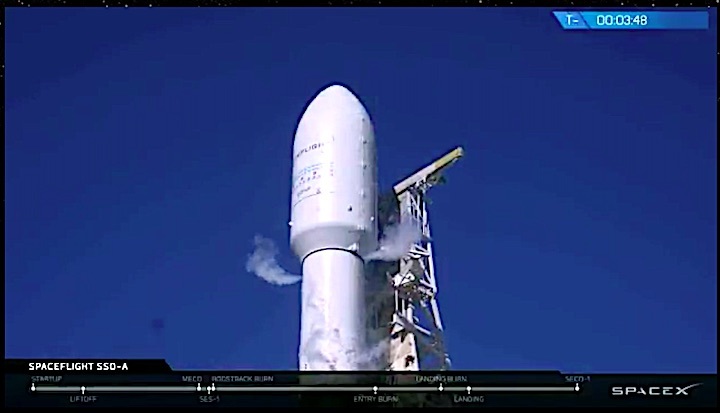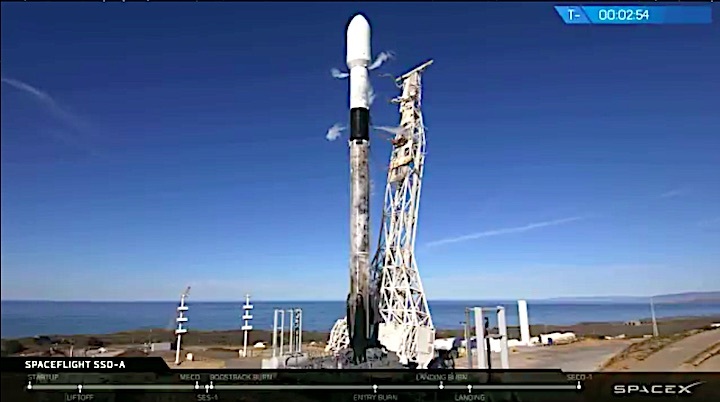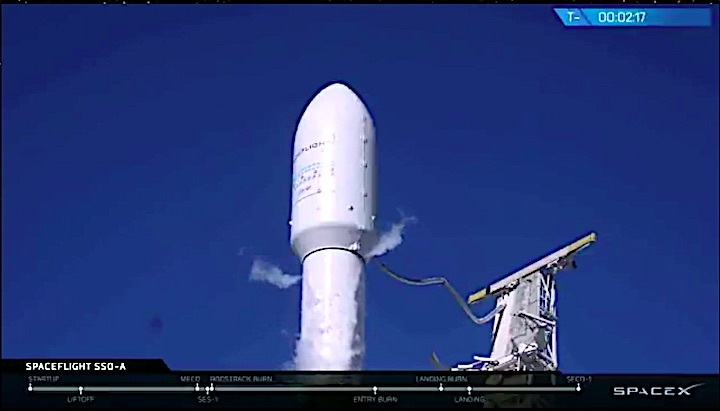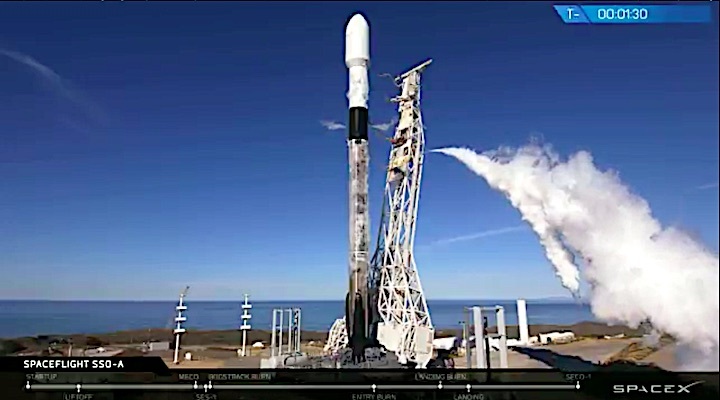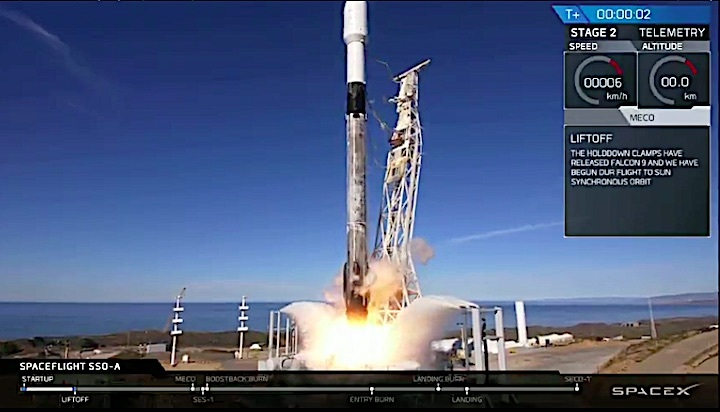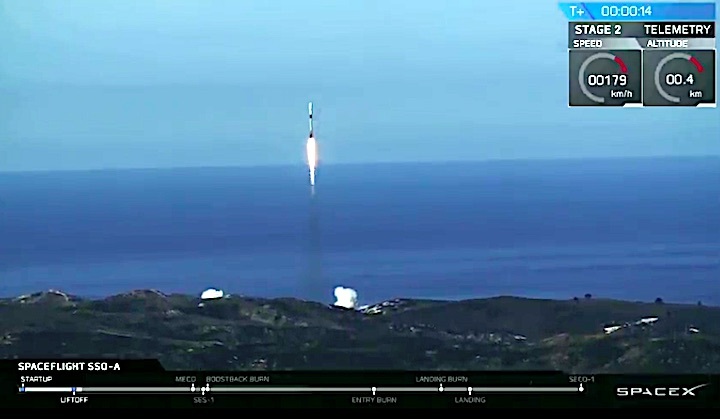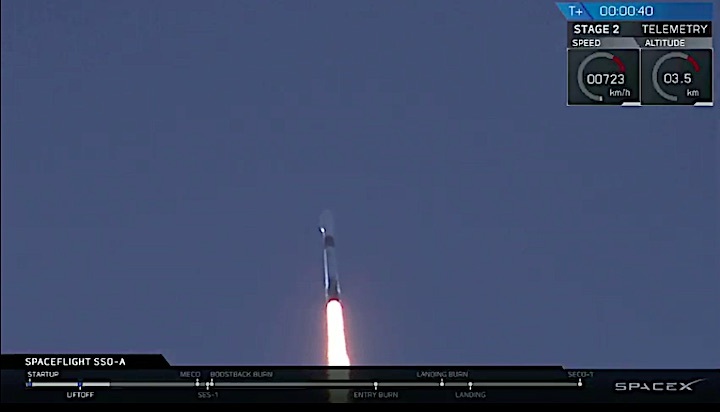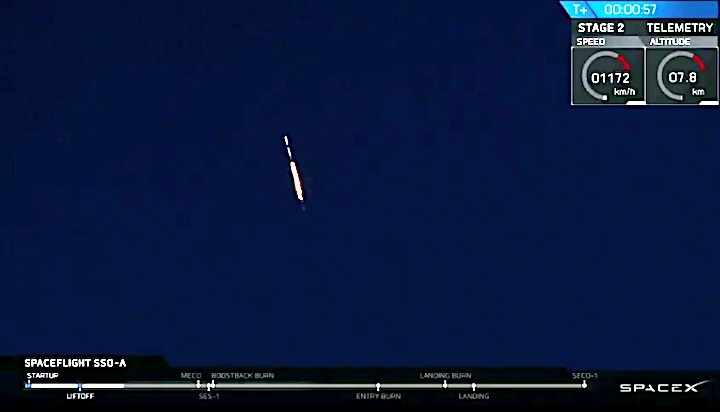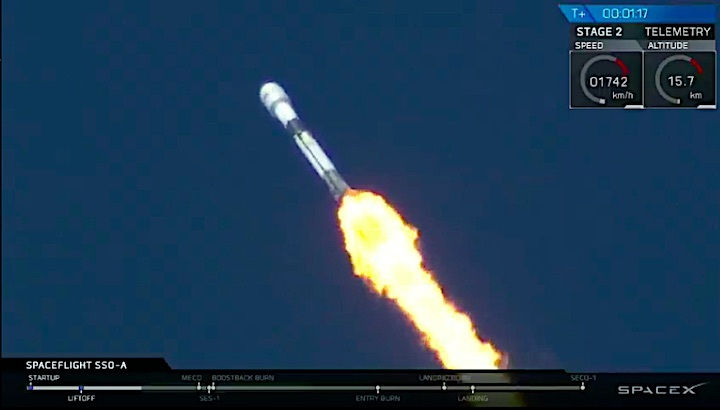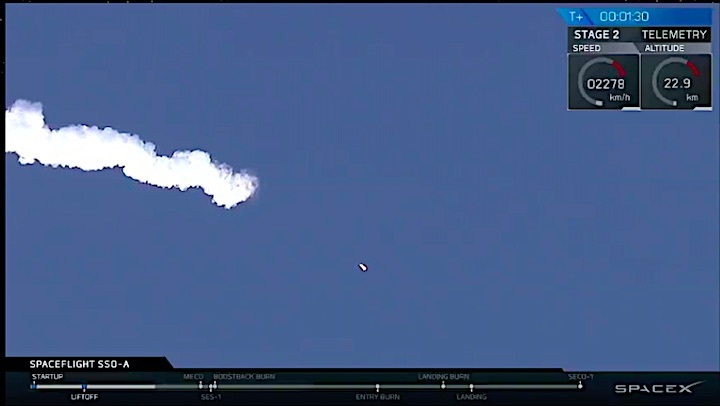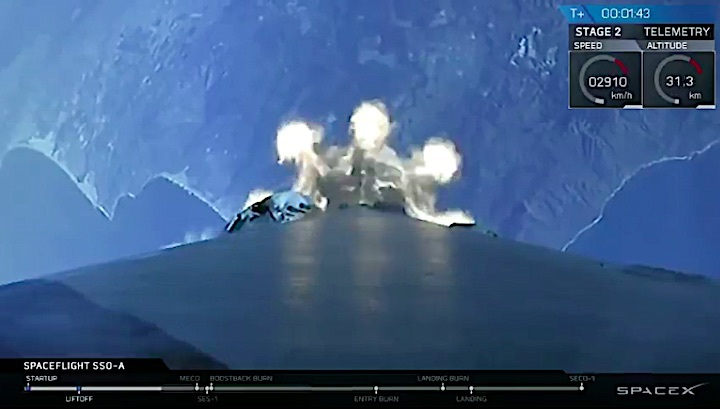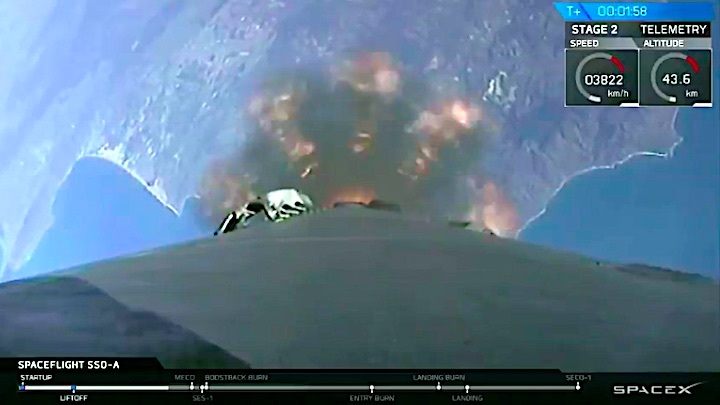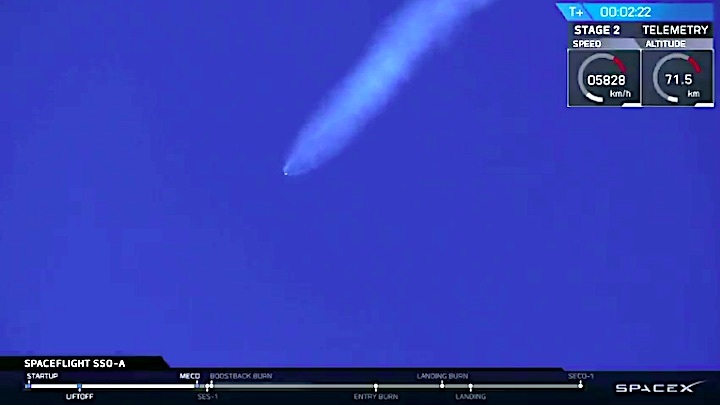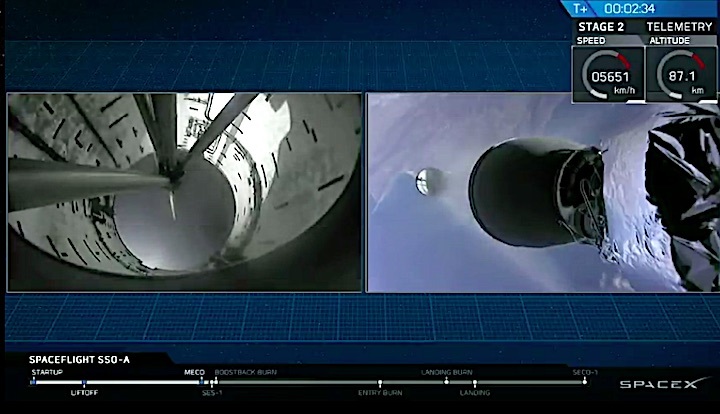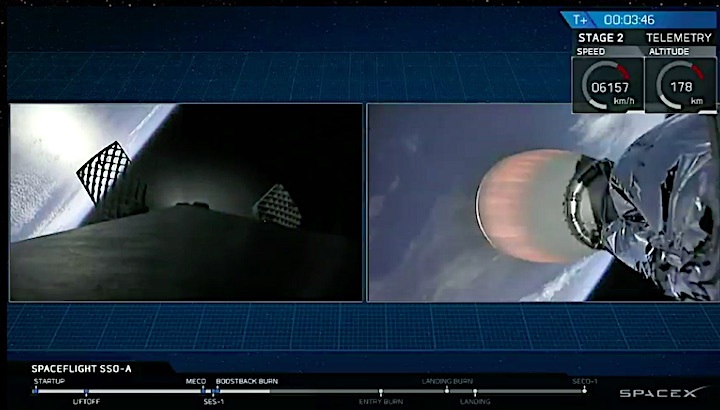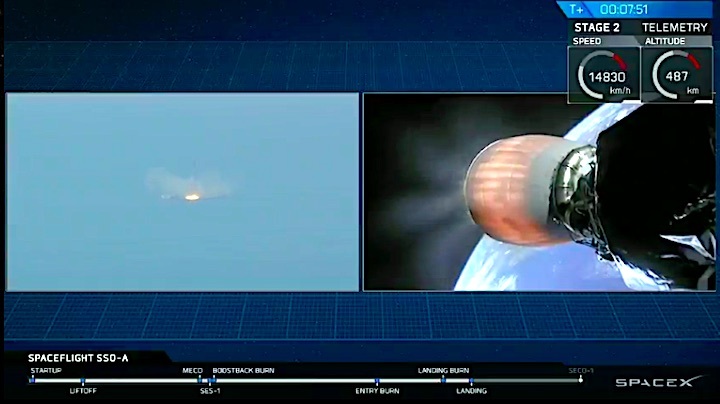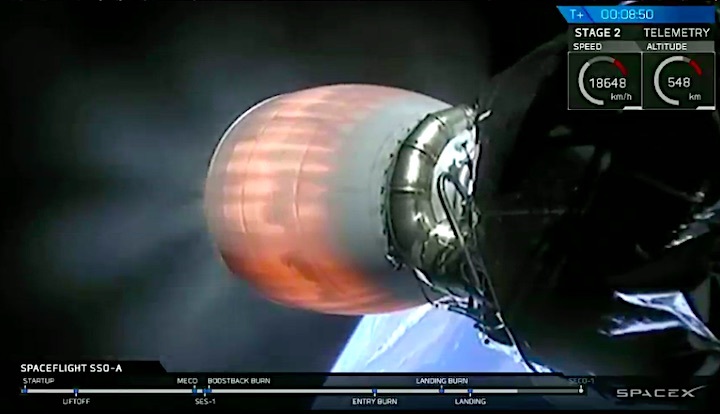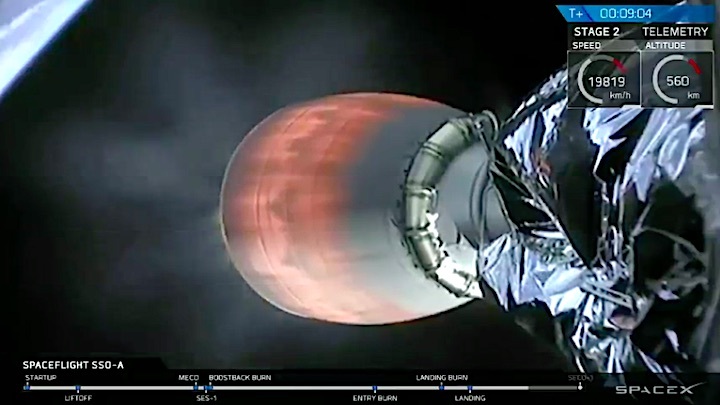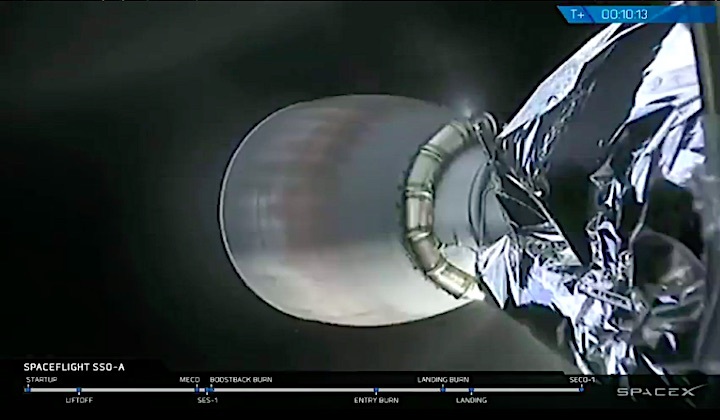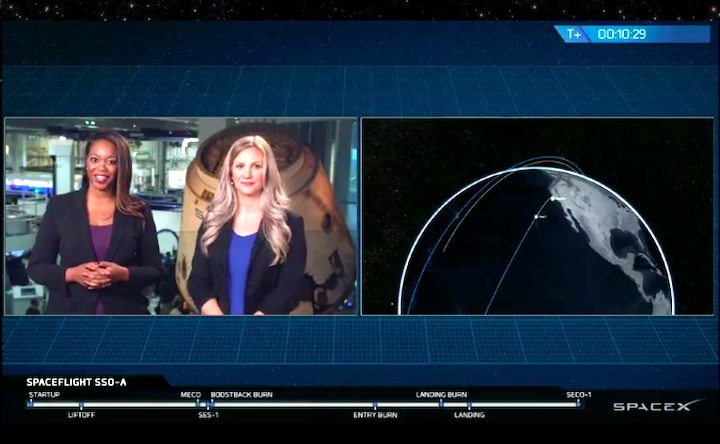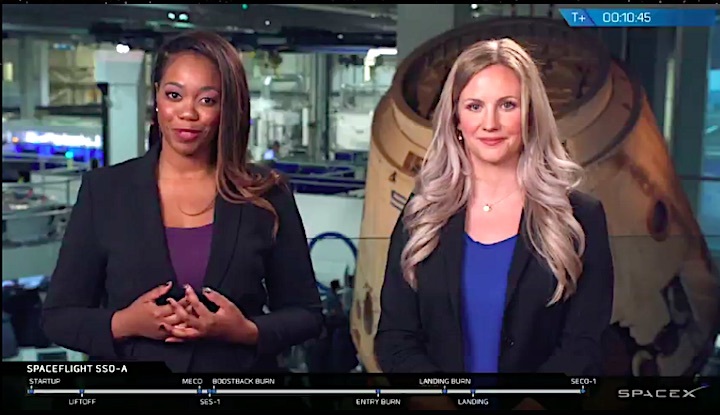 Quelle: SpaceX
2795 Views