2.12.2018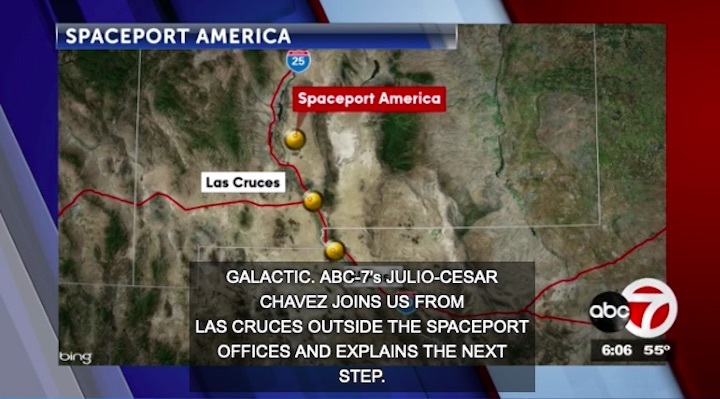 LAS CRUCES, New Mexico - Virgin Galactic, the main tenant at Spaceport America in New Mexico, may be flying humans into space before Christmas.
The spaceport sits north of Las Cruces and has seen hundreds of vertical launches but no commercial flights yet from Virgin Galactic.
The remaining 2018 flights will be crewed, but it won't be tourists yet. They're still moving forward with their testing phases before commercial flights take off from Spaceport America.
Sir Richard Branson, owner of Virgin Galactic, said Friday morning the company was on track to send humans to space, but it will still be test pilots running operations out of the Mojave Spaceport in California.
"They'll finish their performance flights, their reliability flights out of Mojave, they'll finish all their testing they need to do there and get their certification from the FAA to take humans into space," said Dan Hicks, the Spaceport America CEO.
Those certifications are crucial before Virgin Galactic are able to load people into their new ships and take them beyond earth.
"They'll move here to Spaceport America and we'll be able to start our operations to be able to take astronauts up into space, researchers up into space sometime later next year," Hicks said.
While Virgin Galactic continues to grow their workforce at the Spaceport and in southern New Mexico, the bulk of preparations are in California labs.
"The experience, the engineers are already there at Mojave. It made too much sense for them not to continue the spaceship company they started there, they brought it all in house since the capability was already at Mojave at that time," Hicks said.
Development is at Mojave but operations will be out of Spaceport America north of Las Cruces.
Commercial flights are expected to begin sometime in 2019.
Boeing is currently running crew capsule tests out of the spaceport.
Quelle: abc7
+++
Richard Branson says Virgin Galactic will take people to space before Christmas
nside Access, only on CNN Business, goes behind the scenes of the world's most innovative companies. The multimedia series went inside Richard Branson's Virgin empire and premiered live from Mojave, California, on November 30, 2018.
Miami (CNN Business)Richard Branson says Virgin Galactic is on the verge of a major achievement: It will send astronauts into space by Christmas.
The billionaire entrepreneur told CNN Business' Rachel Crane this week he is "pretty confident"
his space tourism venture
can achieve its milestone by the end of the year.
"We have a brilliant group of astronauts who literally believe 100% in the project, and give it their everything," he said.
Creative revolution: Discover the inspiration fuelling the most innovative designers of today
Meet the visionaries who are taking big ideas and reworking them for the everyday – and, in the process, reimagining the future of design.
The first few trips to space will be flown by test pilots without anyone else on board. Branson says he will be the first passenger. Eventually, paying tourists will also make the trip.
"I'm not allowed up until the [test pilots] have broken it in a few times, first," he said. "I would love to have gone on this very [first] flight, but [pilots] are incredibly brave people."
SpaceShipTwo, Galactic's rocket-powered plane, will fly into space after it detaches from beneath the wing of a mothership. It has been thoroughly tested on the ground and at lower altitudes, Branson said. But, the first few flights to space will be "the dangerous ones."
The pilots will fly the space plane at at 2,300 miles per hour, accelerating to top speed in about eight seconds, Branson said.
Earlier this year, the company resumed powered test flights of the rebuilt SpaceShipTwo, named VSS Unity. The latest test in July sent the craft to a peak altitude of 32.3 miles. The goal is to send VSS Unity more than 50 miles above Earth, high enough to earn passengers astronaut wings from the US government.
If Virgin Galactic reaches space before the year is done, it'll put Branson's venture ahead of its direct competitor, Jeff Bezos's Blue Origin. Founded in 2000, Blue Origin also plans to offer paying customers suborbital flights. Galactic could also beat Elon Musk's SpaceX — which has a booming business making unmanned trips to orbit and is gearing up to fly astronauts to the International Space Station next year.
"Safety's all that matters if you're putting people into space," he said. "So none of us will race to be the first."
But, he added, "Virgin Galactic will be the first."
"Elon's done extraordinary things. We hope to do extraordinary things. Jeff, I'm sure, will do extraordinary things," Branson said. "The demand for space travel, whether it's satellites, putting people into space, is enormous...So, exciting times ahead."
The design and flight control systems of SpaceShipTwo were overhauled following a 2014 test flight crash that killed a co-pilot.
Branson has said the accident made him question whether to continue pursuing his riskiest business venture. But the company said it received an outpouring of support, including from customers who had reserved $200,000 to $250,000 tickets to one day ride in SpaceShipTwo. Hundreds of people are still lined up for a shot.
The flight will offer tourists a few minutes of weightlessness and views of Earth's curved horizon.
It's not clear when Virgin Galactic will be fully operational.
Branson is known to set deadlines that aren't met. Virgin Galactic has been developing SpaceShipTwo since 2004, and Branson initially said commercial rides would begin in 2007. Eleven years later, the firm is still working on getting its 600 customers into space.
"Space is difficult. Rocket science is rocket science," Branson said. "I obviously would love to prove our critics wrong, and I'm reasonably confident that before Christmas, we will do so. I think once we're in space, we'll obviously need to do a number of other test flights before I go up, and then before we start putting the ... astronauts who signed up to go into space with us."
Correction: An earlier version of the story incorrectly stated the speed of SpaceShipTwo and the number of customers Virgin has lined up for travel.
Quelle: CNN
2275 Views