16.09.2018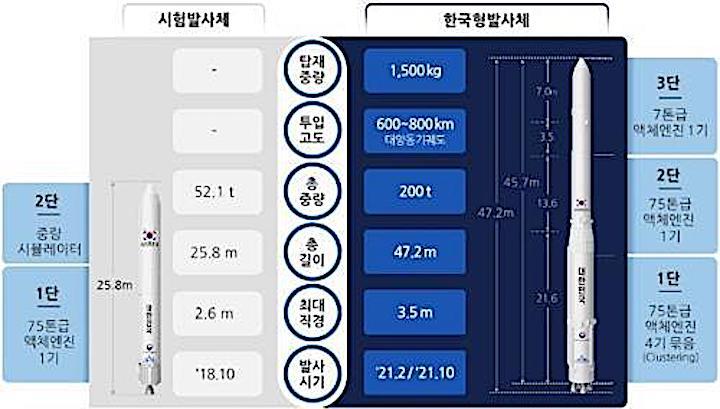 SEOUL, Sept 16 -- South Korea plans to conduct the first test flight of its locally developed booster engine at the end of next month, the ICT ministry said Sunday, as part of a long-term effort to produce the Korea Space Launch Vehicle-2 (KSLV-2), a three-stage rocket.
The single-stage rocket, with a 75-ton thrust engine, developed by the Korea Aerospace Research Institute (KARI) is set to be launched between Oct. 25 and Oct. 31 from the Naro Space Center in Goheung, South Jeolla Province, the Ministry of Science and ICT said.
It said the launch date has been set after examining all variables and that related countries and agencies, such as the International Civil Aviation Organization and International Maritime Organization, will be notified in advance
"Barring any unforeseen developments, the launch should take place on the primary date of Oct. 25," the ministry said.
The rocket will fly for about 10 minutes, during which the performance of the new engine, control system and other parts will be monitored, the ministry said. It is expected to attain a sub-orbital altitude of over 100 kilometers some 160 seconds after launch and reach its apogee 300 seconds into the flight, before hitting international waters between South Korea's Jeju Island and Japan's Okinawa Island.
KARI said it has already carried out 91 engine combustion tests so far, with the rocket burning for up to 260 seconds.
If successful, four of the indigenous thrust engines will be used on the first stage and one on the second stage of the KSLV-2, KARI said. The whole rocket is scheduled to blast off in 2021.
"This test launch will serve as an important step for South Korea's development of its indigenous space rocket and eventually make our country a powerhouse in the sector," said Lee Jin-kyu, the vice science minister.
The KSLV-2 rocket is to be South Korea's first space vehicle wholly designed and built in the country. It will be used to place unmanned satellites into Earth orbit and for other commercial purposes.
Quelle: Yonhap News
687 Views