18.07.2017
ISRO gearing up for second prototype test of RLV-TD
By Tiki Rajwi | Express News Service | Published: 17th July 2017 08:23 AM |
Last Updated: 17th July 2017 08:24 AM | A+A A- |
THIRUVANANTHAPURAM: A little over a year since the successful flight test of the first prototype of the futuristic Reusable Launch Vehicle - Technology Demonstrator (RLV-TD), ISRO is gearing up for a second go. Only this time, the prototype will 'land' on land instead of water.
Work is progressing at the Vikram Sarabhai Space Centre (VSSC) here on the second RLV-TD. A senior officer associated with the project said the RLV-TD will almost be a ditto version of the first scaled-down RLV-TD with the only exception being it will have landing gear.
ISRO sources said it may take another year for the model to be ready. They said the present plan is to launch the RLV-TD from Sriharikota and land it on an undisclosed Air Force airfield in the eastern sector. This is yet to be finalised though, they said.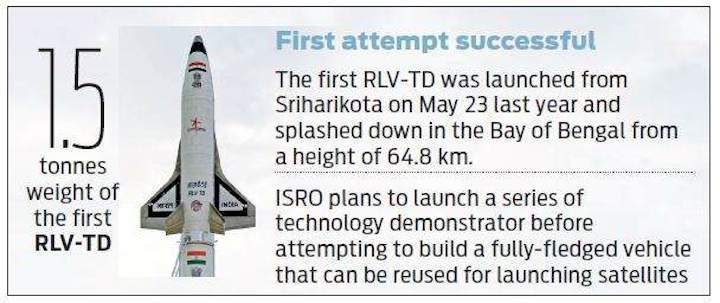 The unmanned RLV-TD comprises a space shuttle-like component fitted atop a booster rocket. The first RLV-TD weighing 1.5 tonnes, was successfully launched from Sriharikota on May 23 last year and splashed down in the Bay of Bengal from a height of 64.8 km.
While VSSC is primarily responsible for building the RLV-TD, the navigational equipment are being provided by the ISRO Inertial Systems Unit in Thiruvananthapuram and ISRO's Satellite Applications Centre, Ahmedabad. Hindustan Aeronautics Ltd is responsible for the landing gear.
In fact, ISRO plans a series of TDs before attempting to build a fully-fledged vehicle that can be reused for launching satellites. A subsequent TD will possibly involve a slightly larger vehicle which will place a nano-satellite in the orbit.
Quelle: THE NEW INDIAN EXPRESS
---
Update: 22.04.2018
.
Isro plans orbital re-entry test for re-usable vehicle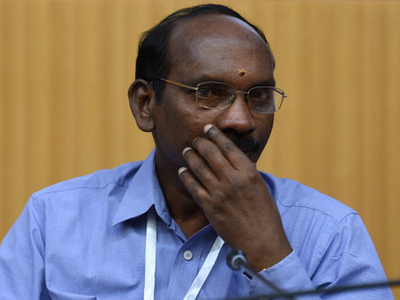 Isro chief K Sivan (File Photo)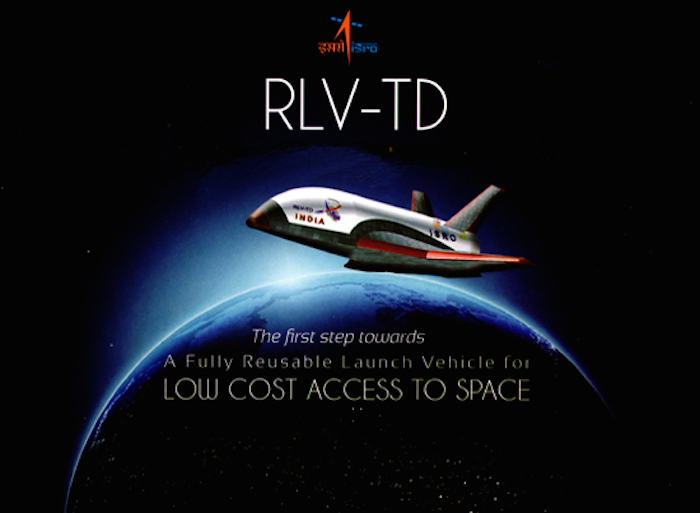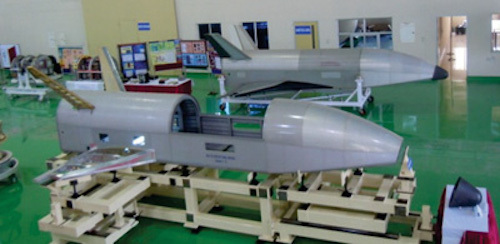 BENGALURU: Isro is set to follow up the successful tests of the re-usable launch vehicle technology demonstrator (RLV-TD) with a major experiment, though the immediate priority is the Chandrayaan-II mission slated for an October launch. It has completed the wind tunnel model with landing gear and low subsonic tests at the IIT-Kanpur.
In the next phase, Isro has proposed to design and develop a scaled-up version of RLV and carry out an orbital re-entry experiment.
"Site has been identified for the experiment and configuring landing runway with navigational aids for an autonomous descent. For unmanned landing, navigational aids and associated systems have to be established," scientists working on the project said.
Isro chief K Sivan, while confirming there are multiple experiments of RLV-TD in the pipeline, said: "That will happen only next year. This year, our focus is on various other missions."
Quelle: THE TIMES OF INDIA
2541 Views