13.01.2018
Macron's Beijing visit boosts China-France space cooperation
French President Emmanuel Macron's first official visit to China brought a range of meetings and deals that will boost space cooperation between France and China.
With Marcon and Chinese President Xi Jinping in attendance on January 9, Centre National d'Etudes Spatiales (CNES) President Jean-Yves Le Gall signed a memorandum of understanding (MoU) on climate change and space exploration with Wu Yanhua, now Acting Administrator of the China National Space Administration (CNSA).
The MoU emphases the wide dissemination of data from a joint oceanography satellite to be launched in the second half of the year and pursuing the dynamic created by the One Planet Summit organised in Paris on 12 December last year, a CNES press release stated.
"It will also help to work towards the creation of a Space Climate Observatory (SCO), the flagship initiative of the Paris Declaration adopted on 11 December at CNES's Head Office," the statement continued.
Le Gall said that space cooperation between France and China has taken a "spectacular step forward."
Satellite visit
Chinese and French teams are working together at the Huairou facility in Beijing to prepare the China-France Oceanography Satellite (CFOSat) for launch from the Gobi Desert early in the second half of 2018.
On January 10 Macron visited the satellite at the AIT Centre of the China Academy of Space Technology (CAST), a subsidiary of the China Aerospace Science and Technology Group (CASC), the main contractor for the Chinese space programme, accompanied by CASC chairiman Lei Fanpei, as well as Wu Yanhua and Le Gall.
Launching from the Jiuquan Satellite Launch Centre on a Long March 2C rocket, the China-France Oceanography Satellite mission will for three years study waves and wind over the ocean surface simultaneously to improve understanding of marine meteorology, ocean dynamics and climate change variability.
CASC meanwhile signed a strategic cooperation agreement with Dassault Systèmes to support the digital transformation of CASC and accelerate efficiency and innovation in China's industries and other collaboration.
Future mission to study high-energy cosmic events
CFOSAT is the first concrete result of space cooperation between CNES and the CNSA, but the two parties are also collaborating on a space science mission, the Space Variable Objects Monitor (SVOM).
The SVOM spacecraft aims to study Gamma Ray Bursts (GRBs) - the most powerful explosions in the universe - emanating from the era of the first generation of stars, as well as transient high-energy phenomena such as tidal disruption events - when stars approach too close to black holes - active galactic nuclei, galactic X-ray binaries and magnetars - neutron stars with an extremely powerful magnetic field.
China will be responsible for the mission, launch (no earlier than 2020), satellite and operations and will share responsibility with France for design and construction of the instruments and ground segment.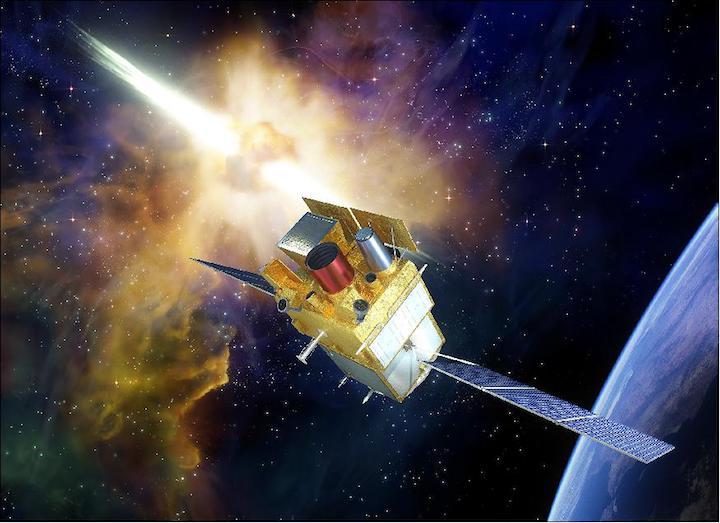 Artist's rendition of the deployed SVOM spacecraft. SVOM consortium
Quelle: gbtimes
1384 Views