11.01.2018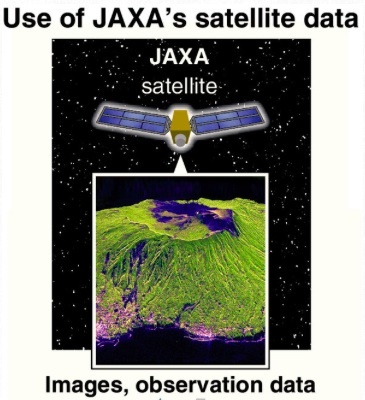 The government plans to allow the private sector to use satellite images and observation data held by the Japan Aerospace Exploration Agency (JAXA) for free, according to sources.
The move is intended to encourage companies and other entities to take advantage of such data to develop new products and technologies. The government aims to start preparing a system to manage the massive amount of data this spring, and launch its operation within fiscal 2018.
Images of ground surfaces across the globe taken by Daichi-2, the Advanced Land Observing Satellite-2 launched in 2014, and observation data derived from the images will be free.
Equivalent to 1 billion photos
Data acquired by the first Daichi, which began an observation mission in 2006, will also become available. The total volume of the data will be several petabytes, or the equivalent of about 1 billion photographs taken on the average smartphone.
The images have a resolution of more than about two meters, at which point the letters on traffic signs are readable. No classified data on security will be included.
Satellite images and data are currently available to companies and other entities in the private sector if they file applications. However, the lack of a unified system to manage such data means JAXA has to find the individual data for which the applications are filed. This has placed a huge burden on the space agency.
Under the current system, users are charged from a few thousand yen to several tens of thousands of yen for one image, and dedicated software is required for converting data into images. As a result, it is not widely used.
"Useful data have been useless treasures," an official of the Economy, Trade and Industry Ministry said.
The new system will allow companies and people to freely obtain data and image converter software via the internet if they complete membership registration.
Harvest optimization
In the United States and Europe, where the private sector has taken advantage of space data, apps for tablet devices have been developed that analyze the colors of farm produce by using satellite images and help determine the optimal harvest time. Some overseas companies offer insurance products to cover harvest losses based on crop forecasts derived from satellite imagery.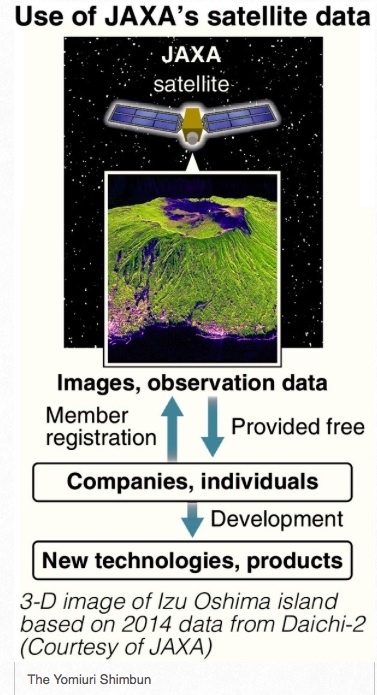 It is also hoped that satellite images of tourist spots will be used to make security operations more efficient, through analysis by artificial intelligence to forecast monthly congestion.
Under the "Space Industry Vision 2030" devised last May, the government has set a goal to double the market size of the nation's space industry, including the usage of data, to about ¥2.4 trillion in the early 2030s.
Quelle: The Japan News
1264 Views