10.01.2018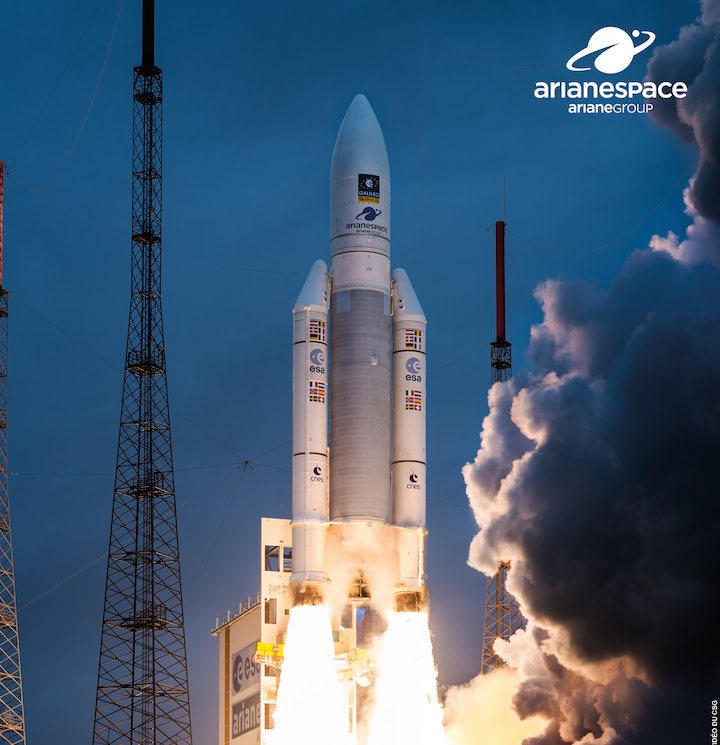 Arianespace and ArianeGroup kick off production for the final 10 Ariane 5 launchers across Europe's space industry in parallel to the operational debut of Ariane 6
With this latest order, there are now 23 Ariane 5 launchers in production or to be produced, from the PB+ and PC batches. With this latest "PC batch," the industry confirms its commitment to consolidate the competitiveness of the European launch offer even before the arrival of Ariane 6.
ArianeGroup and its Arianespace subsidiary have announced an order for 10 Ariane 5 ECA launchers.
The 10 launch vehicles covered by this "PC batch" will be deployed from the Guiana Space Center beginning in 2020, coming after the launches of 18 Ariane 5s ordered in 2013 (in the "PB+ batch").
This production order represents a total value of more than one billion euros for the European space industry, involving more than 600 companies in 12 European countries* – including 350 small and medium-sized enterprises.
The order's size is aligned with the ramp-up for the next-generation Ariane 6, which is scheduled to make its first flight in mid-2020, reaching full capacity in 2023.
The decision announced today follows the commitment made by Arianespace in December 2016 to initiate the procurement of long lead items (LLI**). It also allows ArianeGroup, industrial prime contractor for the development and operation of the Ariane 5 and Ariane 6 launchers – as well as its European partners (over 600 companies in 13 countries*, including some 350 small and medium-size enterprises) – to start initial production activity for these additional launchers.
This new batch also guarantees the durability for launch service offerings by the European operator Arianespace for institutional and commercial clients until the end of the transition phase with Ariane 6 – with this launcher's full operational capacity to be reached by 2023. Ariane 5, which chalked up its 82nd successful launch in a row in December 2017, has undergone continuous performance improvements since the beginning of the Ariane 5 ECA program. As a result, Ariane 5 set a new record in June 2017 by lofting 10,865 kg. into geostationary transfer orbit (GTO). From this payload lift record, Ariane 5's performance will be increased another 250 kg. by 2020 as part of an ESA-funded program – with the PC production batch taking full advantage of the improvement.
After the announcement of the PC batch production order, Luce Fabreguettes, the Arianespace Executive Vice President – Missions, Operations and Purchasing, said: "With the production go-ahead for these 10 new launchers, Arianespace proudly leverages the exceptional performance, reliability and availability of Ariane 5 to deliver the best possible launch service for its customers, while also guaranteeing Europe's independent access to space. Along with our partners, this new contract ensures that we will have the best conditions to succeed in the operational transition from Ariane 5 to Ariane 6 for the benefit of all our customers."
ArianeGroup CEO Alain Charmeau, commenting on this new step, which begins the transition between Ariane 5 and Ariane 6, said: "This production kickoff of 10 new Ariane 5 ECA represents, for the European industry, a total of more than 1 billion euros. This also allows us to continue capitalizing on the exceptional levels of quality and punctuality that have made Ariane 5 so successful, while being consistent with the rapid market introduction of Ariane 6."
About ArianeGroup
ArianeGroup develops and supplies innovative and competitive solutions for civil and military space launchers, with expertise in all aspects of state-of-the-art propulsion technologies. ArianeGroup is lead contractor for Europe's Ariane 5 and Ariane 6 launcher families, responsible for both design and the entire production chain, up to and including marketing by its Arianespace subsidiary, as well as for the missiles of the French oceanic deterrent force. ArianeGroup and its subsidiaries enjoy a global reputation as specialists in the field of equipment and propulsion for space applications, while their expertise also benefits other industrial sectors. The group is a joint venture equally owned by Airbus and Safran, and employs nearly 9,000 highly qualified staff in France and Germany. Its estimated proforma revenues exceed 3 billion euros.
About Arianespace
Arianespace uses space to make life better on Earth by providing launch services for all types of satellites into all orbits. It has orbited more than 550 satellites since 1980, using its family of three launchers, Ariane, Soyuz and Vega, from launch sites in French Guiana (South America) and Baikonur, Kazakhstan. Arianespace is headquartered in Evry, near Paris, and has a technical facility at the Guiana Space Center, Europe's Spaceport in French Guiana, plus local offices in Washington, D.C., Tokyo and Singapore. Arianespace is a subsidiary of ArianeGroup, which holds 74% of its share capital, with the balance held by 17 other shareholders from the European launcher industry.
Quelle: arianespace
+++
After meeting its commitments in 2017, Arianespace prepares for an intense 2018 and looks to the future with Ariane 6 and Vega C
The past year saw Arianespace carry out 11 successful launches; sign 19 additional launch contracts, including three for Vega C and two for Ariane 6; and enter a new governance structure alongside ArianeGroup.
Building on these achievements, Arianespace is targeting a record number of launches in 2018, while actively focusing on the next decade with its Ariane 6 and Vega C launchers.
New operational and business successes in 2017
20 satellites placed in orbit with 11 launches, including five dual missions with Ariane 5 and one with Vega
During the year, Arianespace carried out 11 successful launches from the Guiana Space Center in French Guiana (South America), composed of six launches by Ariane 5, two with Soyuz and three by Vega. Dual payloads were carried on five Ariane 5 flights and one Vega mission. Overall, Arianespace's 2017 launches generated a turnover of 1.3 billion euros, and were performed for 18 different customers – both institutional and commercial – based in Europe, the Middle East, Asia and North and South America.
Highlights in 2017 included the following:
A new Ariane 5 payload lift performance record in June, with a total 10.865 metric tons injected into geostationary transfer orbit (9.969 metric tons for the satellites alone).
Exceptional reliability, with the 82nd successful launch in a row by Ariane 5 in December, and Vega's 11th success with the 11 launches since it was introduced at the Guiana Space Center in 2012.
Exemplary launcher availability and staff responsiveness, enabling Arianespace to carry out three launches in less than a month – between May 4 and June 1 – and therefore uphold its commitments to customers.
Highly versatile services offering and adaptability, based on a family of launch vehicles suited to all orbits and all missions, and – for the first time from the Guiana Space Center – two Soyuz launches performed to geostationary transfer orbit, as well as two launches of all-electric satellites, utilizing both Soyuz (with SES-15 on May 18) and Ariane 5 (with EUTELSAT 172B on June 1).
Innovation in action, with the new generation of "out of autoclave" fairings built by RUAG, equipping an Ariane 5 launched on June 28, and a Vega launched on August 1. These types of fairings will also be used on all upcoming Ariane 6 and Vega C launchers.
Improved competitiveness, with implementation of Vega's delivery by industrial prime contractor Avio to Arianespace just prior to liftoff (H0), and the preparation of a similar evolution with ArianeGroup as of January 2018 for Ariane 5.
19 new launch contracts, including the first sales of Vega C and Ariane 6
Arianespace announced today that it has signed a contract with Intelsat to launch two communications satellites, along with a service satellite. The first launch involves Galaxy 30, which will share the upper position on an Ariane 5 with Orbital ATK's Mission Extension Vehicle 2 (MEV-2). These two missions into geostationary transfer orbit for Intelsat are planned for 2020 and will use the Ariane 5 launcher.
In 2017, Arianespace signed a total of 19 launch contracts – six more than in 2016. These contracts represent 27 new satellites to be placed in orbit.
Despite a launch market where opportunities for launches of geostationary orbit (GEO) satellites are limited, Arianespace reaffirms its leadership in the telecommunications spacecraft segment. The company has 30 GEO satellites in its order book, including eight new ones added in 2017.
Arianespace is capitalizing on sustained business in the global connectivity, Earth observation and meteorology markets. As a result, Arianespace signed 11 new launch contracts in 2017 for non-GEO satellites, to be handled by the Ariane, Soyuz and Vega launchers, including the first contracts for Vega C (three launches) and Ariane 6 (two launches for the Galileo satellite navigation constellation).
Therefore, Arianespace's order book in early 2018 stood at five billion euros, comprising 58 launches for 29 customers, distributed as follows (in value):
34% governmental, 66% commercial
40% for GTO missions and 60% for non-GTO missions
62% for telecommunications, 24% for Earth observation, 7% for navigation, and 7% for science and technology.
Arianespace is positioned for an intense 2018 and looks ahead to the next decade with confidence, thanks to Ariane 6 and Vega C
Revamped governance for even greater competitiveness
Arianespace became a 74%-owned subsidiary of ArianeGroup in 2017, following the transfer of shares from the French CNES space agency at the end of 2016. The remaining European shareholding did not change; ESA and CNES are censors on Arianespace's board. Reflecting the decisions made at ESA's Ministerial-level council meeting in 2014, this evolution supports the development of a more highly integrated and competitive launch industry, while also acknowledging the specific qualities of the Vega and Soyuz launch vehicles.
Up to 14 launches
Arianespace has identified 14 launches in 2018. If all 14 are performed this year, it will set a record for the Arianespace family of three launchers.
Up to seven Ariane 5 launches:

Up to five dual commercial launches into geostationary transfer orbit; the first is scheduled for January 25 to orbit the SES-14 and Al Yah 3 satellites.
Two iconic institutional launches, with the third and final Galileo launch using an Ariane 5 ES, on behalf of the European Commission and ESA; and the BepiColombo planetary exploration mission, also for ESA.

Up to four Soyuz flights, including launches for the O3b/SES and OneWeb constellations.
As many as three Vega launches, carrying a science satellite (ADM Aeolus for ESA) and two Earth observation satellites.
Arianespace shifts into higher gear for Ariane 6 and Vega C
Along with ArianeGroup, Arianespace took an active role in the Exploitation Readiness Key Point (ERKP) review organized by ESA from October to December 2017. This review was designed to check the robustness of the objectives concerning operating conditions for Ariane 6, both during the Ariane 5/Ariane 6 transition phase and during stable operation. The results of the review, which concluded positively, will allow the preparation of decisions to be submitted to the ESA Board in March 2018 on the start-up of Ariane 6 operations.
In this context, Arianespace and ArianeGroup have decided to engage the production of a final batch of 10 Ariane 5 launchers. This "PC lot" extends the competitiveness efforts of the entire industry applied in the previous PB+ batch. The 10 additional Ariane 5s will be launched from 2020, in parallel with Ariane 6 (14 Ariane 6 launches are planned between 2020 and 2022, followed by the full capacity as soon as 2023).
Arianespace also signed a contract in 2017 with Avio, the Vega industrial prime contractor, for the acquisition of 10 Vega and Vega C launchers, to be utilized beginning in mid-2019.
Launches with both Ariane 6 and Vega C will continue to be marketed in 2018. Due to the large number of the European institutional missions starting in 2020, it will be possible to implement a grouped acquisition policy for future European launchers. From the commercial standpoint, Ariane 6 and Vega C will benefit from the opportunities offered by satellite global connectivity projects and Earth observation systems, within a context that forecasts unprecedented growth in the space sector over the next two decades.
During a press conference held in Paris with French and international journalists, Arianespace Chief Executive Officer Stéphane Israël said: "With 11 successful launches from the Guiana Space Center in 2017 – six by Ariane 5, two by Soyuz and three by Vega – Arianespace is very proud to have met its commitments to all customers, thanks to the exceptional reliability, performance and availability of our launcher family. Following the signature of 19 launch contracts with the value of more than 1.1 billion euros in new orders, Arianespace enters 2018 with the outlook for intense activity involving up to 14 launches, based on the strength of an order book totaling five billion euros and representing 58 launches in total. Arianespace is now fully focused on the future to gear up for the coming successes of Ariane 6 and Vega C – the new spearheads of European independent access to space, and cornerstones to seize the unprecedented growth opportunities of the commercial market in the next decade."
Quelle: arianespace
1343 Views