6.09.2017
Space: China set for new astronauts and return to flight?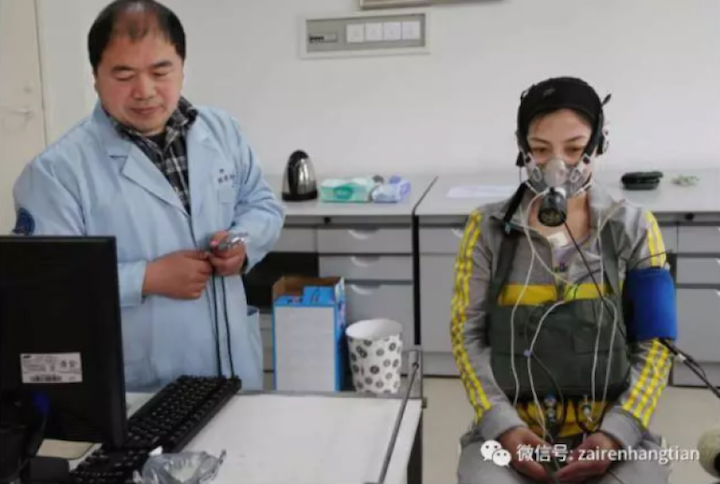 Chinese astronaut Wang Yaping undergoing testing. (Photo: CMSE)
-
September could see China launch its first space mission since failures in June and July, and possibly the selection of a new batch of astronauts in preparation for the future Chinese Space Station (CSS).
China is expected to pick 10-12 astronauts in this third round this year, including two women. Indications are that the final decision could take place in September or October, though the process, and even their identities, will be shrouded in mystery.
While the two previous rounds drew on air force pilots, the third astronaut selection will seek candidates with more diverse backgrounds, reflecting the change in spaceflight plans required for CSS objectives, such as research.
China plans to carry out at least four crewed missions across five years as it constructs the 60-80 metric tonne space station in low Earth orbit, starting around 2019.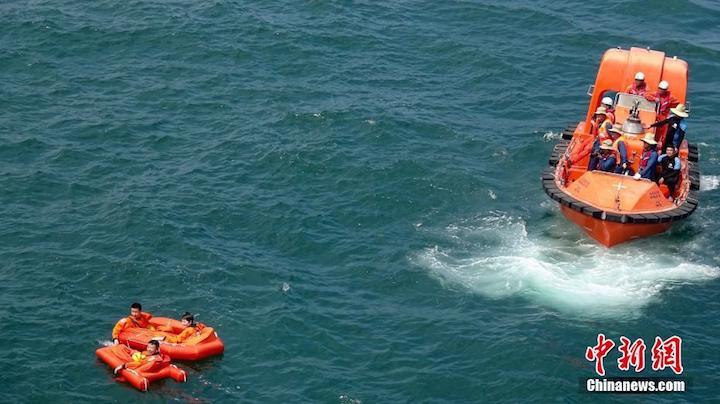 Above: ESA astronaut Sam Cristoforetti with Chinese counterparts Chen Dong and Liu Wang in sea survival training in August.
China has sent 11 astronauts into space, most recently on the Shenzhou-11 mission last October, the country's longest by far at 33 days.
Return to flight after launch issues?
The main contractor for the Chinese space programme, the China Aerospace Science and Technology Corporation (CASC), had announced plans for a national record of close to 30 launches this year, but recent failures have halted progress, putting pressure on an increasingly intense schedule.
There have been no launches since the high profile failure of the second flight of China's largest rocket, the Long March 5, on July 2. Preceding that, a Long March 3B, used for launches to geosynchronous and medium Earth orbits, left the Zhongxing-9A telecommunications satellite in a much lower than intended orbit.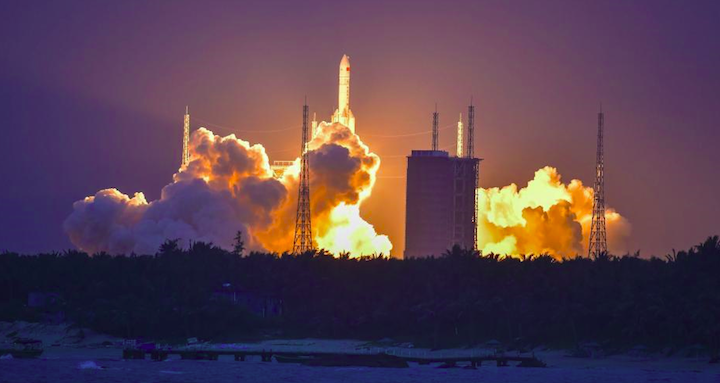 Above: Launch of the ill-fated Long March 5 (Y2) from Wenchang on July 2, 2017.
This partial failure has apparently hit the schedule for launches of China's Beidou navigation satellites, while two more launch vehicles - the Long March 2D and 4C - also suffered issues last time out.
The Chinese launch calendar typically sees the vast majority of its activity in the second half of the year, and this will need to be the case once again to prevent a large mission backlog.
China was looking to launch 6-8 new satellites for its own version of the GPS constellation, starting in July, but it is unclear if the first pair, Beidou-3M3 and Beidou-3M4, will be ready for launch from Xichang in mountainous Sichuan Province.
A Long March 3B/G2 could also launch the Zhongxing-6C telecommunications satellite in September, should the issue from June's Zhongxing-9A launch be resolved.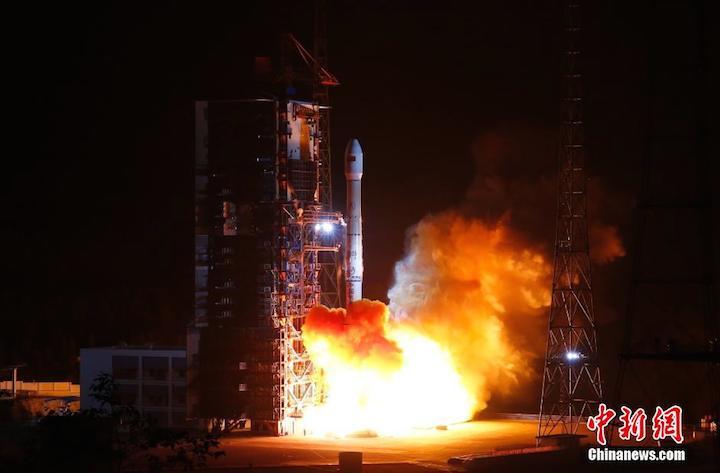 Above: A Long March 3B lifts off from Xichang in January 2016, carrying Belintersat-1.
Two missions scheduled for September via launches of Long March 2D rockets are the VRSS-2, a remote sensing satellite for Venezuela, and Zhangheng-1, also referred to as the China Seismo-Electromagnetic Satellite (CSES), involving collaboration with Italy.
However, Long March 2D's last flight, in December 2016, saw two Gaojing-1 ('Superview-1') satellites placed into a lower than intended orbit. Moreover, the launch of Zhangheng-1 has been pushed back from September 10 to an unknown date, and there are no signs that VRSS-2 is set for the pad.
Another possible return to flight could come for the Long March 4C, which failed to put the Gaofen-10 satellite in orbit in August 2016. It is designated to launch the Fengyun-3D weather satellite, along with a secondary payload, Head-1, for a private Chinese aerospace company.
There is also a political backdrop to consider, along with the work necessary to get these launch vehicles ready to return to flight.
With the 19th National Congress of the Communist Party of China, a major political event that will see a once-every-five-years reshuffle of the country's leadership, set for October, it is likely that unnecessary risks - particularly regarding a space programme regarded as a source of national pride and prestige - will be avoided.
Other possible missions in September are the Gaofen-5 Earth observation satellite, part of the CHEOS constellation, via Long March 4B. A solid-fuelled Long March 11 could also launch a number of small satellites, Xiaoxiang-2 through -5, for new commercial space actor Spacety.
With its military-run inland launch sites, the Chinese space programme is fairly secretive. The current positions of China's Yuanwang satellite tracking ships also do not indicate imminent launches, but information is sparse and surprises are possible.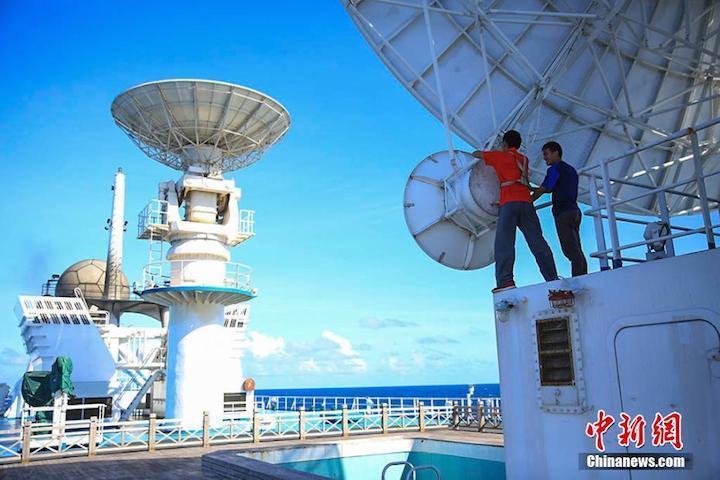 Above: The Yuanwang-5 tracking ship preparing for the Tiangong-2 mission in 2016.
Lunar and deep space forum
Beijing will host the third Beijing International Forum on Lunar and Deep-space Exploration (LDSE 2017) during September 19-22, organised by the Chinese Academy of Sciences (CAS).
The forum will focus on the exploration programmes on the Moon, Mars and asteroids, new progress in research on planetary science, research on the samples return from the Moon and other extraterrestrial bodies, and new methods of deep space exploration.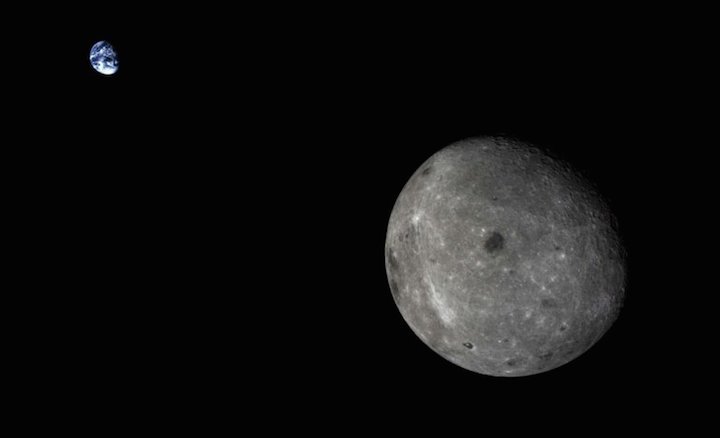 Above: A view of the far side of the Moon and the distant Earth, taken by the Chang'e-5 T1 test mission in 2014 (CAS).
Quelle: gbtimes
1068 Views