Cosmic Girl, the specially-modified aircraft that Virgin Orbit engineers designed to essentially function as a flying launchpad, is scheduled to make its first landing at Long Beach Airport on Monday.
The aircraft is a former Virgin Atlantic 747-400 passenger jet with modifications enabling it to fire a rocket that Virgin Orbit calls LauncherOne. The idea is for Cosmic Girl to be able to carry LauncherOne under one if its wings and fire the rocket spaceward like a giant missile.
Cosmic Girl underwent its modifications in Texas. Virgin Orbit has more than 300 people attached to its LauncherOne project working in Long Beach.
Although Virgin Orbit vice president of special projects Will Pomerantz kept details about Monday's event and the project's future close to the vest, he said: "The whole timing of this event is more about an emotional milestone as much as a technical milestone."
Virgin Orbit split from Virgin Galactic to become its own company in early March. Virgin Galactic's focus will be offering of commercial human flights into space, while Virgin Orbit's business model is based on launching small satellites into orbit.
The new company's headquarters and LauncherOne assembly facility are part of the Douglas Park complex, which is a cluster of industrial and commercial developments in northeast Long Beach built on land where Douglas Aircraft Co. and Boeing Co. crews once went to work and assembled such historic aircraft as the DC-3 and the B-17 bomber. Generations of workers went on to manufacture a succession of postwar jets there, but that work concluded after Boeing shut down production of the 717 passenger jet in 2006.
Ending 717 production in Long Beach was an epochal business decision on Boeing executives part, as it closed the book on the production of large passenger jets in California. Nearly a decade later, Boeing went on to close down its assembly plant for the C-17 Globemaster III military cargo jet. The facility was in operation near Long Beach Airport before the final C-17 flew away in late 2015.
"It's not lost on any of us when we drive into work, we're driving past the DC Jets sign and the C-17 hangar," Pomerantz said.
Virgin Orbit's executives are planning for the company to occupy a different niche in the private spaceflight industry than that of Space Exploration Technologies Corp., the Hawthorne company that's popularly known as SpaceX.
SpaceX's Falcon 9 rocket is designed to be a launch vehicle, with a reusable first stage, that can carry a heavy payload to geostationary transfer orbit. At geostationary orbit, a satellite is in motion at the same velocity as the earth's rotation at a point more than 22,000 miles above the earth's surface at the equator, according to NASA.
A recent example of the kind of mission SpaceX participates in is the July 5 launch of Intelsat 35e, a seven-ton communications satellite for Intelsat. The Luxembourg-headquartered company has a sales office in Long Beach.
SpaceX advertises a $62 million price for a 2018 Falcon 9 launch.
By contrast, Virgin Orbit customers may pay a price in the $10- to $12-million range for satellites to hitch a ride on board a LauncherOne vehicle. The company's advertised specs for LauncherOne describe a spacecraft capable of carrying a payload roughly 1,100 pounds into low-earth orbits nearly 125 miles above the planet's surface.
A large number of scientific and weather satellites operate at this level, according to NASA.
Cosmic Girl is expected to fly over LGB shortly after 4 p.m. Monday.
Virgin Orbit leaders plan for Cosmic Girl's main launch site to be Mojave Air & Space Port, which is northwest of Edwards Air Force Base in Kern County.
Quelle: Long Beach Press Telegram
+++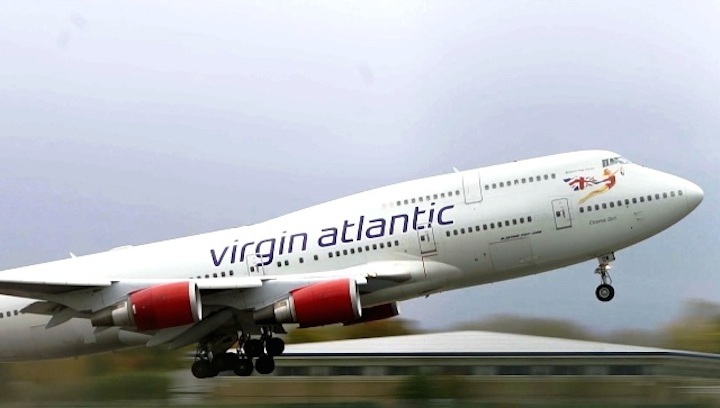 Space cowboy Richard Branson and his company, Virgin Galactic, showed off a 747-400 airplane that could launch rocket payloads from the air straight into orbit.
The mothership, a.k.a "Cosmic Girl," would carry Virgin Galactic's LauncherOne rockets to new heights. In concept, using a modified commercial airplane as a rocket-carrier negates the need for a ground launch pad and all of its attendant logistics. Instead, the rocket is bound to the plane's wing, and after reaching an altitude of 35,000 feet on its hitched ride, it can disengage, fire up its engine, and continue its mission to deposit a satellite payload into orbit.
Cosmic Girl, which has been in the Virgin fleet as a commercial aircraft since 2001, is set to undergo quite the transformation, per Virgin's press release: "the LauncherOne rocket will be mounted to the carrier aircraft under the left wing, adjacent to the position that has been used by other 747s to ferry a fifth engine." The rocket weighs about 55,000 pounds.
Originally conceived by Branson as a offshoot of his Virgin empire focused on space tourism, Virgin Galactic has been increasingly getting in on the satellite game. The Washington Post reports:
Virgin already has signed a $4.7 million contract with NASA to launch more than a dozen experimental satellites on a test flight. And it also has a deal with OneWeb, which plans to build a global Internet satellite system, for 39 satellites with an option for 100 more.
Branson talked up the quick satellite turnaround time that using a plane launch would make possible. "If you're waiting for one of these giant rockets to put small satellites into space, you sometimes have to wait six months, or a year," he said at the Cosmic Girl event. By contrast, a Virgin Galactic mothership could theoretically be good to go with 24 hours of notice. The payoffs could be huge.
Branson says he wants to use the LauncherOne rocket and satellite systems to help extend Internet and communication services to unconnected communities. This would mean creating new markets for Virgin, of course, but it's also a laudable humanitarian goal. And Virgin announced in September that it will increase the payload weight that LauncherOne can handle, which would put it into competition for insanely lucrative government satellite launch contracts—like the ones that SpaceX have been going after for so long.
A similar mode of "air launch" is also the mechanism behind flying Virgin Galactic's SpaceShipTwo, the long-simmering experimental craft designed to ferry space-loving tourists. SpaceShipTwo crashed last year in testing, resulting in the death of a pilot, and Virgin is at work on a new craft. But with the addition of Cosmic Girl to the air launch fleet, Virgin's satellite plans can continue to evolve, independent of SpaceShipTwo's shadow.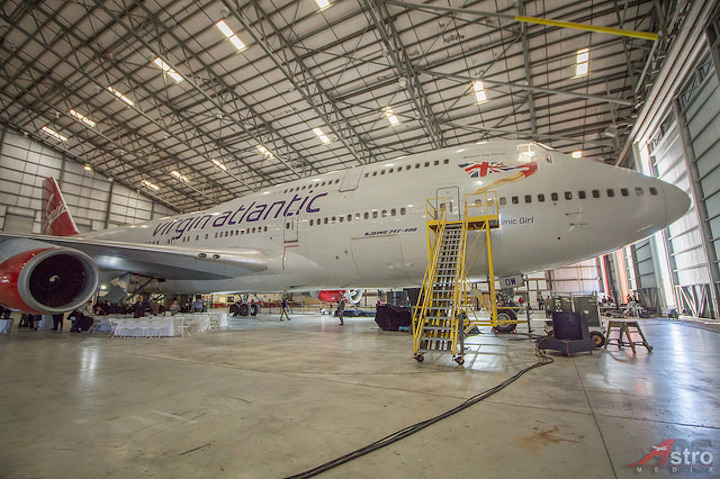 Quelle:GIZMODO
---
Update: 2.08.2017
.
Cosmic Girl, Virgin Orbit's space launch plane, touches down in Long Beach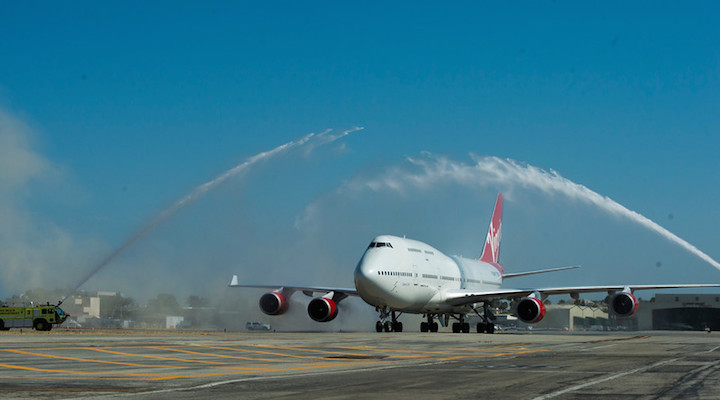 Virgin Orbit's specialized 747, Cosmic Girl, receives a water canon salute as it pulls into LGB in Long Beach Monday, July 31, 2017. The jet is modified to carry space-launch vehicles over the ocean to be fired into orbit.(Photo by Thomas R. Cordova, Press-Telegram/SCNG)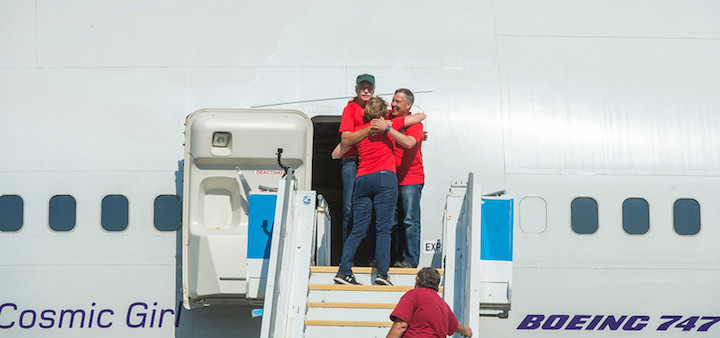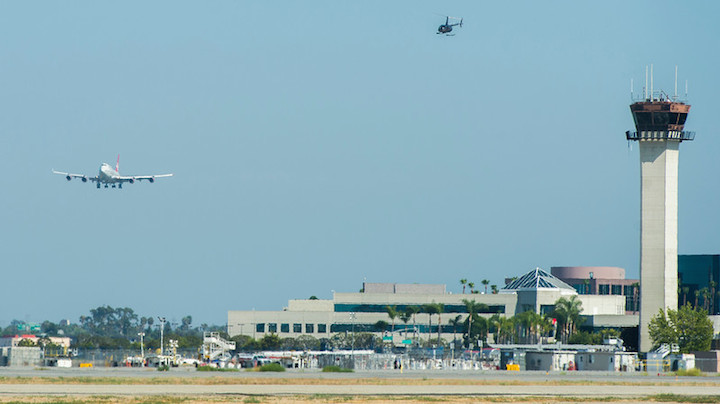 Virgin Orbit's specialized 747, Cosmic Girl, flys into LGB in Long Beach Monday, July 31, 2017. The jet is modified to carry space-launch vehicles over the ocean to be fired into orbit.(Photo by Thomas R. Cordova, Press-Telegram/SCNG)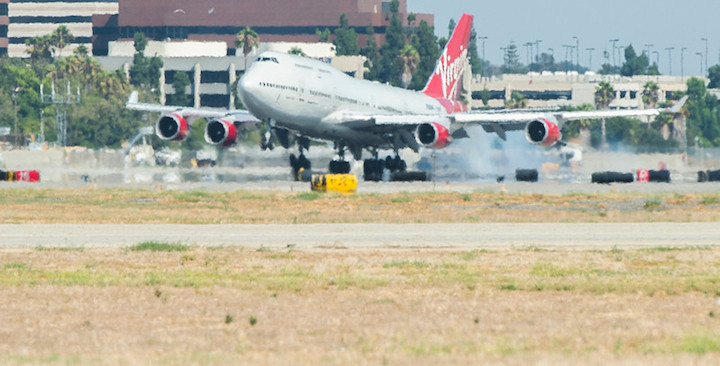 Virgin Orbit's specialized 747, Cosmic Girl, flys into LGB in Long Beach Monday, July 31, 2017. The jet is modified to carry space-launch vehicles over the ocean to be fired into orbit.(Photo by Thomas R. Cordova, Press-Telegram/SCNG)
---
Cosmic Girl, Virgin Orbit's specially modified jumbo jet designed to serve as a flying launchpad, touched down Monday afternoon at Long Beach Airport to the delight of those working to help the company join the United States' nascent private spaceflight industry.
"We're here to redefine the word 'launchsite.' And we're here to celebrate that," Virgin Orbit President Dan Hart said after Cosmic Girl had taxied from a Long Beach Airport runway to an audience of Virgin Orbit employees and Long Beach dignitaries.
Cosmic Girl is a Boeing 747-400 jet that, in Hart's words, had the "perfect name" for its new mission. The aircraft already had its moniker while flying passengers in the service of Virgin Atlantic.
• MORE PHOTOS: Cosmic Girl touches down at Long Beach Airport
Virgin Galactic, the part of the Virgin Group that's focused on eventually letting customers buy a ticket to travel into outer space, acquired Cosmic Girl in late 2015. Virgin Orbit was part of Virgin Galactic before acquiring its own name in March.
Virgin Orbit's headquarters is in the Douglas Park area of northeast Long Beach, and Cosmic Girl is a major part of that company's effort to develop a relatively inexpensive method of shooting satellites into orbit. The company's plan is for Cosmic Girl to carry a rocket, dubbed LauncherOne, under its left wing in order to be fired into space while the aircraft is in flight.
Monday signified the first time Cosmic Girl made an appearance in the company's home city.
Virgin Orbit chief engineer Kevin Sagis has been working on Virgin projects leading up to Cosmic Girl's modifications for about five years, he said. He was one of the project's first five team members, and said the project subsequently involved the work of some 300 people in laboring over the course of three years.
LauncherOne is still in development. The two-stage rocket is designed to be nearly 70 feet long and to weigh about 55,000 pounds when carrying a full load of fuel and its payload. A launch could cost customers $10 million to $12 million.
For comparison, Hawthorne's Space Exploration Technologies, Inc., advertises a $62 million price for a launch on board its Falcon 9 rocket. Virgin Orbit's plan is to serve customers using smaller satellites at lower orbits than SpaceX's clients.
About 80 percent of Cosmic Girl's upgrades involved mechanical changes enabling the jet to carry LauncherOne, Sagis said. The remainder of the work involved changes to its electrical and fuel systems.
Sagis is hopeful the Cosmic Girl and LauncherOne technologies will lead to applications that improve the lives of human beings on earth. He said he looks forward to companies being able to hire Virgin Orbit to launch satellites that may improve communications networks or weather forecasting.
"The reason I came here is I got the opportunity to come in on the ground floor of a very exciting project," he said.
LauncherOne is not yet operational and was not on display Monday afternoon. Hart said in an interview that he expects LauncherOne to be ready for missions by early 2018.
Although Virgin Orbit has not announced a possible date for LauncherOne's first mission, the company has already disclosed a few prospective customers before getting its own name.
In June 2015, Virgin Galactic announced plans for 39 satellite launches for OneWeb, a venture that has declared plans to deploy a "constellation" of communications satellites in an attempt to make high-speed Internet services available to areas on the planet where online access is presently difficult. Virgin Group founder Richard Branson is a member of OneWeb's board of directors.
Another announcement in October 2015 told of a $4.7 million agreement with NASA for a test launch involving multiple satellites. Virgin Galactic reported in September of last year that Australian communications firm Sky and Space Global had contracted for a quartet of LauncherOne missions.
Quelle: Press Telegramm