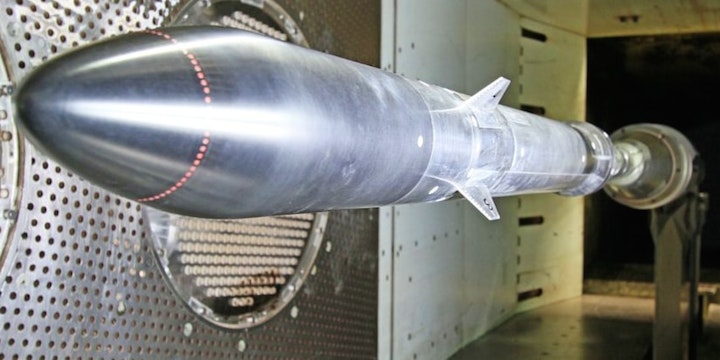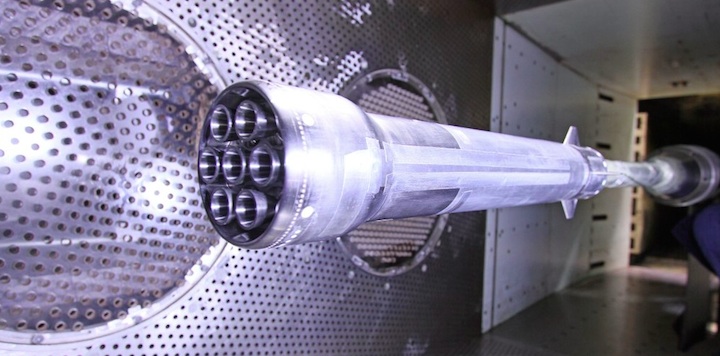 GUADALAJARA, Mexico – Blue Origin's New Glenn rocket isn't due to go into orbit until later this decade, but its design has already been validated by computer simulations and three weeks of wind tunnel testing.
That's the word from Amazon billionaire Jeff Bezos, who founded Blue Origin 16 years ago this month. In a pair of tweets, Bezos showed off a scaled-down version of the New Glenn, which will tower 313 feet high in its three-stage version.
The pictures follow up on Bezos' unveiling of the design earlier this month. Bezos said the model has been tested at transonic and supersonic speeds, with "exciting results."
Blue Origin has already gone through multiple uncrewed flight tests of its New Shepard launch system, which is designed to send a crew capsule on suborbital space trips that reach altitudes in excess of 100 kilometers (62 miles). Bezos says the most dramatic test yet is set for early October at Blue Origin's launch facility in West Texas.
If all goes well, New Shepard could be flying passengers by 2018. The craft – which is built at Blue Origin's headquarters in Kent, south of Seattle – is named after the late NASA astronaut Alan Shepard, who became the first American in space in 1961.
New Glenn is named after John Glenn, who took America's first orbital trip a year after Shepard's flight. It's due to be built at a Blue Origin facility that's now under construction near NASA's Kennedy Space Center in Florida.
Blue Origin's New Glenn program could challenge SpaceX's line of rockets. Like SpaceX's Falcon 9, New Glenn could put satellites into orbit and send space crews to the International Space Station. Its first stage packs more punch than a Falcon 9 but not as much as SpaceX's Falcon Heavy rocket, which is currently under development.
Blue Origin's president, Rob Meyerson, is due to provide an update on the company's plans on Tuesday during a session at the International Astronautical Congress here in Guadalajara, just before SpaceX CEO Elon Musk unveils his plans for trips to Mars.
Maybe Meyerson will mention New Armstrong. That's Bezos' next, next rocket – named after Neil Armstrong, the first astronaut to walk on the moon.
You should be able to catch Meyerson's talk as part of the IAC's streaming video coverage. The session starts at 7:30 a.m. PT (9:30 a.m. CT) Tuesday, and Meyerson is due to go on at 8:45 a.m. PT (10:45 a.m. CT).
Quelle: GeekWire