.
9.06.2016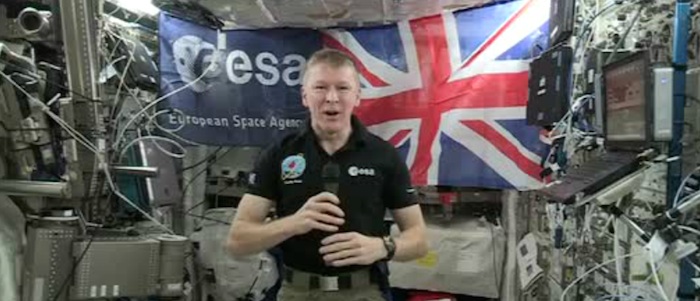 Tim Peake may have been on a space walk, looked down on Earth and stared into the vastness of space but the British astronaut just misses the rain.
Mr Peake may be rethinking his choice when he returns to British summer on June 18 after his six months on board the International Space Station (ISS).
Speaking during a press conference from the ISS, Mr Peake added he will "cherish forever" the "truly incredible" spacewalk he made with American colleague Tim Kopra.
When the pair stepped outside the ISS in January to make repairs they were given 10 minutes of free time as they waited for the sun to set behind Earth.
Mission control in Houston told us that we had ten minutes to hang out, take photographs and wait for the sun to set. That is unheard of on a spacewalk when normally every minute is accounted for. That was truly incredible, just to be able to explore that part of the space station and look down on planet Earth, and also look behind me and look out into the darkness and the vastness of space while outside the space station. I think that really is a moment I will cherish forever.
Tim Peake
Mr Peake's comments were made via a live link to the Times Cheltenham Science Festival, when he also listed the success of educational outreach programmes aimed at schoolchildren as one of his mission's greatest achievements.
I think we've reached over a million children across the UK, which is truly remarkable. I hope that certainly will help to have an impact in inspiring our future scientists and engineers.
Tim Peake
In one experiment, children at thousands of schools will grow rocket plants from seeds that were exposed to weightless conditions on the space station.
Looking ahead to the future, past his first shower and spending "private time" with his family, Mr Peake said he believed "space is going to play an ever increasingly important role in our lives".
He also said he would be "rooting for England" in the Euro 2016 football championships but refused to be drawn on where he stood on the EU referendum.
My views on Brexit are personal views and I don't feel the need to impart them on anybody else. In terms of cooperation and partnership ... I'm here floating in the most incredible achievement of not just European cooperation but international cooperation, and this space station would not exist if it wasn't for all the international partners and what they have managed to achieve despite their political differences ... Hopefully that will continue into the future of space exploration as well.
Tim Peake
-
Quelle: stv
-
Update: 11.06.2016
.
Another first for Tim Peake as he gets award in space from Queen
British astronaut is companion of order of St Michael and St George and dedicates it to team who make his mission possible
.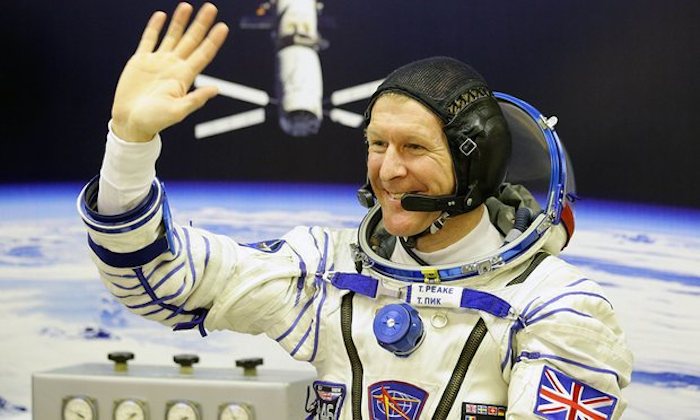 The astronaut received his award for services to space research and scientific education. Photograph: Gareth Fuller/PA
-
No one has previously been in space when they were given an award by the Queen. In order to be certain Tim Peake would accept his honour, Sir Simon McDonald, permanent under-secretary at the Foreign Office, had to ask the European Space Agency to set up a special phone line to the International Space Station, where Peake has been stationed since December.
The astronaut is made a CMG, or companion of the order of St Michael and St George. The award, a diplomatic honour instituted in the wake of the Napoleonic wars, is given on the recommendation of the Foreign Office to those who have given distinguished service overseas – or, on this occasion, in space.
The astronaut, who is due to return to Earth next week, said the honour was not for him but for "the hundreds of dedicated staff who have made my Principia mission possible, working together across national boundaries to build, operate and maintain our scientific outpost in space – the International Space Station.
"I am only one privileged person in a complex team of technicians, scientists, engineers, educators, trainers and flight directors, all working in pursuit of one of the greatest scientific and technical challenges of our time – exploring our solar system for the benefit of people on Earth. This award is for them."
Quelle: theguardian
-
Update: 12.06.2016
.
NASA TV Airs Return of NASA Astronaut, Two Crewmates from Space Station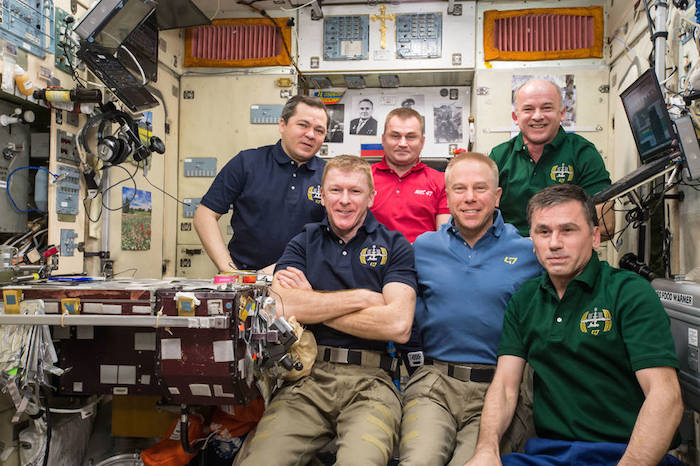 ESA (European Space Agency) astronaut Timothy Peake, NASA astronaut Timothy Kopra and Roscosmos cosmonaut Yuri Malenchenko (front) are set to depart the International Space Station and return to Earth June 18, 2016. Russian cosmonauts Oleg Skripochka and Alexey Ovchinin and NASA astronaut Jeff Williams (back) will be joined in July by NASA astronaut Kate Rubins, Russian cosmonaut Anatoly Ivanishin and Takuya Onishi of the Japan Aerospace Exploration Agency.
Credits: NASA
-
Three International Space Station crew members are scheduled to depart the orbiting outpost Saturday, June 18. NASA Television will provide coverage of their preparations for departure and return to Earth, beginning at 9:15 a.m. EDT Friday, June 17.
Expedition 47 Commander Tim Kopra of NASA, Flight Engineer Tim Peake of ESA (European Space Agency) and Soyuz Commander Yuri Malenchenko of the Russian space agency Roscosmos will undock their Soyuz TMA-19M spacecraft from the space station at 1:52 a.m. Saturday and land in Kazakhstan at 5:15 a.m. (3:12 p.m. Kazakhstan time).
Their return will wrap up 186 days in space for the crew since their launch in December 2015. Together, the Expedition 47 crew members contributed to hundreds of experiments in biology, biotechnology, physical science and Earth science aboard humanity's only orbiting laboratory.
NASA TV will air coverage of the departure and landing activities at the following dates and times:
Friday, June 17
9:15 a.m. -- Change of command ceremony in which Kopra hands over station command to NASA astronaut Jeff Williams
10:15 p.m. -- Farewell and hatch closure coverage (hatch closure scheduled for 10:35 p.m.)
Saturday, June 18
1:30 a.m. -- Undocking coverage (undocking scheduled for 1:52 a.m.)
4 a.m. -- Deorbit burn and landing coverage (deorbit burn scheduled for 4:21 a.m., with landing at 5:15 a.m.)
7 a.m. -- Video File of hatch closure, undocking and landing activities.
6 p.m. -- Video File of landing and post-landing activities and post-landing interviews with Kopra and Peake in Kazakhstan.
At the time of undocking, Expedition 48 will begin aboard the station under Williams' command. Williams and his crewmates Oleg Skripochka and Alexey Ovchinin of Roscosmos, will operate the station for three weeks until the arrival of three new crew members.
NASA astronaut Kate Rubins, Russian cosmonaut Anatoly Ivanishin and Takuya Onishi of the Japan Aerospace Exploration Agency are scheduled to launch July 6 (Eastern time) from Baikonur, Kazakhstan.
Quelle: NASA
-
Update: 14.06.2016
.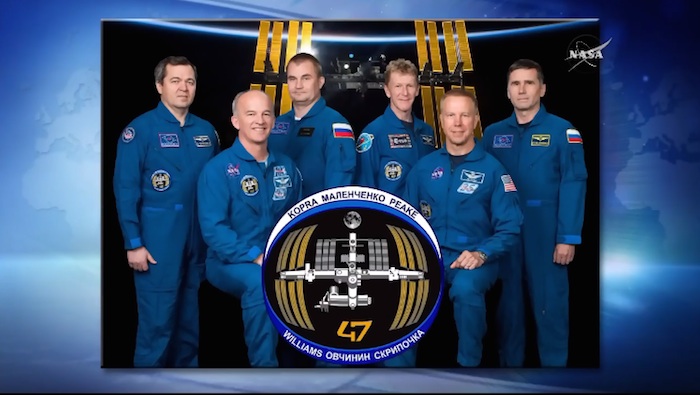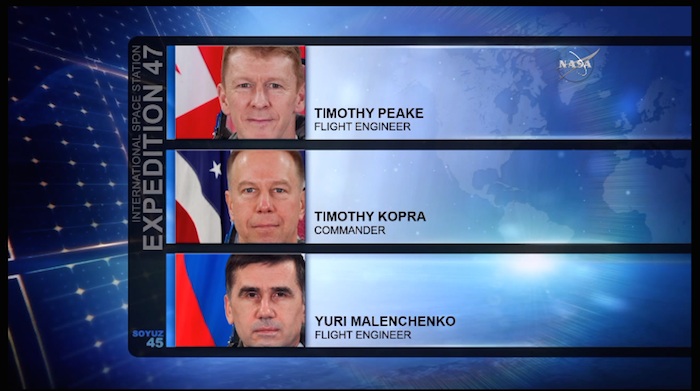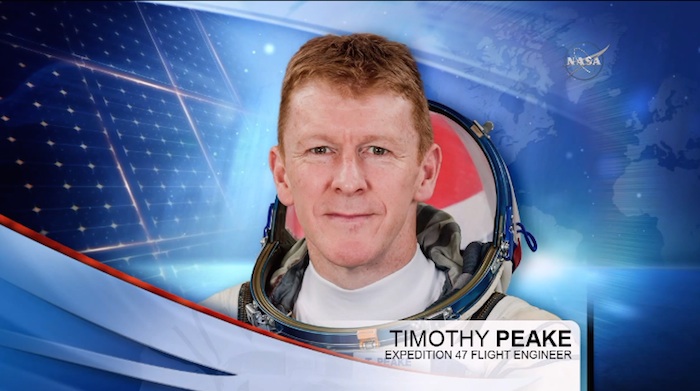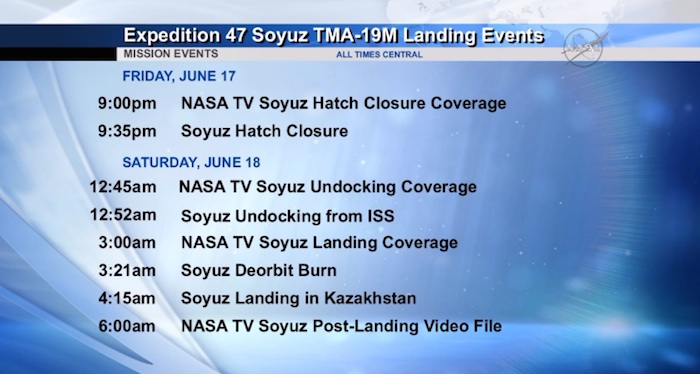 Quelle: NASA
-
Update: 17.06.2016
.
Back to Earth with a crash: Tim Peake prepares to bid farewell to the ISS
Astronauts Chris Hadfield and Samantha Christoforetti describe the 'wild ride' in the Soyuz capsue and adjustments to life back on Earth that await Tim Peake
In astronaut circles, the return to Earth aboard the Soyuz capsule is described in a hundred ways, but a common thread runs through them. Even when all goes smoothly, the ride itself is never smooth. "It is physically extremely violent," says Chris Hadfield, the retired Canadian astronaut. "We often describe it as 15 explosions followed by a car crash."
It is with such thoughts in mind that Tim Peake will leave the International Space Station on Saturday morning after 186 days in orbit. At 4am UK time he and two others, Nasa's Tim Kopra and Russian cosmonaut Yuri Malenchenko, will say farewell to their crewmates, clamber into the Soyuz, and close the hatch. Six hours later, they will hit the planet. With luck, not too hard.
Peake's return to Earth will bring to a close an impressive first tour in orbit. The only Briton ever selected for the European Space Agency's astronaut corps, the former helicopter test-pilot ran experiments, performed a challenging spacewalk, fixed a broken toilet, and berthed a visiting cargo vessel with the station's robotic arm. "He's done a magnificent job," says Hadfield. "What a quality guy. He's supremely capable."
Not all of a modern astronaut's work is technical. As the space station soared overhead at 17,500mph, Peake shared breathtaking photos with his 780,000 Twitter followers. He presented Adele with a Brit award, ran the London marathon on a treadmill, and read a bedtime story on CBeebies. Expect more once he is home.
.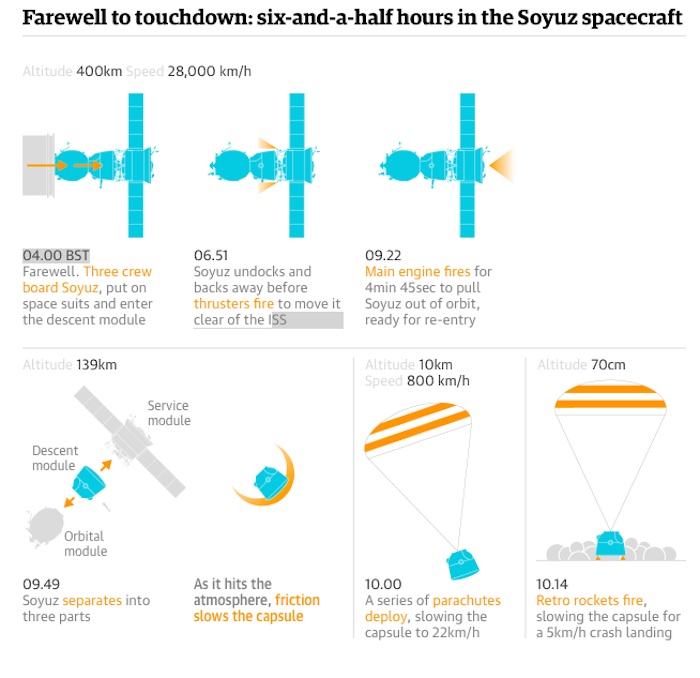 Astronauts often have mixed feelings about the trip back to Earth. Last year, Samantha Cristoforetti broke the record for the longest single space flight by a woman, spending 199 days and 16 hours on the station. "You've been in orbit a long time and you are looking forward to seeing your family, but at the same time you realise you've spent time in an amazing and unique place and you don't know if you'll ever get a chance to go back," she says. "You start missing the place before you even leave."
The bulkiness of the spacesuits, and the equipment coming home, means that Peake, Kopra and Malenchenko are jammed tightly into the capsule. They must sit, cramped and uncomfortable, for nearly three hours before the press of a button releases a spring that gently pushes them away from the space station. Three minutes later, Soyuz will fire its thrusters to drift clear, and an hour after that, perform a de-orbit burn. Now the fun really starts: the Soyuz is falling to Earth.
The numbers, at least, are simple. When the Soyuz departs the space station, it must fall 250 vertical miles and decelerate from 17,500mph to a standstill in three and a half hours. Much of the speed is lost to the atmosphere. Having spent the past six months floating about, the crew will feel at least four times their weight on Earth as the atmosphere thickens and air resistance soars.
But before reentry, the Soyuz must shed two modules that are no longer needed. Explosive bolts fire and release the unwanted service and orbital modules, leaving only the bell-shaped descent module containing the crew. The firing of the bolts feels like someone is attacking the capsule with a sledgehammer.
As the descent capsule plunges into the atmosphere, G-force builds up on the crew. "It feels incredible. You are pushed far down into your seat. It feels like ten times your own body weight because your perception of weight is so completely off," says Cristoforetti. The friction from the atmosphere chars the capsule and sears the heat shield at temperatures reaching 1600 Celsius. The air outside burns. "You are literally in a ball of fire," she says.
The Soyuz capsule is programmed to reach a particular position at 30,000 feet where it automatically releases drone chutes and then a full parachute. The crew must be ready to take over manual control at any second. Fully deployed, the parachute tugs hard on the capsule, and swings it around like a toy.
Down on the ground, the Russian search and rescue team will try and track the capsule as it falls. Once they have it in sight, they can radio the crew and keep them abreast of their altitude. Inside, the crew sink deep into their seats, which have risen up on shock absorbers. They stop talking, to avoid biting their tongues on impact. Seconds before touchdown, six retrorockets fire to slow the capsule further.
"He will be hurled about, shaken, spun, crushed, and snapped around like crazy when the parachutes open, and then he'll crash into the Earth. And then, if it's a windy day in Kazakhstan, the vehicle will roll end over end until it finally creaks to a stop," says Hadfield of Peake's return trip. "It's an amazing ride home."
The crew are due to land in southern Kazakhstan at 10.14am Saturday morning. They cannot climb out on their own, so will sit there, in a vessel charred, smoking, and most likely on its side, until helicopters arrive with the rescue team. After a swift round of medical checks, the crew will be flown to Karaganda, a nearby city, for a short ceremony and from there to their respective home agencies.
Peake will fly back to Cologne, home of the European Astronaut Centre, in the early hours of Sunday morning. There, at the Envirohab facility, he will see his family in the flesh for the first time in six months, and spend the night in a proper bed. On top of tests to see how he adjusts to life back on Earth, a full programme of rehabilitation awaits, to rebuild the muscle and bone that astronauts lose in orbit.
"The one thing that really strikes you is your weight. I had this feeling that I was trying to balance a giant rock, which was my body, on two little toothpicks, which were my legs," says Cristoforetti. But there are treats to coming home too, she says: the freshness of a salad, a decent shower, even if you do have to take it sitting down.
It will take some time for Peake to recover fully, says Hadfield. "It will take a few days for his head to clear, a few weeks to feel normal, a few months to be able to run properly, and a few years to grow his skeleton back."
Quelle: theguardian
---
Update: 18.06.2016
.
Abdockmanöver von Tim Peake und Crew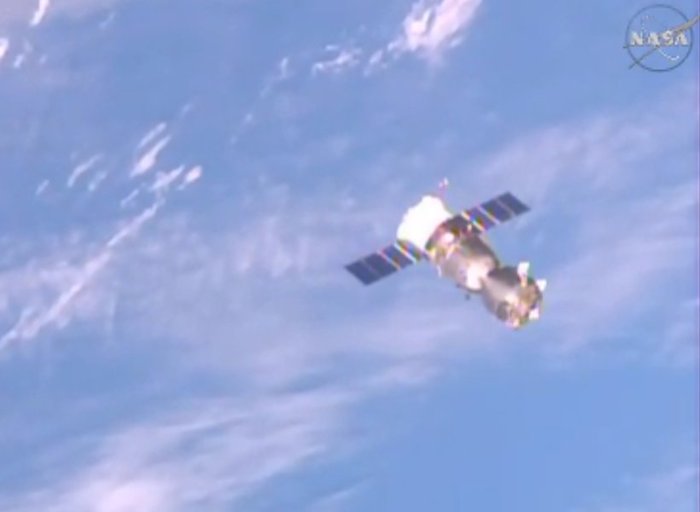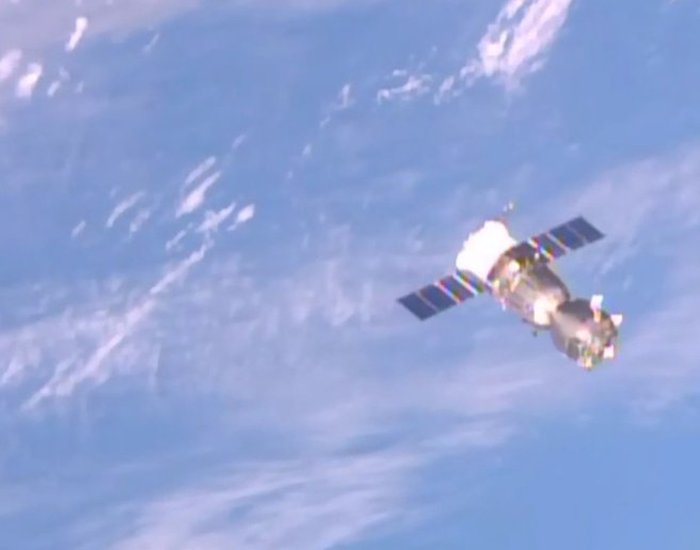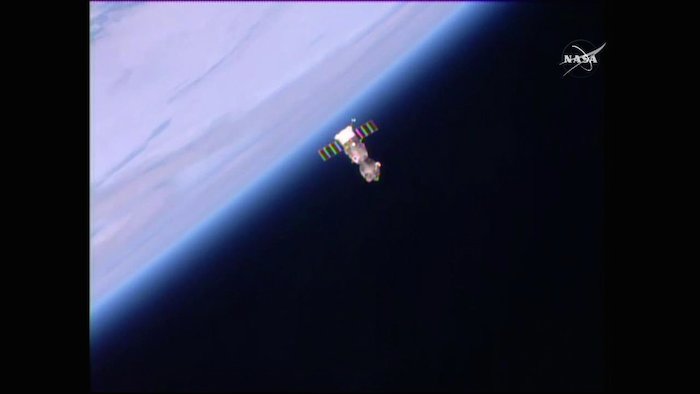 Quelle: NASA
.
Update: 10.00 MESZ
.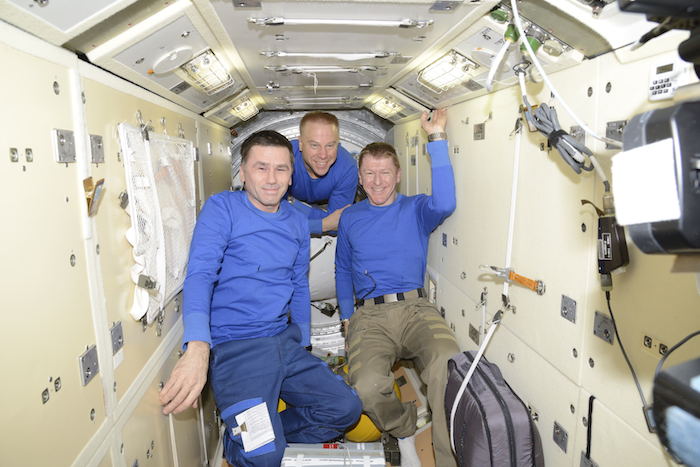 Watch the return of ESA astronaut Tim Peake, NASA astronaut Tim Kopra and Soyuz spacecraft commander Yuri Malenchenko on Saturday, 18 June.
After 186 days in space for his Principia mission on the International Space Station, it is time for ESA astronaut Tim Peake to return to Earth. Watch live as Tim, commander Yuri Malenchenko and NASA's Tim Kopra enter their Soyuz TMA-19M spacecraft, close the hatch to the Space Station, leave their home for the last six months and land in the steppe of Kazakhstan on Saturday.
The broadcast times are
02:15 GMT (04:15 CEST) Farewells and hatch closing
05:30 GMT (07:30 CEST) Undocking
08:00 GMT (10:00 CEST) Reentry and landing
Get updates via Twitter by following @esaoperations and on the Principia blog.
Expected timings (GMT)
05:51 Undocking command
05:52 Separation
05:55 Thruster firing
08:22 Large deorbit burn for four minutes
08:49 Module separation 139 km above Earth
09:00 Parachute opens 10 km above Earth
09:14 Retrorockets fire an instant before touchdown
A wild ride
Shortly after the deorbit burn, Soyuz separates into three parts. The orbital and service modules burn up on reentry in the denser layers of Earth's atmosphere. The descent module turns to position its heatshield towards the direction of reentry, so that it can handle the 1600°C created by the friction with our atmosphere.
Reentry starts at an altitude of about 120 km, when their cruising speed of 28 800 km/h is reduced dramatically and the crew are pushed back into their seats with a force of 4–5 g. This is equivalent to four to five times their own body weight.
Parachutes reduce the speed further and the astronaut's custom-fitted seats absorb the shock of landing. At the last moment, retrorockets fire to limit the impact to around 5 km/h.
After landing, the crew deploy a communication antenna for the rescue teams to pinpoint them, but search and rescue teams are often already onsite to retrieve the space voyagers.
Tim is the eighth ESA astronaut to complete a long-duration mission in space. He will be the third astronaut after Alexander Gerst and Andreas Mogensen to fly directly to ESA's astronaut home base in Cologne, Germany, for checkups and to allow researchers to collect more data on how Tim's body and mind have adapted to living in space.
Quelle: ESA
...
Update: 10.11 MESZ
.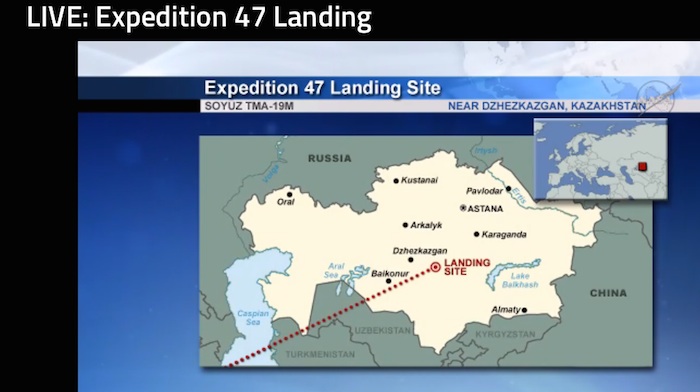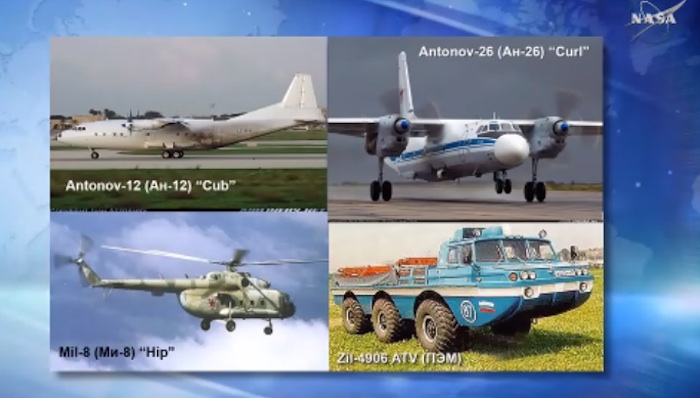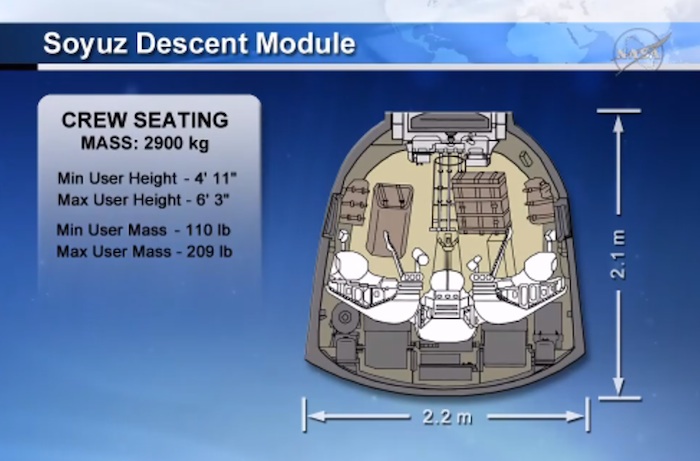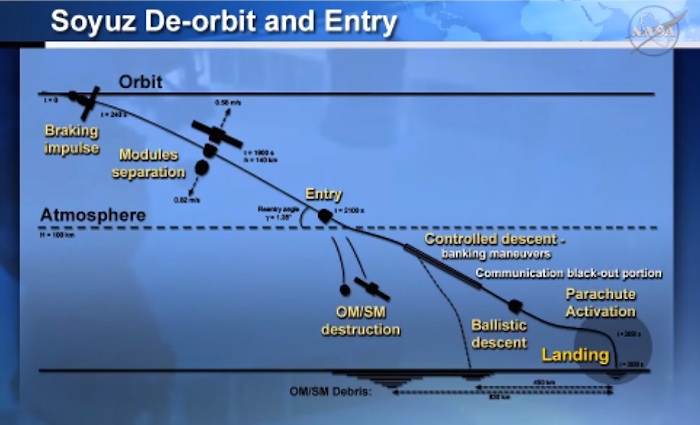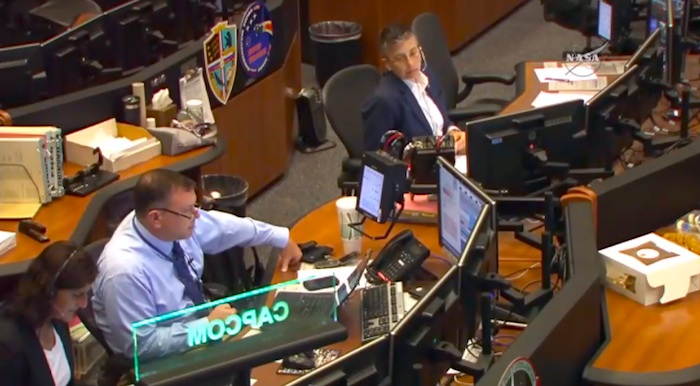 ...10.22 MESZ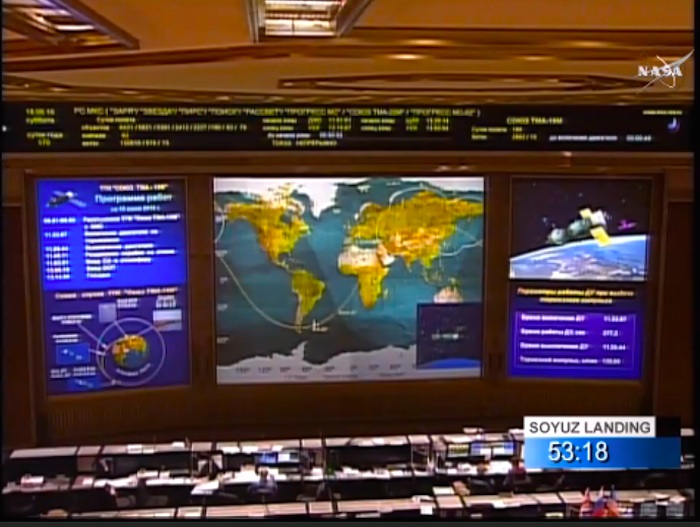 ...10.51 MESZ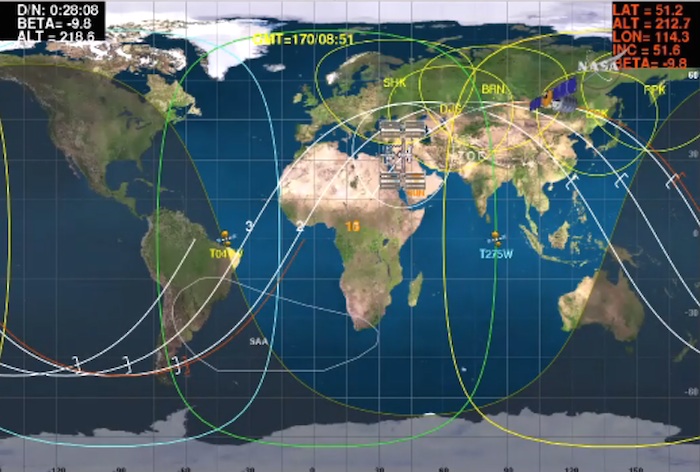 ...11.00 MESZ
.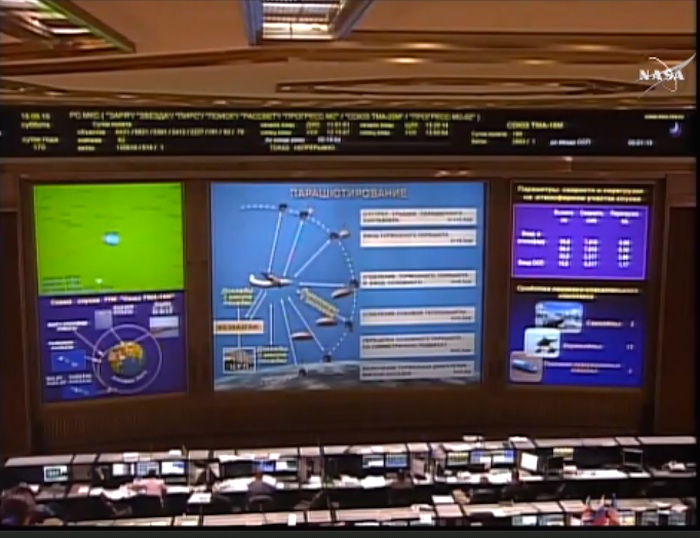 ...11.06 MESZ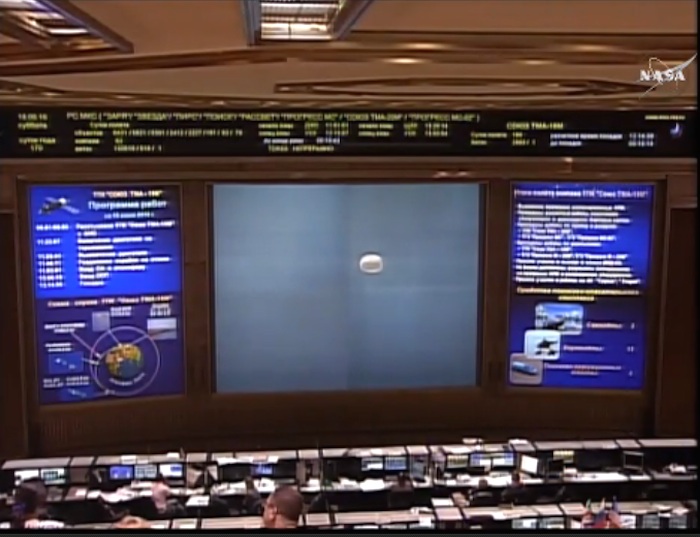 ...11.23 MESZ
.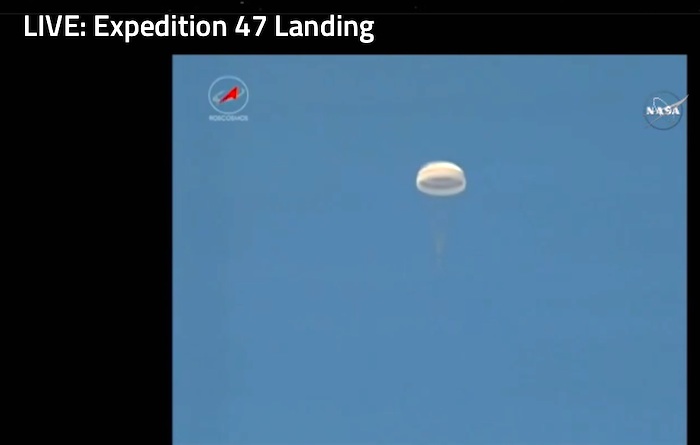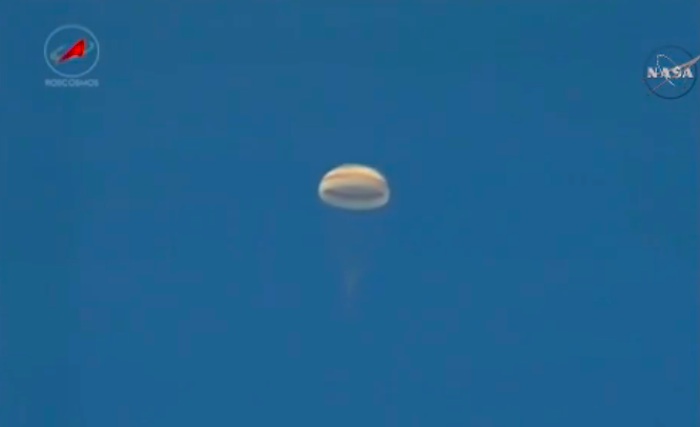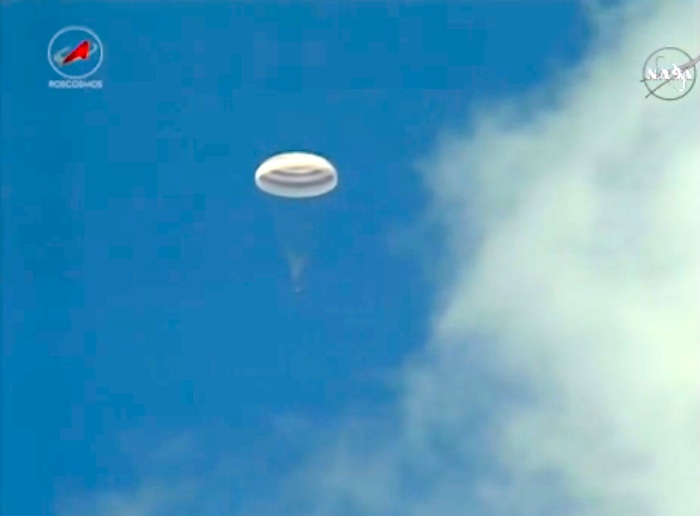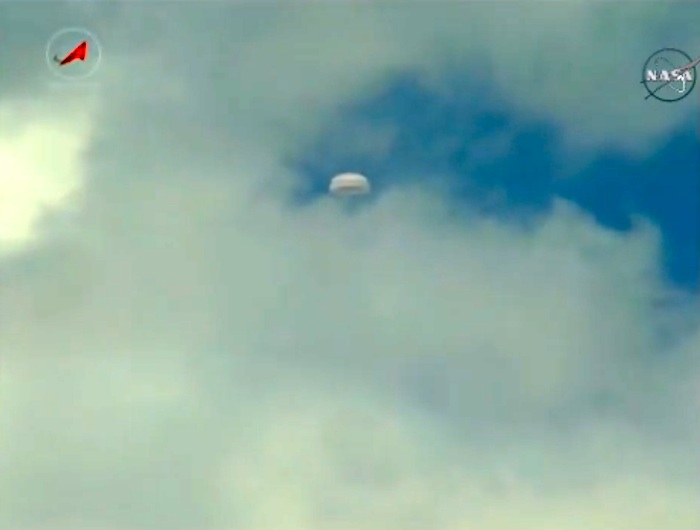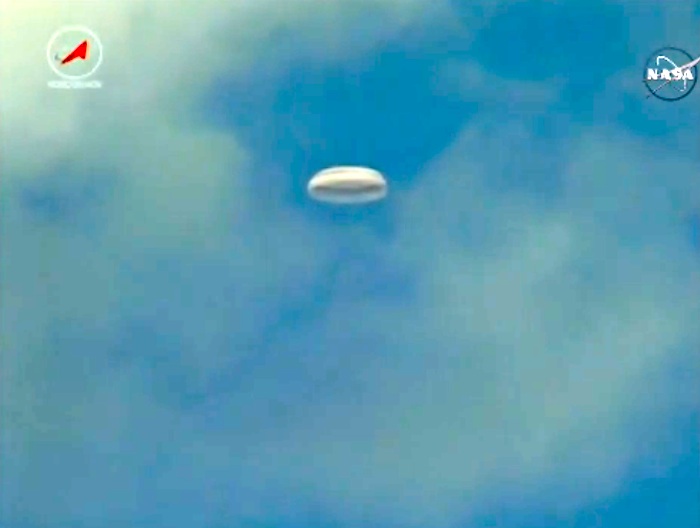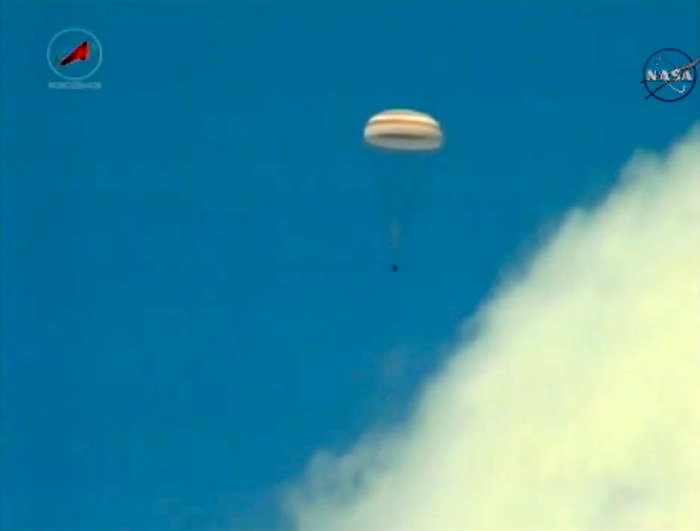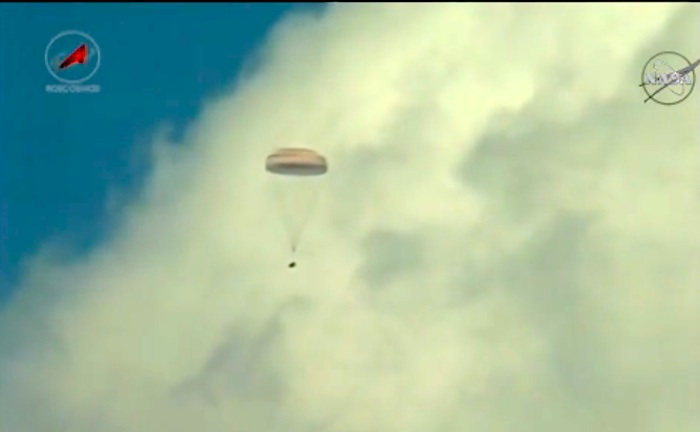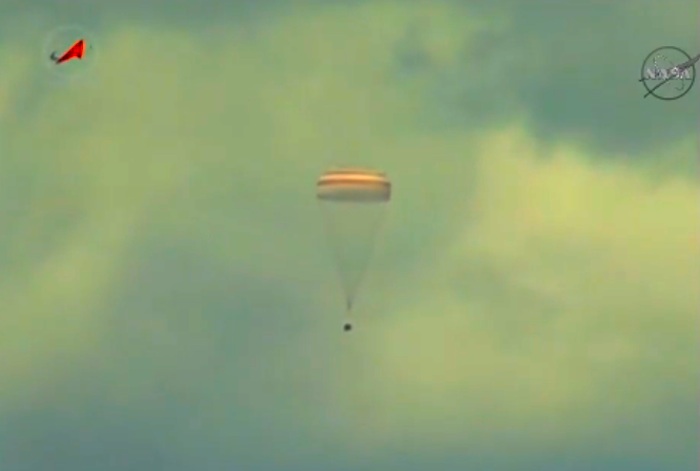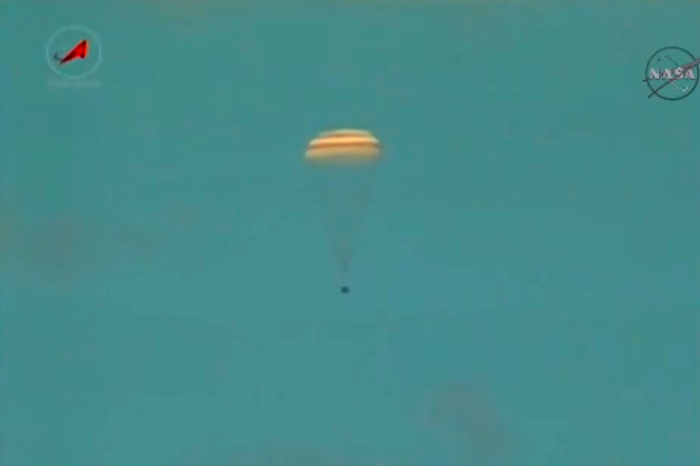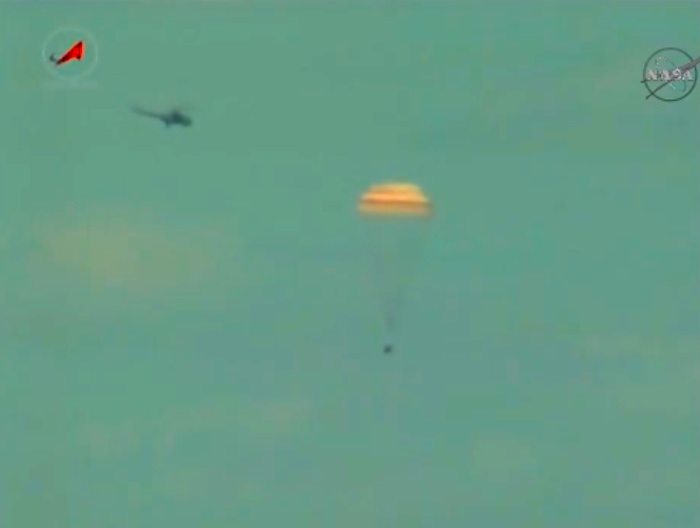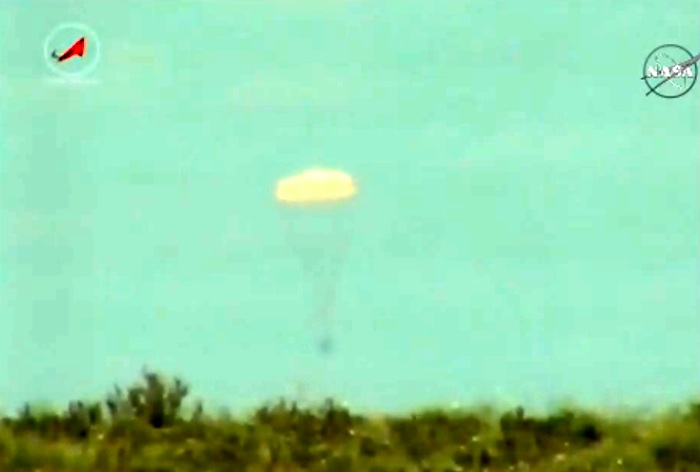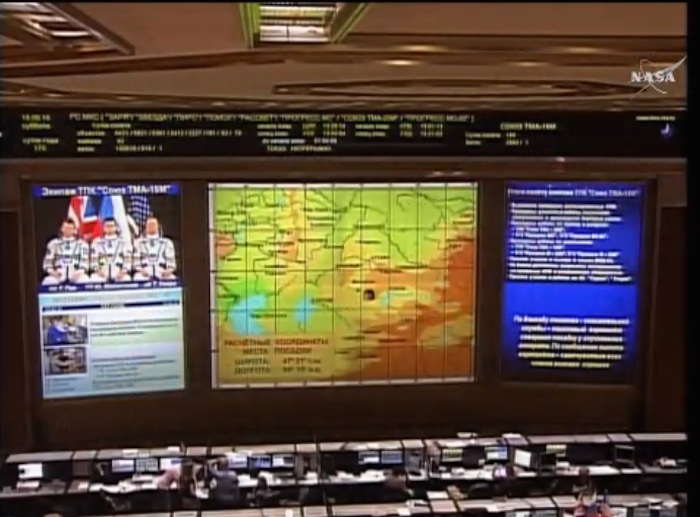 ...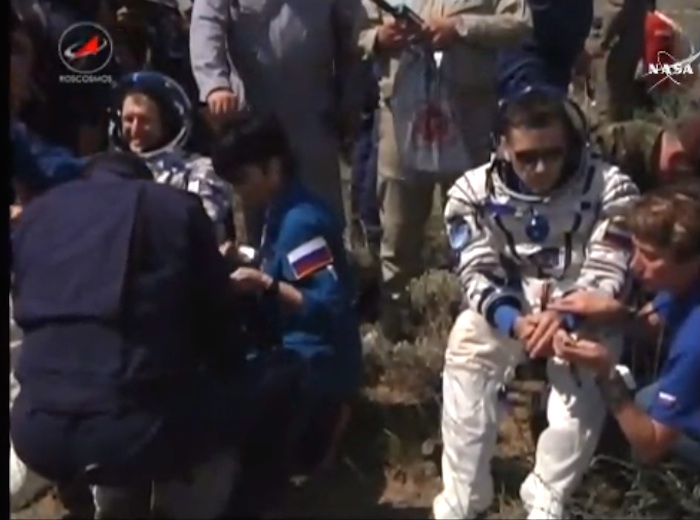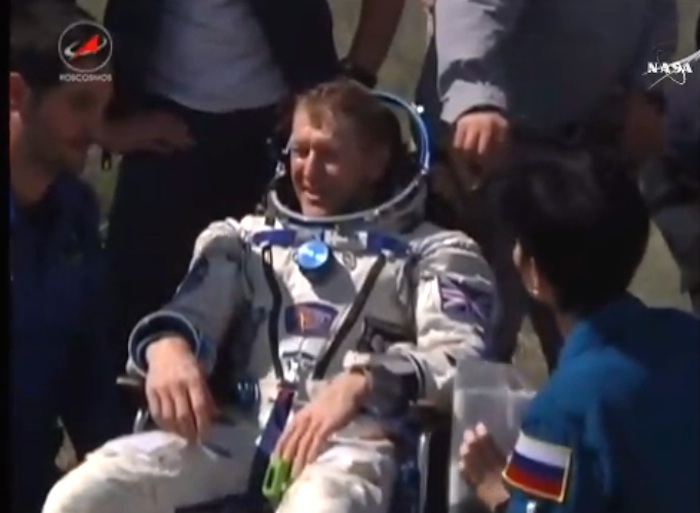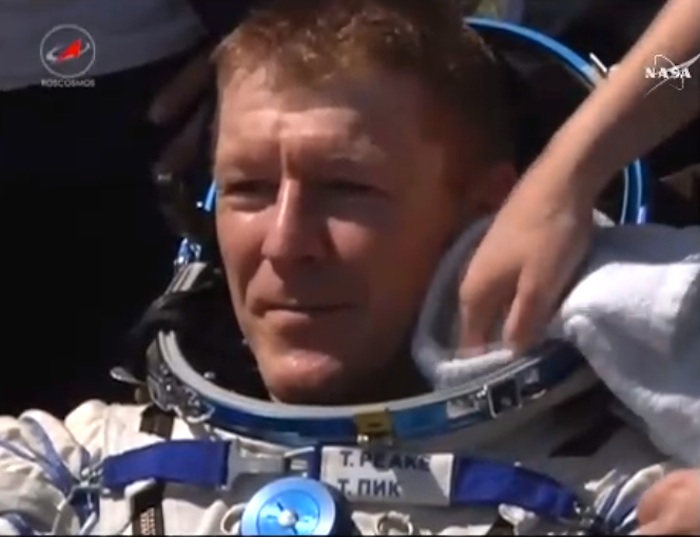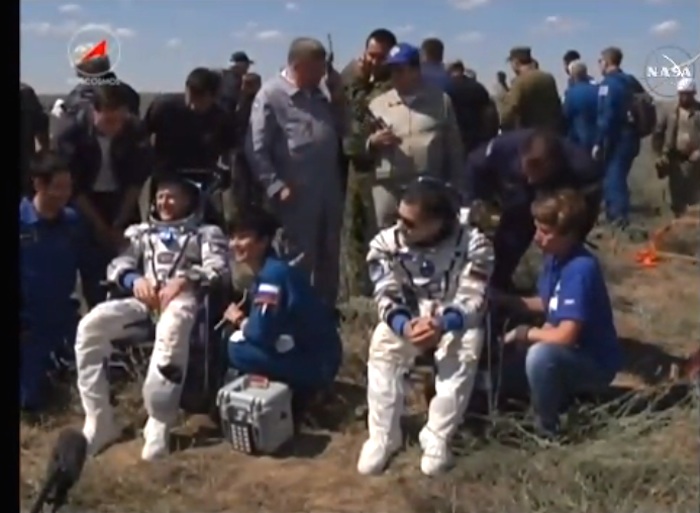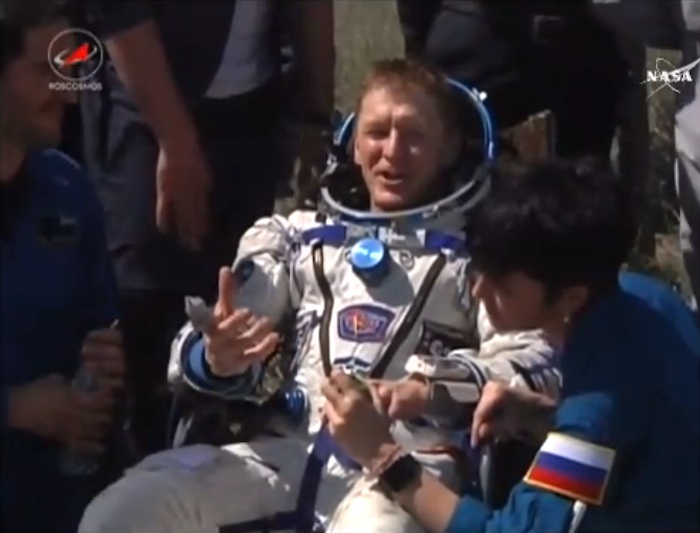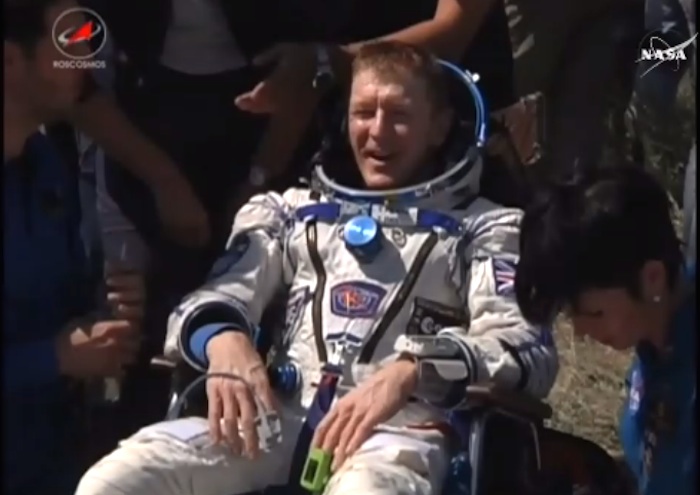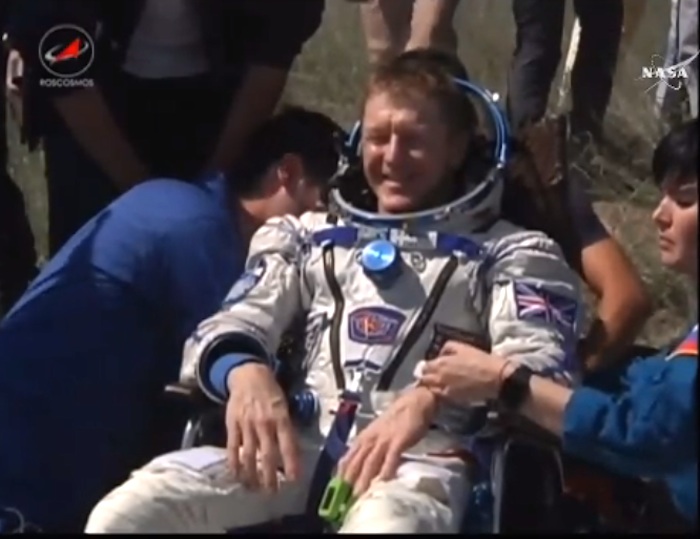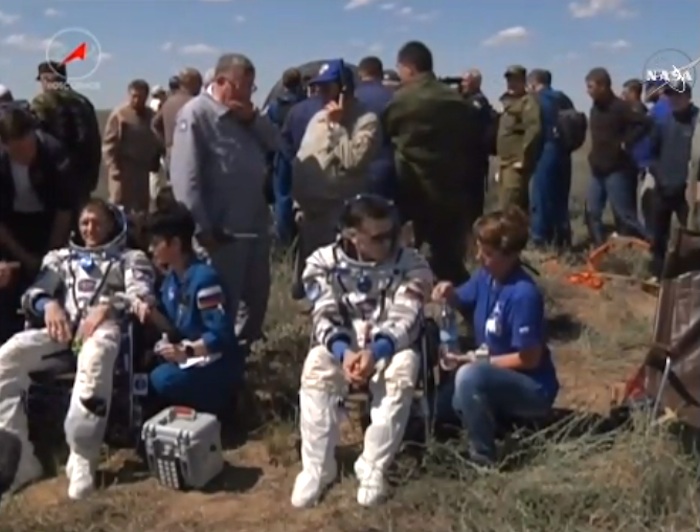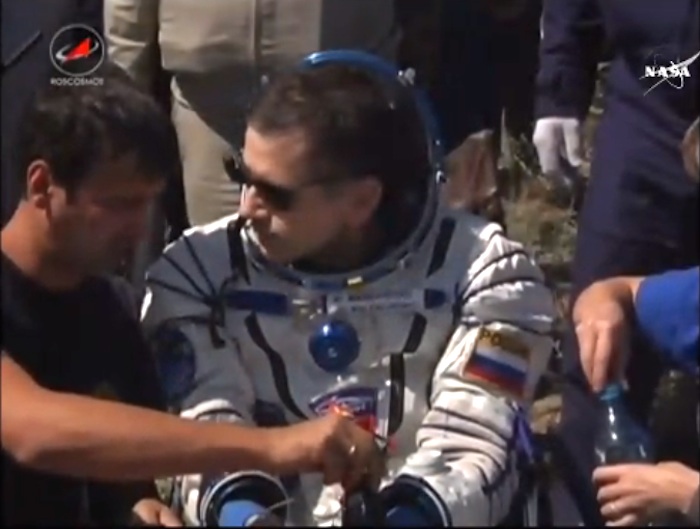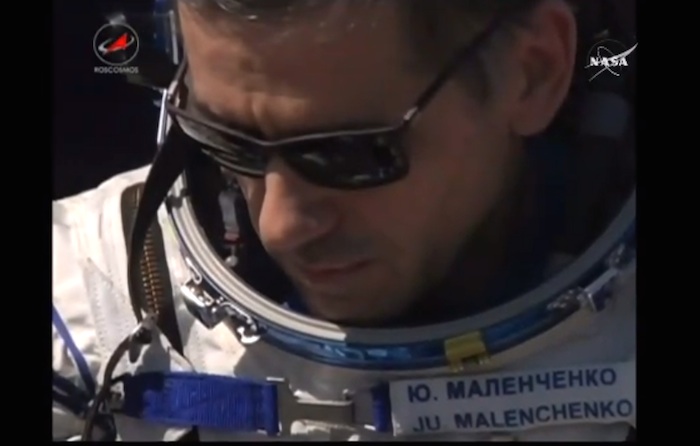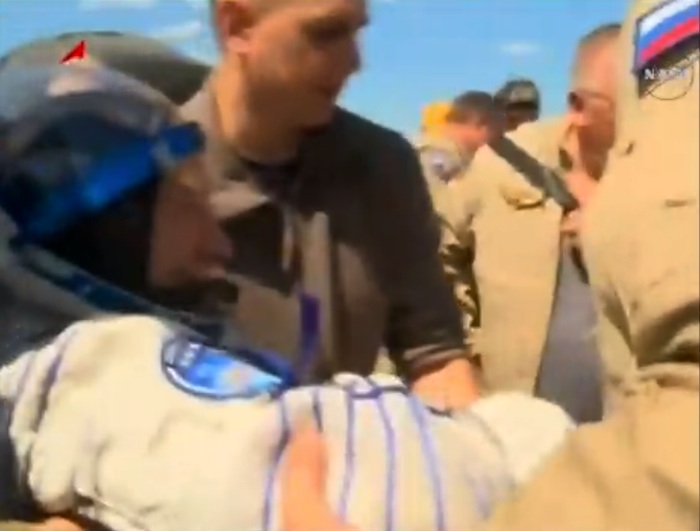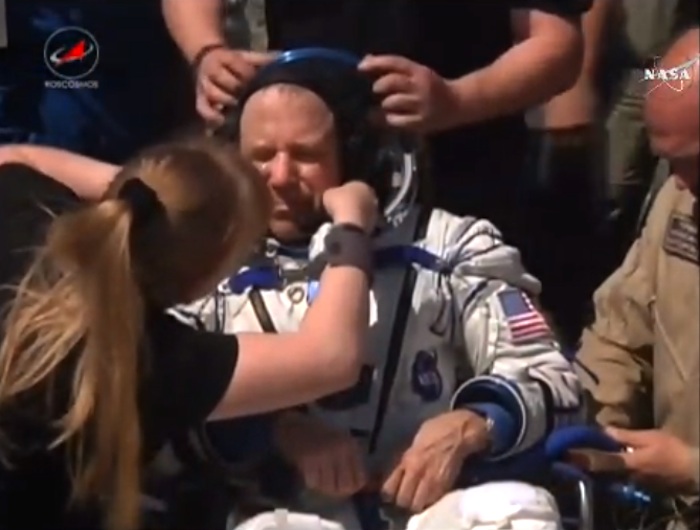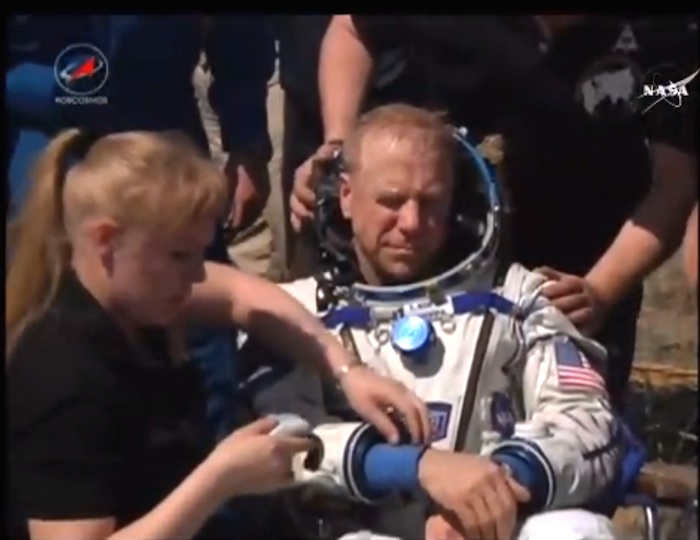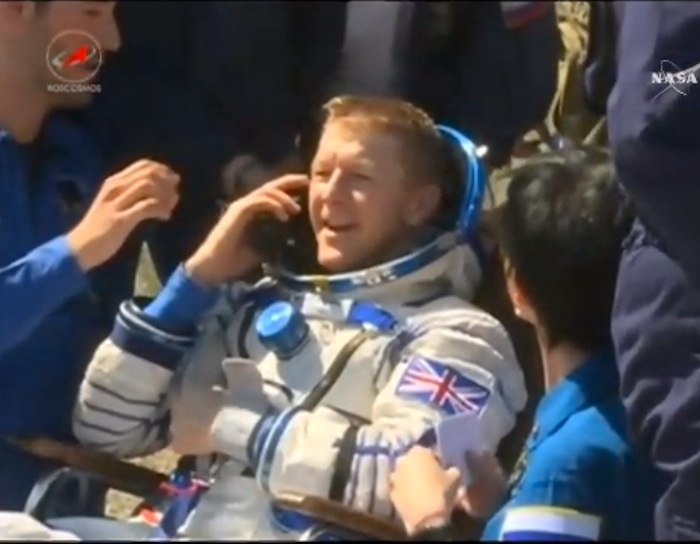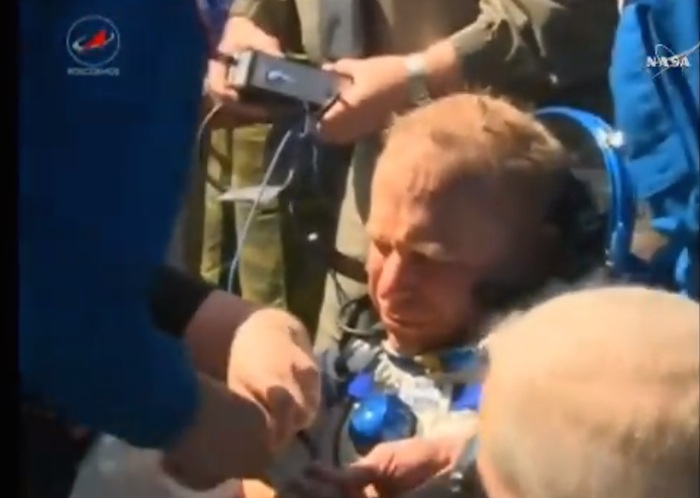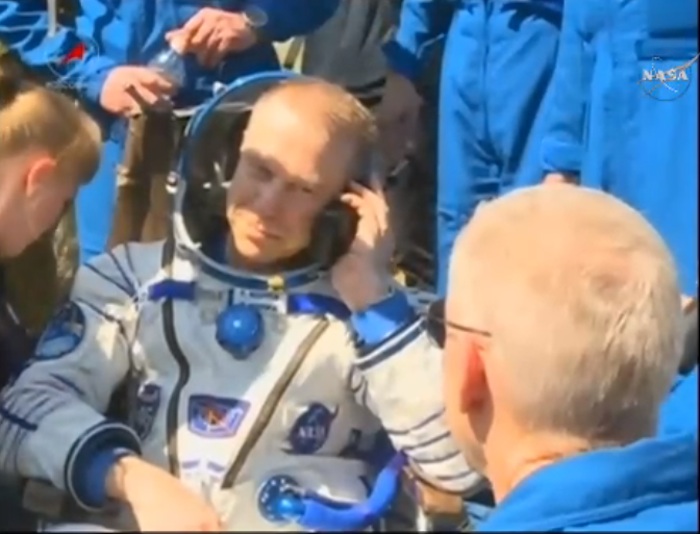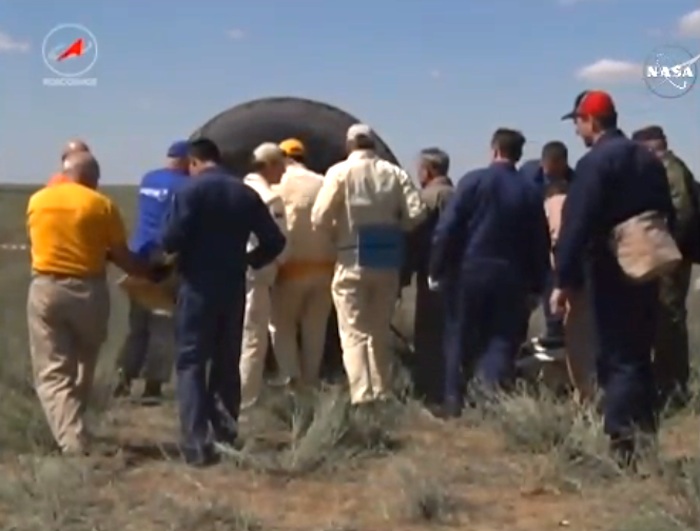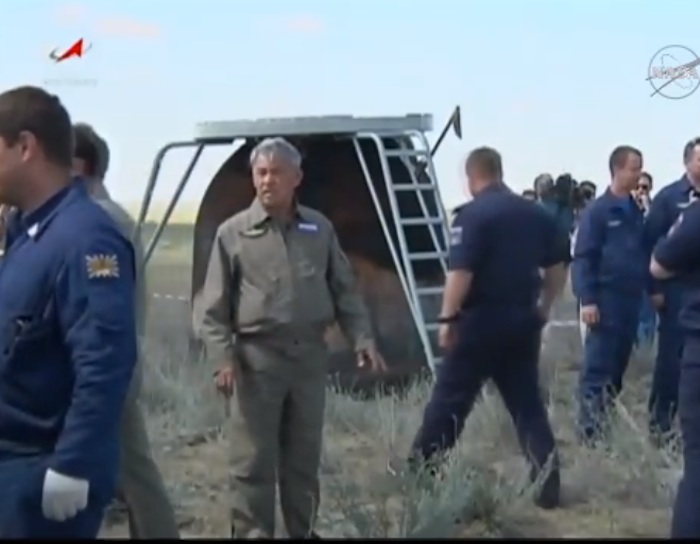 Quelle: NASA-TV
-
Update: 19.06.2016
.
Tim Peake is coming home – what has happened to his body and brain during his time in space?
The British astronaut is set to return back to Earth this Saturday, following six months on the International Space Station.
After an enthralling 186-day experience of space travel, British astronaut Tim Peake's mission aboard the International Space Station will come to an end today. As he touches back down on planet Earth, he will have left a spacecraft which races around the Earth in low orbit at 17,500 miles per hour, encounters sunsets at 90-minute intervals, and presents an unrivalled view of our humble planetary abode.
Peake, 44, originally from Chichester, Sussex, embarked on his European Space Program voyage to the International Space Station on 15 December 2015 – a journey that was just shy of seven hours long. He was accompanied by astronauts Yuri Malenchenko and Tim Kopra following a launch from the Baikonur Cosmodrome in Kazakhstan.
On their return, they will climb into a capsule called Soyuz TMA-19M docked at the space station, which will then become their vessel for the next few hours as they descend to Kazakhstan, facing temperatures of up to 1,600 degrees Celsius. After deploying parachutes, they will land at an expected arrival time of 10:15 BST. Upon landing, an aircraft will take Peake and the crew to Norway, where they will then take a flight to the European Astronaut Centre near Cologne, Germany.
Throughout his time on the space station, Peake has conducted experiments to determine the impact that weightlessness in space has on the human brain and body, and the food requirements humans will need to endure a potential future trip to Mars.
During his space stay, Peake will have grown a few inches taller, as the reduced gravity stretches out the compressions of the spine. The reduced need for muscular engagement in low-gravity environments mean that his muscles will have somewhat atrophied, despite the rigorous exercise regime taken up aboard the station. Bone density will take a knock and be lowered, while changes to the cardiovascular system, including the heart, take place, with both cardiac output – the amount of blood pumped out of the heart per minute – and heart rate dropping, causing a commonly reported light-headedness amongst astronauts. On his return to earth, he will also experience issues with walking and balance, as a result of changes to the vestibular system – a mammalian sensory system which coordinates balance and movement.
When Peake returns, he will have to go through a rigorous process of acclimatisation, one which will help him re-adjust to the strength of the Earth's gravity. His height will eventually return to normal and he will have to take measures to redevelop skeletal and muscular endurance. Despite the fun of performing somersaults in space, a return to gravity seems to be something Peake is looking forward to. Writing on Facebook, Peake said: "I am actually looking forward to sleeping in a proper bed again and having the feeling of gravity pull me down into a comfy mattress!"
Peake has worked hard to help the progression of scientific endeavours. His mission to the station was primarily to carry out maintenance on the station. He was involved in a spacewalk – a process that involved stepping outside the International Space Station to repair a malfunctioning electrical box of the spacecraft, a feat never carried out by a British person before. But he has also taken time out to share his experiences with his audience back on Earth. He took part in the London marathon by running the 26 miles on a treadmill in three hours 35 minutes and 21 seconds, he has eaten food made by the celebrity chef Heston Blumenthal, and remote-controlled a Mars rover, on Earth, from space. There's also a series of awe-inspiring photos that he took with his nifty Nikon D4; the photos have all been shared on social media and range from glorious shots of the northern lights to the celestial glow of Earth.
The three astronauts who left Earth in December 2015 were originally due back on 5 June, but delays with the new crew, consisting of Takuya Onishi, Anatoly Ivanishin and Kate Rubins, meant their return was pushed back. There's currently no certainty on whether, in future, the UK will send astronauts to space. During his time in space, Peake pushed for the expansion and investment in UK space projects, highlighting through his education of children through an interactive science class just how much can be learned about our place and origins in the universe through space exploration.
As Peake comes back to his wife and two sons, reacquainting himself with the things he's come to know and love at home, his truly extraordinary journey is a feat that will inspire and hopefully be built upon.
Quelle: NewStatesman
-
Astronaut Tim Peake: Von der Raumstation direkt ins :envihab des DLR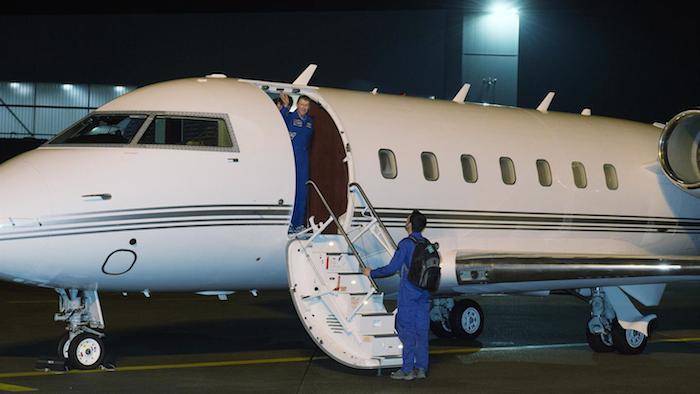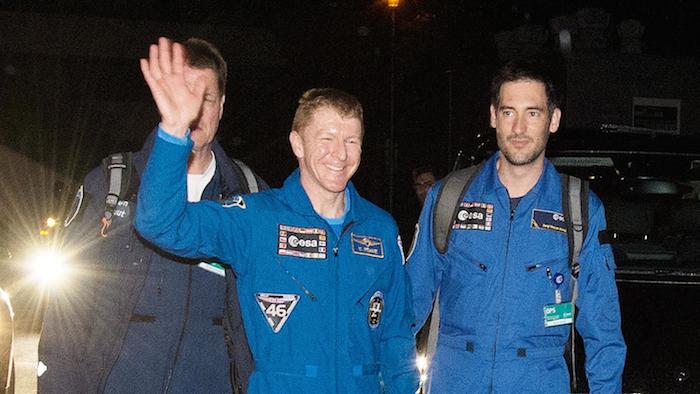 Seine erste Nacht auf irdischem Boden nach sechs Monaten im All war für ESA-Astronaut Tim Peake nicht besonders lang: Zunächst musste er von der Internationalen Raumstation ISS bis nach Köln in die Forschungsanlage :envihab des Deutschen Zentrums für Luft- und Raumfahrt (DLR) reisen, anschließend führten die DLR-Mediziner unmittelbar nach seiner Ankunft die ersten medizinischen und wissenschaftlichen Untersuchungen durch. Für das Team des DLR ist Tim Peake nach dem Deutschen Alexander Gerst und dem Dänen Andreas Mogensen bereits der dritte Astronaut, der für diesen "Gesundheitscheck" nach Köln geflogen wurde. Um 11.15 Uhr mitteleuropäischer Zeit war Peake am 18. Juni 2016 nach einem dreistündigen Flug mit der Sojus-Kapsel in der kasachischen Steppe gelandet. Per Hubschrauber und Flugzeug ging es dann über Moskau nach Köln, wo er am 19. Juni 2016 gegen 3 Uhr landete.
Schwerkraft statt Schwerelosigkeit
Wichtig war vor allem eines: Wie gut geht es dem Astronauten nach seiner Mission im Weltall? "Tim Peake war für einen sechsmonatigen Langzeitaufenthalt an Bord der ISS - mit einer klinischen Untersuchung, mit Blutabnahme, Augenuntersuchungen und einem EKG haben wir zunächst erfasst, ob er gesund zurückgekehrt ist und wie sein Körper die Mission überstanden hat", sagt Dr. Indra Chaudhuri-Hahn vom Flugmedizinischen Center der DLR. Aber auch wissenschaftliche Untersuchungen standen für Tim Peake noch in seiner ersten Nacht zurück auf der Erde an: Gerade die erste Zeit, in der sich sein Körper nach dem Leben in der Schwerelosigkeit wieder an die Schwerkraft gewöhnt, ist für die Forscher spannend. Neben dem DLR warten auch die internationalen Raumfahrtagenturen - die europäische Weltraumorganisation ESA, die japanische Raumfahrtagentur JAXA, die amerikanische Weltraumbehörde NASA und die kanadische Raumfahrtagentur CSA - auf die Werte des Astronauten. Nach den ersten Untersuchungen im DLR-Institut für Luft- und Raumfahrtmedizin werden in den nächsten Tagen weitere Untersuchungen im Europäischen Astronautenzentrum (EAC) der ESA auf dem Gelände des DLR folgen.
Untersuchungsobjekt Astronaut
"Viele der gemessenen Daten werden mit Messungen vor und während der Mission verglichen", erläutern DLR-Wissenschaftler Dr. Petra Frings-Meuthen und Dr. Edwin Mulder, die wissenschaftlichen Projektleiter für die internationalen Experimente beim sogenannten "Direct Return" des ESA-Astronauten. Tim Peake ist für eine Vielzahl von Experimenten das "Untersuchungsobjekt": So sind unter anderem sein zirkadianer Rhythmus (Schlaf-Wach-Rhythmus), sein Nährstoffverbrauch im All, sein zentrales Nervensystem, seine Muskeln, Herz und Arterien und seine Knochen von Interesse für die Forschung.
Die Zeit, die Tim Peake in seinem Bett im :envihab verbrachte, war also eher knapp bemessen. Statt fünf Astronautenkollegen umgaben den 44-jährigen Briten mehrere DLR- und ESA-Ärzte, viele Wissenschaftler, das Studienteam und technische Mitarbeiter - dafür gab es für den Astronauten allerdings auch wieder ein Oben und ein Unten, frische Luft sowie Fenster und Türen, die man gefahrlos öffnen kann, ohne einen Raumanzug zu tragen.
Quelle: DLR
-
Update: 22.06.2016
.
Tim Peake: I feared main parachute had failed when we fell to Earth
British astronaut relives fretful moment of re-entry journey from ISS as he calls on UK to support human spaceflight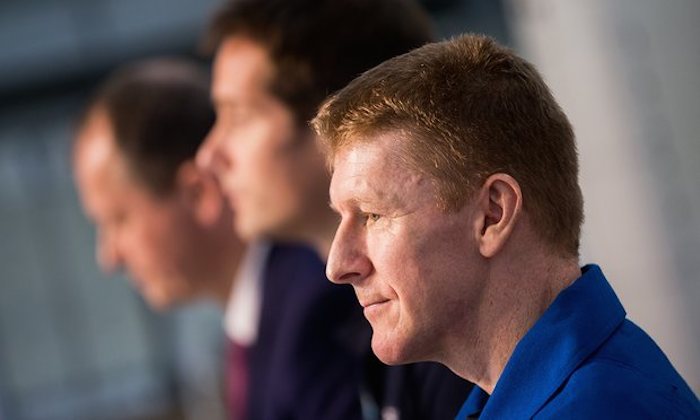 Tim Peake has spoken of the fleeting moment when he feared his spacecraft's main parachute had failed to open as he plummeted back to Earth.
Crammed into the tiny Soyuz capsule with two crewmates from the International Space Station, Peake watched the clock tick past the time when the main parachute was meant to deploy with a reassuring tug.
The drogue chutes had opened 20 seconds earlier. The drag they produced caused the spacecraft to swing like a toy on a string. "You just have to hold on and wait for it to stop," Peake told reporters at a press conference at the European Astronaut Centre in Cologne on Tuesday. "I was told that it would stop with a big jolt as the main chute opened, but in our case, it didn't."
Before the spacecraft re-entered Earth's orbit on Saturday, explosive bolts blew it into three pieces, making a sound like a heavy machine gun, Peake said. As planned, the jettisoned orbital and service modules burned up in the atmosphere, leaving the crew capsule to continue its fiery descent.
"The clock was running and I'm very aware of exactly what should happen at exactly what time. And the time had gone beyond the point at which the main chute had opened," Peake said. But the spacecraft, piloted by the Russian commander Yuri Malenchenko, was in no danger.
"For a second I was concerned, and I looked across at Yuri. He was just sitting there so relaxed and cool as he always is. So I thought, well if we didn't have a main chute, he wouldn't be looking as cool as that," Peake said.
The main chute had deployed on time but had opened so gently that Peake had failed to notice it. "I wasn't even aware it had opened," he said.
Dressed in a blue flight suit and steady on his feet, Peake said he was feeling much better than on Saturday lunchtime when the Soyuz capsule slammed down on the Kazakh steppe. In the few days since his return, he has begun rehabilitation to build up the muscles and bone he shed in space. "After three days, I'm feeling fantastic," he said. Would he do it again? "In a heartbeat," he answered.
In May, the first British astronaut, Helen Sharman, marked the 25th anniversary of her trip to the Mir space station. Speaking at the time, she expressed hope that Peake would not be the last UK astronaut and urged the government to make a further commitment to human spaceflight.
With the International Space Station nearing the end of its lifetime, the European Space Agency has its sights on missions beyond low Earth orbit. From a "base camp" in deep space, it hopes to put humans back on the moon, where astronauts will work alongside robots and test technologies for future missions to Mars.
.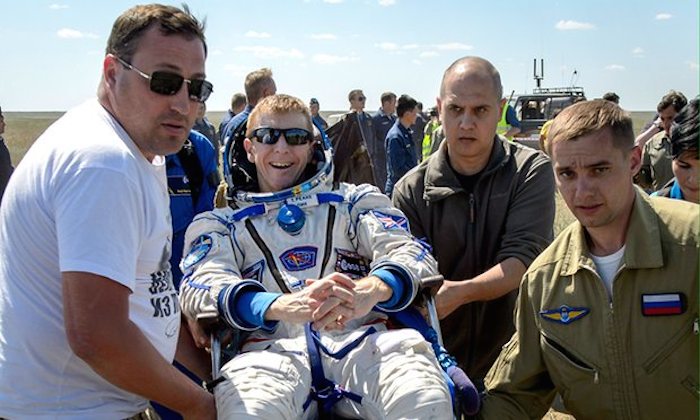 Peake said it was extremely important for the UK to play a role in human space exploration. "We need to be involved now. We need to give our industry a chance to develop what they need to support human spaceflight, and we need to give our scientific community a chance to get onboard with the microgravity science and the other research that we are doing for these future missions," he said.
"If we are not onboard now, we'll miss out on the things that will be happening in the 2020s and 2030s and at some point we'll be too far behind to get onboard."
During his 186 days in space, Peake took part in 250 scientific experiments ranging from human physiology and fluid physics to materials science. He will now be studied with MRI scans, muscle biopsies, blood samples and more to monitor how well his body adapts to life back on Earth.
Peake's educational projects reached more than 1 million schoolchildren in Britain. Asked what message he had for students, he dispelled the myth that you have to be exceptionally bright to be an astronaut. "You're looking at a boy who went to Westbourne primary school, who left school at the age of 19 with three below-average A-levels and I've just got back from a six-month mission to space," he said. "So my message to them is, 'Don't let anybody tell you you can't do anything.'"
Peake said his priority now was to spend time with his family. Getting his body used to life on Earth again was harder than adapting to life on the space station but being on terra firma has its upsides. "Gravity is horrible when you come back to Earth except for in a few cases," he said. "When it comes to using the loo, gravity is your friend."
A picture caption in an earlier version of this article mistakenly identified Nasa astronaut Tim Kopra as Tim Peake. The picture has now been changed.
Quelle: theguardian
3365 Views