.
4.05.2016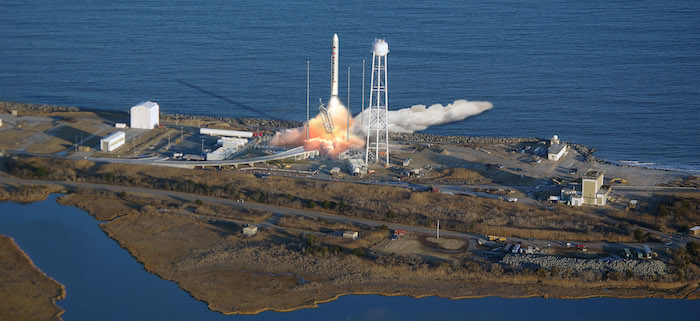 A new Antares rocket is tentatively set to launch from NASA's Wallops Flight Facility in Accomack County on Virginia's Eastern Shore in July.
That was the word Tuesday from NASA officials and retiring Maryland Senator Barbara Mikulski, as she toured the Facility. NO exact date was given.
The last Antares rocket launch from Wallops failed in October 2014 when the rocket exploded just moments after liftoff; the rocket had been headed to the International Space Station with supplies for the astronauts on board. Since that explosion, the launch pad has been rebuilt.
Senator Mikulski visited Wallops Tuesday to announce the latest round of federal funding in the amount of $10 million, that will go towards various upgrades at the facility.
Quelle: DELAWARE105,9FM
-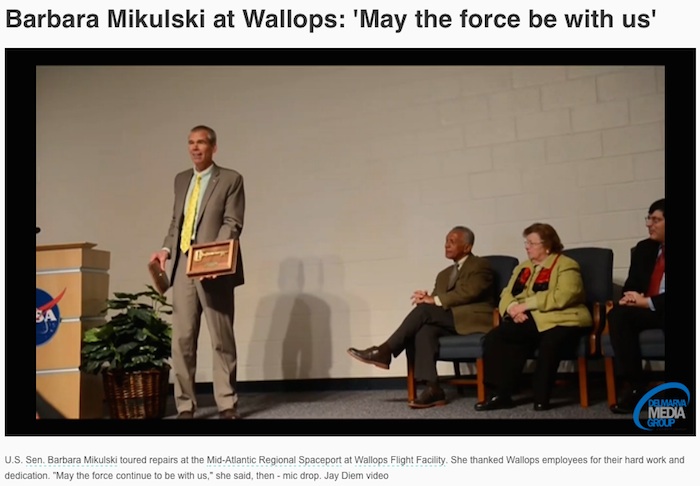 After years of steering government support toward NASA's Wallops Flight Facility, Barbara Mikulski had only one thing left to do: drop the mic.
Literally.
Taking a cue from President Barack Obama, who ceremoniously let go of his microphone three nights earlier at the White House Correspondents' Dinner, the soon-to-retire senator from Maryland ended her remarks to the facility's staff Tuesday with a similar flourish.
"My greatest discovery has been you — you and all the wonderful people who have worked to make our country great every single day in every way. As I'll say again, may the force continue to be with us and may God bless America," she said.
Microphone down. Two fingers to the lips.
Mikulski could afford a little celebration. NASA dignitaries paid tribute to the long-serving member of the powerful Senate Appropriations Committee, who announced she is leaving office at the end of this term.
"We wouldn't be here without you," said Wallops Director Bill Wrobel, calling her the facility's "patron saint."
NASA Administrator Charles Bolden put an astronomical spin on his praise, referring to Mikulski as "our own supernova."
Tuesday's visit marked one of the final chapters in a relationship that shaped Mikulski's political career as well as NASA's infrastructure at its outpost on the Eastern Shore of Virginia.
The Democrat has helped direct more than $160 million in federal funds to Wallops since 2009, including $16 million for a horizontal integration facility, $29 million for the Antares launch pad and $12 million to repair Hurricane Sandy damage. Last month, her office announced that she is working on a $10 million appropriation for next year's budget.
It makes sense for a Maryland politician to support a Virginia facility because it generates jobs in both states, she said. Wallops is responsible for 1,525 jobs on the Eastern Shore and $250 million in economic development, her office estimates.
Mikulski also looked out for Wallops' parent facility in Greenbelt, Maryland, she said.
"I always said, 'I don't care what you do and where you do it as long as you're gonna make sure we keep Goddard Space agency and we keep Wallops. And you all can keep the moon and you can have the stars,'" Mikulski said.
Her departure from the political scene has caused some worry that Wallops won't have so many funding wins in the future. But she assured the audience that the facility still has strong advocates in Sens. Mark Warner and Tim Kaine of Virginia and Sen. Ben Cardin of Maryland.
Earlier, Mikulski stepped out of her tour bus just long enough amid a morning drizzle to view the newly repaired Antares launch pad. It underwent $15 million in reconstruction after a private company's unmanned rocket exploded seconds after takeoff in October 2014.
Orbital ATK, one of two aerospace companies contracted by NASA to deliver cargo to the International Space Station, launched two rockets from Cape Canaveral in Florida while Wallops was being repaired. The first Virginia flight since the fiery failure is set for some time in July, with a "hot-fire" test taking place later this month.
"You know what? That's the space program," Mikulski said of the explosion. "There will always be setbacks."
Mikulski said she timed her visit for well before the launch intentionally.
"When the launch comes," she told the staff, "there will be a lot of press and congratulation, but today is to thank the people who made it happen."
Quelle: delmarvanow
.
Update: 26.05.2016
.
Antares Test Scheduled for NET May 31
NASA's Wallops Flight Facility will provide launch range support for an Orbital ATK Antares 230 rocket first stage test scheduled for May 31 at the Mid-Atlantic Regional Spaceport's Pad-0A.
The window for the engine test, or hot fire, is 5 p.m. to 8:15 p.m. EDT. Backup test dates run through June 5. Completion of the test will be noted on the Wallops' Facebook and Twitter sites.
During the test, the upgraded Antares dual RD-181 rocket engines will fire for 30 seconds at maximum 100% power (thrust) while the first stage of the test rocket will be held down on the pad. The hot fire will demonstrate the readiness of the rocket's first stage and the launch pad fueling systems to support upcoming flights.
The test will be visible and audible in the Wallops Island local area. Given the broad window and non-operational nature of the test, no live webcast or formal public viewing is planned. NASA's Wallops Flight Facility will provide range support for the hot fire, including communications, data collection, range safety and area clearance.
The test is a key milestone leading up to the next flight of the Antares rocket, which is targeted for later this summer.
Orbital ATK is building, testing and flying the Antares rocket and Cygnus cargo spacecraft under NASA's Commercial Resupply Services contract. NASA initiatives like the cargo resupply contracts are helping develop a robust U.S. commercial space transportation industry with the goal of achieving safe, reliable and cost-effective transportation to and from the International Space Station and low-Earth orbit.
Quelle: NASA
2237 Views