-
24.11.2012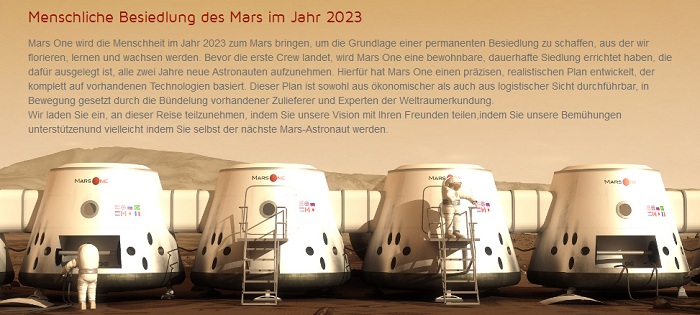 -

-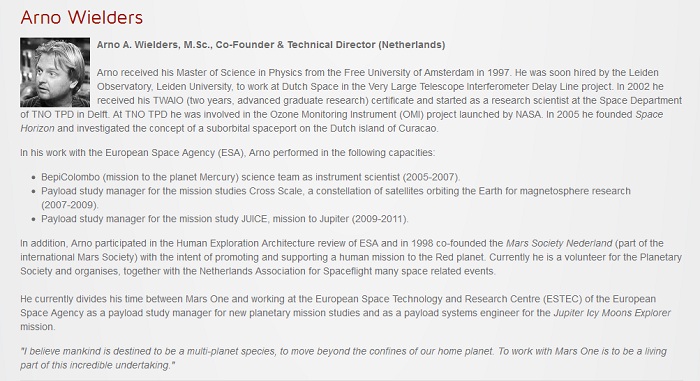 -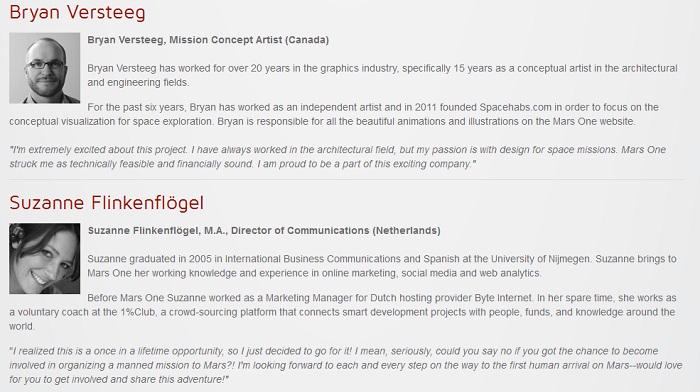 -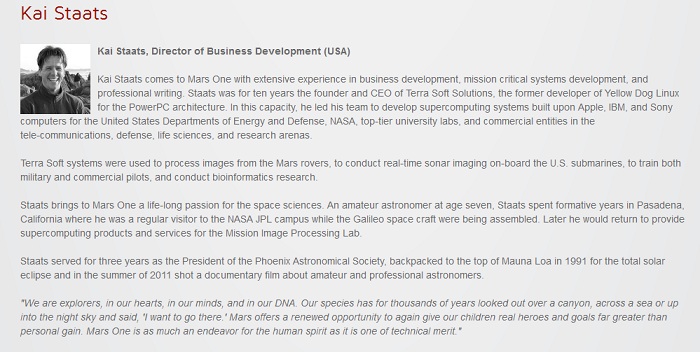 -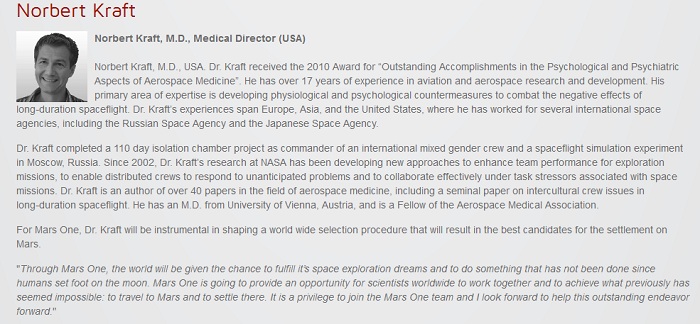 -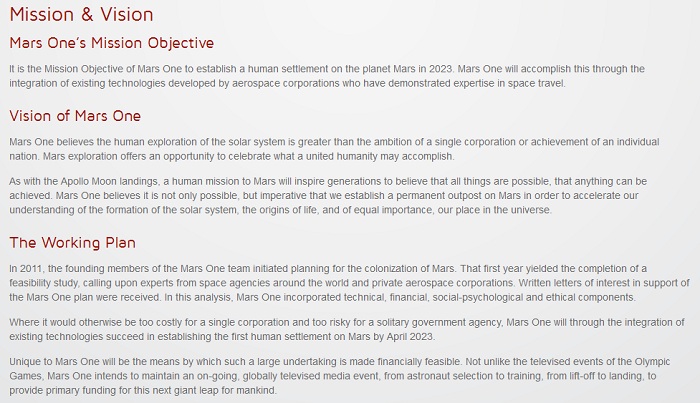 -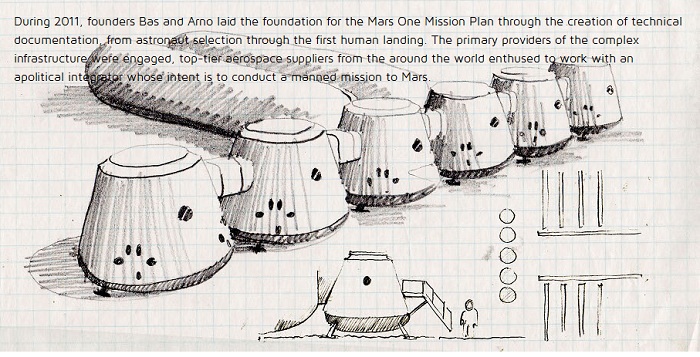 -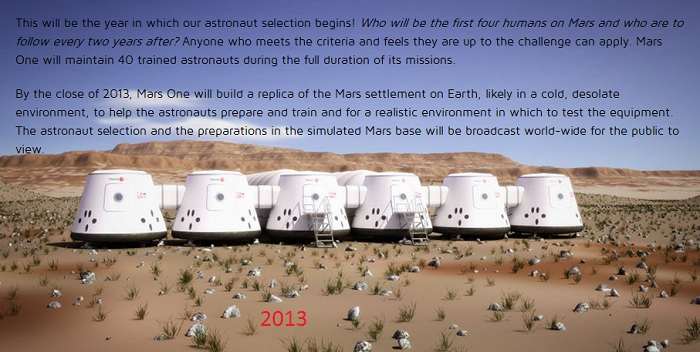 -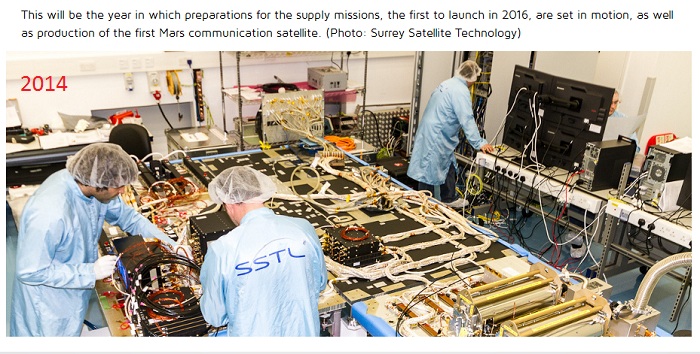 -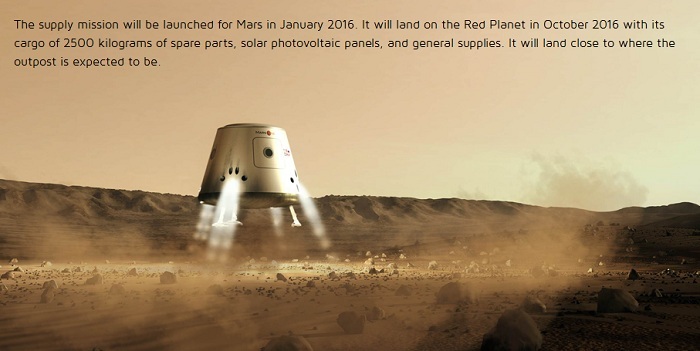 -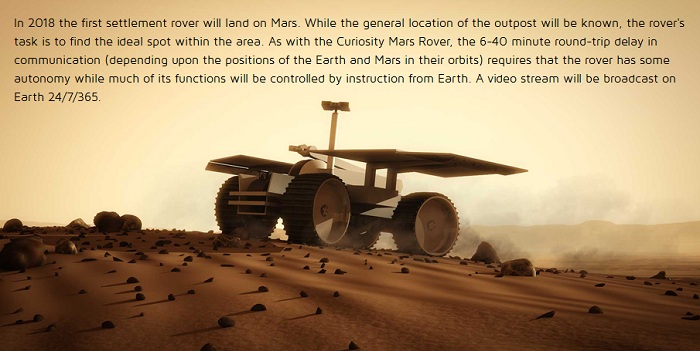 -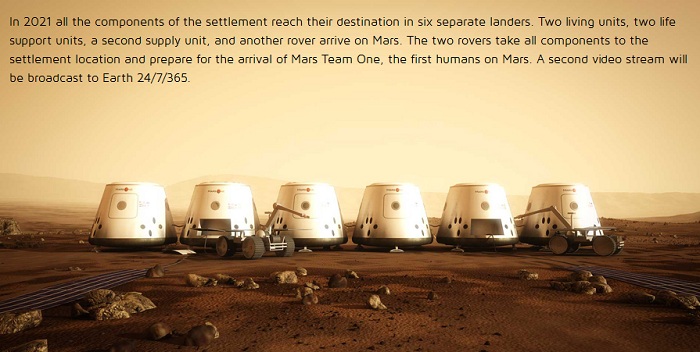 -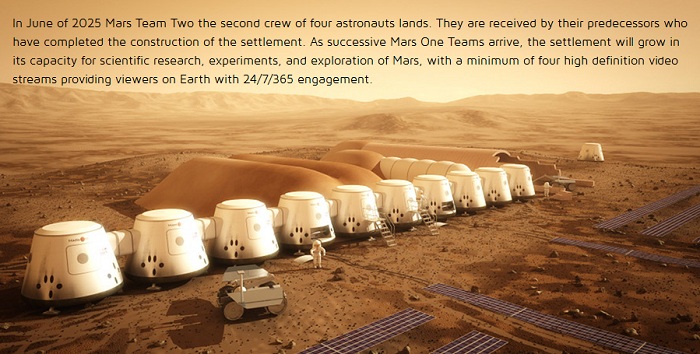 -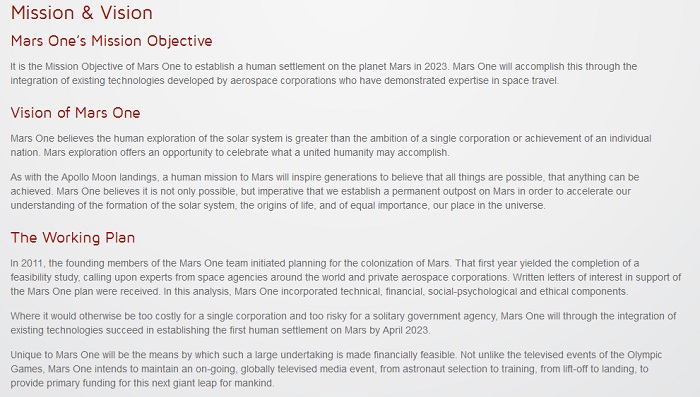 Quelle: Mars One
.
Update: 11.12.2013
.
Roboter-Mission zum Mars 2018 angekündigt, um den Weg für erste menschliche Raumkolonie zu ebnen.
Ein Mars-Lander-Mission wird Informationen vor der menschlichen Siedler geplanten Landung auf One-Way-Ticket Basis bieten.
.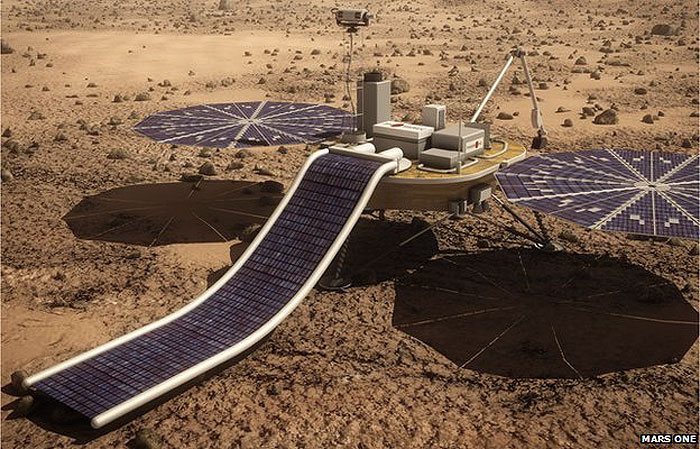 A Dutch company that plans to send a crew of amateur astronauts on a one-way mission to Mars has lined up two major companies to work on a robotic mission to the planet.
Slated for launch in 2018, the Mars One mission aims to pave the way for the volunteer crew by testing technology they will need should they reach the red planet in good enough shape to start the first human space colony.
The US aerospace company, Lockheed Martin, which has worked on scores of Nasa missions, has agreed to draw up plans for a lander based on the US space agency's Phoenix probe that touched down on Mars in 2008.
The lander will launch with a communications satellite that will go into orbit over Mars and provide video and data links from the surface of the planet back to Earth. The UK company, Surrey Satellites (SSTL), has signed a contract to work on the communications probe.
If the launch goes ahead as planned, it will mark the first privately funded mission to explore another planet. "That is really, really cool," said Ed Sedivy, a chief engineer at Lockheed Martin who was spacecraft manager on Nasa's Phoenix mission. "This is the dawn of a new era of space exploration."
Bas Lansdorp, CEO of Mars One, told reporters at a press briefing in Washington DC on Tuesday that the robotic mission was "the first step in Mars One's overall plan of establishing a permanent human settlement on Mars".
Lansdorp believes the human mission to Mars would cost as little as $6bn, but Michael Listner, an expert on space law has put the total bill at closer to $1tn. Most of the cost must be paid for by philanthropists, sponsorship, and broadcast rights: the Mars One business model turns space travel – and a real risk of death – into a reality TV show that will follow the astronauts through their mission.
Should the first human mission go ahead, Mars One hopes to send further crews every two years. None will expect to come home, but instead would remain on the planet as the first extraterrestrial colony. Lansdorp said the company had received more than 200,000 applications from people who wanted to be among the first to fly to Mars. Each application costs as much as $75. Those who go through to the next round of assessments will hear by the end of the year, he said.
The proposed Mars lander would test video cameras and shoot 24/7 footage, while an onboard experiment would demonstrate how water can be made on the surface of the planet. Another experiment will test how well thin film solar panels can harvest power from the sun.
Speaking by videolink to the press briefing, Sir Martin Sweeting, founder of SSTL, said the company would draw on work for Europe's version of GPS – the galileo navigation satellites – for the Mars communications satellite. "This has been a dream for us at Surrey for many years," he said. The company "has been interested in driving the cost of exploration down and increasing the tempo of exploration for many years."
Mars One plans to run a number of competitions with schools and universities for room onboard the lander, either to conduct experiments, or carry items to the planet, such as a letter for any future crew to read. Mars One hopes to crowdsource part of the funding for the mission.
A human mission to Mars would be fraught with danger. The radiation levels will be intense on the journey and on the surface of the planet. The weak gravitational field of Mars would require radical adapting to, and those who stay would likely lose so much bone and muscle that they would not survive back on Earth. And the psychological impact could be devastating. Even trained astronauts have suffered mental health problems, seriously disturbed sleep, and stress after being cooped-up in mock long-duration space missions that never left Earth. One such trial in 1999 hit a low point involving an unwanted sexual advance, a punch-up and blood-spattered walls.
"We're moving closer to our destination. It's going to be a difficult and bumpy road, but I'm confident with a lot of help from people around the world we will finally make it," said Lansdorp.
Quelle: theguardian
.
Lockheed Martin and SSTL selected for Mars One's first Unmanned Mission to Mars
.
Amersfoort, 10th December 2013 - Mars One has secured lead suppliers for its first mission to Mars. The mission, slated for a 2018 launch, will include a robotic lander and a communications satellite. Mars One has contracted Lockheed Martin and Surrey Satellite Technology Ltd. (SSTL) to develop mission concept studies. The Mars lander will be built by Lockheed Martin and the communications satellite will be built by SSTL.
This 2018 mission will be a demonstration mission and will provide proof of concept for some of the technologies that are important for a permanent human settlement on Mars; the ultimate goal of the non-profit Mars One foundation.
Bas Lansdorp, M.Sc., Mars One Co-founder and CEO stated, "We're very excited to have contracted Lockheed Martin and SSTL for our first mission to Mars. Both are significant players in their field of expertise and have outstanding track records. These will be the first private spacecraft to Mars and their successful arrival and operation will be a historic accomplishment."
The Lockheed Martin lander will be based on the successful 2007 NASA Phoenix mission spacecraft and will demonstrate some of the technologies required for the manned mission. Lockheed Martin has a distinct legacy of participating in nearly every NASA mission to Mars. For the Phoenix mission, the company designed, built, tested and operated the lander for NASA.
"This will be the first private mission to Mars and Lockheed Martin is very excited to have been contracted by Mars One. This is an ambitious project and we're already working on the mission concept study, starting with the proven design of Phoenix," said Ed Sedivy, Civil Space chief engineer at Lockheed Martin Space Systems. "Having managed the Phoenix spacecraft development, I can tell you, landing on Mars is challenging and a thrill and this is going to be a very exciting mission."
The lander will have the ability to scoop up Martian soil with a robotic arm similar to the Phoenix mission. A water experiment will extract water from the Martian soil. A power experiment will demonstrate the deployment and operation of thin-film solar panels on the surface, and a camera on the lander will be used to make continuous video recordings.
The demonstration satellite will provide a high bandwidth communications system in a Mars synchronous orbit and will be used to relay data and a live video feed from the lander on the surface of Mars back to Earth. Sir Martin Sweeting, Executive Chairman of SSTL said: "SSTL believes that the commercialisation of space exploration is vital in order to bring down costs and schedules and fuel progress. This study gives us an unprecedented opportunity to take our tried and tested approach and apply it to Mars One's imaginative and exhilarating challenge of sending humans to Mars through private investment."
The lander will also carry the winner of a worldwide university challenge that Mars One will launch in 2014 and items from several Science, Technology, Engineering and Mathematics (STEM) education challenge winners.
Arno Wielders, Co-founder and CTO of Mars One, said, "With our 2018 missions, Mars One brings the settlement of Mars one step closer to reality. The demonstration of water production on Mars is crucial for manned missions. The live video feed from the surface camera will bring Mars closer to people on Earth. And with the STEM education challenges and university competitions planned on our lander, we will enthuse a whole new generation for Mars exploration, even before our first crew lands."
Mars One decided to launch the lander and communications satellite in 2018, two years later than Mars One's original schedule. This new schedule provides time for the development for the two spacecraft and for student participation in STEM and university challenges.
Mars One's mission will not be financed by government-funded organizations. Instead, means of funding the mission include sponsorships and exclusive partnerships. Mars One is in discussion with several partners interested to participate in specific components of the mission or to partner in the STEM and university challenges. Mars One is also launching an Indiegogo crowdfunding campaign that enables people to participate in this mission to Mars. Among other things, contributors will be granted voting rights for several mission decisions up for vote in the future, including the winners of the STEM and University Challenges.
"Landing the first humans on Mars should be everyone's mission and not just the mission of one country or organization" said Lansdorp. "Our 2018 mission will change the way people view space exploration as they will have the opportunity to participate. They will not only be spectators, but also participants. We think it is important to involve people from all over the world in what we're doing, and crowdfunding and crowdsourcing activities are important means to do that."
About Mars One
Mars One is a not-for-profit foundation that will establish a permanent human settlement on Mars. Human settlement on Mars is possible today with existing technologies. Mars One mission plan integrates components that are well tested and readily available from industry leaders worldwide. The first footprint on Mars and lives of the crew thereon will captivate and inspire generations; it is this public interest that will help finance this human mission to Mars.
Quelle: Mars One
.
.
1,058 People Are Serious About Living on Mars Until They Die
.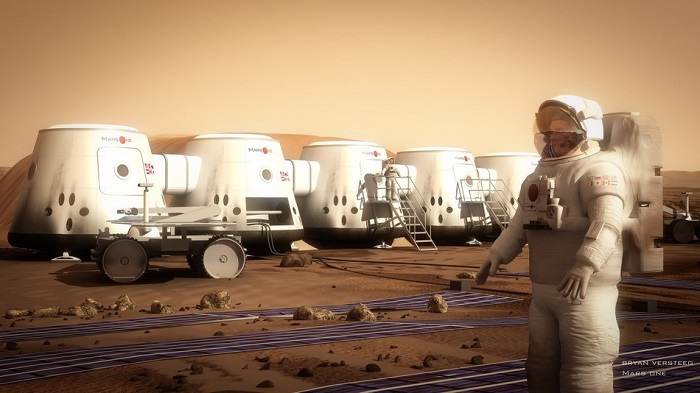 In its highly publicized search to find people for a private manned mission to the Red Planet, Mars One has winnowed down its applicant pool of 200,000 to 1,058 candidates — all of whom are serious about living out out the rest of their lives on another planet.
Headed up by Dutch entrepreneur Bas Lansdorp, Mars One, which claims to be a non-profit entity, plans to launch a one-way mission to Mars. Lansdorp says he can put a permanent crew of six on our neighboring planet by 2023, and he will continue to shuttle more settlers every few years. The colony would be outfitted with livable habitats, greenhouses, rovers and everything else a human would need to survive on an oxygen-free, resourceless dust bowl. There's only one requirement: You must be at least 18 years old.
To say something like this would be astronomically expensive is only a small chip of the giant iceberg of issues — technical hurdles, health concerns, legal obstacles — Lansdorp will have to face in order to make a Mars One mission successful. By his calculations, Lansdorp needs $6 billion for the first mission — and he has a business plan to make this happen.
Lansdorp, a businessman who founded a wind energy company, believes Mars One will be the greatest reality television show the world has ever seen. Every second of this venture will be filmed, and Lansdorp is banking on the fact that advertisers with deep pockets won't hesitate to pull out their checkbooks for a piece of history. When I spoke with him at a press conference in New York earlier this year, Lansdorp pointed to the Olympics as an example: "Four billion dollars for four weeks, just because the world is watching," he told me.
The lives of these future astronauts are solely in the hands of advertisers. But what happens when Mars One jumps the shark? What happens when humans on Mars is old news, and no one is watching? Who will pay the billions upon billions needed to sustain these people until they die?
It's all part of the risk. Which brings me to my next point: Who would apply for something like this? More than 200,000 people from all walks of life. However, this second round tells us more about who they really are. Of the 1,058 candidates moving on, 586 are male, and 472 are female. The United States has the most participants, with 297. Canada follows with 75, India with 62 and Russia with 52. The rest are scattered across the globe, from Italy to Singapore.
The majority are educated: 347 hold a Bachelor's degree, 159 have a Master's and 29 even have an M.D. Most (813) are employed, but 164 are still in school. Most of the applicants are under 36.
These people will now undergo medical examination and several selection phases that include "rigorous simulations, many in team settings, with focus on testing the physical and emotional capabilities of our remaining candidates," according to Mars One's chief medical officer, Norbert Kraft.
While there are no real requirements — other than age — for a Mars One astronaut, Kraft told me in January that he will look for people who can work well together. The crew will be mixed gender, and they will all need to speak English. Besides that, they'll learn most of the skills they need to survive in training for the next eight years or so.
But despite the physical and mental tests Mars One applicants will go through off screen, the selection isn't up to the appointed experts — it's up to us.
The public will choose the candidates who make it to the final round after a televised gameshow-like reality competition. Up to 40 applicants per country will participate in challenges "that demonstrate their suitability to become one of the first humans on Mars." The audience will select the one applicant from their respective country that will move forward.
Mars One reserves the right to pick the final crew, but if everything hinges on advertising dollars, you better believe those people will be appealing to audiences. They'll have to be marketable.
If we're getting serious about it, Mars One has a very small chance of sending humans to Mars in 10 years for $6 billion. (For reference, NASA's Curiosity rover cost $2 billion.) Lansdorp has received some funding from Lockheed-Martin, but he has repeatedly said he will not partner with federal space agencies like NASA to make this happen. He also claims he'll use SpaceX technology, but a spokesperson from the company told me nothing is officially on the table.
But for all its flaws, Mars One is doing one thing right: People of all ages from all corners of the world are talking about space exploration again. And, let's face it, that's something we've needed for years.
Quelle: Mashable
.
Mars One Narrows List Of Wannabe Martians For 2025 Colony
A private company hoping to populate Mars has narrowed its applicant pool by 99.5 percent. Here's a by-the-numbers look at the remaining 1,058 applicants.
.
The number of Earthlings looking at a potential one-way ticket to Mars has just shrunk by 99.5 percent.
People started applying for a voyage to the red planet in April 2013 through Mars One, a Netherlands-based private venture that wants to land humans there by 2025. By the time the company stopped taking applications, more than 200,000 people had submitted one. Today, Mars One announced that it's made a short(er) list of 1,058 applicants.
Here's what the numbers tell us about Mars' potential future inhabitants::
55 percent of the new applicant pool is male and 45 percent is female. That's more masculine than the general population, but still substantially more gender balanced than U.S. Congress.

63 percent have a bachelor's degree or higher, while 3 percent of the total hold medical degrees (who wouldn't want a doctor on Mars?). Less than 7 percent of people on Earth in 2010 had college degrees, which means Mars may soon be the most educated planet in the solar system.

76 percent of applicants are employed, 15 percent are still in school, and 8 percent are unemployed. If surviving as a colonist on another planet counts as a job, expect Mars to have an employment rate of 100 percent.

43 percent of applicants come from the Americas, 27 percent from Europe, 21 percent from Asia, 5 percent from Africa, and 4 percent from Oceania. That hardly jibes with the distribution of the world population; if it did, 60 percent of Martians would be Asian and 14 percent would hail from the Americas. A closer match is the distribution of global wealth by nation, of which the Americas claim 35 percent.

107 countries are represented in the applicants and, at 28 percent of all those accepted into Mars One's second round, the United States has the largest pool of candidates.

34 percent of potential Martians are younger than 25, about 65 percent are between the ages of 26 and 55, and 2 percent are older than 56. In contrast, 40 percent of Earthlings are less than 25 years old and 17 percent older than 56.
The defining moment for Mars One will be selecting its crew (or crews) for a 2025 voyage, but the news does bring a private mission to the red planet one step closer to reality. A bigger step occurred earlier this month, when Mars One announced a contract with Lockheed Martin to craft a design concept for a robotic lander. Its goal: to find and prepare a landing site for the first human visitors to Mars.
Quelle: PS
.
Update: 1.01.2014
.
East Sooke woman on short list for one-way Mars mission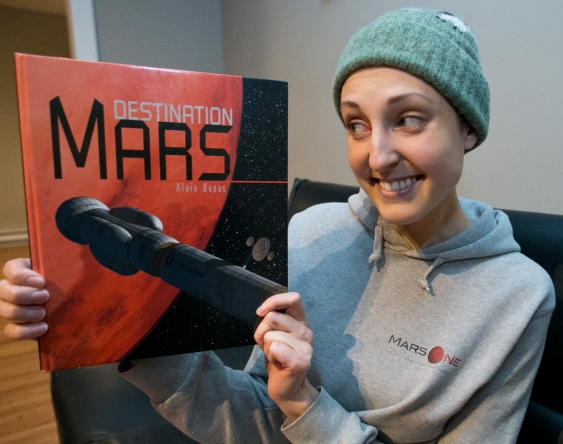 Marina Miral is one of 1,058 candidates winnowed from more than 200,000 people for the one-way trip to Mars. Photograph by: DARREN STONE, Times Colonist
.
An East Sooke woman took one small step Monday toward fulfilling her lifelong dream of exploring outer space.
Marina Miral learned by email that she was one of 1,058 candidates short-listed for a one-way mission to Mars that aims to establish a human settlement on the red planet by 2025.
The Mars One project selected the 30-year-old author from more than 200,000 applicants around the world.
"I was shocked, for one, because I'd kind of given up; I sort of thought I would have heard sooner," Miral said. "I just haven't been able to stop smiling.
"I'm so excited. I've never been so excited."
Miral first heard about the project last May, but delayed applying until just before the Aug. 31 deadline so that she could have more time to consider what she wanted to say.
There was never any doubt about putting her name forward. Miral said she has wanted to become an astronaut ever since she began watching Star Trek at age 10.
"This might sound a little bit silly, but my dream for my entire life was to go to Starfleet Academy," she said. "But that is fictional, so it's been pretty hard trying to find something that will substitute for that dream."
She found her answer when Mars One, a Dutch non-profit foundation, began searching for astronauts in April.
The foundation expects to send its first four colonists to Mars at a cost of $6 billion. Officials plan to raise the money through sponsorships, donations, crowdfunding and the sale of broadcasting rights to every aspect of the mission from astronaut selection to landing.
Mars One co-founder Bas Lansdorp said in a statement Monday that the short list of potential astronauts offers the first "tangible glimpse" of what the Mars settlement will look like.
"The challenge with 200,000 applicants is separating those who we feel are physically and mentally adept to become human ambassadors on Mars from those who are obviously taking the mission much less seriously," he said. "We even had a couple of applicants submit their videos in the nude!"
Miral said she's unsure why she was selected.
"I tried to get across in my application just how important it was to me and that I was taking it seriously. So I think that was a big thing.
"I just love the idea of exploring, going somewhere completely new. Going to space — I can't even describe how wonderful the thought is for me."
Miral, who recently changed her last name from Miller, earns a living by writing juvenile fiction novels with her mother, Angela Dorsey. The pair co-author the Sun Catcher series of books.
Though torn by the one-way nature of the mission, Dorsey said her daughter is a perfect choice.
"She's always dreamed of doing something like this, but she just never thought it was possible until this Mars One thing came along, right? It's sort of an unusual life dream."
Miral still has to make it through three more rounds in the selection process.
Mars One expects to pick its final candidates by the end of 2015. Up to 40 people will then spend the next seven years training to survive on Mars for the rest of their lives.
Quelle: Times Colonist
.
Why over 1,000 people are competing to go to Mars – and not come back
Mars One, the Dutch nonprofit planning to put a human colony on Mars in 2025, has whittled its applicant pool to about 1,000 people hoping to give up their Earthling-status, for good.
.
Mars One, the Dutch nonprofit planning to put a human colony on Mars in 2025, announced on Monday that it has whittled its applicant pool to about 1,000 applicants to be among the first astronauts to trade in their Earth citizenship for a – permanent – Martian residence.
The 1,058 Martian hopefuls, selected from about 200,000 original applicants, will go through several more application rounds before Mars One will select just 24 people for what is to the applicants the ultimate prize but is for others a nightmare of cosmic proportions: the chance to go live on Mars, with absolutely no chance of ever coming home.
"For people who don't want to go to Mars, it's almost unimaginable to them why anyone would want to go to Mars," says Bas Lansdorp, co-founder and CEO of Mars One. "For people that do want to go to Mars, they can't imagine that anyone wouldn't be interested in going to Mars."
"These people will never understand each other," he says.
But Mr. Lansdorp is counting on the non-Mars-goers at least wanting to watch the Mars enthusiasts get to the Red Planet.
Mars One's grand mission, which the nonprofit expects to cost about $6 billion, is expected to be financed in part from the sale of the broadcasting rights to air the foundation's process: the future selection rounds, the hoped-for triumphant launch to Mars, and the probably dramatic saga of setting up home on the Red Planet. The idea is that Mars One's venture, broadcast around the world, will be "everybody's mission to Mars," says Lansdorp.
At the moment, Mars One has offers from "two major TV studios" to buy those rights, he says, adding that the details of the coming selection rounds will be released after a contract is signed. Since it will take more than just television dollars to get the still sci-fi colony off the ground, Mars One is also in talks with a "major investment firm" and several corporations, Lansdorp says.
As Mars One's funding scheme in large part depends on audiences and television ratings, its business model has often been called reality show-like in style. In the first application round over the summer, which drew 202,586 would-be Martians, some applicants had billed themselves as proverbial Adam and Eves, prepared to inaugurate a new human civilization, albeit in a thoroughly un-Eden-like world. Others, perhaps in the mocking gesture, or maybe in an attempt to appeal to reality show casting mentalities, made their pitches in nude videos.
But Mars One is less interested in reality show contestants than astronauts with the watchable-ness factor of Olympic athletes, says Lansdorp, who points to broadcasters' revenue from televising the Olympic games as evidence for the feasibility of his business plan.
"In the Olympic games, we see extraordinary people do extraordinarily difficult things," says Lansdorp. "We're looking for the same type of people. We're looking for serious applicants who want nothing more than to go to Mars."
And Mars One's applicants are serious.
"The people who think that going to Mars would be a nightmare obviously aren't volunteering," says David King, 25, a craftsman based in Brooklyn, NY, and a second round applicant. "But there are people who want to go, and I'm one of those people. There are people willing to put themselves out there for the greater cause."
The biggest percentage of Mars One's second-round applicants are Americans, with others coming from Canada, India, Russia, and China. The contestants are overwhelmingly young, with more than 70 percent under 35 years old (the minimum age is 18). Almost all are employed or in school.
Above all, Mars One was scouting for applicants that appear capable of handling the possible mental trauma of spending their entire lives in confined spaces with just a small group of people from whom it will be impossible to escape, the foundation says.
"It's important to be with people you can actually talk to and who you generally don't want to kill," says Lauren Reeves, 30, a comedian based in New York City who is among the short-listed applicants.
Ms. Reeves says that though she would be "sad to leave" Earth, she is fully committed to getting to Mars: "I would hate myself for saying no to it, for not being bold enough to go."
Lansdorp, who has a girlfriend and a three-month-old son, is not among the applicants.
"I'm certainly not qualified," he says. "I'm not able to be in a small group in a small space for a long period of time, without things escalating."
Plus, "my girlfriend is very fond of Earth," he says.
Mars One plans to announce its selected six teams of four astronauts in 2015, two years later than it had originally said it would. The astronauts will spend 10 years in training before the first team leaves Earth – for good – in 2024. The next team will follow two years later, and so on. If all goes well, Mars One will cull for more applications.
The first humans on Mars will live in inflatable domes, called "habitats." To shield the residents from radiation, these domes will topped with several meters of soil. These enormous dirt piles are not shown in mockups of the prospective Martian colony, though, since "it makes the drawing very boring," says Lansdorp. "It would be just a sand dune."
While Earth-bound audiences wait, and wait, to see inflatable domes on Mars, the foundation is offering another mission to watch. Earlier this month, the company signed contracts with aerospace companies Lockheed Martin Corp. and Surrey Satellites Technology to undertake concept studies for a 2018 mission to send an unmanned lander and orbiter to Mars.
The foundation has billed the 2018 mission, for which it is raising funds on Indiegogo, as a demonstration of capabilities to fulfill its bigger ambitions, a sort of proverbial stepping-stone in a great leap for prospective Martians.
"It's very normal to be skeptical about a Dutch nonprofit that wants to get humans to Mars in 10 years," says Lansdorp. "But we don't see any hurdles that we believe cannot be overcome."
"This is one of the great things that's left to be done," he says.
Quelle: C-Monitor
.
Update: 31.01.2014
.
NASA Mars project: radiation risk of highest concern
Russian Anastasia Stepanova is through to the second round of applicant selection for the Mars One program. Anastasia, a Moscow resident, could end up among the 20 finalists that will embark on a one-way trip to the Red Planet. Igor Mitrofanov of the Space Research Institute at the Russian Academy of Sciences told the Voice of Russia that the largest risk comes from a "very big radiation doze which will be accumulated during this trip."
The Voice of Russia discussed the topic with Igor Mitrofanov, principal investigator of the Russian space experiment DAN on board of NASA Curiosity Mars rover.
What kind of people do you think would want to embark on a one-way mission to Mars? It is kind of suicidal, isn't it?
First of all, I would like to tell you my personal opinion that, of course, the exploration of Mars is very important and, probably, this is now the most important strategic goal of the space exploration for our countries.
On the other hand, I think that the work has to be done by the professional people who take into account all the current scientific knowledge and also technology developments. It is my personal opinion, but I cannot accept quite seriously the current attempt to make one-way trip to Mars, which is now under consideration.
Since it is a one-way trip and so many people have filed applications to go there, what do you think about these people? What kind of people would want to take such a suicidal selfless mission?
I believe that these people are not professional in space science and technology, because would they be professional, they probably would not make this application, because they would have known how difficult this is and what big risk is associated with this attempt. I think that probably these people have some interest in these extreme games when people decide to do something risky by themselves just to experience some emotions out of this action.
With this risk that you see, because these people are not professionals, what do you think could go wrong during this mission?
I think the most important thing is not even that these people are not professionals as the astronauts or cosmonauts, I think it is possible to pass a necessary training. The largest risk is the interplanetary flight itself.
The largest risk comes from radiation, from a very big radiation doze which will be accumulated during this trip. And we know that sometimes there are very strong solar particle events - solar flares - which produce the doze that is not acceptable for the human being in space.
And this is the biggest risk and we are still working to resolve this problem, to understand how we'll go to Mars in future. But still have no professional developments which will mitigate or remove this risk. This is the most important problem.
.
Update: 31.03.2014
.
Mars One beginnt mit Arbeit an Simulations Mars Home für Crew-Mitglieder
.
Amersfoort, The Netherlands, - Mars One is excited to announce the launch of a simulation project to replicate the future Mars human outpost here on Earth.
Mars One will soon begin the process of construction of the first simulation outpost, which will be used for training selected astronauts and teams. The main purpose of an early version outpost is for potential crew members to gain early experience in the actual environment which will become their home on Mars.
Bas Lansdorp, co-founder: "We are very eager to get started constructing actual hardware for our mission that is important for training future Mars One crews and preparing them for their life on Mars. We are going from theory to practice."
Mars One has plans to eventually create multiple simulation outposts in different locations for easier training logistics and diverse realism exposure. The early version outpost will not contain an actual life support system immediately, but will be fitted with such systems later.
Newly added team member Kristian von Bengtson will be leading the outpost project from Denmark. He will also be leading the search for potential construction companies and major sponsors who would like the be a part of this outpost project.
Kristian von Bengtson: "Finally getting started on the outpost project is incredibly exciting and I am looking forward to replacing images with real life hardware. I think a lot of people are looking forward to opening the hatches of the outpost modules and taking the next step in the mission. I know I am."
The final location of the first simulation outpost has not yet been decided.
.
Mars One is pleased to welcome former co-founder of Copenhagen Suborbitals, NASA contractor and capsule designer expert Kristian von Bengtson as Outpost and Capsule Project Manager. Bas Lansdorp, co-founder and General Director or Mars One states, "Mars One is now entering phases were hardware must be produced to begin training of our selected astronauts and Kristian von Bengtson is a person we are confident can help us doing that. We are happy to have such a dedicated and experienced person joining us, in our goal of creating a permanent settlement on Mars." Kristian von Bengtson, M.Sc., M.Arch., Denmark is an Aerospace Architect with over 15 years of experience in the field of capsule and outpost design with a special focus on man-machine integration and prototype production. Von Bengtson has worked capsule and interior space design independently and for NASA and ESA before he co-founded Copenhagen Suborbitals in 2008, where he was leading the suborbital capsule development and mission planning. He has received a series of awards for his work, latest the Breitling Milestone Award in 2013 as well as over 15 grants supporting his work with manned spaceflight. Kristian von Bengtson has specialized in taking those critical steps from theory to actually producing prototype hardware for manned space missions which are important, in any project, if you want to make your dream become a reality. The last three years Von Bengtson has been a science writer for WIRED magazine providing a unique and transparent insight in the production of capsule and subsystems and often appears on TV and radio debating the importance of human exploration and science. Kristian von Bengtson: "Mars One is a unique and very important project which will keep mankind on the path of curiosity, science and exploration. I am very happy to have become a part of this project and the challenges are so interesting and tough that I feel right at home. I will do my best, as a Mars One team member, to bring humans all the way to Mars for a permanent settlement."
Quelle: Mars One
.
Update: 30.06.2014
.
Mars One announces Request for Proposals for 2018 Mars lander payloads
Amersfoort, 30th June 2014 - Mars One is extending a formal invitation to universities, research bodies, and companies to contribute to the payload of the 2018 unmanned Mars Lander. The best ideas will be chosen by a panel of experts. This mission will act as a staging point for the first-ever human mission to the red planet in 2025.
Mars One is soliciting proposals for four demonstration payloads that will demonstrate technologies for the human mission in 2025, proposals for one payload that will be elected in a world wide university competition, and proposals for two payloads that are for sale to the highest bidder. These last two payloads can be used for scientific experiments, marketing activities or anything inbetween.
"We are opening our doors to the scientific community in order to source the best ideas from around the world," said Arno Wielders, co-founder and chief technical officer of Mars One. "The ideas that are adopted will not only be used on the lander in 2018, but will quite possibly provide the foundation for the first human colony on Mars. For anyone motivated by human exploration, there can be no greater honor than contributing to a manned mission to Mars."
The payloads will be part of the Mars One lander that will be launched in August 2018. The lander will be built on the same platform that was used for the 2007 NASA Phoenix mission. Mars One contracted Lockheed Martin, who also built the Phoenix spacecraft, to develop the mission concept study for the 2018 lander.
The four demonstration payloads, university competition payload and two payloads for sale are as follows.
Demonstration payloads: Mars One will send four experiments to demonstrate some of the technologies that are important for the successful permanent human settlement of Mars:
A soil acquisition experiment that will collect soil for water production;
A water extraction experiment that will extract water from the Martian soil;
A thin film solar panel will demonstrate the possibility of generating the settlement's energy by only using sunlight for power;
A camera system which, in combination with a Mars-synchronous communications satellite, will enable Mars One to send a live video feed from Mars to Earth. Everyone on Earth will be able to take a 'real time' look on Mars.
University competition payload: One payload selected from the entries of universities worldwide will be sent to the surface of Mars on board of the 2018 Lander. Mars One invites teams from any university around the world to submit a payload proposal. Proposals can include scientific experiments, technology demonstrations or any other exciting idea. The Mars One community members will have an important vote in the selection of the competing university submissions and will elect the winning payload. University teams can submit their notice of intent to participate in this competition on the following page: community.mars-one.com/university-competition.
Bas Lansdorp, Co-founder & CEO of Mars One said, "The brightest young minds of our planet are being invited to participate in Mars One's first Mars lander. This is an opportunity for university teams to launch an experiment not just to space, but to the surface of Mars. We do this to inspire students to believe that anything is possible. We're not only looking for scientific proposals but also for outreach or educational ones. Mars One's community will determine which payload flies to Mars in an online vote."
Payloads for sale: Mars One offers two payload opportunities for paying mission contributors. Proposals can take the form of scientific experiments, technology demonstrations, marketing and publicity campaigns, or any other suggested payload. "Previously, the only payloads that have landed on Mars are those which NASA has selected," said Bas Lansdorp, "We want to open up the opportunity to the entire world to participate in our mission to Mars by sending a certain payload to the surface of Mars."
The launch of the lander will happen in less than four years time. This sets an ambitious schedule for the selection, development and delivery of the payloads. The schedule for the selection phase of the payloads and further information concerning the proposals can be found in the Request For Proposals (RFP) document, and the Proposal Information Package (PIP).
The evaluation process of all payloads will be performed by Mars One in close collaboration with its prime contractor, Lockheed Martin, and specific advisers of Mars One. Mars One will enlist the help of other experts as necessary to ensure viable payloads are selected.
6665 Views